Laura The Gastronaut > Holiday Cooking > 31 Days of Halloween
31 Days of Halloween
October 1, 2021 [Updated daily through October 31, 2021] | By Laura Bullock
*This post may contain affiliate sales links. Please see full disclosure policy for details.*
Join me as I celebrate Halloween with fun cocktails, delicious food, and Halloween movies/activities every day leading up to the 31st! It's going to be a spooktacular time!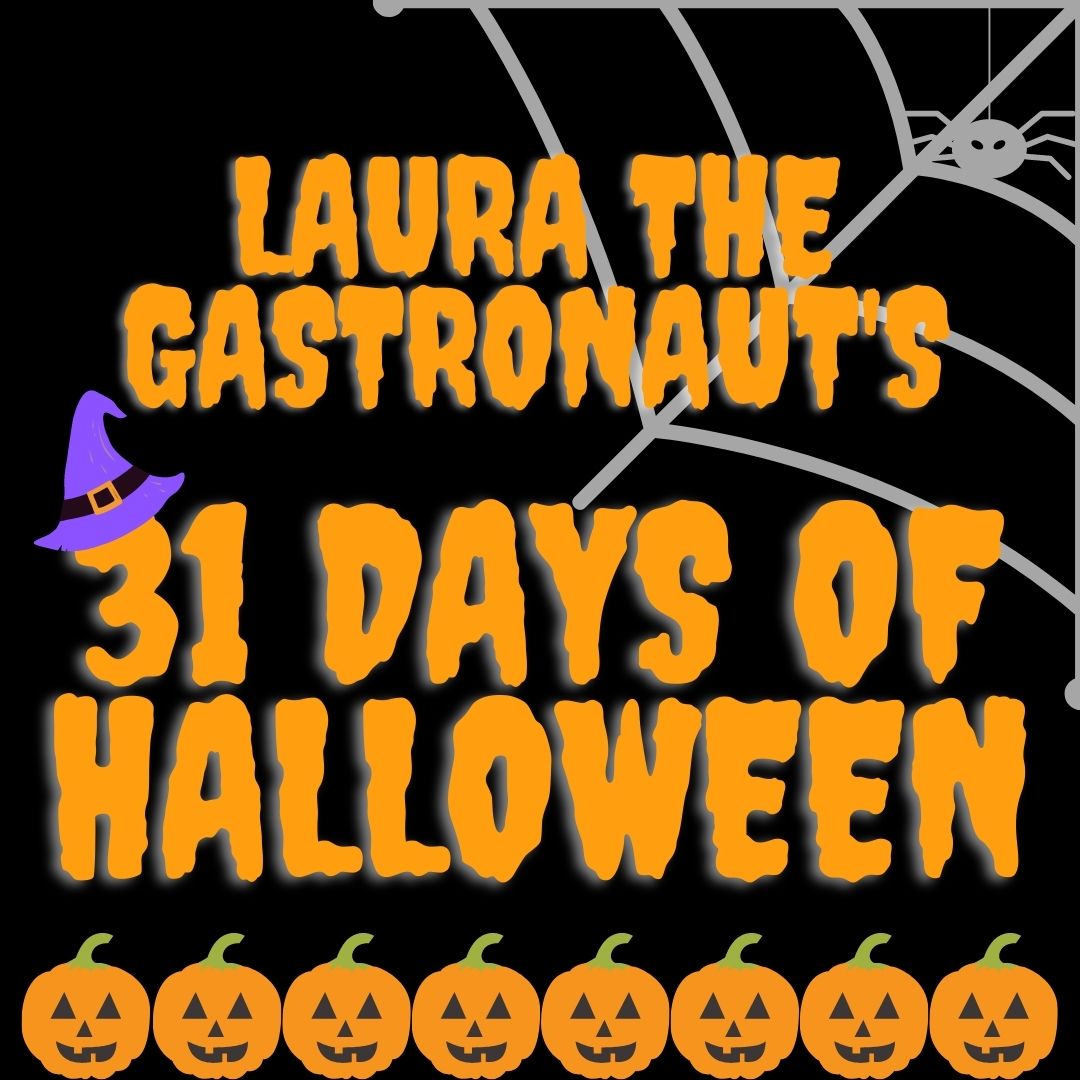 __________________________________
October 1: Decorating for Halloween while sipping fall sangria & snacking on pumpkin cheese ball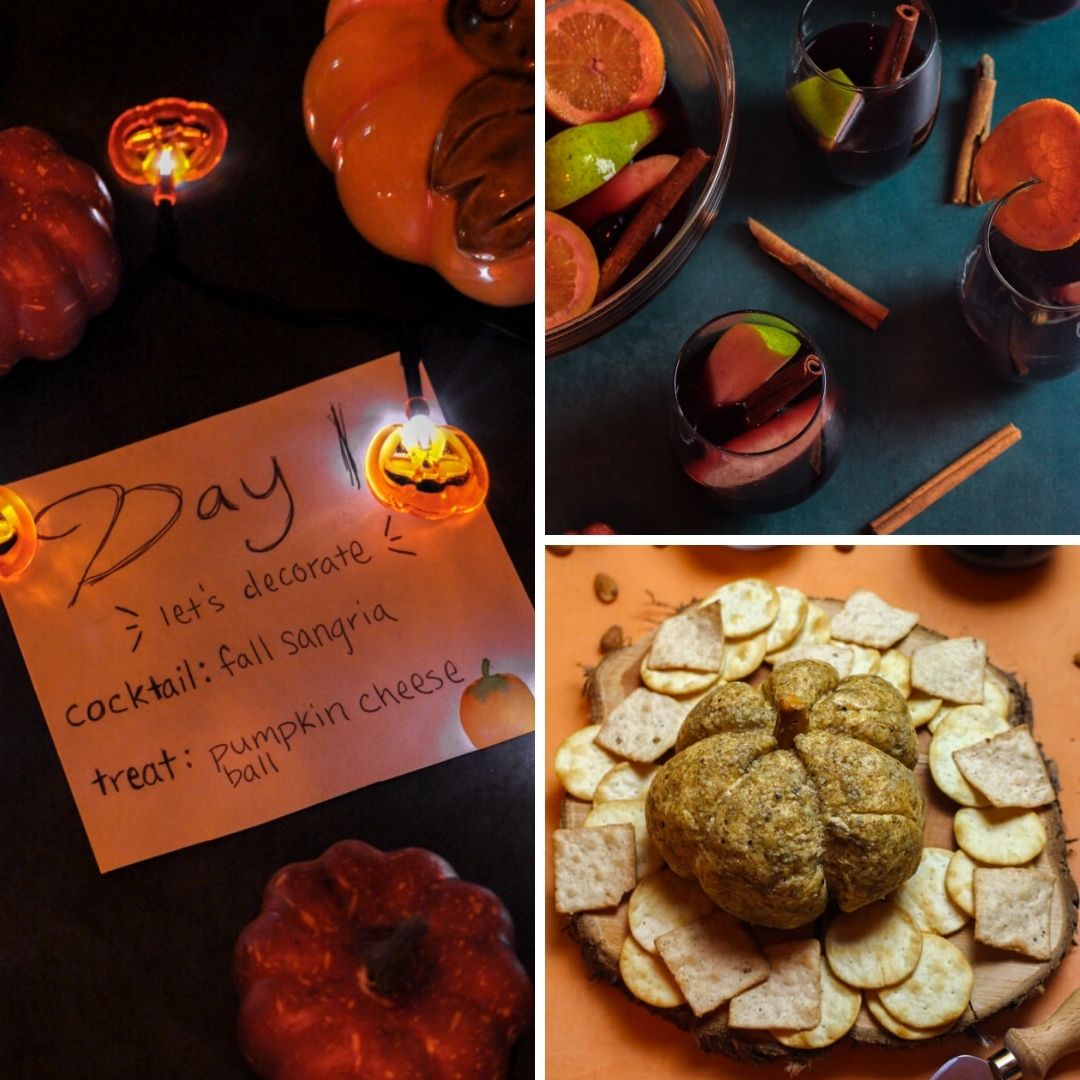 Day 1 is all about getting your house ready for the Halloween season! What feels more homey than spiders, pumpkins, skulls, and black candles everywhere? Make decorating extra fun by enjoying a glass (or two) of fall sangria and some pumpkin cheese ball. After these treats, you'll be more than ready to get to putting up that full-size skeleton in your yard.
GET RECIPES HERE- Fall Sangria & Pumpkin Cheese Ball
October 2: Beetlejuice with Breadstick Hands & Meatball Eyes and Drunken Shrimp Cocktail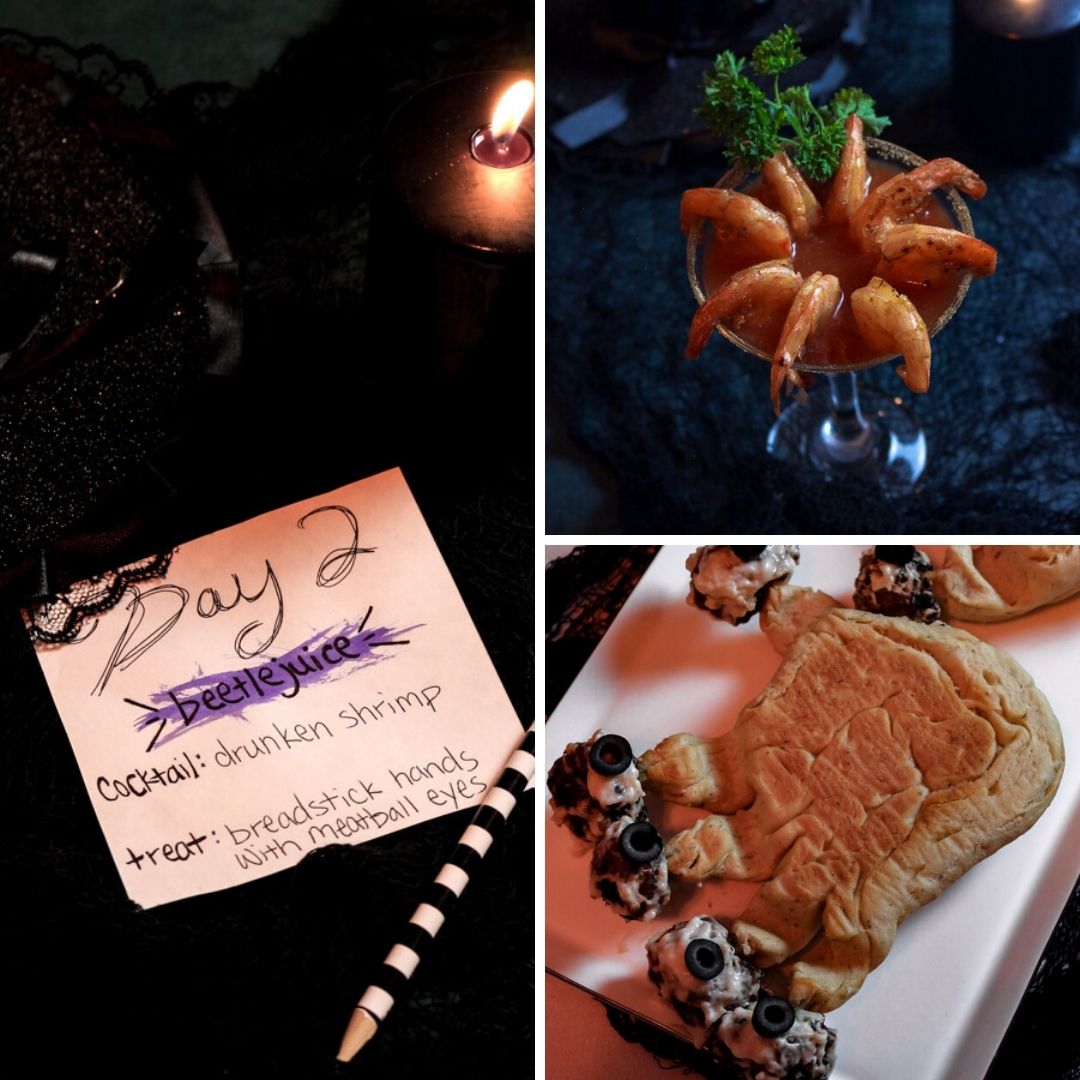 Day 2 Let's kick off the Halloween season with one of the best movies ever created- Beetlejuice! Do you remember the scene when Adam has eyes on each of his fingers? These breadstick hands with meatball eyes look like that! And of course, you probably remember the Day-o scene when the shrimp cocktail comes alive.
GET RECIPES HERE- Drunken Shrimp Cocktail & Beetlejuice Breadstick Hand with Meatball Eyes
Read more about these Beetlejuice Recipes!
October 3: Frankenweenie with Spicy Relish Hot Dog and Avocado Margarita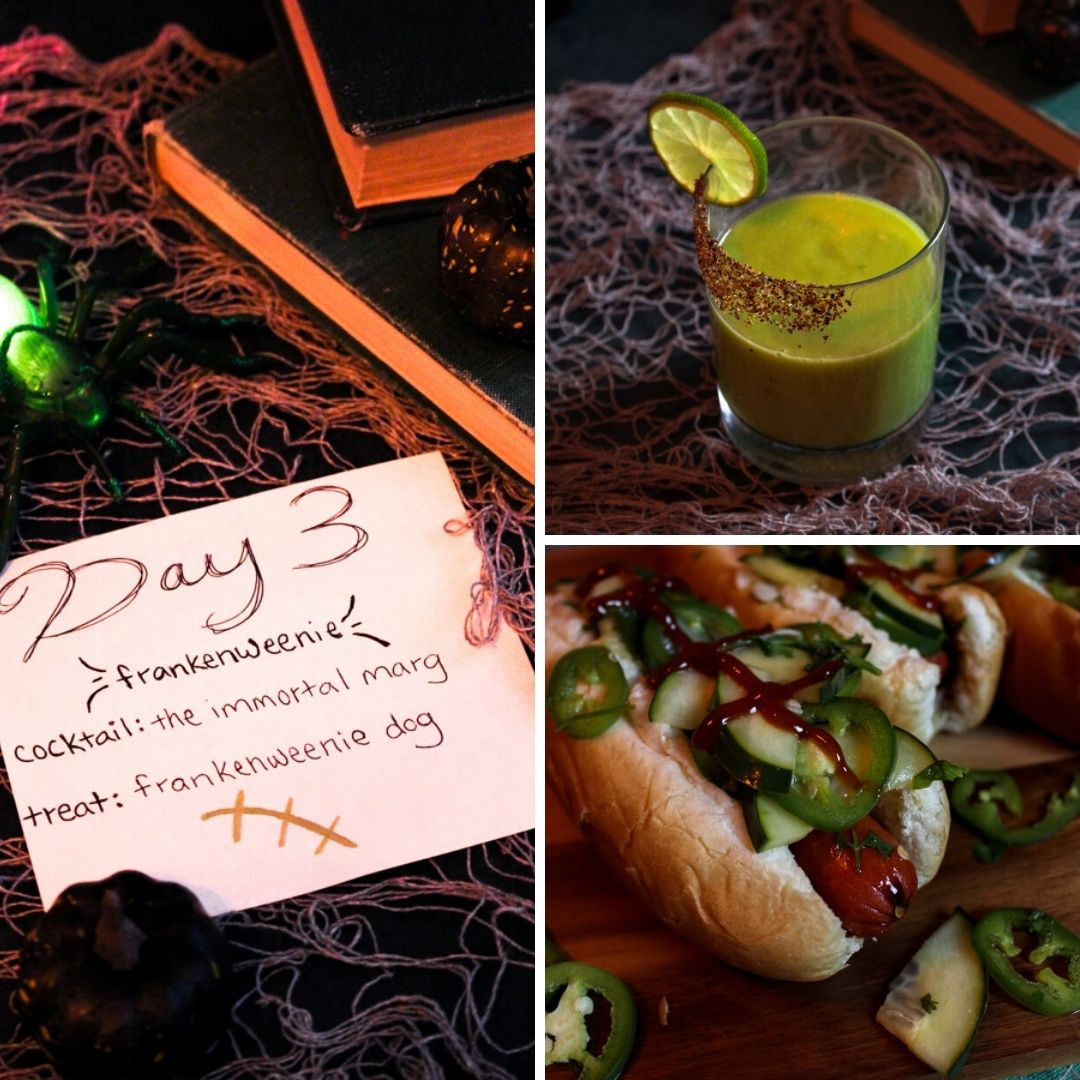 Day 3 For Frankenweenie, everything must be green to represent Frankenstein. And course, we got to have a hot dog for Frankenweenie! This hot dog is topped with a spicy jalapeno and cilantro relish and a basalmic ketchup drawn as on the dog as stitches. The avocado margarita is made with jalapeno cilantro simple syrup, avocado, and typical margarita ingredients. It's green. It's creamy. It's absolutely delicious.
GET RECIPES HERE- Spicy Relish Hot Dog & Avocado Margarita
Read more about these Frankenweenie Recipes!
October 4: The Shining with Sparkling Cherry Red Rum and Air Fryer French Fries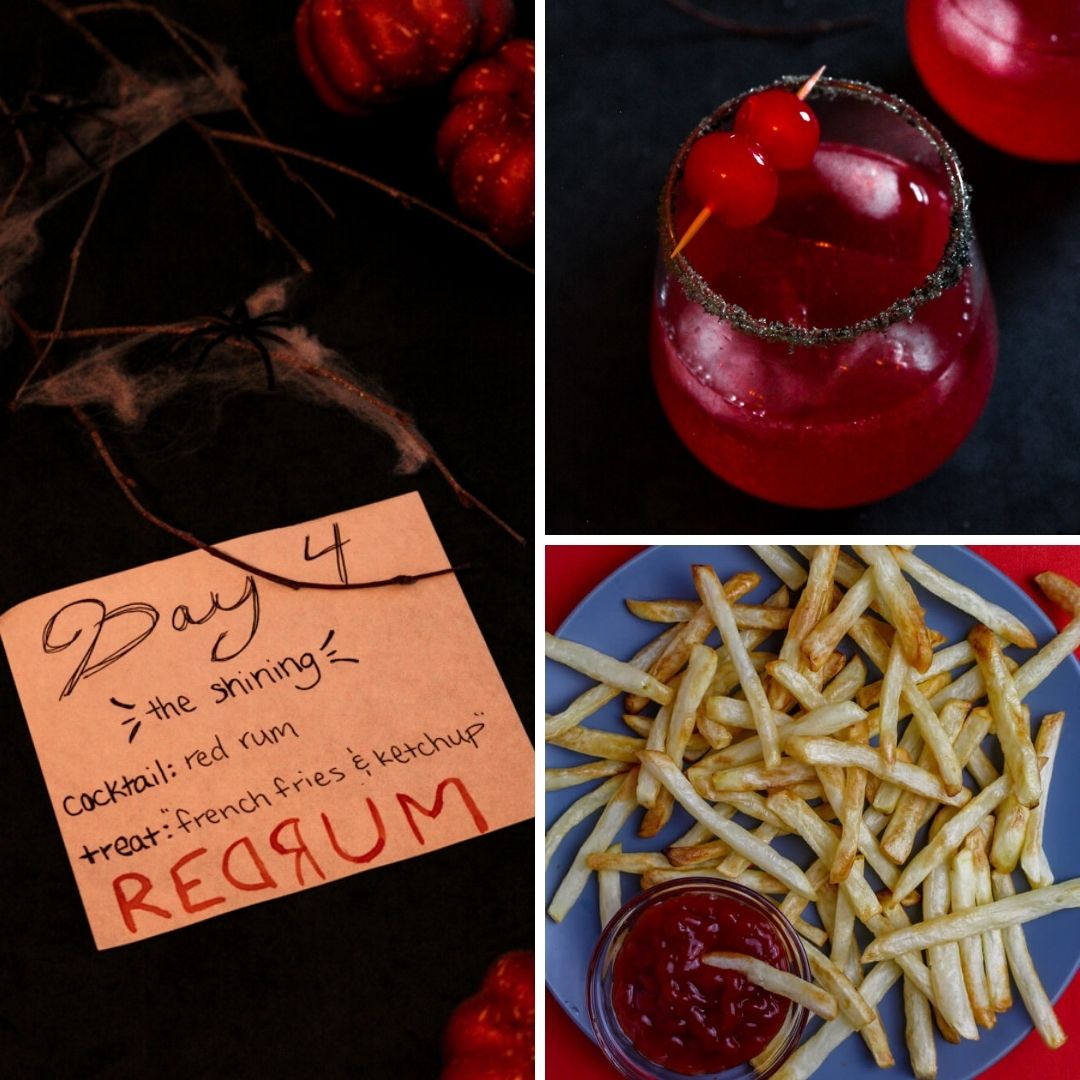 Day 4 For The Shining, there obviously has to be red rum! It's basically a boozy and bubbly cherry limeade. Now on to the treat. When the head chef asked Danny what his favorite food was, he responded, "french fries and ketchup." So in honor of Danny, we are having some french fries and ketchup! The potatoes are boiled in vinegar water, frozen, and air-fried to make the perfect french fry.
GET RECIPES HERE- Sparkling Red Cherry Rum & Air Fryer French Fries
Read more about these The Shining Recipes!
October 5: Hotel Transylvania with Sparkling Strawberry Gin and Halloween Roaches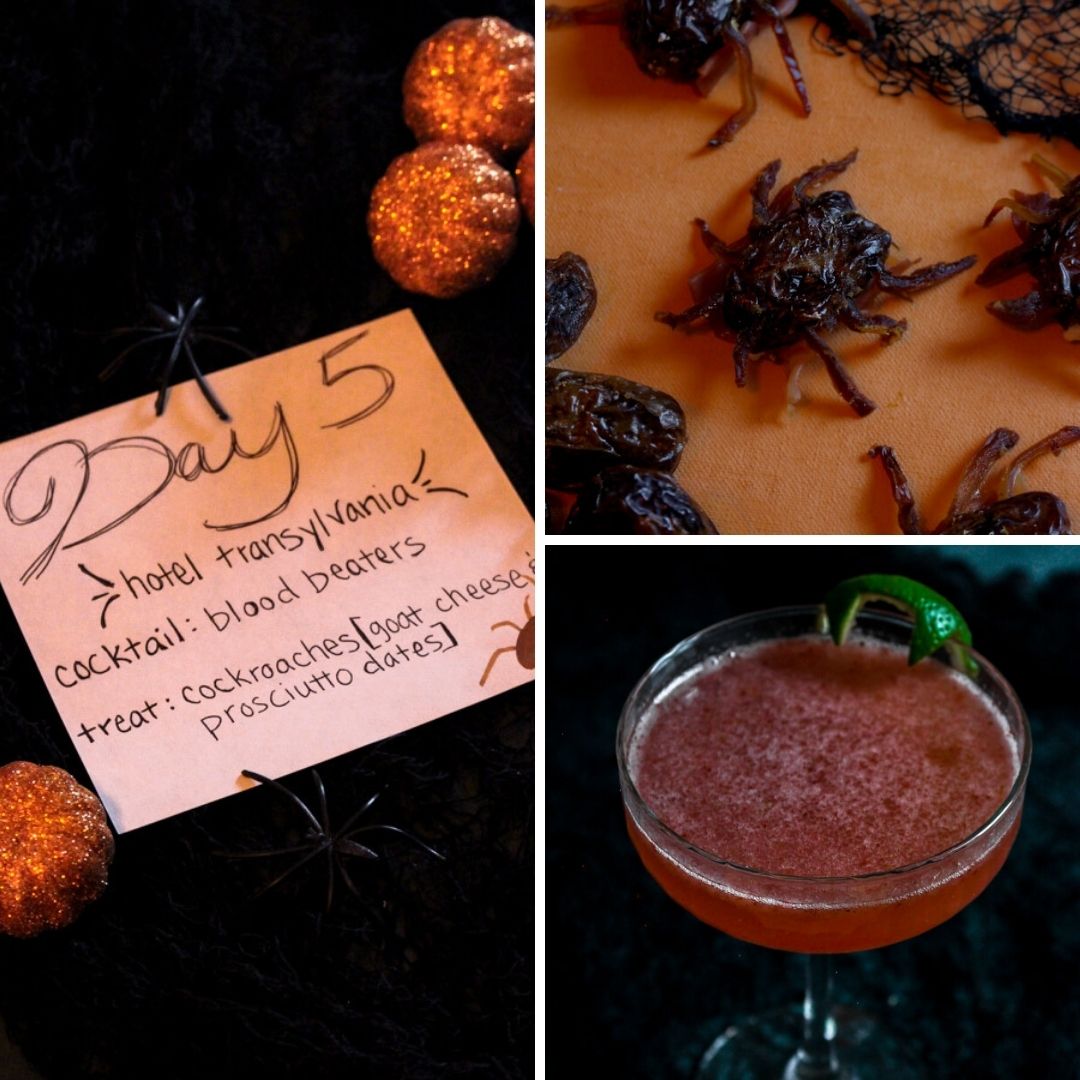 Day 5 For Hotel Transylvania, we are having Halloween roaches made out of dried dates, goat cheese, and prosciutto. These are definitely something that the monsters living in Hotel Transylvania would eat since they like to snack on cockroach paste! As for the drink, this is my version of blood beaters.. with gin. It's a sparkling strawberry gin made with homemade strawberry sauce, gin, and lime juice topped with sparkling wine.
GET RECIPES HERE- Sparkling Strawberry Gin & Halloween Roaches
Read more about these Hotel Transylvania Recipes!
October 6: Monsters, Inc. with Blue Monster Cocktail and Monster Vegetable Tray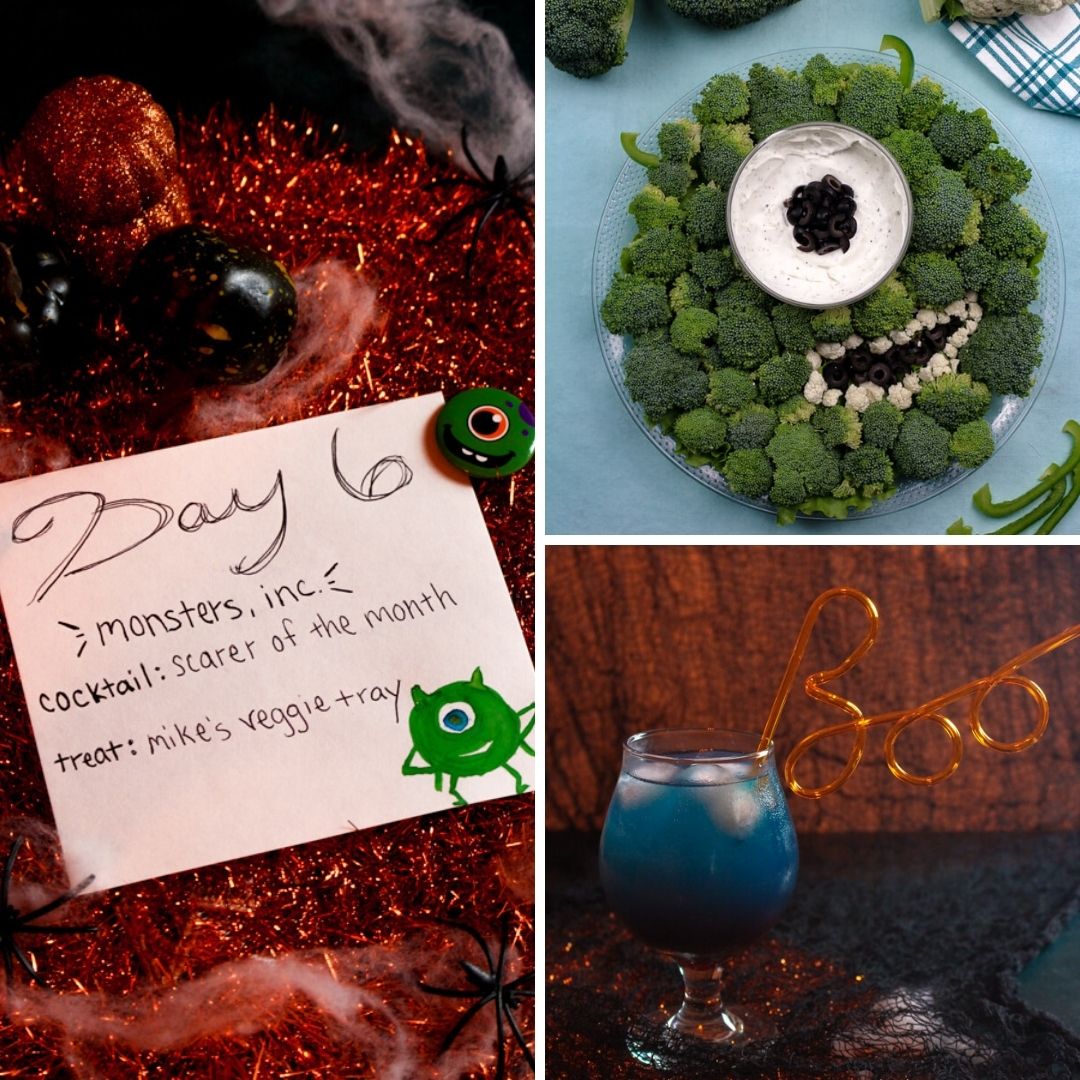 Day 6 While Monster, inc. is not technically a Halloween movie, it's still ALL about monsters. And there's a lot of monster talk going on during spooky season. This blue monster cocktail is made with blue curacao, lemonade, rum, and grenadine and is inspired by Sully's blue fur and purple dots. As for the vegetable tray, well I think you can guess who that's supposed to be.
GET RECIPES HERE- Blue Monster Cocktail & Monster Vegetable Tray
Read more about these Monster, Inc. Recipes!
October 7: Ghostbusters with Green Apple Jell-O shots and S'mores Trifle Cups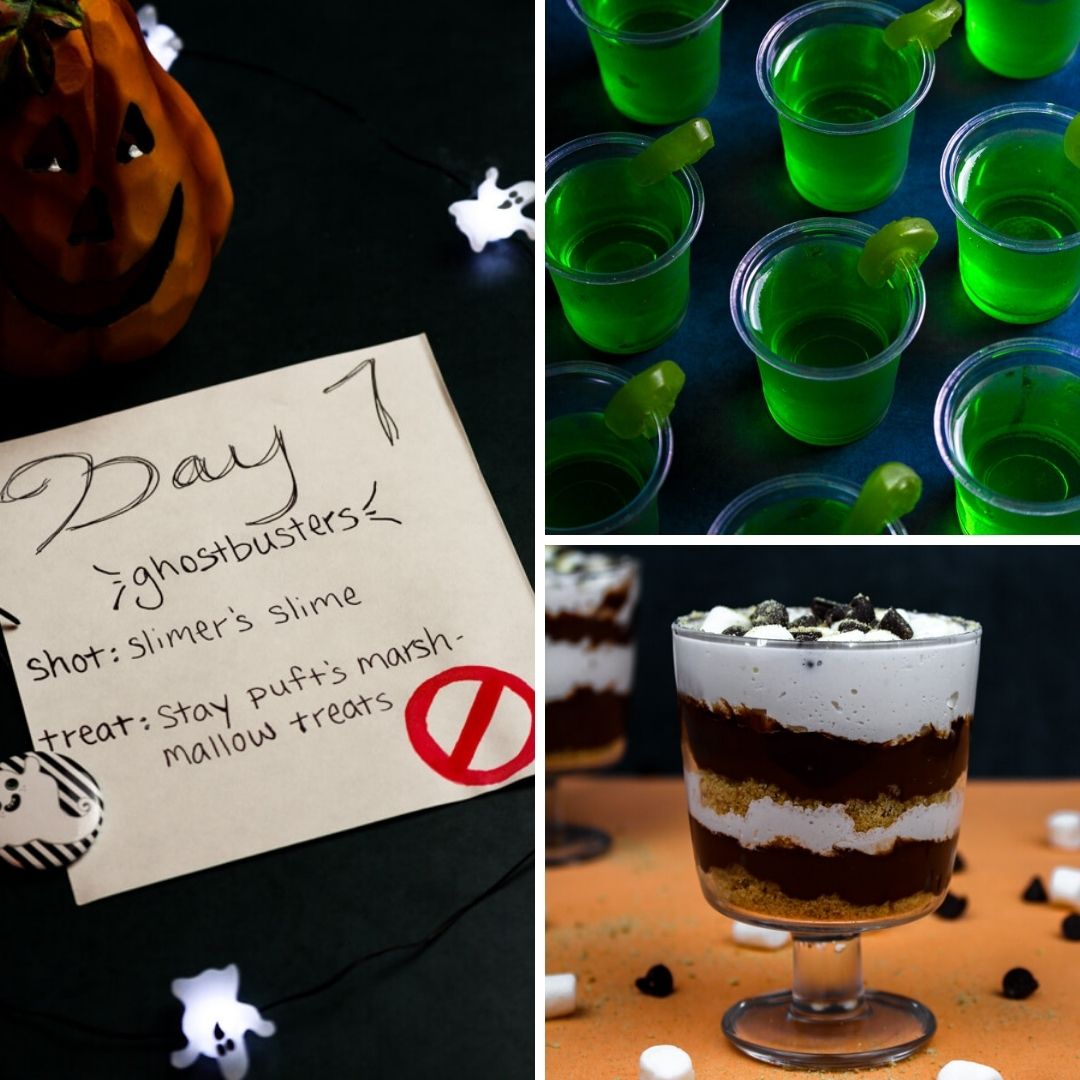 Day 7 I ain't 'fraid of no ghosts! The "drink" for ghostbusters was inspired by Slimer! It's a green apple Jell-O shot, looks just like Slimer's slime, and is a green apple flavor explosion! The treat is inspired by Stay Puft Marshmallow Man. It's a S'mores Trifle Cup layered with homemade chocolate pudding, graham cracker crumbs, and marshmallow creme.
GET RECIPES HERE- Green Apple Jell-O Shots & S'mores Trifle Cups
Read more about these Ghostbusters Recipes!
October 8: Scream with a Peanut Butter Whisky Sour and Cherry-dipped Vanilla Strawberries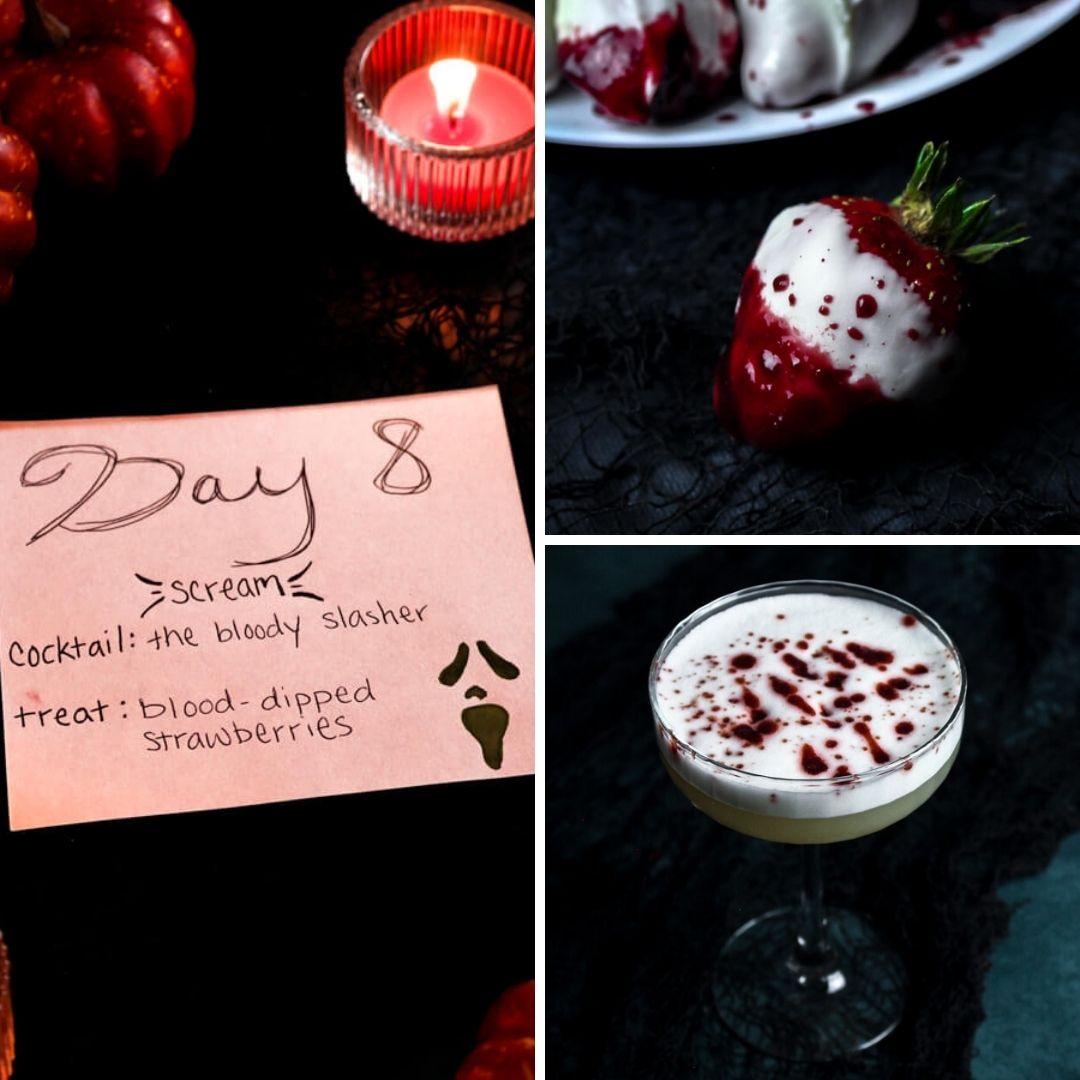 Day 8 There's really one main theme going on in Scream- slashing. So that's what I was thinking about when creating these recipes. First, a twist on a classic Boston Whisky Sour. This cocktail is made with peanut butter whisky, freshly squeezed lemon juice, and simple syrup. The addition of egg white creates a foam on top when shaken which is perfect for a palette for the cherry sauce splatters. The treat today are almond bark-dipped strawberries that are dipped and splattered in the same sweet dark cherry sauce.
GET RECIPES HERE- Peanut Butter Whisky Sour & Cherry-dipped Vanilla Strawberries
Read more about these Scream Recipes!
October 9: Fall Ingredients Cooking Challenge with Pumpkin Pie Shooters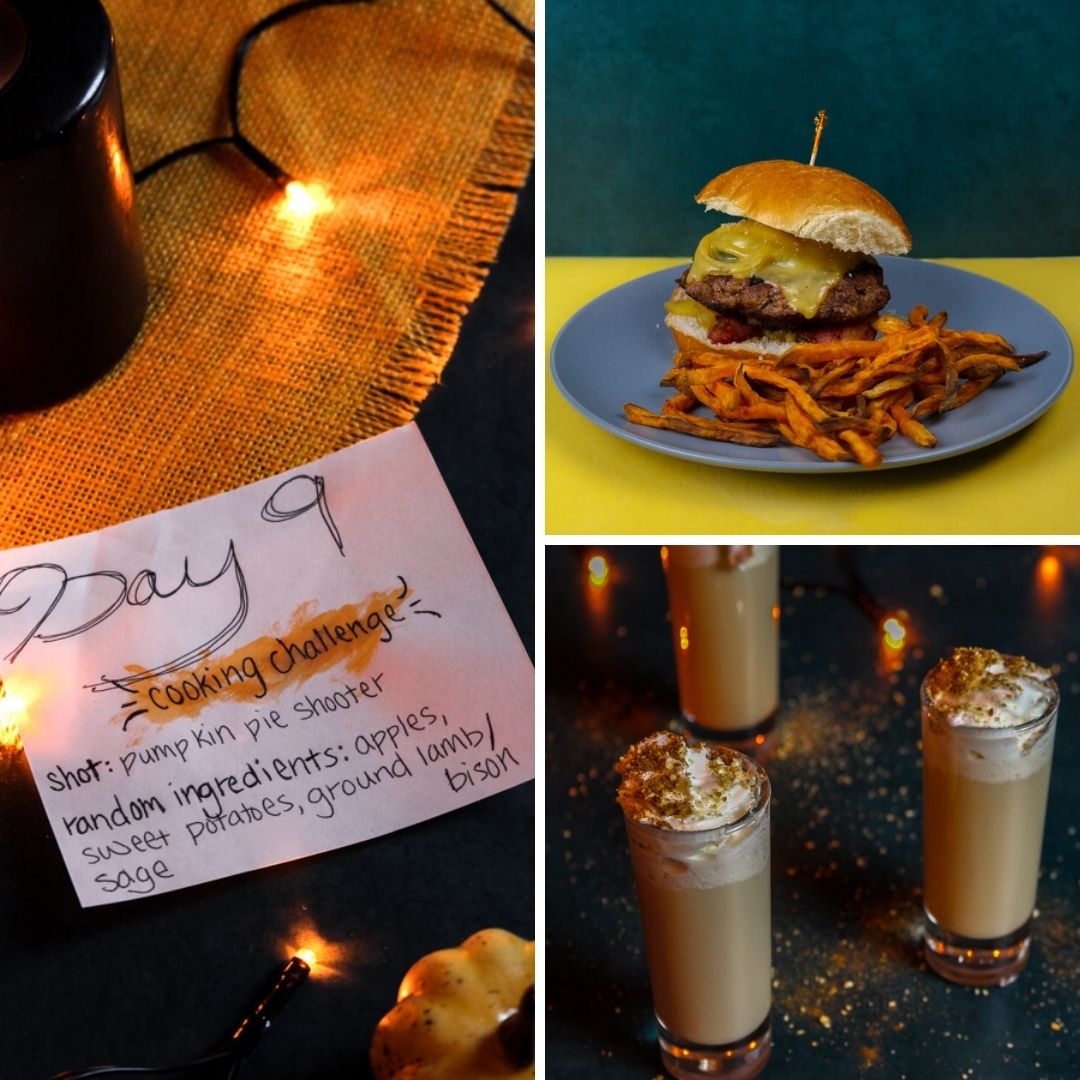 Day 9 It's cooking challenge day! I love creating meals from random ingredients and this time around, it's fall themed ingredients! Our mystery ingredients were ground bison, fresh sage, sweet potatoes, and apples. We decided to make a bison sage burger with an apple jam, gouda cheese, bacon, and sauteed jalapenos and onions served with a side of sage sweet potato fries. It was delish! For dessert, we enjoyed these pumpkin pie shooters that taste like boozy pumpkin pie without all the hassle!
READ BLOG & FIND RECIPE HERE- Pumpkin Pie Shooter & Halloween | What's in the Box
October 10: The Silence of the Lambs with Fava Bean Dip & a Nice Chianti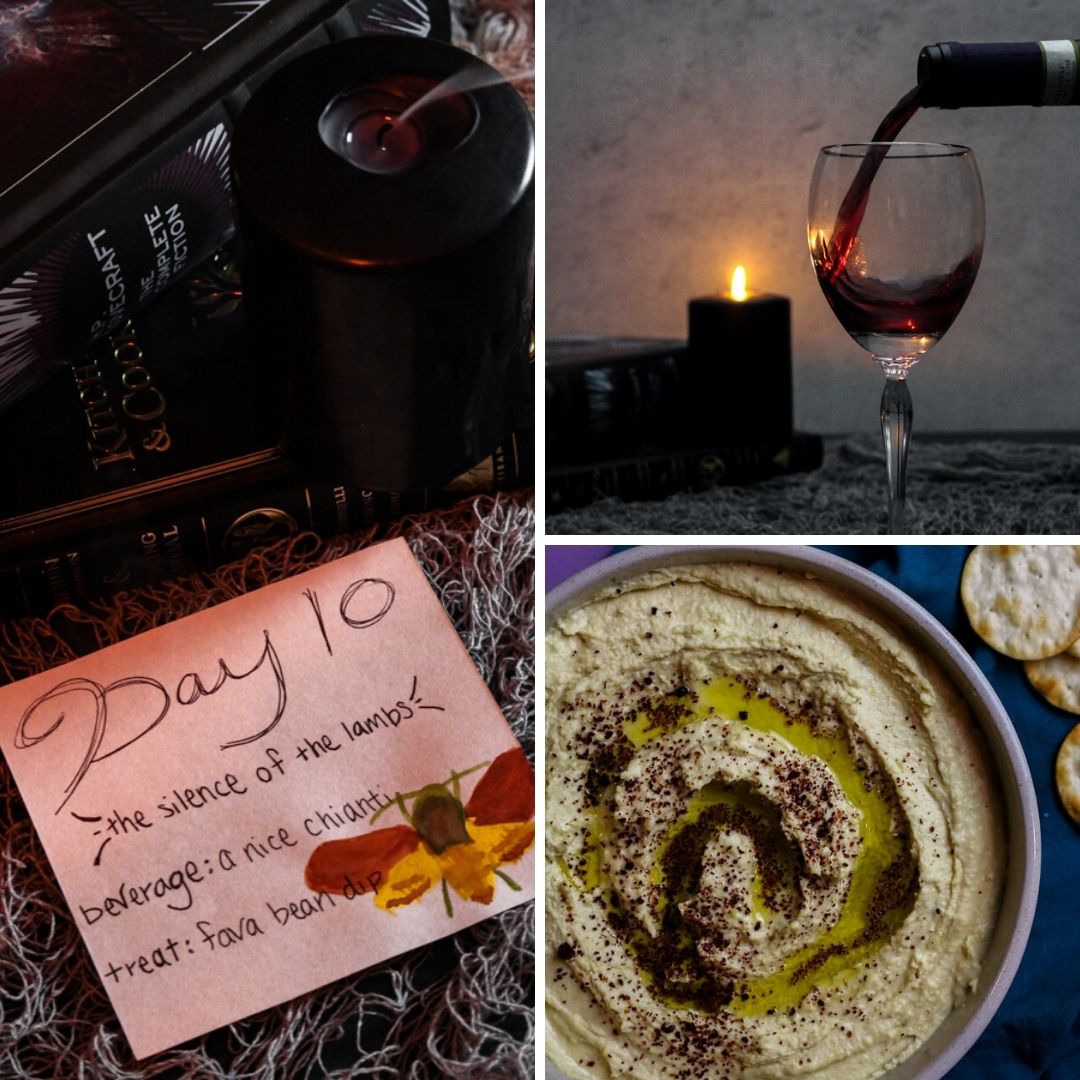 Day 10 Of course we had to watch The Silence of the Lambs with some fava beans and a nice Chianti. For the fava beans, I made a fava bean dip. It's very similar to hummus. It's garlicky, creamy, and so so delicious. Eat it up with some good crusty bread or pita chips.
FIND RECIPE HERE- Fava Bean Dip
Read more about this The Silence of the Lambs Recipe!
October 11: The Simpsons Treehouse of Horror with Raspberry Jelly-filled Donuts and Orange Juice Margarita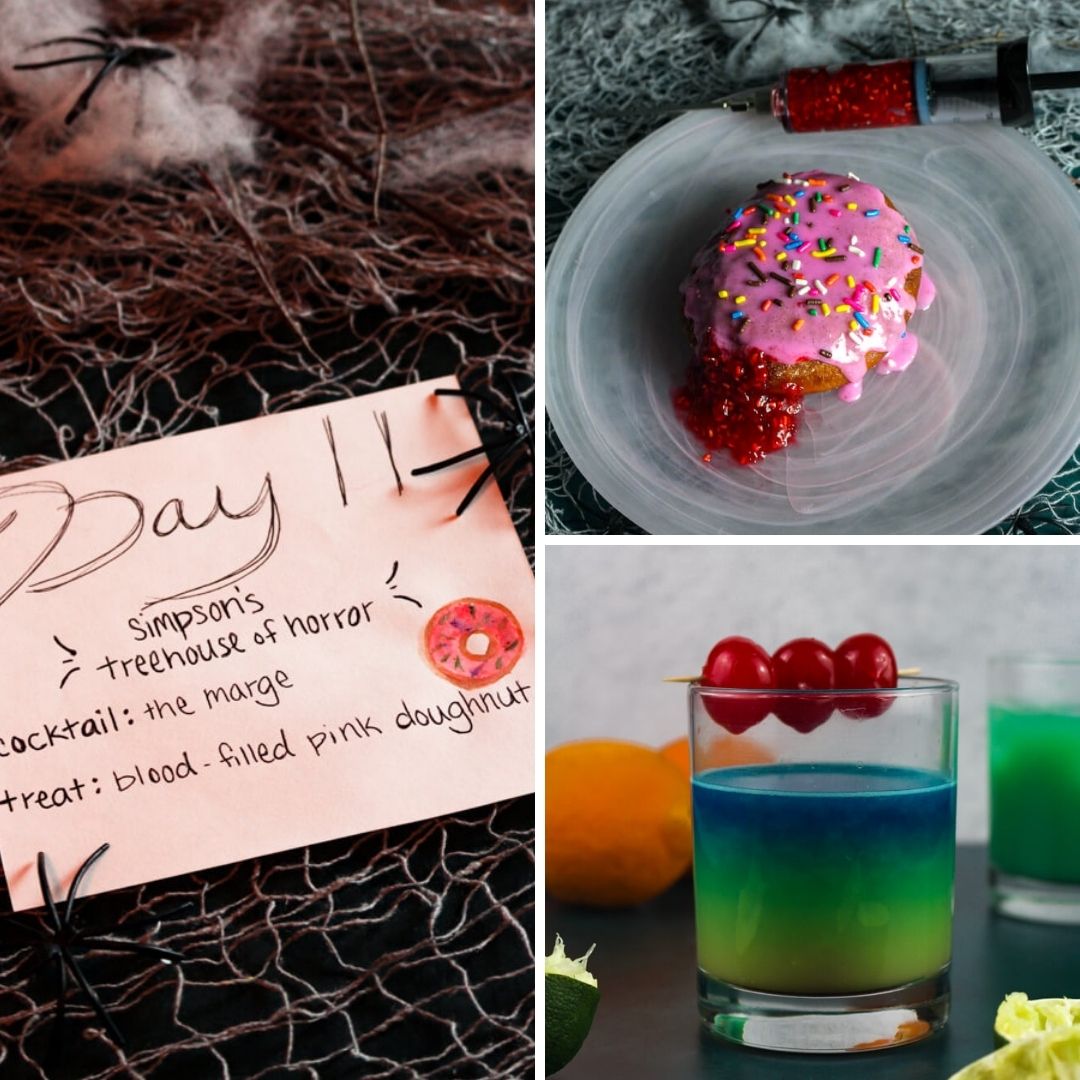 Day 11 Of course, we have to make donuts for The Simpsons! These fried donuts are covered in pink icing and sprinkles and filled with bright red raspberry jam. For the cocktail, let me introduce the Marge-arita. It's an orange juice margarita with a blue curacao floater so that it looks just like Marge. Lastly, it's garnished with some maraschino cherries to look like Marge's necklace!
FIND RECIPES HERE- Orange Juice Margarita & Raspberry Jelly-filled Donut
Read more about these The Simpsons Treehouse of Horror Recipes!
October 12: The Haunted Mansion with Green Apple Martini and Spooky Spider Pizza Rolls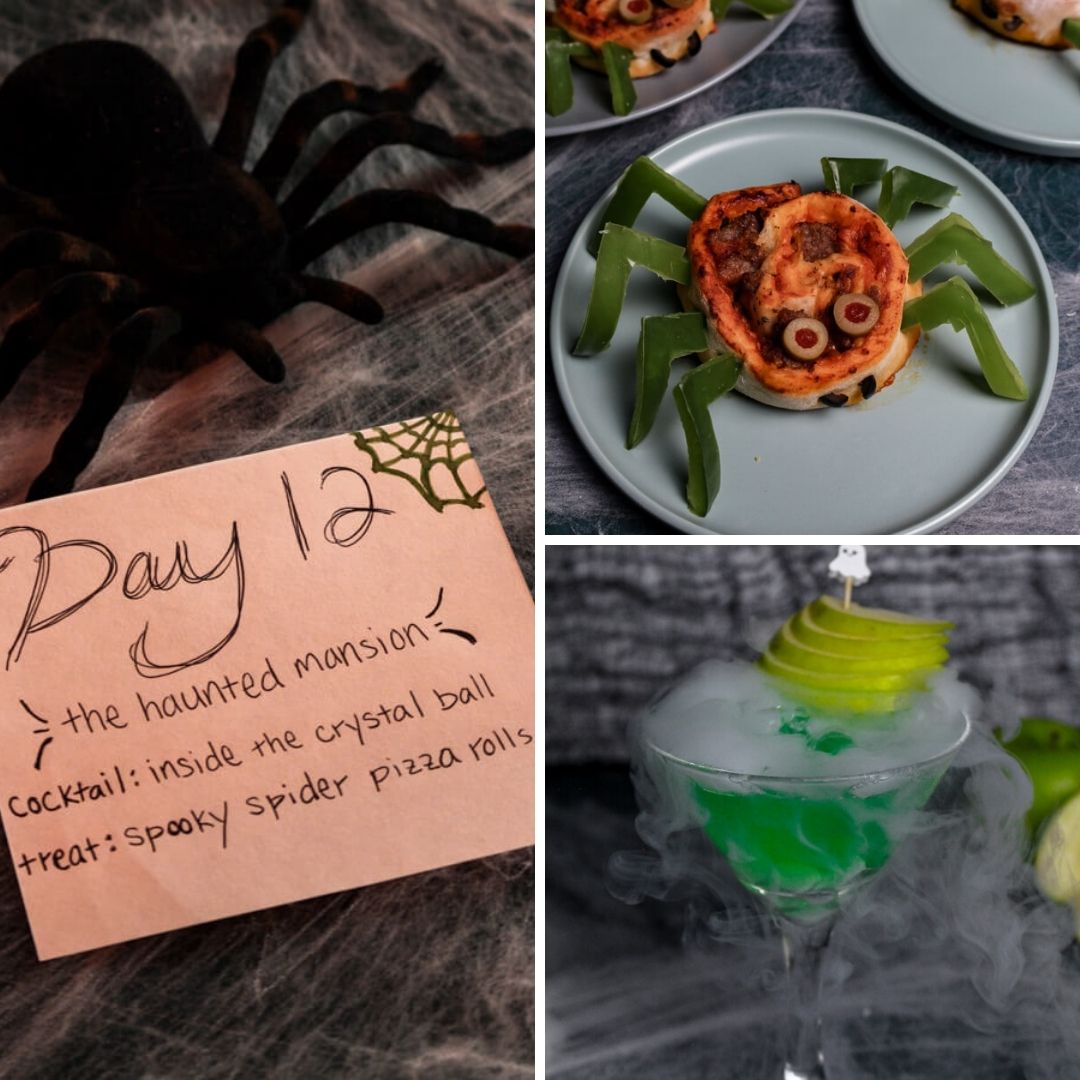 Day 12 This green apple martini represents Madame Leota who is in a crystal ball surrounded by green fog. This martini packs in all the green apple flavor with sour apple schnapps, green apple vodka, and apple juice garnished with an apple slice. Michael, Jim & Sara Evers' son, is extremely afraid of spiders and has to work through his fear during the movie. So, here are some very tasty spooky spider pizza rolls. Fill them up with your favorite pizza toppings and enjoy!
FIND RECIPES HERE- Green Apple Martini & Spooky Spider Pizza Rolls
Read more about these The Haunted Mansion Recipes!
October 13: Spooky Podcast with Caramel Apples and Pumpkin Pecan Whisky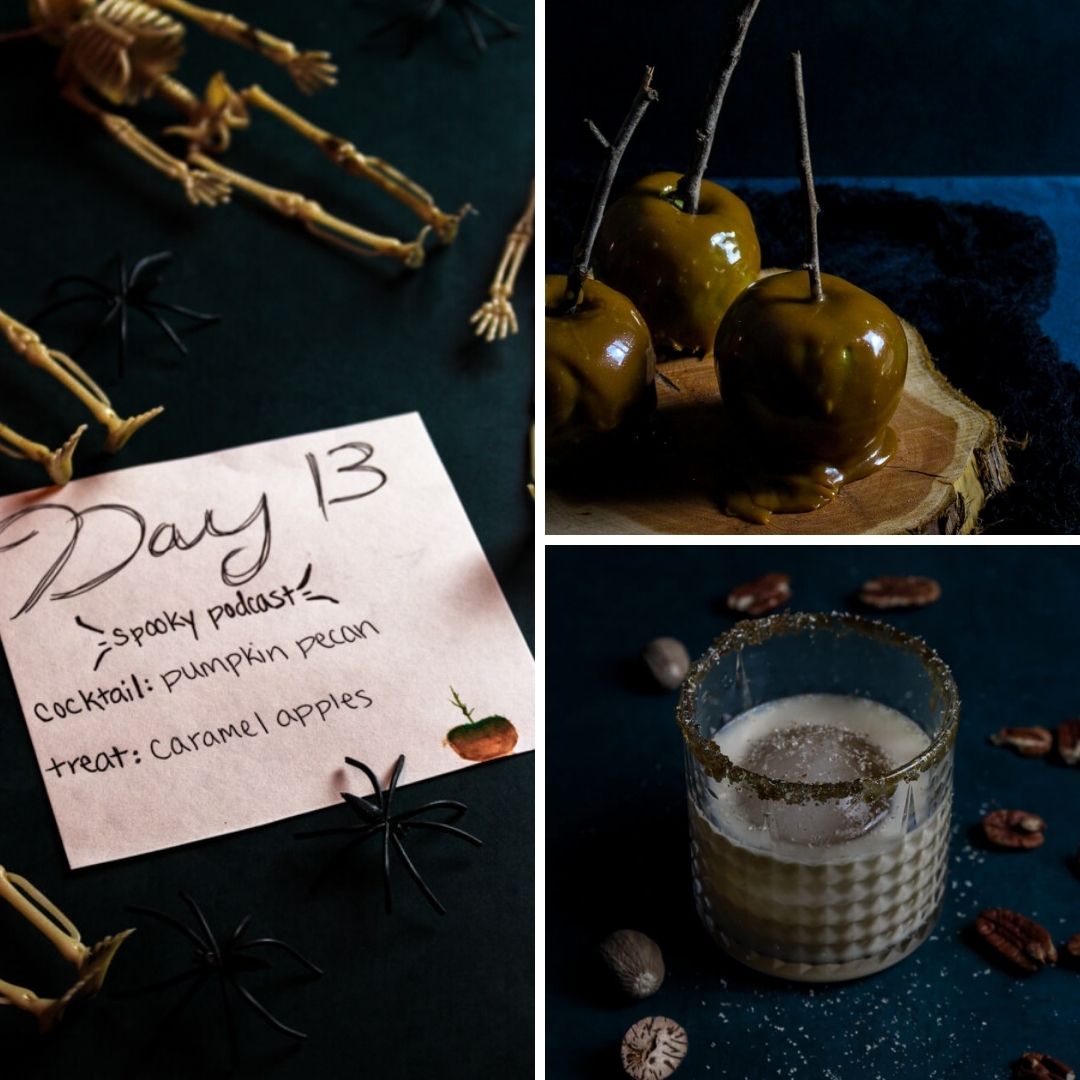 Day 13 Pick your favorite spooky podcast to listen to while you snack on homemade caramel apples and this delicious pumpkin pecan whisky made with pecan praline whisky, pumpkin spice Irish cream, and caramel vodka. It tastes like fall!
FIND RECIPES HERE- Pumpkin Pecan Whisky & Caramel Apples
October 14: Children of the Corn with Popcorn Balls and Candy Corn Jello Shots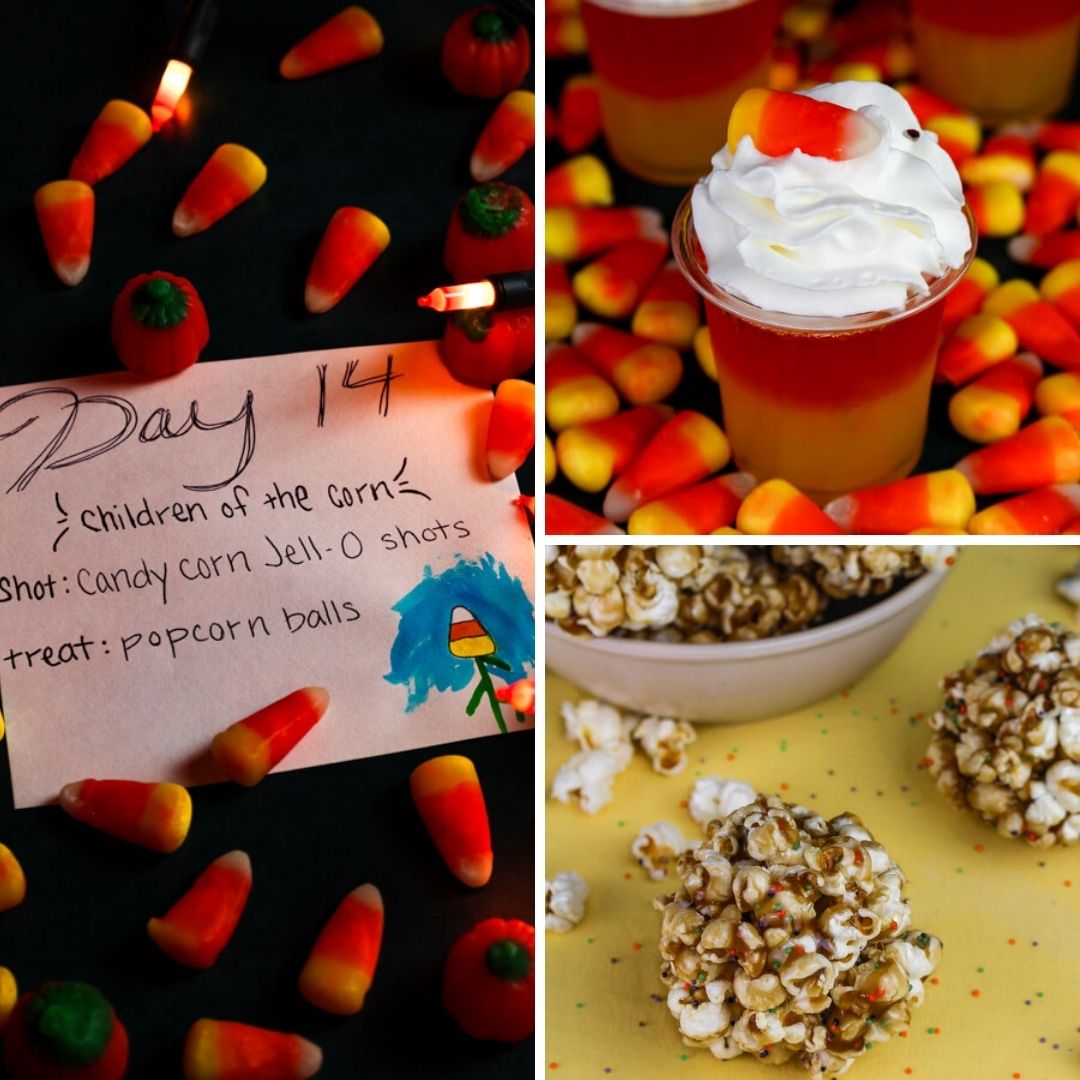 Day 14 Since today is Children of the Corn movie night, everything is corn-related. For the treat, homemade popcorn balls! These are such a classic Halloween treat. The booze for today comes in teh form of candy corn Jello shots. I always found it weird that candy corn shots do not taste like candy corn so I created some that do!
FIND RECIPES HERE- Popcorn Balls & Candy Corn Jello Shots
Read more about these Children of the Corn Recipes!
October 15: Scooby-Doo with Spooky Shaggy Sandwich and Pineapple Coconut Beach Cocktail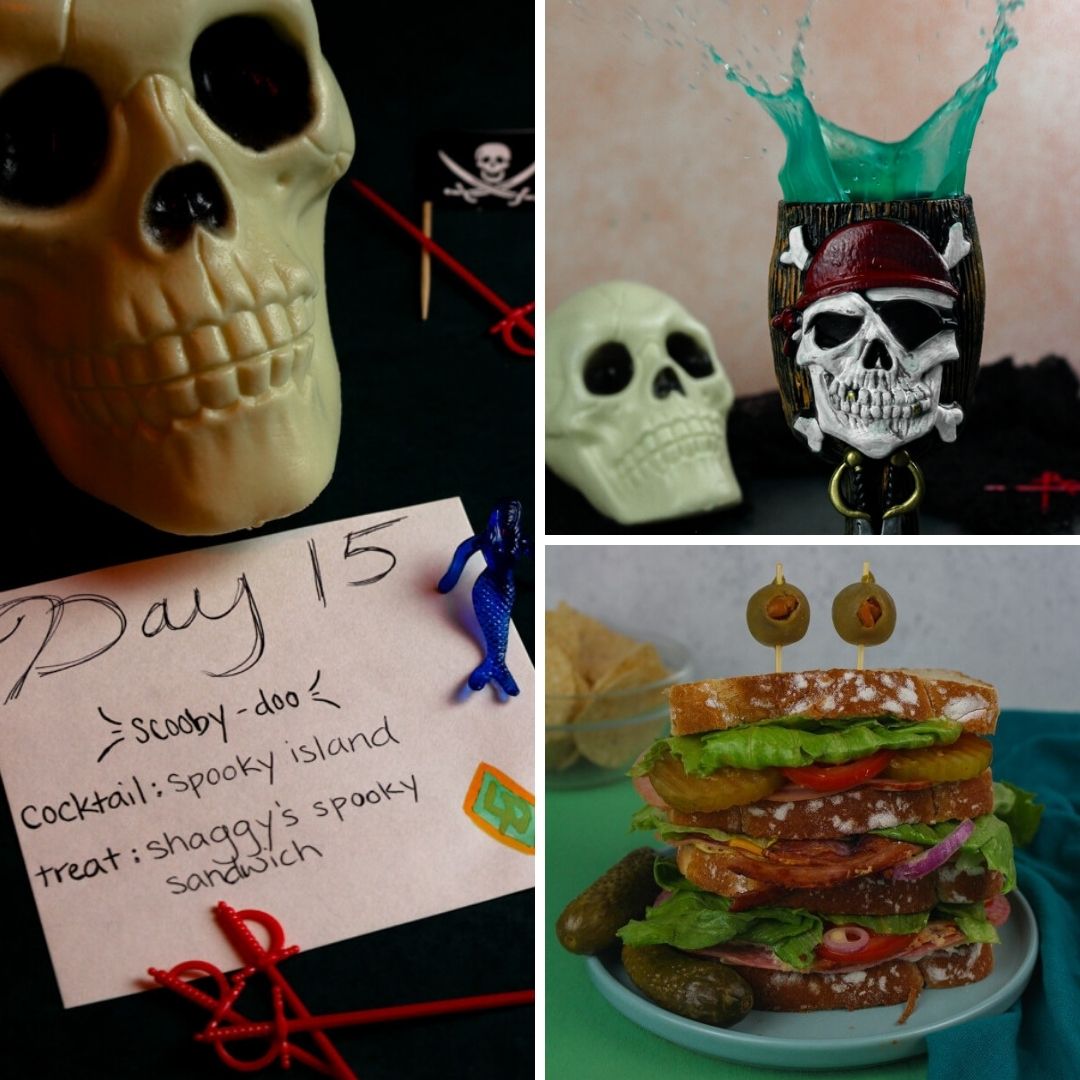 Day 15 Scooby-Doo isn't a traditional Halloween movie, but it sure is filled with villains. Like zoinks! For Scooby-Doo, we are eating this monster Shaggy sandwich filled with all types of meats, cheese, and veggies. Basically everything in your fridge should go in this sandwich. Don't forget to put slices of bread in the middle for stability and top with two green olives for monster eyes! For the cocktail, a pineapple coconut beach drink filled with all those island flavors.
FIND RECIPE HERE- Pineapple Coconut Beach Cocktail
Read more about these Scooby-Doo Recipes!
October 16: Trick or Treat Yourself with Tequila Orange Julius and Fall Fruit and Cheese Board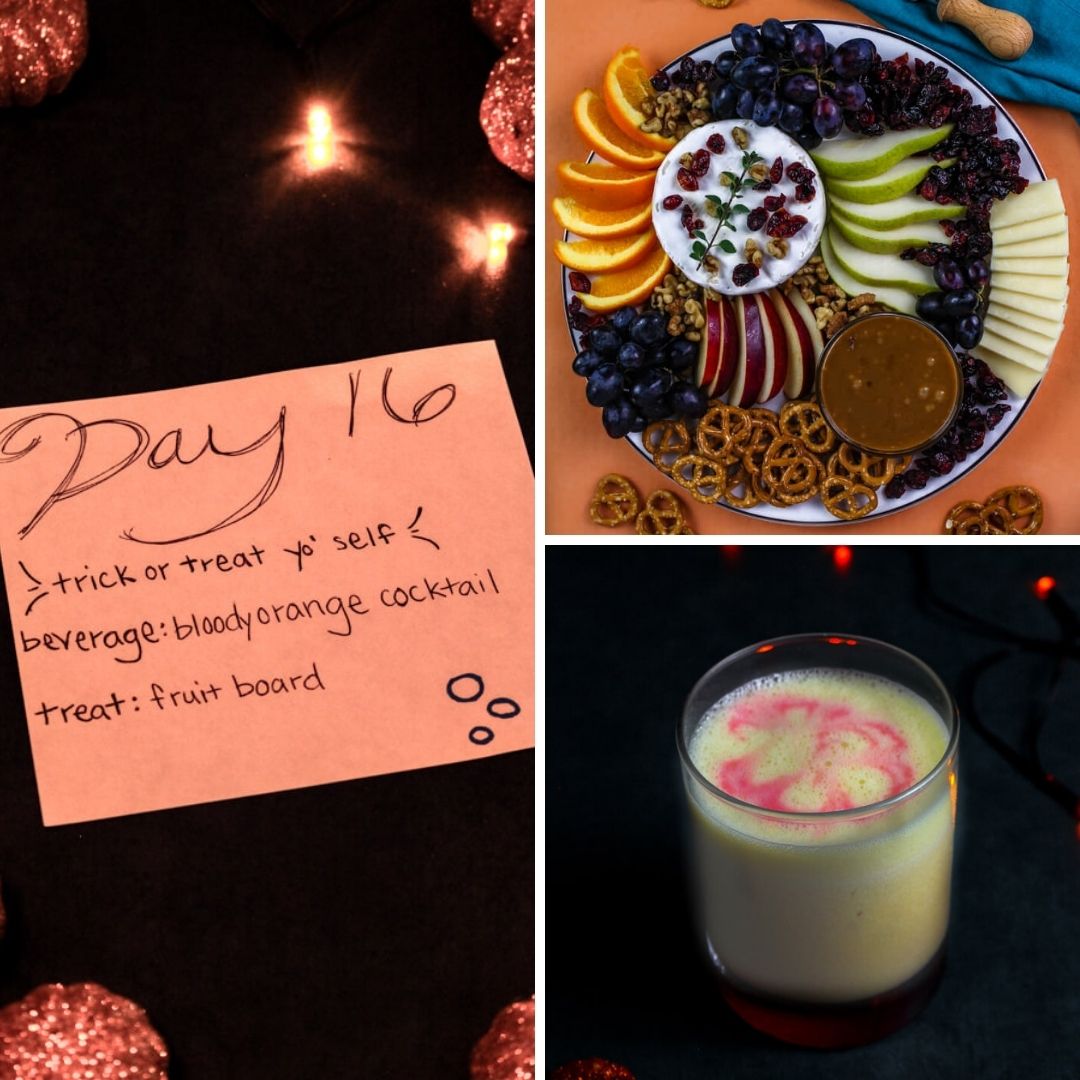 Day 16 It's trick or treat yo'self day! Go use that fancy bath bomb, put on that face mask, relax on the couch binge watching your favorite show, or go out and buy all those cute pumpkins at the pumpkin patch. Today is your day! And then treat yourself to an Orange Julius with tequila and this beautiful fall fruit & cheese board.
FIND RECIPES HERE- Tequila Orange Julius & Fall Fruit and Cheese Board
October 17: The Addams Family with Mysterious and Spooky Cocktail and Cheesy Pumpkin Soup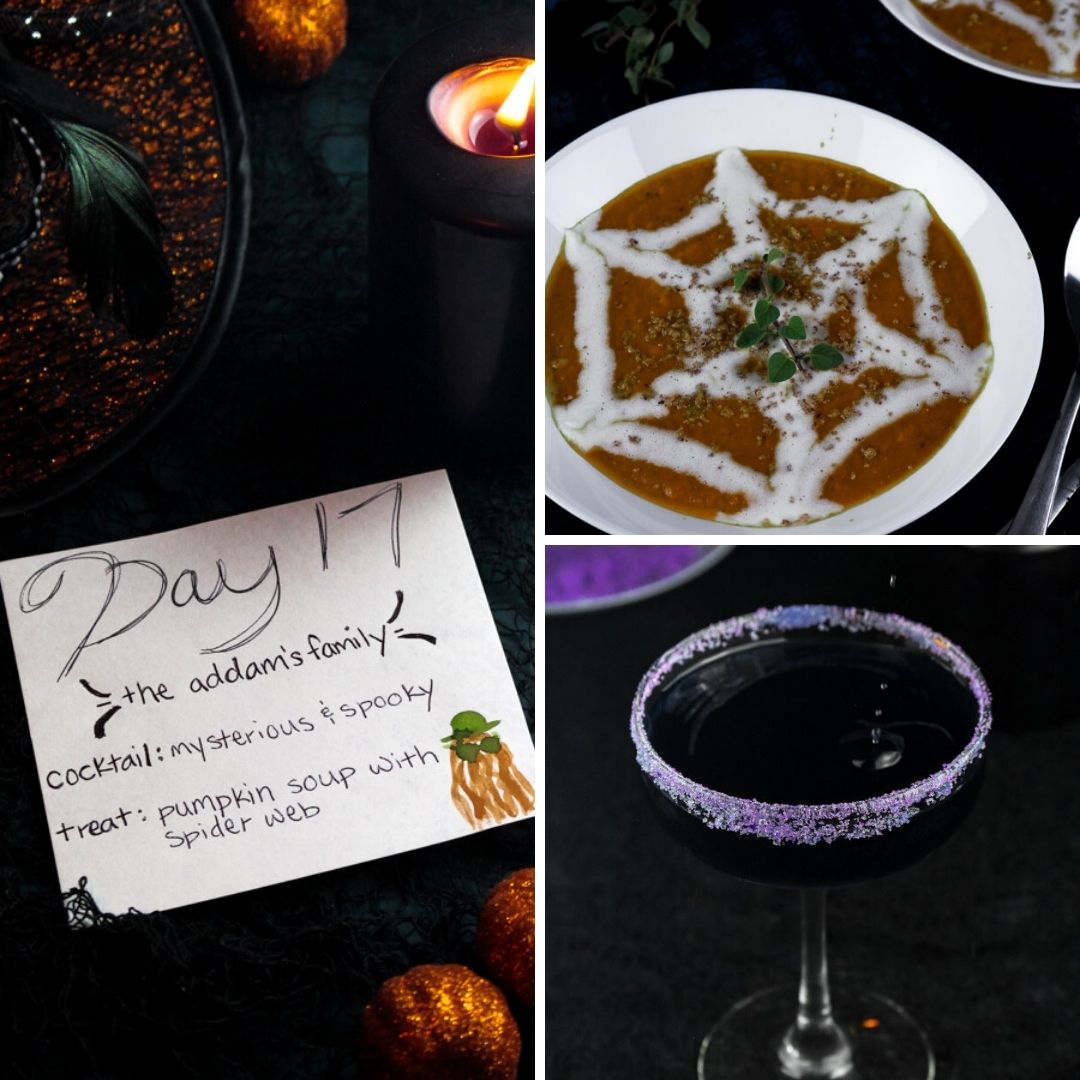 Day 17 The Addams family is just like their theme song says- mysterious and spooky. I also find them to be very spooky elegant which is the vibe I was trying to capture while I made these recipes. The cocktail is a deep purple made by combining the red of cranberry juice and grenadine with the blue of blue curacao. I can definitely see Morticia having one of these in her hands. For the treat- cheesy pumpkin soup. This soup is so delicious, and I made it extra spooky by drawing on a spooky cream spider web on top.
FIND RECIPES HERE- Mysterious and Spooky Cocktail & Cheesy Pumpkin Soup
Read more about these The Addams Family Recipes!
October 18: A Nightmare on Elm Street with Boozy Iced Pumpkin Coffee and Prosciutto and Arugula Pizza with Spicy Fig Jam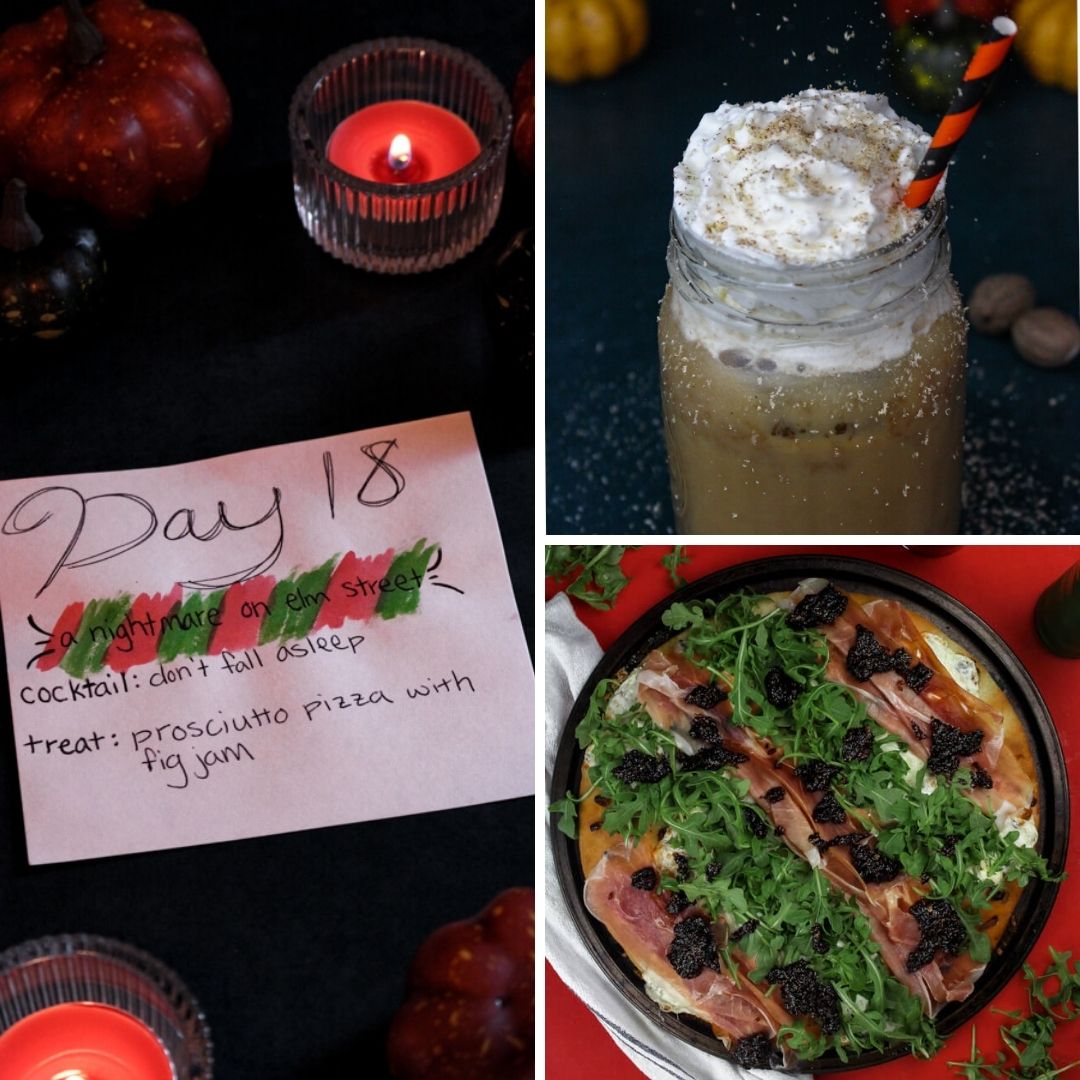 Day 18 During the almost the whole movie, the kids are trying to stay awake to prevent Freddy Krueger from showing up in their dreams. A good way to stay awake? Coffee! This coffee is made "fall" by adding in a homemade pumpkin simple syrup. It's then filled up with coffee, coffee liqueur, and milk. For the treat- a pizza that has Freddy Krueger's iconic sweater stripes. The row of green is arugula and the row of red is prosciutto. The pizza is then topped with a homemade spicy fig jam. *Chef's kiss*
FIND RECIPES HERE- Boozy Iced Pumpkin Coffee & Prosciutto and Arugula Pizza
Read more about these A Nightmare on Elm Street Recipes!
October 19: Bob's Burgers Halloween with Leeks Come Out at Night Burger and Pumpkin Beer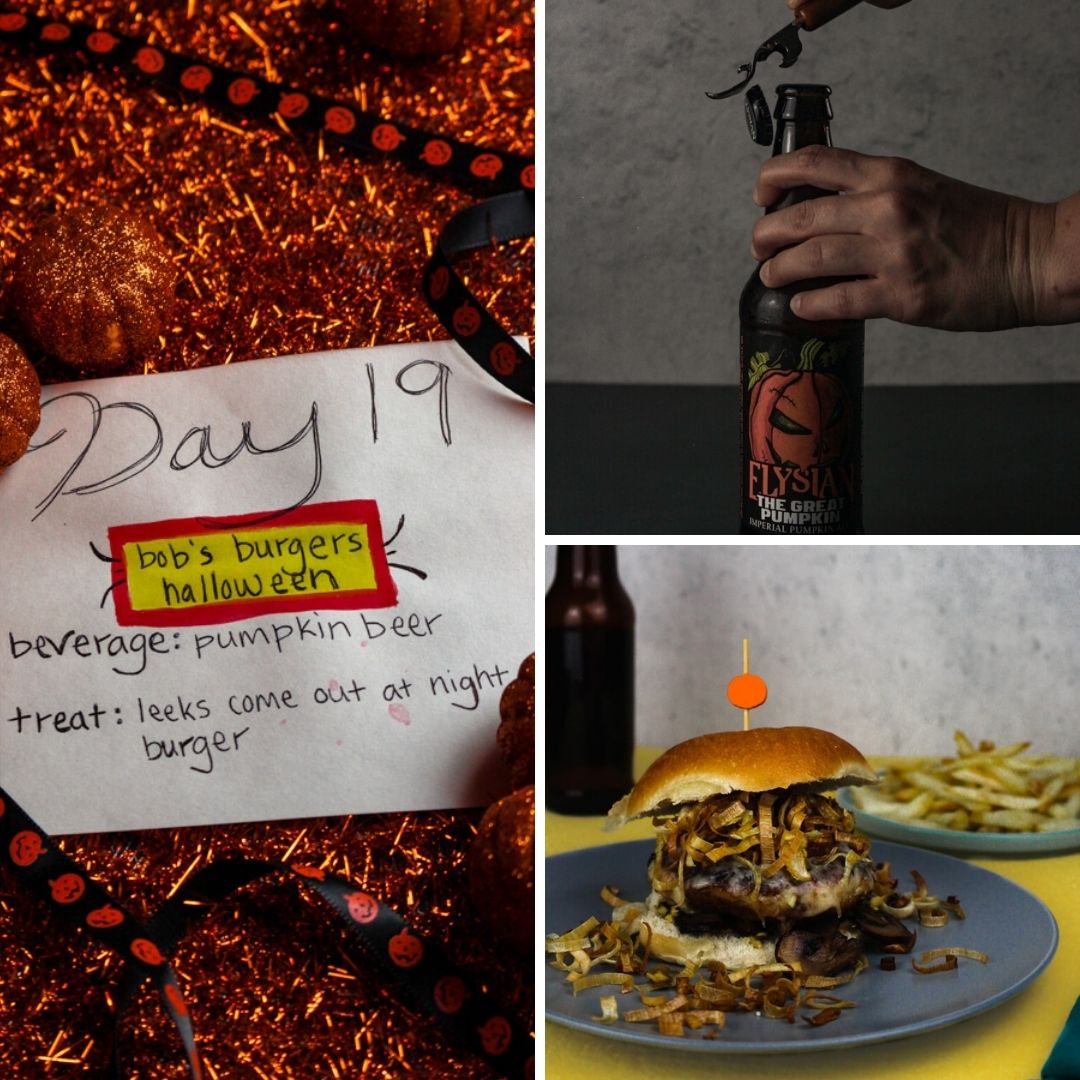 Day 19 For Bob's Burgers Halloween episode, we gotta have a punny burger to eat! I came up with the Leeks Come out at Night Burger which is made with a chicken patty filled with basil and garlic. The burger also has sauteed mushrooms, Dijon mustard, Swiss cheese, and finally topped with fried leeks. This burger was served with a nice cold pumpkin beer.
FIND RECIPE HERE- Fried Leeks and Mushroom Chicken Burger
October 20
Come back tomorrow for day 20!
Bon appétit & Happy Halloween Season!