Laura The Gastronaut > Recipes > Cocktails > Tequila Orange Julius
Tequila Orange Julius
*This post may contain affiliate sales links. Please see full disclosure policy for details.*
A boozy spin on the classic Orange Julius. Made with tequila, triple sec, and grenadine, this will be your new favorite brunch drink!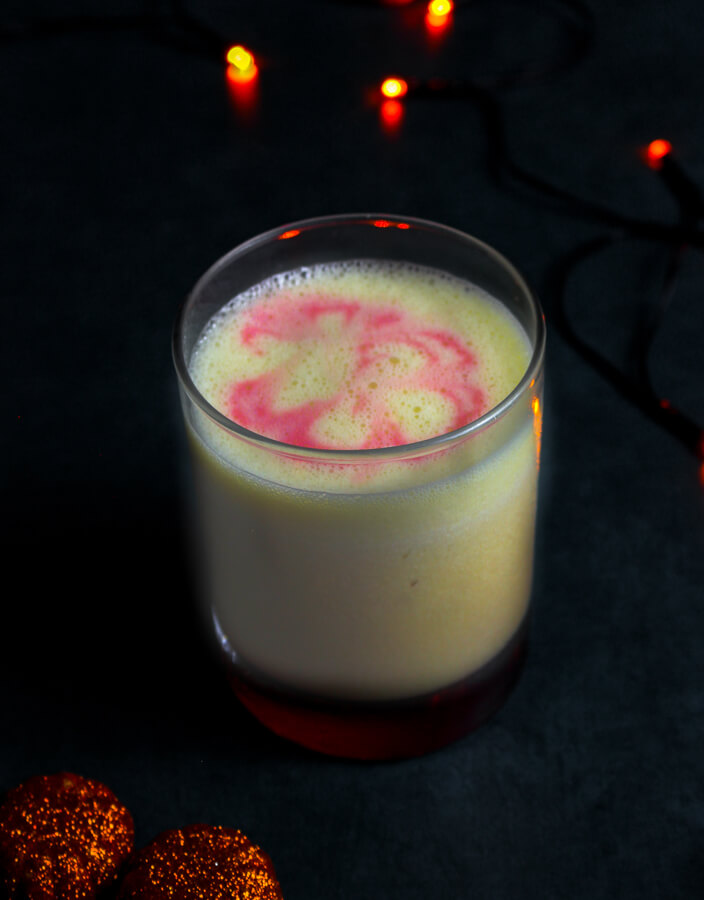 31 DAYS OF HALLOWEEN
This tequila orange julius is a part of my 31 Days of Halloween. For each day in October, I come up with a cocktail recipe and snack recipe that perfectly matches a scary movie, Halloween movie, or a fun spooky activity. Check it out for all of your Halloween snack and drinking desires!
__________________________________
FRUITY, SWEET, & REFRESHING
This cocktail is puts a boozy spin on a classic Orange Julius. If you've never had an Orange Julius before, it's a creamy slushy drink made from orange juice concentrate, vanilla, and milk. We always have them on Christmas morning, and they are one of my favorites. This Orange Julius, though, has a bit of a twist. It also has tequila and triple sec added for a super refreshing cocktail!
This cocktail made my Trick or Treat Yourself Day extra tasty! My day consisted of this frozen concoction, an amazing fall fruit and cheese board, and relaxing in the bath. I added a splash of grenadine to this boozy Orange Julius for a splash of "blood" and extra flavor. Whether you are have a relaxing day, need a cocktail to cool off, or enjoying a brunch, this drink is perfect!
BOOZY ORANGE JULIUS INGREDIENTS
• Frozen Orange Juice Concentrate: Using orange juice concentrate rather than regular orange juice will give this cocktail so much more flavor!
• Milk: A classic Orange Julius is creamy so adding milk is a must! Whole milk will be the creamiest, but 2% works as well.
• Silver Tequila: Out of all the liquors tried, tequila was my absolute favorite. It tastes like a combination of Orange Julius and a Tequila Sunrise.
• Triple Sec: Adds more orange flavor to the drink!
• Sugar: If you don't like your drinks to be super sweet, you can leave out or reduce the amount of sugar. The orange juice concentrate has plenty of sweetness!
• Vanilla Extract: My favorite part of an Orange Julius is the vanilla. It tastes so good with the orange juice!
• Grenadine: Adds an extra bomb of flavor!
HOW TO MAKE TEQUILA ORANGE JULIUS
In a blender, add 6 ounces orange juice concentrate, 1/2 cup (4 ounces) milk, 4 ounces silver tequila, 1 ounce triple sec, 1 Tablespoon sugar, 1 teaspoon pure vanilla extract, and 10-12 ice cubes. Blend until fully combined and frothy.
Pour into 2 cocktail glasses and add 1/4 ounce of grendadine to each glass. Cheers!
WHAT TO SERVE WITH A TEQUILA ORANGE JULIUS
• Fall Fruit and Cheese Board; If you really want impress, make this delicious fruit & cheese board with this cocktail!
• Jalapeno Avocado Cheese Toast with Egg; Brunch food + a boozy orange juice cocktail are a match made in heaven!
TEQUILA ORANGE JULIUS QUESTIONS
What the history of an orange julius? Julius Freed really liked oranges. In 1926, he opened an orange juice stand with his friend, Bill Hamlin. Bill's stomach became upset when drinking straight orange juice so in attempts to make it less acidic, he combined it with other ingredients. It was a delicious masterpiece! It became a favorite with everybody who tried it and soon people would be lined up yelling, "Give me an orange, Julius!" By the 50s, Orange Julius was being sold at multiple stores. In 1964, the Orange Julius became the official drink of World's Fair in New York, and after that the company blew up (in a good way)! In 1967, to the people that also own IHOP, but they sold it in 1970. And then in 1987, Dairy Queen bought the company, Orange Julius. What's in a classic Orange Julius? An orange julius consists of orange juice, sugar, milk, powdered egg whites, vanilla, and ice.
For this recipe: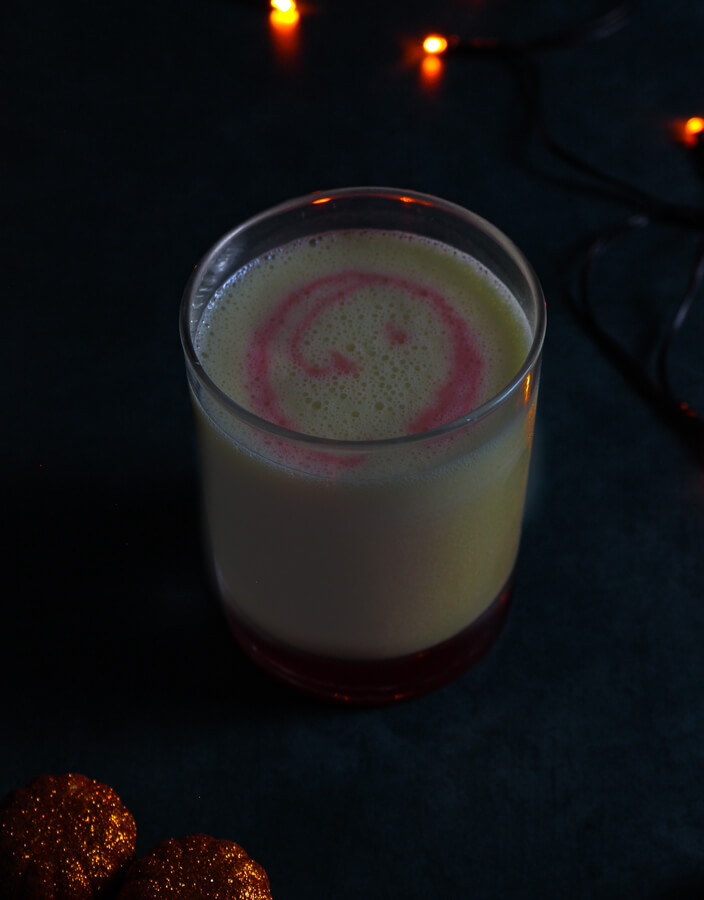 Tequila Orange Julius
A boozy spin on the classic Orange Julius. Made with tequila, triple sec, and grenadine, this will be your new favorite brunch drink!

By Laura Bullock | Laura The Gastronaut
Prep Time: 5 minutes | Total Time: 5 minutes
Yield: 2 cocktails
Ingredients
• 6 ounces frozen orange juice concentrate • 1/2 cup (4 ounces) milk • 4 ounces silver tequila • 1 ounce triple sec • 1 teaspoon vanilla extract • 1 Tablespoon sugar • 10-12 ice cubes • 1/2 ounce grenadine, divided
Instructions
1. Add orange juice concentrate, milk, silver tequila, triple sec, vanilla, sugar, and ice cubes to a blend. Blend until fully combined and frothy. 2. Pour into two cocktail glasses. Top each glass with 1/4 ounce of grenadine.
__________________________________
DID YOU MAKE THIS RECIPE?
Let me know by leaving a comment below and sharing on Instagram. Tag @laurathegastronaut and hashtag it #laurathegastronaut.
Keywords: orange julius, boozy orange julius, Halloween Recipe, frozen tequila sunrise
CHECK OUT THESE OTHER COCKTAIL RECIPES
Bon appétit!
October 16, 2021 by Laura Bullock