Laura The Gastronaut > Recipes > Cocktails > Sparkling Strawberry Gin
Sparkling Strawberry Gin
*This post may contain affiliate sales links. Please see full disclosure policy for details.*
A delicious gin cocktail made with Julia Child's strawberry sauce, lime juice, and topped with sparkling wine.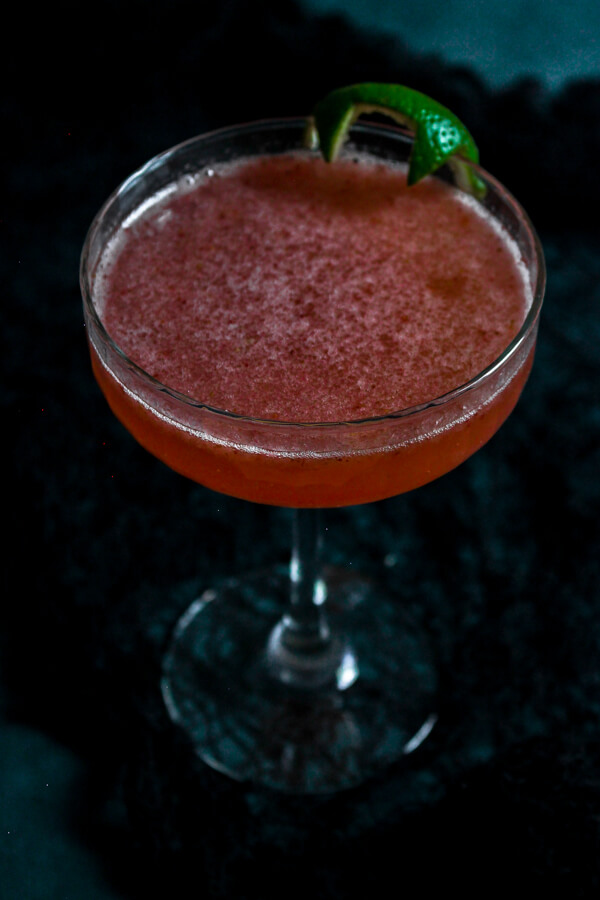 31 DAYS OF HALLOWEEN
This sparkling strawberry gin is a part of my 31 Days of Halloween. For each day in October, I come up with a cocktail recipe and snack recipe that perfectly matches a scary movie, Halloween movie, or a fun spooky activity. Check it out for all of your Halloween snack and drinking desires!
__________________________________
BUBBLY, FRUITY, & DELICIOUS
This cocktail was created in the spirit of Halloween. It pairs with the movie, Hotel Transylvania. In the movie, Dracula claims that "human blood is so fatty, and you never know where it's been." He explains that vampires now drink 'Near Blood' or 'Blood Beaters.' Here's my version of blood beaters!
I'm using Julia Child's strawberry sauce for this recipe. I love this strawberry sauce. I want to be it on everything. It's that good! You can find Julia's recipe for it on page 592 of Mastering the Art of French Cooking. I also love putting it in cocktails to add a bit of sweetness and strawberry flavor. This cocktail gin-based and made with this strawberry sauce and lime juice. It's topped off with sparkling wine to make a perfect cocktail! I added vampire fangs made from a lime peel for extra spookiness!
SPARKLING STRAWBERRY GIN INGREDIENTS
• Frozen Strawberries: I find that it's much easier to make the strawberry sauce with frozen strawberries. However, you can also use fresh strawberries if you like.
• Sugar: For just a touch of sweetness.
• Gin
• Lime juice: Freshly squeezed lime juice is best!
• Sparkling wine
HOW TO MAKE SPARKLING SPARKLING STRAWBERRY GIN
First, let's make that delicious strawberry sauce. Defrost 1/4 cup of frozen sliced strawberries. You can either leave them out at room temperature for about 45 minutes or defrost them in the microwave for 90 seconds at 30% power. I never seem to want to wait 45 minutes so the microwave is my best friend here. Once the strawberries are thawed, force them through a sieve. I use a wooden spoon (Careful- your spoon may stain red) and just keep forcing/stiring until you get juice. You should get about 1-2 ounces of strawberry juice. You can also use fresh strawberries if you desire. I find them much harder to force through a sieve, but just make sure to cut the strawberries into smaller pieces before you start forcing them through. Then we will whisk in 1/4 teaspoon of sugar. Now it's time to make that cocktail!
In a shaker, add 1 1/2 ounces of gin, 1 ounce of strawberry sauce, and 1/2 ounce lime juice. Add a couple cubes of ice, and shake for about 10 second until chilled. Strain into your cocktail glass and top with 2 ounces of sparkling wine. I cut out some vampire fangs out of a lime peel to garnish my glass. Cheers!
WHAT TO SERVE WITH SPARKLING STRAWBERRY GIN
• Halloween Roaches- Goat Cheese & Prosciutto Dates; To keep up with the Hotel Transylvania theme, serve this cocktail with these creepy (and maybe a little too realistic) Halloween roaches!
• Air-fried Jalapeno Fries; This sparkling strawberry gin makes me snacky, and these air fryer jalapeno fries hit the spot.
• Strawberries; This cocktail just has a hint of strawberry so serving it with a bowl of strawberries to pick up more of the flavor is a great idea. Chocolate-covered strawberries would be really good too!
SPARKLING STRAWBERRY GIN QUESTIONS
Can I replace the frozen strawberries with fresh strawberries? Yep, you can! I like to use frozen strawberries because I think they are easier to force through the sieve, but fresh work too! I would just recommend cutting the fresh strawberries into smaller pieces prior to forcing through the sieve. Is sparkling wine the same thing as champange? Not exactly. All champagne is sparkling wine, but not all sparkling wine is champagne. Sparkling wine is called champagne when it comes from the region of Champagne, France.
For this recipe: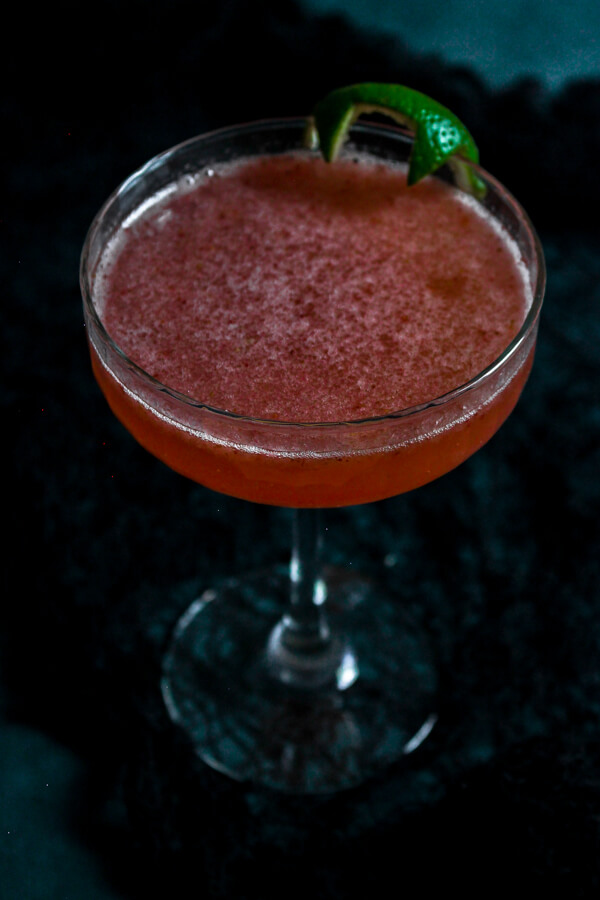 Sparkling Strawberry Gin
A delicious gin cocktail made with Julia Child's strawberry sauce, lime juice, and topped with sparkling wine.

By Laura Bullock | Laura The Gastronaut
Prep Time: 10 minutes | Total Time: 10 minutes
Yield: 1 cocktail
Ingredients
• 1/4 cup sliced frozen strawberries • 1/4 teaspoon sugar • 1 1/2 ounces gin • 1/2 ounce lime juice • 2 ounces sparkling wine
Instructions
1. Defrost strawberries for 90 seconds at 30% power in the microwave. Force thawed strawberries through a sieve until you get about 1 ounce of juice. Whisk in sugar. 2. In a shaker, add strawberry sauce, gin, lime juice, and a couple of ice cubes. Shake for about 10 seconds until chilled. 3. Strain into cocktail glass and top with sparkling wine.
__________________________________
DID YOU MAKE THIS RECIPE?
Let me know by leaving a comment below and sharing on Instagram. Tag @laurathegastronaut and hashtag it #laurathegastronaut.
Keywords: gin cocktail, Hotel Transylvania recipe, Halloween recipe, sparkling gin
CHECK OUT THESE OTHER SPOOKY RECIPES
Bon appétit!
October 5, 2021 by Laura Bullock