Laura The Gastronaut > Recipes > Air-fried Jalapeno Fries
Air-fried Jalapeno Fries
April 15, 2021 | Jump to Recipe | This post may contain affiliate links.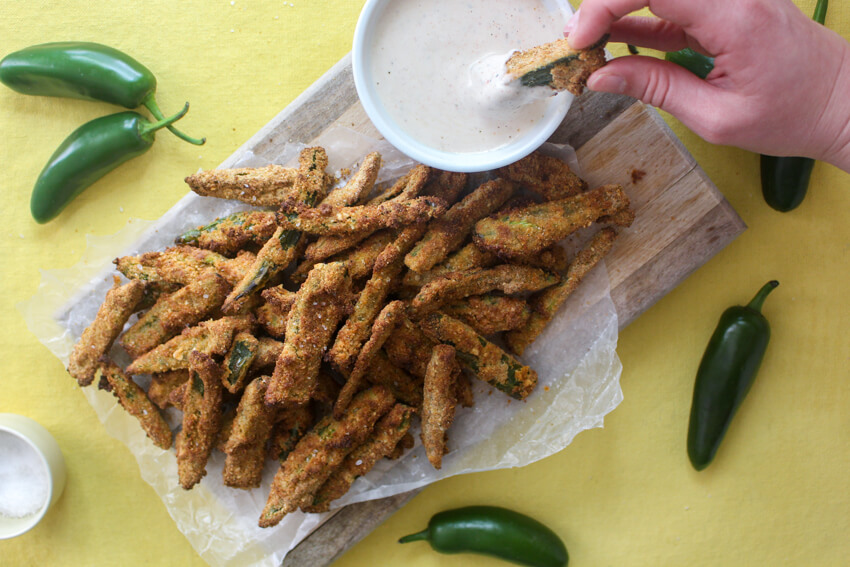 Who doesn't love jalapenos?! To say that my husband and I are obsessed with jalapenos would be an understatement. These crispy air fryer jalapenos are scrumptious and don't leave you feeling blahh because you ate too much fried food! Of course, when these air-fried jalapeno fries are dipped in some homemade ranch dressing, they are perfection! Excuse me while I go eat the entire batch by myself.
__________________________________
AIR-FRIED JALAPENOS ARE MY NEW FAVORITE SNACK
These jalapeno fries are exactly what I want on a Friday afternoon- crunchy and spicy finger food. They are covered in flour, breadcrumbs, eggs, and cream for the perfect coating. Oh, and lots of spices! Jalapenos are awesome not only because they taste amazing, but they are also SO cheap! I can buy a whole sack of them for under a $1. What a deal!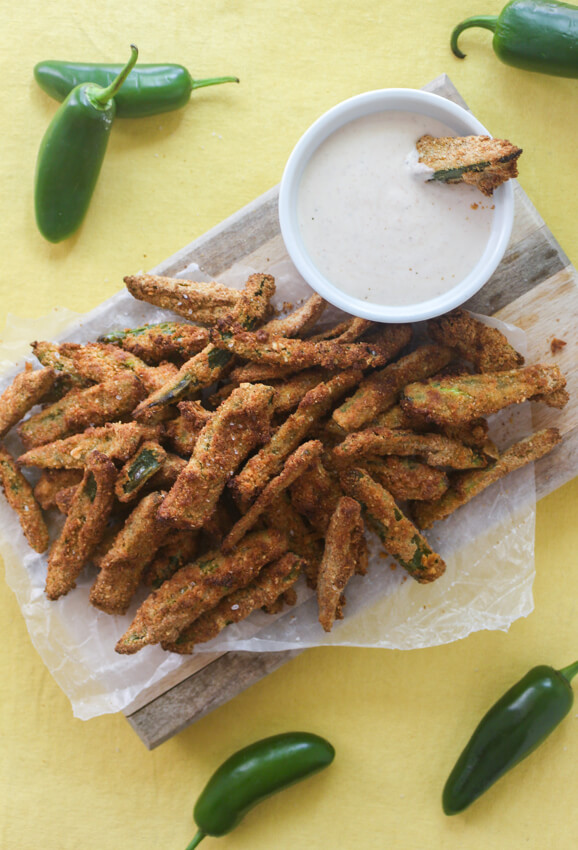 INGREDIENTS FOR THESE AIR-FRIED JALAPENO FRIES
• Jalapenos
• Flour: Rolling the jalapenos in flour prior to the egg mixture allows the eggs to adhere better.
• Eggs: When coating food, eggs work great for achieving a thicker crust and keeping all the breadcrumbs stuck during the cooking process.
• Whipping Cream: The cream can be substituted with milk, but I reallyyy like the thickness that the cream provides. You could also substitute with buttermilk as well.
• Bread Crumbs: You could replace breadcrumbs with Panko if that's what you have on hand. However, breadcrumbs are my favorite for this recipe.
• Spices: Paprika, Cayenne Pepper, Garlic Powder, Salt + Pepper
The spices in this recipe can be changed to whatever works for you. Mix it up to your liking!
HOW TO MAKE AIR-FRIED JALAPENO FRIES
This recipe is written for 8 large jalapenos or 10 medium-sized jalapenos. I begin by cutting off the stems and then cutting each jalapeno in half. Each half can be cut into 3 fries which gives you a total of 6 fries per jalapeno. I like to remove the seeds because they tend to get everywhere, but you could also keep the seeds in if that fancies you. It will just bring up the heat!
Now you'll need 3 shallow bowls. In the first bowl, you'll put in your flour. In the second bowl, the eggs and cream will get beaten together. In the third bowl, the breadcrumbs and seasonings are mixed together. Feel free to play around with the seasonings. My favorites are paprika, cayenne, garlic powder, salt and pepper. I can't be the only one that adds cayenne pepper to almost everything. It just works so well in recipes, and I do like it spicy!
Each jalapeno fry will get covered in flour, then drenched in the egg and cream mixture, and finally tossed in the breadcrumb mixture until fully covered. Now it's time to cook 'em! Lightly spray the bottom of the air fryer, and place the fries in without them overlapping. You may have to cook them in 2-3 batches. That's the bummer about air fryers. But man, the results are totally worth it. The fries will cook at 400°F for 12 minutes. Make sure at the halfway mark, you give them a quick shake so they cook evenly.
Immediately after cooking, sprinkle the fries with some more salt.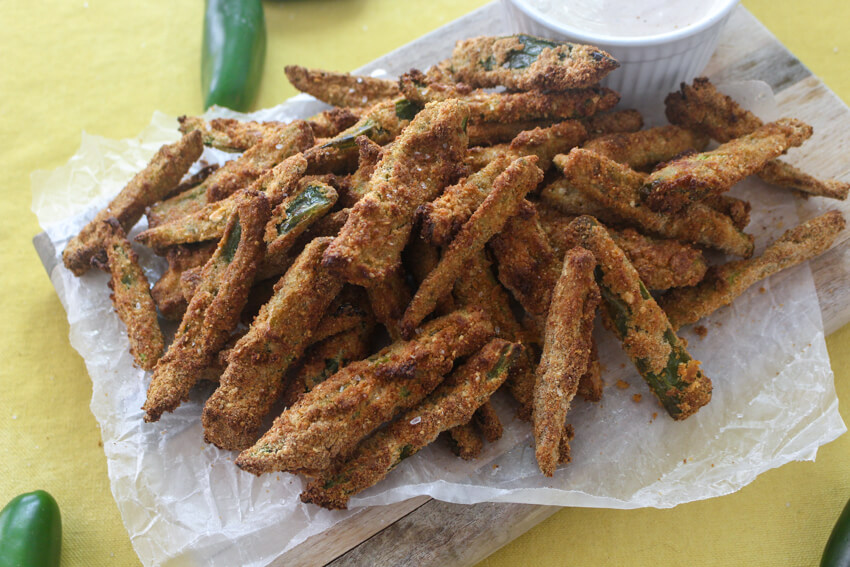 AIR-FRYER JALAPENO FRIES: FAQs
Do I have to remove the seeds of the jalapenos? Nope! You can keep the seeds in the jalapenos if you want the fries to be extra spicy. How do you get the breading to stick to the jalapenos? It's not going to be perfect, but I found that when you start with flour it helps the breading stay put better during the cooking process. So make sure you cover the jalapenos completely with the flour then cover with egg/cream mixture and finally cover with breadcrumbs/spices.
SCIENCE
Why do we bread the food prior to frying (or air-frying, in this case)? Well, first off, it's delicious and makes the jalapenos crunchy and brown. Besides taste, breading with flour, egg/cream, and breadcrumbs forms a crust around the jalapenos which will keep the moisture inside. It also keeps the jalapenos from charring or burning in the high heat. Think of the breading as a security blanket wrapped around the jalapenos. The jalapenos are kept safe while the breading is the one that's becoming dry and crunchy. Since there is holes in a breadcrumb breading, this increases the surface area of the food being fried and you get maximum crunch. What's the difference between batter and breading? Batters consist of flour, a liquid, and/or leaveners (baking powder) or binders (eggs). Think of beer-battered fish. You coat the fish filets in a thick gooey batter and drop it in the hot oil for absolute deliciousness. Breadings, on the other hand, usually consist of many layers- flour, eggs/milk/cream, and then a texture layer (breadcrumbs, crackers, nuts, cornmeal). Read more about batter and breading on The Food Lab.
WHAT TO MAKE WITH AIR-FRYER JALAPENO FRIES
• Homemade Ranch Dressing; Ranch Dressing and Jalapeno Fries go hand-in-hand.
• Tofu Tacos with Avocado Mayo & Tomato Jam; These tacos are amazing when topped with jalapeno fries!
For this recipe: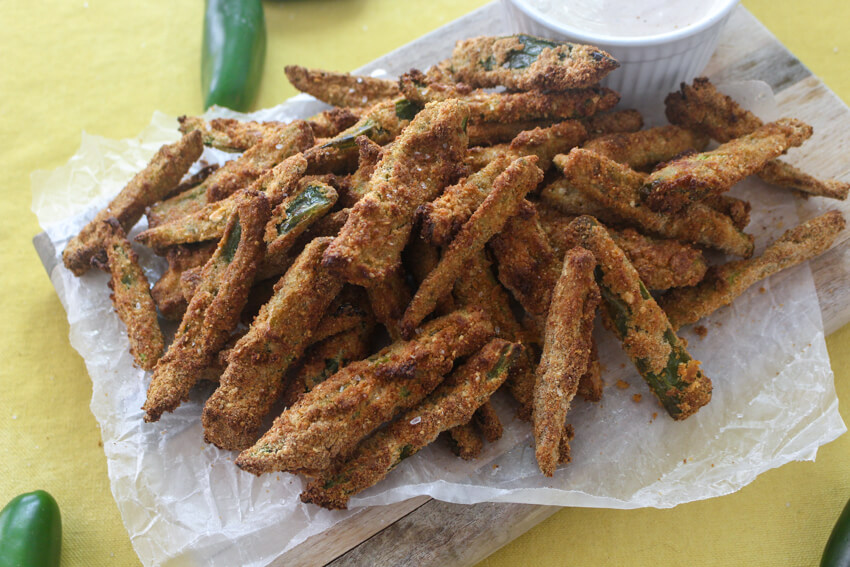 Air-Fried Jalapeno Fries
Who doesn't love jalapenos? These crispy air-fried jalapenos are not only delicious, but they are so easy to make. Jalapeno fries make for the perfect snack or appetizer!

By Laura Bullock | Laura The Gastronaut
Prep Time: 10 minutes | Cook Time: 12 minutes | Total Time: 22 minutes
Yield: 4 servings
Ingredients
• 8 large or 10 medium jalapenos • 1/4 cup flour • 2 eggs • 1/2 cup whipping cream • 1 cup bread crumbs • 1 1/2 teaspoons paprika • 1 teaspoon Kosher salt • 1/2 teaspoon cayenne • 1/2 teaspoon garlic powder • 1/2 teaspoon ground pepper • Cooking spray • Kosher salt, to taste
Instructions
1. Cut off the stems of the jalapenos. Cut each jalapeno in half then cut each half into 3 fries. You should get 6 fries from each jalapeno. Remove and discard the seeds. 2. In a shallow bowl or dish, put in the flour. In another shallow bowl, whisk together the eggs and cream. In a third shallow bowl, mix together the bread crumbs, paprika, salt, cayenne, garlic powder, and ground pepper. 3. Working with a few jalapeno fries at a time, cover the fries with the flour then drench the fries in the egg and cream mixture. Finally, toss the fries in the bread crumb mixture until well coated. Continue with the rest of the jalapenos. 4. Lightly spray the bottom of the air fryer with cooking spray. Place the jalapeno fries into the air fryer making sure none of them are overlapping. You may have to cook the jalapenos in 2 or 3 batches. Lightly mist the jalapeno fries with cooking spray. 5. Set the air fryer to 400°F, and cook for 12 minutes, shaking the jalapenos halfway through. 6. Immediately after cooking, sprinkle the jalapenos with salt. 7. Serve jalapeno fries with some homemade ranch dressing.
__________________________________
Notes
Ranch Dressing: These jalapenos fries are really good by themselves, but with ranch dressing they are super good. Here's a recipe for my homemade ranch dressing!
Seasonings: I think these jalapeno fries would be amazing with any combination of seasonings. This was my favorite combination. The cayenne brings in just enough spice for my liking, and the paprika and garlic powder bring in nice flavor.
DID YOU MAKE THIS RECIPE?
Let me know by leaving a comment below and sharing on Instagram. Tag @laurathegastronaut and hashtag #laurathegastronaut.
Category: Appetizers & Snacks Cuisine: American
Keywords: air-fryer recipe, jalapeno fries, air-fried jalapenos
LOVE JALAPENOS AS MUCH AS I DO?! CHECK OUT THESE OTHER JALAPENO RECIPES!
• Spicy Jalapeno Baked Macaroni and Cheese
• Jalapeno Honey Barbeque Chicken Wings
Bon appétit!
April 15, 2021 by Laura Bullock