Spicy Jalapeno Baked Macaroni and Cheese
Cooking Laboratory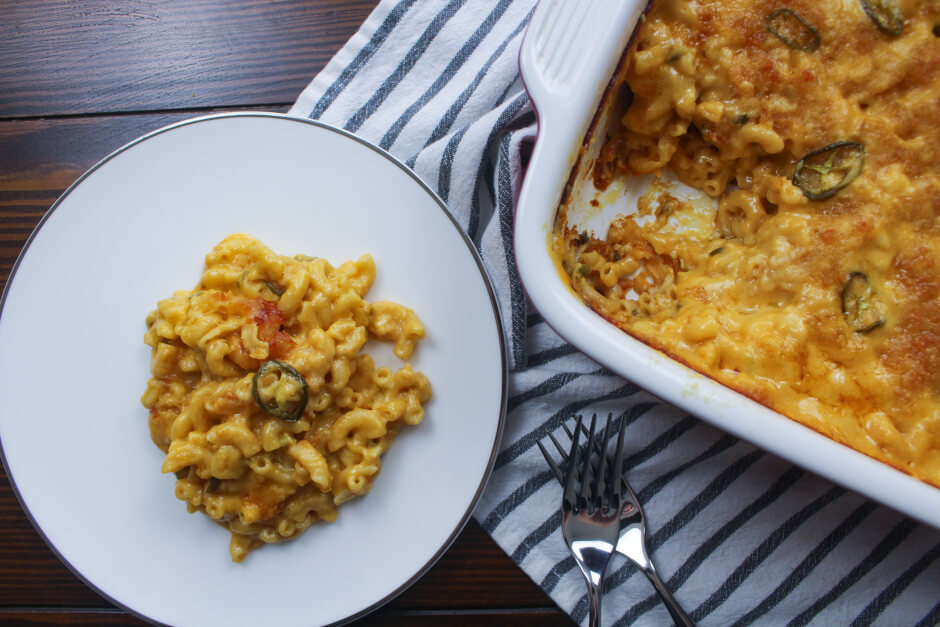 Are you one of those people that gets a little bit dissapointed when you don't see macaroni and cheese sitting on the Thanksgiving table? If so, you're in the right place. In order to honor one of the best holidays [Thanksgiving] and one of the best side dishes [macaroni and cheese] I have dedicated my third Cooking Laboratory video to Baked Macaroni and Cheese. I know 2020 Thanksgiving will be different, but hopefully this delicious spicy cheesy pasta will boost your mood.
I'm usually all for keeping traditional recipes traditional, but I couldn't help myself from adding in some heat into this creamy baked mac & cheese. I skipped the garlic and onion powder and went for throwing in real onion and garlic right into the pasta. I added in minced jalapenos with all of their seeds for maximum spicy! The canned cream of condensed soup made this macaroni and cheese the creamiest without covering up the delicious extra-sharp cheddar cheese flavor. I also added pepper jack cheese to contribute to the creaminess and add little more kick. You better believe that this will be served at Thanksgiving at our house even if its just the two of us. We could all use a little (or lot- I'm not judging) comfort food during the 2020 holidays!
How did I come up with this recipe? Well, I looked into the history of mac & cheese, learned about pasta science, and made four other baked macaroni and cheese recipes that I found online. I then took what I learned in my lab (AKA: my kitchen), and through trial & error came up with this wonderful baked macaroni and cheese with a kick.
If you are interested the history of macaroni and cheese, pasta science, and watching the taste tests- click the video below!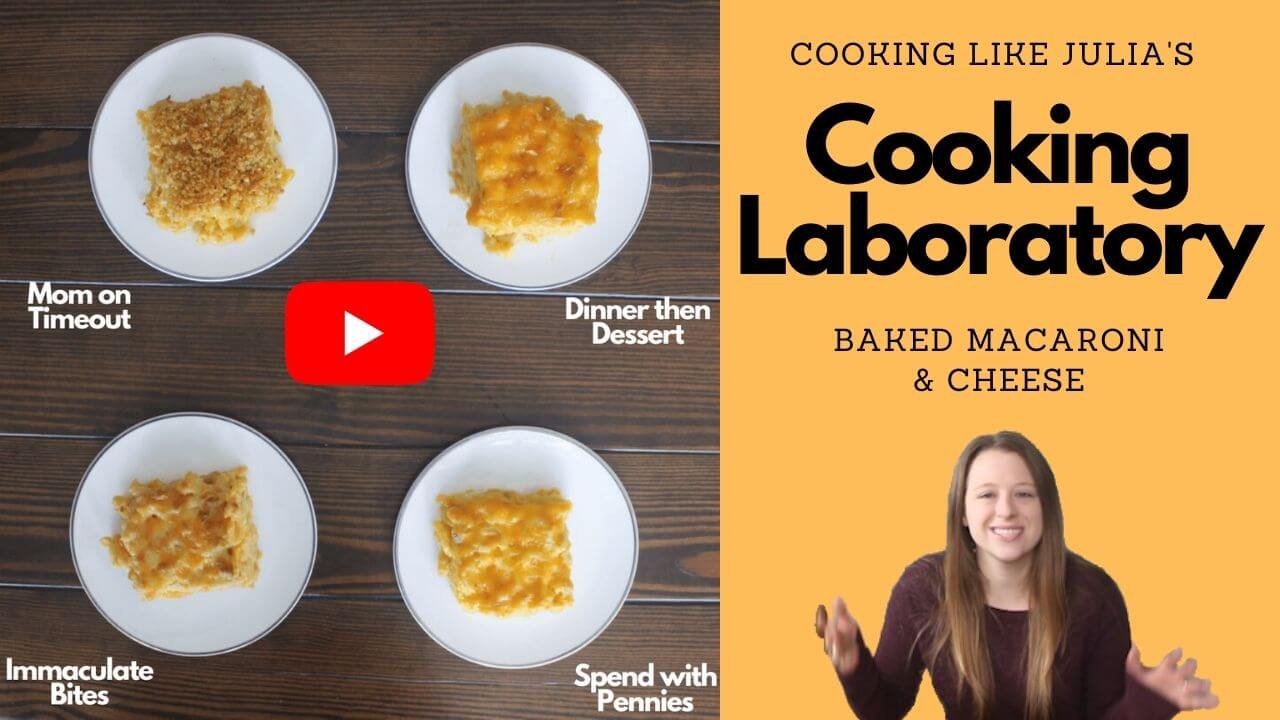 __________________________________
Let's talk about the other four recipes that I chose to make!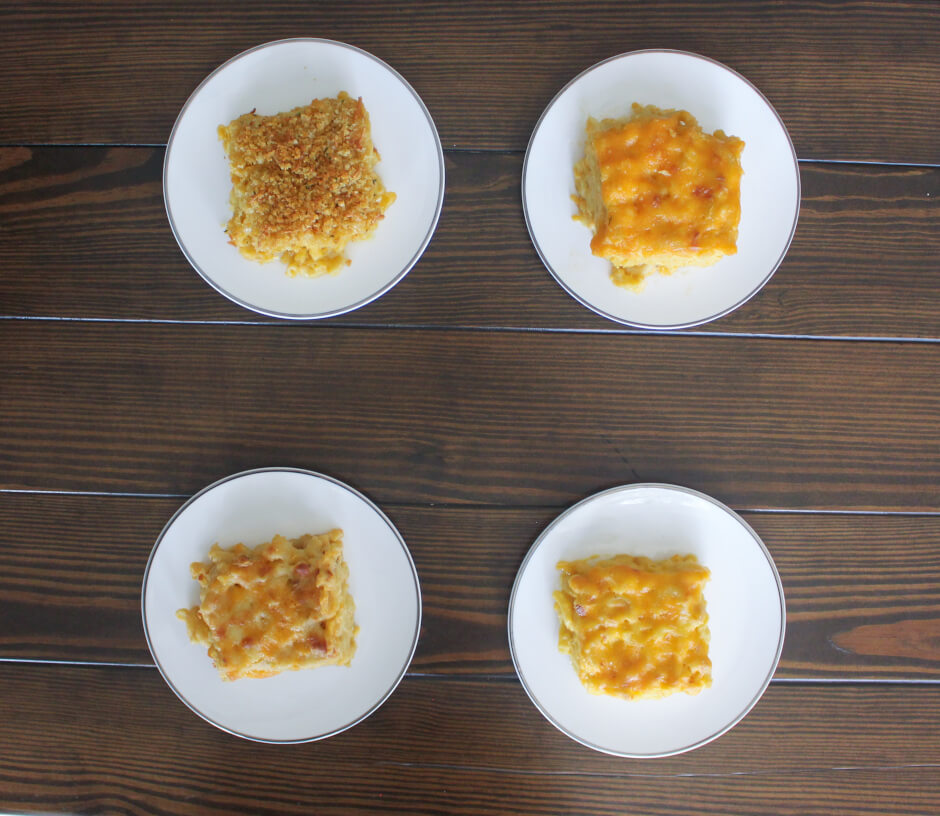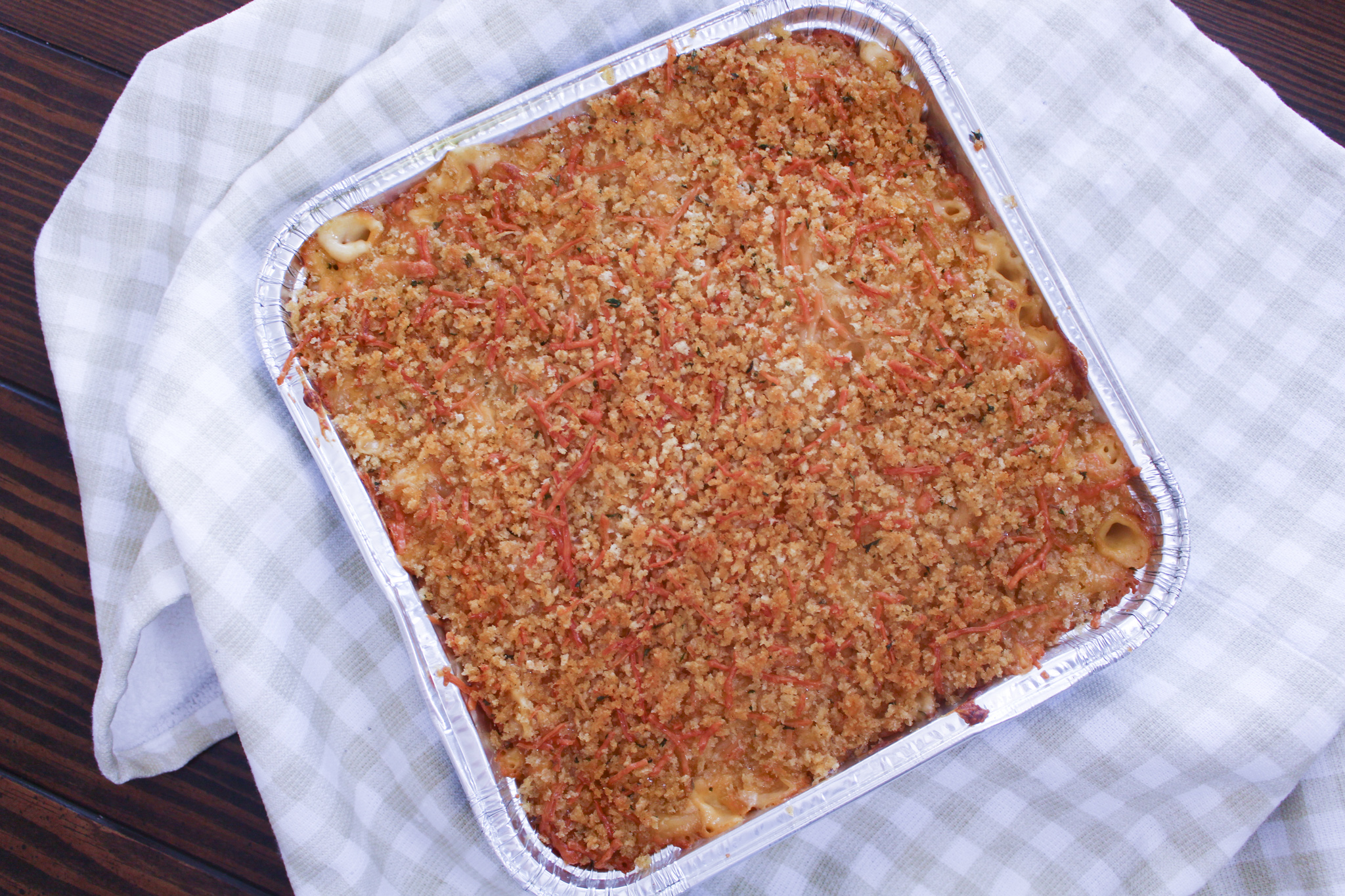 First, I made Mom on Timeout's Best Homemade Baked Mac and Cheese (Mom on Timeout Homepage). This baked macaroni and cheese was oh so creamy from using heavy whipping cream instead of milk. The cheeses were sharp cheddar and gruyere. The gruyere stole the show and makes such a lovely cheesy pasta. The Panko/Parmesan topping added the perfect amount of crunch.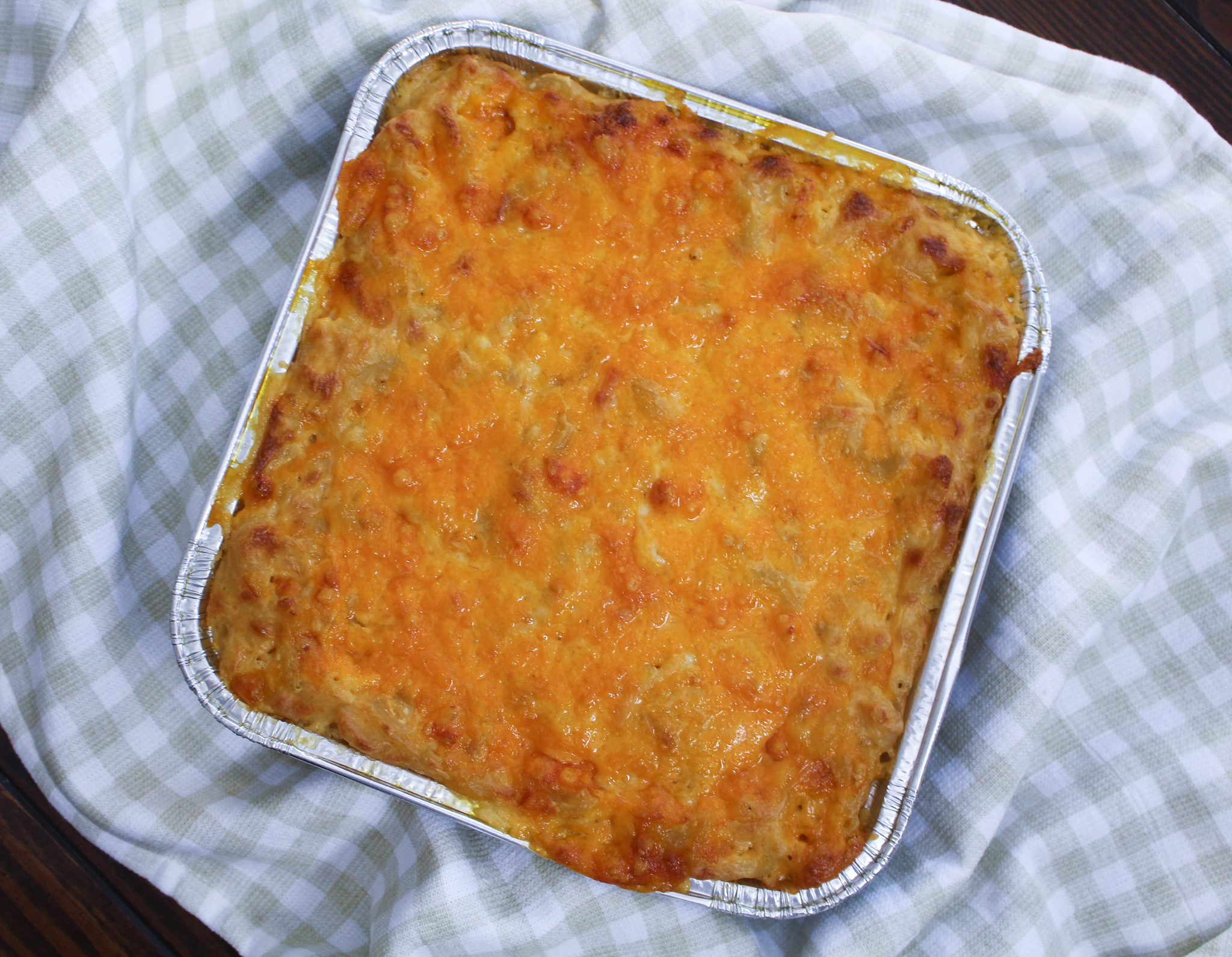 Second, I made Dinner then Dessert's Baked Mac and Cheese (Dinner then Dessert Homepage). I loved flavors that the addition of mustard powder, cayenne pepper, and paprika brought to this mac & cheese. The addition of an egg helped make the pasta creamy which was nice. The cheeses were Monterey Jack, Mozzarella, and Sharp Cheddar. The use of three different cheeses gives a deep flavor which I enjoyed.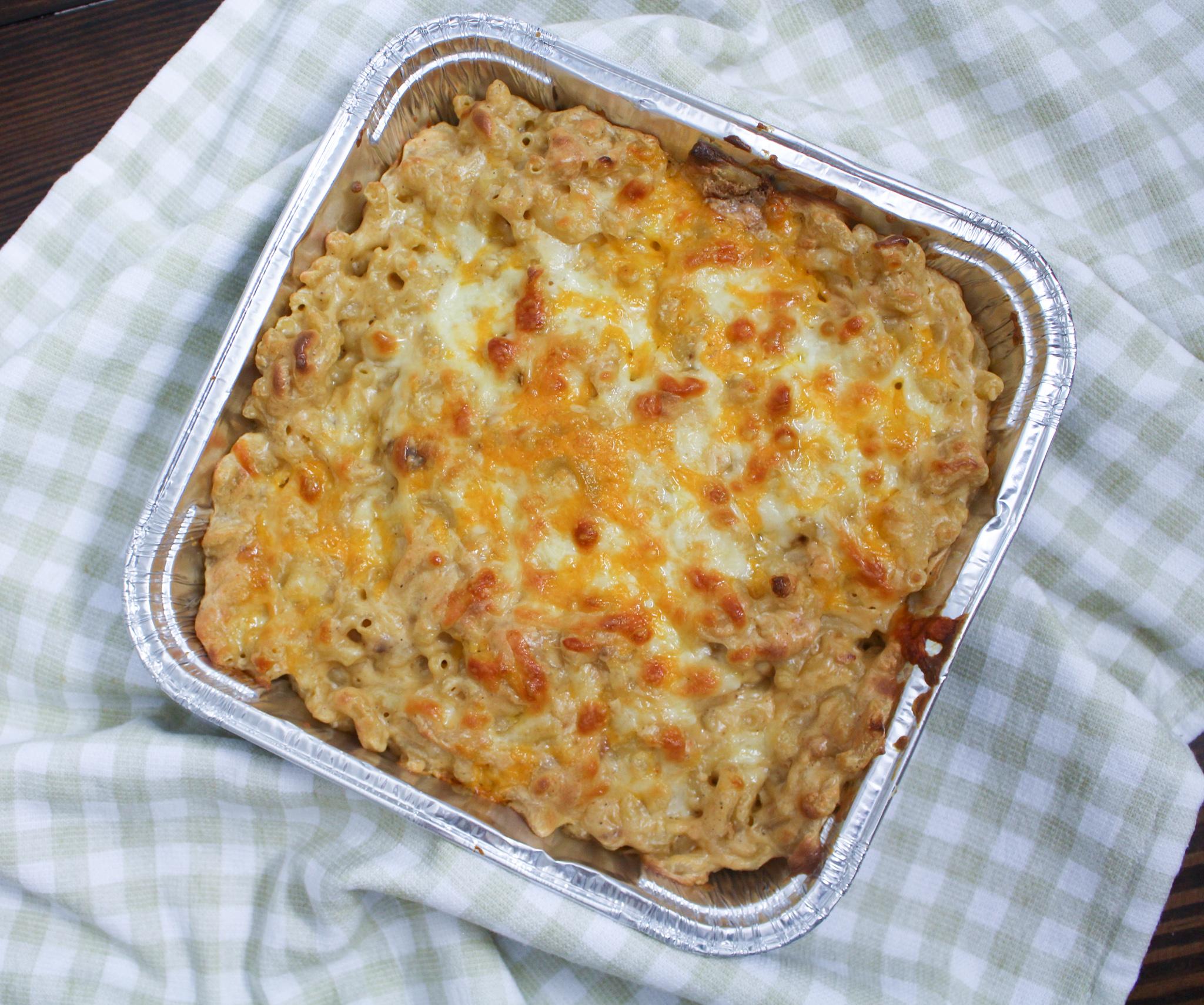 Third, I made Immaculate Bite's Southern Baked Mac and Cheese (Immaculate Bites Homepage). The use of evaporated milk in this recipe resulted in a smooth cheese sauce due to the high amount of milk proteins. This recipe does not skimp on the spices. It calls for onion powder, garlic powder, creole seasoning, and cayenne pepper. The cheeses used were Jack, Mozzarella, and Sharp Cheddar. Again, this combination of cheeses makes for a really good pasta!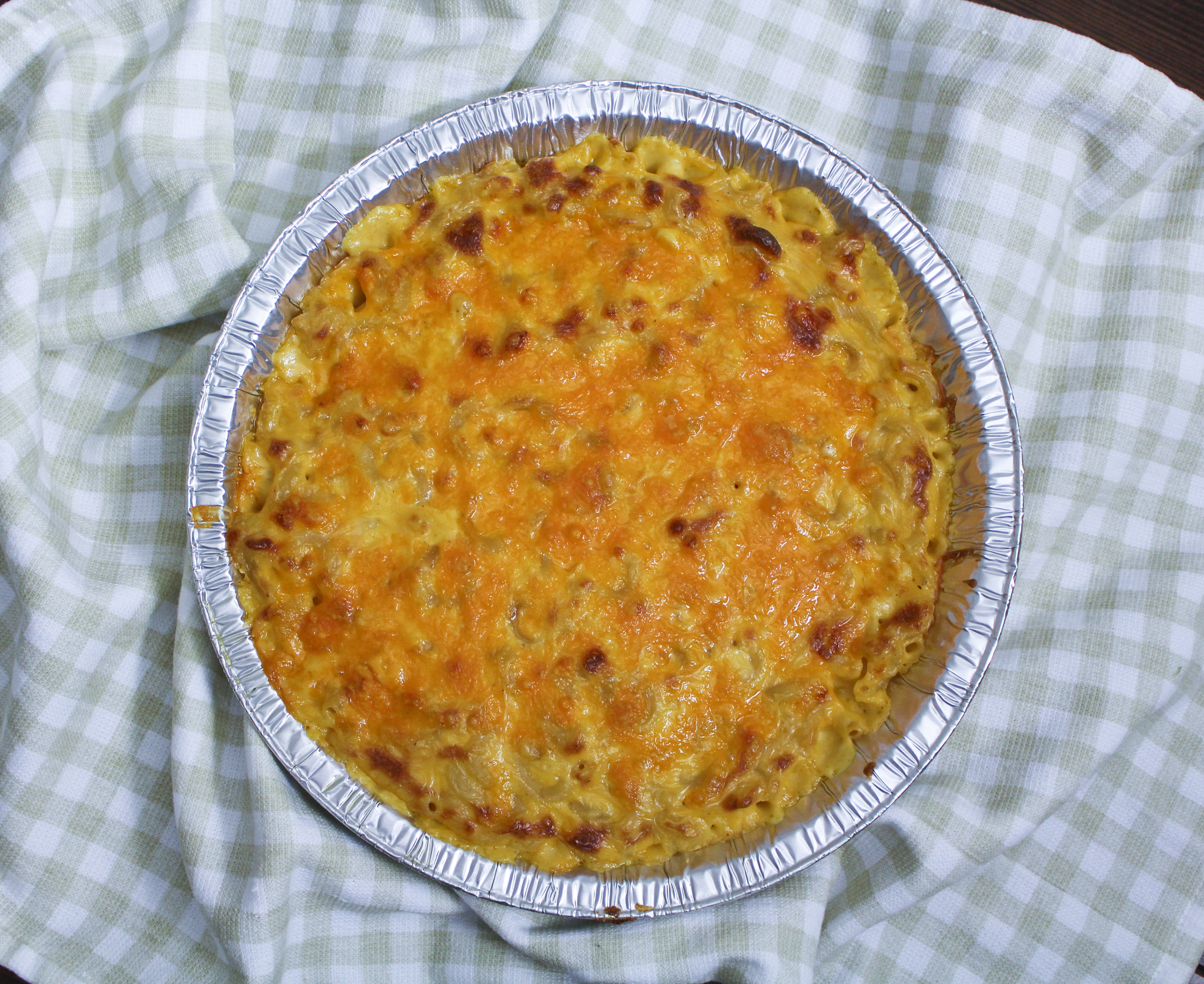 Lastly, I made Spend with Pennies' Homemade Mac and Cheese Casserole (Spend with Pennies Homepage). This macaroni and cheese was super creamy from the addition of canned condensed cheddar soup. It was a great consistency! The addition of mustard powder and onion powder brought in some flavor. The cheeses used were sharp cheddar and parmesan. Of course, you can never go wrong with cheddar mac and cheese.
All of these recipes were so good. I highly recommend you try them out! After a randomization and a blind taste test, my husband chose (drum roll please) Spend with Pennies' Homemade Mac and Cheese Casserole as his favorite. He loved how creamy this mac and cheese and the perfect consistency of the sauce. Very delicious!
__________________________________
LET'S TALK ABOUT THE RECIPE I CREATED!- WHY DID I DO THAT?!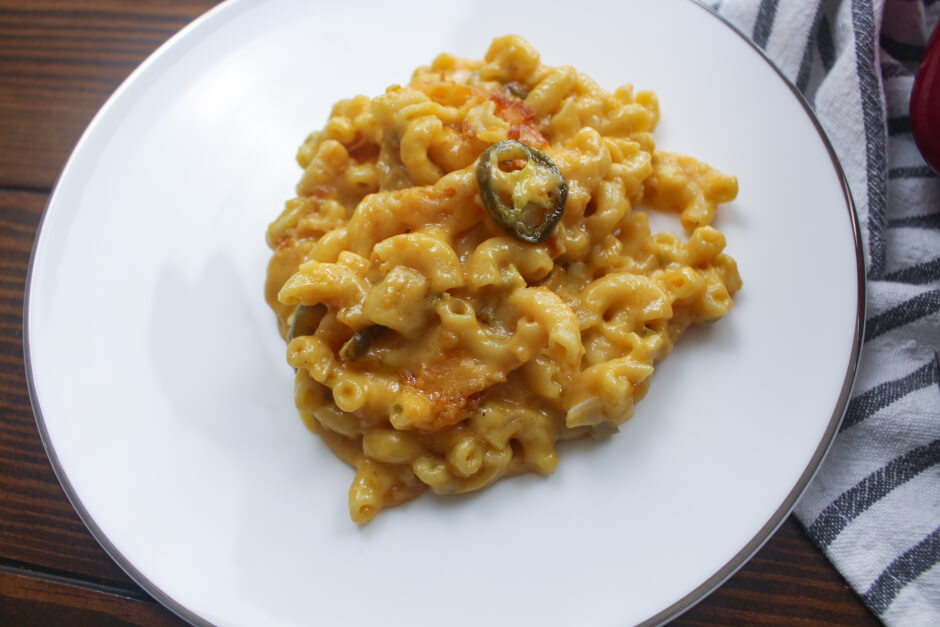 Pasta: I explain the details of why I chose not to boil my pasta in my cooking laboratory video. I got the idea from The Food Lab Basically, the option of soaking the noodles for 30 minutes prior to adding them to the casserole dish allowed the pasta to have the perfect texture. The noodles absorbed all the water, but we didn't have to sacrifice the starch leaving us a perfectly al dente noodle that won't steal all of the liquid from our sauce. It's a very simple process. Instead of boiling the noodles, cover them with hot salt water for 30-45 minutes. This is the perfect time to prep the rest of the recipe! Liquids: I personally liked the flavors and consistency of just plain whole milk for the sauce. I substituted some whole milk for half & half to add little more creaminess to the pasta. Vegetables: I knew that I wanted my macaroni and cheese recipe to be spicy. I love jalapenos, and they work well with cheddar cheese so that's what I chose. Since I was already gonig to be sauteing the jalapenos in the butter, I went ahead and threw in onion and garlic too instead of using onion and garlic powder. Cheese: I chose extra-sharp cheddar cheese because I love the flavor of it. It's also a great cheese to use in macaroni and cheese given its relatively low melting point. In addition, I also threw in some pepper jack. Jack cheese is great to use in macaroni and cheese as well because it adds creaminess to the sauce. I decided to go with pepper jack for a little extra kick. Seasonings: I went with the classic macaroni and cheese seasonings: mustard powder, cayenne pepper, and paprika. I also added in a little bit of hot sauce to up the spice level and taste just a little bit.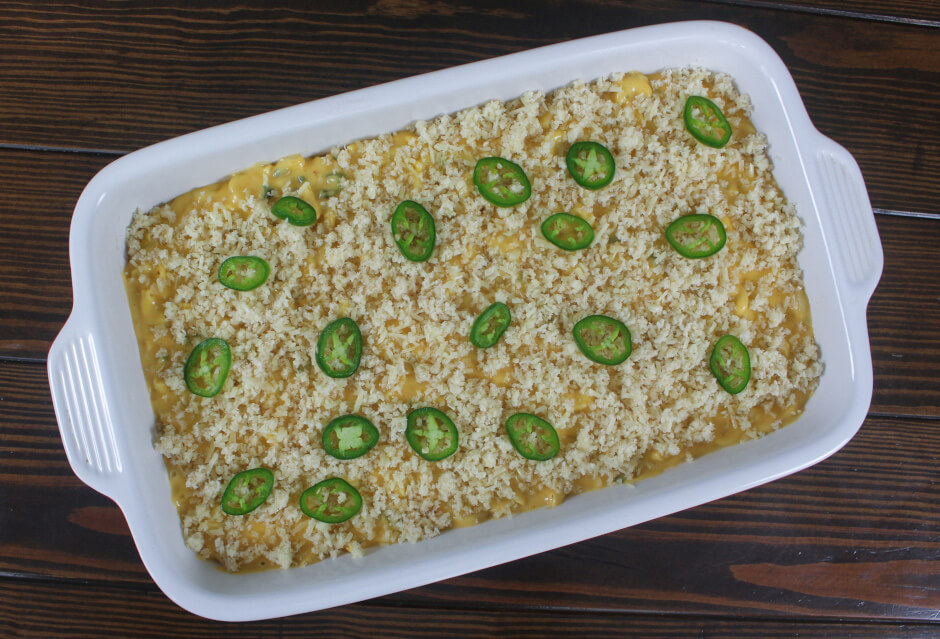 Topping: I believe baked mac and cheese needs that crunch so I decided to top my pasta with a breadcrumb topping. Instead of using store bought breadcrumbs which can have the tendency of getting mushy and tasting stale, I opted for making my own with white bread. I threw the bread in the food processor along with some butter, onion powder, and parmesan. The crunchy cooked parmesan on top really makes this mac and cheese a winner.
If you want to watch an instructional video on how to make my spicy jalapeno baked mac and cheese- click the video below!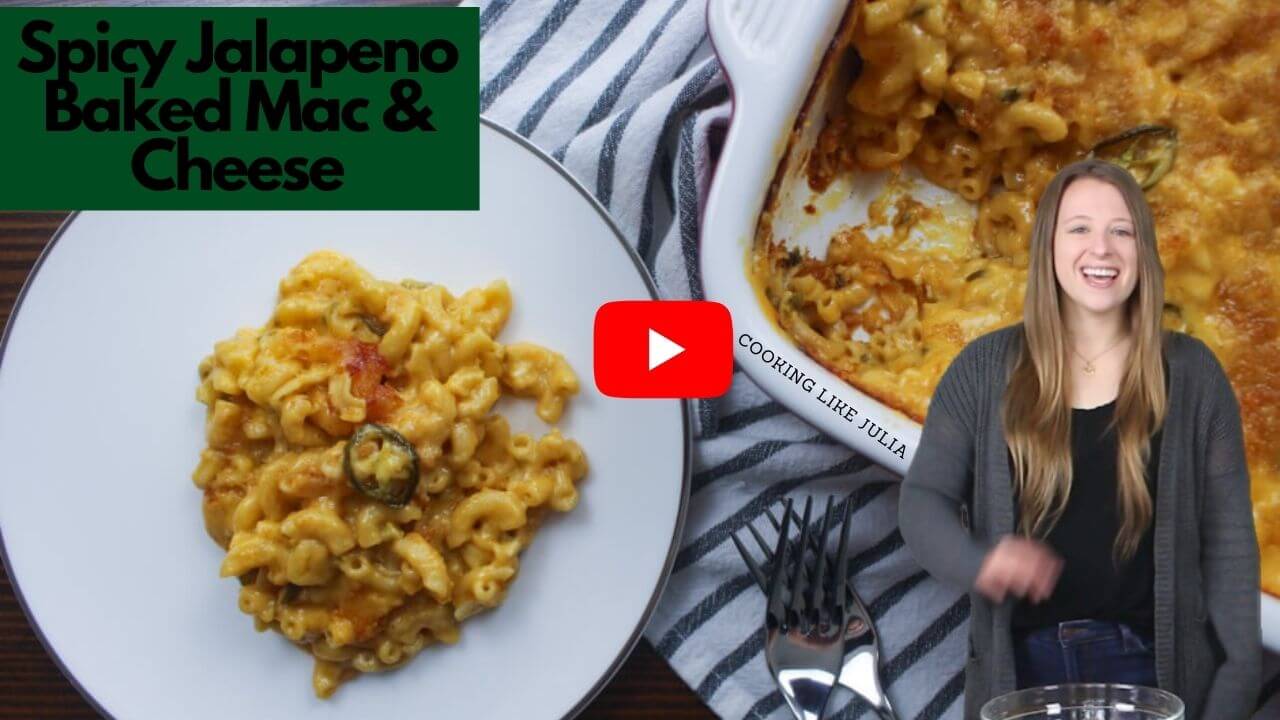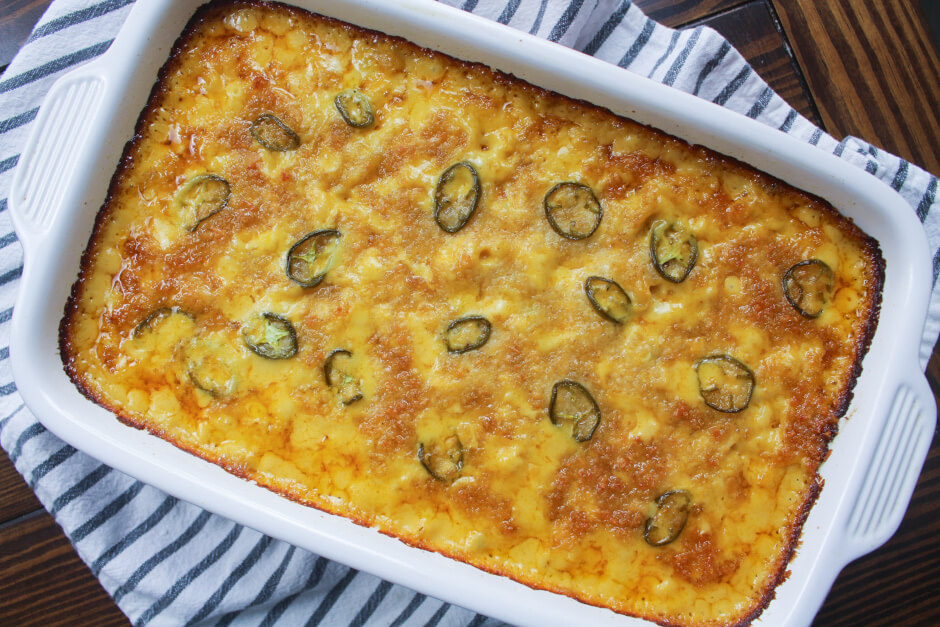 SPICY JALAPENO BAKEDMACARONI AND CHEESE
By Laura Bullock | Laura The Gastronaut
Prep Time: 40 minutes | Cook Time: 60 minutes | Total Time: 1 hour 40 minutes
Yield: one 9 x 13 baking dish, serves 10
DESCRIPTION
This is a traditional tasting baked macaroni and cheese with a kick. The added jalapeno, onion, and garlic really makes this pasta so flavorful! It meaks for a great addition to any meal- even Thanksgiving dinner!
INGREDIENTS
• 16 oz elbow pasta • Kosher salt • 2 slices white bread, crusts cut off & torn into large pieces • 1/2 cup (2 oz) fresh Parmesan cheese, grated • 1/2 teaspoon onion powder • 7 1/2 Tablespoons butter • 1/2 cup onion, minced • 2-4 jalapenos, minced with seeds kept in; plus an extra one sliced for topping • 2 garlic cloves, minced • 1/4 cup (34 grams) flour • 1 cup (237 mL) half & half • 2 cups (473 mL) whole milk • 1 teaspoon hot sauce • 1 teaspoon mustard powder • 1 teaspoon ground paprika • 1/4 teaspoon cayenne pepper • ground black pepper, to taste • 2 1/2 cups (10 oz) sharp cheddar cheese, grated • 2 1/2 cups (10 oz) pepper jack cheese, grated • 1 can (10 1/2 oz) canned condensed cheddar cheese soup
INSTRUCTIONS
1. Soak the pasta: In a large bowl, cover the pasta with hot salted water for 30-45 minutes. Drain. 2. Prepare Topping: Cut 1 1/2 Tablespoons of butter into smaller pieces. In a food processor, blend together white bread, Parmesan cheese, onion powder, and the 1 1/2 Tablespoons of butter- about 10-15 pulses. Set aside. 3. Preheat oven to 375°F. 4. Make Sauce: Melt 6 Tablespoons of butter in a large heavy-bottomed pot over medium-high heat. Once melted, add in onion and jalapenos. Cook for 2-3 minutes until fragrant. Add in garlic and cook for an additional 30 seconds. 5. Whisk in flour and continue whisking constantly for 1-2 minutes until the flour is a light golden color and fragrant. 6. Very slowly pour in half & half followed by the whole milk whisking the entire time. Keep whisking until the mixture is boiling. 7. Once it begins to boil, reduce heat to medium. Stir in hot sauce, mustard powder, paprika, and cayenne powder and simmer for 5 minutes. Whisk often to ensure the sauce is not burning on the bottom. 8. Once the sauce is thickened, add in half of the grated cheddar and pepper jack cheese. Stir until melted, and then stir in the other half of the grated cheeses until melted. 9. Stir in condensed cheddar cheese soup until fully incorporated. 10. Stir in drained elbow pasta until everything is mixed together. 11. Pour the mixture into a 9 x 13 casserole dish. Cover the top of the pasta with the breadcrumb mixture. Place sliced jalapeno slices on top. 12. Bake: Cover the dish with foil and bake on the middle rack for 45 minutes. Remove foil and bake for an additional 15 minutes or until the mac and cheese is golden brown on top.
__________________________________
DID YOU MAKE THIS RECIPE?
Let me know by leaving a comment below and sharing on Instagram. Tag @laurathegastronaut and hashtag it #laurathegastronaut.
__________________________________
*NOTES
Soaking Pasta: For the hot water, I just use hot tap water. Put a lot of salt into the water- enough so it tastes like the ocean!
Breadcrumbs: You can use store bought breadcrumbs if you need to, but you will be losing crispiness and crunch. Fresh breadcrumbs also provide better flavor!
Vegetables: If you don't have fresh onion or garlic, that's okay. You could add 1 teaspoon of garlic powder and 1 teaspoon of onion powder instead when you add in the other seasonings into the sauce.
Jalapenos: I love jalapeno flavor, and I like things spicy so I go all in with 4 big jalapenos with their seeds. If you don't want that much jalapeno, you could also just add 1, 2, or 3 of them. You can also not add in all the seeds if you don't want it to get too spicy.
Making Roux: It's so important to whisk constantly after adding in the flour to break up clumps and prevent burning. When you add in the milk, make sure to add slowly while you are whisking. It should take you 15-30 seconds to add in all the milk and half & half. Keep a close eye on the sauce and whisk often while it simmers so you don't scorch the bottom!
Adding in Cheese: I mix the two cheese together and add in half at a time. If too much cheese is added at one time the sauce can split or become unstable. Addding in small amounts will prevent the grease in the cheese from separating out.
Condensed Cheddar Cheese Soup:I highly recommend you add this into the sauce. This is going to make the pasta so creamy and delicious. If you do not have condensed cheddar soup on hand, you should check out the other recipes I made above that do not call for this ingredient!
If you have any other questions, let me know down below!
Bon appétit!!
November 23, 2020 by Laura Bullock