Laura The Gastronaut > Recipes > Jalapeno Honey Barbeque Chicken Wings
Jalapeno Honey Barbeque Chicken Wings
February 3, 2021 | Jump to Recipe | This post may contain affiliate links.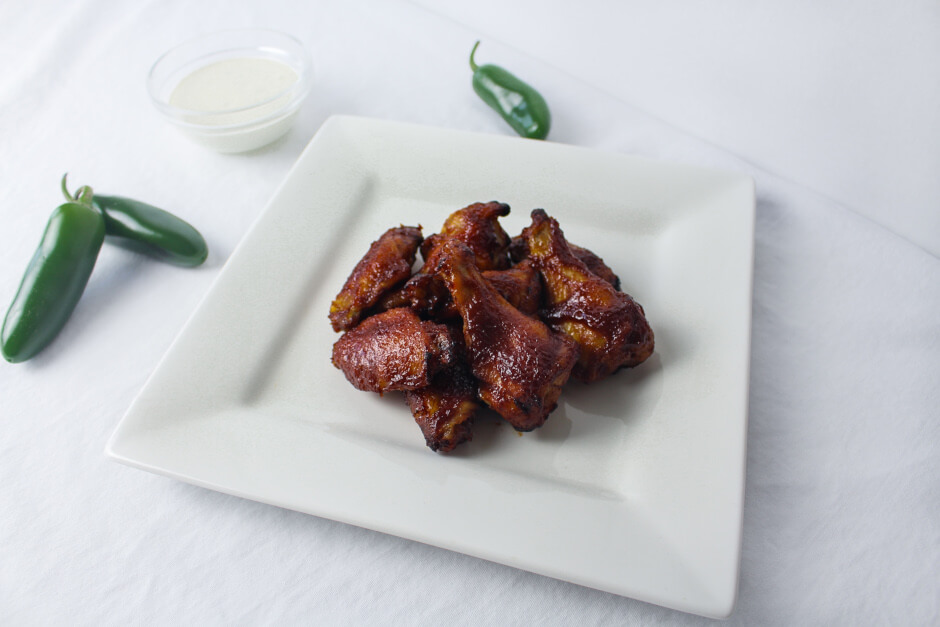 Super Bowl Sunday is approaching quickly, and that only means one thing for me- chicken wings! Whether you show up to Super Bowl parties for the football or mostly for the food or the commercials, I think we can all agree that chicken wings are essential. I was really curious as to what cooking method makes the best chicken wing so I have decided to dedicate the entire sixth episode of Cooking Laboratory to chicken wings!
Buffalo chicken wings were discovered in 1960s in Buffalo, New York (well, probably.. as with all my history lessons, it's a little he said-she said). However, wherever, or whenever they were discovered, I'm just glad they were invented. The tender chicken, the crunchy crust, the spicy sauce, I LOVE IT ALL! In addition to finding the best way to cooking a chicken wing, we also taste tested four different store-bought buffalo sauces. And after we figured out the best way to cook a chicken wing, I created a couple of chicken wing sauces myself! Keep reading!
__________________________________
CHICKEN WING HISTORY & SCIENCE
How did I come up with this recipe? Well, I looked into the history of chicken wings, learned about the science of frying chicken, and made chicken wings four different ways. I then took what I learned in my lab (AKA: my kitchen), and through trial & error came up with this tasty chicken wing that's backed by history and science.
If you are interested the history of chicken wings, the science behind frying, watching my husband and I eat lots of wings, and the various recipes I made- click the video below!
FOUR WAYS TO COOK CHICKEN WINGS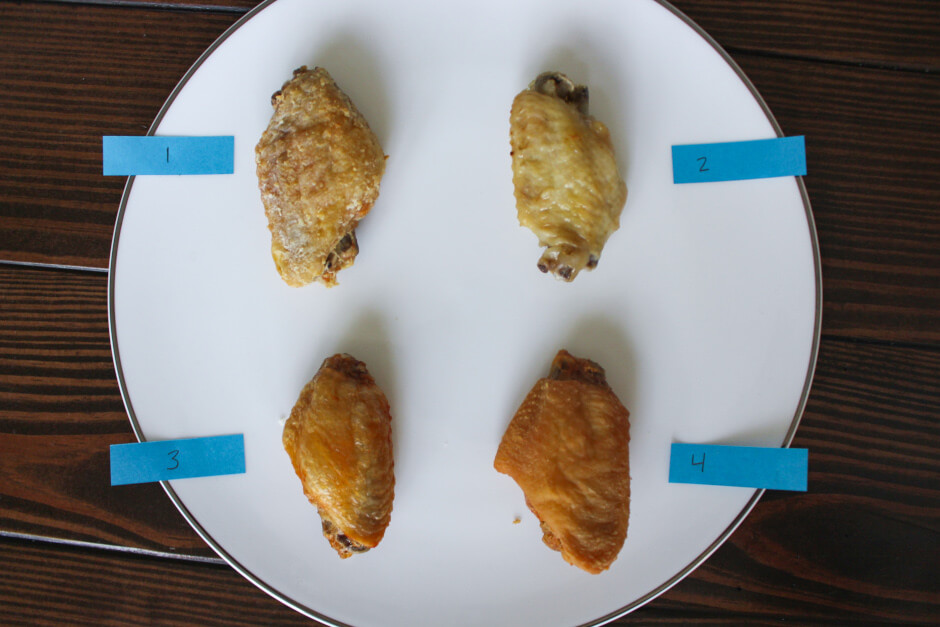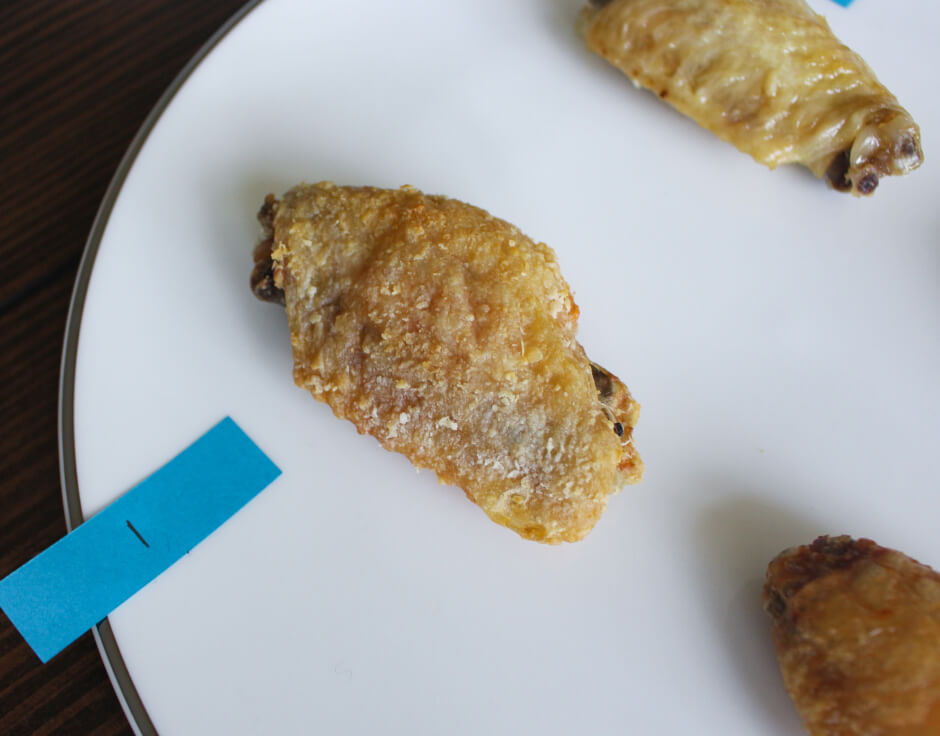 First, I made chicken wings in the oven. They were cooked for about 45 minutes at 450°F. I'm not sure if I overcooked them, but these wings turned out to be a little dry. However, I probably wouldn't have noticed the dryness if it wasn't sitting right next to other very tender juicy wings. The outside of these wings were amazing and perfectly crunchy. They held on the sauce very well.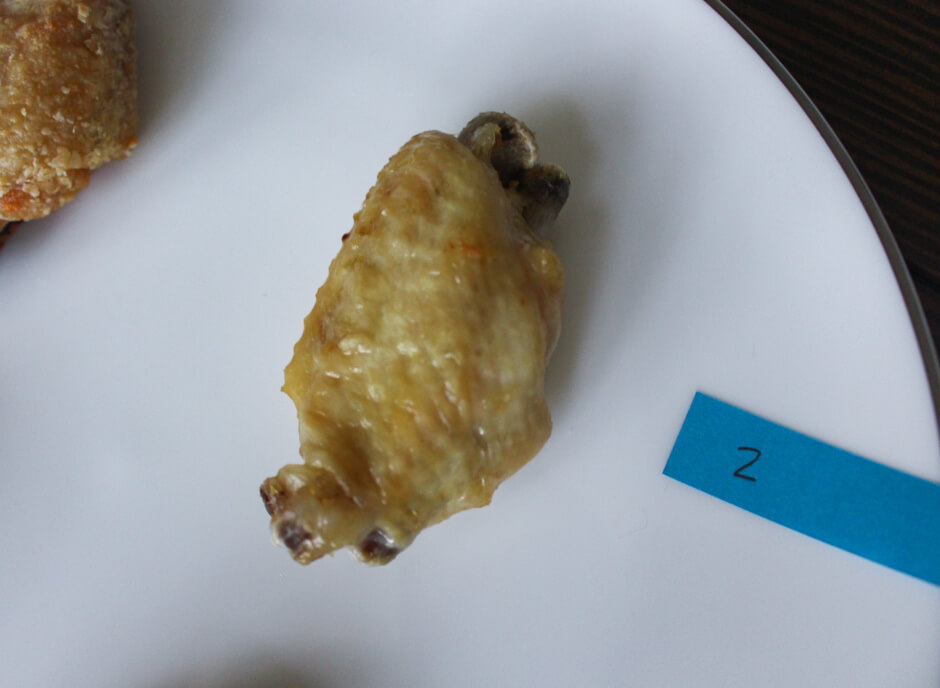 Second, I made chicken wings in the Instant Pot. I poured about 3/4 cup of water at the bottom of the Instant Pot and placed the wings on a trivet. They cooked for 6 minutes high pressure, and I allowed them to naturally release for 10 minutes. After cooking in the Instant Pot, I put them under the broiler for 5 minutes to allow them to crisp up. These wings had SO much moisture. They were very good, and I didn't even miss the sauce when trying them plain. However, there was absolutely no crunch at all despite cooking them under the broiler. Also, when they were sauced, the sauce did not stick on very well.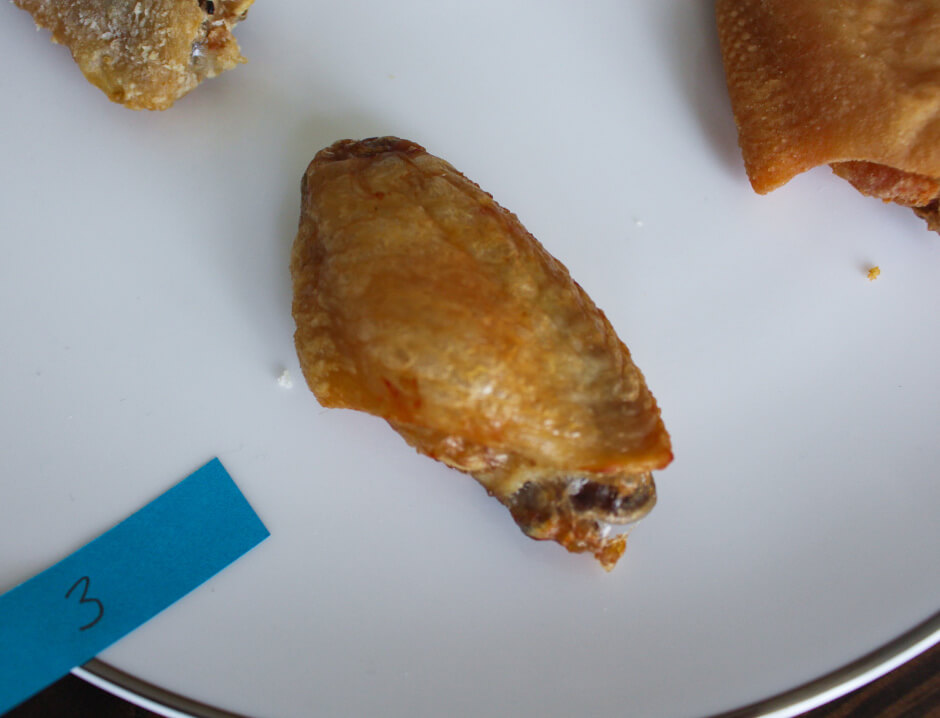 Third, I made chicken wings in the air fryer. I cooked them 12 minutes each side at 360°F, and then 5 minutes at 400°F. Instantly I knew these wings were winners when I pulled them out. They were bubbly, browned, and looked extrememly crispy. And after tasting them, they were just that. They still had a great amount of moisture and a perfectly crisp skin. With the sauce, they were perfect. I hate to jump on the air fryer train because I know that not everybody has one but... when it's good, it's good. If you're in the market for an air fryer, check out Bella Pro-Series. It's the one we have, and we love it. We are currently going through a "now what can we throw in the air fryer?" phase.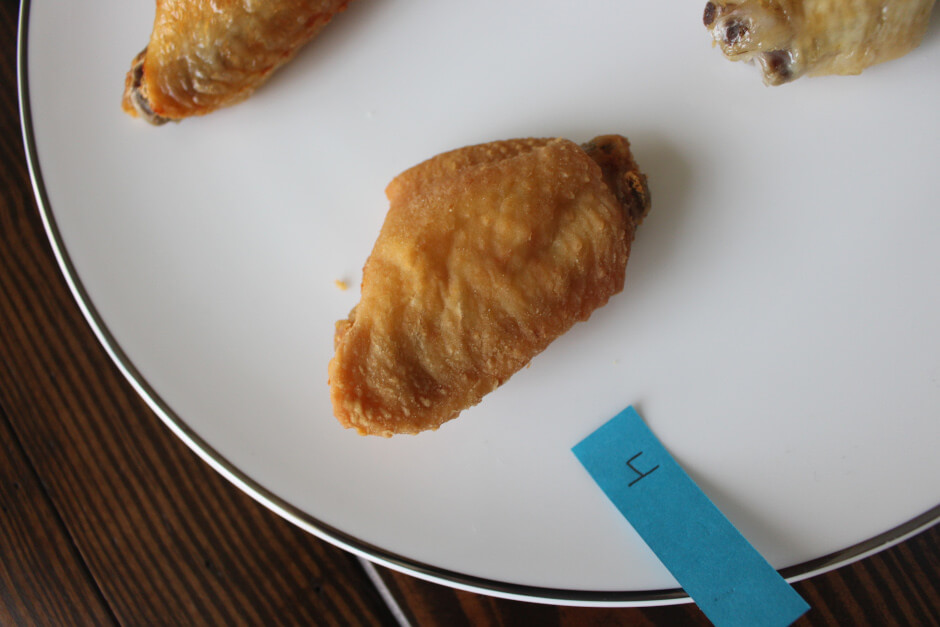 Lastly, I deep fried chicken wings. Of course, these wings were good. Everything that is deep fried is good. This is a traditional chicken wing, and you can't go wrong with it. The skin is crunchy. The inside is delicious. Deep frying chicken wings worked in the 1960s, and it still works now. What's really great about these wings is that the frying formed bumps in the skin which allowed the sauce to get down into those crevices.
Overall, we both chose the air fryer chicken wings as our favorite. Though, you can't go wrong with a deep fried chicken wing either. The oven method was just a little too dry, and the Instant Pot method was not crunchy enough.
On to the sauces! We tried four store-bought buffalo sauces: Sweet Baby Ray's, Kroger's Spicy Buffalo Sauce, Texas Pete's, and Frank's.
Honestly, you can't go wrong with any of these sauces. Sweet Baby Ray's was very vinegary which is not necessarily a bad thing if you like your sauces to be strongly vinegar-based. Kroger's was very thick and peppery. Frank's buffalo sauce is a classic and delicious. Our favorite was Texas Pete's. It was a little on the runny side, but the taste was exactly what we look for in a buffalo sauce.
You can watch us try all these chicken wings in my video here.
__________________________________
LET'S TALK ABOUT THE RECIPE I CREATED!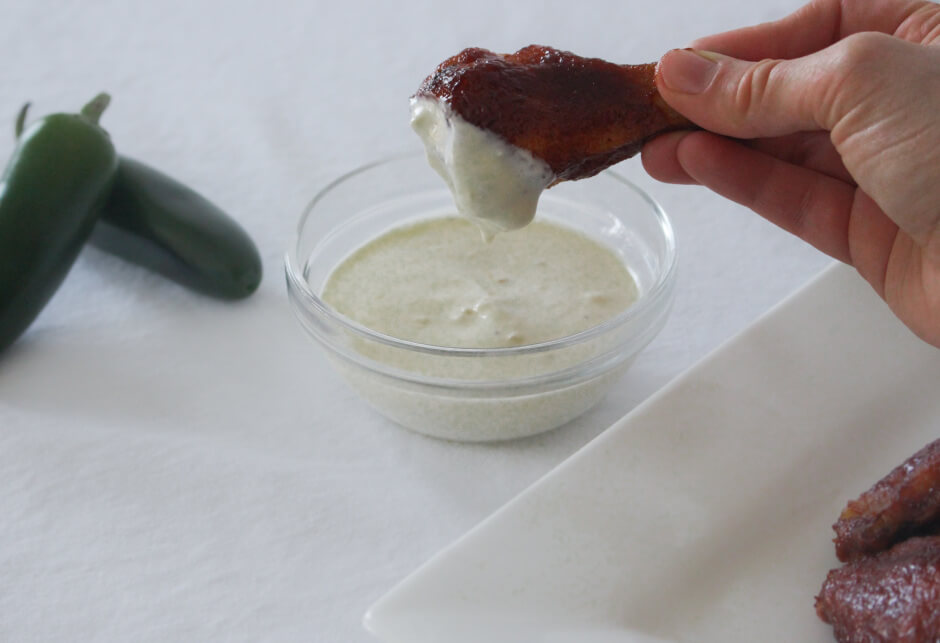 I love jalapenos so I always think they make a great addition to sauces. I opted for fresh jalapenos, and even though this slightly makes the sauce have little lumps, I think it's most definitely worth it for the flavor. Since I was already throwing in fresh jalapenos, I decided to use fresh garlic instead of garlic powder. The rest of the ingredients are just thrown into the blender with the jalapeno and garlic, and it is all pureed until smooth. This sauce gets simmered for 15-20 minutes on the stove to allow it to thicken and maximize the flavors.
HERE'S WHAT YOU NEED TO MAKE THIS WING SAUCE
• Jalapenos: Is there anything better than fresh jalapenos? I don't think so. I leave the seeds in because we like the heat around here. If you don't want it as spicy, just simply remove the seeds!
• Garlic: Since I use fresh jalapenos, I decided to go with fresh garlic as well. Some may argue that 1 clove of garlic is not enough. If you like your food really garlickly, feel free to throw in 1 or 2 (or even 3) more cloves- just don't come at me later if you end up regretting all that garlic. If you don't have fresh garlic on hand, you can substitute the clove with 1/4 teaspoon of garlic powder.
• Ketchup: This is the base of the BBQ sauce. Use whichever brand is your favorite!
• Honey: In BBQ sauce, we are adding tomato and vinegar. Without a little bit of sweetness, these ingredients may taste a little bitter. Honey helps to balance out the flavors by adding in sweetness. Also, honey will make the sauce sticky which is exactly what you want when making wings!
• Tomato Paste: While the base of this BBQ sauce is ketchup, I like to throw in some tomato paste as well. Tomato paste is a wonderful ingredient that adds an umami tomato flavor to dishes.
• Apple Cider Vinegar: Like mentioned above, the honey, tomato, and vinegar all work really well together balancing each other out. The vinegar gives it that tang we all want in our BBQ sauce. Apple cider vinegar is the most popular vinegar used in BBQ sauces, but rice vinegar would be a good substitute.
• Water: Added simply to just thin out the sauce without having to increase any acidity.
• Worcheshire: Could Worcheshire be the best ingredient ever? Possibly. Worcheshire addes umami to any recipe. It's tangy, salty, and savory. YUM.
• Lemon Juice: I like the brightness lemon juice adds. It also is bringing some extra tang to the table!
• Brown Sugar: Some may say you don't need brown sugar if you are also adding honey, but I personally like the small amount of molasses flavor it adds to the sauce.
• Spices: Onion Powder, Paprika, Mustard Powder, Cayenne Pepper, Salt + Pepper
This BBQ sauce may contain quite a few ingredients, but it's so worth it. You'll be wondering why you ever bought bottled BBQ sauce in the first place after trying it!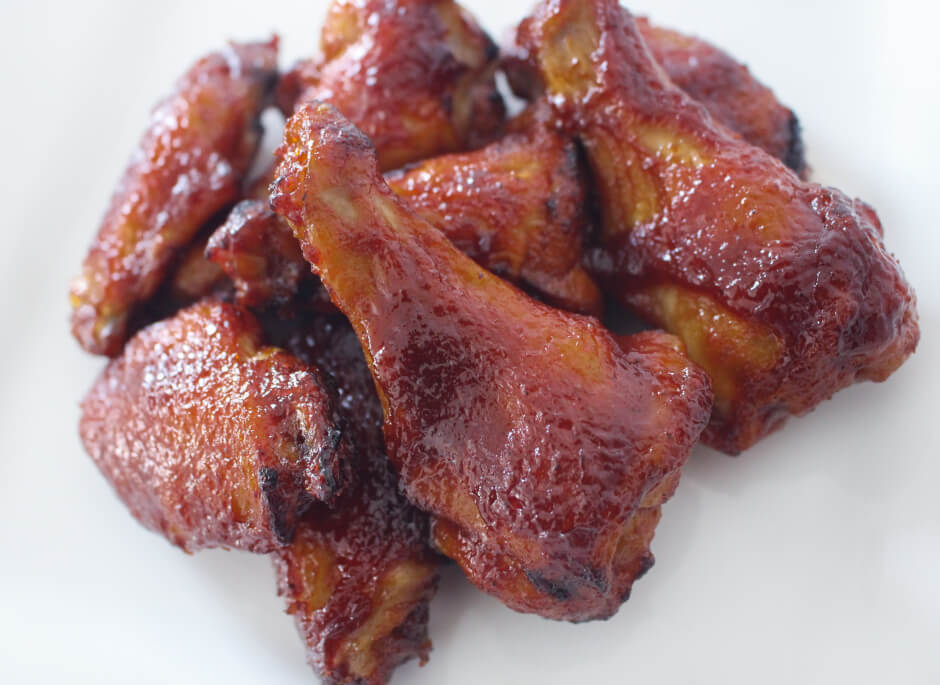 WHAT TO SERVE WITH JALAPENO HONEY BBQ CHICKEN WINGS
• Homemade Ranch Dressing; Barbeque chicken wings and homemade ranch dressing are a match made in heaven.
• Pineapple Coconut Chicken Wings; What's better than one batch of chicken wings?! Having two batches of chicken wings. These pineapple coconut wings are sweet, sticky, and delicious.
• Air-Fried Jalapeno Fries; Have leftover jalapenos? Make some fries with them! These jalapeno fries are made in the air fryer and perfectly cripsy.
WHY STOP AT WINGS? PUT THIS BBQ ON EVERYTHING!
• Ribs: This Jalapeno Honey BBQ Sauce on some ribs is ahhmazing and finger-licking good!
• Chicken: So we already know this BBQ sauce is good on chicken, but it is also good on any part of a chicken or a chicken sandwich. I'd even whip some up to dip chicken nuggets in!
• Burgers & Pizza: This sauce would also be wonderful on a burger or even when used as a pizza sauce!
For this recipe:
Find more cooking laboratory recipes here!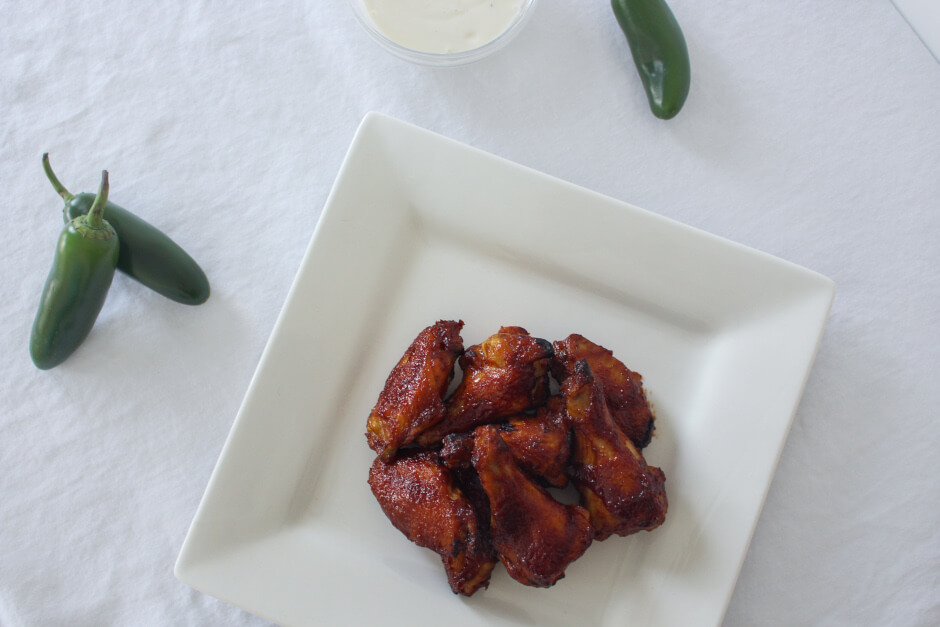 Jalapeno Honey Barbeque Chicken Wings
These chicken wings covered in a spicy jalapeno honey barbeque are the best. Whether you're making them for the big game or just as a weekday meal, they are sure to become your new go-to wings.

By Laura Bullock | Laura The Gastronaut
Prep Time: 5 minutes | Cooking Time: 30 minutes | Total Time: 35 minutes
Yield: 6 servings [48 wings]
Ingredients
• 48 chicken wings • Kosher salt
For the Barbeque Sauce:
• 1-2 jalapenos, roughly chopped • 1 clove of garlic, roughly chopped • 1/2 cup ketchup • 1/3 cup honey • 1/4 cup tomato paste • 1/4 cup apple cider vinegar • 1/4 cup water • 3 Tablespoons Worcheshire • 1 Tablespoon lemon juice • 1 Tablespoon brown sugar • 1 teaspoon onion powder • 1/2 teaspoon paprika • 1/2 teaspoon mustard powder • 1/4 teaspoon cayenne pepper • 1/4 teaspoon Kosher salt • 1/4 teaspoon black pepper
Instructions
*Here I instruct how to cook the wings in the air fryer. For other methods (oven, deep fried, and Instant Pot), see the Notes section below the recipe. 1. Lightly salt the chicken wings. 2. Working in batches (I can fit about 10-12 wings comfortably in my air fryer), cook wings at 360°F for 12 minutes. After 12 minutes, flip the wings and continue cooking at 360°F for an additional 12 minutes. 3. Meanwhile, in a blender, puree all barbeque ingredients together until smooth. 4. Pour the sauce into a medium saucepan and bring to a boil. Once boiling, reduce heat to low and allow to simmer for 15-20 minutes until thickened. Set aside. 5. Once wings have cooked for 12 minutes each side, cover them in the barbeque sauce until well covered. 6. Put wings back into the air fryer and cook at 400°F for 5 minutes.
__________________________________
Notes
Oven Method: To cook the wings in the oven, salt them and bake them on a baking sheet for 40 minutes at 450°F. Cover the wings with the barbeque sauce, and put back in oven for about 5 more minutes.
Instant Pot + Broiler Method: Salt the wings and pour about 3/4 cup of water into the bottom of your Instant Pot. Working in batches, place wings on a trivet and cook high pressure for 6 minutes. Let it naturally release for 10 minutes. Cover the wings with the barbeque sauce and broil in the oven for 5 minutes to crisp them.
Deep Fried: Salt the wings and place in fridge until ready to use. Heat 2 inches of oil into a Dutch oven until it reaches 375°F. Working in batches, fry the wings for 8-10 minutes or until they reach an internal temperature of 165°F. Once cooked, place on a paper towel-lined plate. Once cool enough to handle, cover the wings in the barbeque sauce.
Jalapenos: The amount of heat you want in this barbeque sauce is up to you. Use one, two, or even three jalapenos. Leave in the seeds or take them out. Completely up to you!
Air Fryer: You don't want to crowd the wings in the air fryer so that they all cook evenly. I can fit about 10-12 wings into my air fryer comfortably without any of the wings overlapping one another.
Leftovers: Any leftover BBQ sauce can be stored in the fridge in an air-tight container for up to a week.
Interested in having more chicken wing knowledge? Check out my Cooking Laboratory video here!
DID YOU MAKE THIS RECIPE?
Let me know by leaving a comment below and sharing on Instagram. Tag @laurathegastronaut and hashtag it #laurathegastronaut.
Category: Appetizers & Snacks, Lunch & Dinner, Chicken, Super Bowl Cuisine: American
Keywords: air-fryer chicken wings, chicken wings, barbeque chicken wings, wings recipe
HERE'S SOME OTHER GREAT RECIPES FOR THE BIG GAME
• Spicy Jalapeno Baked Macaroni and Cheese
Bon appétit!
February 3, 2021 by Laura Bullock