Pineapple Coconut Chicken Wings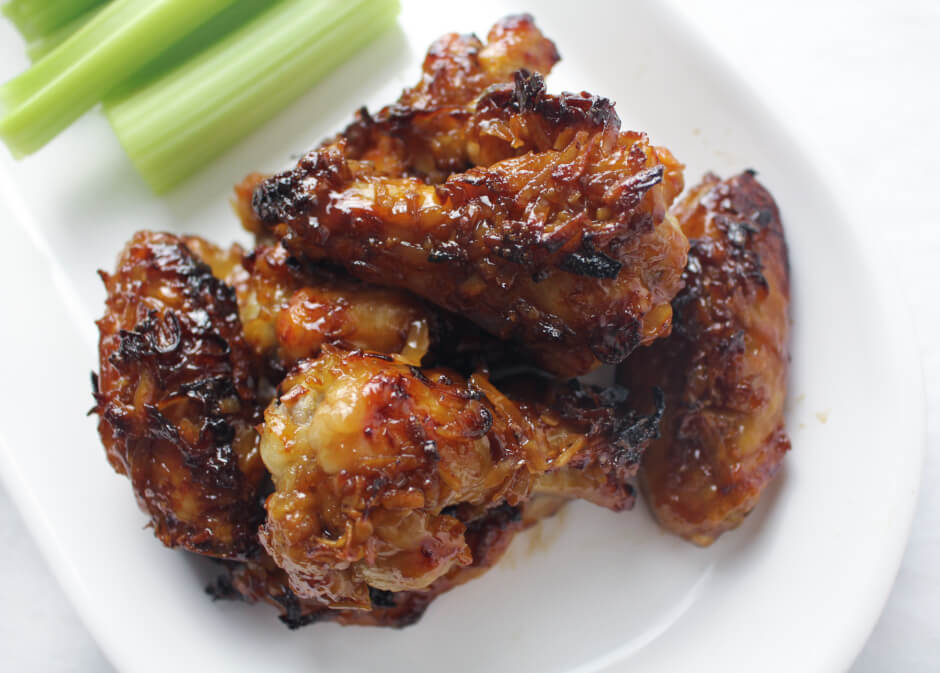 Super Bowl Sunday is coming up which means it is almost time to eat lots and lots of chicken wings! If you are interested in the history of chicken wings, frying chicken science, and which method of cooking provides the best chicken wings, you should check out my Cooking Laboratory Video here!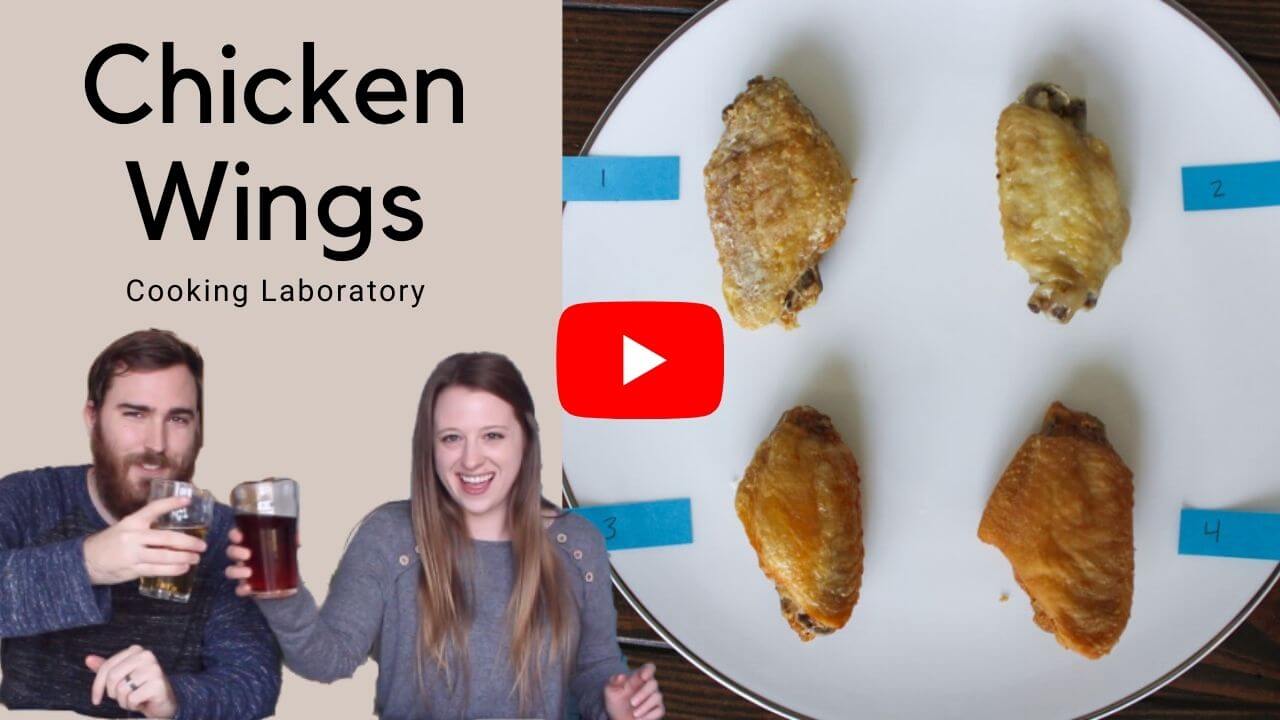 The other day, my husband and I were drinking Pina Coladas, and I came up with this great idea- a Pina Colada inspired chicken wing! My mind is usually at the beach most days so these chicken wings help me get to the beach, even if it is only mentally.
__________________________________
Let's talk about the sauce!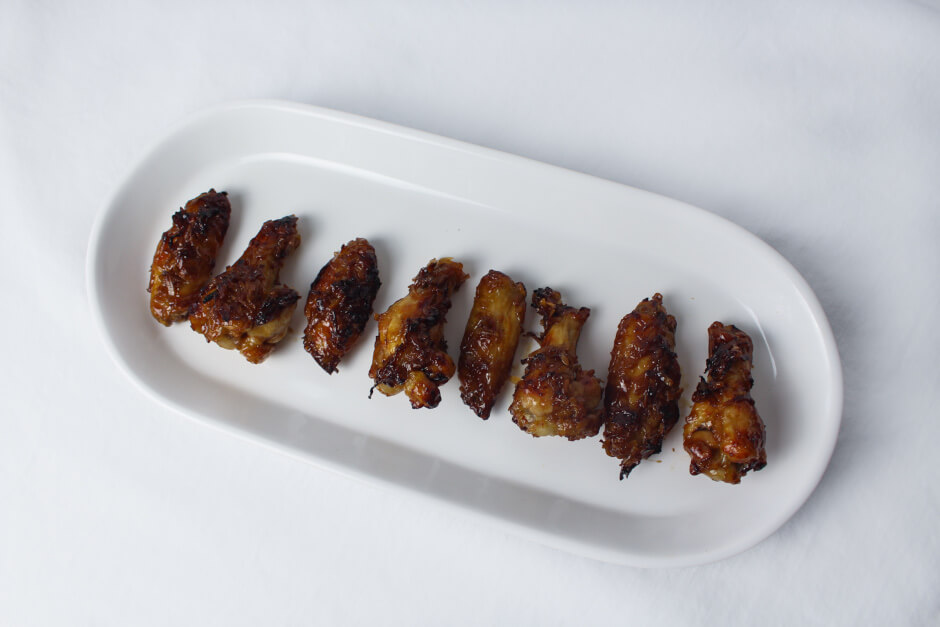 The first thing to do for this recipe is toast the coconut! I used sweetened shredded coconut, but you can use unsweetened too. Put the shredded coconut in a dry skillet and cook over medium-low heat until it becomes lightly browned and very fragrant. I just love that coconut smell. Takes me straight to the beach! Next up, in a saucepan, I put in the toasted coconut, pineapple juice, cream of coconut, brown sugar, soy sauce, and sesame oil. Make sure you pick up cream of coconut and not coconut milk. Cream of coconut is like a thick and sweet delicious coconut syrup. I love to use it in Pina Coladas and also smoothies!
Bring the mixture to a boil and then reduce the heat to low to keep a simmer for about 5-10 minutes. It should thicken up. Remove from heat and set aside while you wait for your chicken wings to finish cooking. As it cools, it should become thicker as well. Once the chicken wings are done, cover them in the sauce. I like to pile the coconut flakes on top of the wings! Put the wings with the sauce back into the air fryer or oven for about 3-5 more minutes to really crisp up that coconut. Fill up your plate, close your eyes, pretend your sitting with your feet in the water somewhere tropical, and enjoy!
Check out these other great football foods- Spicy Jalapeno Baked Macaroni and Cheese and Guacamole!
Also don't forget to whip up this Homemade Ranch Dressing which goes perfect with these wings!
Do you prefer spicy and savory wings? Check out my Jalapeno Honey Barbeque Chicken Wings!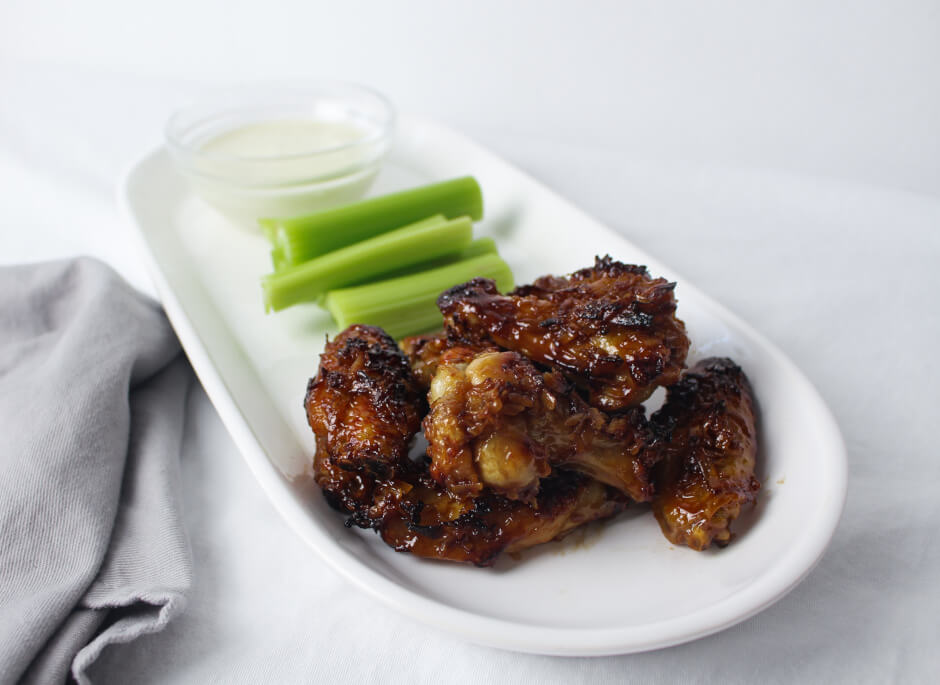 PINEAPPLE COCONUT CHICKEN WINGS
By Laura Bullock | Laura The Gastronaut
Prep Time: 5 minutes | Cooking Time: 30 minutes | Total Time: 35 minutes
Yield: 6 [48 wings] servings
DESCRIPTION
Most of my days are spent daydreaming about the beach. These pineapple coconut sticky chicken wings really help me get there. The toasted coconut makes these wings a beachy flavor bomb! Read Notes at the bottom of recipe for additional information.
INGREDIENTS
• 48 chicken wings • Kosher salt • 1 cup shredded coconut • 2 cups pineapple juice • 1 cup cream of coconut • 1/2 cup brown sugar • 1/4 cup soy sauce • 1 Tablespoon + 1 teaspoon sesame oil
INSTRUCTIONS
*Here I instruct how to cook the wings in the air fryer. For other methods (oven, deep fried, and Instant Pot), see the Notes section below the recipe.* 1. Lightly salt the chicken wings. 2. Working in batches (I can fit about 10 wings comfortably in my air fryer), cook wings at 360°F for 12 minutes. After 12 minutes, flip the wings and continue cooking at 360°F for an additional 12 minutes. 3. Meanwhile, toast the shredded coconut in a dry skillet for 3-5 minutes over medium-low heat until it begins to lightly brown and become fragrant. 4. In a saucepan, stir together toasted coconut, pineapple juice, cream of coconut, brown sugar, soy sauce, and sesame oil. 5. Bring mixture to a boil and reduce heat to low to maintain a simmer. Simmer for 5-10 minutes until it begins to thicken. Set aside and allow to cool. 6. Once wings have cooked for 12 minutes each side, cover them in the pineapple coconut sauce until well covered. I like to pile the coconut mixture on top of the wings for extra flavor! 7. Place wings back into air fryer and cook at 400°F for an additional 3 minutes. Serve wings with homemade ranch dressing, blue cheese dressing, celery sticks, fries, spicy jalapeno baked macaroni and cheese, and a nice cold drink!
__________________________________
DID YOU MAKE THIS RECIPE?
Let me know by leaving a comment below and sharing on Instagram. Tag @laurathegastronaut and hashtag it #laurathegastronaut.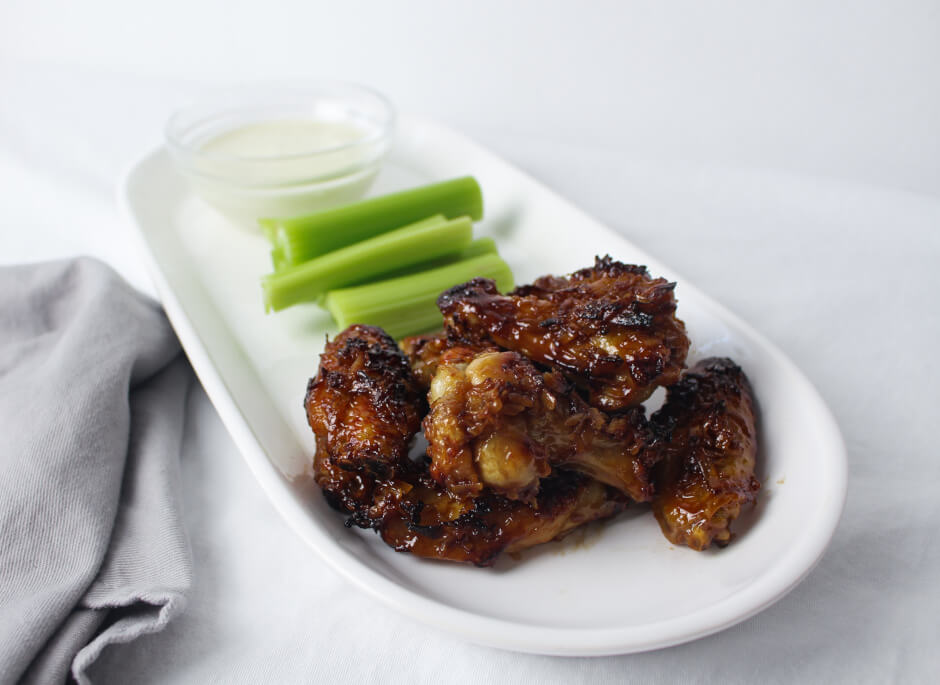 __________________________________
*NOTES
Oven Method: To cook the wings in the oven, salt them and bake for 40 minutes at 450°F. Cover the wings with the barbeque sauce, and put back in oven for about 5 more minutes.
Instant Pot + Broiler Method: Salt the wings and pour about 3/4 cup of water into the bottom of your Instant Pot. Working in batches, place wings on a trivet and cook high pressure for 6 minutes. Let it naturally release for 10 minutes. Cover the wings with the barbeque sauce and broil in the oven for 5 minutes to crisp them.
Deep Fried: Salt the wings and place in fridge until ready to use. Heat 2 inches of oil into a Dutch oven until it reaches 375°F. Working in batches, fry the wings for 8-10 minutes or until they reach an internal temperature of 165°F. Once cooked, place on a paper towel-lined plate. Once cool enough to handle, cover the wings in the barbeque sauce.
Air Fryer: You don't want to crowd the wings in the air fryer so that they all cook evenly. I can fit about 10-12 wings into my air fryer comfortably without any of the wings overlapping one another.
Coconut & Sugar You can use sweetened or unsweetened coconut in this recipe (sweetened will just bring in a little more sugar). You may use dark or light brown sugar.
If you have any other questions, let me know down below!
Bon appétit!!
February 3, 2021 by Laura Bullock