Laura The Gastronaut > Recipes > Cocktails > Pineapple Coconut Beach Cocktail
Pineapple Coconut Beach Cocktail
*This post may contain affiliate sales links. Please see full disclosure policy for details.*
Take a trip to the beach without having to leave your house. This cocktail is everything beachy and tropical. Made with coconut rum, blue curacao, pineapple juice, and tequila. I bet you can't have just one!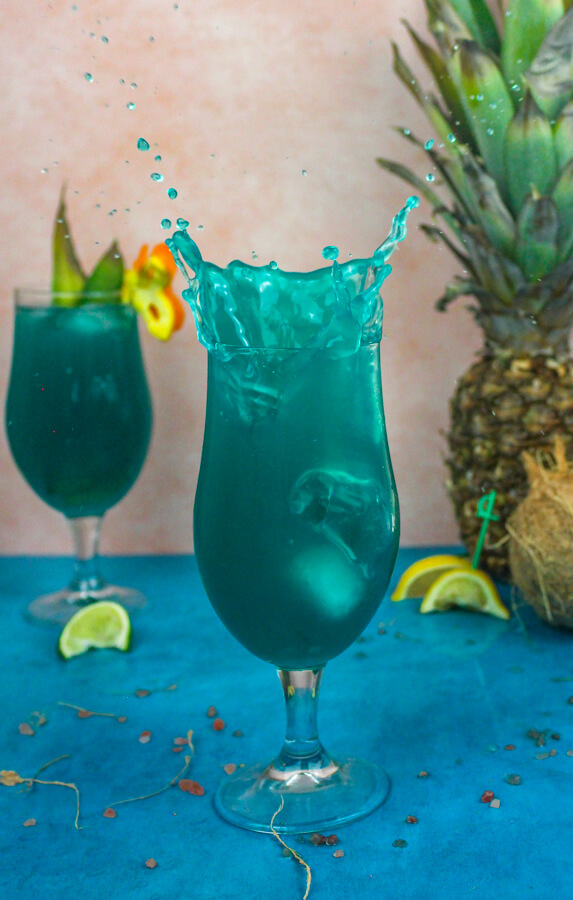 Let's get to the point. I love the beach, and everything that has to do with the beach including this cocktail. It's late August right now. People are beginning to pull out the autumn decorations and order Pumpkin Spiced Lattes, and I'm just trying to hold on to all of the summer I can. I'll decorate with pumpkins on the first day of fall but until then you can catch me drinking tropical drinks and daydreaming about being at the beach.
__________________________________
PINEAPPLE + COCONUT = ALL THE BEACH VIBES
Turn on your beach music, fill up a fun glass with this delicious cocktail, and relax. This cocktail is made with 3 different types of alcohol, pineapple juice, and citrus. It's hard to only drink just one!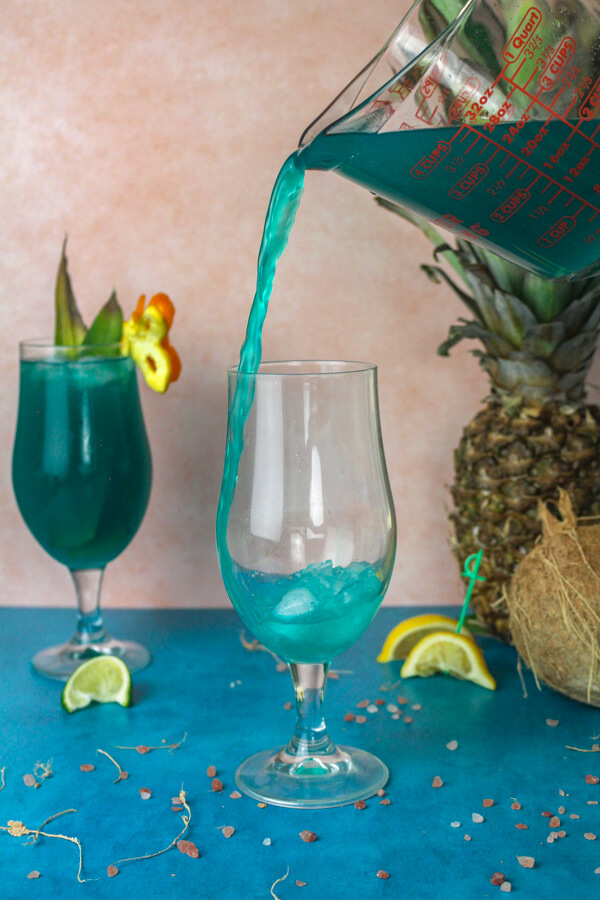 WHAT YOU NEED TO MAKE THIS PINEAPPLE COCONUT COCKTAIL
• Pineapple Juice: Pineapple is the base flavor of this cocktail and gives the cocktail is greenish color.
• Coconut Rum: This will add in just the right amount of coconut flavor.
• Blue Curacao: Blue curacao will add an orange-y flavor to the drink and add in the blue coloring!
• Tequila: I love the addition of tequila to this cocktail. It elevates the taste so much!
• Lime & Lemon Juice: Fresh squeezed is best!
HOW TO MAKE THIS BEACH COCKTAIL
This cocktail can be prepared quickly so you can be relaxing in no time! We will be putting 4 ounces of pineapple juice, 2 ounces of coconut rum, 1 ounce of blue curacao, 1 ounce of silver tequila, 1/2 ounce of lime juice, and 1/2 ounce of lemon juice into a cocktail shaker. Add in a couple of ice cubes and give it a good shake for about 10 second until nice and cold. Strain into a fun cocktail glass. I like to use a daiquiri glass.
Lastly, garnish. The options for garnishes for this cocktail are endless. You could simple garnish with a lime or lemon wedge or even an orange wedge to compliment the blue curacao. A pineapple chunk would look beautiful on the rim. Then there's always the classic mini umbrella. If you are feeling really fancy, you can try your hand at a butterfly orange- check out my photos for inspiration!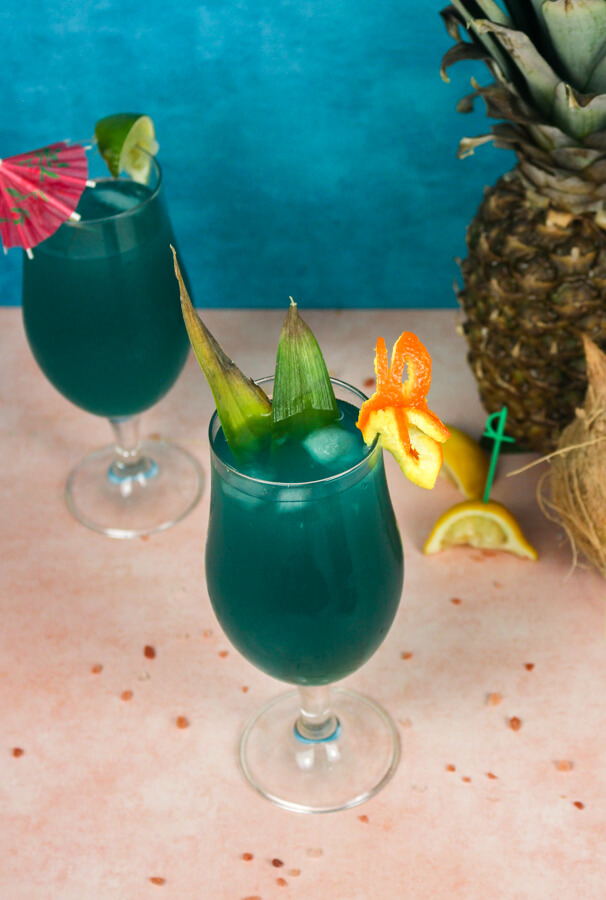 BEACH COCKTAIL: FAQs
Can you substitute the coconut rum? If you're not a big fan of coconut rum (or just out) then you can just simply swap it out with a white rum! What is blue curacao? Blue curacao is an orange liqueur that is very similar to Triple Sec. It's known mostly for its blue color which makes drinks so much fun! Curacao is an island in the Caribbean and is the place where blue curacao was invented in the 19th century. The orange flavoring comes from the peel of a Laraha orange which is can be found on the island. Why do you add tequila to this cocktail? I just simply think it tastes really good in this mixed drink! I tried many different versions of this cocktail while recipe testing and tequila was my favorite.
31 DAYS OF HALLOWEEN
This pineapple coconut beach cocktial is also a part of my 31 Days of Halloween. For each day in October, I come up with a cocktail recipe and snack recipe that perfectly matches a scary movie, Halloween movie, or a fun spooky activity. Check it out for all of your Halloween snack and drinking desires!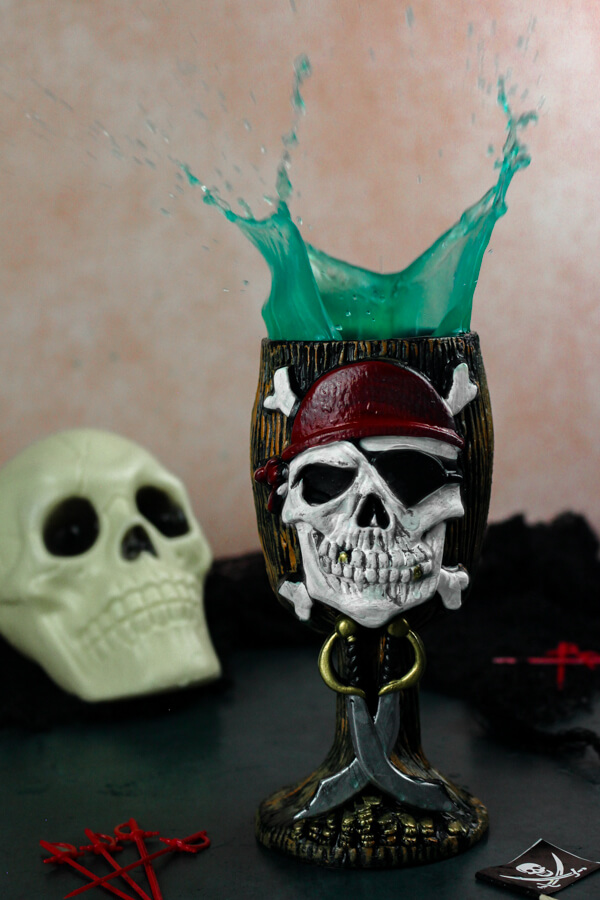 This cocktail paired perfectly with the movie, Scooby-Doo, and a huge Shaggy & Scooby-Doo monster sandwich.
For this recipe: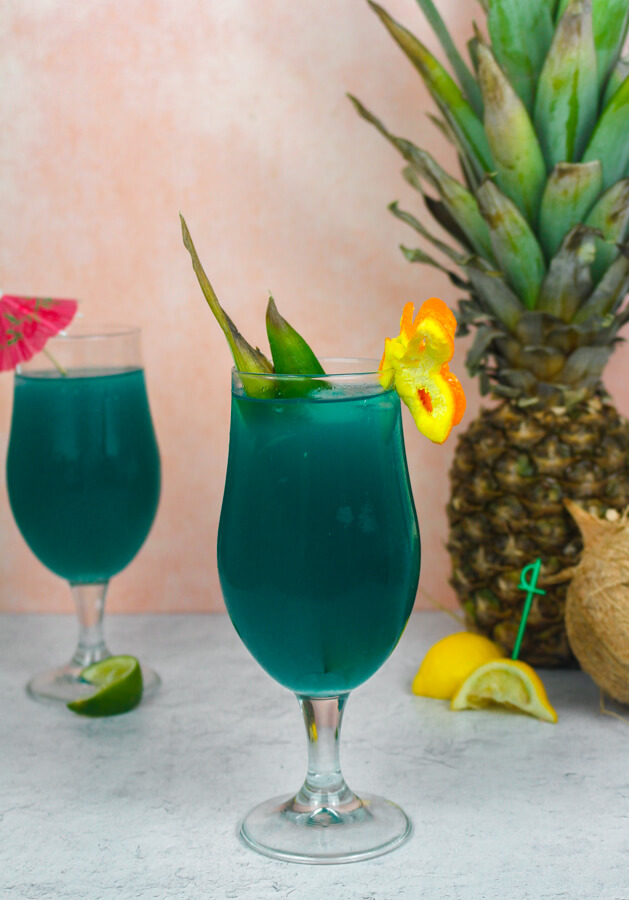 Pineapple Coconut Beach Cocktail
Take a trip to the beach without having to leave your house. This cocktail is everything beachy and tropical. Made with coconut rum, blue curacao, pineapple juice, and tequila. I bet you can't have just one!

By Laura Bullock | Laura The Gastronaut
Prep Time: 5 minutes | Total Time: 5 minutes
Yield: 1 serving
Ingredients
• 4 ounces pineapple juice • 2 ounces coconut rum • 1 ounce blue curacao • 1 ounce silver tequila • 1/2 ounce lime juice • 1/2 ounce lemon juice • Optional garnishes: pineapple slice, lime or lemon wedge, orange wedge
Instructions
1. Combine all ingredients into a cocktail shaker and give a good shake until cold, about 10 seconds. Strain into a cocktail glass. Garnish with pineapple, lime, lemon, or orange!
__________________________________
DID YOU MAKE THIS RECIPE?
Let me know by leaving a comment below and sharing on Instagram. Tag @laurathegastronaut and hashtag it #laurathegastronaut.
Keywords: Tropical Cocktail, Beach Cocktail, Coconut Rum Cocktail, Blue Coconut
CHECK OUT THESE OTHER GREAT SUMMER RECIPES!
Bon appétit!
August 26, 2021 by Laura Bullock