Laura The Gastronaut > Recipes > Beverages > Bubbly Strawberry Margarita
Bubbly Strawberry Margarita
February 5, 2021 | Jump to Recipe | This post may contain affiliate links.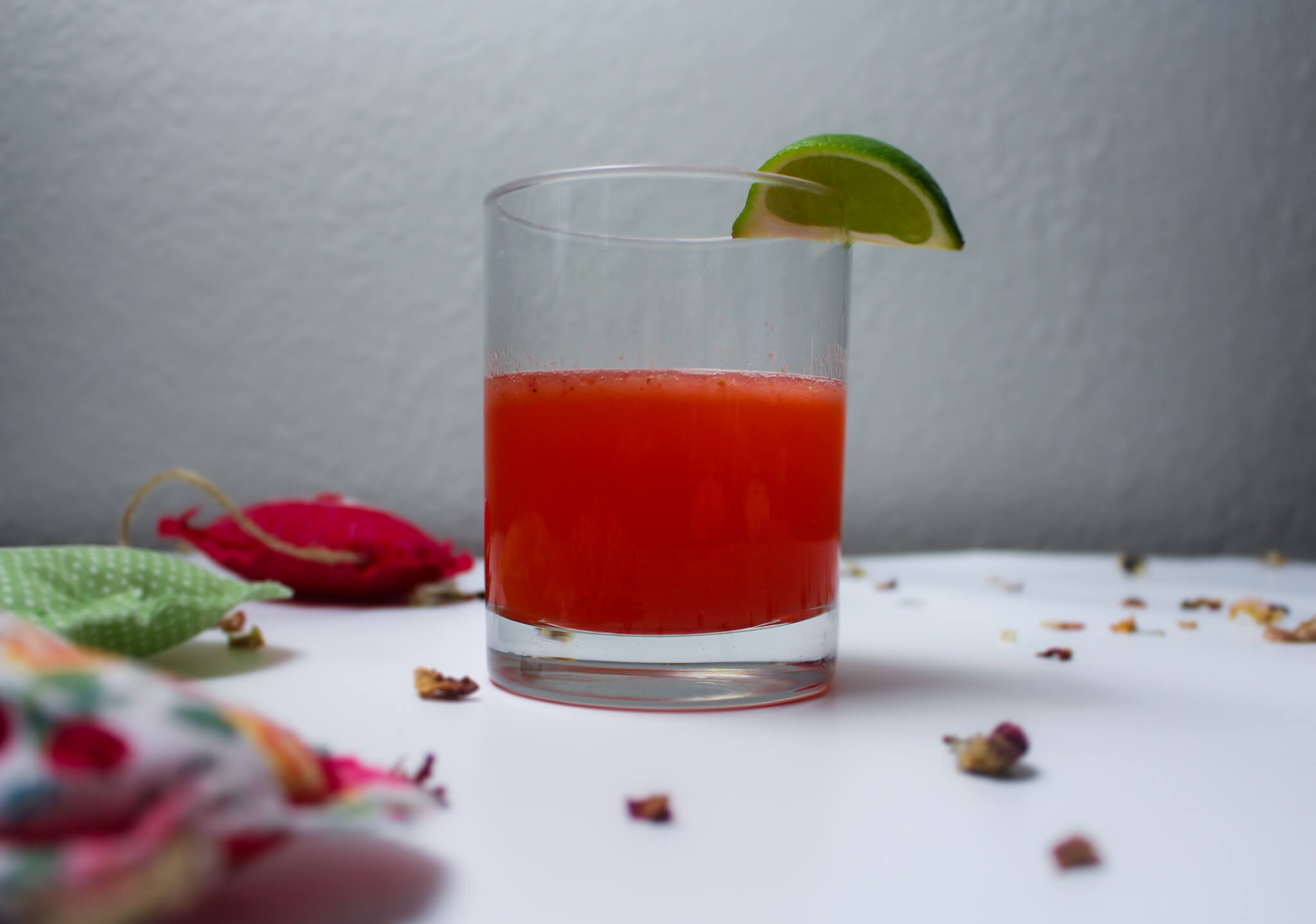 Valentine's day is quickly approaching! Do you have plans yet? We don't, but I do know what we will be drinking. These strawberry margaritas are not just a beautiful color. They are absolutely delicious and only have 5 ingredients. Made with homemade strawberry sauce, this drink skips out on that artificial strawberry flavoring and tastes like a real strawberry- because it is! Sure, it may take a little longer to get that fresh taste, but it is completely worth it! Your date is sure to appreciate the effort. The addition of champagne makes this drink a sparkling delight that is sure to impress!
__________________________________
JULIA CHILD'S STRAWBERRY SAUCE
One of my favorite Julia Child recipes to date is her fresh strawberry sauce. You can find it on page 592 of Mastering the Art of French Cooking. This sauce is AMAZING. The possibilities of this sauce are endless. Put it on your icecream, drown your desserts in it, stir it into your smoothies, eat it with a spoon straight out of the bowl, or put it in your cocktail. I've already put it in one cocktail, my Chocolate-covered Strawberry Cocktail, and it turned out great! If you like chocolate strawberries then I highly suggest you go check out that cocktail!
I love this bubbly strawberry margarita. I'm a big fan of margaritas and a pretty big fan of strawberry margaritas too. The bubbles from the champagne makes this cocktail oh so fun and makes it just that much more special. Whip some of these cocktails up, deliver food from your favorite restaurant or maybe cook a nice dinner (check out my Julia Child Recipe Checklist for classic romantic dinner ideas), and enjoy!
WHAT DO YOU NEED TO MAKE A BUBBLY STRAWBERRY MARGARITA?
• Frozen Strawberries: You can also use fresh strawberries if that's what you have on hand. I choose to use frozen because they are a little easier to force through a sieve.
• Sugar: Adding a little bit of sugar cuts down on the tanginess so you get a perfectly balanced drink!
• Tequila: When making margaritas, I like to tequila blanco (also known as silver tequila).
• Lime Juice: Freshly squeezed lime juice is always the best.
• Champagne: No need to go fancy with the champagne here. Since this champagne is mixed with other ingredients, the cheap stuff will do the trick!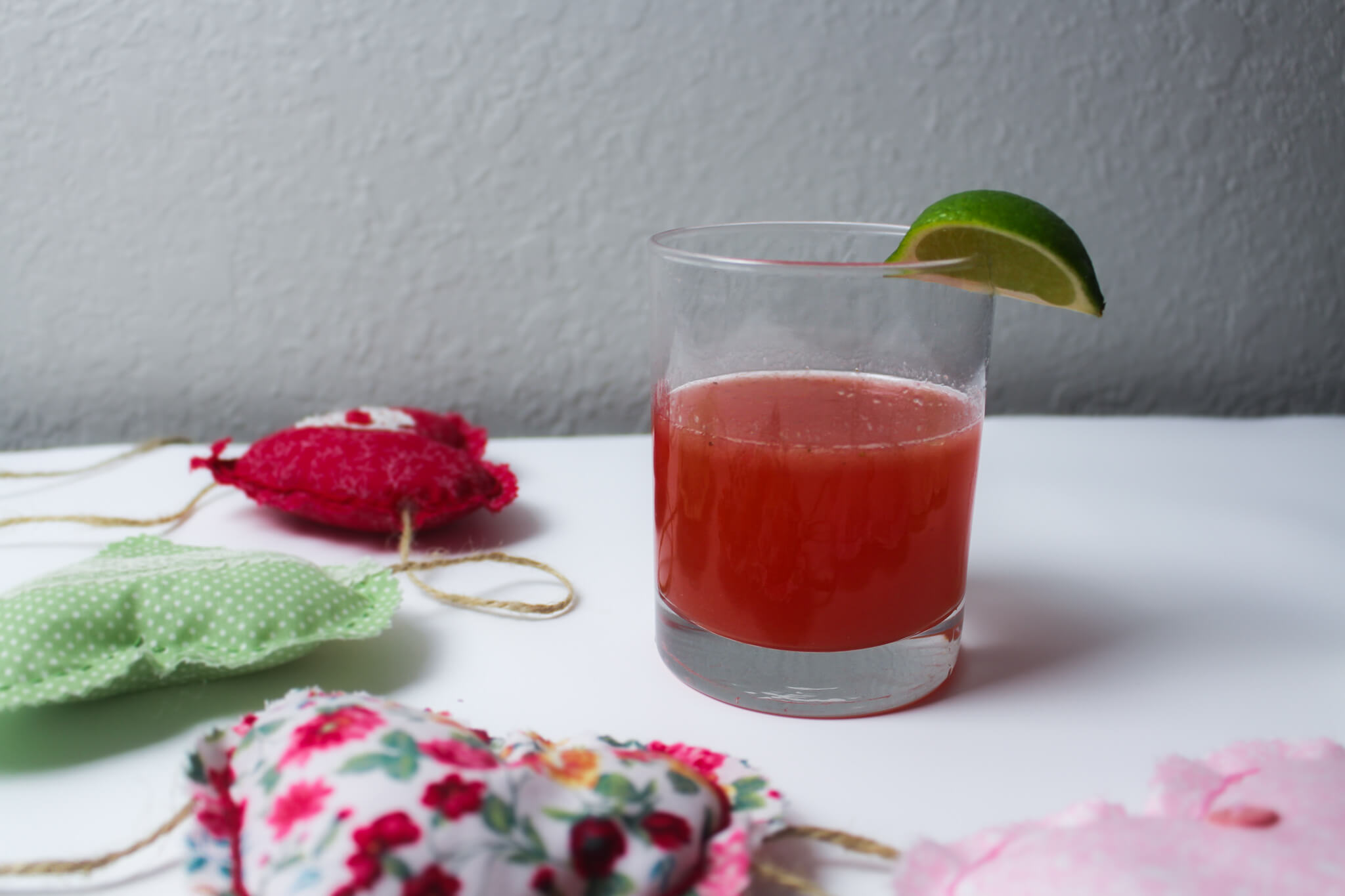 HOW TO MAKE A BUBBLY STRAWBERRY MARGARITA
The first thing to do: make that amazing sauce. Defrost 1/2 cup of frozen sliced strawberries. You can leave them out at room temperature for about 45 minutes or you can defrost them in the microwave. I usually don't remember to set things out to defrost so the microwave is a handy tool. I did about 90 seconds on 30% power to get the strawberries completely thawed. Now you must force these strawberries through a sieve into a medium bowl. I like to use a wooden spoon (warning: your spoon may stain reddish-pink) to mash the strawberries and push them up against the edges of the sieve to get them through. You'll end up with this beautiful red juice in your bowl.
After working those arm muscles, it's time to whisk in a 1/2 teaspoon of sugar. Julia recommends to mix the sauce with an electric mixer for 10 minutes to fully dissolve the sugar and thicken the sauce up nicely. I do skip this step simply for convience in this recipe, but, by all means, feel free to include this step for yourself. To make the strawberry juice thinner and easier to pour, go ahead and whisk in the 1 ounce of tequila.
In a shaker full of ice, add in 1 ounce of lime juice and the strawberry/tequila mixture. Give it all a few good shakes for about 10 seconds. This will make the drink nice and cold! Strain it into a glass, and top with 3 ounces of chilled champagne. Give a quick stir, and garnish with a lime wedge and/or strawberry. Cheers!
FAQs for BUBBLY STRAWBERRY MARGARITA
Can I use fresh strawberries instead of frozen? Absolutely! I like to use frozen because I find them easier to force through a sieve. However, with a little extra effort, you'll be able to force the fresh strawberries through to still get a delicious sauce. Why do you choose to use tequila blanco for margaritas? Tequila blanco is clear, usually unaged, and is also known as silver tequila. It's flavor mixes well and will give your margarita a true agave flavor. Gold tequilas are aged in oak barrels and give off a woody flavor. Most people will choose silver over gold when it comes to margaritas.
For this recipe:
Bubbly Strawberry Margarita
By Laura Bullock | Laura The Gastronaut
Total Time: 5 minutes
Servings: 1
__________________________________
Ingredients
• 1/2 cup frozen sliced strawberries, see notes below for using fresh strawberries • 1/2 teaspoon sugar • 1 ounce silver tequila • 1 ounce lime juice • 3 ounces champagne
Instructions
1. Defrost the frozen sliced strawberries by letting them sit out for about 45 minutes or microwaving them 90 seconds on 30% power. 2. Force the thawed strawberries through a sieve into a bowl. Get as much juice as possible out of them! Whisk in the sugar until well combined. Then whisk in the tequila. 3. Pour the lime juice and strawberry/tequila mixture with ice into a cocktail shaker. Give the shaker a few good shakes for about 10 seconds until it's nice and cold. 4. Strain the cocktail into a glass. Pour in the champange and give it a quick stir. Garnish with a lime wedge and/or strawberry. Cheers!
__________________________________
Notes
Strawberries: You can most definitely use fresh strawberries for making the strawberry sauce. Just know that it will take a little more work as fresh strawberries are harder to force through a sieve than thawed pre-frozen strawberries. Hull and wash the fresh strawberries before sieving. I recommend cutting them into smaller pieces before forcing them through the sieve to make it a little bit easier on yourself.
Strawberry Sauce: With Julia Child's strawberry sauce recipe, she recommends to mix the sauce with an electric mixer for 10 minutes after adding the sugar. This will fully dissolve the sugar and make the sauce thicker. I skip this step for simplicity, but you can include this step if it is to your liking!
DID YOU MAKE THIS RECIPE?
Let me know by leaving a comment below and sharing on Instagram. Tag @laurathegastronaut and hashtag it #laurathegastronaut.
Category: Beverages Cuisine: American, Mexican
Keywords: strawberry margarita, champagne margarita, sparkling margarita, strawberry margarita recipe
CHECK OUT THESE OTHER DELICIOUS STRAWBERRY DRINKS
• Chocolate-covered Strawberry Cocktail
• Frozen Strawberry Cream Soda
Bon appétit!
February 5, 2021 by Laura Bullock