Laura The Gastronaut > Recipes > Beverages > Air-fried Jalapeno Fries
Frozen Strawberry Cream Soda
February 26, 2021 | Jump to Recipe | This post may contain affiliate links.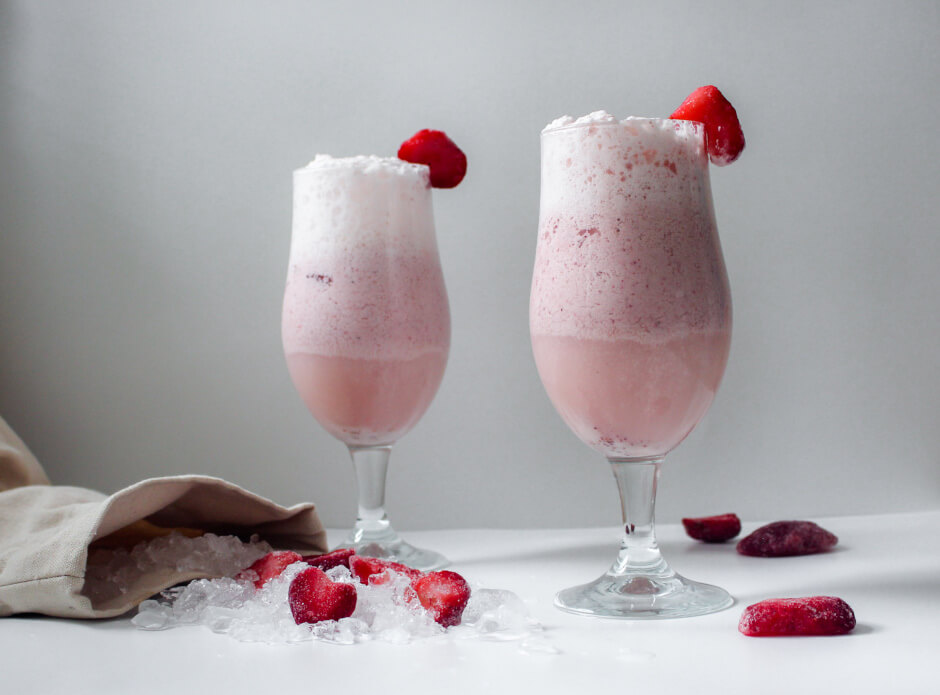 Last week in Texas was a doozy. There was frigid temperatures, power outages, snow, ice, bursting water pipes, you name it. So when Sunday rolled around with 75 degree weather and the sun shining, we had to soak it up the most that we could. Of course that includes drinking something fancy. I'm a fun drink junkie so whenever I can create and make something new to drink, I'm in my element.
__________________________________
FROZEN STRAWBERRIES FOR THE WIN
Since we were warm from our long walk throughout the neighborhoods, a nice cold drink was needed. I remembered I still had frozen strawberries in the freezer from when I made my Bubbly Strawberry Margarita. I love frozen strawberries. They are just like super flavorful ice cubes that turn any and all drinks into a slush. You don't even have to add ice. The strawberries do all the work!
I actually can't take too much credit for this frozen strawberry cream soda. My husband was the one that came up with the idea.. mostly. Once he mentioned it, I knew that I HAD to have it. Have you ever had an Italian cream soda before? If not, you should go try one! I used to get them at our local coffee shop all the time when I was in pharmacy school. So refreshing and so delicious.
FROZEN STRAWBERRY CREAM SODA INGREDIENTS
• Frozen Strawberries: I like to buy the pre-sliced frozen strawberries because they blend a little easier in the blender than the whole ones. To me, the frozen strawberries make this drink extra special. You could use fresh strawberries, but you aren't going to get the same consistency. The frozen strawberries give this drink a slushie/smoothie-like consistency which is extra perfect for those blistering hot summer days.
• Whole Milk: I like the consistency of this drink best when there's slightly more milk than cream. However, in a pinch, 1 1/4 cups of half-in-half will do the trick. The drink may just be a tad bit thicker.
• Whipping Cream
• Sugar
• Vanilla Extract
• Carbonated Water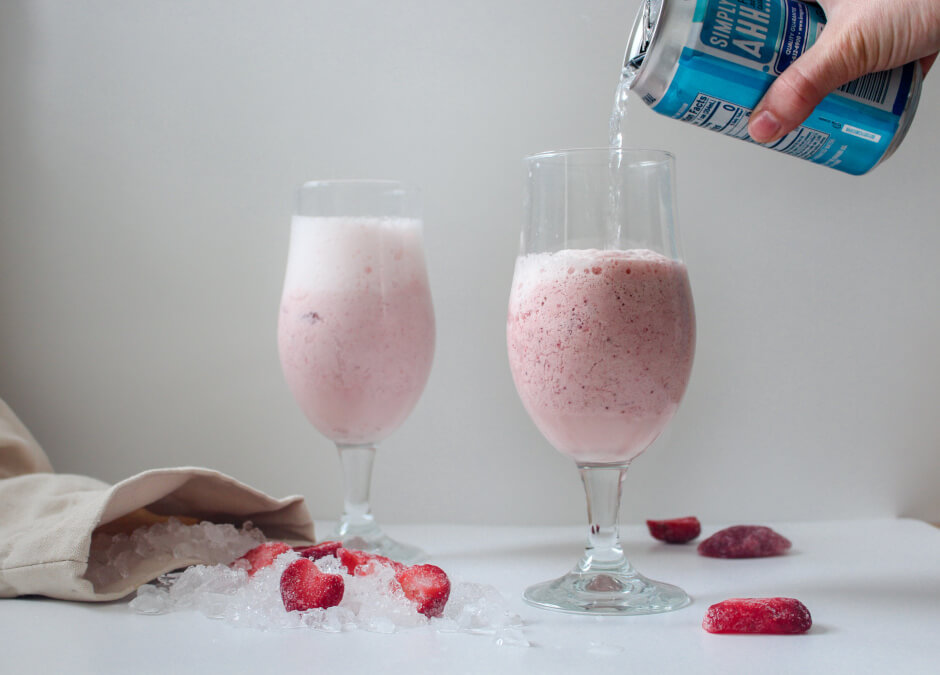 HOW TO MAKE THIS DRINK: This drink really could not be any easier to make. That's why it's the PERFECT quick beverage to make to cool off from the summer sun (or winter sun, in my case!). Frozen sliced strawberries, milk, cream, sugar, and vanilla extract are pureed in a blender until smooth. Grab two glasses, put in a little bit of crushed ice, fill each with half of the mixture, and top with carbonated water! The bubbles from the water will become creamy, and you'll get this beautiful pink drink. I like to make mine fancy by putting a strawberry on the rim and using a fun straw.
Cheers!
FROZEN STRAWBERRY CREAM SODA FAQs
Can I use fresh strawberries instead frozen strawberries? Yes, you can use fresh strawberries, but you will get a completely different consistency than if you use frozen. The frozen strawberries make the drink smoothie-like/icy. Also, frozen strawberries are great because you can throw them in the freezer, and they won't go bad! Can you use a different frozen fruit? Absolutely. The world is your oyster. Choose your favorite frozen fruit (or fruits) and enjoy!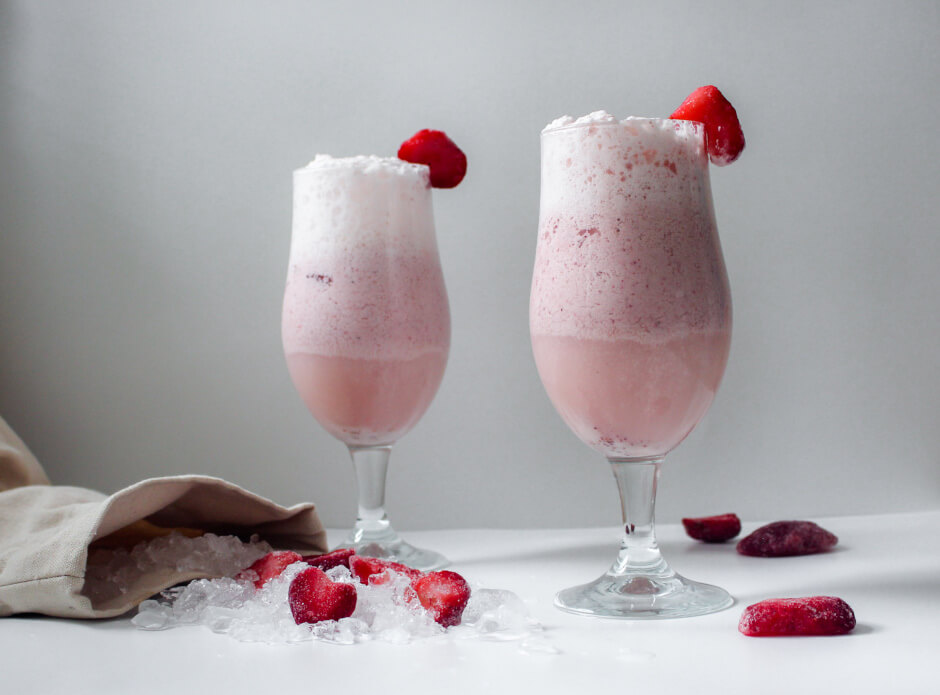 Frozen Strawberry Cream Soda
This homemade strawberry cream soda is made with frozen strawberries. This makes it the perfect frozen treat for those warm summer days.

By Laura Bullock | Laura The Gastronaut
Total Time: 5 minutes
Servings: 2
Ingredients
• 1 cup frozen sliced strawberries • 3/4 cup whole milk • 1/2 cup whipping cream • 2 Tablespoons sugar • 2 teaspoons vanilla extract • 10-12 ounces carbonated water • Crushed ice, for serving
Instructions
1. Combine frozen sliced strawberries, milk, cream, sugar, and vanilla extract into a blender. Puree until smooth. 2. Put a small amount of crushed ice into two glasses, and pour half of the strawberry mixture into each. Top the glasses off with carbonated water. Serve immediately.
DID YOU MAKE THIS RECIPE?
Let me know by leaving a comment below and sharing on Instagram. Tag @laurathegastronaut and hashtag it #laurathegastronaut.
Category: Beverages Cuisine: American
Keywords: cream soda recipe, strawberry cream soda, summer drink recipe
DO YOU LIKE BOOZY STRAWBERRY DRINKS TOO??
• Bubbly Strawberry Margarita; Tequila, strawberry sauce, and champagne. Yes, please!
• Chocolate-covered Strawberry Cocktails; This is for all of you chocolate-dipped strawberry lovers. This is the same exact thing except it's boozy and drinkable!
Bon appétit!
February 26, 2021 by Laura Bullock