Chocolate-Covered Strawberry Cocktail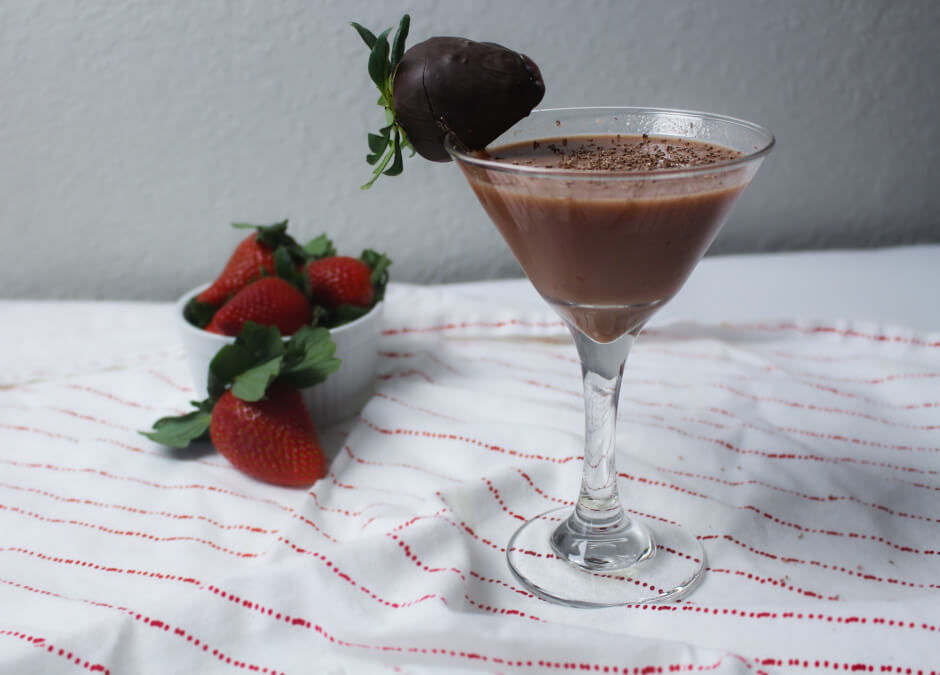 I'll be honest. Most of our Valentine's Days are really lame. They involve junk food delivery, homemade heart-shaped pizzas, a glass of wine, and going to bed early. I've never been one that wanted to go out and stroll through the town on love day. I'll take my lame Valentine's Day and be happy. Though what's one thing I really do love? Holiday-themed food and drink. This year I am going to up my game and try to turn has many foods as possible into red and pink hearts but in a classy way, of course. Let's start with a cocktail.
One of my favorite Julia Child recipes to date is her fresh strawberry sauce. You can find it on page 592 of Mastering the Art of French Cooking. This sauce is AMAZING. The possibilities of this sauce are endless. Put it on your icecream, drown your desserts in it, stir it into your smoothies, eat it with a spoon straight out of the bowl, or put it in your cocktail. That cocktail idea is genius actually. Let's do that.
This strawberry sauce can be made using fresh or frozen strawberries. The first couple of times I made it, I used fresh. My arms may or may not have been sore the next day from this process. Have you ever forced fresh strawberries through a sieve? It is totally worth the effort, but it is a lot of effort. I found the frozen strawberries to taste just as delicious but less work overall. It's still going to take a little bit of effort, but it's Valentine's Day afterall! Go the extra mile for your boo.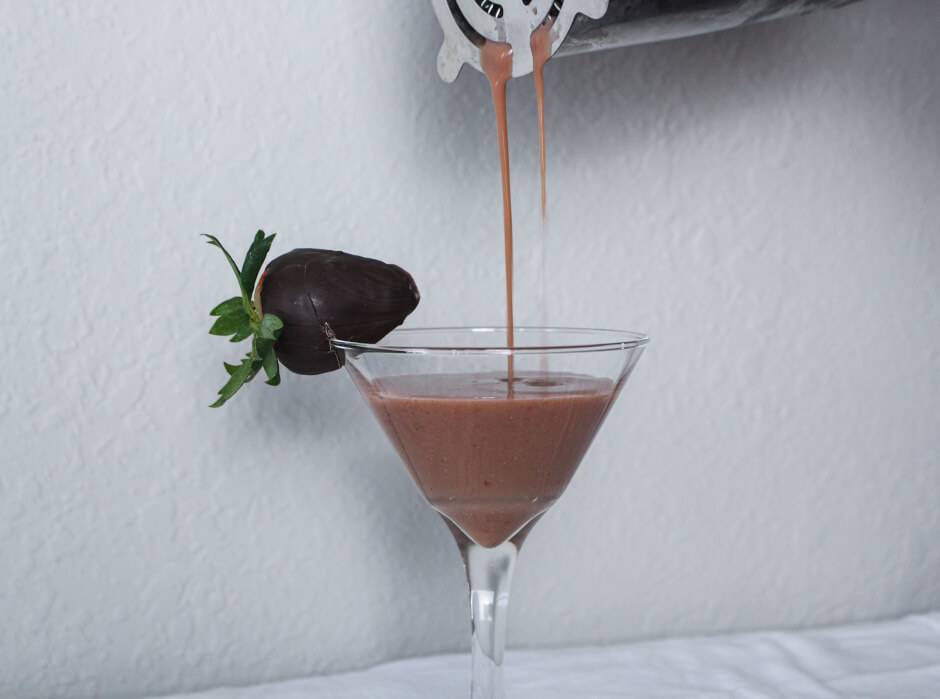 HOW TO MAKE THIS COCKTAIL: The first thing to do: make that amazing sauce. Defrost 1/2 cup of frozen sliced strawberries. You can leave them out at room temperature for about 45 minutes or you can defrost them in the microwave. I usually don't remember to set things out to defrost so the microwave is a handy tool. I did about 90 seconds on 30% power to get the strawberries completely thawed. Now you must force these strawberries through a sieve into a medium bowl. I like to use a wooden spoon (warning: your spoon may stain reddish-pink) to mash the strawberries and push them up against the edges of the sieve to get them through. You'll end up with this beautiful red juice in your bowl.
After working those arm muscles, it's time to whisk in a 1/2 teaspoon of sugar. Julia recommends to mix the sauce with an electric mixer for 10 minutes to fully dissolve the sugar and thicken the sauce up nicely. I do skip this step simply for convience in this recipe, but, by all means, feel free to include this step for yourself. To make the strawberry juice thinner and easier to pour, go ahead and whisk in the 1 ounce of strawberry vodka. You could use plain vodka as well, just realize that your strawberry flavor will not be as strong.
In a shaker full of ice, add in 1 ounce of cream liqueur (I used Irish cream) and 1 ounce of chocolate liqueur. Add the strawberry sauce/vodka mixture into the shaker, and give it a few good shakes for about 10 seconds. This will make the drink nice and cold! Strain it into a martini glass, and garnish with a chocolate strawberry. Cheers!
Another great Valentine's Day cocktail recipe that also uses this strawberry sauce is my Bubbly Strawberry Margarita!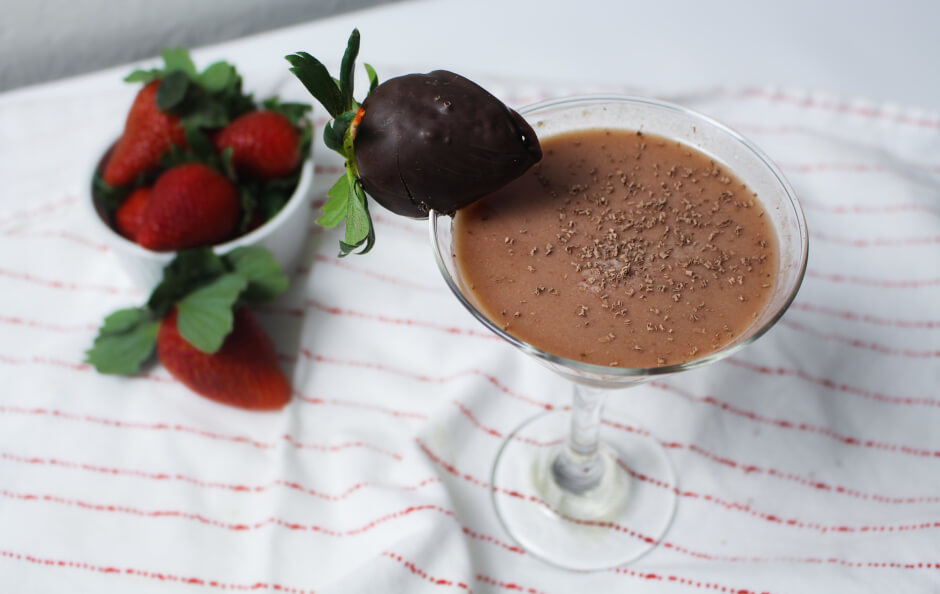 By Laura Bullock | Laura The Gastronaut
Total Time: 5 minutes
Servings: 1
INGREDIENTS
• 1/2 cup frozen sliced strawberries, see notes below for using fresh strawberries • 1/2 teaspoon sugar • 1 ounce strawberry vodka • 1 ounce cream liqueur • 1 ounce chocolate liqueur
INSTRUCTIONS
1. Defrost the frozen sliced strawberries by letting them sit out for about 45 minutes or microwaving them 90 seconds on 30% power. 2. Force the thawed strawberries through a sieve into a bowl. Get as much juice as possible out of them! Whisk in the sugar until well combined. Then whisk in the strawberry vodka. 3. Pour the cream liqueur and chocolate liqueur into a shaker with ice. Pour in the strawberry sauce/vodka mixture. Give the shaker a few good shakes for about 10 seconds until it's nice and cold. 4. Strain the cocktail into a martini glass and garnish with a chocolate-covered strawberry or plain strawberry. Cheers!
__________________________________
DID YOU MAKE THIS RECIPE?
Let me know by leaving a comment below and sharing on Instagram. Tag @laurathegastronaut and hashtag it #laurathegastronaut.
__________________________________
*NOTES
Strawberries: You can most definitely use fresh strawberries for making the strawberry sauce. Just know that it will take a little more work as fresh strawberries are harder than thawed pre-frozen strawberries. Hull, wash, and drain before sieving. I recommend cutting them into smaller pieces before forcing them through the sieve to make it a little bit easier on yourself.
Strawberry Sauce: With Julia Child's strawberry sauce recipe, she recommends to mix the sauce with an electric mixer for 10 minutes after adding the sugar. This will fully dissolve the sugar and make the sauce thicker. I skip this step for simplicity, but you can include this step if it is to your liking!
Vodka: You can use plain vodka for this recipe in place of strawberry vodka if you need/want to. I like using strawberry vodka because it really helps bring out the strawberry flavor beyond the chocolate liqueur.
Bon appétit!!
January 29, 2021 by Laura Bullock