Laura The Gastronaut > Recipes > Appetizers & Snacks > Homemade Queso Dip
Homemade Queso Dip
*This post may contain affiliate sales links. Please see full disclosure policy for details.*
A huge bowl of melted cheese- yes, please! I found the best combination of cheese to make the perfect bowl of queso dip.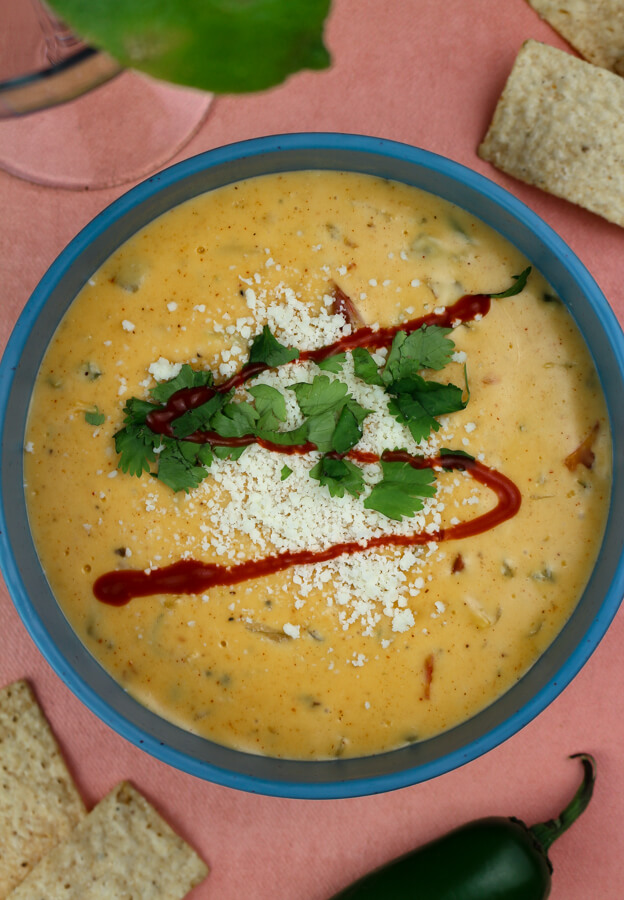 __________________________________
CHEESY, CREAMY & ADDICTING
I could eat this whole bowl of queso by myself. I love it. There's a lot of opinions floating around the internet about what should and shouldn't go into a cheese dip. There was only one way to put an end to all the madness- make a bunch of different queso. So, that's exactly what I did. Some may disagree with me, but I followed and trusted my tastebuds to lead me to the best cheese combination. Let's get into what my tastebuds consider 'The Best Homemade Queso Dip'.
HOMEMADE QUESO DIP INGREDIENTS
• Butter: We need to make a roux in order for the cheese dip to thicken so a good start to that is butter, and it tastes so good!
• Onion, Jalapenos, + Garlic: Add great fresh flavor plus some spiciness.
• Flour: We'll use flour to make the roux and is what makes it thick.
• Half-and-Half: Helps thin out the cheese dip and makes it creamy.
• Hot Sauce: Adds a bit of spiciness to the dip.
• Seasonings: Cumin, Smoked Paprika, Cayenne, Chili Powder, Kosher Salt, Black Pepper
• Sharp Cheddar Cheese: I liked to use extra sharp cheddar cheese. Make sure to buy the block of cheese, and grate your own. This creates a smoother queso dip. I love cheddar cheese, and it will make the queso oh so good. It's also great because it has a relatively low melting point.
• Pepper Jack Cheese: Jack cheese helps contribute to the creaminess of the dip. I use Pepper Jack for a small kick.
• Velveeta: Here's the controversy. Some say it belongs, some say it doesn't. Mine and my husband's tastebuds both led us to the dip made with velveeta. I even compared it right next to one that had all the same ingredients but the Velveeta was substituted with Boar Head's American cheese. There wasn't a huge difference in taste, but the Velveeta one taste more like queso dip to both of us so here we are.
• Tomatoes: Adds freshness to the dip.
• Green Chiles: For taste and heat.
HOW TO MAKE HOMEMADE QUESO DIP
First, we must make a roux. Melt 6 tablespoons of butter in a large saucepan over medium heat. Add 1/2 chopped yellow onions and 2-4 chopped jalapenos. You can leave in the seeds for a spicier queso or remove the seeds. Cook for about 3-5 minutes until the onions begin to soften. Add in 2 minced garlic cloves and cook for an additional 30 seconds until fragrant. Whisk in 1/4 cup of flour. Whisk constantly for 1-2 minutes until the flour is a light golden color and fragrant.
While whisking, slowly pour in 4 cups of half-and-half. It should take you about 15-20 seconds to pour in all of the half-and-half. While whisking, bring the mixture to a boil and turn down the heat to medium-low to maintain a simmer. Stir in 1 tsp hot sauce, 2 tsp cumin, 1 tsp each of smoked paprika, chili powder, and Kosher salt, 1/2 tsp black pepper, and 1/4 tsp cayenne. Continue to simmer, stirring frequently, for 5 minutes. Make sure the sauce is not scorching the bottom of the pan by continuing to whisk.
We'll be adding in 12 ounces (1 1/2 cups) of shredded sharp cheddar cheese (use extra sharp cheddar for a stronger flavor) and 10 ounces (1 1/4 cups) of shredded pepper jack cheese. Stir in half of each of the cheeses and stir until melted. Then add in the rest of the cheese, and stir until melted.
Now add in 10 ounces of Velveeta cheese, and stir until melted. Lastly, 4 diced tomatoes and 4.5 ounces of canned chopped green chiles are stirred in.
This queso dip is best served immediately. It can become thicker when it sits out at room temperature too long. Simply just put back on the stove over medium heat, stirring, until melted and creamy again.
WHAT TO SERVE WITH HOMEMADE QUESO DIP
• Tortilla Chips; The best chip is one that's covered in queso. Amirite?
• Tofu Tacos; Any Mexican type of food would be good with this queso, but these tofu tacos especially!
• Black Bean Dip; The only thing better than queso is bean dip and queso together.
HOMEMADE QUESO DIP QUESTIONS AND INFORMATION
Why do you add the shredded cheese in sections? I mix the two cheese together and add in half at a time. If too much cheese is added at one time the sauce can split or become unstable. Addding in small amounts will prevent the grease in the cheese from separating out. What's the best way to make a roux in order to ensure success? It's so important to whisk constantly after adding in the flour to break up clumps and prevent burning. When you add in the milk, make sure to add slowly while you are whisking. It should take you 15-30 seconds to add in all the milk and half & half. Keep a close eye on the sauce and whisk often while it simmers so you don't scorch the bottom! How do I make this cheese dip not be spicy? You can take out the seeds of the jalapenos or omit the jalapenos all together. You can also omit the hot sauce, green chiles, and cayenne, if desired. Why do you add Velveeta? First off, the taste. I made multiple batches of queso where I kept a lot of the ingredients the same but changed up the melting cheese. The velveeta won over my husband and I's tastebuds, and I trust my tastebuds. I'm just as shocked as you are, trust me. But if it's good, it's good! Second, the main reason why an ingredient like Velveeta is added is because it melts so good. This will help all the ingredients to combine together and make your queso so creamy.
For this recipe: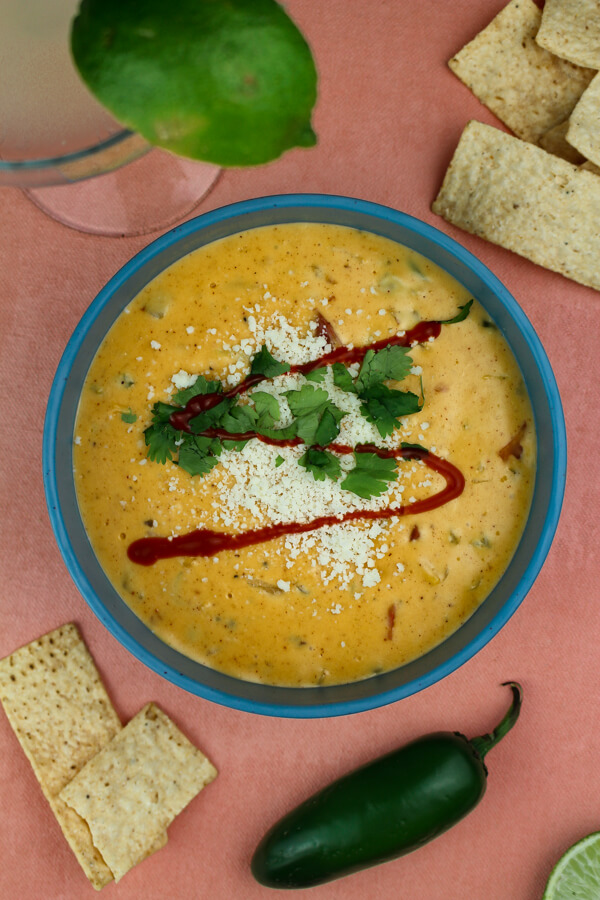 Homemade Queso Dip
A huge bowl of melted cheese- yes, please! I found the best combination of cheese to make the perfect bowl of queso dip.

By Laura Bullock | Laura The Gastronaut
Prep Time: 5 minutes | Cook Time: 20 minutes | Total Time: 25 minutes
Yield: 8 servings
Ingredients
• 6 Tablespoons butter • 1/2 cup yellow onion, chopped • 2-4 jalapenos, chopped • 2 garlic cloves, minced • 1/4 cup flour • 4 cups half-and-half • 1 teaspoon hot sauce • 2 teaspoons cumin • 1 teaspoon smoked paprika • 1 teaspoon chili powder • 1 teaspoon kosher salt • 1/2 teaspoon black pepper • 1/4 teaspoon cayenne • 1 1/2 cups (12 ounces) sharp cheddar cheese, shredded • 1 1/4 cups (10 ounces) pepper jack cheese, shredded • 10 ounces Velveeta • 4 medium tomatoes, diced • 4.5 ounces canned green chiles, diced • Optional: cotija cheese, hot sauce, cilantro leaves, for topping
Instructions
1. In a large saucepan, melt butter over medium heat. Add in onions and jalapenos, and cook until softened, about 5-8 minutes. Add in garlic, and cook an additional 30 seconds until fragrant. 2. Whisk in flour, and cook 1-2 minutes, whisking constantly, until the flour turns a light golden color and is fragrant. In a small stream, slowly whisk in the half-and-half. Continue whisking until mixture comes to a boil. Reduce heat to medium-low to maintain a simmer, and stir in hot sauce and seasonings. Continue to simmer for 5 minutes, whisking constantly. 3. Add in half of the sharp cheddar cheese and half of the pepper jack. Stir until melted. Add in the rest of the shredded cheese, and stir until melted. 4. Stir in the velveeta until melted. Add tomatoes and green chiles. Stir, pour into serving bowl, and top with cotija, hot sauce, and cilantro leaves, if desired.
__________________________________
DID YOU MAKE THIS RECIPE?
Let me know by leaving a comment below and sharing on Instagram. Tag @laurathegastronaut and hashtag it #laurathegastronaut.
Category: Appetizers & Snacks, Sides & Dips, Vegetarian
Keywords: queso recipe, cheese dip, queso dip
CHECK OUT THESE OTHER DIP & SNACK RECIPES
Bon appétit!
October 31, 2021 by Laura Bullock