Tofu Tacos with Avocado Mayo & Tomato Jam | What's in the Box? | Box 2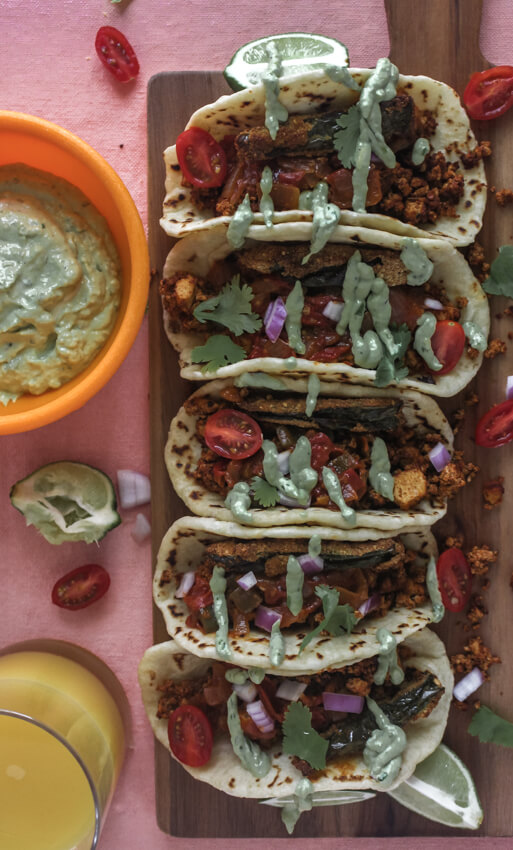 Welcome to Box 2 of my 'What's in the Box?' series. I'm not going to beat around the bush- this recipe that my husband and I created with this box is fire. Absolutely amazing. Perfection. How will we ever top this?! After making these tacos I knew with the first bite that I had to write up an actual recipe for them. I've made them three times since then, and I still believe that these are some of the best tacos I've ever made.
Don't know what 'What's in the Box?' is? No worries. Let me explain. 'What's in the Box?' is a cooking challenge that my husband and I love to do. We first come up with a huge list of ingredients. While at the grocery store, we draw which ingredients we must use. Once we get home, we get to work. We can use the basic kitchen ingredients such as spices and common vegetables. There's really just three rules: 1) All of the mystery ingredients must be used, 2) the mystery ingredients must stand out and have a purpose in the dish, and 3) we cannot use any outside resources. Yes, that even means no phones! I'm always amazed at what we can come up with!
__________________________________
Let's talk about the recipe!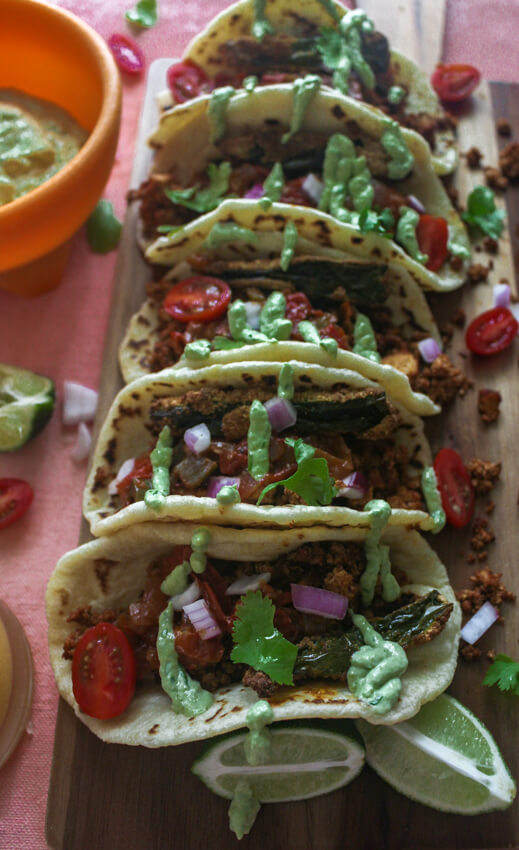 We almost instantly decided that we wanted to make tacos. A few months ago, I made Sam's, from It Doesn't Taste like Chicken, Chorizo Tofu, and it blew our minds. It's so dang good, and I cannot put into words how good it is. This recipe discovery changed our lives. Even if you don't think you like tofu, try this recipe. You'll change your mind. I'm confident. Anyways, that's how I knew that this crumbled tofu magic even existed. I barely remembered the recipe (remember: we can't look up anything!) so I had to wing it. But before I talk about the tofu, let's go through, in order, the steps of how we prepared this amazing dish.
The first thing we set out to do was make homemade flour tortillas. Now, I've made many flour tortillas in my lifetime following many different recipes. The tortillas I made from lard never impressed me much. I was currently on a vegetable oil tortilla kick. Well, that is until I ran across a viral TikTok of a woman making the most beautiful tortillas. She used butter, and now I will never use anything but butter. I'm sure Julia would approve of that decision. Anyways, the account is named Salty Concina Mexican Food, and you can find the video on how to make these tortillas here. Luckily, I memorized the recipe so I was ready to go for this What's in the Box. You should definitely consider making homemade flour tortillas when making tacos/burritos/etc. at home. Or at least buying them freshly made somewhere! Homemade tortillas make a good taco turn into an excellent taco.
Next, I made an avocado mayonnaise. There's so many different variations of avocado dips floating around on the internet. I usually just throw whatever have laying in the fridge with an avocado, grab a bag of chips, and go to town on it. I like to normally use sour cream when making it, but since mayonnaise was a mandatory ingredient I figured it would be a good substitute. Along with the avocado and mayonnaise, I added cilantro leaves, salt, and pepper as well. For acidity, I usually use lime juice, but went for a lime & orange juice combination for a slight taste of orange juice that we had to use. All of this got blended in a mini food processor and put into the fridge until needed.
Next, we made the tofu. We over-season (we call it perfectly-season) everything so that's exactly what we did. We combined every taco-like seasoning we had in our pantry with some vegetable oil. This included cumin, garlic powder, onion powder, chili powder, dried oregano, cayenne pepper, paprika, salt, and pepper. What's great about this tofu recipe is that you don't have to worry about pressing your tofu. Just drain the water from the package, and it's ready to use! The crumbled tofu and seasonings get mixed together until well combined, and it's spread evenly on a parchment paper-lined baking sheet. I baked it for 30 minutes at 400°F, stirring once at the halfway mark. This amount of time makes the tofu slightly cripsy which is perfect.
While the tofu was cooking, we set off to make the tomato jam. I'm not really sure if jam is the right word, but I racked my brain trying to name it something else but couldn't figure it out- so jam, it is. First, we cooked onions and jalapenos for a few minutes in butter. Once softened, a little more butter was added along with minced garlic, cumin, chili powder, salt, and pepper. All this cooked for a couple more minutes. We then added roughly chopped grape tomatoes and a 1/2 cup of orange juice to the mix. Now we just let all of it simmer until thickened. This is such a nice flavor combination- savory, spicy, and sweet (sugar from orange juice!). We may be making this for all of our tacos from now on.
The only thing left to do is assemble the taco! The flour tortilla is filled with the tofu and tomato jam. Here's where we went a little crazy. We also made my air-fried jalapeno fries to put in the taco as well. 100% recommend this happens when you make these tacos too. The tacos were then topped with the creamy avocado mayo, raw red onion, cilantro, fresh grape tomatoes, and fresh lime juice. OH MAN! Here's another great idea- double the avocado mayo and eat it with that bag of tortilla chips sitting in your pantry. Bon appétit!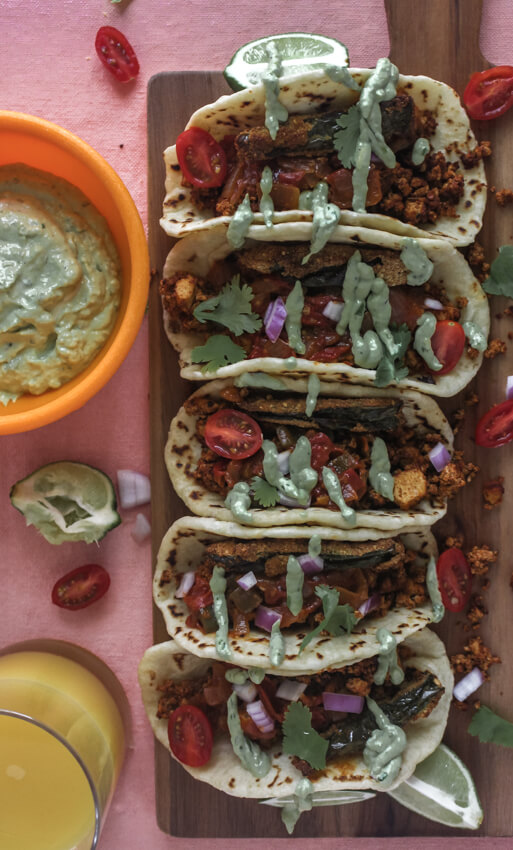 TOFU TACOS WITH AVOCADO MAYO AND TOMATO JAM
By Laura Bullock | Laura The Gastronaut
Prep Time: 20 minutes | Cook Time: 30 minutes | Total Time: 50 minutes
Servings: 4
DESCRIPTION
Our What's in The Box? Challenge gave us these four random ingredients: grape tomatoes, tofu, mayonnaise, and orange juice. So we created tofu tacos with avocado mayonnaise and tomato jam. They are absolutely AMAZING! See the notes section below the recipe for more descriptions.
INGREDIENTS
FOR AVOCADO MAYO:
• 1 avocado, sliced • 1/2 cup mayonnaise • 1/4 cup cilantro leaves • 2 Tablespoons lime juice • 1 Tablespoon orange juice • 1/2 teaspoon Kosher salt • 1/4 teaspoon ground pepper
FOR TOFU:
• 16 oz firm tofu • 3 Tablespoons vegetable oil • 2 Tablespoons chili powder • 1 Tablespoon cumin • 2 teaspoons garlic powder • 2 teaspoons paprika • 1 teaspoon onion powder • 1 teaspoon dried oregano • 1 teaspoon Kosher salt • 1/2 teaspoon cayenne pepper • 1/2 teaspoon ground pepper
FOR TOMATO JAM:
• 2 Tablespoons butter, divided • 1 red onion, diced • 2 jalepenos, diced • 1 garlic clove, minced • 1 teaspoon chili powder • 1 teaspoon cumin • 1/4 teaspoon Kosher salt • 1/4 teaspoon ground pepper • 10 ounces grape tomatoes, roughly chopped • 1/2 cup orange juice
FOR ASSEMBLY OF TACO:
• 8 flour tortillas, preferably homemade (check out my favorite recipe here). Optional Toppings: • Air-fried Jalapeno Fries • cilantro leaves • grape tomatoes, halved • lettuce, shredded • red onion, diced • lime wedges
INSTRUCTIONS
1. Preheat oven to 400°F. MAKE AVOCADO MAYONNAISE: 2. In a blender or mini food processor, add all of the avocado mayonnaise ingredients: avocado, mayonnaise, cilantro, lime juice, orange juice, salt, and pepper. Blend until smooth. Place in fridge for later. PREPARE TOFU: 3. In a large bowl, combine oil and tofu seasonings together. Drain the tofu and crumble the tofu using your hands into the bowl. Mix all together. On a parchment paper-lined baking sheet, spread out the seasoned tofu. Bake for 30 minutes, stirring halfway through the cooking time. MAKE TOMATO JAM: 4. While tofu is cooking, melt 1 Tablespoon of butter in a skillet on medium-high heat. Once melted, add red onion and jalapeno. Cook for 4-5 minutes until softened. 5. Add in the other 1 Tablespoon of butter, minced garlic clove, chili powder, cumin, salt, and pepper. Let cook for an additional 1-2 minutes. 6. Add in the grape tomatoes and orange juice. Stir and let simmer for about 10 minutes or until it thickens/liquid evaporates. ASSEMBLE THE TACO: 7. Place tofu and tomato jam inside a flour tortilla and top with the avocado mayo. I like to put some air-fried jalapeno fries inside my taco as well and top with red onion, lettuce, cilantro, fresh grape tomatoes, and freshly squeezed lime juice.
__________________________________
DID YOU MAKE THIS RECIPE?
Let me know by leaving a comment below and sharing on Instagram. Tag @laurathegastronaut and hashtag it #laurathegastronaut.
__________________________________
*NOTES
Homemade Tortillas: Homemade tortillas make these tacos amazing! You can find freshly made tortillas at most grocery stores, but they are also pretty simple to whip up at home too. I use Salty Cocina Mexican Food's Buttery Tortillas. They are soo good!
Leftovers: These tacos are really delicious as leftovers too. I throw the tofu and tomato jam into the same skillet and mix it all together. Just let it all cook over medium-high heat until heated through.
__________________________________
For this recipe:
If you have any questions or comments, let me know down below!
Bon appétit!
April 21, 2021 by Laura Bullock
This tofu tacos with avocado mayo & tomato jam blog post and recipe may contain some Amazon affiliate links. These link to products that I personally use and recommend. If you purchase anything using my links, it will not cost you anything. It will though give laurathegastronaut.com some financial support which helps me keep this blog running. Thank you for reading my blogs and your continued support.