Laura The Gastronaut > Julia Child Recipes > Desserts & Cakes > Charlotte Basque
Charlotte Basque
Mastering the Art of French Cooking | Julia Child
April 12, 2021 | Laura Bullock | This post may contain affiliate links.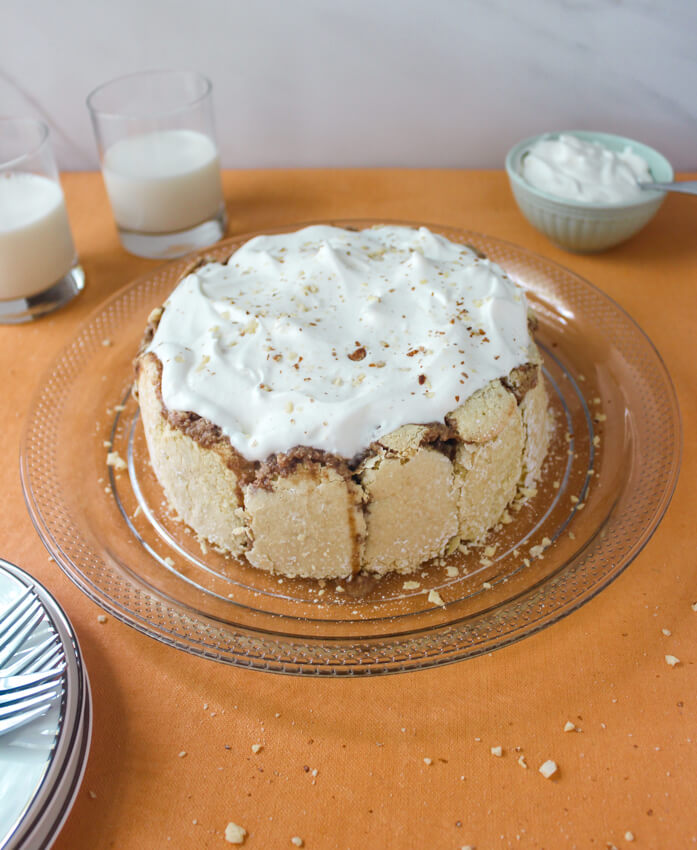 Recipe 172
- Charlotte Basque [Almond Custard with Chocolate], p. 608
You can buy Julia Child's Mastering the Art of French Cooking which contains these recipes here.
Looking for another Julia Child recipe? Check out my Recipe Checklist to see if I've made it! You can see all the Dessert recipes from Chapter 10 here!
While I didn't film my final attempt of this recipe, I did video myself when I followed the recipe exactly, and it failed.
__________________________________
Butter Count: +17 TB
Cost: $14.58 [~$1.62 per serving]
IS THIS RECIPE MY WORST ENEMY??
This recipe tested all of my patience. All of it. I made it three times and finally had to accept that this was going to be the outcome. The first two times I made this recipe, I followed it exactly as I always do, and it was a compete fail. The third time, I made some adjustments to the recipe so that it would turn out a little better. Could this just really be a bad Julia recipe? Or am I missing something? Probably the second option.
You see, this recipe is another ladyfinger-lined mold. It's actually a variation recipe to Charlotte Malakoff aux Fraises. The filling of the Charlotte Malakoff is very thick and set when put into the fridge overnight. This allowed it to be unmolded. However, the filling of the Charlotte Basque is a light custard sauce (crème anglaise)- extremely runny! It didn't set at all. This just created a HUGE mess when trying to unmold it.
I had some comments saying that the Charlotte Basque is not supposed to be unmolded, but I believe with all my being that it is supposed to be and here's why. First, this recipe is a variation to a Charlotte Malakoff which is an unmolded dessert. While the Charlotte Basque doesn't specify whether to unmold or not, neither does the second Charlotte Malakoff in the book (but I know for sure that Malakoff is unmolded). This means the Charlotte Basque is stuck right in the middle of all these beautiful unmolded ladyfinger-lined desserts. You would think they would have said "serve out of dish" if not meant to be unmolded due to the location in the book.
Second, Julia says to line the mold as in the master recipe. This involves cutting the ladyfingers in a specific way so that you get a pretty dessert when unmolded. Why go through the trouble of making it pretty if it's just going to be at the bottom of the mold and nobody will ever see it?
Third, the wax paper. The lining instructions say to place a piece of wax paper at the bottom of the mold which its purpose is the help unmold the dessert. I don't believe there would be a need for wax paper if we are just eating out of the container.
Lastly, there are so very few pictures on the internet of this dessert which is weird! One of the pictures shows an unmolded dessert. The other is from a blog where the girl also unmolded it but put it in the freezer so it would set.
Despite all this unmolding talk, even if the Charlotte Basque was meant to stay in its mold, it is still wayyy too runny! So runny in fact that the ladyfinger-lined mold just fell apart immediately after adding the filling. There's also supposed to be layers of ladyfingers between the filling, but that couldn't happen because the ladyfingers just floated right up to the top! I'm completely confused by this dessert. Something just doesn't seem right to me. Have you made a Charlotte Basque before or eaten one? Please, let me know!
LET'S RATE THE CHARLOTTE BASQUE
LAURA'S RATING: 6 [recipe-wise: 0]
BRIAN'S RATING: 6.5
This dessert is actually delicious which is a shame I can't get it right. If you are okay with eating it out of a bowl with a spoon then this will no means be the worst thing you will eat. As mentioned above, I altered the recipe the third time I made it. Keep reading to see what I did so that it would stay put!
What's the difference between Charlotte Malakoff and Charlotte Basque?
A Charlotte Malakoff is a ladyfinger-lined dessert. The inside is a thick almond cream made with butter, sugar, pulverized almonds, and whipping cream. This is most definitely a show-stopping dessert as it can be unmolded leaving you with a beautiful ladyfinger crust that can be decorated with more whipped cream or fruit. A Charlotte Basque is also a ladyfinger-lined dessert, but the inside is custard (crème anglaise), butter, and pulverized almonds. No whipping cream is folded into it so it is much lighter (and runnier, in my case).
What is crème anglaise?
Crème anglaise is a light custard sauce. It consists of egg yolks, sugar, and milk. When these ingredients are heated on the stove, they thicken. Most often this light custard sauce if flavored with vanilla. In this recipe, chocolate and vanilla are added.
For this recipe:
HOW TO MAKE CHARLOTTE BASQUE
The first thing you have to do for this recipe is make 4 cups of chocolate-flavored crème anglaise [light custard sauce]. I made a couple changes here. I put in half of the amount of milk, and I increased the amount of cornstarch. I put the custard in the fridge for hours in hopes that it would thicken up enough to hold. It did thicken up some but still really runny.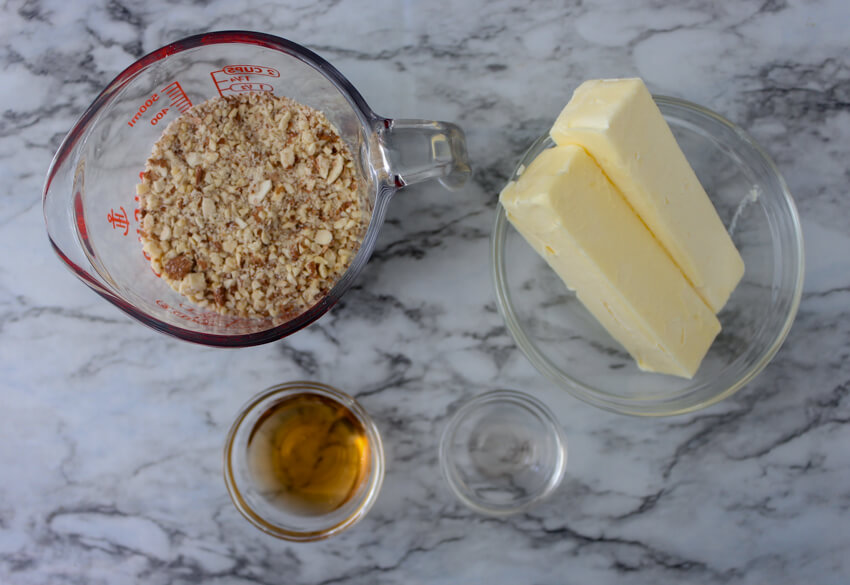 Butter and pulverized almonds are creamed together, and the custard sauce is beaten in along with almond extract and rum. Now, here's where things got... uh, creative. I put the entire mixing bowl into the freezer overnight. In the morning, all of the filling had completely froze. Perfect! I lined my mold with ladyfingers and allowed the filling to slightly thaw. I scooped it into the mold quickly with alternating ladyfinger layers. I then threw it back into the freezer because the filling was melting fast! Thirty minutes later, I pulled it out, unmolded it, and quickly snapped some pictures. By the end of the photo shoot, the ladyfingers were beginning to succumb to the melting custard.
The frozen custard makes this dessert taste almost like an ice cream cake. YUM! A very tasty ending to a very exhausting recipe. We are finally moving on with the dessert chapter. Woo hoo!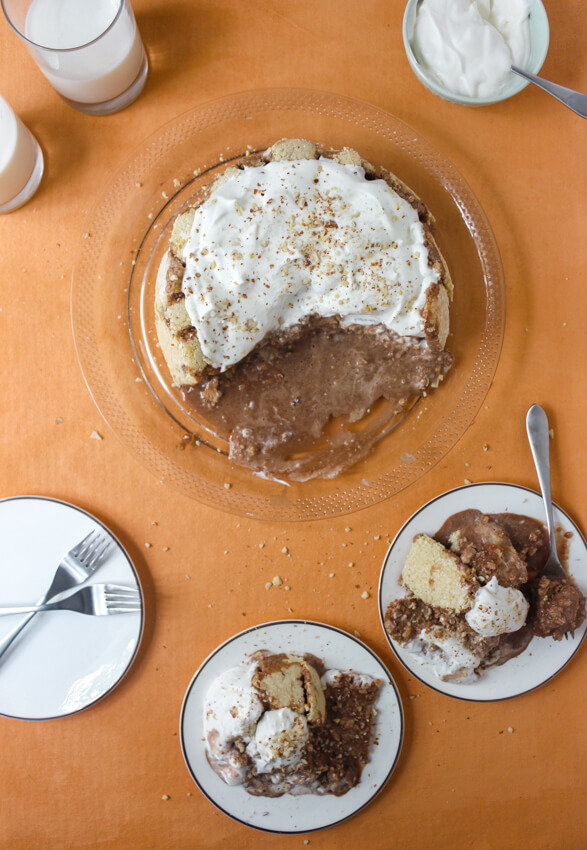 YOU MAY ALSO LIKE
• Julia Child's Charlotte Malakoff aux Fraises
• Julia Child's Charlotte Malakoff au Chocolat
• Julia Child's Charlotte Chantilly aux Fraises
__________________________________
You can find these recipes and all the other Julia Child recipes I make in Mastering the Art of French Cooking
Check out my Recipe Checklist to see a list of all my completed and pending recipes from Mastering the Art of French Cooking!
Bon appétit!
April 12, 2021 by Laura Bullock