Charlotte Malakoff aux Fraises
Charlotte Malakoff aux Fraises
May 21, 2020 | Updated May 9, 2022 | Laura
*This post may contain affiliate sales links. Please see full disclosure policy for details.
*The views expressed on this blog are my own.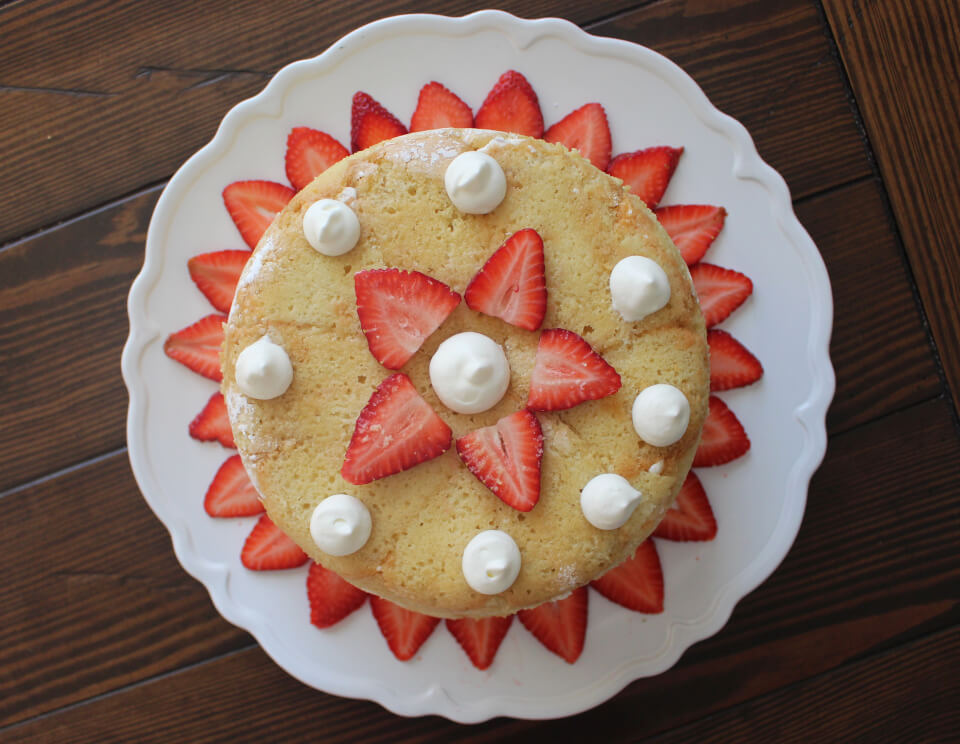 ✽ Recipe from Mastering the Art of French Cooking, Vol. I | Julia Child ✽
Julia Child Recipes 111-112 | 416 recipes to go!
✽ Charlotte Malakoff aux Fraises [Almond Cream with Fresh Strawberries], p. 605
✽ Ladyfingers [Biscuits à la Cuiller], p. 666
__________________________________
✽ Mastering the Art of French Cooking, Vol. I was written by Julia Child who co-authored with Simone Beck & Louisette Bertholle and was published by Alfred A. Knopf in 1961.
✽ You can buy Julia Child's Mastering the Art of French Cooking, Volume I which contains these recipes here. (affiliate link)
The purpose of this Julia Child section of my blog is to document my journey of learning how to cook. To show my successes, my failures, and what I learned along the way.
Since I didn't create these recipes (if only!), I do not post exact amounts of ingredients or word-for-word instructions. If any of these recipes spark your interest, I highly recommend you buy Julia Child's Mastering the Art of French Cooking (affiliate link). It's a great investment and learning tool and contains hundreds of classic recipes.
I hope that you enjoy reading my thoughts, learn something new, and leave inspired to try a new recipe. Bon appétit!
__________________________________
Butter Count & Cost: Charlotte Malakoff aux Fraises
✽ Butter Count: +17 TB
✽ Cost: $15.24 [~$1.69 per serving]
Check out the total Julia Child butter count & cost here!
→ Looking for a different Julia Child recipe? Here's a list of all of the completed and pending Mastering the Art of French Cooking recipes!
A beautiful and delicious strawberry dessert.
This has to be one of the prettiest desserts I have ever made. I have seen the contestants on The Great British Baking Show attempt these show-stopping desserts. I would watch in admiration wondering if I would ever be able to pull something like that off.
Well, I do not know if it was beginner's luck or what, but I was so pleasantly surprised when this beauty popped out of its mold the next morning. A magnificent French dessert, indeed!
Once you make the ladyfingers, this recipe is relatively easy. Yes, I really do believe that anybody can make it!
The main thing I learned while making this dessert is that I absolutely despise making ladyfingers. To making sure you don't deflate the egg whites to how sticky the batter is to making sure you cook them for the perfect amount of time, it's stressful.
This is especially true if you are like me and have never seen nor tasted a ladyfinger before. You may think, 'I'll just buy the ladyfingers.'
Well, don't even think about it. Julia describes store-bought ladyfingers as "dreadful in taste and texture that they cannot be used in good cooking."
Charlotte Malakoff Recipe: Questions
✽ What is a Charlotte?
According to What's Cooking America, a Charlotte is a cake that has a ladyfinger lining that is filled with custard. It is a cold dessert served with whipping cream.
A charlotte cake can also be served hot. These cakes usually are filled with fruit sauces and bread.
✽ What are the types of Charlotte cake?
First, there is the Charlotte Russe. This cold dessert has a ladyfinger lining as well and is filled with a Bavarian cream.
Second, there are apple charlottes. These have a buttered bread lining and are filled with an apple compote. They are usually served hot.
Lastly, Charlotte Malakoff which is what we are making today! The Charlotte Malakoff is served cold and still has a ladyfinger lining. It is filled with heavy cream, butter, sugar, liqueur, ground almonds, and whipped cream.
This blog post is all about a strawberry cream, but you can also make a a chocolate one as well.
The word 'Russe' is Russian in French while the word 'Malakoff' is Russian in itself.
These desserts probably came about in the Russian court when French chefs were cooking for the royal family.
Cold charlottes were invented by Careme (1783-1833) who was considered the king of French pastry chefs. The charlotte was named after a queen. The height and show-stopping appearance of charlottes made them perfect for the royals.
Looking for more Julia Child dessert recipes to read about?
→ Check out all of the dessert recipes that I've completed so far!
Fun Facts about Strawberries
✽ How many seeds do strawberries have?
Each strawberry has about 200 seeds!
✽ What colors can strawberries be?
While red is most definitely the most common type of strawberry, they can also be white, blue-purple, yellow, and pink!
✽ Strawberry Scientific Name
The scientific name of strawberries is Fragaria ananassa. They are in the same Family as roses! (Rosaceae).
For this recipe:
*Some of these ingredient links may be affiliate links. As an Amazon Associate I earn from qualifying purchases.*
How to Make Charlotte Malakoff aux Fraises
✽ Step 1: Make Ladyfingers
So, here I am stuck making my own ladyfingers. I only hope the experience gets better with time and practice. Despite the ladyfingers being so finicky, the batter is pretty easy to make.
Sugar is beat into egg yolks and vanilla is added. Egg whites, salt, and sugar are then beat together until stiff peaks are formed.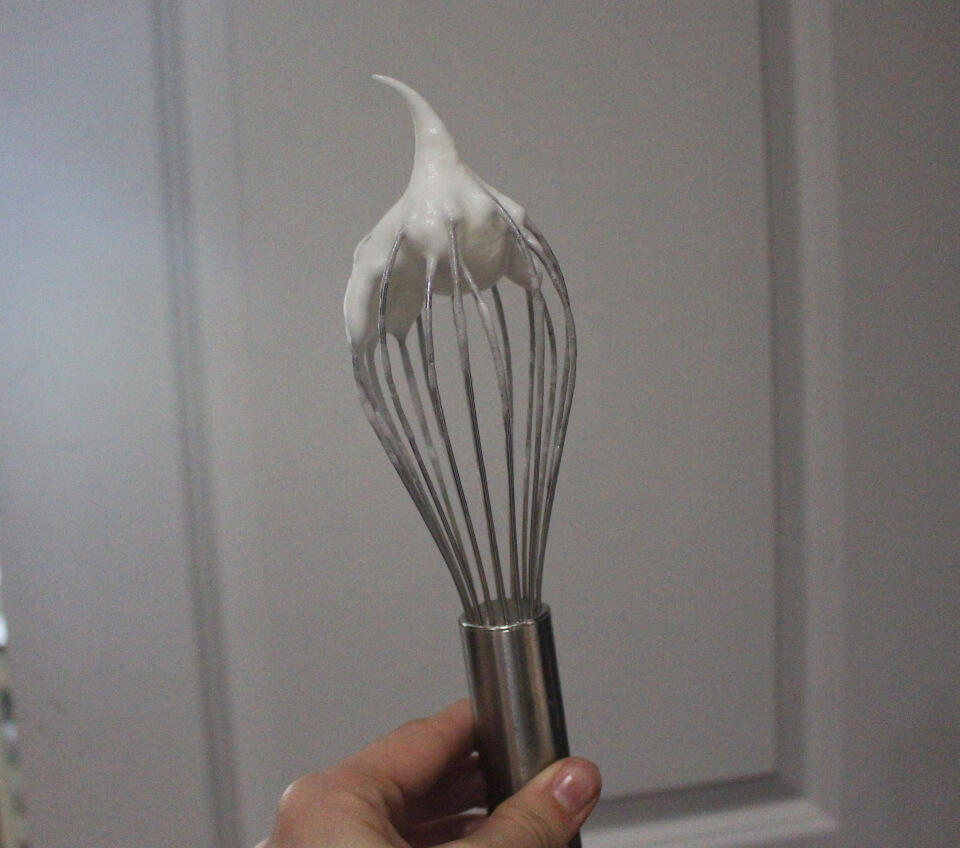 Lastly, the egg whites and sifted flour are added to the egg yolks. This is done in small amounts at a time in order to ensure the mixture is mixed well but still remains light and fluffy.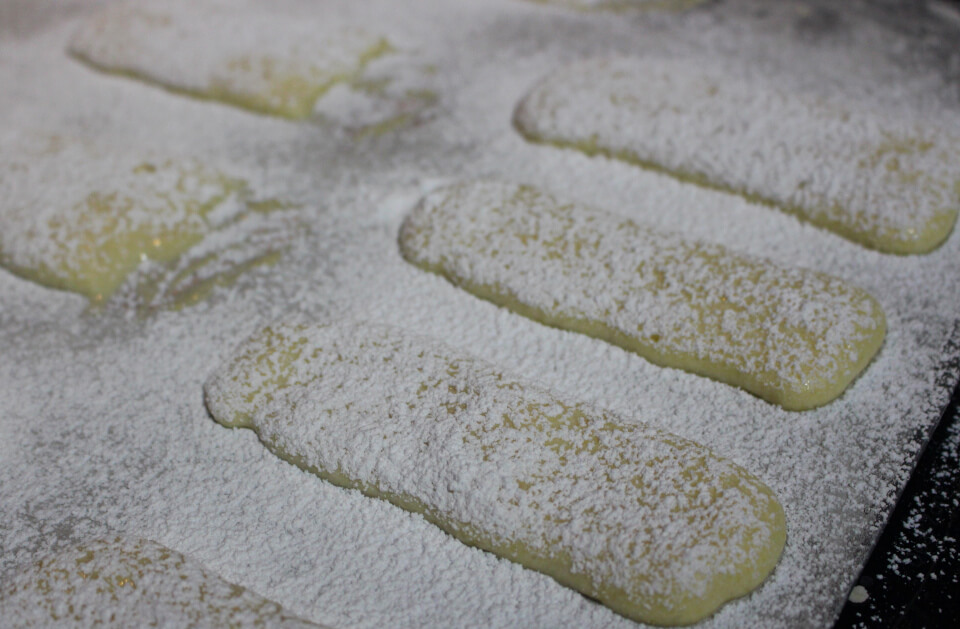 The batter is squeezed out of a pastry bag onto a buttered and floured baking sheet. They are sprinkled with a generous amount of powdered sugar and baked for about twenty minutes.
If everything goes well, they will become a very pale brown underneath the sugar.
Side note- I had to make two batches of ladyfingers in order to have enough for my mold. Not sure if my mold is just bigger, but I needed quite a bit more than what was made from one batch. Maybe one day I will get an actual charlotte mold.
✽ Step 2: Dip Ladyfingers & Line Mold
Once your lady fingers are done and beautiful, they are dipped in a mixture of orange liqueur and water, drained, and used to line your cylindrical mold.
Don't forget to put a round of wax paper at the bottom of the mold in order to make the unmolding process easier. The ladyfingers are cut in a way to make a pinwheel shape on the bottom and then whole ladyfingers standing up are used to line the sides of the mold.
Dipping makes them become somewhat sticky so they won't fall down.
✽ Step 3: Cream Butter and Sugar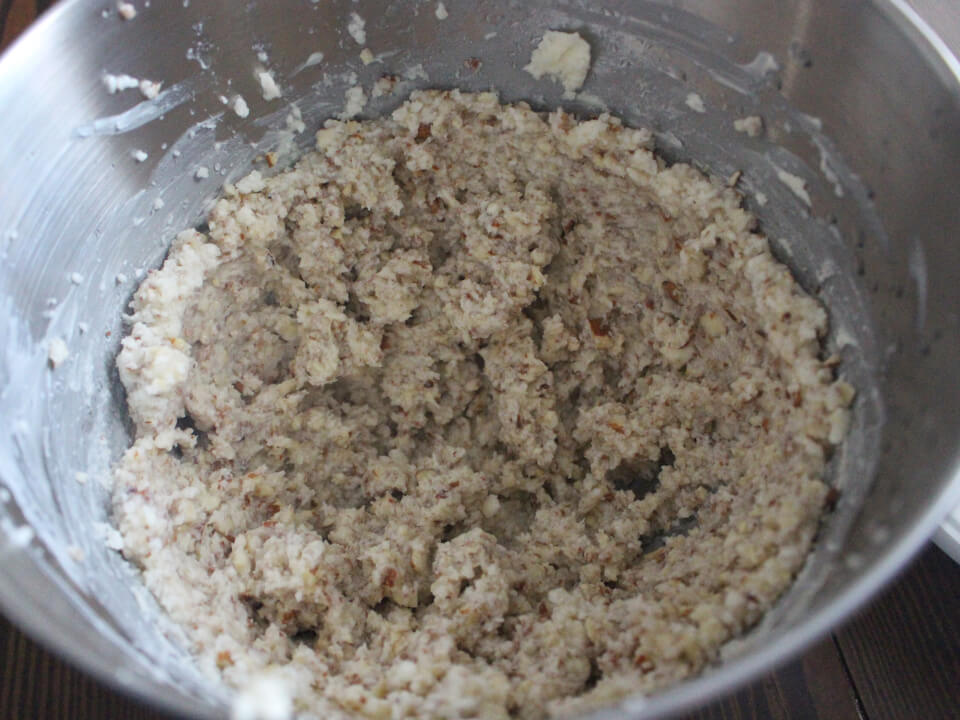 Next, butter and sugar are creamed together in a large bowl for a few minutes until it is fluffy. Orange liqueur and almond extract are added in and the mixture is beat until the sugar has dissolved.
Pulverized almonds are then beat in.
✽ Step 4: Fold in Whipped Cream
Whipped cream is beaten and folded into the almond and butter mixture.
✽ Step 5: Fill Mold
The only thing left now is to mold! The almond mixture is added first then a layer of strawberries, and then a layer of ladyfingers. Keep repeating until your ladyfinger-lined mold is full.
Cover with wax paper, set a saucer over the mold, and place it in the fridge for at least six hours.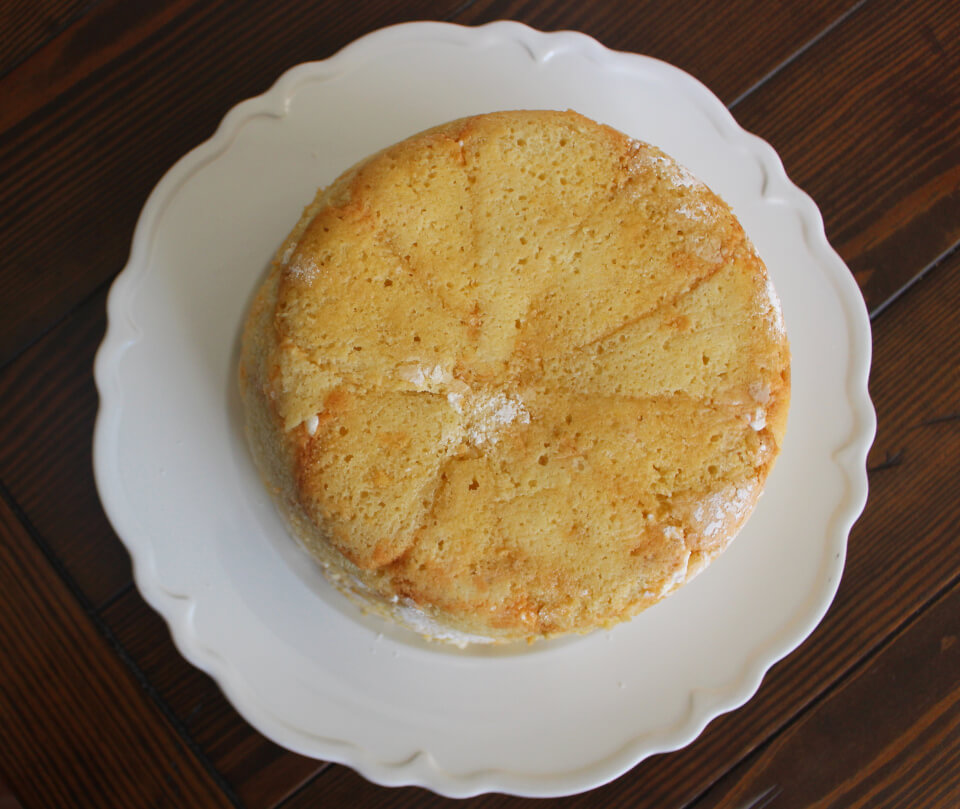 ✽ Step 6: Unmold & Decorate
I was surprised how easily mine came out of the mold. Maybe because I used a glass mold. If you are having troubles, you can always use a knife around the edge to help displace it.
I served mine with fresh strawberries and lightly whipped cream.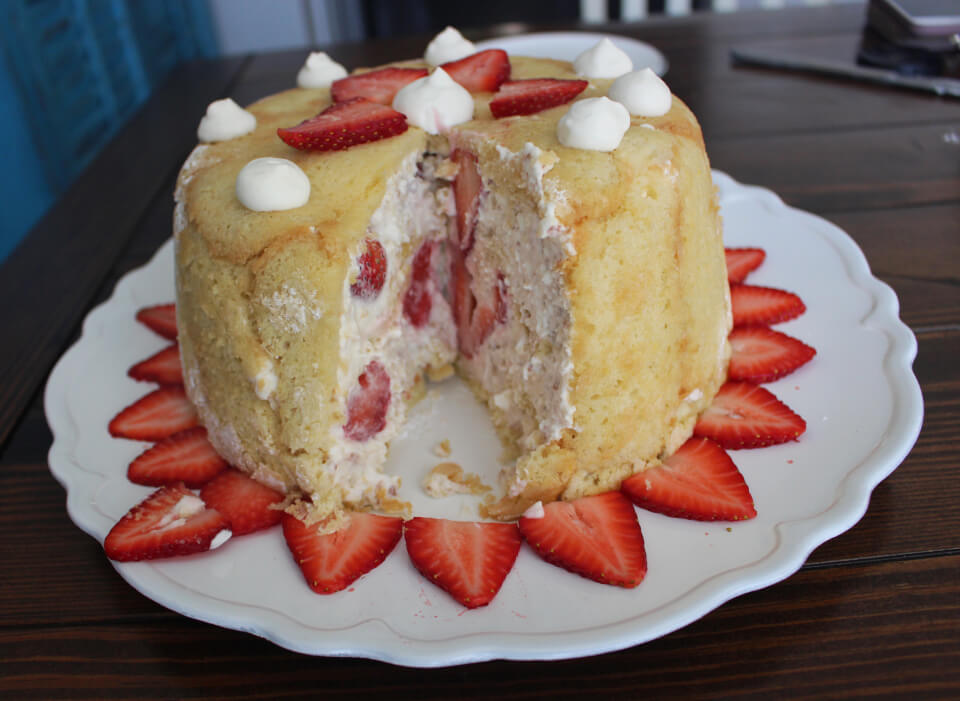 This dessert reminded me of angel food cake and was absolutely delicious.
I know I said that the chocolate mousse was my favorite so far, but this one might take the cake! It's tasty. It's beautiful. Everybody will stop what they are doing when you pull this out of the fridge. Amazing!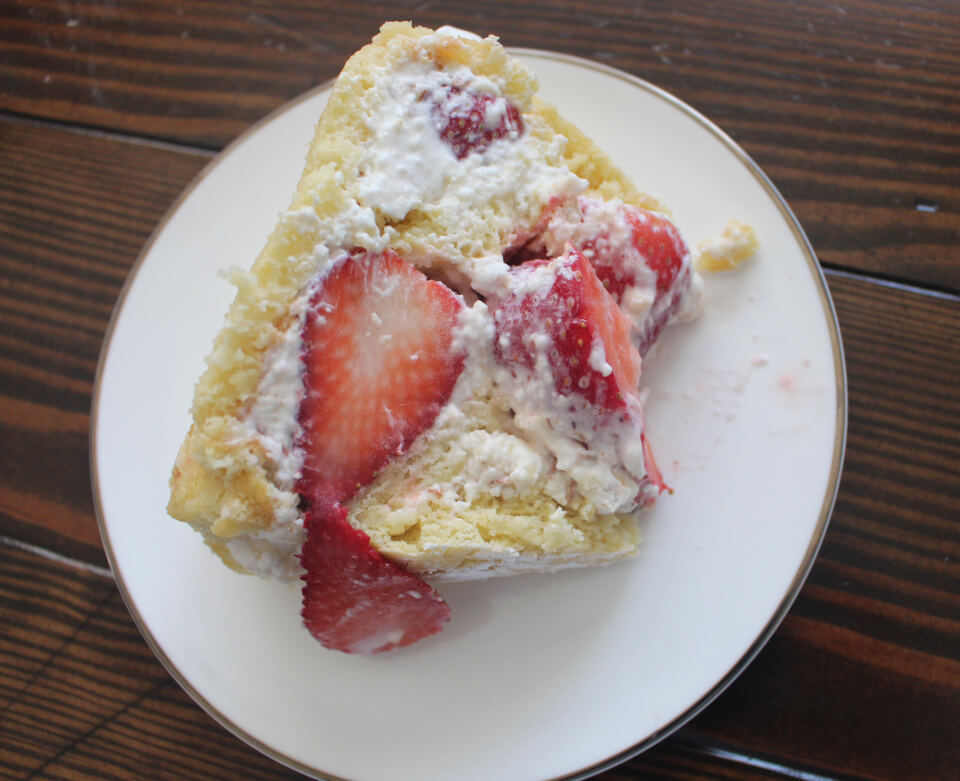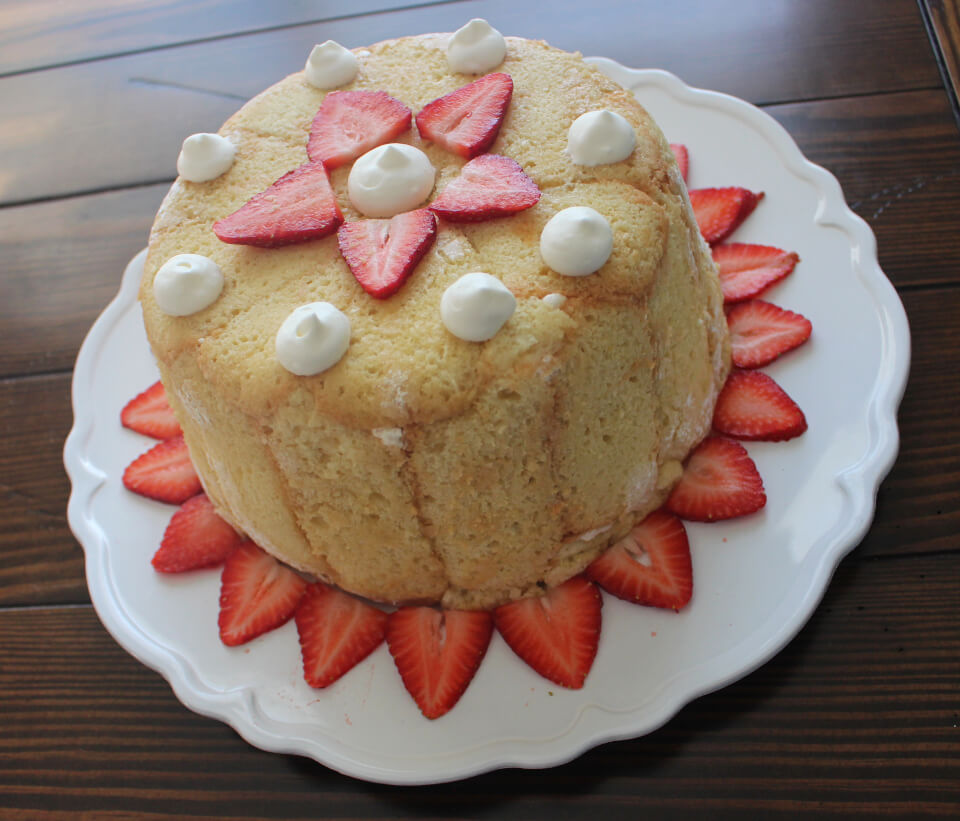 *This blog, Laura The Gastronaut, and this post were/are not endorsed or supported by Julia Child or The Julia Child Foundation.

Category: Julia Child, Desserts and Cakes Cuisine: French
Keywords: charlotte malakoff recipe, julia child dessert recipes, julia child dessert, charlotte malakoff recipe julia child
✽ Did you make this recipe too?
→ Let me know by leaving a comment below and sharing on Instagram. Tag @laurathegastronaut and hashtag it #laurathegastronaut.
More Charlotte Recipes:
✽ Charlotte Malakoff au Chocolat (charlotte malakoff recipe for chocolate lovers)
✽ Charlotte Chantilly aux Fraises (a strawberry charlotte made with custard)
✽ Charlotte Basque (making this charlotte gave me a headache, but it was still delicious)
→ Check out all of the completed Julia Child dessert and cake recipes!
✽ You can find this recipe and all the other Julia Child recipes I make in Mastering the Art of French Cooking, Volume I (affiliate link).
→ Mastering the Art of French Cooking, Vol. I was written by Julia Child who co-authored with Simone Beck & Louisette Bertholle and was published by Alfred A. Knopf in 1961.
✽ Check out my Julia Child Recipe Checklist to see a list of all my completed and pending recipes from Mastering the Art of French Cooking!
Bon appétit!
May 21, 2020 by Laura Bullock
*This Charlotte Malakoff aux Fraises blog post may contain some Amazon affiliate links. These link to products that I personally use and recommend. If you purchase anything using my links, it will not cost you anything. It will though give laurathegastronaut.com some financial support which helps me keep this blog running. Thank you for reading my blogs and your continued support.