Laura The Gastronaut > Julia Child Recipes > Desserts & Cakes > Charlotte Chantilly, aux Fraises
Charlotte Chantilly, aux Fraises
Mastering the Art of French Cooking | Julia Child
July 2, 2021 | Laura Bullock | This post may contain affiliate links.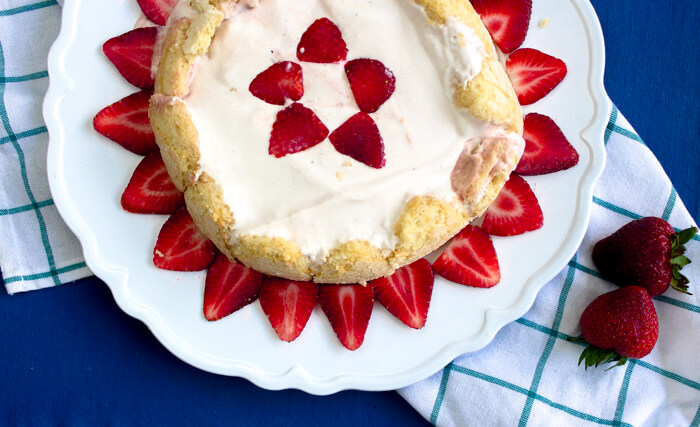 Recipe 181
- Charlotte Chantilly, aux Fraises [Strawberry Cream], p. 608
You can buy Julia Child's Mastering the Art of French Cooking which contains these recipes here.
Looking for another Julia Child recipe? Check out my Recipe Checklist to see if I've made it! You can see all the Dessert recipes from Chapter 10 here!
Watch me make this recipe on my YouTube channel here!
__________________________________
Butter Count: +1 TB
Cost: $10.09 [~$1.12 per serving]
LADYFINGERS, LADYFINGERS, AND MORE LADYFINGERS
I should've been keeping up with how many ladyfingers I will make throughout this whole process. Whatever the exact number is, it is a lot. Ladyfingers are still my least favorite recipe to make out of this book, and I'm not really sure why. I guess I just don't enjoy the process. They are, however, absolutely delicious.
Okay, I was really nervous to make this recipe after my last dessert recipe, Charlotte Basque. I had to make it three times in order for me to feel okay counting it as a success (even then, it was still pretty iffy). Long story short, the filling was wayyy too liquidy and my homemade ladyfingers were not enough to keep all the goodness inside. For the Charlotte Chantilly, Julia even starts the recipe off by saying that if all the steps aren't completed correcty, the dessert will collapse rather quickly. Oh boy. In the end, my dessert collapsed rather quickly. I believe my egg yolks were well thickened, my cream was chilled, and everything went as it was supposed to, but I guess not. While it wasn't as big of a disaster as the Charlotte Basque, it still had its flaws. I did some research and found that many people have documented themselves making this recipe. Unfortunately, a good chunk of those people served the dessert unmolded in dessert cups. I did, however, find two bloggers that made the ladyfingers. Both of which mentioned that their filling was not thick enough! Womp womp. While I still do not know what went wrong, at least I feel comforted by the fact that I'm not alone.
LET'S RATE THE STRAWBERRY CREAM
LAURA'S RATING: 7
BRIAN'S RATING: 8.5
Despite this dessert looking mehh, it was delicious! Anything with Julia's strawberry sauce in it, is going to be amazing. This Charlotte Chantilly is definitely lighter than the previous Charlottes I've made which makes it perfect for a summer-time treat. I'll probably just put it inside a dessert cup next time though.
What is a Charlotte?
A charlotte is a classic French dessert. ALl the ones I have made so far are chilled, but it can also be baked and served hot. Even though I do not own one, a charlotte is usually made in a charlotte mold. All of Julia's charlottes are chilled and lined with ladyfingers. You can also line them with buttered bread or sponge cake. The inside is filled cream, custard, fruit filling, or a combination of those. After making the charlotte, it is chilled and unmolded for a handsome dessert.
Why is it called Charlotte?
Good question. Nobody really knows for sure. Some say it's similar to a dessert that was made for Queen Charlotte of England. Some say that it was named after Alexander I's sister-in-law.
What are the other kinds of Charlottes in Julia Child's book?
There's Charlotte Malakoff aux Fraises which is filled with strawberries and an almond cream consisting of butter, sugar, pulverized almonds, and whipping cream. The Charlotte Malakoff au Chocolat is similar to the previous one but has coffee and chocolate instead of strawberries. The other one is Charlotte Basque which is filled with custard, butter, and pulverized almonds and has no cream folded in.
For this recipe:
HOW TO MAKE CHARLOTTE CHANTILLY AUX FRAISES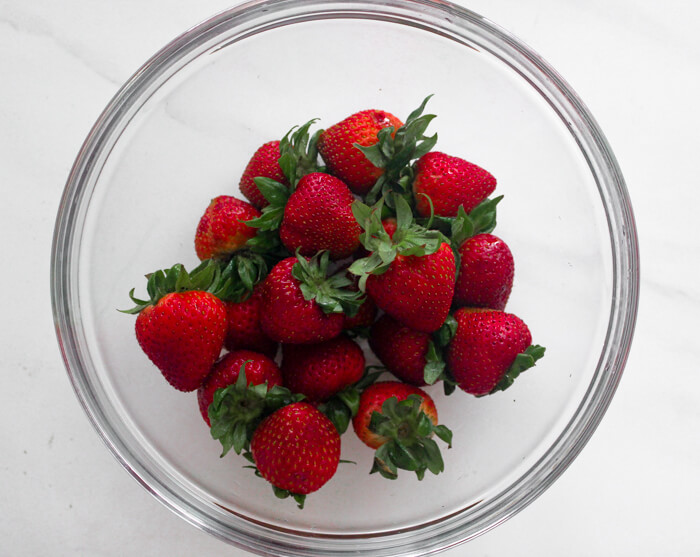 The first task is forcing strawberries (or you can also use raspberries) through a sieve. You'll get this beautiful delicious sauce. I love love this sauce. In fact, I put it on all types of desserts and use it in cocktails as well! The sauce is chilled until used.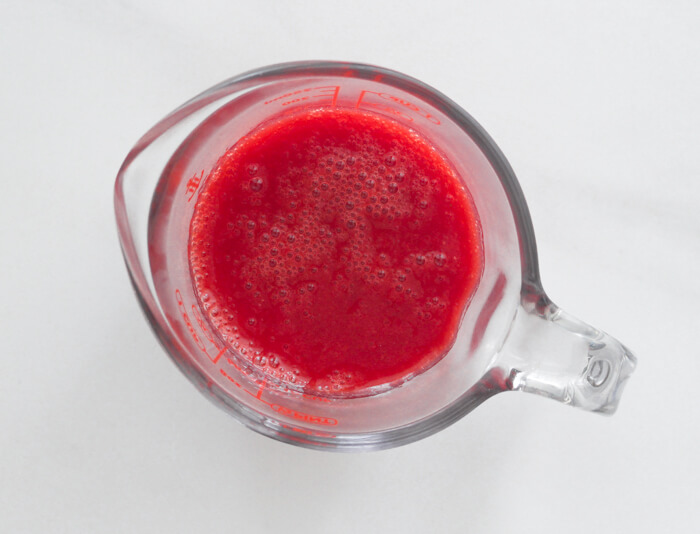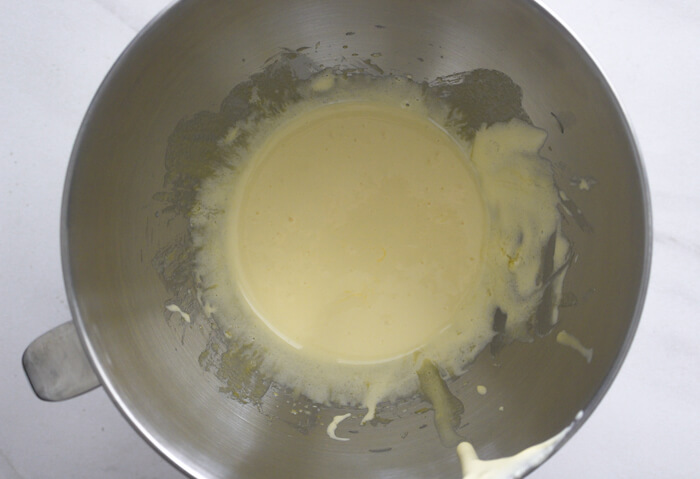 Now sugar is beaten into egg yolks until the mixture turns pale yellow and it forms a ribbon when it falls back onto itself. The mixture is placed over almost-simmering water and beaten until it becomes hot. Immediately the bowl with the egg mixture is placed in a bowl of ice water and folded until chilled. Important to use a stainless steel bowl as a glass bowl has the potential to break during the temperature changes.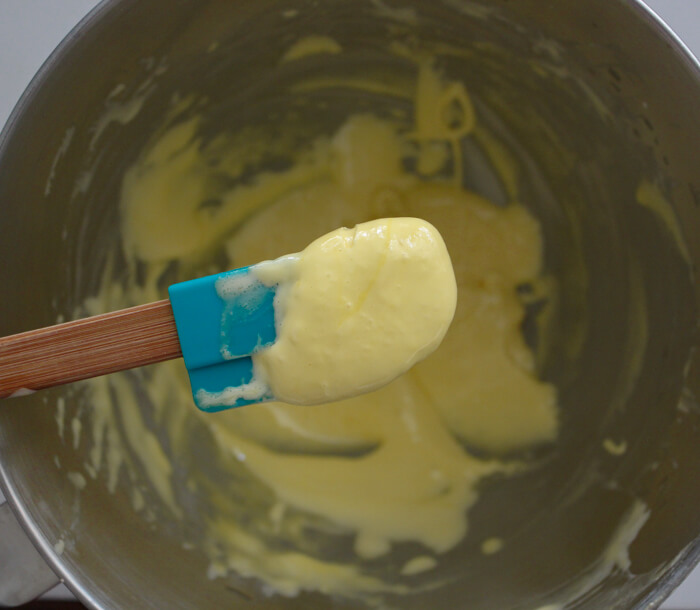 Chilled whipping cream is now beaten until it forms stiff peaks. Use those arm muscles!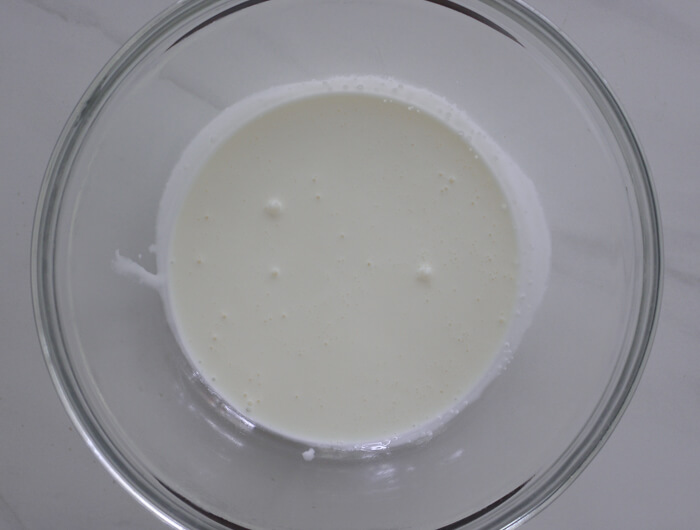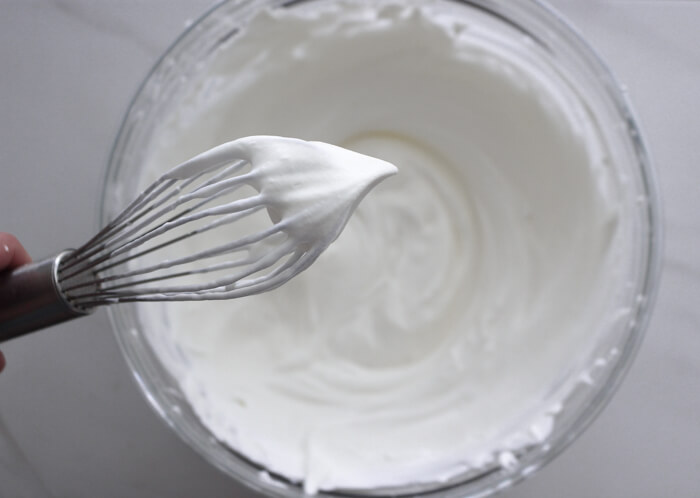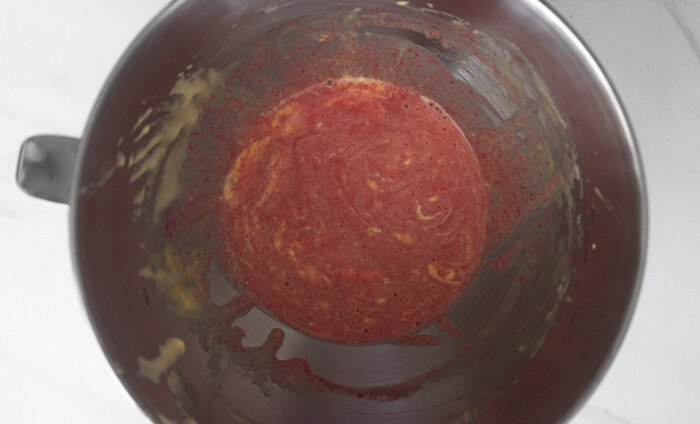 The strawberry sauce is now folded into the chilled egg yolks. Then the whipping cream is folded into the mixture. It is all poured into a ladyfinger-lined mold, chilled for at least 6 hours, unmolded, and decorated with strawberries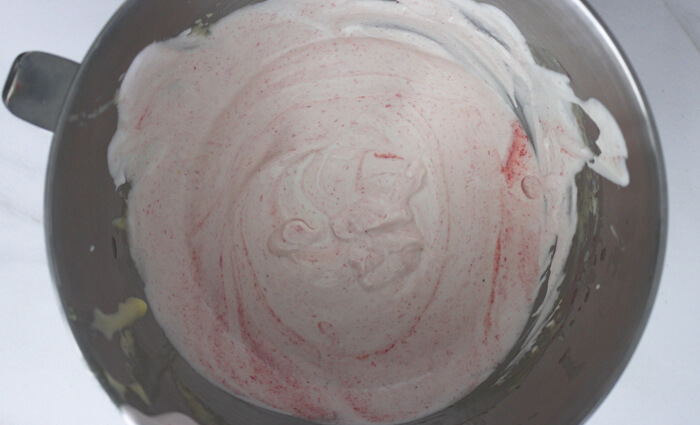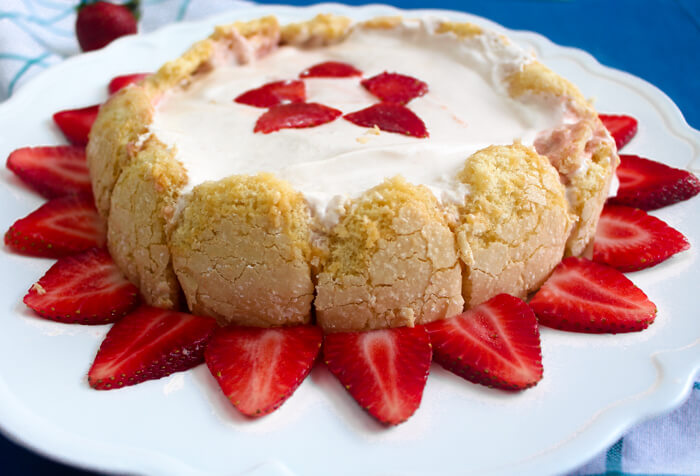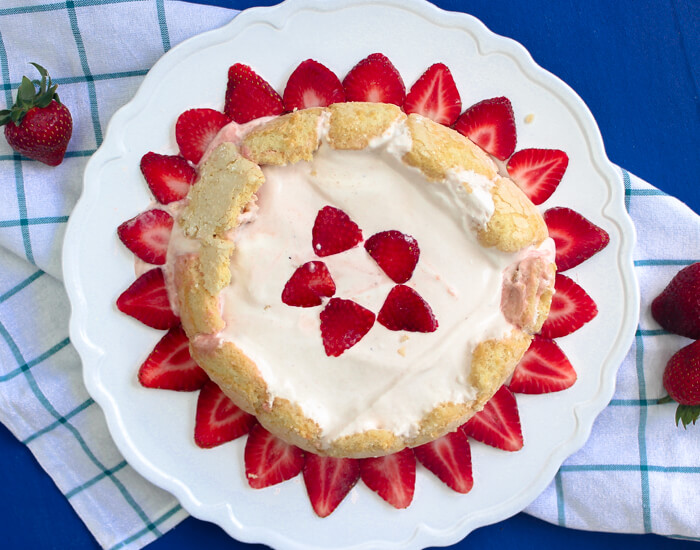 YOU MAY ALSO LIKE
• Julia Child's Charlotte Malakoff aux Fraises
• Julia Child's Charlotte Malakoff au Chocolat
• Julia Child's Charlotte Basque
__________________________________
You can find these recipes and all the other Julia Child recipes I make in Mastering the Art of French Cooking.
Check out my Recipe Checklist to see a list of all my completed and pending recipes from Mastering the Art of French Cooking!
Bon appétit!
July 2, 2021 by Laura Bullock