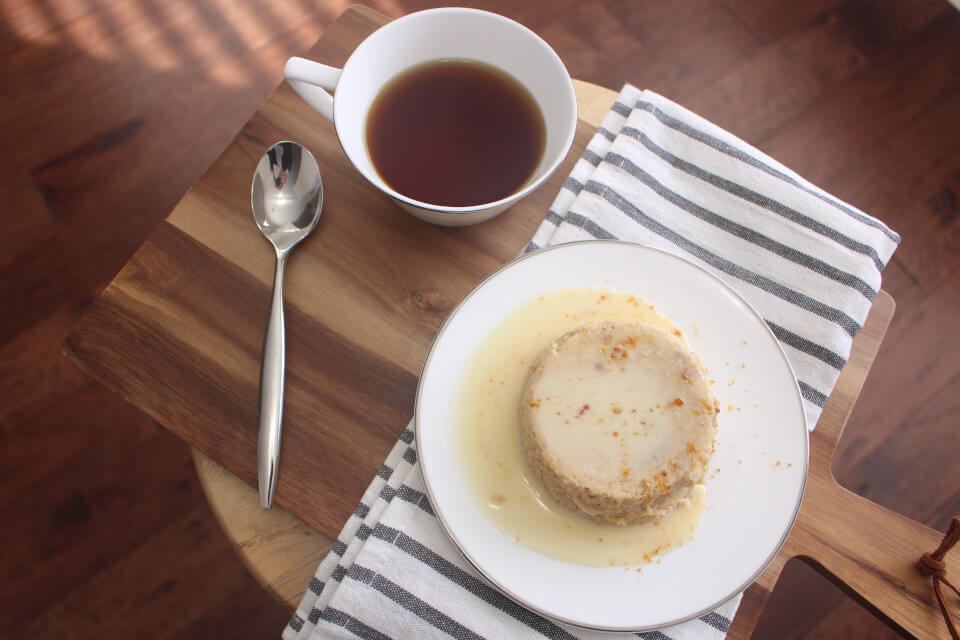 Mastering the Art of French Cooking | Julia Child
Recipes 53-56
- Bavarois Praliné [Almond Bavarian Cream], p. 599 - Créme Anglaise [Light Custard Sauce], p. 588 - Pralin [Caramalized Almonds], p. 583 - Caramel , p. 583
You can buy Julia Child's Mastering the Art of French Cooking which contains these recipes here.
____________________________
Butter Count: +0 TB
Cost: $9.25 [~$1.03 per serving]
Almond Bavarian Cream- my third Bavarian cream. I'm getting excited because now I have begun to actually learn these amazing cooking techniques. No longer am I frantically reading the fine details in the middle of cooking. I KNOW HOW. It's such an accomplishment for me as this is why I began this journey in the first place. To learn how to cook, and boy am I ever? All thanks to this wonderful cookbook.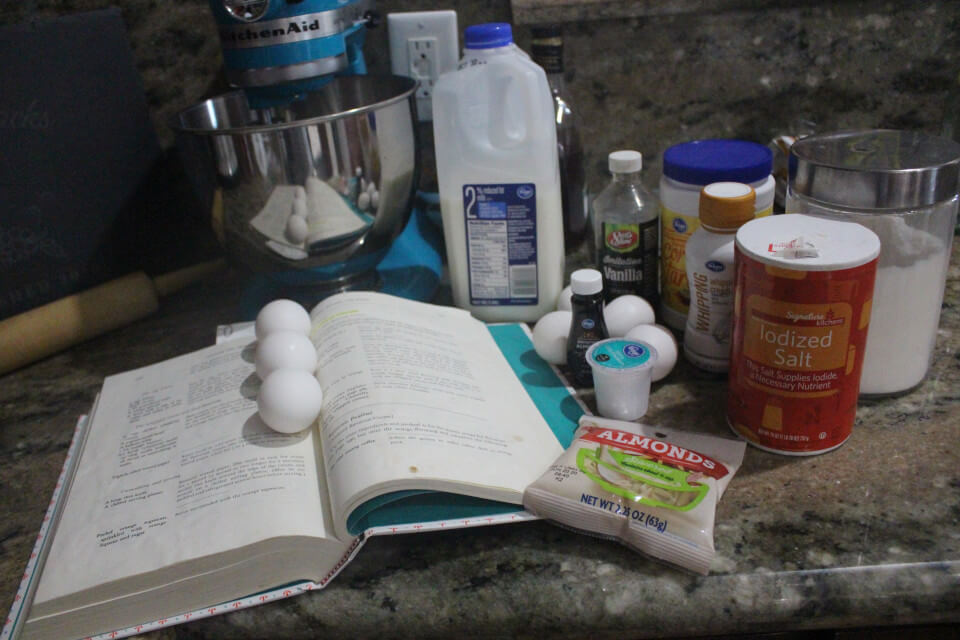 I would never be that person that recommends somebody make one of Julia's Bavarian Creams. The process is long. Like REALLY long. Your entire kitchen will look like a wreck at the end of it, and you are left with a gelatinized dessert. Which, for the record, I really enjoy eating (and my husband claims he does too), but other people- ehh not so much. Americans today want their triple chocolate brownies and the five-layered Red Velvet cake. They don't want to eat a fluffy gelatin dessert which I get. If you are going to make a Bavarian cream, do it for how many wonderful techniques you learn along the way.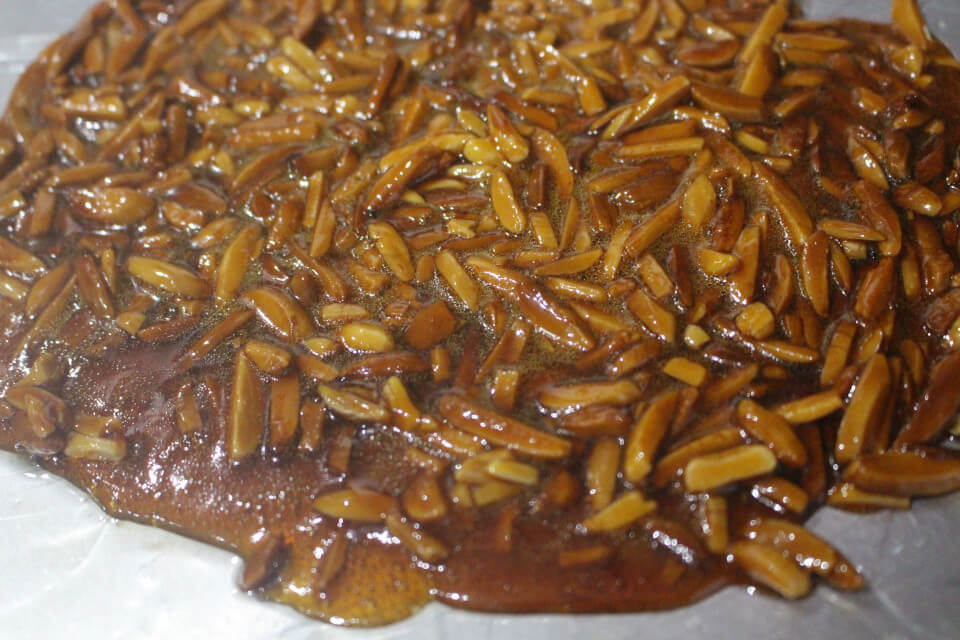 Now, understand that the paragraph above was written before I made the Almond Bavarian Cream. And despite everything I just said above- make this recipe. Almond Bavarian Cream. There really are no words to describe how this dessert tastes because I have never tasted anything like it before. It's wonderful. The praline offsets the strange texture beautifully. It's definitely my favorite Julia dessert so far.
This Bavarian cream is made almost exactly the same way as the orange one so I will not go into all those details. Basics- Make the custard, beat in the gelatin mixture, fold in the egg whites, fold in the whipping cream + flavoring, and then place in fridge to set. Wow, that makes it sound really easy… The differences: 1) coffee replaces the orange juice (YUM), 2) praline is folded into the custard and used as a topping as well, 3) vanilla + almond extract replaces the orange liquor. I also made the light custard sauce to top the Bavarian cream which was a brilliant idea.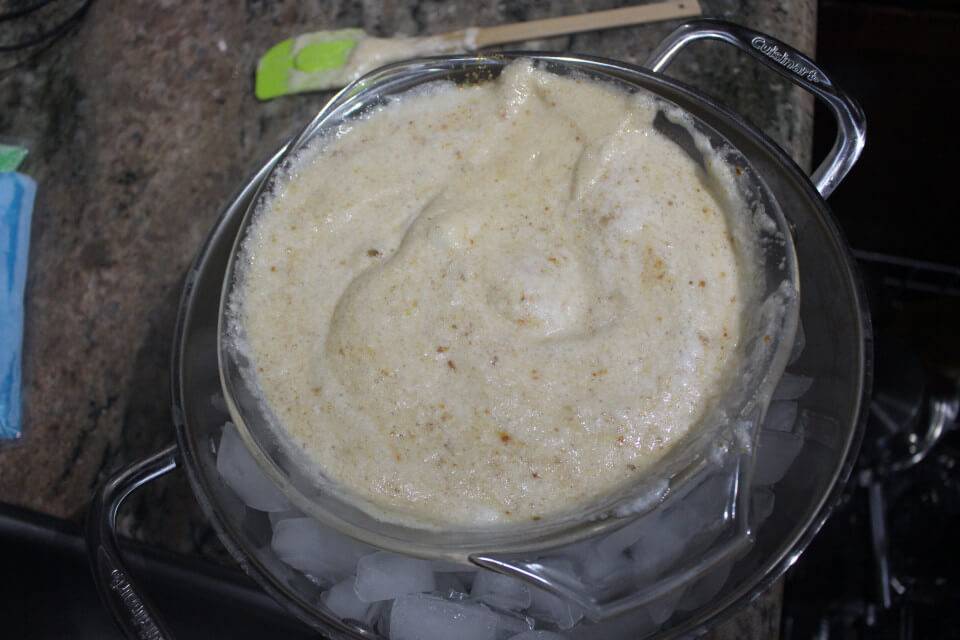 The pralin was fun to make. Note to self- don't overcook the almonds. I ended up still using them because I didn't have any more on hand. It still tastes great inside the cream, but on its own, it tasted a little strange. To make praline, you will actually make caramel first which is just boiled sugar and water. First, simmer to make sure the sugar has dissolved. Then put lid on the pan and boil for several minutes. Afterwards, once you take the lid off, the mixture will turn from clear to caramel-colored in no time. SCIENCE. You'll mix in you slivered toasted almonds, pour on a baking sheet, and let cool. Then pulverize. There you got it- praline!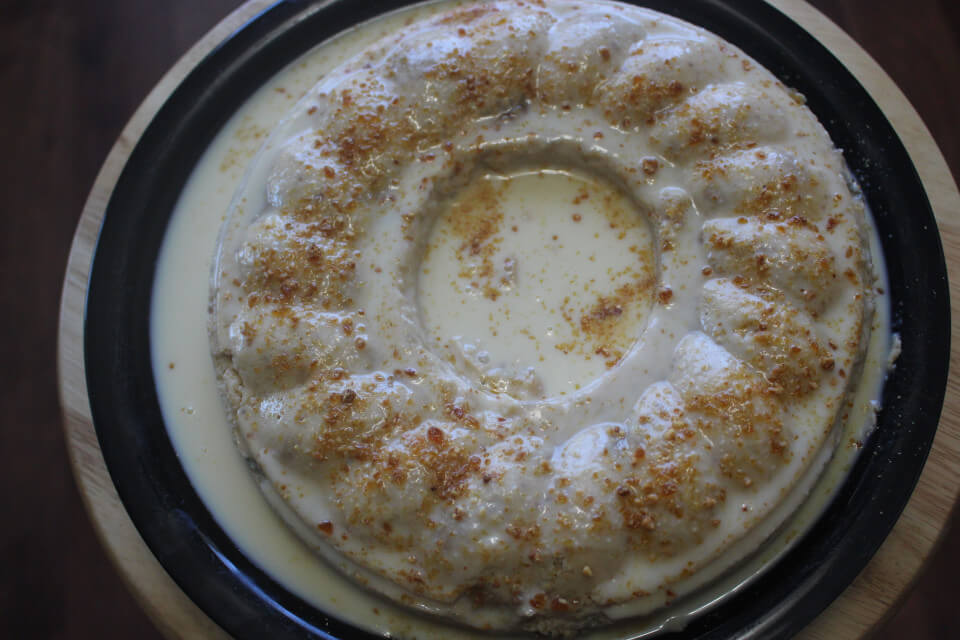 You can find these recipes and all the other Julia Child recipes I make in Mastering the Art of French Cooking
Bon appétit!
January 10, 2020 by Laura Bullock