Laura The Gastronaut > Julia Child Recipes > Fish > Coquilles St. Jacques à la Parisienne
Coquilles St. Jacques à la Parisienne
Mastering the Art of French Cooking | Julia Child
April 5, 2021 | Laura Bullock | This post may contain affiliate links.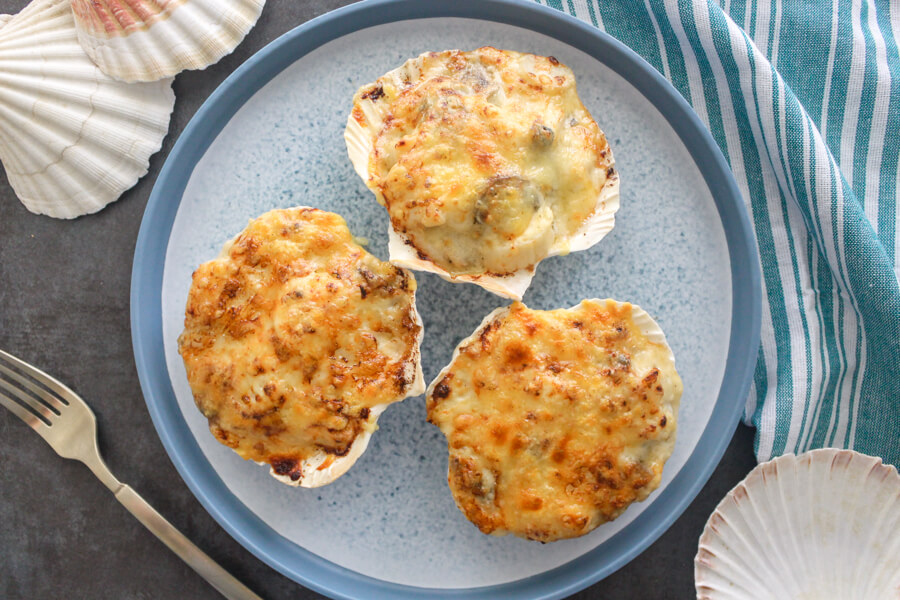 Recipe 171
- Coquilles St. Jacques à la Parisienne [Scallops and Mushrooms in White Wine Sauce], p. 216
You can buy Julia Child's Mastering the Art of French Cooking which contains these recipes here.
Looking for another Julia Child recipe? Check out my Recipe Checklist to see if I've made it! You can see all the Fish recipes from Chapter 5 here!
Watch me make this recipe on my YouTube channel here!
__________________________________
Butter Count: +5 TB
Cost: $19.72 [~$3.29 per serving]
SCALLOPS + BUTTER + CHEESE= LOVE
I was so looking forward to this recipe, and it did not disappoint! It's basically delicious scallops covered in a cream and butter sauce, and topped with cheese and butter. YUM. Now, I'm not a huge scallop fan. I find them to be a little underwhelming. That's why it's so important to me that they are prepared well. With that said, Julia knew what she was doing. Oh! I also got these adorable scallop baking shells. They really made this dish so much more fun and exciting. You can even wash them and save them for later use!
SCALLOPS & MUSHROOMS IN WHITE WINE SAUCE RATING
LAURA'S RATING: 7
BRIAN'S RATING: 7
The only reason this recipe wasn't rated higher was because it wasn't possible to get a bite of crusty cheese with each bite. If you've been following along with the recipes, you know that cheese is my absolute favorite. The cheese crust on these scallops is AMAZING. The bites without the cheese were still good but lacking some flavor. Next time, I'll put less filling in each scallop shell and have more scallop dishes to fill!
What is Sauce Parisienne?
Sauce Parisienne is made with a cooked roux and egg yolks. Cream is also added in with the egg yolks. According to Julia, it is subtle in taste and texture. I have to agree. My first time trying sauce parisienne was in the recipe, Fish Filets Poached in White Wine; Cream and Egg Yolk Sauce. When this sauce is topped with melty gooey Swiss cheese, it is one of my favorites. Actually, those fish filets covered in sauce parisienne was rated number one in my First Quarter of Julia Child Recipes Magazine!
What shoud I serve with Coquilles St. Jacques a la Parisienne?
Julia suggests that these scallops be served as a first course or as a light lunch. They simply should only be served with hot French bread. You don't have to tell me twice. Fresh hot bread, cheese, scallops, and butter? Yes, please!!
Why is it called Coquilles St. Jacques?
Une coquille St. Jacques translates to 'a scallop shell' or 'a scallop.' The scallop shell was the symbol of the walk to St. Jacques (Santiago in Spanish and St. James in English) de Compostela by the pilgrams during the 12th century. You could see posts, houses, and churches with the scallop symbol carved into them along the walk. There's many different stories about how the scallops actually became the symbol. One story explains that St. Jacques used the scallop shell to beg for food and water- even the poor could contribute without being strained.
For this recipe:
HOW TO MAKE COQUILLES ST. JACQUES A LA PARISIENNE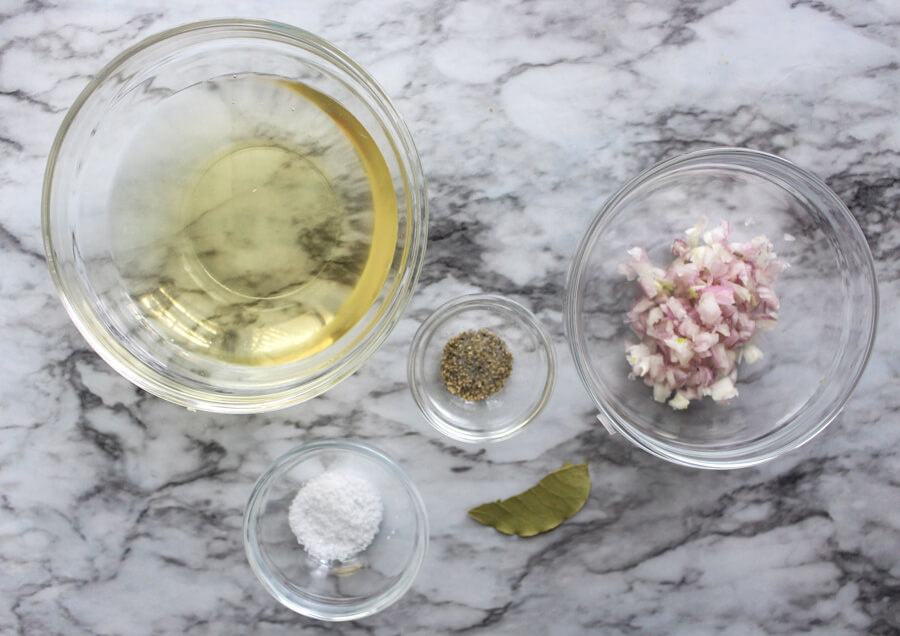 The first step involves simmering dry white vermouth, salt, pepper, bay leaf, and minced shallots for five minutes.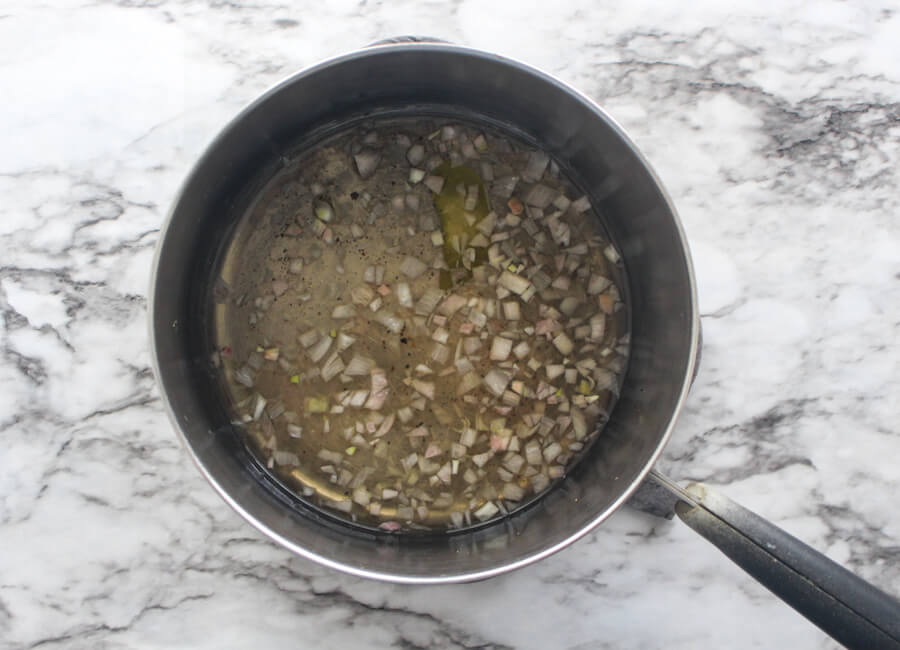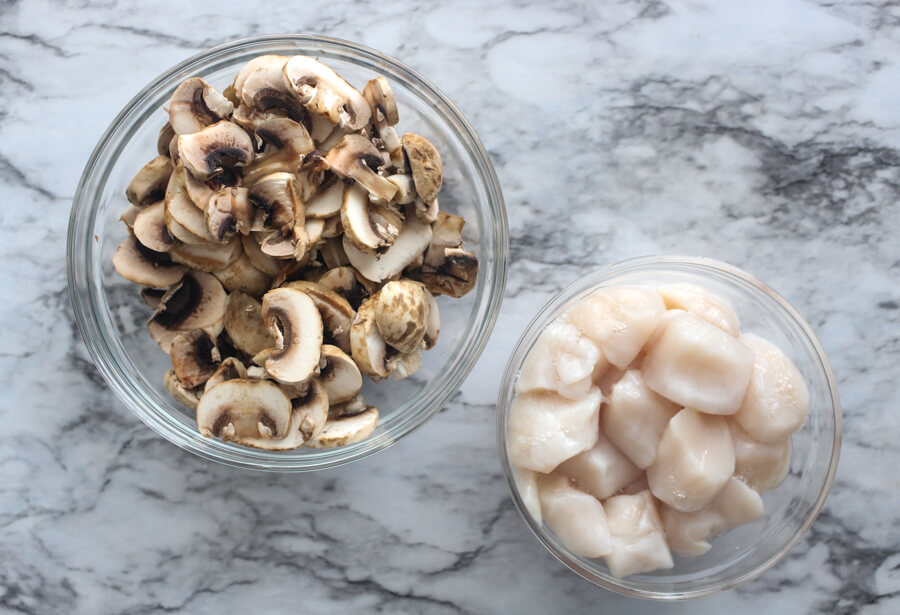 The scallops and mushrooms are then added to the wine with water so that they are covered. Again, this is brought to a simmer, covered, and slowly simmered for five more minutes. The mushrooms and scallops are removed from the pot, and all that seafood liquid is boiled down to a cup.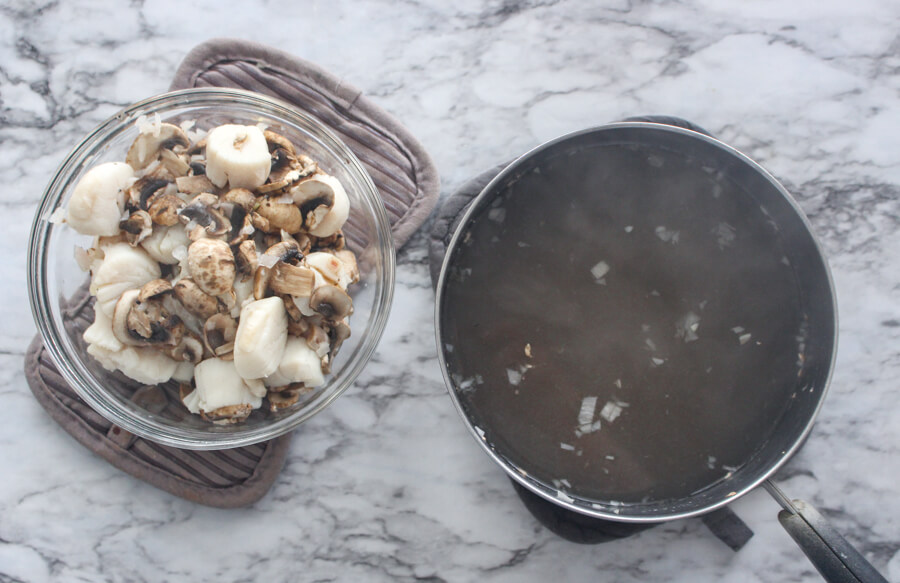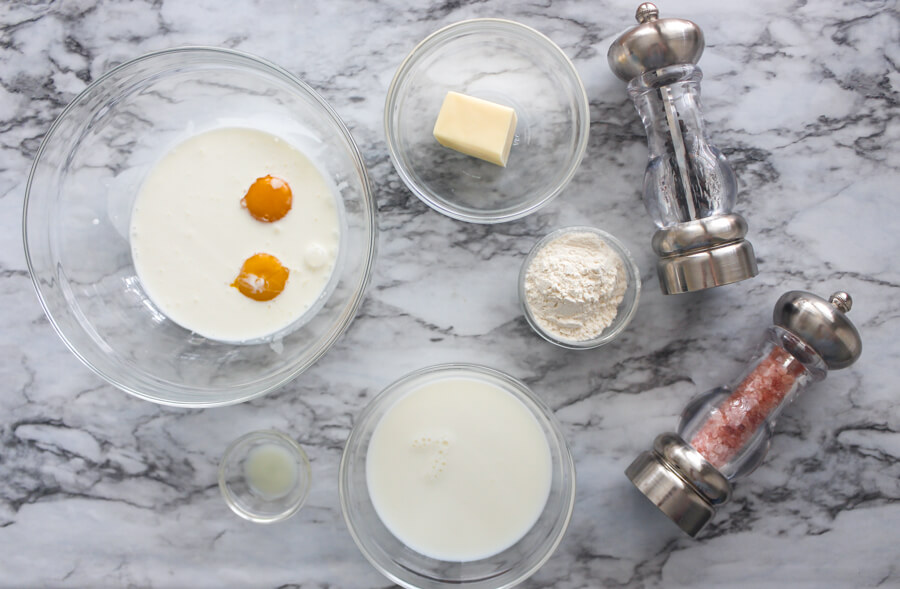 Time to make the sauce! This is the same sauce that I made for Filets de Poisson Gratinés, à la Parisienne [Fish Filets Poached in White Wine; Cream and Egg Yolk Sauce. With a little cheese baked into it, it is so so good! It's butter, flour, milk, egg yolks, whipping cream, salt, pepper, and lemon juice. That's a wonderful combination of ingredients, in my opinion!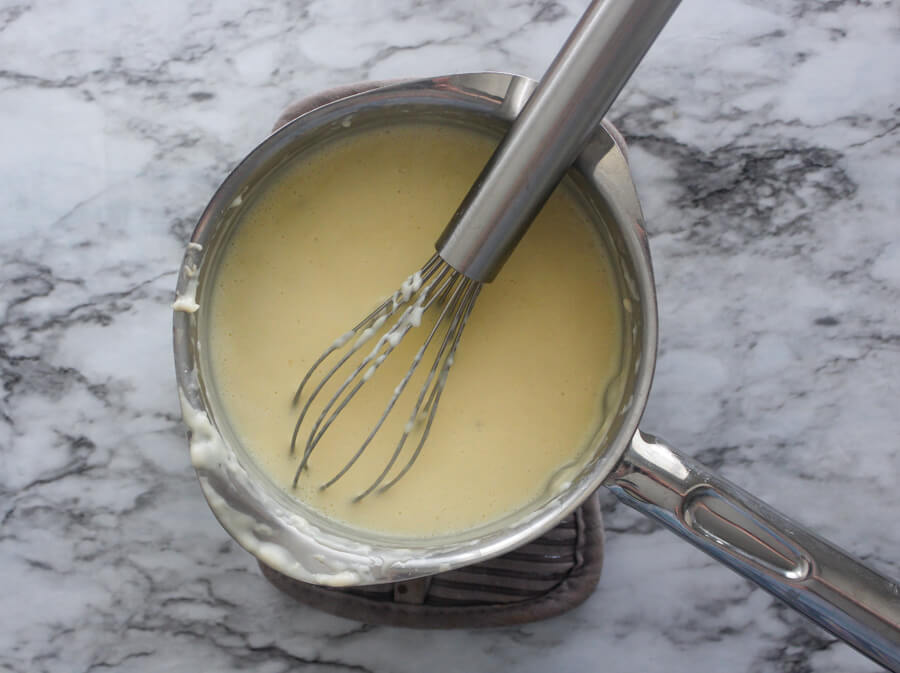 The scallops are cut into crosswise pieces 1/8 inch thick. This means that they will be very thin round circles. This was a challenge for me and something I do need to work on! The scallops and mushrooms are added into two-thirds of the sauce.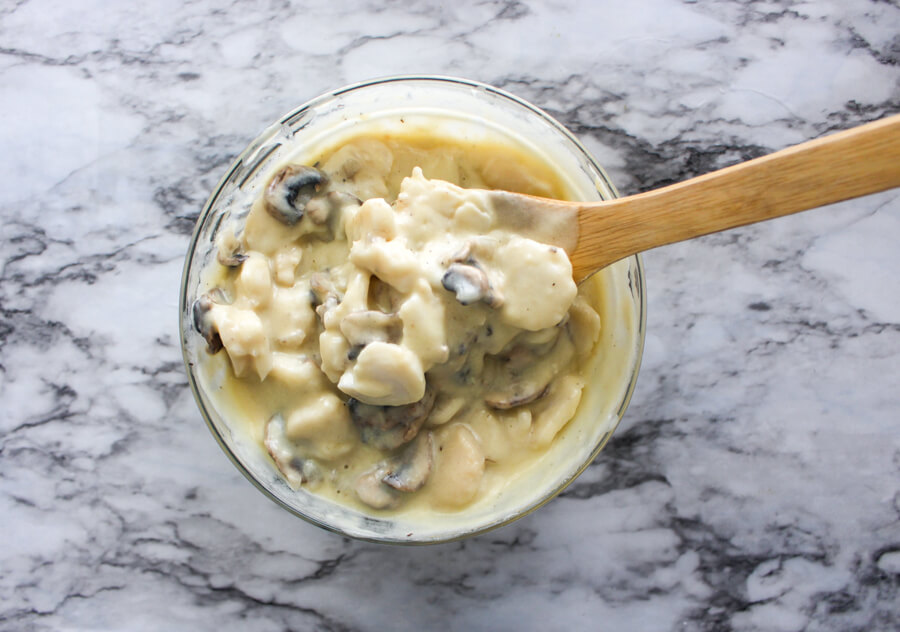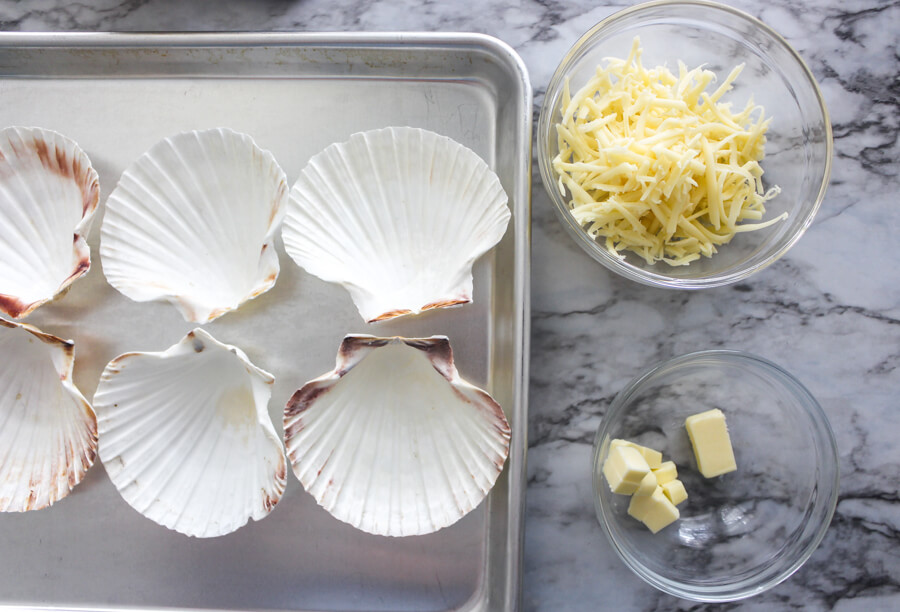 The mixture is then added into buttered scallop shells or buttered shallow dishes. They are all covered with the rest of the sauce, sprinkled with Swiss cheese, and dotted with butter.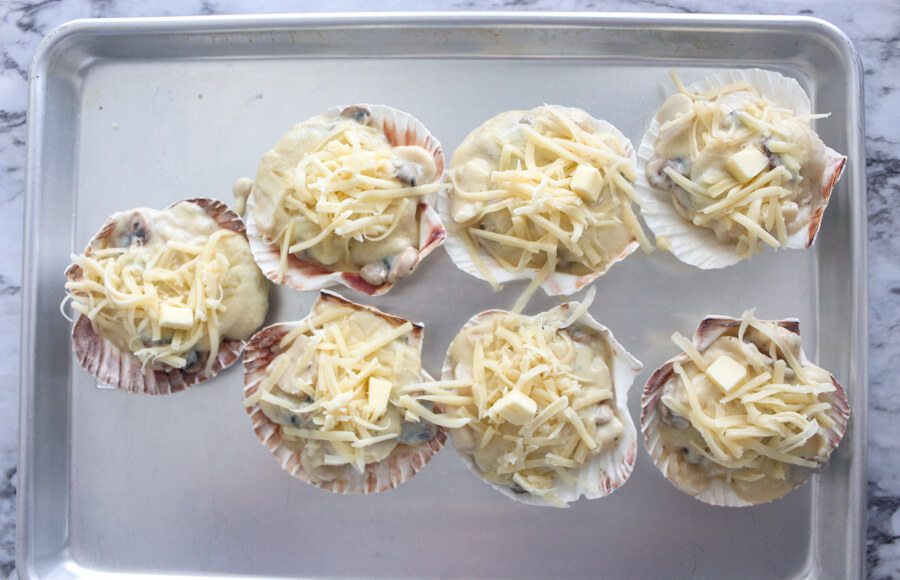 Now the scallops just get a quick broiling until the cheese is perfectly browned!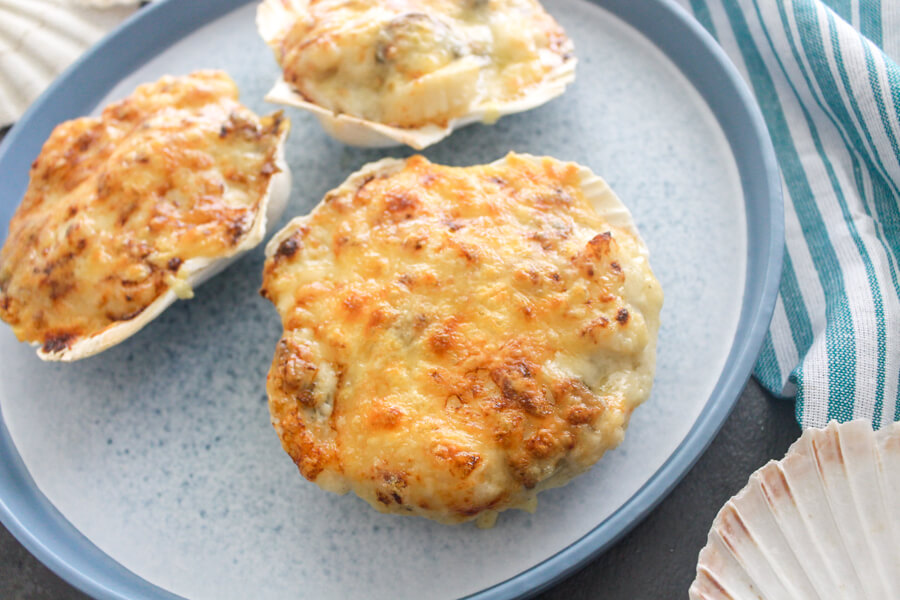 YOU MAY ALSO LIKE
• Julia Child's Fish Filets Poached in White Wine; Cream and Egg Yolk Sauce
• Julia Child's Sole a la Dieppoise
• Julia Child's Filets de Poisson a la Bretonne
__________________________________
You can find these recipes and all the other Julia Child recipes I make in Mastering the Art of French Cooking.
Check out my Recipe Checklist to see a list of all my completed and pending recipes from Mastering the Art of French Cooking!
Bon appétit!
April 5, 2021 by Laura Bullock