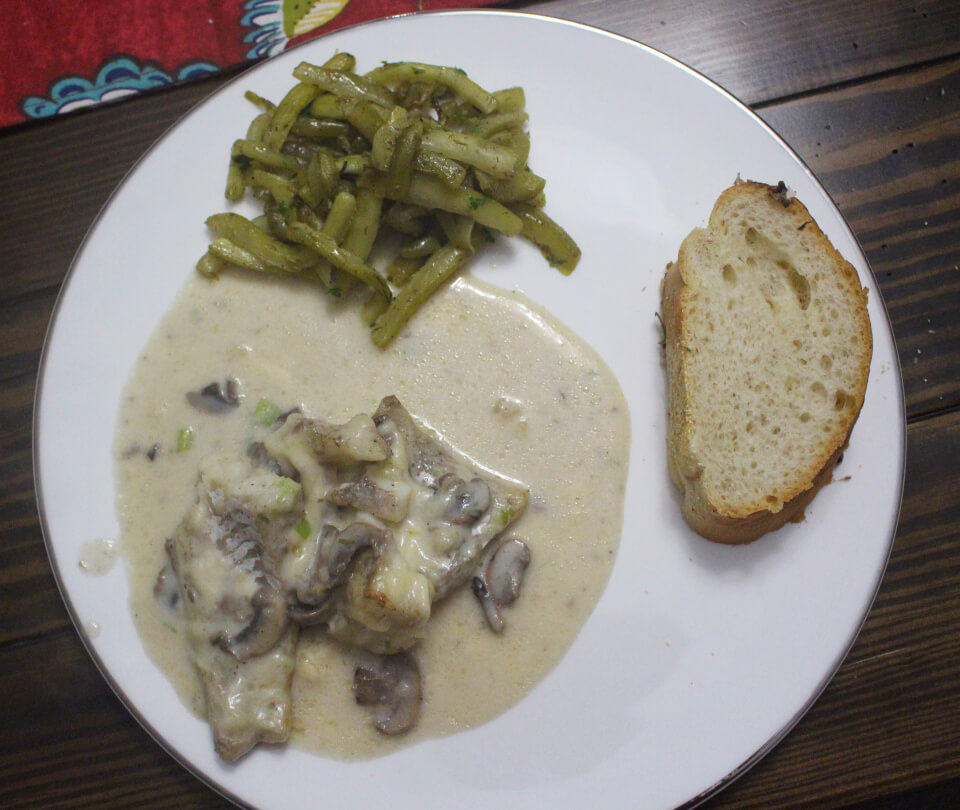 Mastering the Art of French Cooking | Julia Child
Recipes 65-67
- Filets de Poisson Bercy aux Champignons [Fish Filets Poached in White Wine with Mushrooms], p. 210 - Fumet de Poisson au Vin Blanc [White-wine Fish Stock], p. 114 - Concombres au Beurre [Baked Cucumbers], p. 499; served as Concombres Persillés [Parslied Cucumbers]
You can buy Julia Child's Mastering the Art of French Cooking which contains these recipes here.
____________________________
Butter Count: +7.5 TB
Cost: $31.15 [~$5.19 per serving]
- Fish Filets Poached in White Wine with Mushrooms= $27.39 [6 servings] - Baked Cucumbers= $3.76 [6 servings]
The second fish recipe! This time I bought fish that was already skinned and fileted. No red worms coming out of my fish this time (thank goodness). That was such a traumatizing experience and probably the reason why I am just now getting to the second fish recipe. YUK!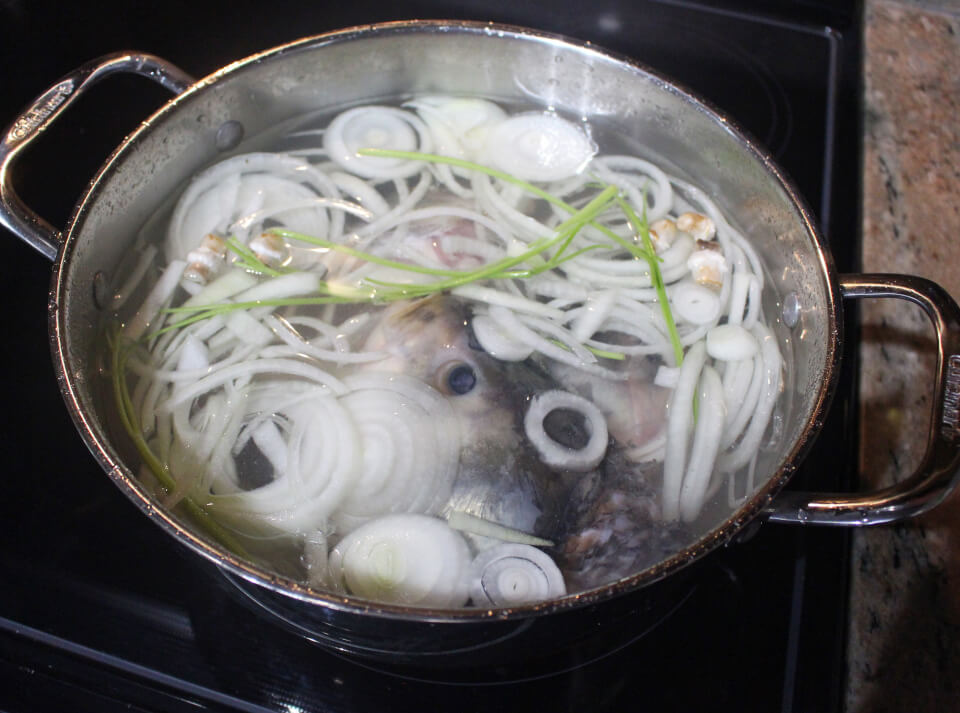 Though I do wish that I wouldn't have waited so long. The sauce on this fish is AMAZING. It's so rich and buttery. The mushrooms add such a wonderful flavor. I'm getting hungry just thinking about it. I also decided to make the homemade white-wine fish stock for this recipe. We bought whole fish heads, and their eyes stare straight into your soul. Poor little buddies. The stock was much easier to make than expected. Basically, you put fish parts (any will do- heads, meat, bones, trimmings), a sliced onion, parsley stems, lemon juice, salt, dry white wine, and enough cold water to cover everything. I also threw in the optional mushroom stems. The brew is simmered for 30 minutes and then strained. Now, you are ready to make the best fish sauce ever. The poaching of the fish is the exact same process as last time so I won't get into that and focus on the sauce.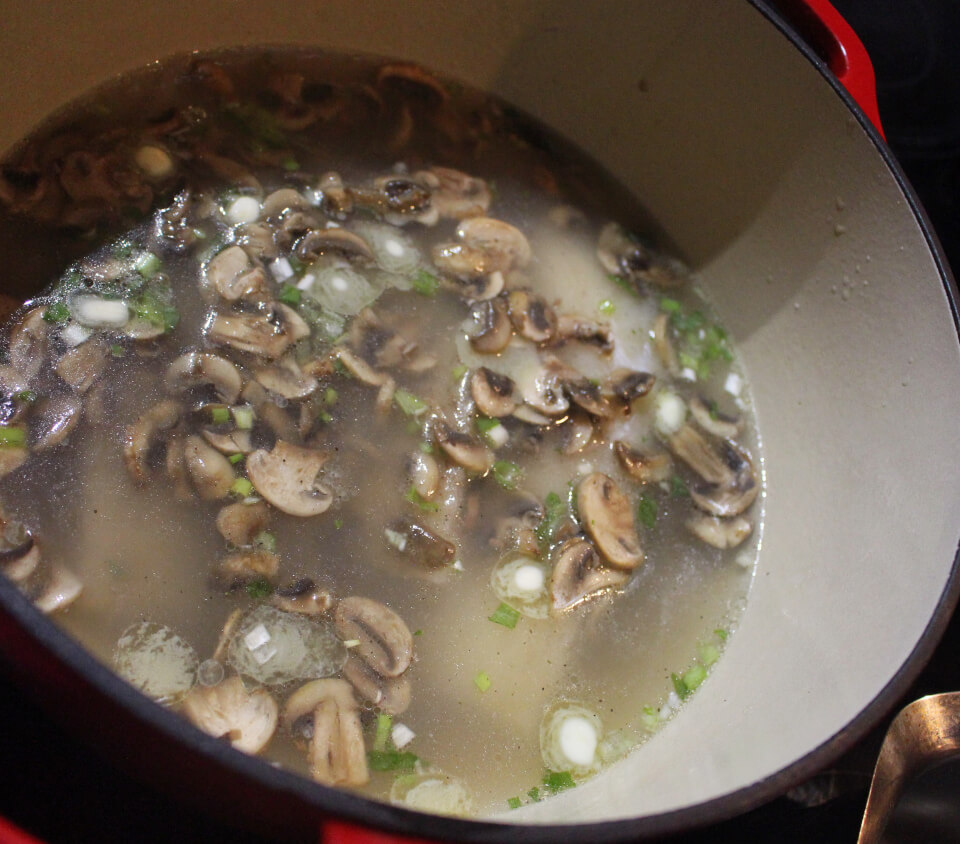 First, mushrooms are tossed in hot butter for a couple of minutes and then seasoned with salt and pepper. The fish is poached in the white-wine fish stock. The leftover poaching liquid is boiled down to about one cup. The beurre manié (flour and butter paste) is beaten into the reduced liquid and some whipping cream is added. It's about now that the sauce looks wonderful, and you will barely be able to wait to eat it. Bring it to a boil, add some more whipping cream to thin it out, and then add salt, pepper, and lemon juice. Next, the sauce is spooned over the fish, sprinkled with cheese, and dotted with butter. It's all placed into the broiler, and the sauce and cheese will brown lightly. YUMMM!! Five Stars!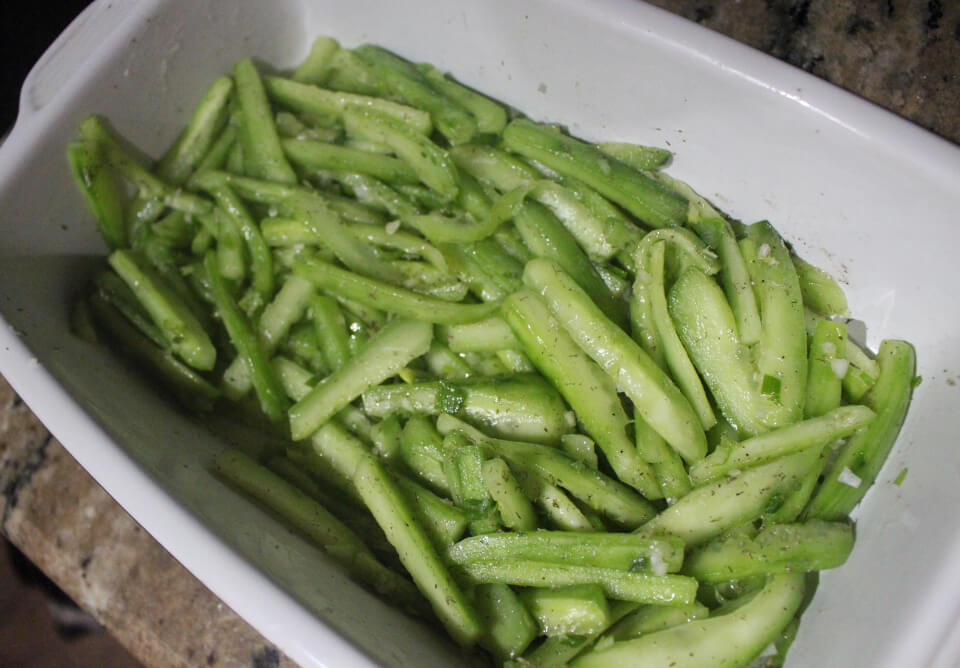 Okay, I also made baked cucumbers with this meal. I thought, "Eh, I'll make these to get them out of the way." But let me tell you, these are a game changer. Why haven't I ever thought of baking cucumbers before!? Also, why do I never see them on a menu?! These were absolutely great. They tasted like a really good zucchini. The most important thing is that all the moisture is removed before you bake them. This can be done by doing a preliminary sojourn. This is when you place the cut cucumbers in salted water and the salt will actually draw the water right out of the cucumbers. Science! Also added in the salted water is sugar and vinegar which will accentuate the flavor of the cucumbers. Cucumbers are not blanched because this would leave them flavorless. The next step is really simple. The cucumbers are placed in a baking dish with melted butter, dill, green onions, and pepper. They are baked at 375 degrees for about one hour, tossing a couple times. The cucumbers will be tender but still be a tad crispy. Everybody should try baked cucumbers at least once. They will taste nothing like what you were expecting. Again, five stars!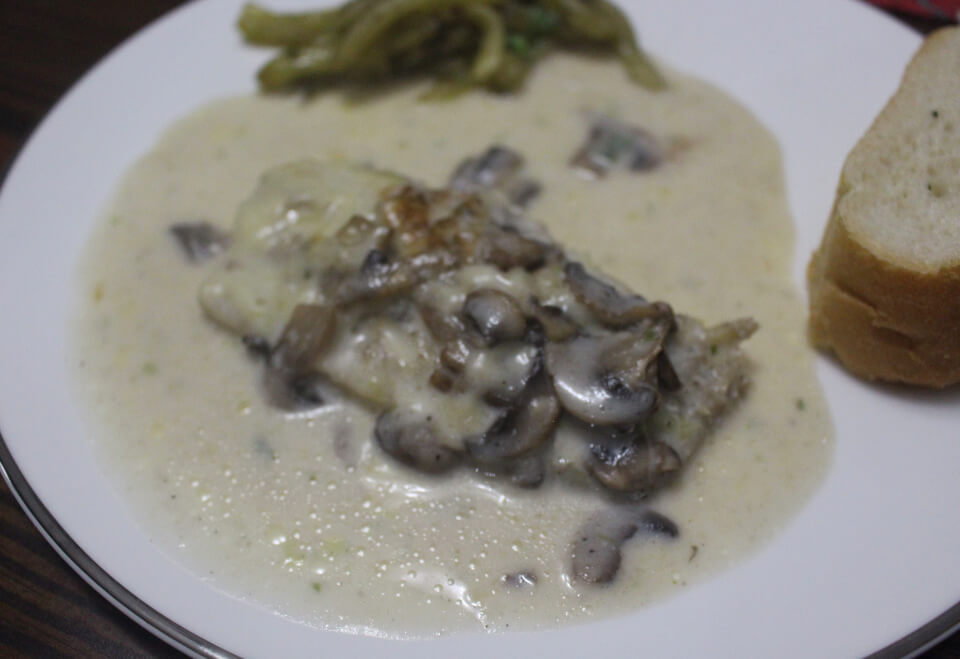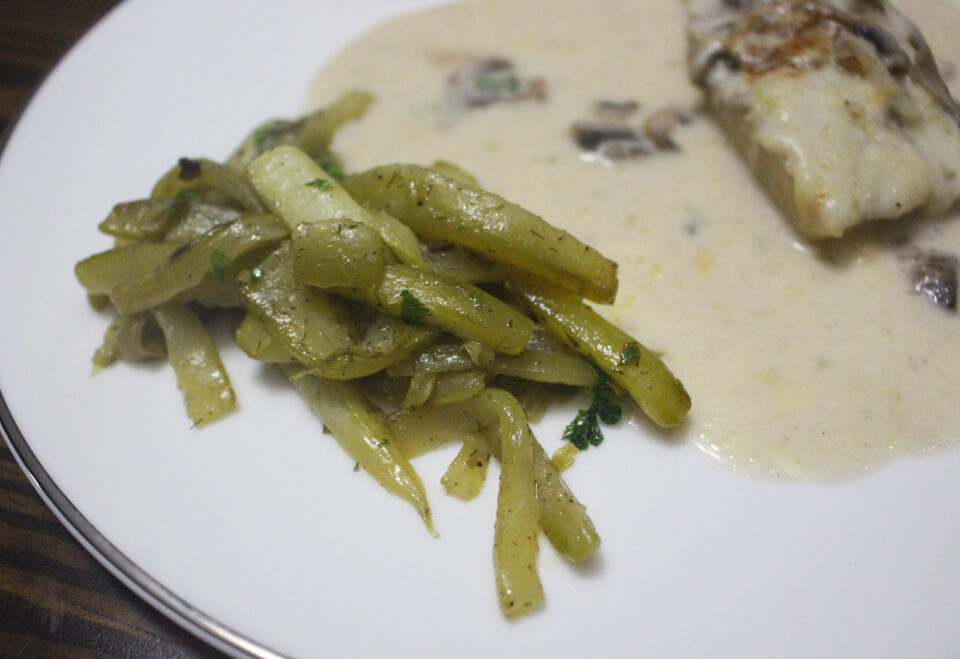 You can find these recipes and all the other Julia Child recipes I make in Mastering the Art of French Cooking
Bon appétit!
February 13, 2020 by Laura Bullock