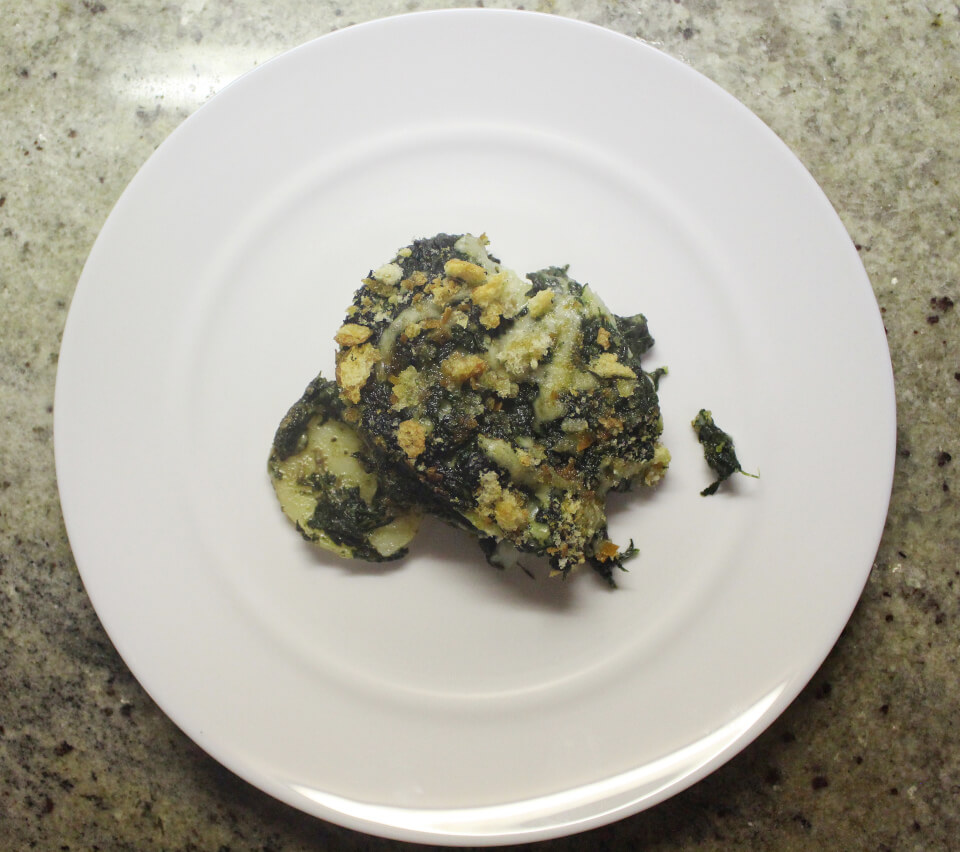 Mastering the Art of French Cooking | Julia Child
Recipe 40
- Ѐpinards à la Basquaise [Gratin of Spinach and Sliced Potatoes with Anchovies], p. 474
You can buy Julia Child's Mastering the Art of French Cooking which contains these recipes here.
____________________________
Butter Count: +10 TB
Cost: $12.40 [~$2.07 per serving]
This dinner was not what I had planned it to be. I did not set out for us just to eat a spinach and potato gratin. There was supposed to be more but life happened. I originally set out to make the first fish recipe in the fish chapter. We even drove across Dallas to the fish market to pick out the fish. We chose flounder and naively thought we chose a deboned flounder. Once we were back at the apartment, we soon realized that our flounder in fact still had bones. Brian graciously offered to help debone while I cooked the spinach. All was well until I heard him ask me, "uhhhh what is this?" I turn around to see what no cook ever wants to see in their kitchen. A WORM. Not just any worm- a red, translucent, LIVE worm swimming through the flesh of our flounder. And not just one of them either- multiple worms, all alive and active as if they were mocking us. An absolute stomach churning moment and our lives flashed through our eyes. "What have these worms already touched?" "Did I wash my hands after opening the package?" "OMG did I put my hand in my mouth?" "ARE WE GOING TO DIE?" All these questions were legitimate questions at the time, obviously. Needless to say, we trashed the flounder and spent the next 15 minutes disinfecting the entire kitchen. Then the googling happened… stories of people dying and stories of worms completely destroying your kidneys popped up. Let's just say, the googling should have never happened. Later, after I washed my hands for the tenth time, Brian did read about how flounders can have worms but they are normally pulled out when they are deboned at the store so the consumer never sees them. I have never heard this and would love if you know more about these worms to let me know. I still get a funny feeling when I see flounder I the store.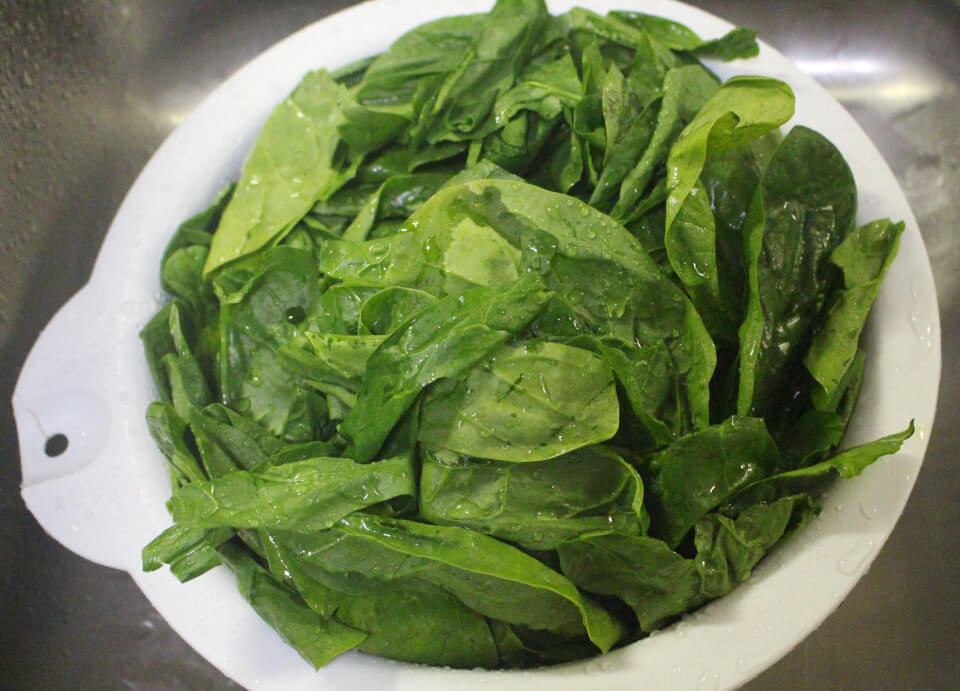 As for the spinach and potato gratin, it was delicious. Or maybe we were just so hungry by the time it was ready to eat. I think both. First, you make the spinach braised in stock. It still amazes me how much room fresh spinach takes up and then once you cook it, you can hold all of it in one hand. Pure magic. Here's what the spinach looks like after it's braised: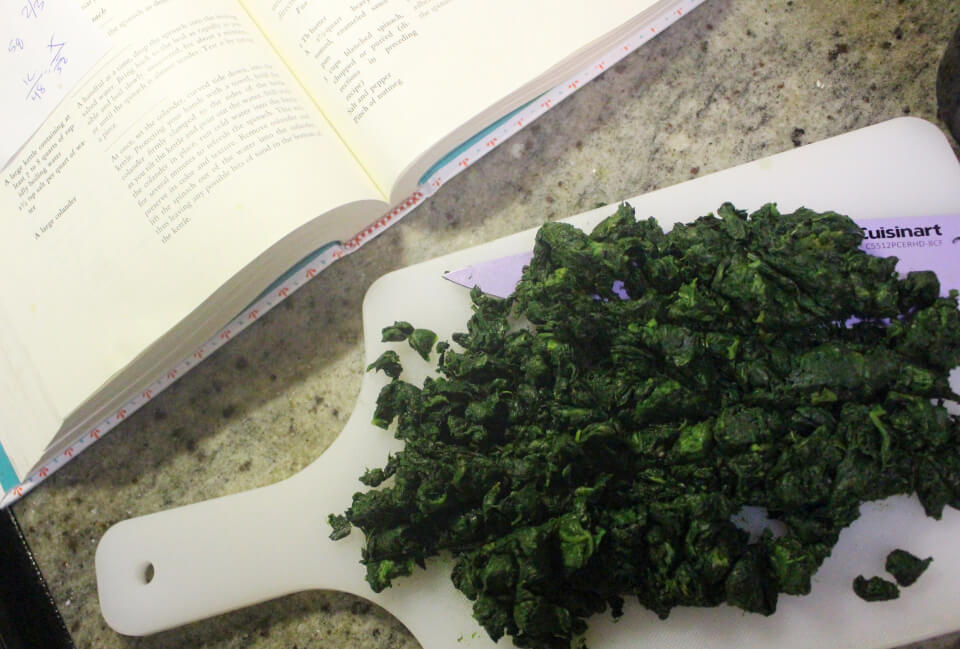 Swiss cheese is added to the braised spinach. Next the boiling potatoes are boiled in salted water until tender and then you layer. Half of the potatoes on the bottom, spread with anchovy mixture (anchovy paste, butter, and pepper), half of the spinach on top of that, and repeat. Everything is topped with bread crumbs and Swiss cheese and melted butter (YUM!). It takes about 30 minutes in the oven to heat everything through and brown the top. This dish really is scrumptious. We ended up eating the whole pan (but of course, it was all we had to eat). I will attempt the fish recipe soon.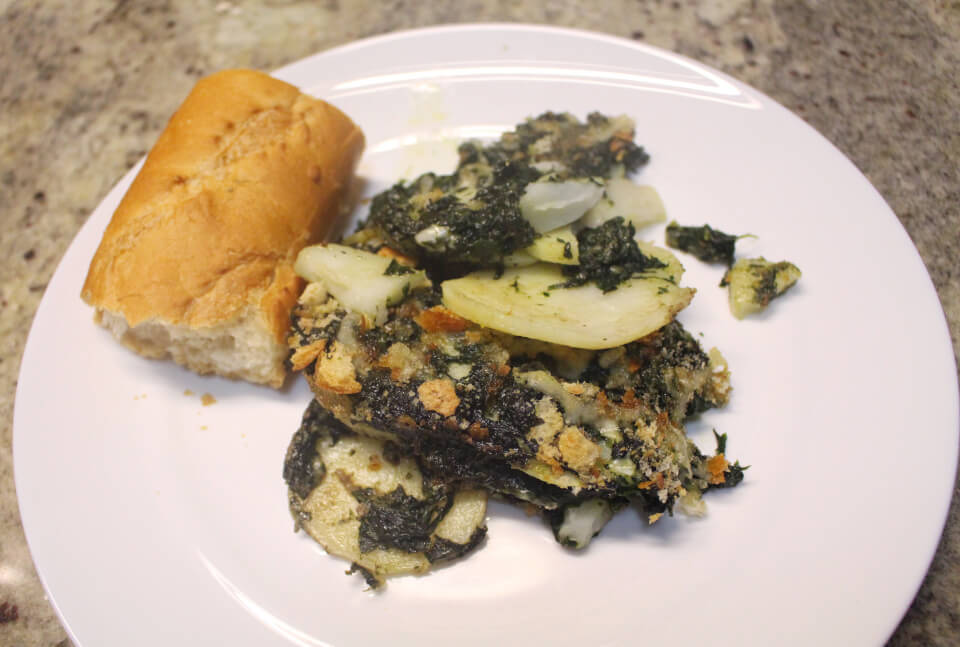 You can find these recipes and all the other Julia Child recipes I make in Mastering the Art of French Cooking
Bon appétit!
August 15, 2019 by Laura Bullock