Laura The Gastronaut > Julia Child Recipes > Cold Buffet > French Potato Salad
French Potato Salad & Turnips Braised in Butter
July 25, 2019 | Laura Bullock | This post may contain affiliate links.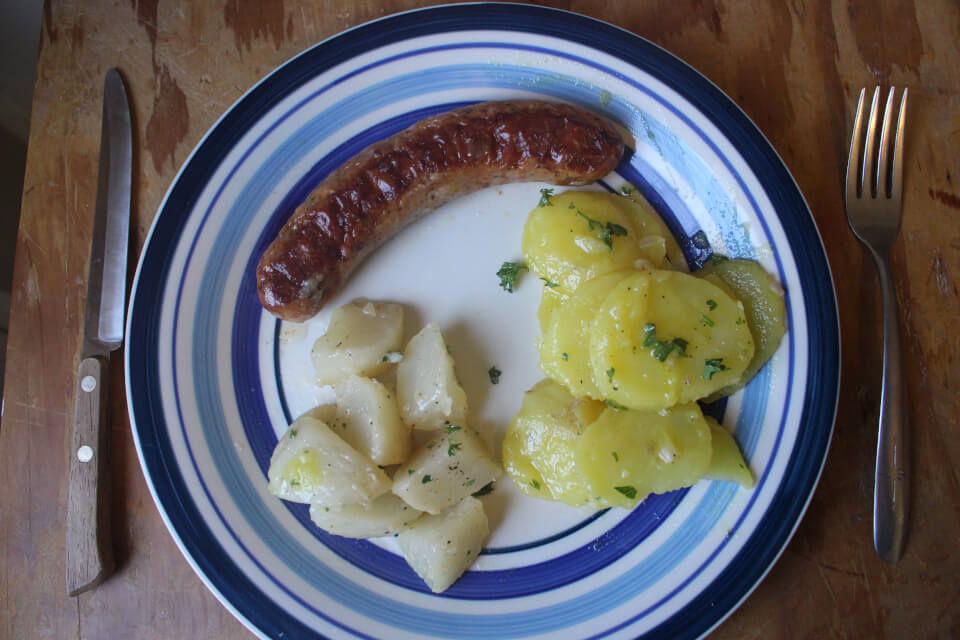 Recipe from Mastering the Art of French Cooking, I | Julia Child
Co-authored with Simone Beck & Louisette Bertholle | 1961 | Published by Alfred A. Knopf
This blog, Laura The Gastronaut, and this blog post were/are not endorsed or supported by Julia Child or Julia Child Foundation. The views expressed on this blog are my own.
Recipes 38-39
- Pommes de Terre à l'Huile [French Potato Salad- Sliced Potatoes in Oil and Vinegar Dressing], p. 541 - Navets à L'étuvée [Turnips Braised in Butter] served as Navets Persillés [Parslied Turnips], p. 486
You can buy Julia Child's Mastering the Art of French Cooking, Volume I which contains this recipe here. This cookbook and recipe were written by Julia Child who co-authored with Simone Beck & Louisette Bertholle and were published by Alfred A. Knopf.
Looking for another Julia Child recipe? Check out my Recipe Checklist to see if I've made it! You can see all the Cold Buffet recipes from Chapter 9 here!
__________________________________
Butter Count: +4 TB
Cost: $10.97 [~$1.83 per serving]
- French Potato Salad= $4.33 [6 servings] - Turnips Braised in Butter= $6.64 [6 servings]
POTATO SALAD IS HAPPINESS
This was the most perfect Sunday lunch if you ask me. I was looking for something quick and easy to whip up before Brian headed back to Dallas so I skipped cooking a Julia meat dish and opted for some sausage links we picked up at the store earlier with two Julia sides.
I was very excited to cook the French potato salad as I looovvvee American potato salad. This recipe is similar to a mustard-based American salad you'd find in the grocery store but definitely fresher tasting and lighter. The recipe mentions that mayonnaise may be folded into the potatoes at the end if desired, but since mayo wasn't listed as an actual ingredient in the list, I left it out. I do think that mayo would bring this salad together very nicely and hope try it prepared that way some day. I think the most important note to make about this recipe is to use "boiling" potatoes. The type of potato matters because you don't want your potatoes to crumble. I bought the small white potatoes that I forget the name of now. They look exactly like the red new potatoes but white.
What's the difference between American and French potato salad?
American potato salad is mayonnaise-based and is usually served cold. This French potato salad is prepared with a vinaigrette-type dressing consisting of white wine, vinegar, mustard, and oil. French potato salad can be served cold or warm.
What type of potato should I use for French potato salad?
You want to use "boiling" potatoes in this recipe so that your potatoes can be boiled and sliced without crumbling.
What are boiling potatoes?
Boiling potatoes are the medium-sized potatoes that are either white or red. I like to use red potatoes or Yukon Gold. These potatoes have less starch and have a firm texture which allows them to keep their shape during the boiling process. On the other hand, Russet potatoes have more starch and are more likely to fall apart when boiled making them difficult to slice after boiling.
What is a turnip and what do they taste like?
A turnip is a root vegetable. If you want to get fancy, you can call it by its scientific name, Brassica rapa. Radishes are a close relative of turnips, and they both belong to the mustard (Brassicaceae) family. Turnips are pretty mild in flavor. You may taste a slight spicy flavor when trying them raw. When cooked, you will probably just taste a sweet and simple flavor. To me, braised turnips had a very similar texture as a cooked potato and tasted quite similar as well- just a little bit sweeter!
For this recipe:
HOW TO MAKE FRENCH POTATO SALAD & BRAISED TURNIPS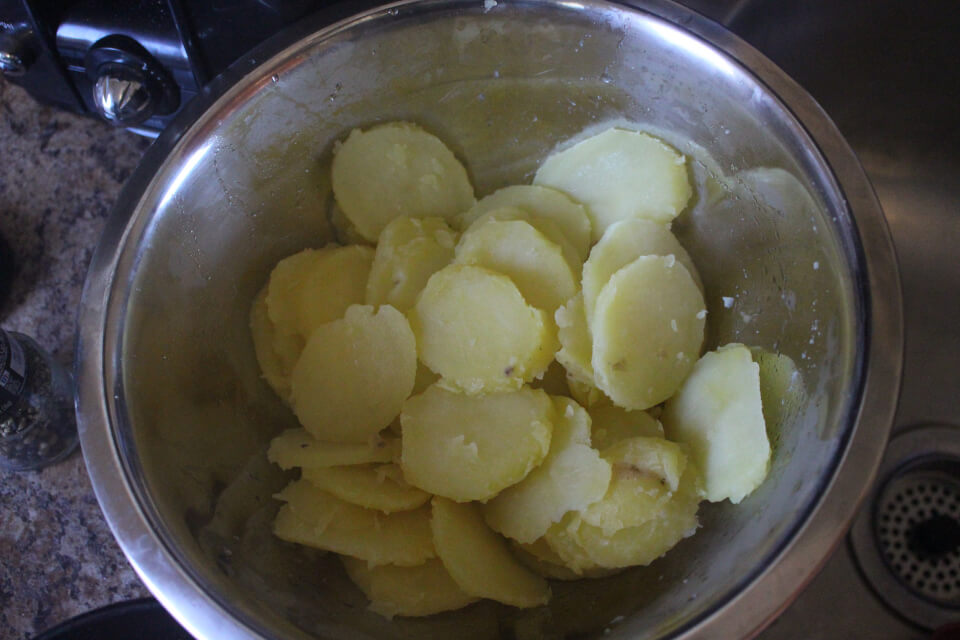 The potato slices are boiled in salted water until tender. As soon as they were cool, I poured dry white wine and stock bouillon over them. As the minutes go by, the potatoes will soak up the liquid. In a separate small bowl, wine vinegar, mustard, and seasoning are beaten together until salt dissolves. Then olive oil is added in by droplets.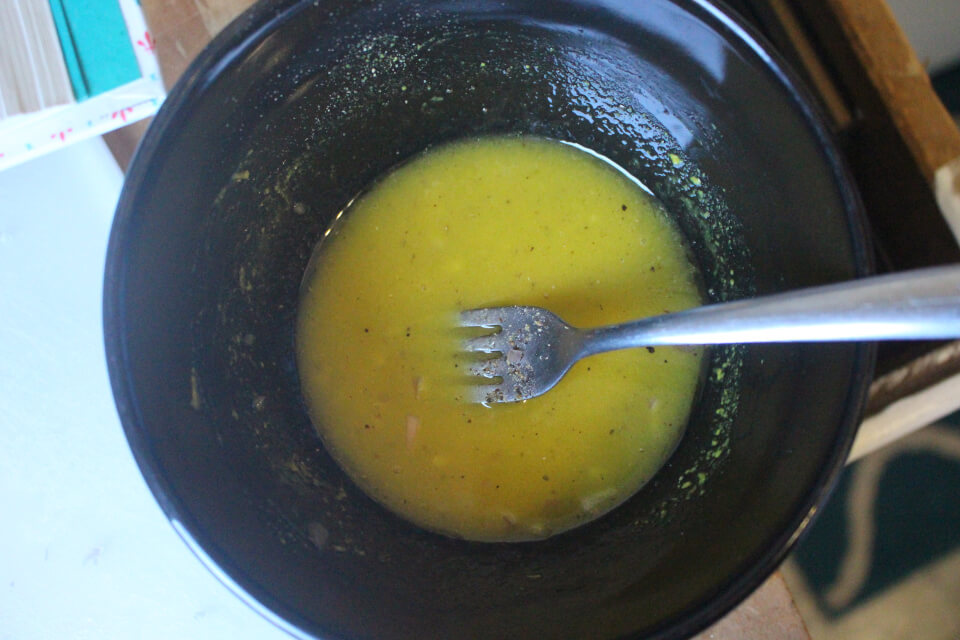 This mustard dressing is poured over potatoes, an optional shallot is added, and topped with parsley before serving. You can serve this either warm or cold according to Julia. We ate it warm just because we didn't have enough time to let it cool. Brian and I both agreed we think we would have enjoyed it more cooled down and after the flavors really married together in the fridge for a while.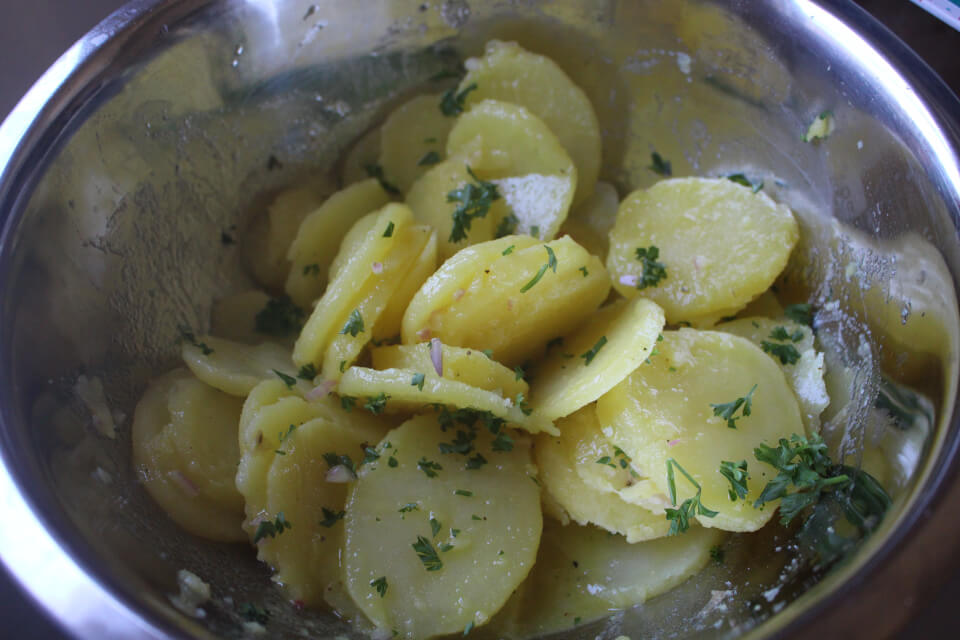 Next up, turnips! Before I even begin this, I'll let you know what Brian said while we sat down together to eat cooked turnips for the first time. It might be the craziest thing I've ever heard, but I don't necessarily disagree with it.. He said, "I like the turnips more than the potatoes." Absolutely ridiculous, I know. But really, these turnips were delicious and so so simple! The French really do know how to do vegetables. For those of you wondering what a turnip looks like in real life (which was me in the grocery store), here you go: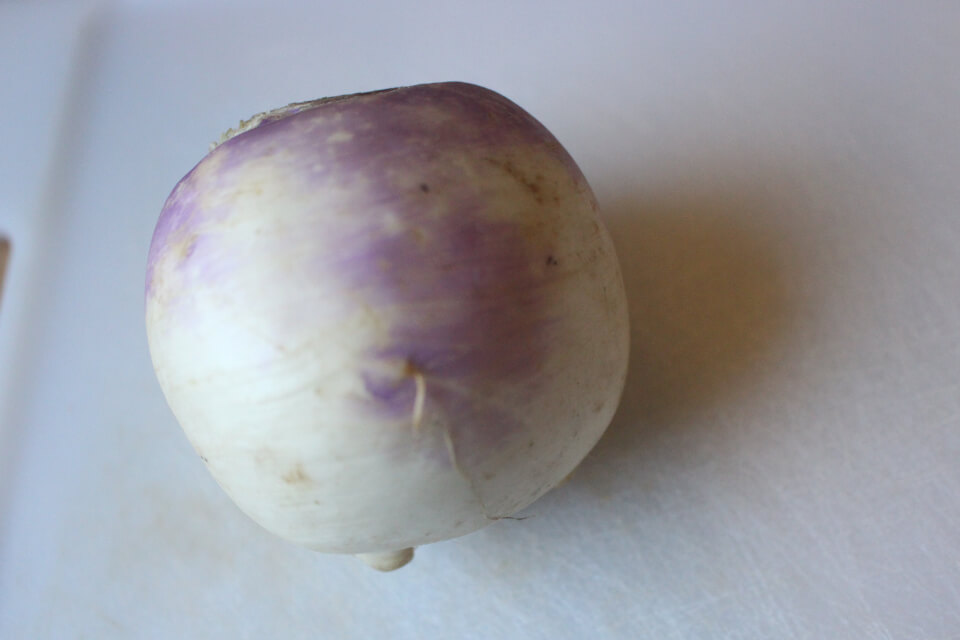 It's pretty cute actually. Anyways, to cook this turnip, all I did was blanch the quartered turnip in boiling salted water for a few minutes. They then go into the saucepan with butter and beef bouillon. Cover and boil for several minutes or until tender but they are still able to hold their shape. Then season according to your taste.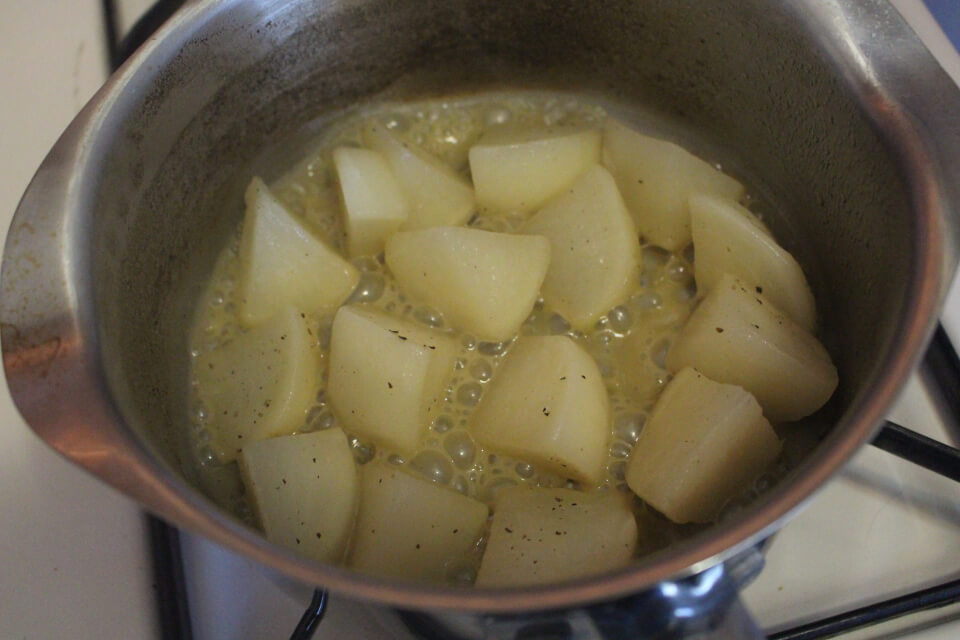 I served them as parslied turnips which means a tad bit more butter was added, a little bit of lemon juice, and minced parsley. Overall, this was a wonderful meal that I wouldn't mind having over and over again.
YOU MAY ALSO LIKE
• Julia Child's Turnip Casserole
• Julia Child's Grated Potato Pancakes
• Julia Child's Celery Root in Mustard Sauce
__________________________________
You can find this recipe and all the other Julia Child recipes I make in Mastering the Art of French Cooking, Volume I. This cookbook and these recipes were written by Julia Child who co-authored with Simone Beck & Louisette Bertholle and were published by Alfred A. Knopf.
Check out my Recipe Checklist to see a list of all my completed and pending recipes from Mastering the Art of French Cooking!
Bon appétit!
July 25, 2019 by Laura Bullock