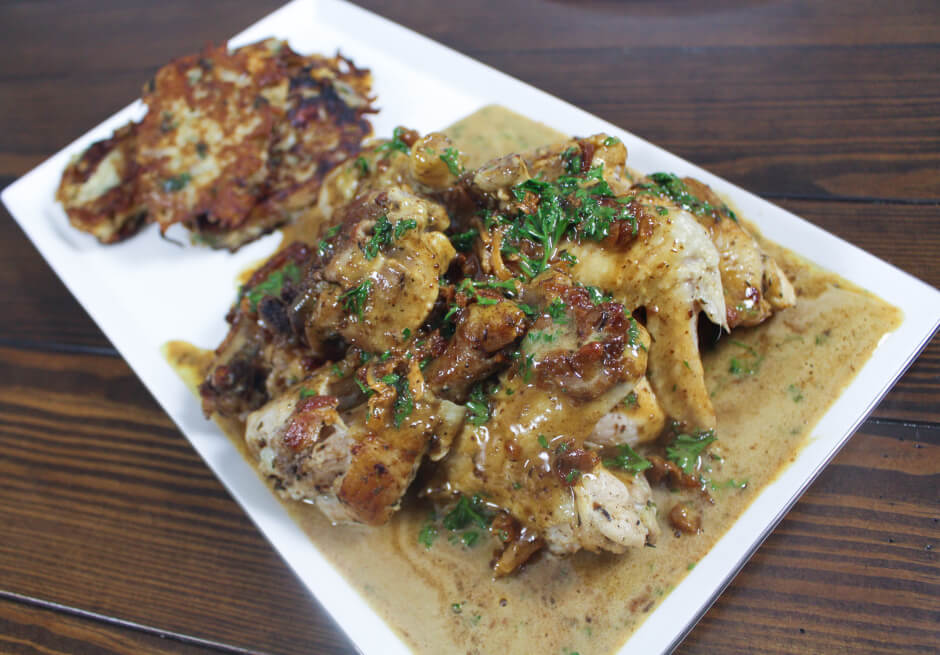 Mastering the Art of French Cooking | Julia Child
Recipes 145-146
- Poulet Sautè aux Herbes de Provence [Chicken Sautèed with Herbs and Garlic; Egg Yolk and Butter Sauce], p. 257 - Crêpes de Pommes de Terre [Grated Potato Pancakes], p. 521
You can buy Julia Child's Mastering the Art of French Cooking which contains these recipes here.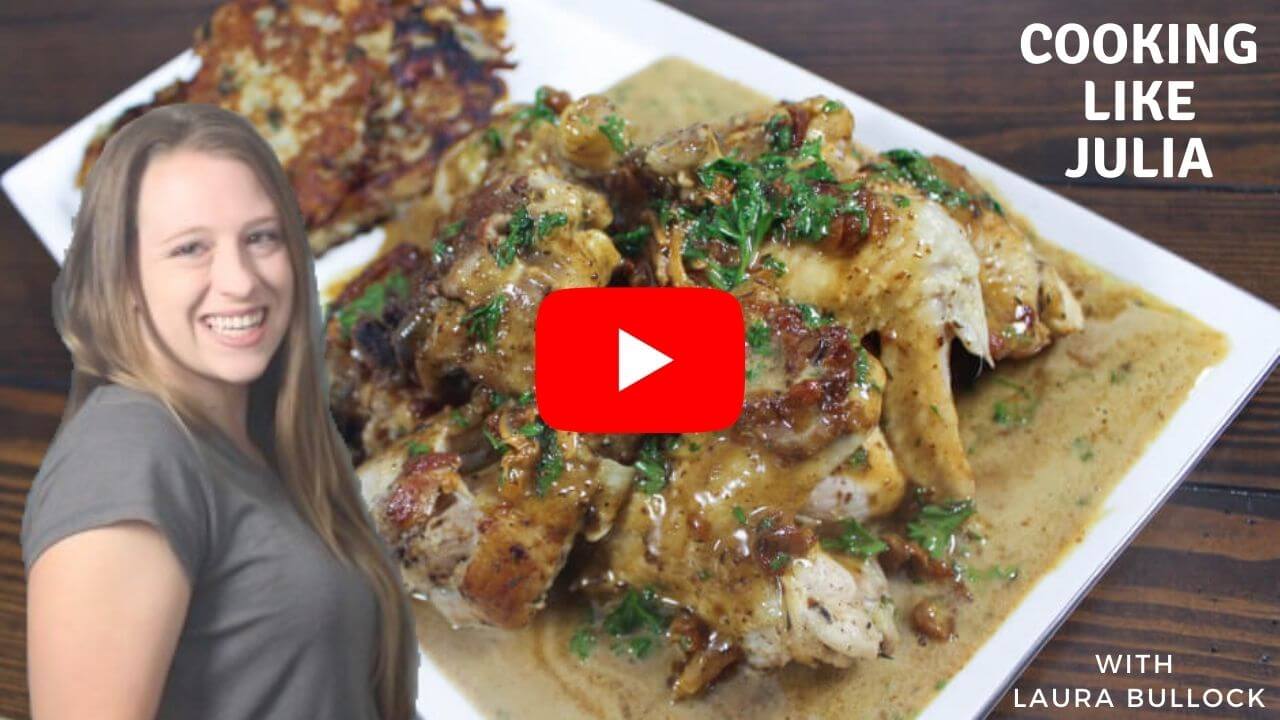 You can watch me make this recipe for the first time on my YouTube channel here.
Butter Count: +12.5 TB
Cost: $12.65 [~$2.11 per serving]
- Chicken Sautèed with Herbs and Garlic; Egg Yolk and Butter Sauce = $6.62 [4-6 servings] - Grated Potato Pancakes= $6.03 [18 crêpes]
Even before making these recipes I knew they were both going to be winners. Let's take Julia's perfectly sautéed chicken, coat it with a flavor-packed egg and butter sauce, and serve it with cheesy potato pancakes. Does any of that sound bad to you? No? I didn't think so.
LAURA'S RATING: 9
BRIAN'S RATING: 9
My husband and I gave both of these recipes pretty high ratings because they are that amazing. A solid nine which means I will make these recipes again, and I highly recommend you make them as well. I want to serve that sauce over everything I make from now on and maybe just eat it by itself. I may be a couple pounds heavier from this meal, but it was so worth it.
COOKING PROCESS: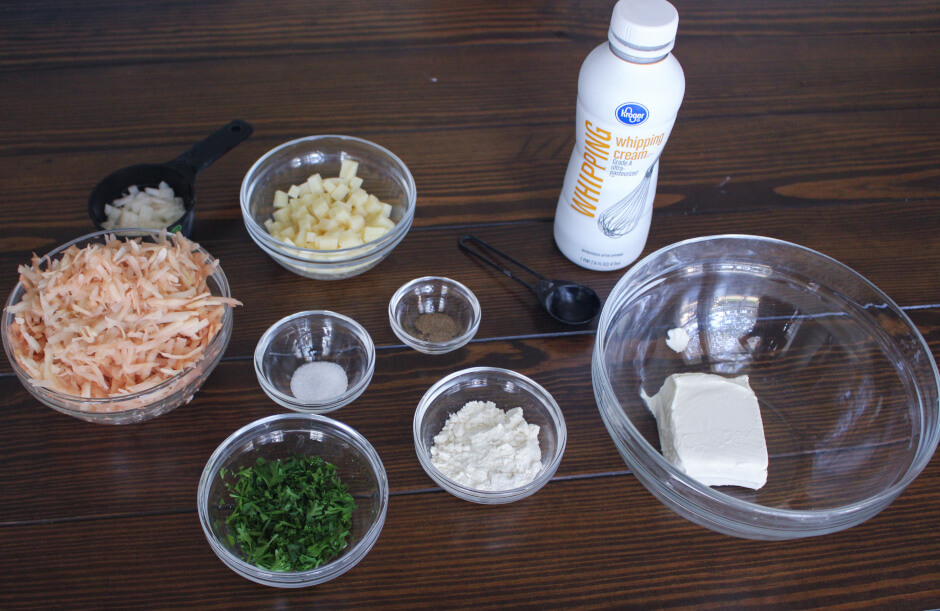 The potato pancakes are made up of cream cheese, flour, eggs, salt/pepper, Swiss cheese, grated potatoes, and whipping cream. Once everything is mixed together it should have a consistency of "a thick, creamed cole slaw." You can add in some optional ingredients as well. I chose to add in onions and parsley which were both excellent choices.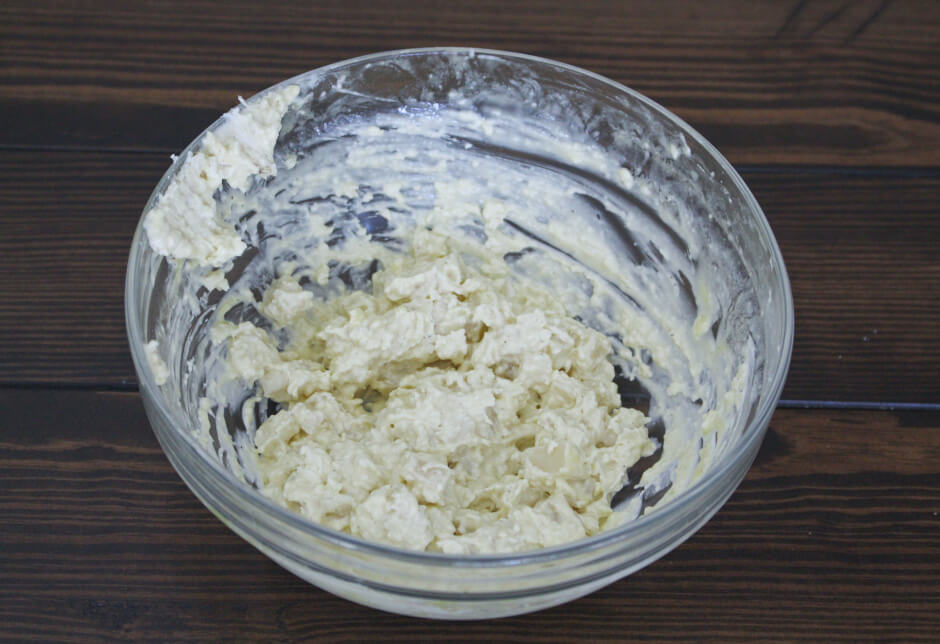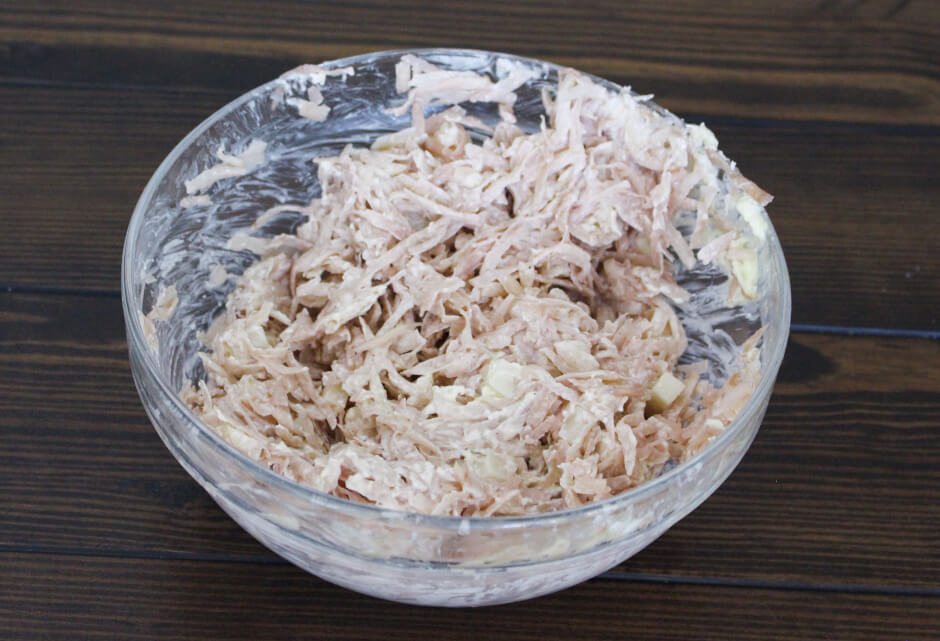 The pancakes are cooked in a butter/oil combo for three minutes each side.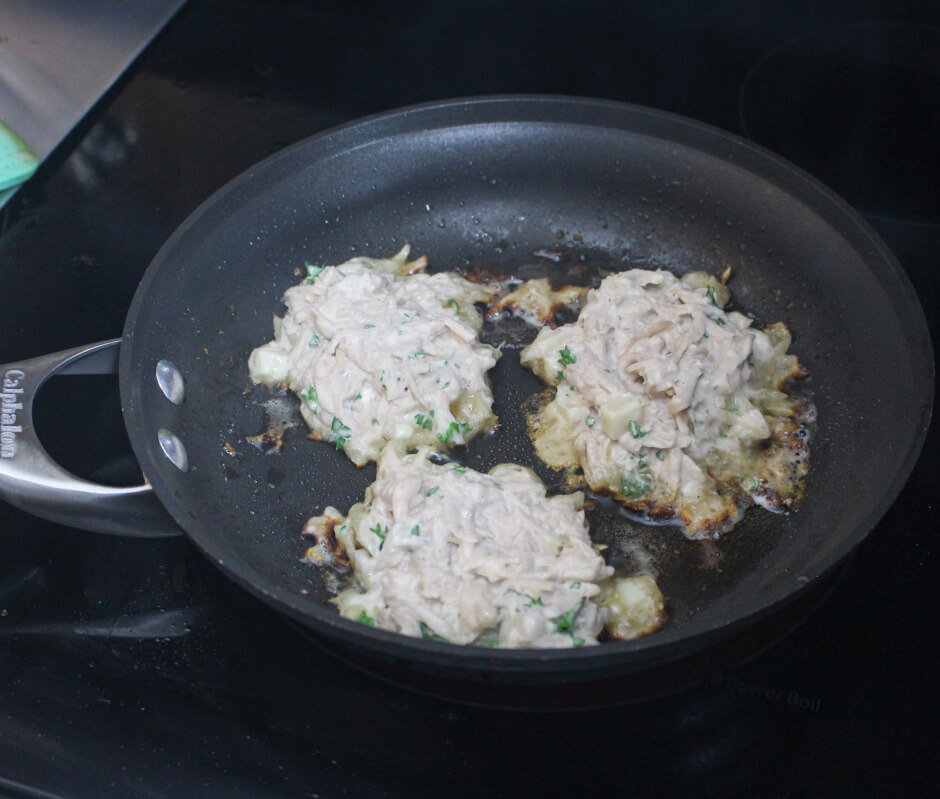 What's great about these is they can be made ahead of time and warmed up in an oven a few minutes before serving. Everything about these pancakes is wonderful. Imagine a large cheesy tater tot!
What's great about sautéed chicken is that it is pretty hands-off. Place the chicken pieces in an entire stick of melted butter and cook for about eight minutes until they are a dark yellow.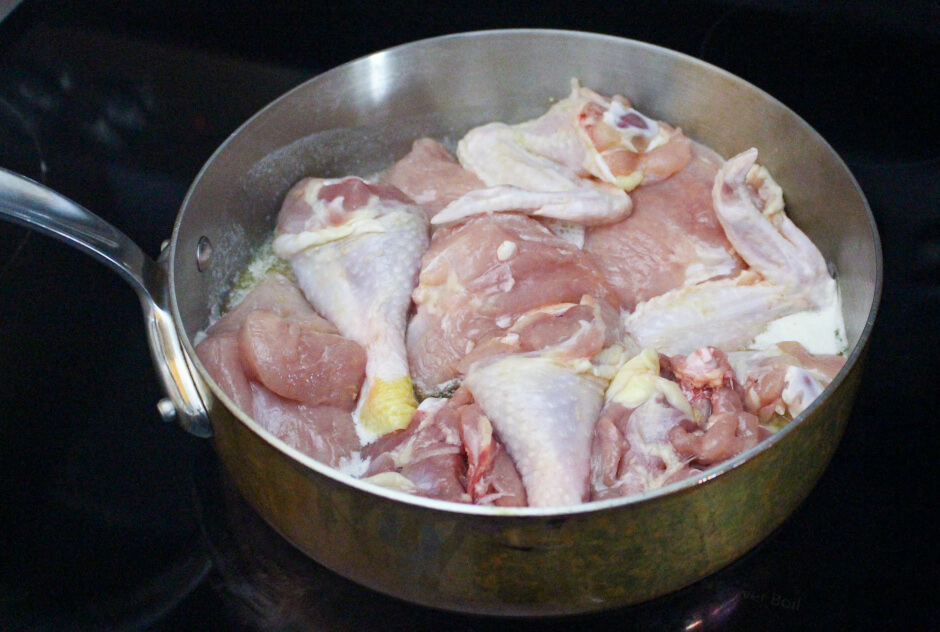 The white meat is removed, and the dark meat is covered in thyme, basil, fennel, and salt/pepper. Three unpeeled garlic cloves are thrown in there, and everything cooks with the lid on for about nine minutes. The white meat is then added back in and cooked for an additional fifteen minutes. Don't forget to baste the meat with that delicious butter during the process!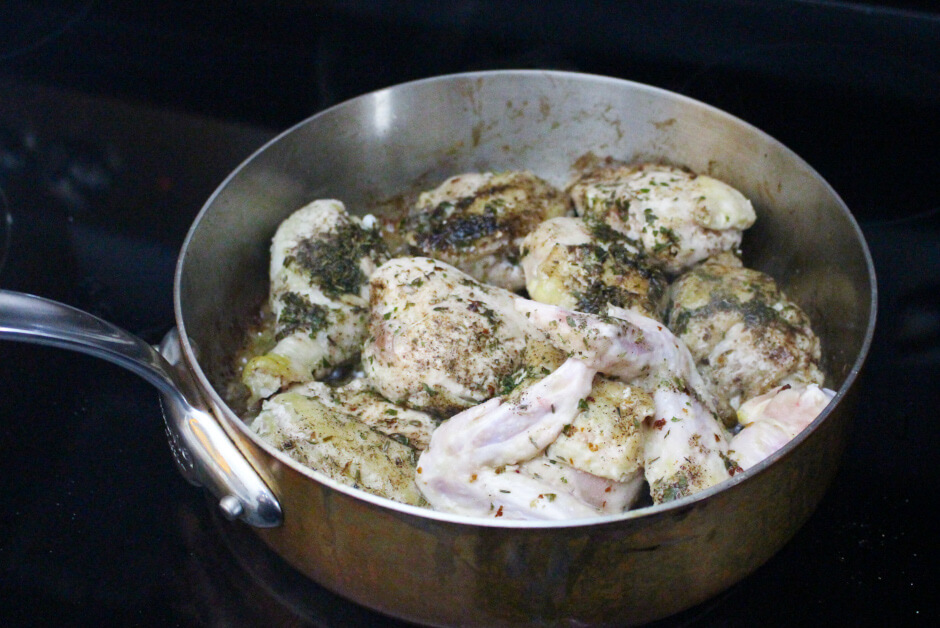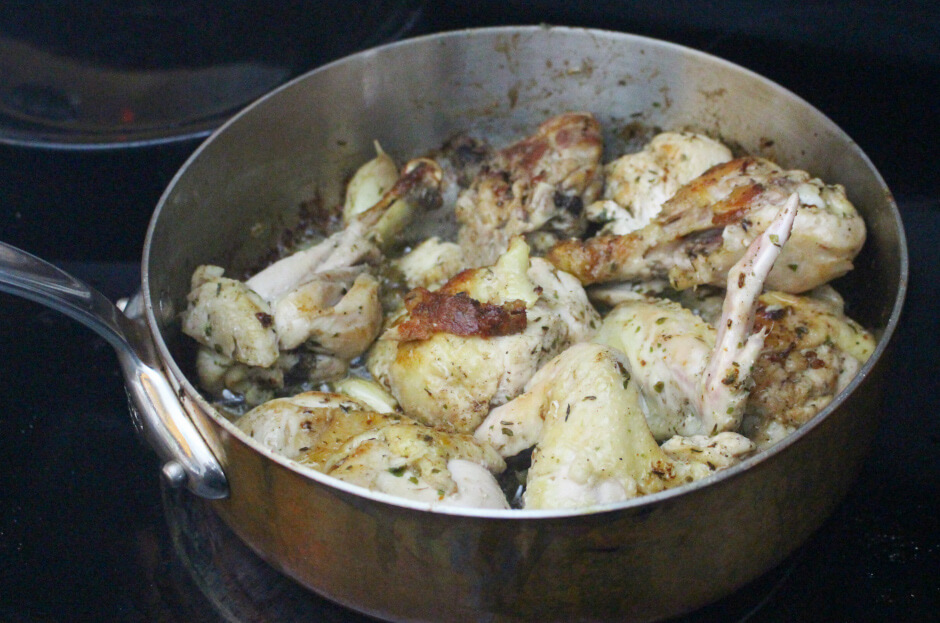 Once chicken is done, it is removed and the garlic cloves are squished out of their skins. Dry white vermouth is added to the pan to deglaze. There will be SO much flavor at the bottom of the pan so make sure you scrape it all up. Once the wine is reduced to half, beat egg yolks, lemon juice, and white vermouth together in a saucepan. Now beat in that delicious SUPER flavorful butter from the pan slowly into the egg mixture. This is kind of like making hollandaise sauce. Heat the sauce for a few seconds to thicken it, add in minced parsley and more butter, and pour over the chicken. YUM.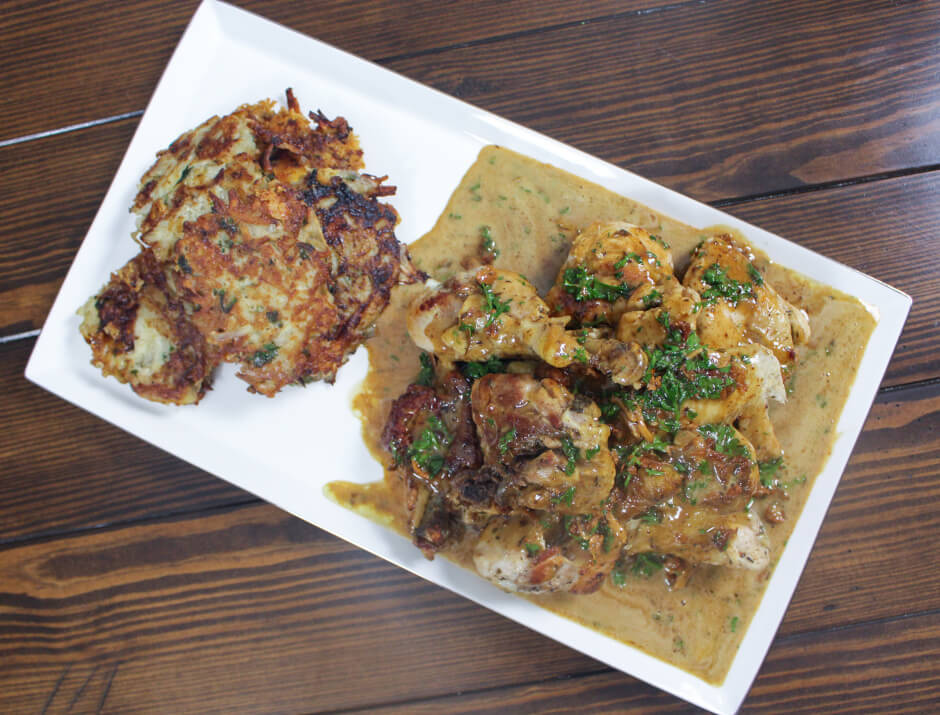 You can find these recipes and all the other Julia Child recipes I make in Mastering the Art of French Cooking
Bon appétit!
September 30, 2020 by Laura Bullock