Mastering the Art of French Cooking | Julia Child
Recipes 122-123
- Poulet Sauté [Sautéed Chicken], p. 254 - Haricots Verts à la Créme [Creamed Green Beans I], p. 445
You can buy Julia Child's Mastering the Art of French Cooking which contains these recipes here.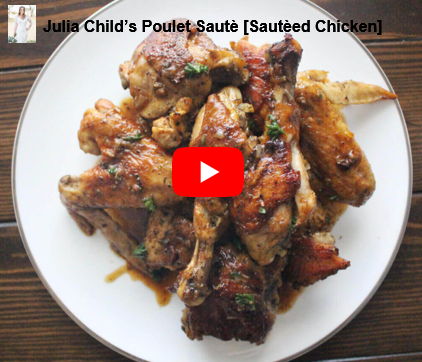 You can watch me make this recipe for the first time on my YouTube channel here.
Butter Count: +10 TB
Cost: $12.74 [~$2.12 per serving]
- Sautéed Chicken= $4.86 [4-6 servings] - Creamed Green Beans I= $7.61 [6-8 servings]
I have officially graduated from roast chicken and have entered the sautéed chicken category. How exciting! Well, except for one thing... The daunting task of cutting up a chicken. I had never cut up a chicken before and with the help of America's Test Kitchen and YouTube, I think I did... okay. They make it look so easy on Food Network. Umph. At the end of the day, I ended up with all the pieces I need. I just won't worry about how I got there. On a more positive note, sautéing chicken is a lot faster than roasting one! The skin gets perfectly crispy and browned, but the meat stays juicy. This part of the recipe was an absolute success. I am anxiously awaiting the variations to this master recipe. I served the chicken with creamed green beans. Let's be honest- if a Julia recipe has the word 'creamed' in front of it, it is going to taste good. Very very rich but good. Winner winner chicken dinner!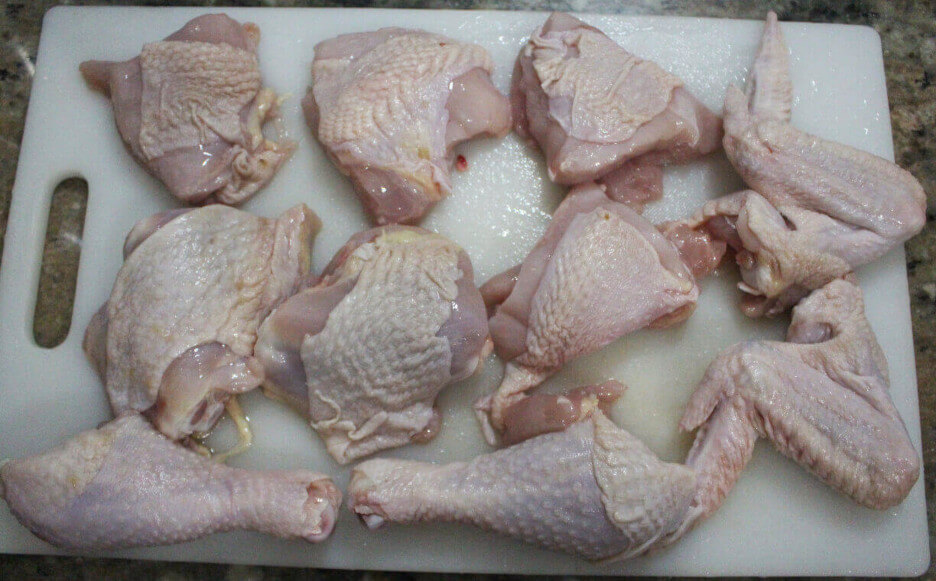 Let's talk chicken. The pieces must be thoroughly dried in order for them to brown. Once dried, you will add the chicken pieces to a hot pan filled with butter and oil. Each piece is cooked 2-3 minutes each side. This will give the chicken that beautiful delicious skin! After the pieces are browned, they are seasoned with salt, pepper, and dried herbs. I just threw some Italian seasoning on mine. Everything but the wings and breast go back into the pan. The pan is covered, and the chicken is cooked slowly for about nine minutes. The wings and breast are then seasoned and added to the rest of the pieces. Give them all a butter bath, cover, and cooked for an additional fifteen minutes. The chicken should be turned and basted a couple times during this time.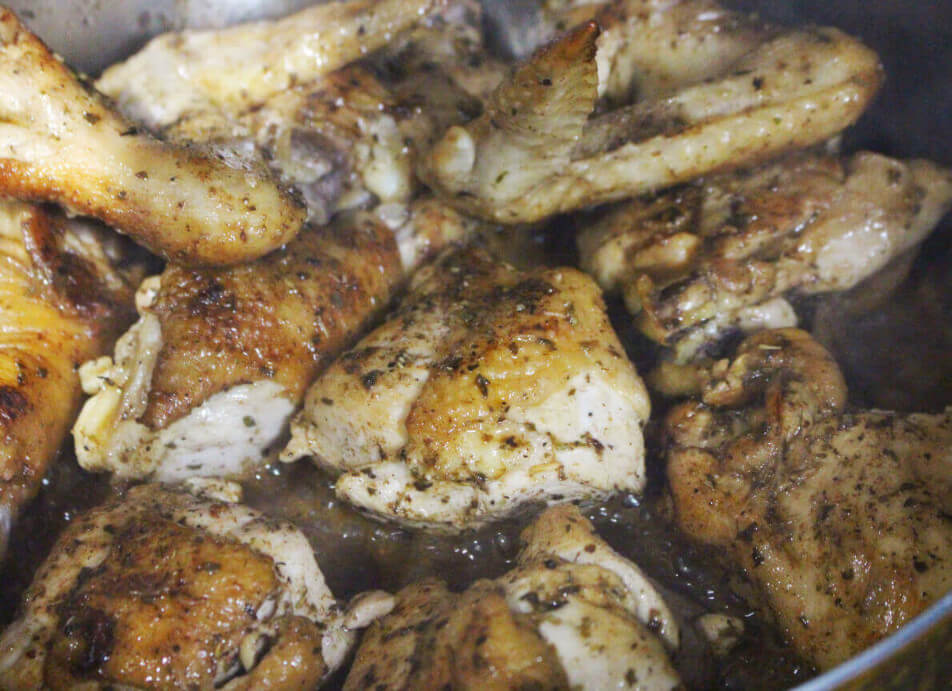 Once the chicken is done, remove it and all but two tablespoons of fat from the pan. Yep, you guessed it. We are making Julia's famous deglazing sauce. Minced green onions are added and cooked for one minute. Next, some dry white vermouth and beef bouillon are added in and the heat is raised so it boils rapidly. Whatever you do, don't forget to scrape up that goodness on the bottom of your pan. That's your flavor! Reduce the liquid to about 1/3 cup and correct seasoning. Right before serving, swirl in some enrichment butter.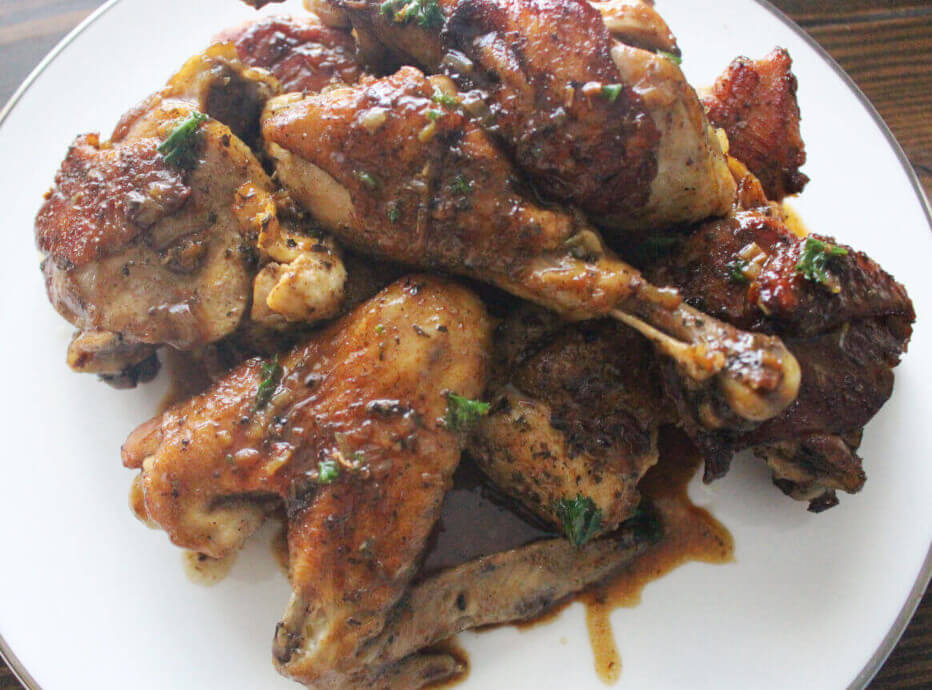 This green bean recipe is really simple. After you have blanched the beans in salted water for a few minutes, they are tossed into a pan to evaporate their moisture. Salt, pepper, and butter are added in. Next, whipping cream is poured all over them, the pan is covered, and it is boiled for about five minutes until the beans are tender and the cream has reduced by half. Right before serving, sprinkle with minced parsley.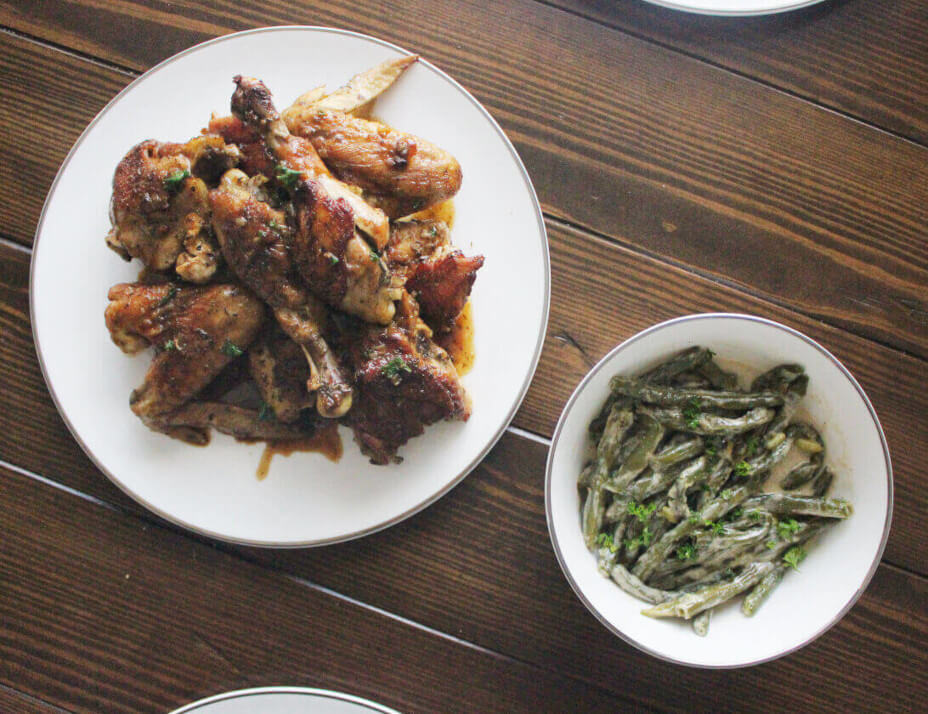 Once the chicken is plated, cover it with that delicious sauce. My husband and I just dug in with our hands. Finger lickin' good!
You can find these recipes and all the other Julia Child recipes I make in Mastering the Art of French Cooking
Bon appétit!
June 30, 2020 by Laura Bullock