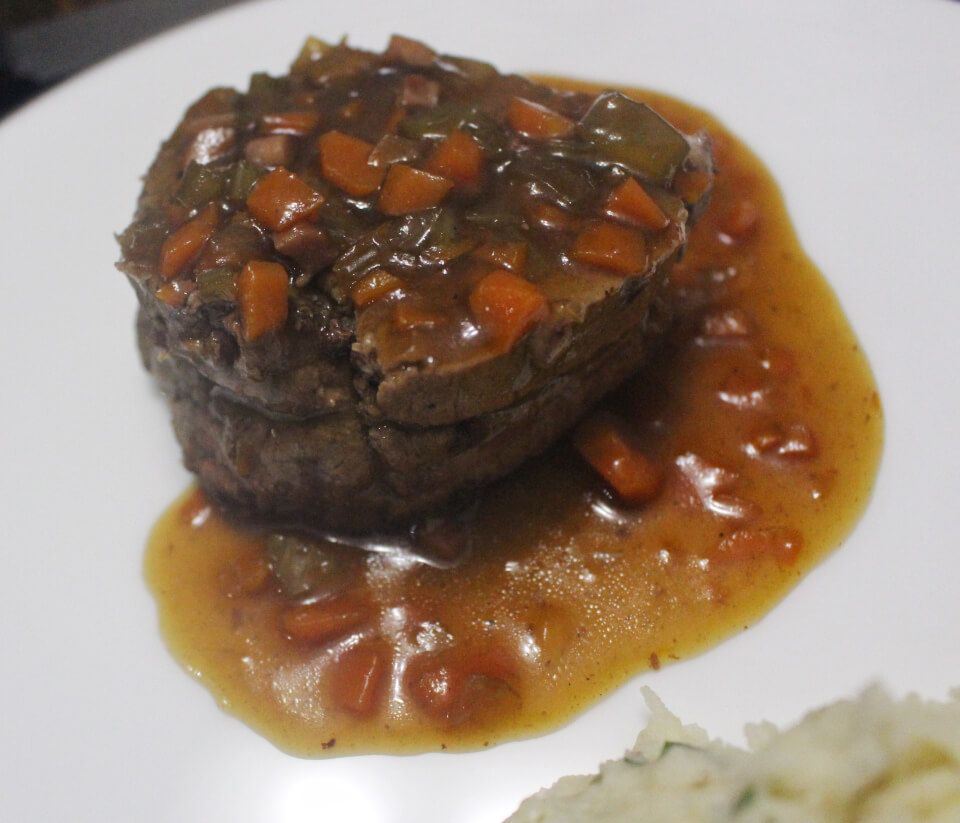 Mastering the Art of French Cooking | Julia Child
Recipes 97-98
- Filet de Boeuf Braisé Prince Albert [Braised Filet of Beef Stuffed with Foie Gras and Truffles], p. 303
- Purée de Pommes de Terre à l'Ail [Garlic Mashed Potatoes], p. 520
You can buy Julia Child's Mastering the Art of French Cooking which contains these recipes here.
____________________________
Butter Count: +14 TB
Cost: $119.17 [~$14.90 per serving]
- Braised Filet of Beef Stuffed with Foie Gras and Truffles= $112.90 [8 servings] - Garlic Mashed Potatoes= $6.27 [6-8 servings]
If this plate doesn't win who you are serving over, then I do not know what will. In Julia's words, "a magnificent recipe for an important dinner." If you have never bought a beef filet before know that you will be paying a pretty penny for it. I knew it would be expensive, but I didn't know it would be THAT expensive. I ended up only buying half of what the recipe suggests because of the price. Annndd this caused me to overcook the meat. I acted like it was the end of the world when I opened the Dutch oven and saw what I had done. However, it really didn't matter. The filet was still super good. I mean you have beef stuffed with foie gras and truffles covered in a thick delicious sauce. It's difficult to ruin that. As for the garlic potatoes, WOW. They are amazing. Your mouth may drop open when you read that the recipe calls for thirty cloves of garlic. Yes, thirty. Don't' even think of putting less. These potatoes are perfect just the way they are.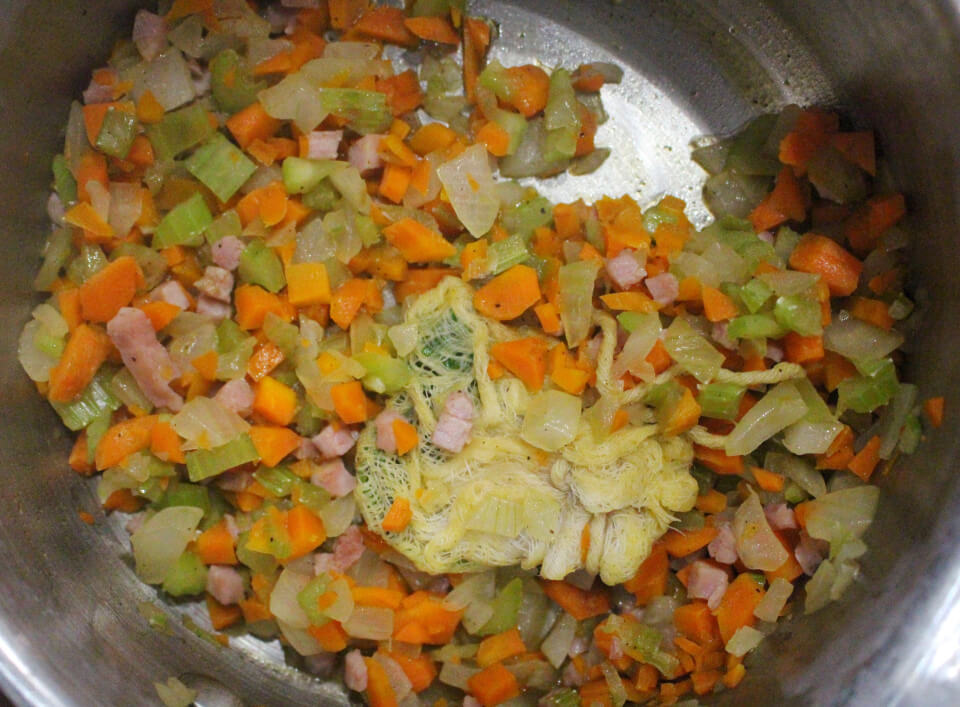 The recipe begins by marinating the truffles in Madeira. Carrots, onions, celery, boiled ham, salt, pepper, herb bouquet (parsley, bay leaf, thyme), and butter are all sautéed together for about 10 minutes. Madeira is poured in and boiled until almost evaporated. The filet stuffing consists of minced shallots sautéed in butter, mousse de foie d'oie, Madeira, cognac, allspice, thyme, and pepper. The filet is cut down the length, seasoned, and filled with the stuffing. The marinated truffles are lined down the center of the cut. Lastly, blanched bacon is laid over the cut and string is used to tie securely.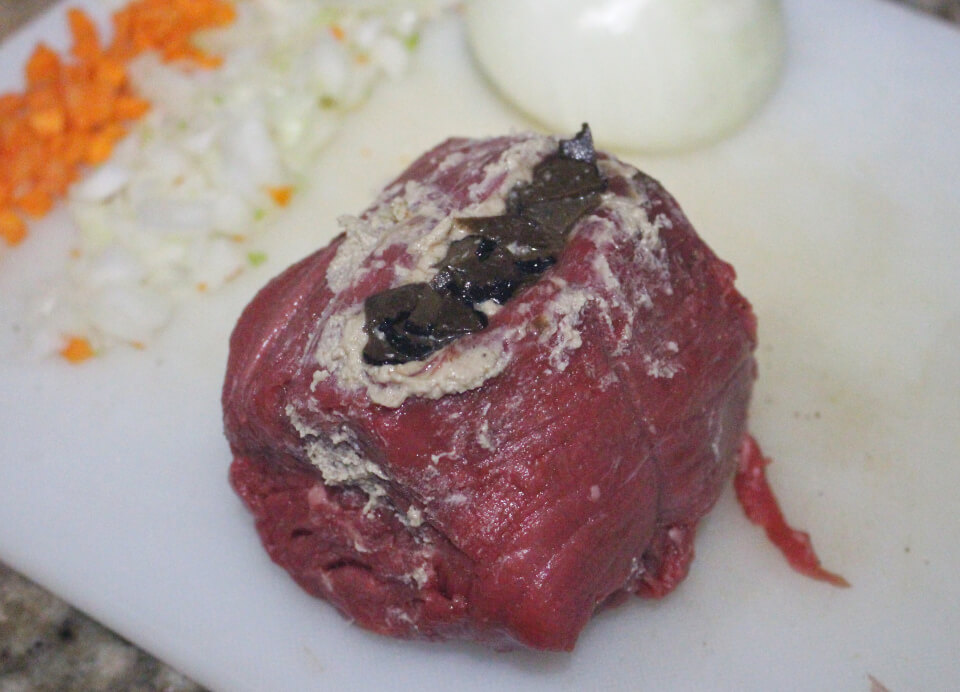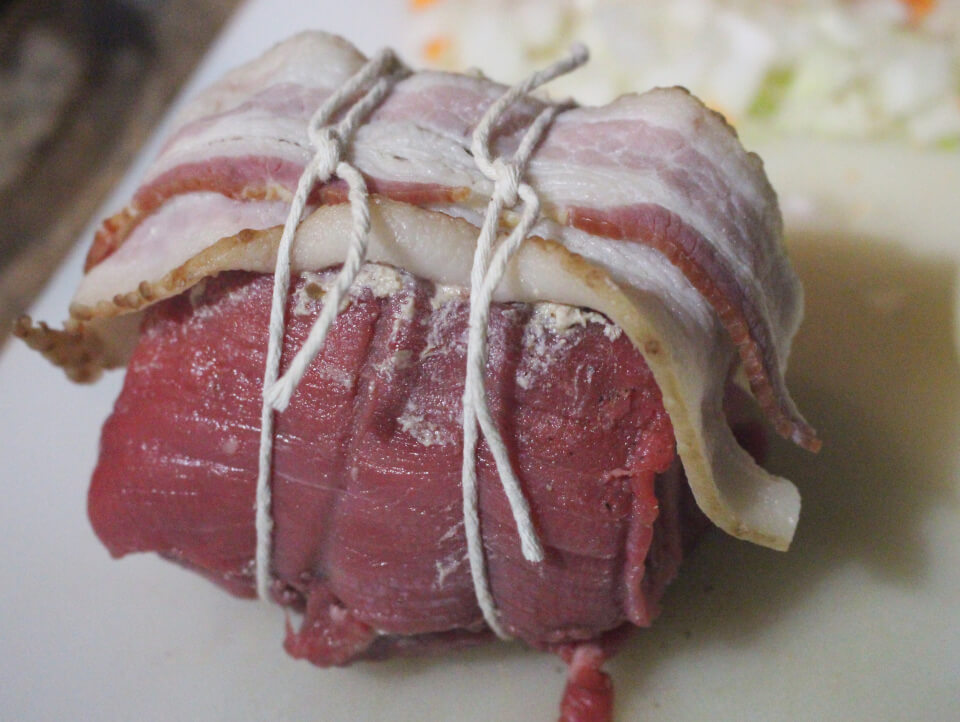 The sides of the filet are browned in butter and oil in a casserole, seasoned, and covered with the sautéed vegetables. Enough bouillon is added to cover half of the filet and is brought to a simmer on top of the stove. Cover with foil and put the lid on top of the casserole. For a three pound piece of beef, it will cook 45-55 minutes at 350 degrees. Important- make sure you adjust the time for the size of meat (lesson learned the hard way…). The filet is ready when the meat thermometer reads 125-135 degrees. When ready, the bacon is removed, and the meat is cooled for 10 minutes to ensure the juices retreat back into the tissues. Now, to the sauce! Once you skim the fat off of the braising liquid, the truffle marinade is poured in, and it is all boiled down. Cornstarch mixed with a little bit of Madeira is beat in, and it is all simmered for 2-3 minutes. Lastly, correct seasoning and serve.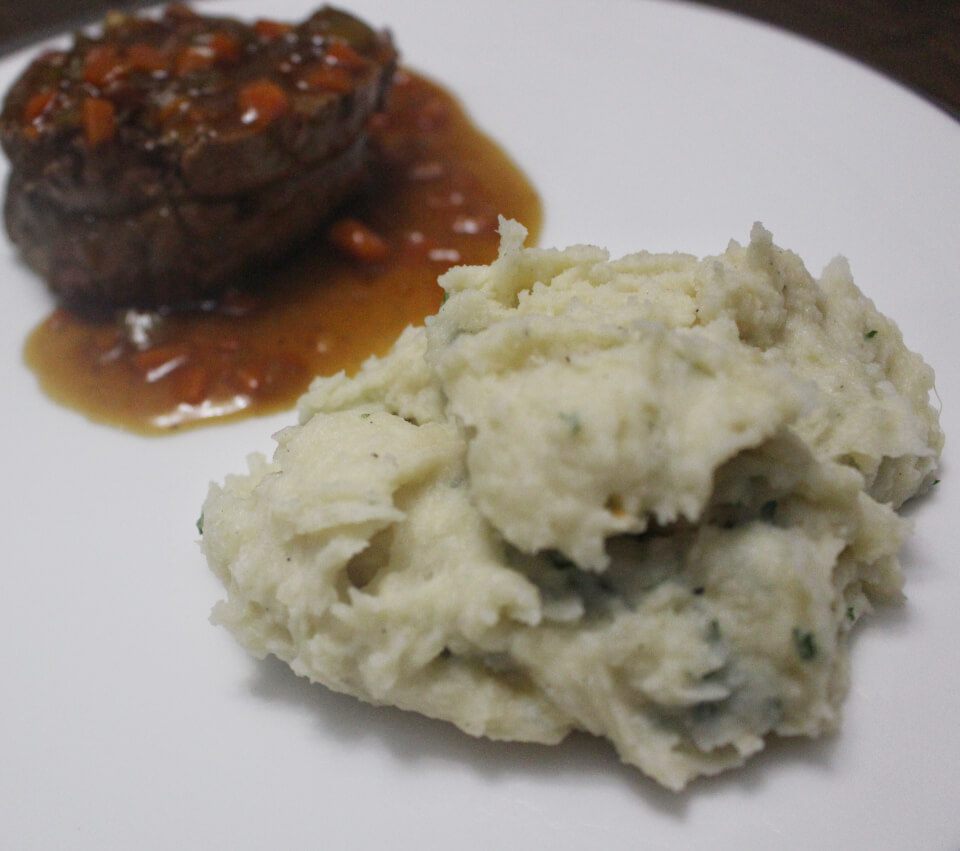 Now it's time to pull out your thirty cloves of garlic! They are going to boil for two minutes. This will help tone down their strong flavor a little bit. Drain and peel. The garlic is cooked slowly in butter in a covered saucepan for 20 minutes. You want them to get tender but not browned. Blend in some flour and cook over low heat for two more minutes. Remove from heat, and stir in boiling milk, salt, and pepper. The mixture is boiled and stirred for one minute. I then put it all in a blender and simmer for two more minutes. Always be careful with hot things in an electric blender. I have a permanent scar on my right arm to remind me. Baking potatoes (I used red potatoes) are peeled and quartered. Drop 'em in boiling salted water and boil until they are tender. Drain and mash. This next step is interesting and new to me. The mashed potatoes are beat with a spoon for several minutes over moderate heat. This is going to get rid of all the moisture. Once you see a film at the bottom of the pan, remove from the heat and stir in butter, salt, and pepper. Right before serving, beat in that delicious garlic sauce, cream, parsley, and seasonings. You will love these potatoes so so much!
Overall, this was indeed a magnificent meal. Next "Meat" chapter recipe is exactly the same except the filet is marinated beforehand. Definitely will not overcook that one.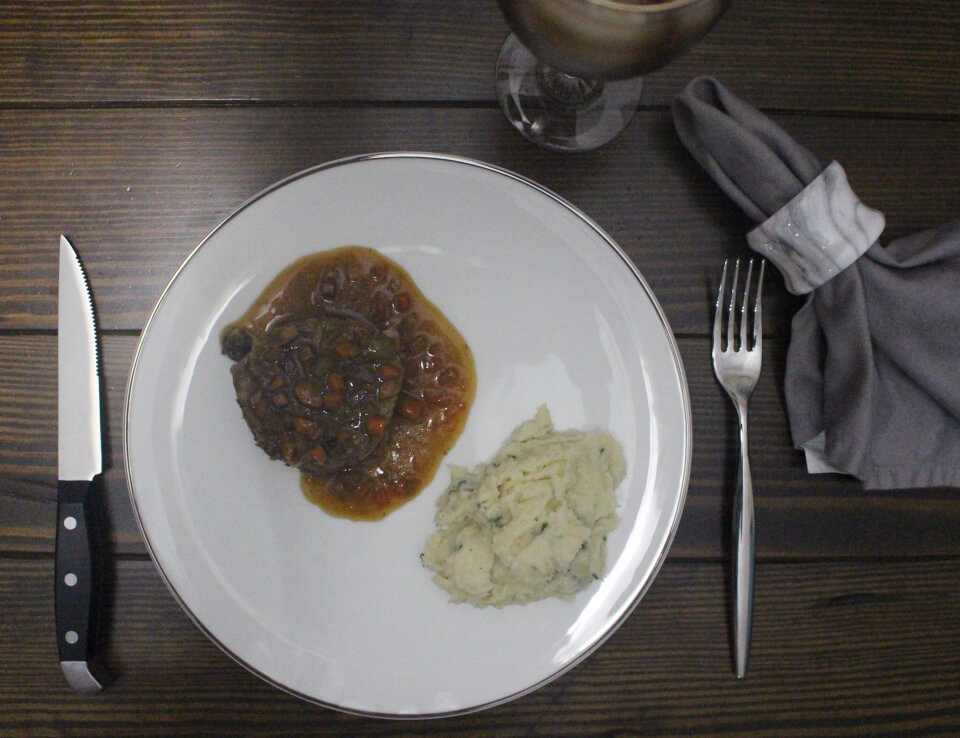 You can find these recipes and all the other Julia Child recipes I make in Mastering the Art of French Cooking
Bon appétit!
April 20, 2020 by Laura Bullock