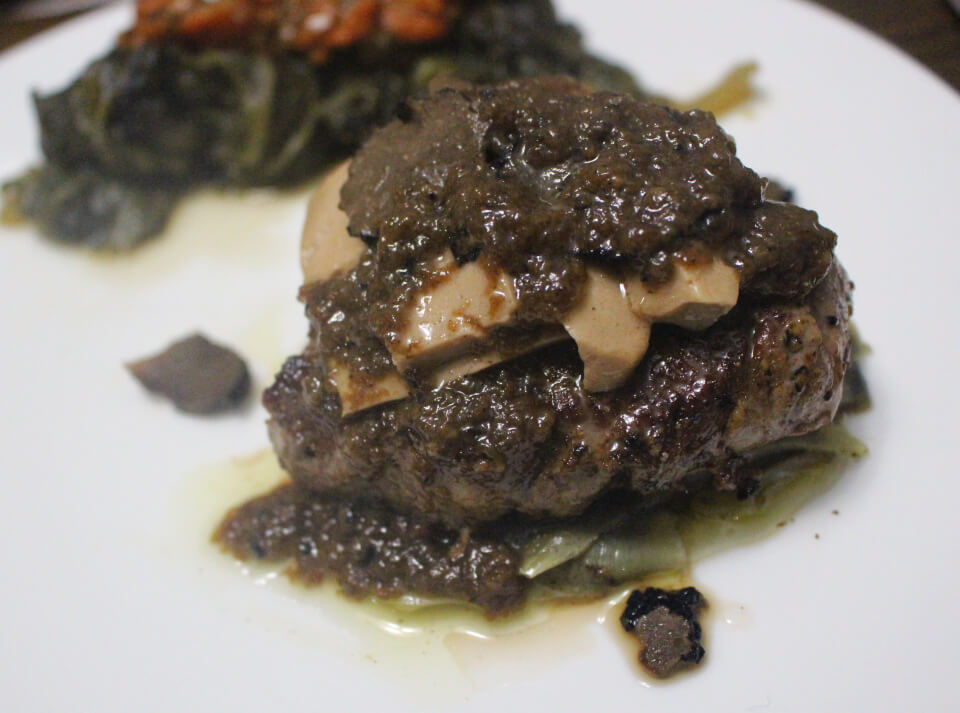 Mastering the Art of French Cooking | Julia Child
Recipes 84-85
- Tournedos Rossini [Filet Steaks with Foie Gras, Truffles, and Madeira Sauce], p. 299 - Laitues Braisées [Braised Lettuce], p. 489
You can buy Julia Child's Mastering the Art of French Cooking which contains these recipes here.
____________________________
Butter Count: +13 TB
Cost: $119.72 [~$19.95 per serving]
- Filet Steaks with Foie Gras, Truffles, and Madeira Sauce= $104.62 [6 servings] - Braised Lettuce= $15.10 [6 servings]
If you are looking for a fancy meal that will cost you a pretty penny then look no further! Since we are currently on a budget while trying to pay down some of our student loans, this meal caused us to eat poor the rest of the week. However, it was worth it. I ordered the canned foie gras online because we could not find it anywhere. I was pleasantly surprised that it tasted quite similar to the real deal. Of course, fresh truffles and foie gras would've made this meal absolutely perfect.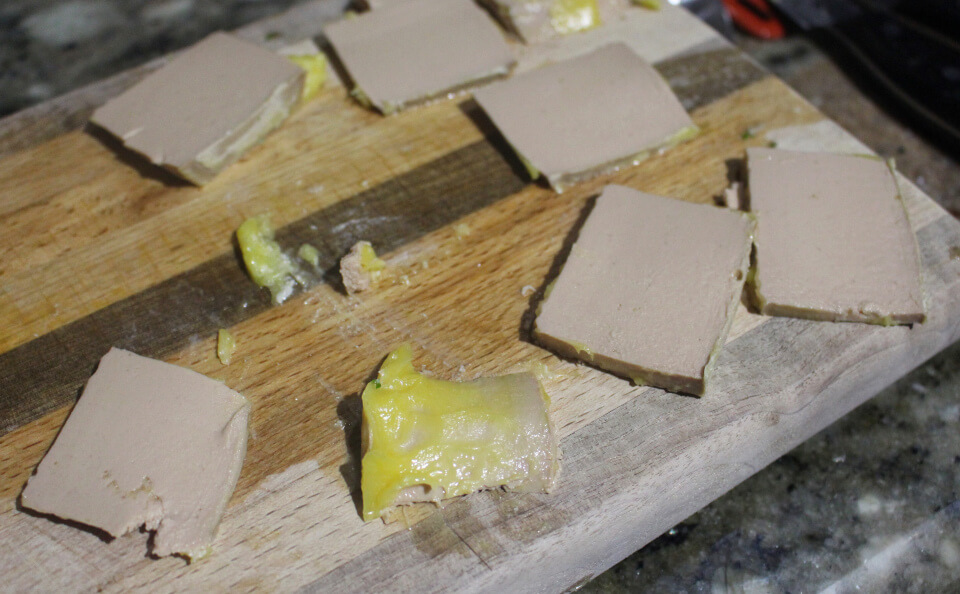 I was also surprised at how simple this elegant dish was to make. I was comparing to the previous filet steak recipe I made which took me hours and caused me a mental breakdown. I'm not sure if I was just more prepared this time around or if it really is an easier recipe, but a win is a win. I love how this recipe is laid out as well. Each main ingredient is in its own section and the time it takes to cook is listed so you can (hopefully) prepare everything to finish at the same time.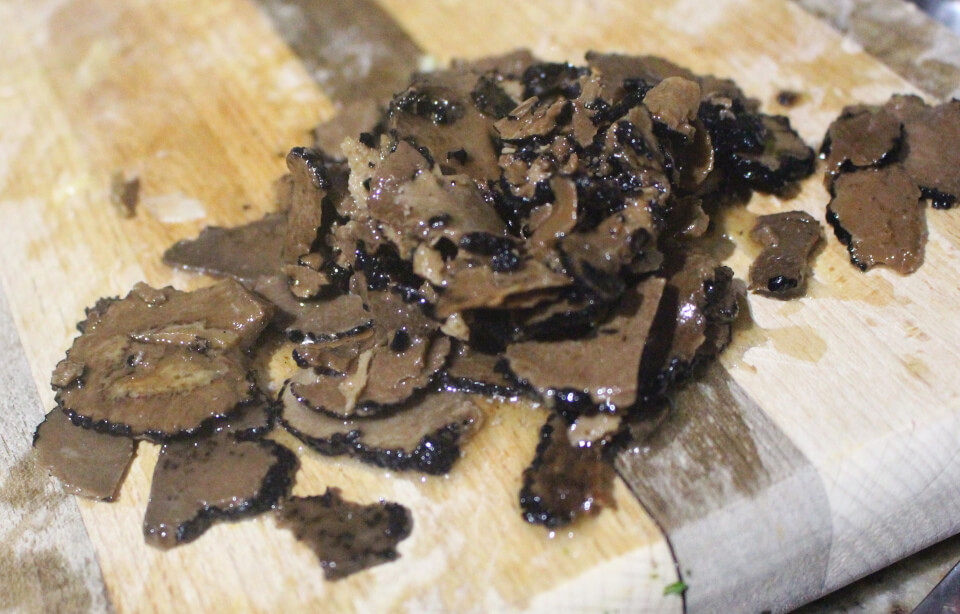 To begin this recipe, artichoke bottoms that were previously cooked in a blanc (flour/water mixture) are cut into two and seasoned with salt, pepper, and melted butter. Fifteen minutes before serving, place into 350 degree oven. Next, the foie gras slices are basted with Madeira and beef bouillon. Ten minutes before serving, place bowl over simmering water. The truffle slices and their juice are placed in a saucepan with Madeira, pepper, and butter. Five minutes before serving, warm over low heat. Lastly, the steaks are prepared in the same manner as the previous filet steak recipes and seasoned with salt and pepper.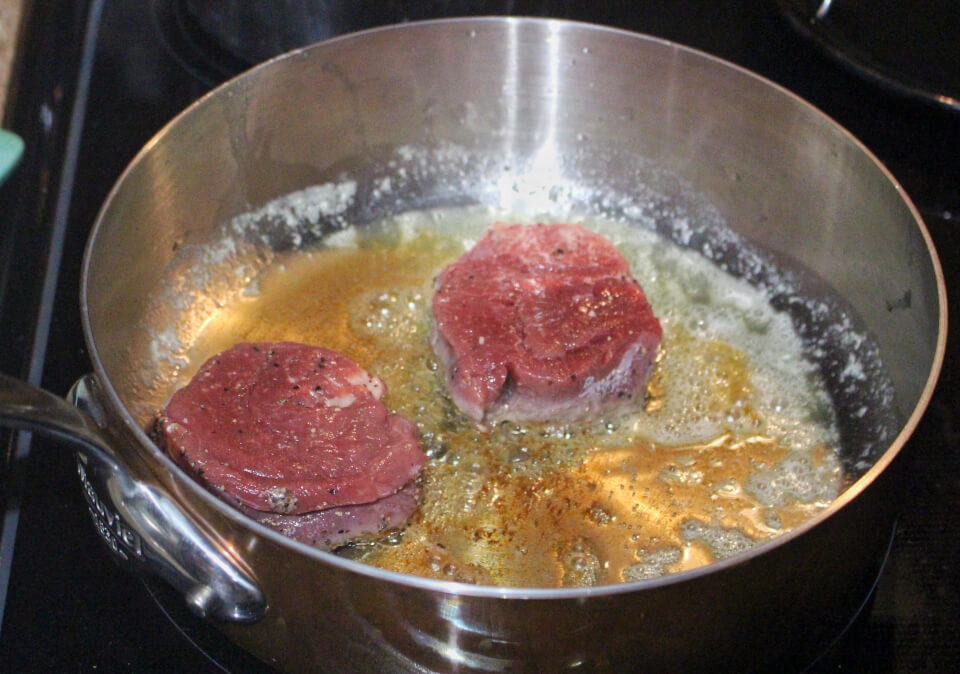 Now to my favorite part of all Julia meals- the sauce. Pour out the fat from the steak skillet and pour in bouillon and the juices from the foie gras and truffles. Boil the liquid down to half while scraping up all that goodness that stuck to the bottom of the pan from the steaks. Pour in a cornstarch/Madeira mixture and simmer for a minute, correct seasoning, and swirl in the enrichment butter. Pour the sauce all over the steaks. To assemble the plates, put the artichoke bottom on the plate, place the sauced steak on top, then a slice of foie gras, and lastly top with truffles.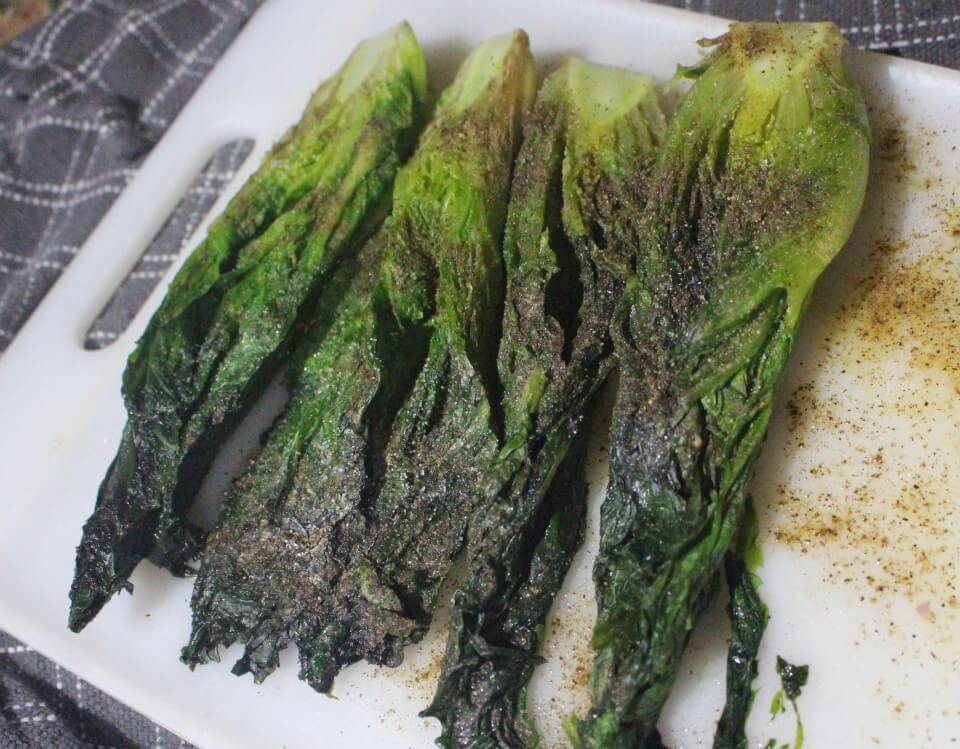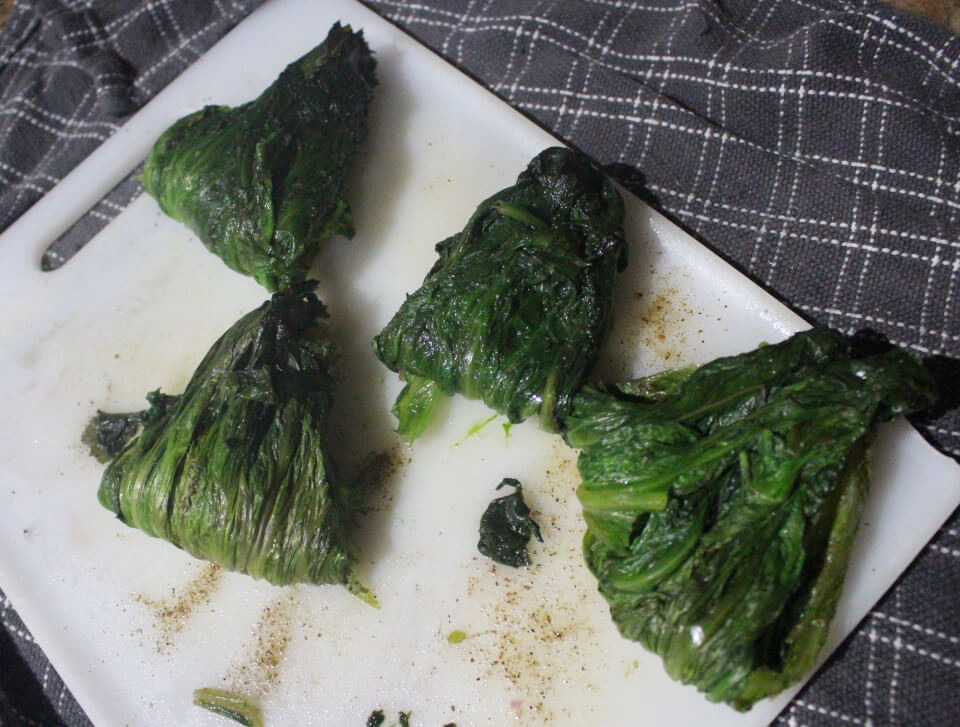 The book suggested braised lettuce to be served as a side so that's what I did. Julia admits that boiled lettuce can be "dreadfully uninteresting" but braised lettuce is marvelous! You start by trimming the stems of the heads of lettuce and plunging them in cold water in order to remove all the traces of sand. DO THIS A LOT. I thought I plunged enough, but we could still taste some grit. Womp womp. Next plunge the heads into boiling salted water, bring back to a boil, and boil slowly for about 4 minutes until the heads have wilted. Then remove and plunge once again into some cold water for about 2-3 minutes to stop the cooking. The heads are squeezed until all the water is removed (that's a strange sentence..). Slice them in half lengthwise, sprinkle with salt and pepper, and fold them in half to make a fat triangle.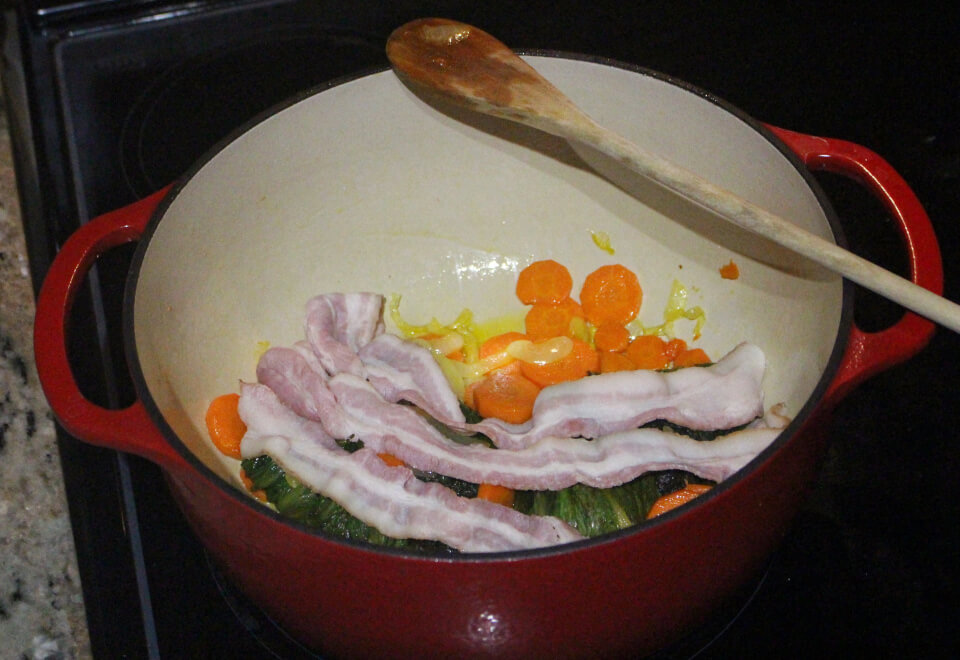 Next simmer bacon and the bacon rind in water for 10 minutes, drain, rinse in cold water, and dry. In a casserole, cook onions and carrots slowly in butter until tender. Place the lettuce triangles into the casserole closely pressed against each other and spread the vegetables over the lettuce and then the bacon/rind. About 2 cups of bouillon is needed to barely cover the lettuce and a herb bouquet consisting of parsley, thyme, and bay leaf is also added. Place buttered paper of the lettuce, cover the casserole, and place in a 350 degree oven. The lettuce will need to cook for 1 ½ hours so plan ahead! After time is up, remove the lettuce and boil down the liquid until it is a syrup. Lastly, swirl in the enrichment butter, strain over the lettuce, and sprinkle with minced parsley. At the end of the day, this is still lettuce to me, but I would gladly eat this again. Although, I will say it did not look too appetizing. I felt it did accompany the steak well and the braising liquid is really delicious. I left the carrots and onions in the braising on accident because I missed the strain part. I wasn't too sad about this because the carrots were just as delicious!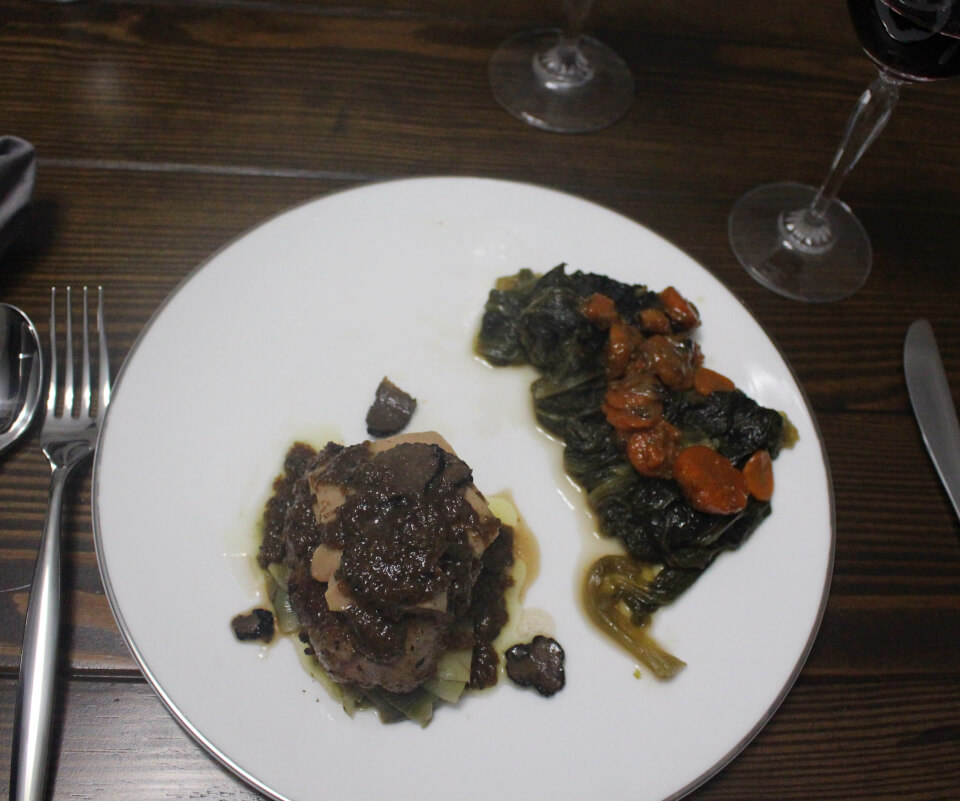 You can find these recipes and all the other Julia Child recipes I make in Mastering the Art of French Cooking
Bon appétit!
March 17, 2020 by Laura Bullock