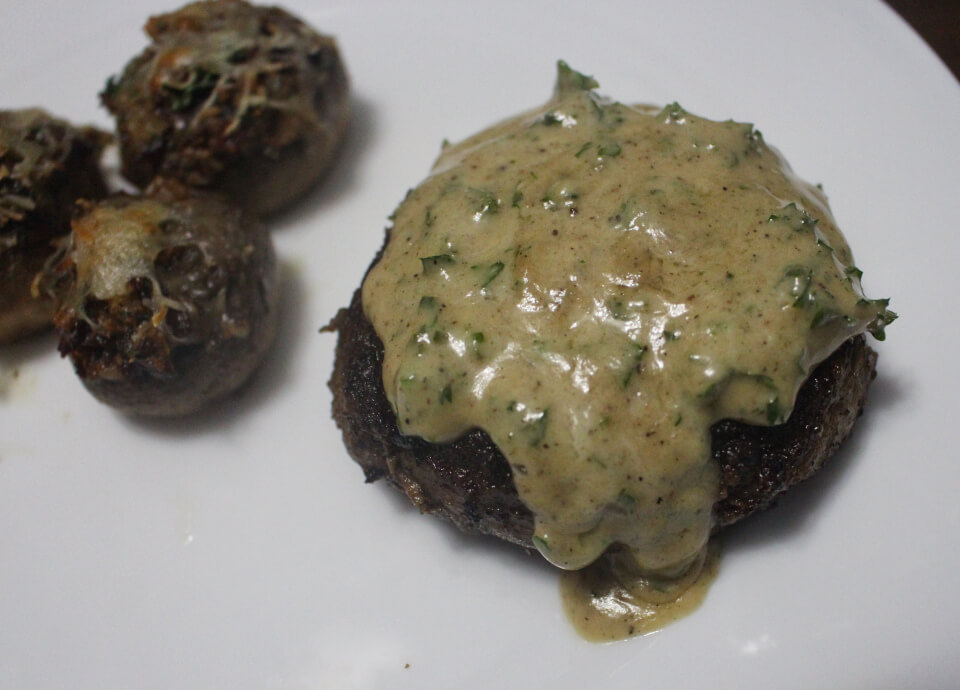 Mastering the Art of French Cooking | Julia Child
Recipes 94-95
- Bitokes à la Russe [Hamburgers in Cream Sauce], p. 302 - Champignons Farcis [Stuffed Mushrooms], p. 516
You can buy Julia Child's Mastering the Art of French Cooking which contains these recipes here.
____________________________
Butter Count: +15 TB
Cost: $19.33 [~3.22 per serving]
- Hamburgers in Cream Sauce= $11.04 [6 servings] - Stuffed Mushrooms= $8.29 [12 mushrooms]
There is something so comforting about a 100% beef hamburger covered in a creamy sauce. I could eat this meal at least once a week and never get tired of it. This hamburger made my heart and stomach smile. I'm not going to get into which of Julia's hamburger recipes is better. They are BOTH amazing and would be so happy if either were sitting on my plate.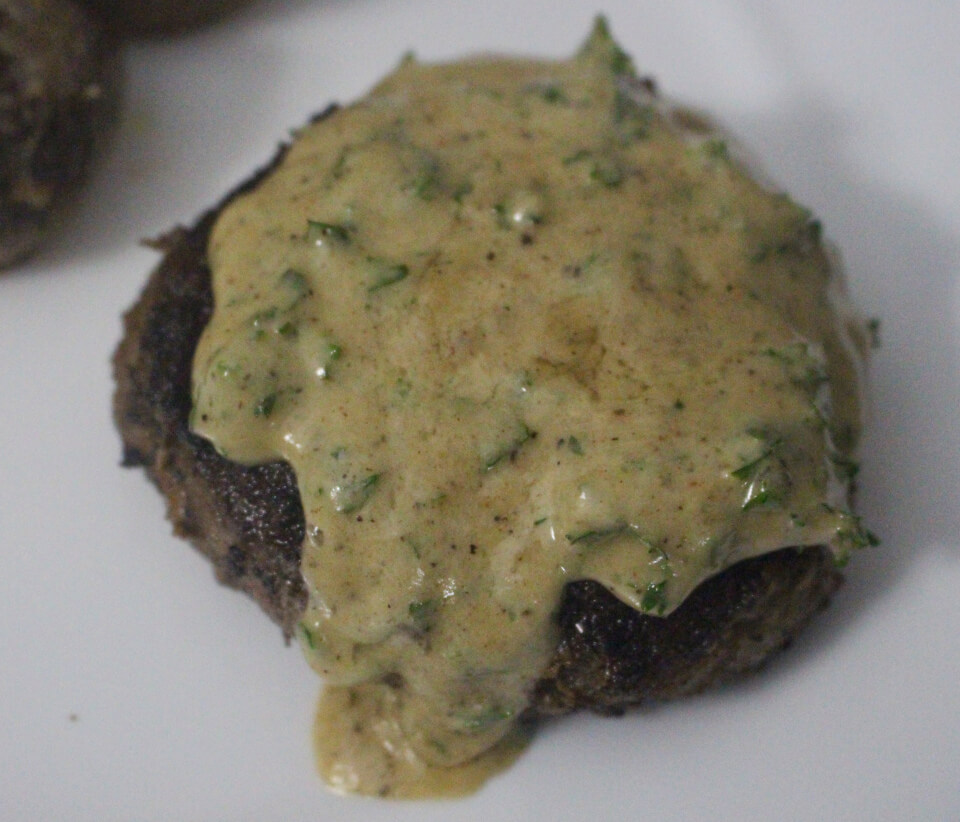 These hamburgers are made and sautéed exactly like the previous recipe. At this point, your kitchen will be overwhelmed by the amazing smells. Hang tight though because the best is yet to come. Once the fat is poured out of the skillet, the beef bouillon is added and reduced to a syrup. Whipping cream is now added and boiled for one or two minutes until it is thickened slightly. The sauce is seasoned with salt, pepper, nutmeg, and lemon juice. Nutmeg is an ingredient that Julia uses quite often which came as a surprise to me. It adds just enough of that spice flavor which works really well with milk-based sauces. Lastly, once off heat, a little bit of butter is swirled into the sauce and minced parsley is stirred in. The sauce is to be poured on top of the hamburger patty so no bun for this recipe. You won't even miss that bun. Trust me! Julia lists many of different butters and sauces that can be used instead. Though I do think that the sauces used in these two hamburger recipes will be hard to beat.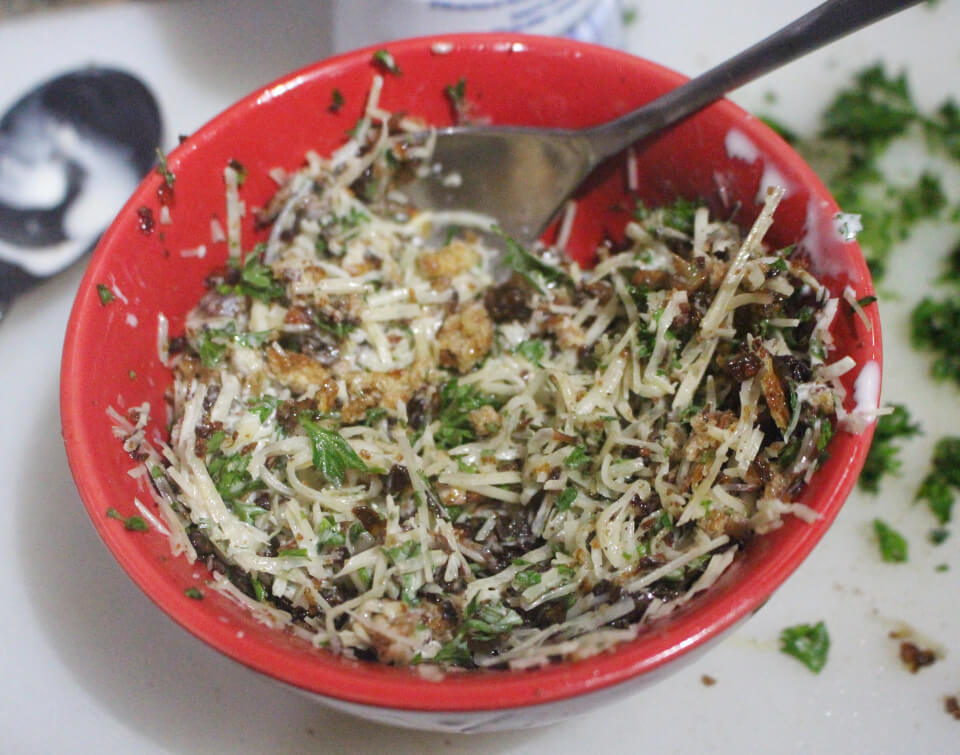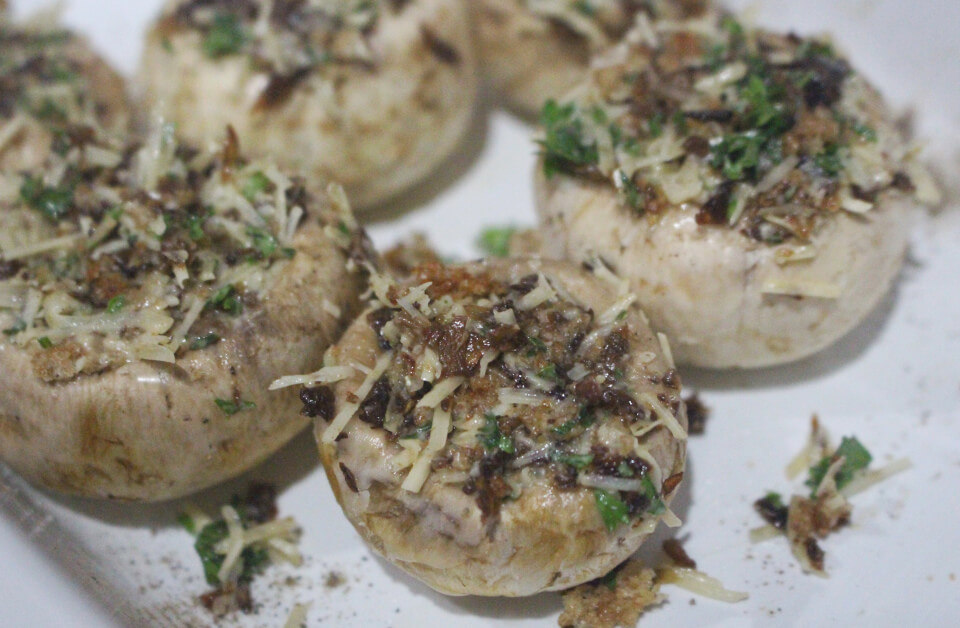 I made stuffed mushrooms to accompany the hamburgers, and they of course were great as well. Mushrooms stuffed with cheese and covered in butter? Yes, please! First, the stems are removed from the caps, and they are brushed with melted butter and sprinkled with salt and pepper. Minced onions are then sautéed for a few minutes in butter and oil. Shallots and the mushroom stems are added to the onions. I decided to put the optional Madeira wine into the onion mix which is boiled down rapidly until it is almost evaporated. Off heat, bread crumbs, Swiss cheese, Parmesan cheese, parsley, tarragon, salt, and pepper are added to the mix. Whipping cream is added spoonfuls at a time. You want the mixture to be creamy but also be able to still hold its shape. Lastly, the mushrooms are filled with the stuffing and topped with cheese and melted butter. They are baked for about 15-20 minutes in a 375-degree oven. They will come out slightly browned and cheesy. These mushrooms are exactly what you want to see on a hors d'oeuvres platter. Perfect for picking up with your hands and eating them in one or two bites. Overall, five out of five stars for both of these recipes. Don't take my word for it, try them for yourself!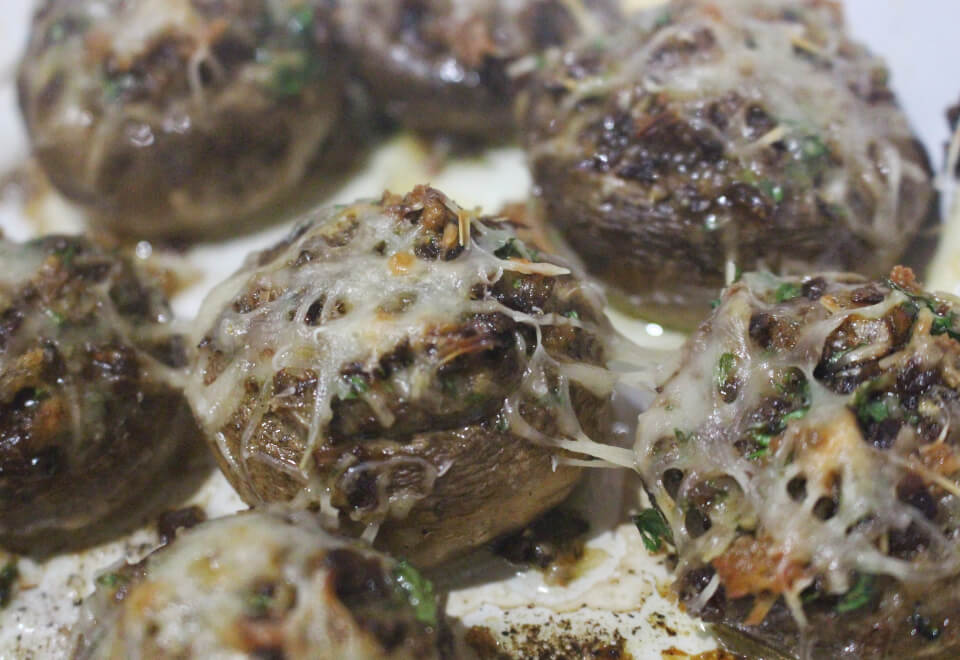 You can find these recipes and all the other Julia Child recipes I make in Mastering the Art of French Cooking
Bon appétit!
April 10, 2020 by Laura Bullock