Minced Braised Beef Served in a Beef Shell
Minced Braised Beef Served in a Beef Shell
June 24, 2020 | Updated August 15, 2022 | Laura
*This post may contain affiliate sales links. Please see full disclosure policy for details.
*The views expressed on this blog are my own.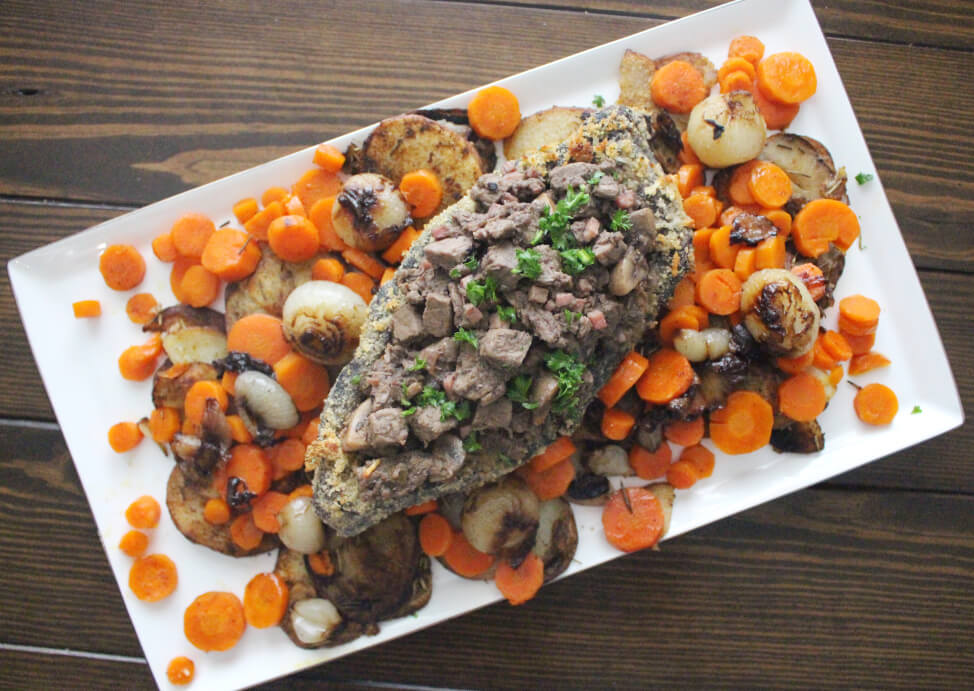 ✽ Recipe from Mastering the Art of French Cooking, Vol. I | Julia Child ✽
Julia Child Recipes 119-120 | 408 recipes to go!
✽ Minced Braised Beef Served in a Beef Shell [Piéce de Boeuf à la Cuillére], p. 313
✽ Brown-braised Onions [Oignons Glacés à Brun], p. 483
__________________________________
✽ Mastering the Art of French Cooking, Vol. I was written by Julia Child who co-authored with Simone Beck & Louisette Bertholle and was published by Alfred A. Knopf in 1961.
✽ You can buy Julia Child's Mastering the Art of French Cooking, Volume I which contains these recipes here. (affiliate link)
The purpose of this Julia Child section of my blog is to document my journey of learning how to cook. To show my successes, my failures, and what I learned along the way.
Since I didn't create these recipes (if only!), I do not post exact amounts of ingredients or word-for-word instructions. If any of these recipes spark your interest, I highly recommend you buy Julia Child's Mastering the Art of French Cooking (affiliate link). It's a great investment and learning tool and contains hundreds of classic recipes.
I hope that you enjoy reading my thoughts, learn something new, and leave inspired to try a new recipe. Bon appétit!
__________________________________
Butter Count & Cost: Roast Leg of Lamb
✽ Butter Count: +15 TB
✽ Cost: $72.90 [~$6.63 per serving]
Check out the total Julia Child butter count & cost here!
→ Looking for a different Julia Child recipe? Here's a list of all of the completed and pending Mastering the Art of French Cooking recipes!
Brace yourself for this recipe.
My husband said that this was his favorite Julia recipe so far hands-down. I mean how can you go wrong with beef braised in red wine served in a parmesan-crusted beef shell?
The entire beef is braised and then the center is cut out. The center is then chopped up and mixed with sautéed mushrooms, ham, and the braising sauce. It is all returned to the shell to serve. It is all surrounded by carrots, sautéed potatoes, and braised onions.
Overall, this is an amazing dinner that makes an incredible presentation. I am expecting my husband to keep requesting it.
Piéce de Boeuf à la Cuillére: Questions
✽ What is the best cut of beef to use for this recipe?
The cookbook explains that usually braising beef is larded. This means that there is pieces of pork fat inserted into the beef. The fat bastes the inside of the beef while it cooks and also leaves a pretty design when the beef is cut.
As wonderful as that sounds, I had no idea how to even begin that process so I didn't take the recommendation. Though, I'm sure it is amazing and hope to try it one day.
The best cut of beef for this recipe would be rump pot roast. You could also use chuck pot roast, top round, bottom round. or eye of round.
The most important thing is to make sure the beef weighs at least 5 pounds to ensure that it is big enough to make a beef shell that is 5 inches wide and 5 inches deep.
✽ Is this recipe difficult to make?
I wouldn't say that it is the most difficult recipe to make, but it isn't the simplest recipe either. It takes some time and some patience.
Cutting the beef shell out was a little tricky, but the comforting part about it is the shell will be covered in Parmesan cheese and the inside will be filled with so much goodness that most of the mistakes you may make will be hidden.
✽ What sides should you serve with braised beef?
This beef should be surrounded on the platter by vegetables like braised onions, braised carrots, and sauteed potatoes. These vegetables not only taste so delicious with the beef, but they also make the platter presentation beautiful.
Julia also suggests serving with baked tomatoes, and green beans or braised lettuce.
For wine, you want to go with a good red wine such as a Burgundy.
Looking for more Julia Child beef recipes to read about?
→ Check out all of the meat recipes that I've completed so far!
Fun Braised Beef Facts
✽ What is braising?
According to Food52, back in the mid-nineteenth century, braising meant anything that was cooked with hot coals. When gas and electricity came to be, the defintion of braising changed. Now, braising refers to meat (or vegetables) being cooked in hot oil prior to being cooked in liquid.
✽ What can you braise?
Pretty much any cut of meat or vegetable! You can also use any type of liquid during the braising process such as wine, juice, stock, milk, or vinegar.
✽ What does braising do?
Braising is going to give you a super flavorful and tender piece of meat. Even when cooking a tough cut of beef, you will end up with a very tender result.
Braising essentially tenderizes the meat by dissolving the collagen and connective tissues into gelatin. You'll end up with a delicious cut of meat and then an amazing gravy to pour on top!
For this recipe:
*Some of these ingredient links may be affiliate links. As an Amazon Associate I earn from qualifying purchases.*
How to Make Minced Braised Beef Served in a Beef Shell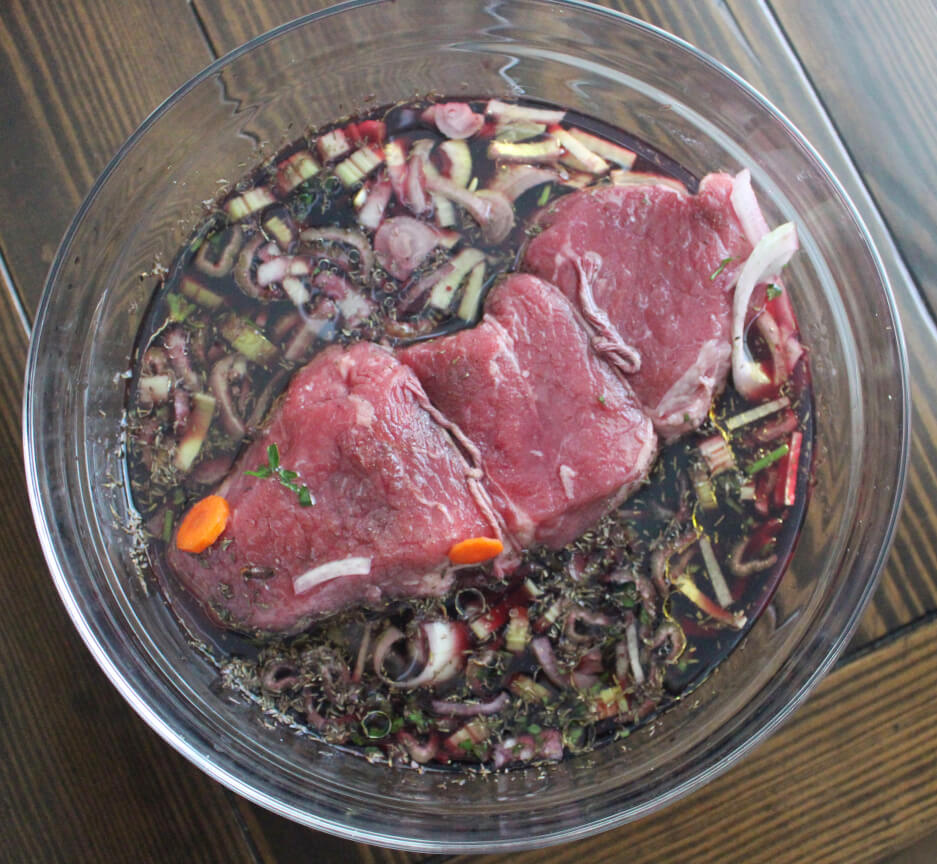 ✽ Step 1: Marinate the Beef
The beef is first marinated in red wine, brandy, olive oil, seasonings, and aromatic vegetables. Of course, the longer the beef gets to marinate, the more flavor this dish will have.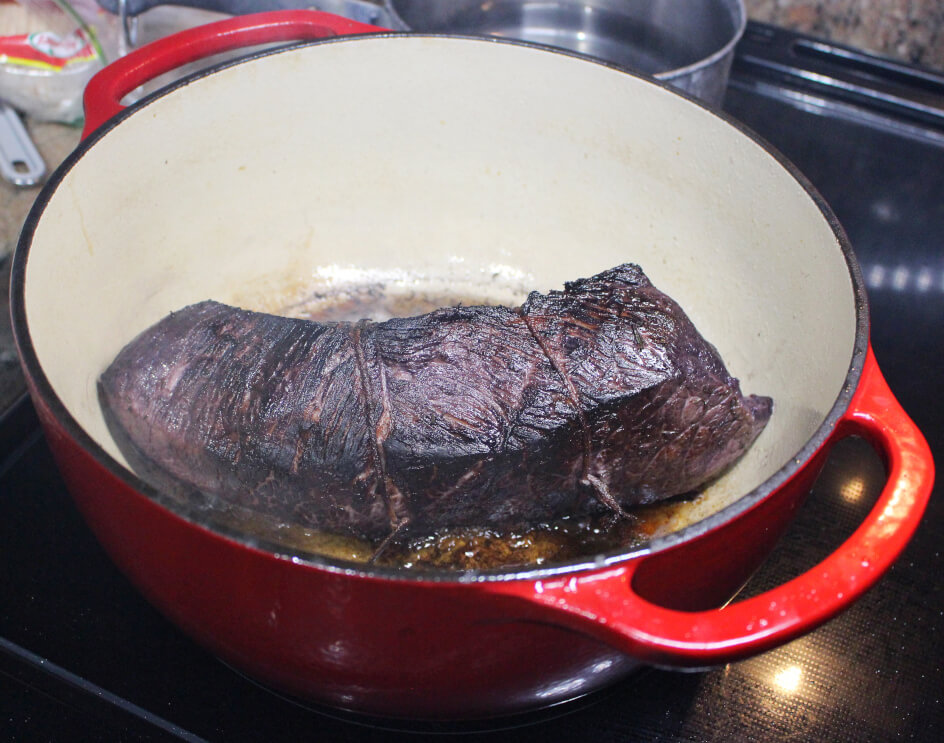 ✽ Step 2: Braise the Beef
The beef is then braised in the exact same manner as the previous recipe- Beef Braised in Red Wine. The beef is seared in hot oil, red wine is added, and it's all simmered in the oven for about 3 hours.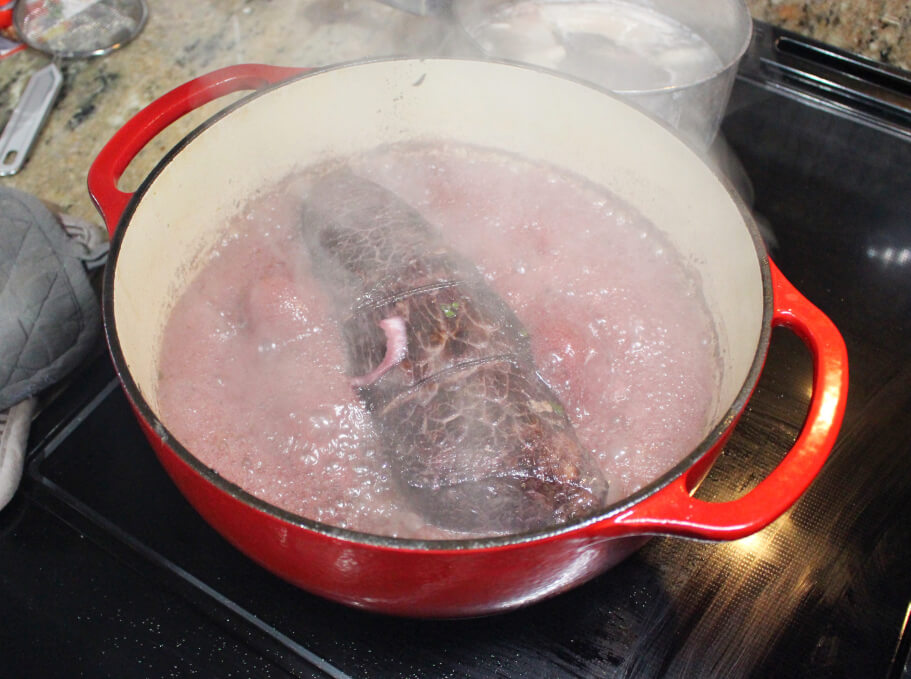 ✽ Step 3: Make the Beef Shell
Once removed from the oven, a two-pound weight is set on top of the meat in order to preserve its shape while it cools. The meat is hollowed out in order to form a shell. I personally like to call it a meat canoe because mine looked like a boat!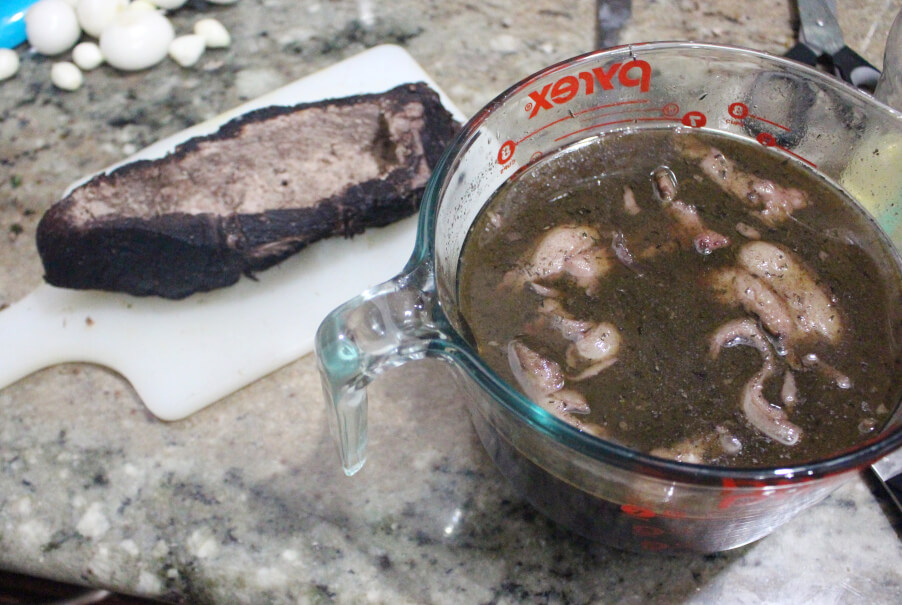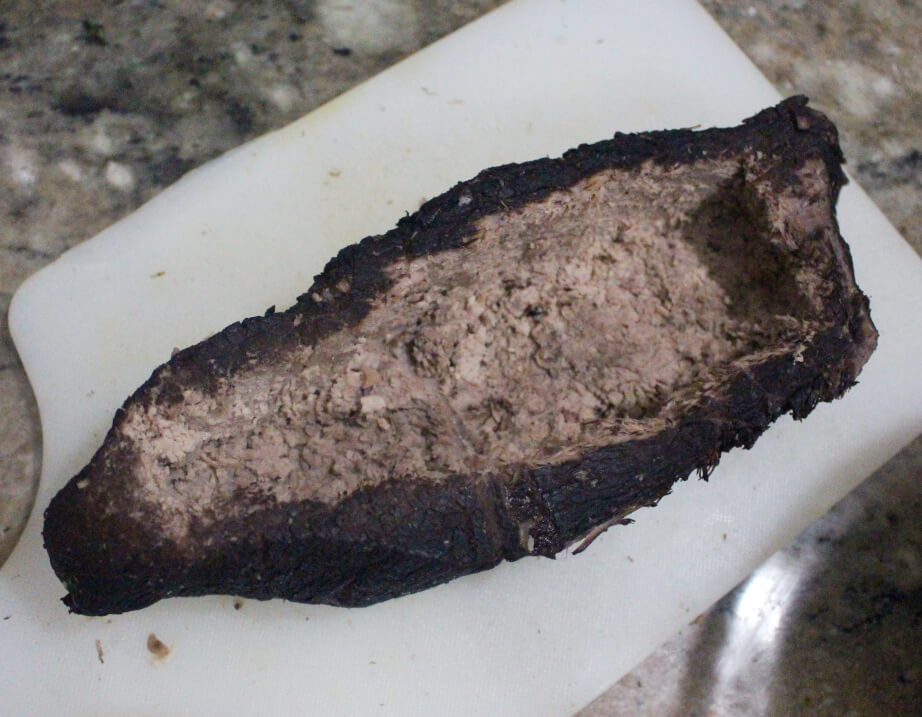 ✽ Step 4: Make the Mushroom and Ham Filling
Mushrooms are sautéed with oil, butter, and green onions. These mushrooms are one of my favorite things! The mushrooms, boiled ham, some of the braising juices are added to the chopped beef that was removed from the center. It is all covered and simmered for a few minutes, filmed with butter, and set aside until later.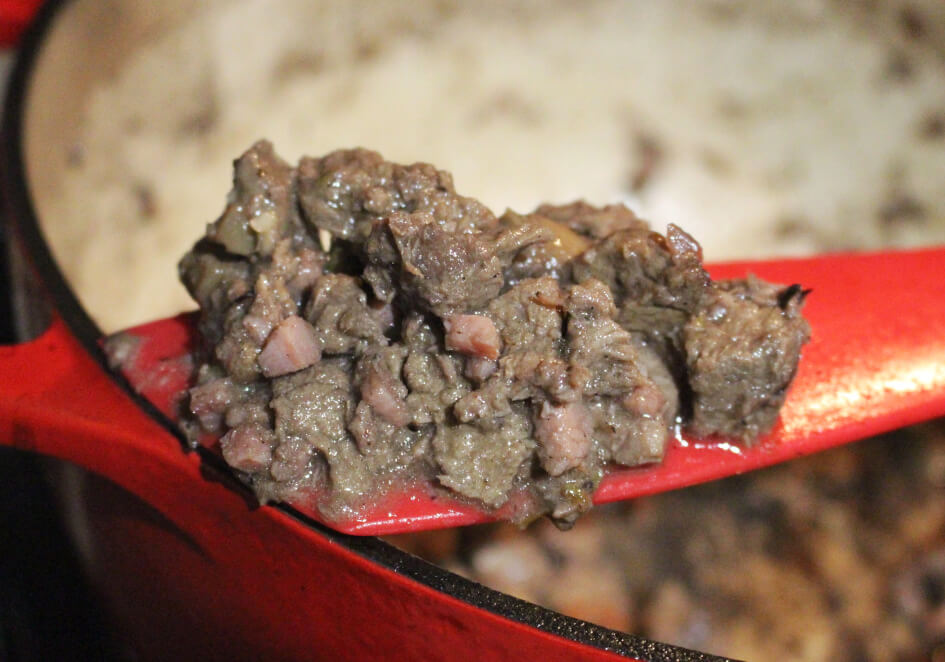 ✽ Step 5: Parmesan Crust
An egg wash is brushed onto the beef shell, and it is covered with bread crumbs and Parmesan cheese. This made the beef taste AMAZING.
However, I had such trouble getting it all to stick to the meat. I actually was only able to use about half of the amount of bread crumbs which was a bummer.
The shell is sprinkled with melted butter and placed in the fridge until needed. Up until this point, this recipe can be completed a day in advance making it a wonderful option for a dinner party!
✽ Step 6: Brown the Shell
Ten minutes before serving, the shell is placed into a hot oven to melt the cheese and brown the bread crumbs. The filling, sauce, and vegetables are reheated.
✽ Step 7: Make Garnish
The suggested vegetables include braised onions, braised carrots, and sautéed potatoes. You can also serve with baked tomatoes, green beans, and braised lettuce, but I think the first option is far superior.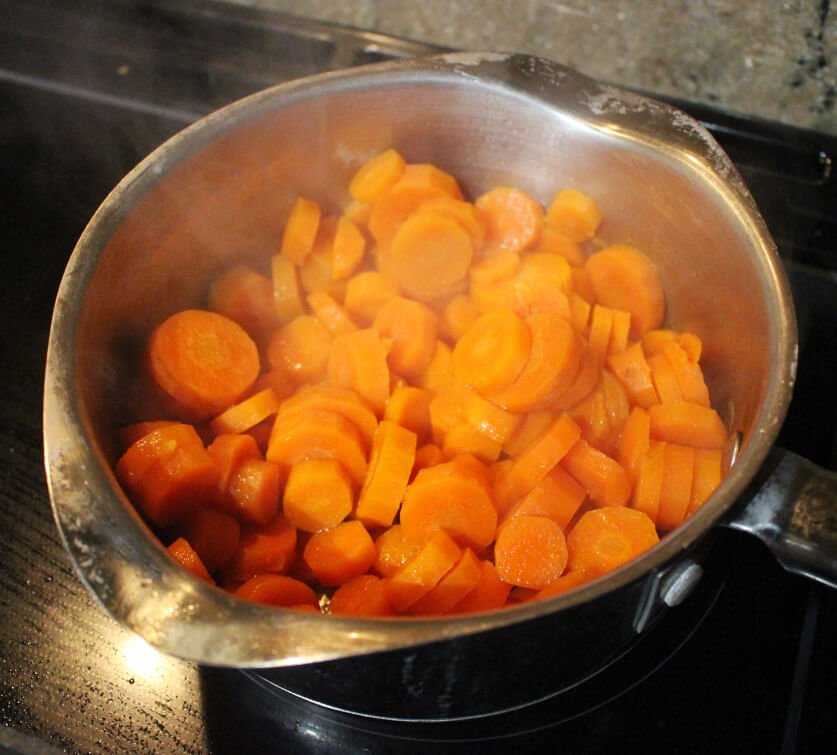 The carrots are braised in butter.
The small white onions are first sautéed in butter and oil for about ten minutes. Some beef stock, seasonings, and an herb bouquet are added, and it is all simmered for about an hour until the liquid has evaporated.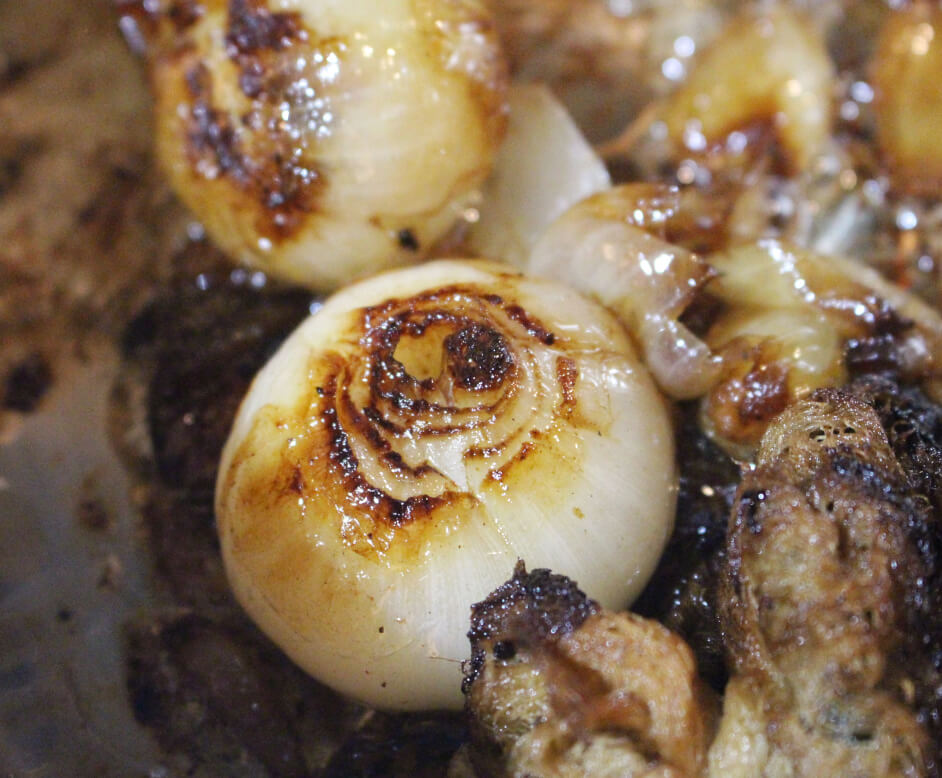 ✽ Step 8: Fill the Shell and Plate
The beef shell is filled with the mushroom mixture and topped with parsley. The vegetables surround it all while the sauce is passed separately.
Mmmmhmmm! Delicious! This may find itself in the top ten list.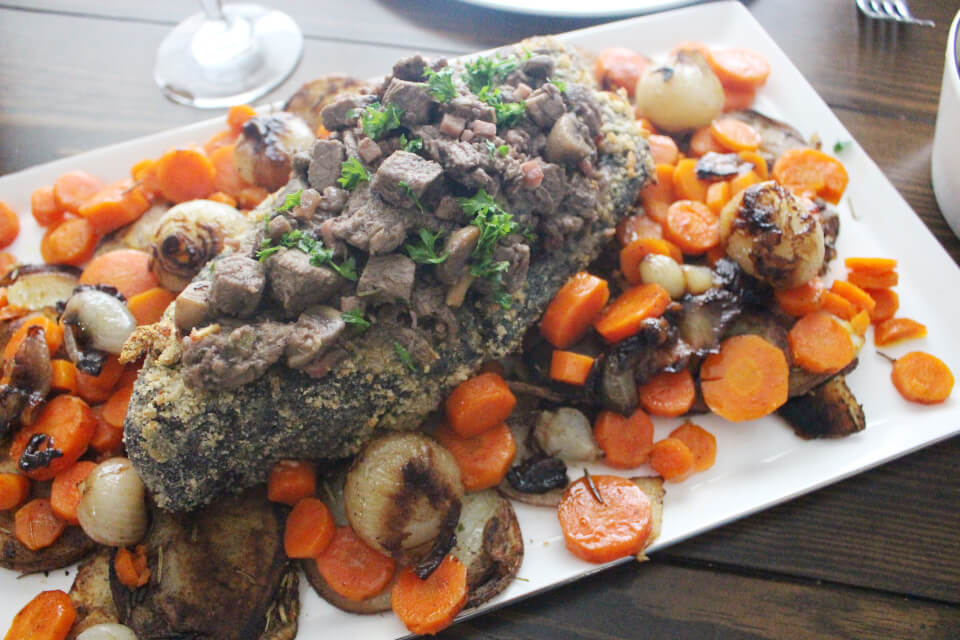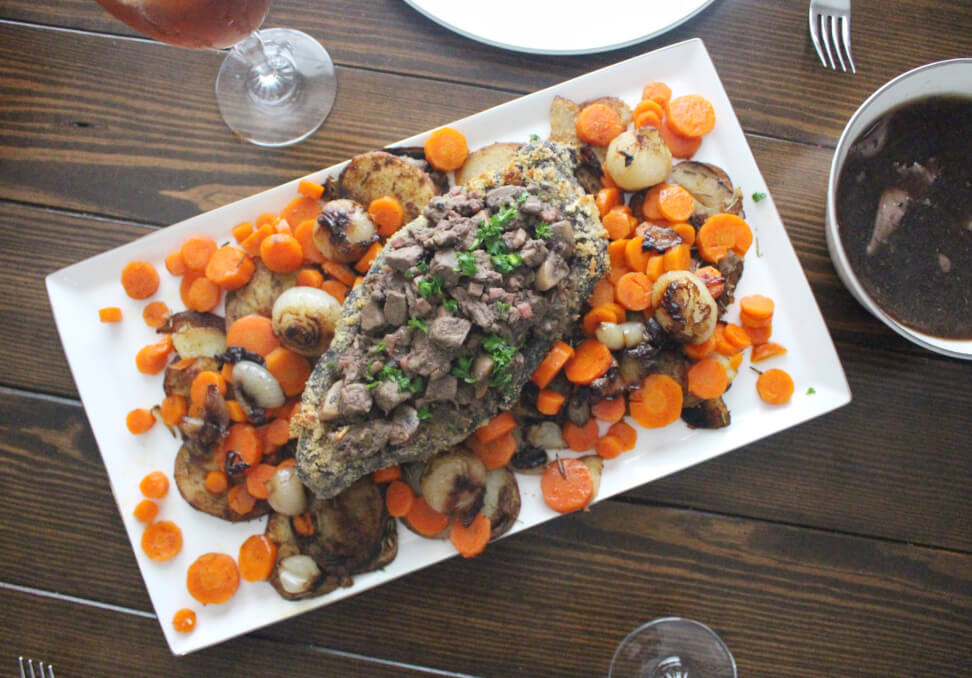 *This blog, Laura The Gastronaut, and this post were/are not endorsed or supported by Julia Child or The Julia Child Foundation.

Category: Julia Child, Meat Cuisine: French
Keywords: boeuf a la cuillere, brown braised onions, braised minced beef, french braised beef, shell of beef, julia child pot roast recipe
✽ Did you make this recipe too?
→ Let me know by leaving a comment below and sharing on Instagram. Tag @laurathegastronaut and hashtag it #laurathegastronaut.
More Beef Recipes:
✽ Beef Stew with Rice, Onions, and Tomatoes (this beef stew is so delicious and pretty quick to make)
✽ Braised Stuffed Beef Rolls (another fabulous stuffed beef recipe)
✽ Beouf Bourguignon (this beef recipe is a classic for a reason- so delicious) br>→ Check out all of the completed Julia Child meat recipes!
✽ You can find this recipe and all the other Julia Child recipes I make in Mastering the Art of French Cooking, Volume I (affiliate link).
→ Mastering the Art of French Cooking, Vol. I was written by Julia Child who co-authored with Simone Beck & Louisette Bertholle and was published by Alfred A. Knopf in 1961.
✽ Check out my Julia Child Recipe Checklist to see a list of all my completed and pending recipes from Mastering the Art of French Cooking!
Bon appétit!
June 24, 2020 by Laura Ehlers
*This Minced Braised Beef Served in a Beef Shell blog post may contain some Amazon affiliate links. These link to products that I personally use and recommend. If you purchase anything using my links, it will not cost you anything. It will though give laurathegastronaut.com some financial support which helps me keep this blog running. Thank you for reading my blogs and your continued support.