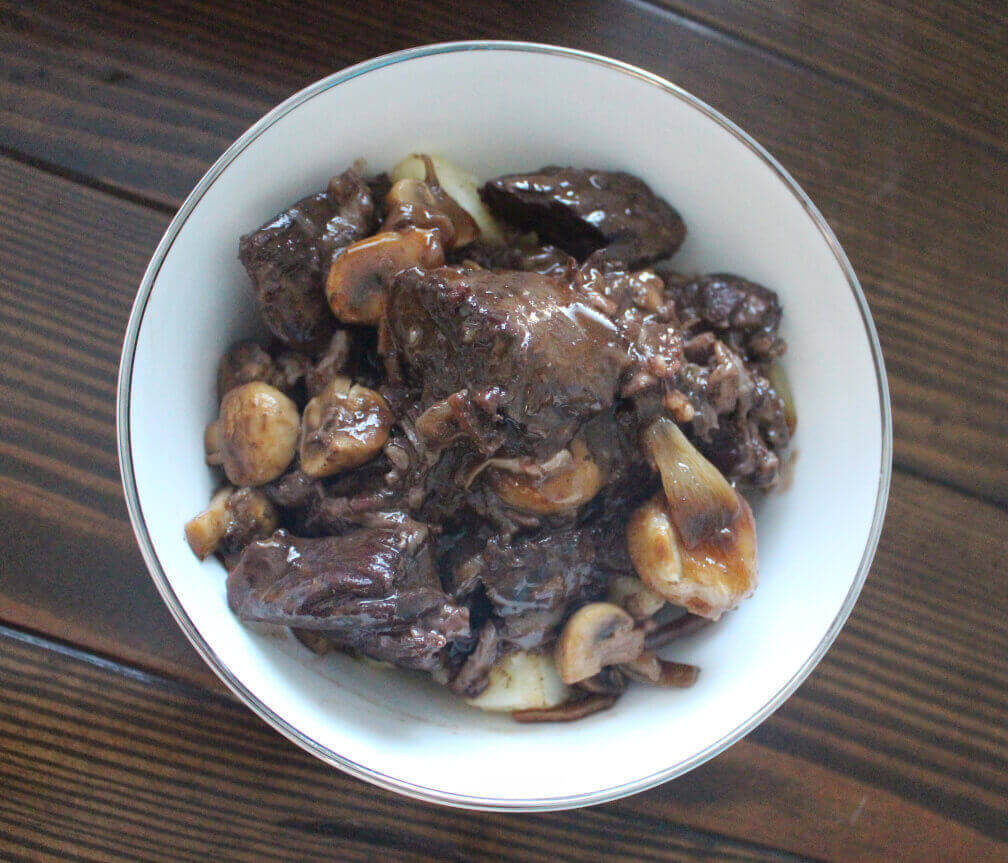 Mastering the Art of French Cooking | Julia Child
Recipe 124
- Boeuf Bourguignon/ Boeuf à la Bourguignonne [Beef Stew in Red Wine, with Bacon, Onions, and Mushrooms], p. 315
You can buy Julia Child's Mastering the Art of French Cooking which contains this recipe here.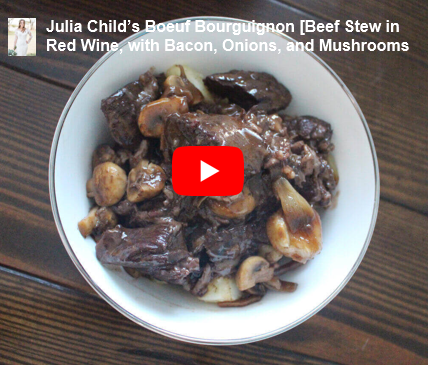 You can watch me make this recipe for the first time on my YouTube channel here.
Butter Count: +0 TB
Cost: $37.86 [~$6.31 per serving]
Well, I finally made it to the very much anticipated Beef Bourguignon. I've been waiting for this recipe since day one of this journey. I've scrolled past a countless number of other people's pictures of their beef bourguignon. I've spent the last year and a half drooling over those pictures. Now finally my Dutch oven is filled with my very own, and my kitchen smells like a winery. Oh what a wonderful thing. Before I get into the recipe, let me say that this dish is so worth the hype. I usually do not like to give into popular trends. I find myself overcome with joy when I discover a super delicious "unpopular" recipe within this book. However, I can't lie. Beef Bourguignon deserves all the medals and awards. If you haven't decided if you want to commit a whole afternoon cooking this recipe, just do it. The outcome is worth every second. Side note- I toast my glass to all of you talented people out there that can make this dish look like more than just a plop of beef and gravy in a bowl. Trust me, it tastes 20x better than any picture could ever make you believe! Julia describes it as "one of the most delicious beef dishes concocted by man."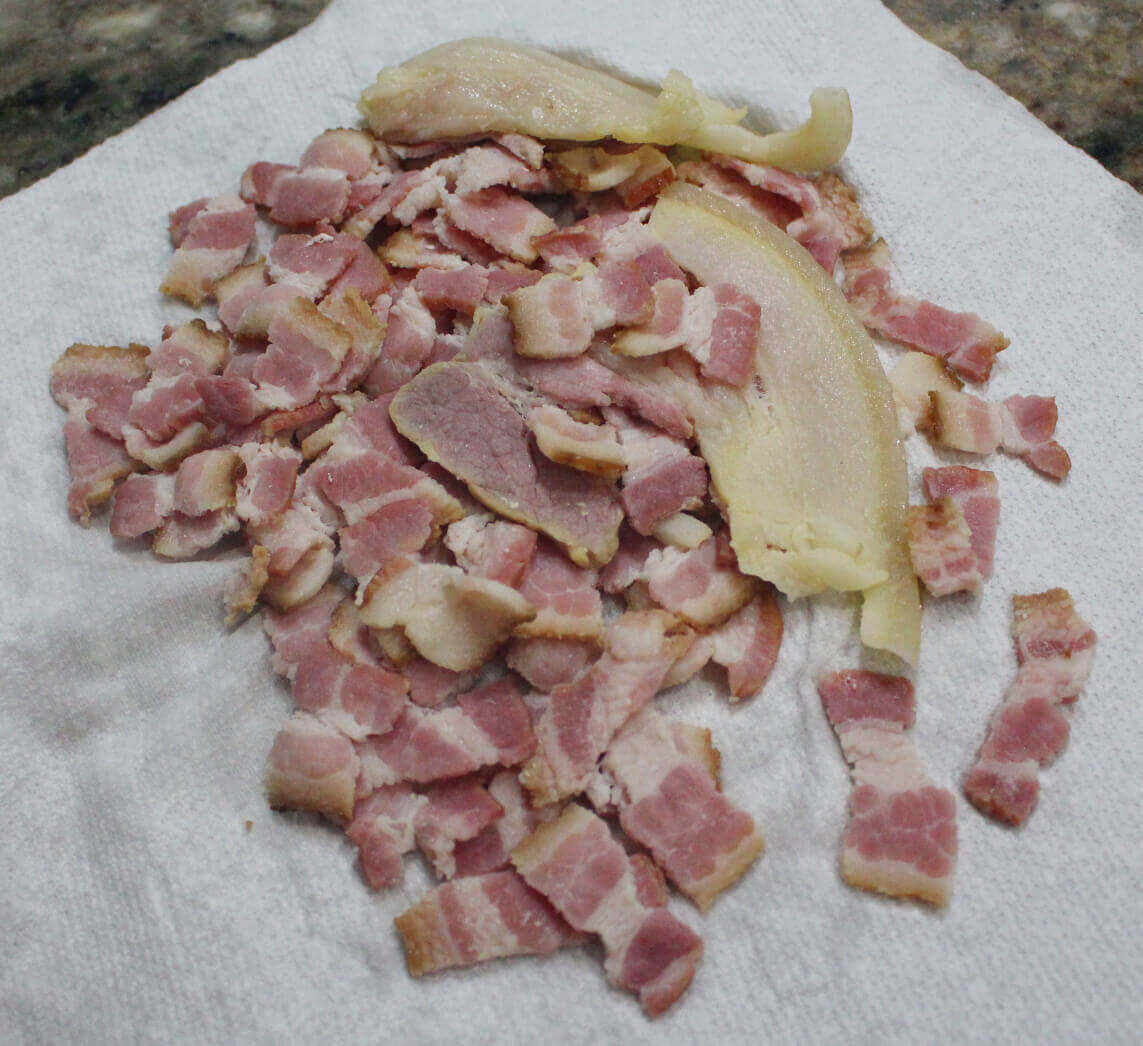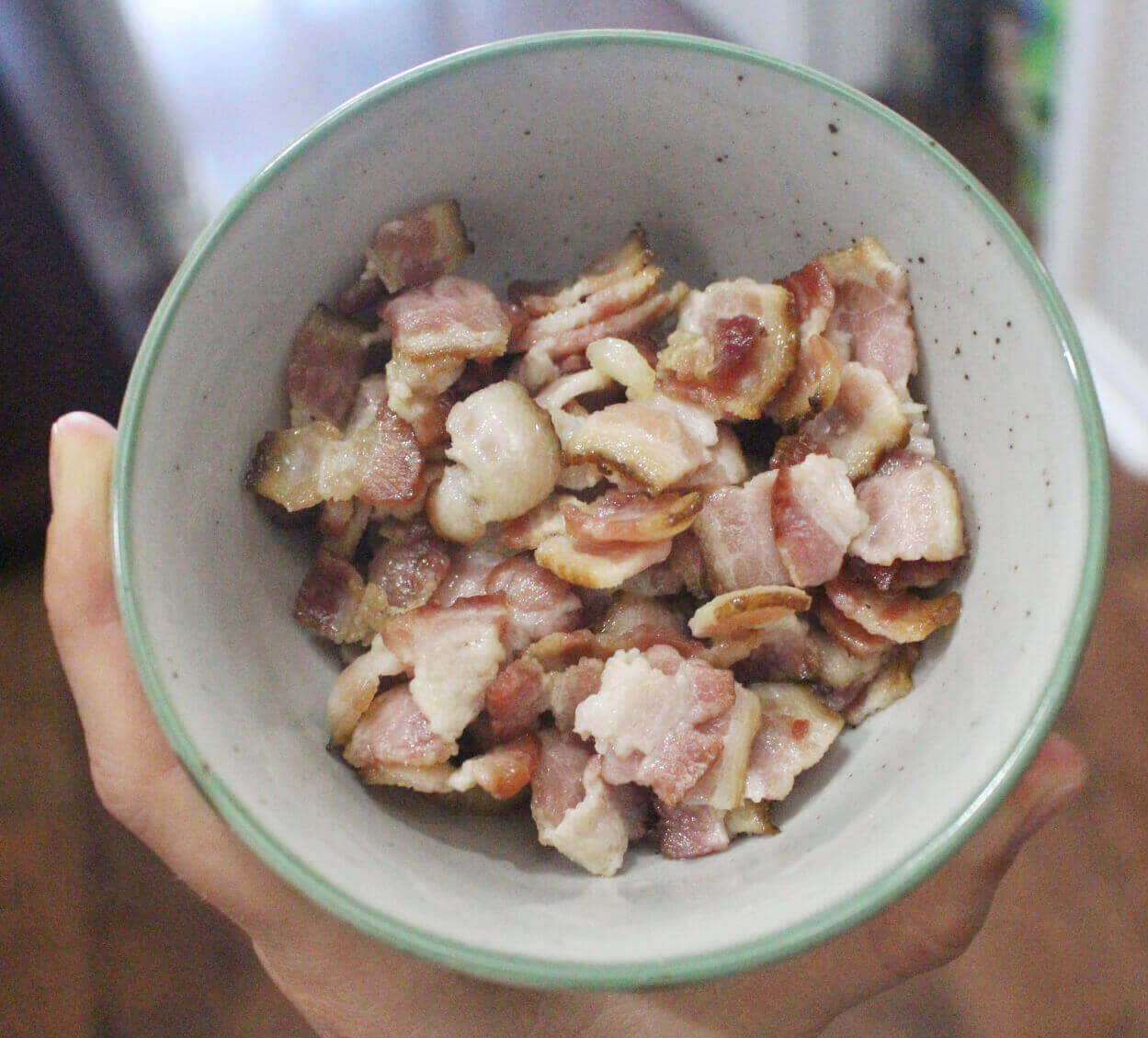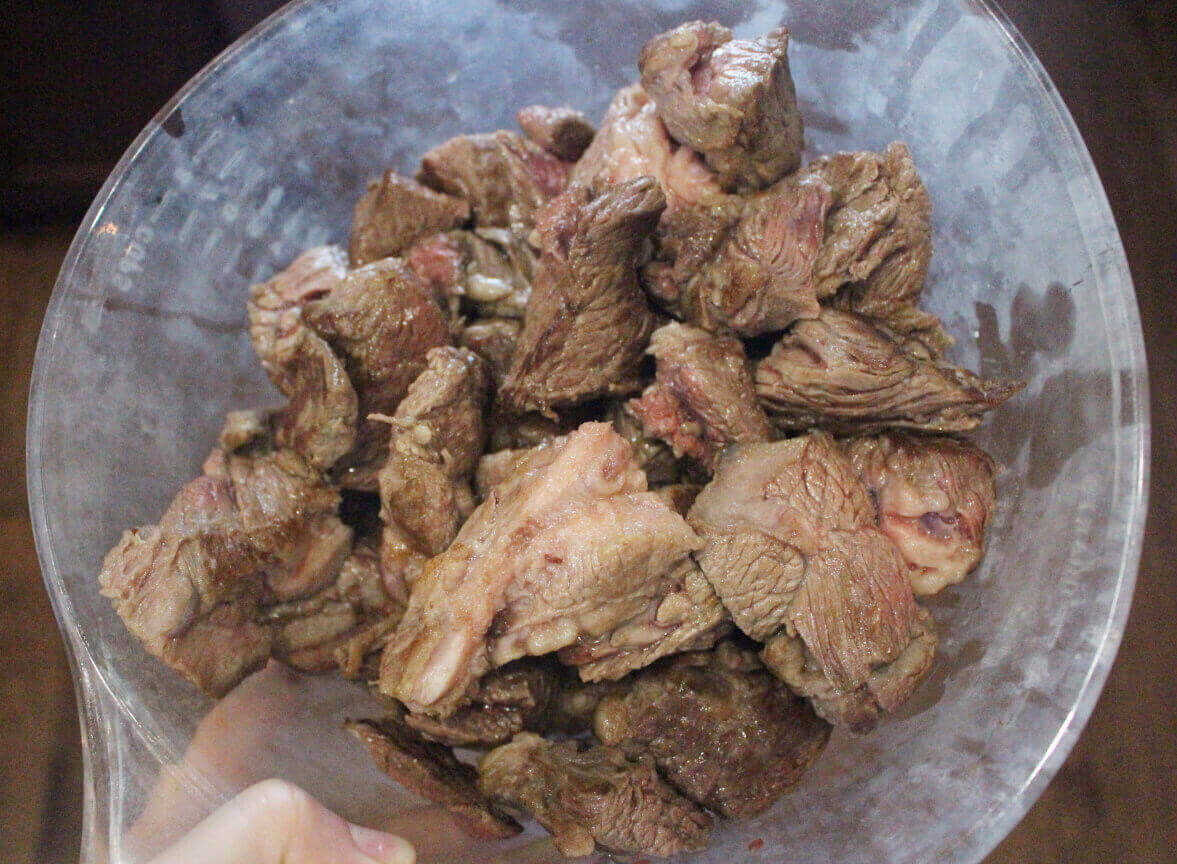 As with any Julia recipe that contains bacon, we begin by simmering the cut bacon for ten minutes in water. The bacon is then sautéed in oil for a couple minutes to brown and removed to a side dish. The bacon grease leftover is what the cubes of beef will be sautéed in. Once all sides of the all the beef are browned, they are added to the bacon. In the same fat, a sliced carrot and onion are browned.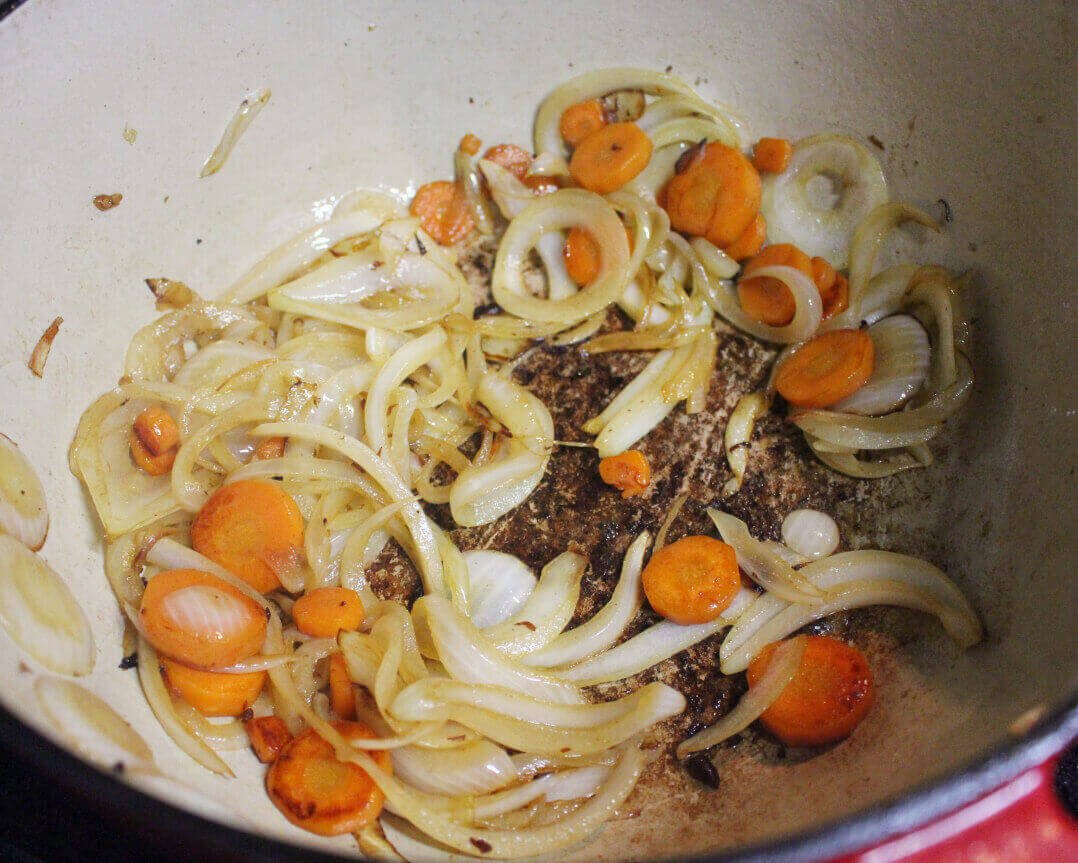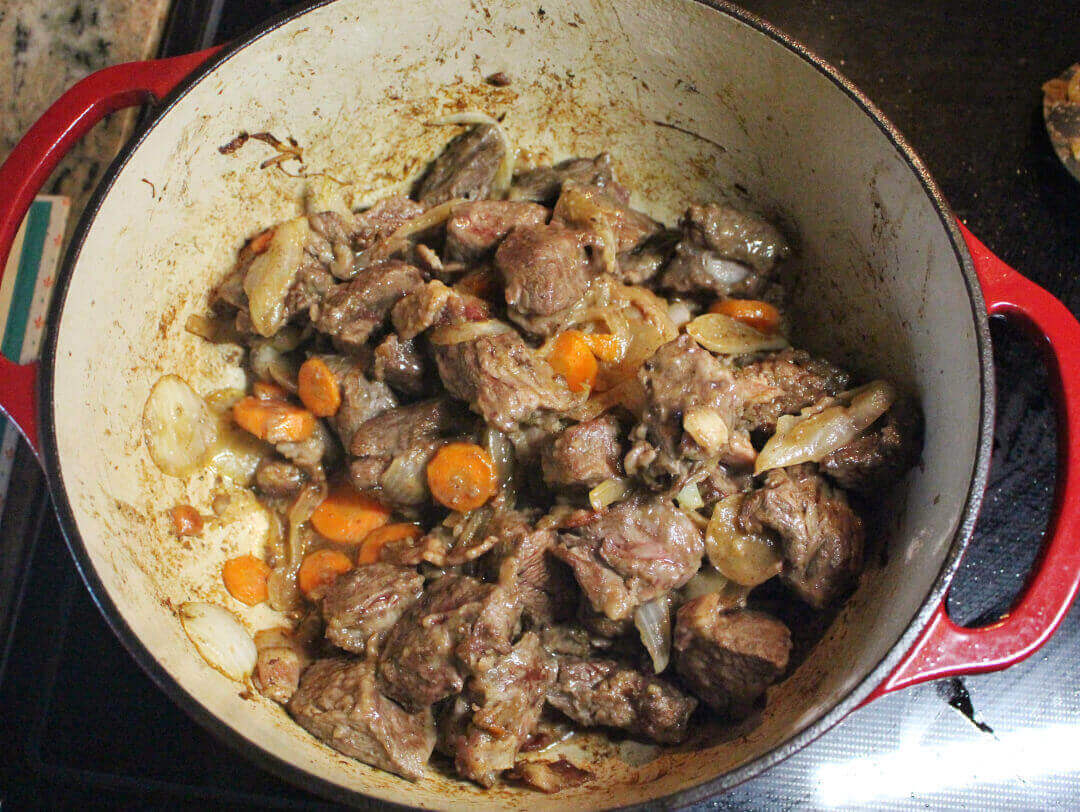 Once everything has sautéed, the fat is removed, everything is added back into the casserole, and seasoned with salt and pepper. It is all tossed with a couple tablespoons of flour and put into a 450-degree oven for four minutes. It is tossed once again and returned to the oven for another four minutes. This step will give the beef a nice crust so don't want to skip this step!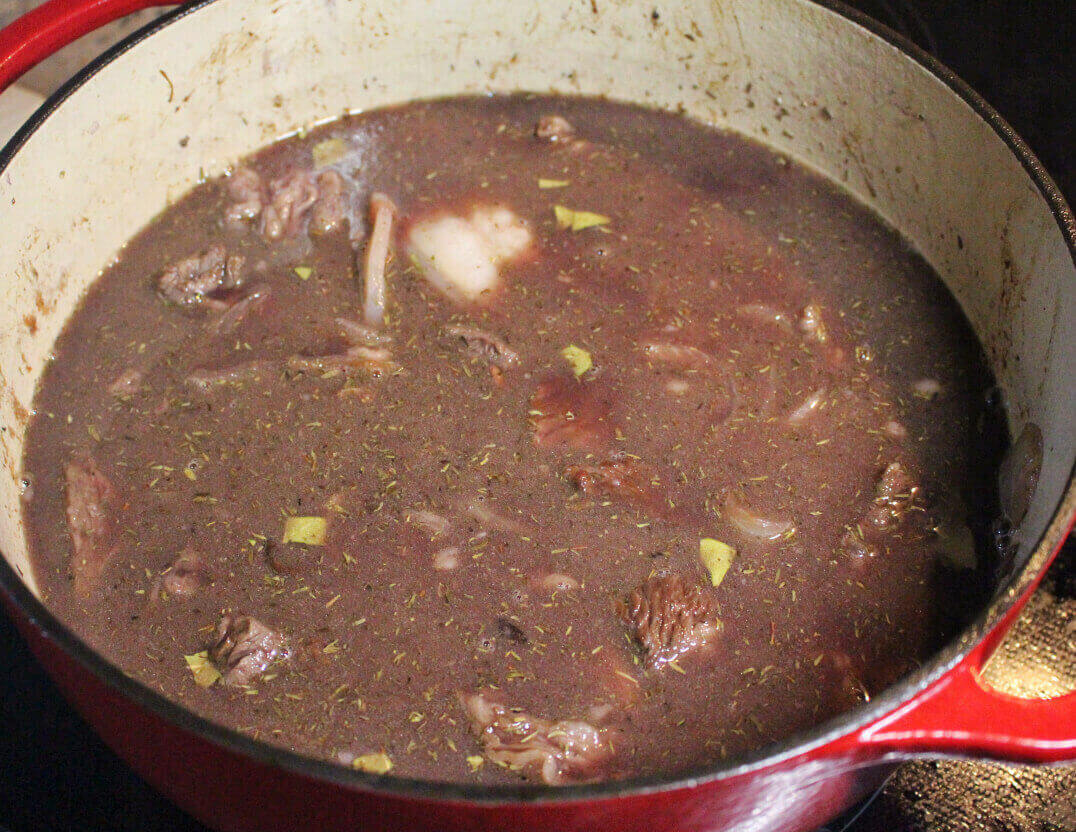 Wine and beef bouillon are added to barely cover everything. Tomato paste, garlic cloves, thyme, a crumbled bay leaf, and blanched bacon rind are added. It is all brought to a simmer, covered, and set into a 325-degree oven for about 2 ½ hours. At this point, your kitchen will smell like a winery. And if you're anything like me, you've had a couple glasses of wine yourself. Turn on some French music and embrace everything that is going on around you.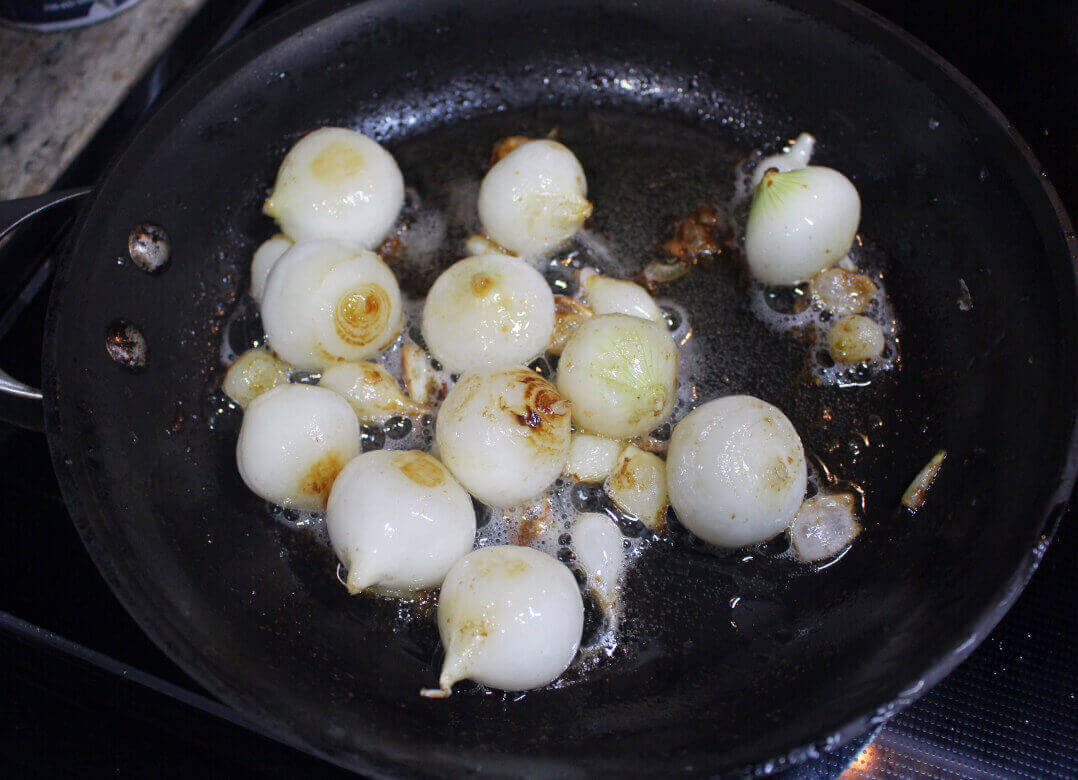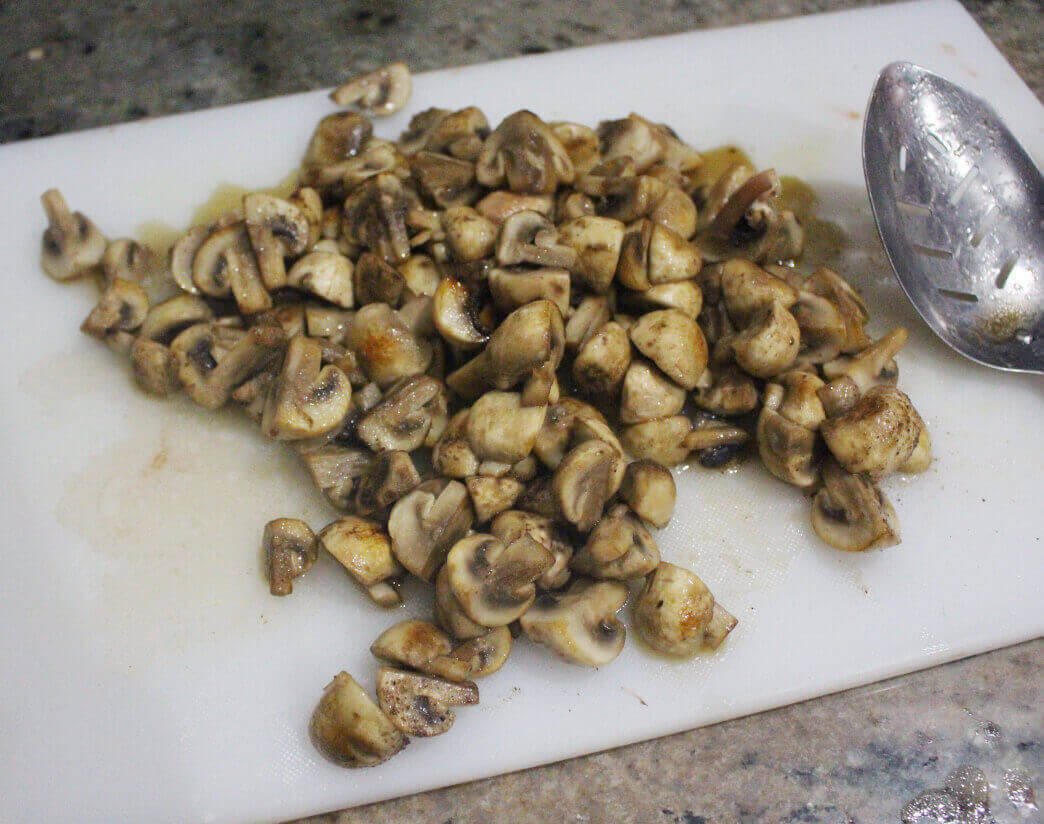 The onions are prepared the same way as in the minced braised beef served in a beef shell and the mushrooms are sautéed in butter.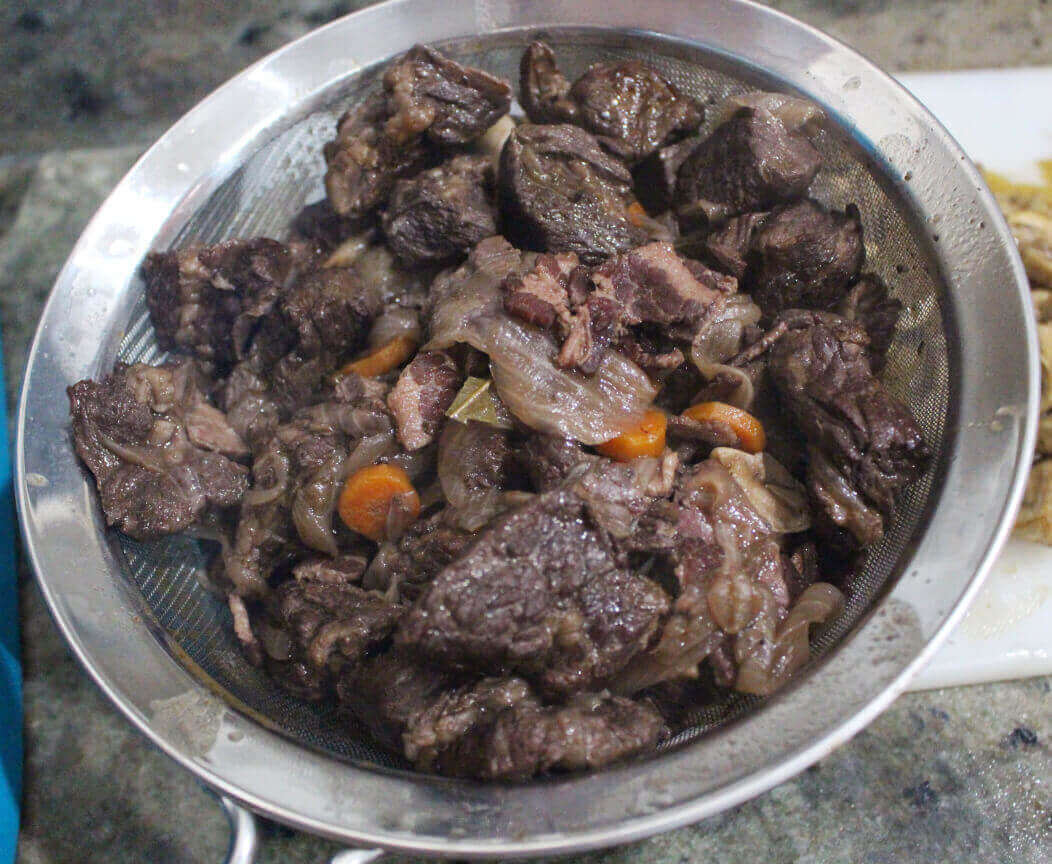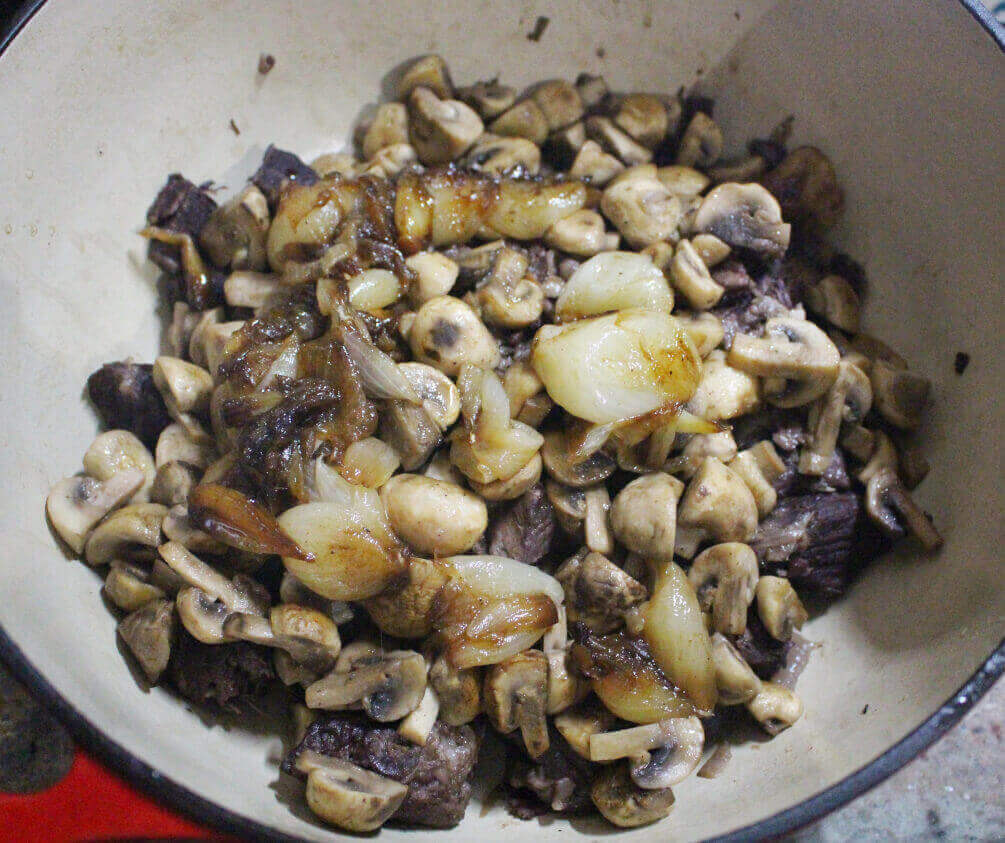 Once the meat is tender, everything is poured into a sieve set over a saucepan. The casserole is washed out and only the beef and bacon are added back. The onions and mushrooms are distributed over the meat.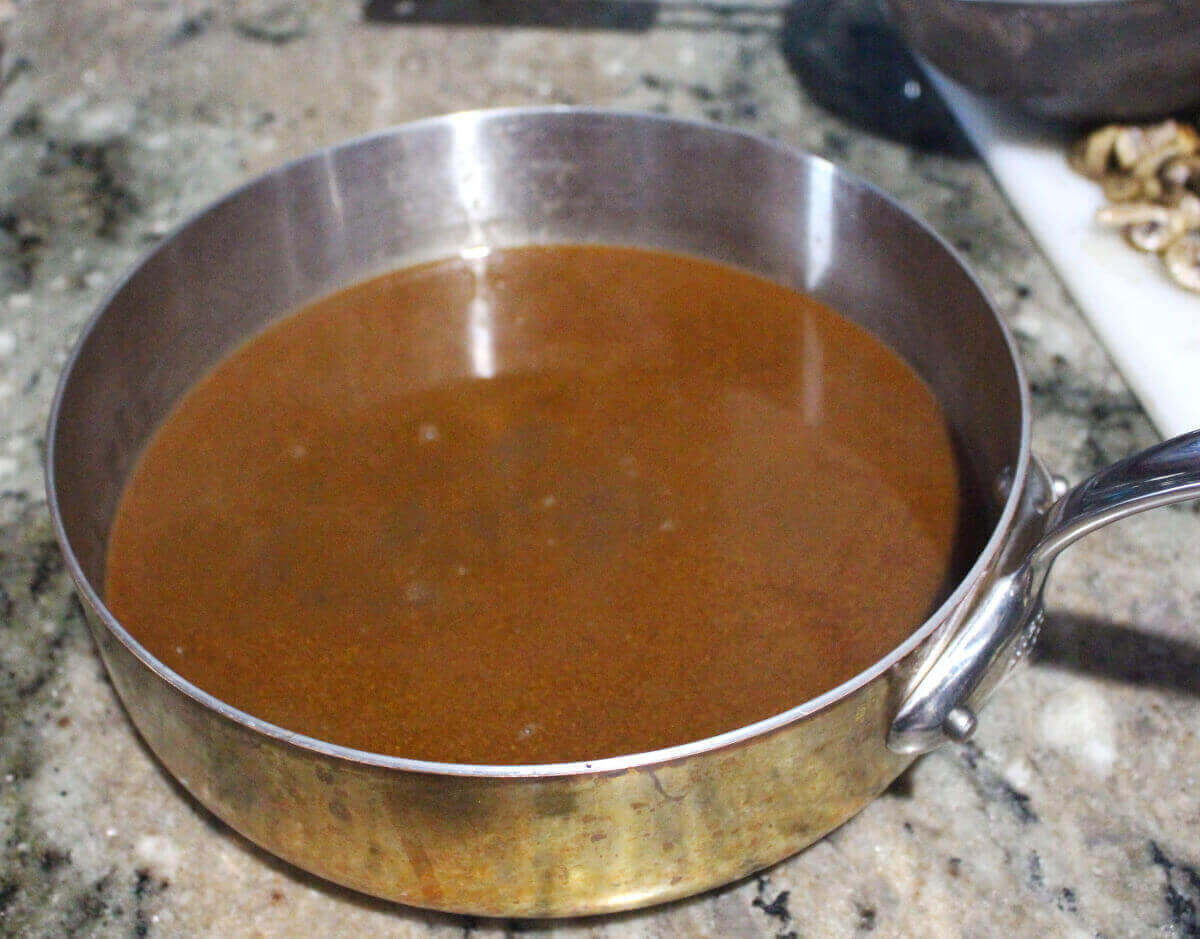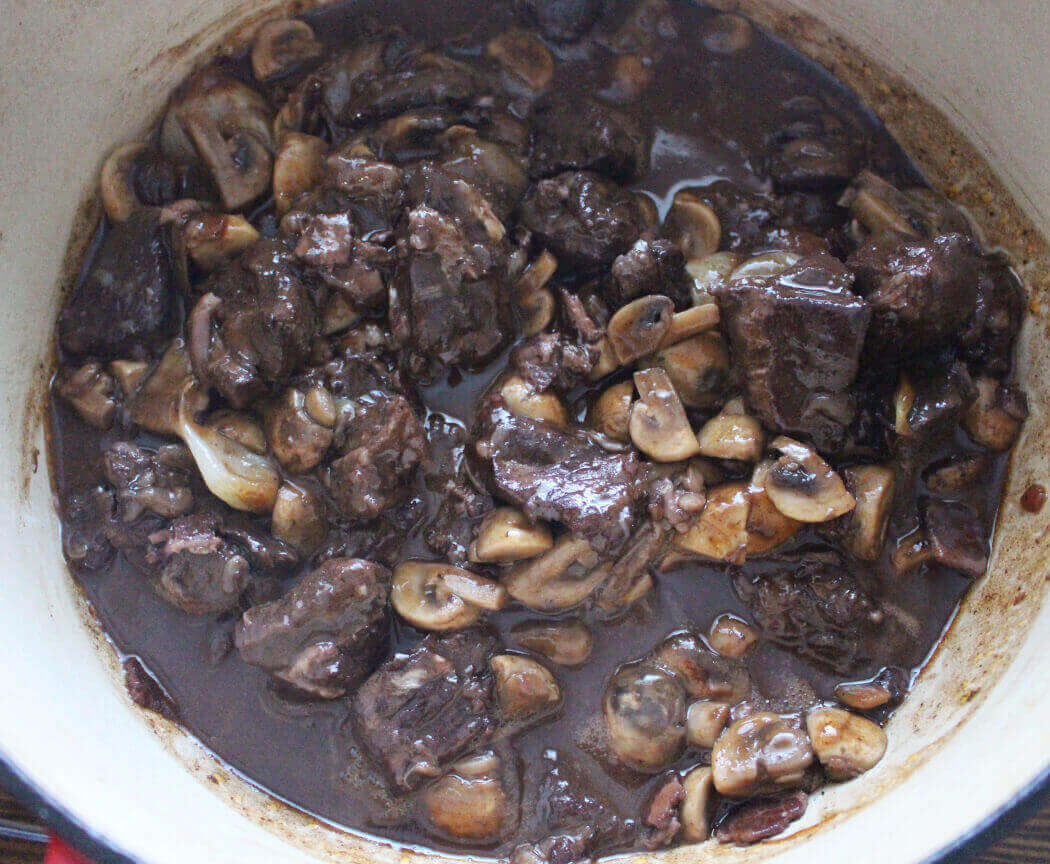 The sauce is skimmed of fat and simmered for a couple minutes. My sauce was too thin so I rapidly boiled it down until it was able to coat the back of a spoon. Lastly, that delicious sauce is poured over the meat and you are ready to serve it. The great thing about this recipe is that you can actually serve it at a later time. You just have to reheat it on the stove for about ten minutes. Actually, the leftovers were so much more flavorful because everything had time to marry each other in the fridge. I served my beef bourguignon with boiled potatoes because Julia says that is how the dish was traditionally served. It would also go well with buttered noodles, rice, or mashed potatoes. Overall, this is a classic for a reason. Go make it!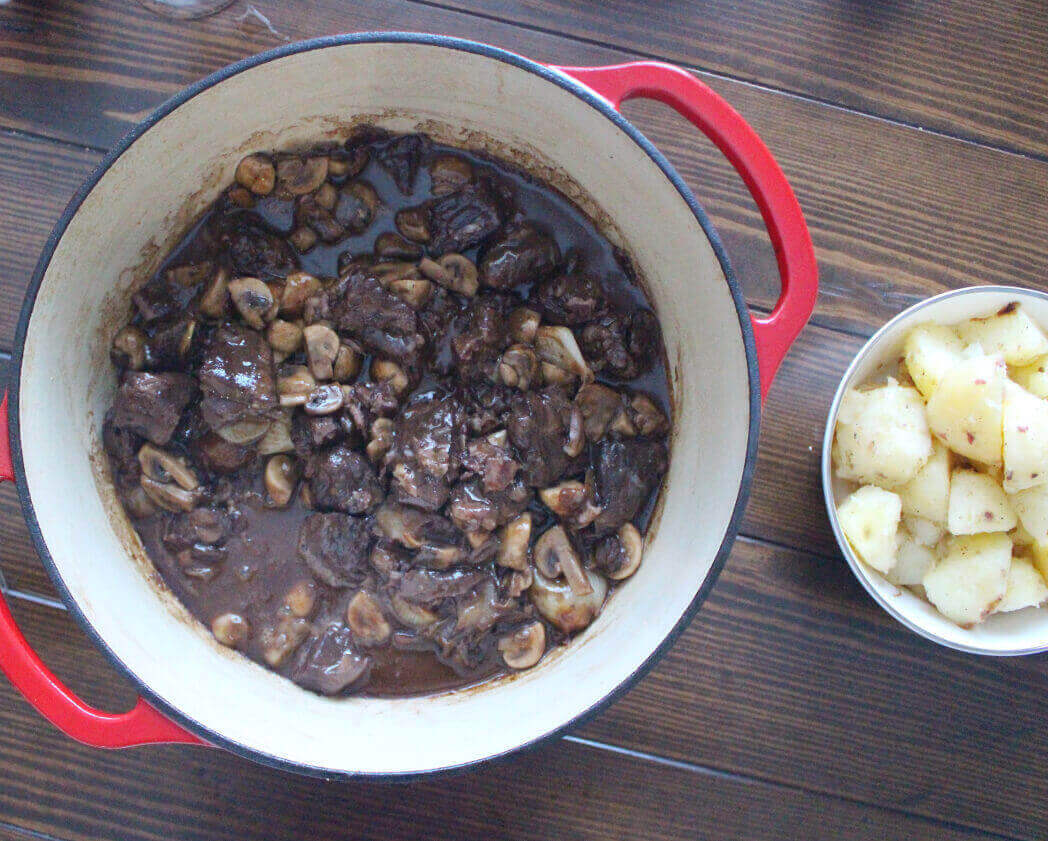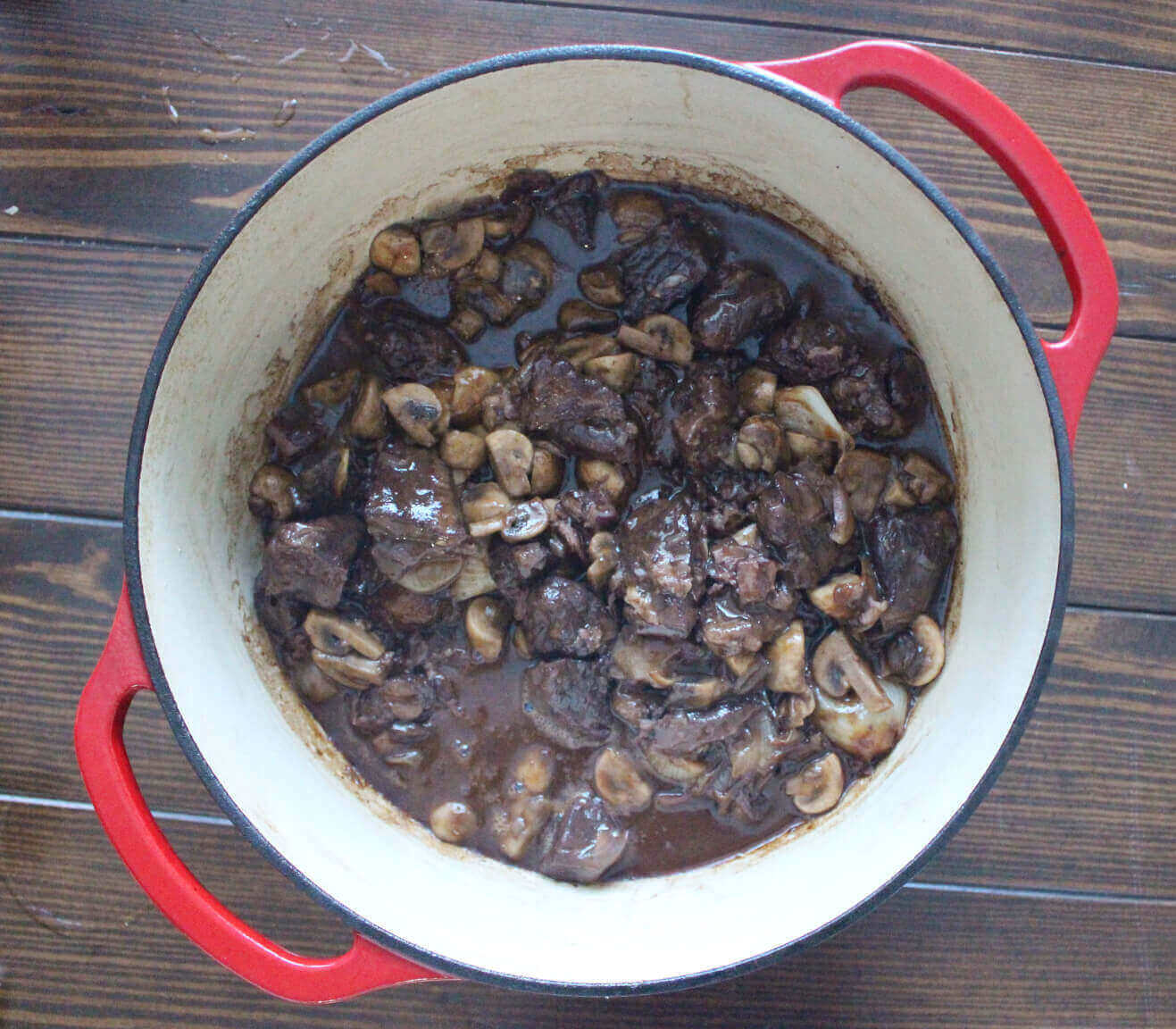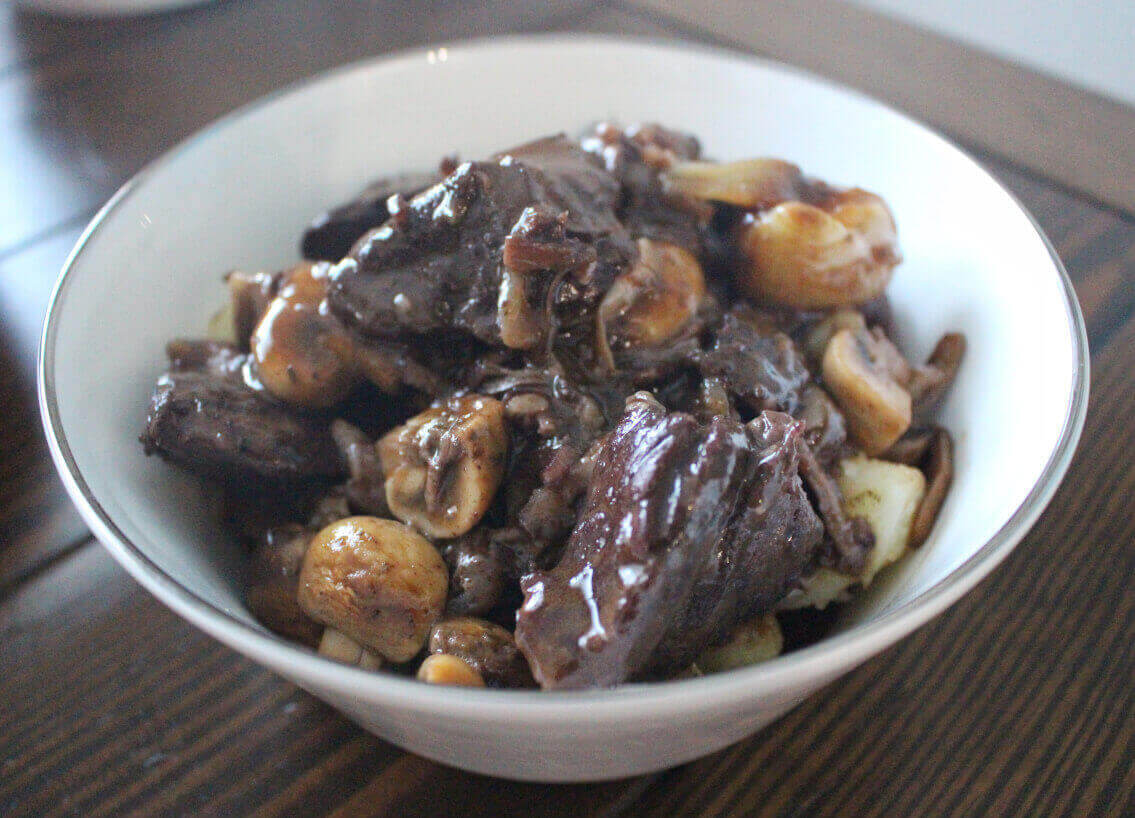 You can find this recipe and all the other Julia Child recipes I make in Mastering the Art of French Cooking
Bon appétit!
July 5, 2020 by Laura Bullock