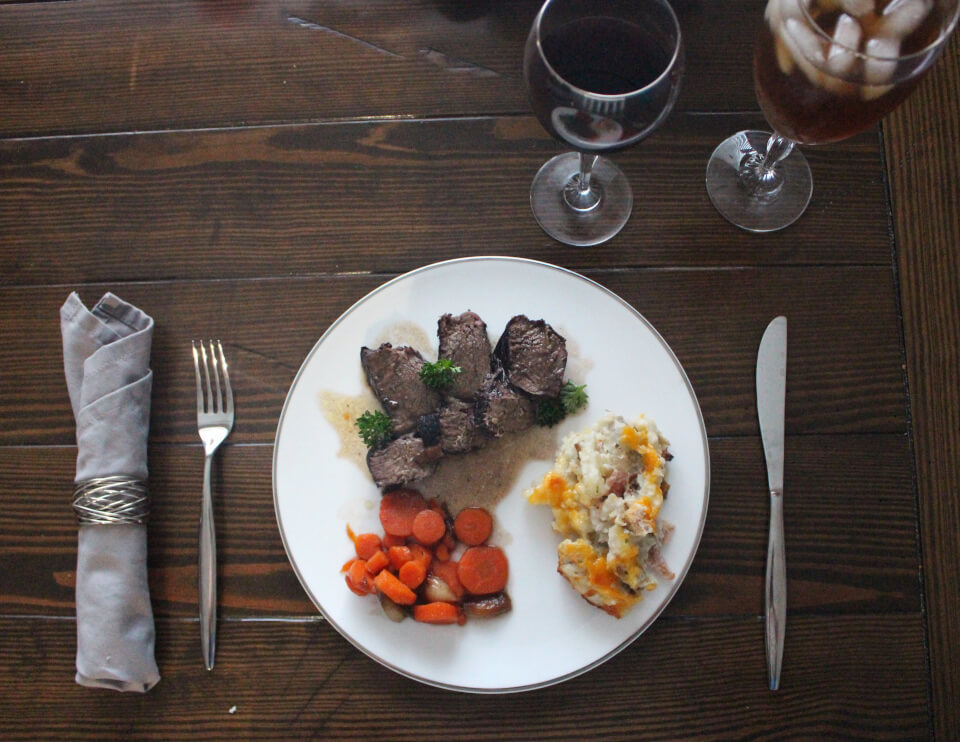 Mastering the Art of French Cooking | Julia Child
Recipe 110
- Boeuf à la Mode [Beef Braised in Red Wine], p. 309
You can buy Julia Child's Mastering the Art of French Cooking which contains this recipe here.
____________________________
Butter Count: +5 TB
Cost: $65.27 [~$5.93 per serving]
"Oh wow." Those were the first words out of my mouth when I tried this braised beef for the first time while standing in my kitchen tired from this extensive recipe. Sometimes when making Julia meals you begin to wonder if each and every one of the steps matters. But once you take that first bite of your final creation, you know instantly that the answer to that question is always 'yes.' This braised beef is everything, and it takes me right back to my dining room table as a child. It's so comforting. If this recipe was this good, I can only imagine what the famous Boeuf Bourguingnon tastes like.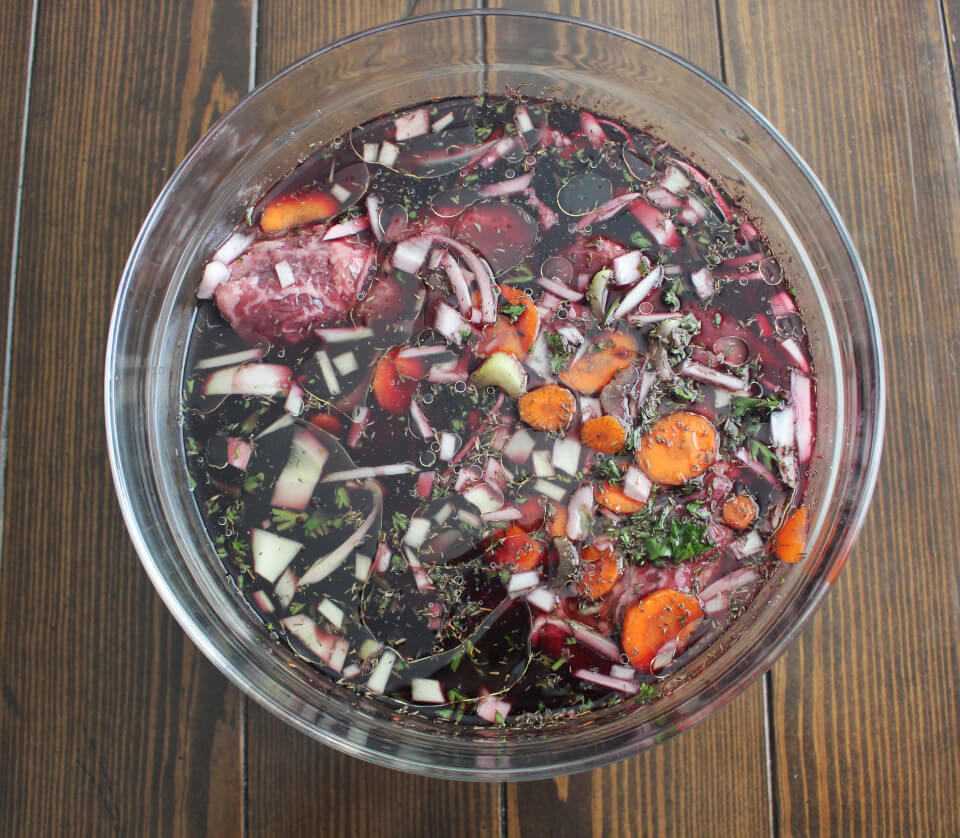 This recipe begins with a marinade. Whatever you do, do not skip the marinade time. It takes 12-24 hours, but it adds so much flavor. The marinade consists of carrots, onions, celery, garlic, thyme, bay leaves, parsley, whole cloves, salt, pepper, red wine, brandy, and olive oil. This is a marinade that I can see myself using for steak or any other beef actually. VERY delicious. About 30 minutes before you are ready to cook, take the meat out of the marinade and drain. Dry the meat off with paper towels so the meat will brown beautifully.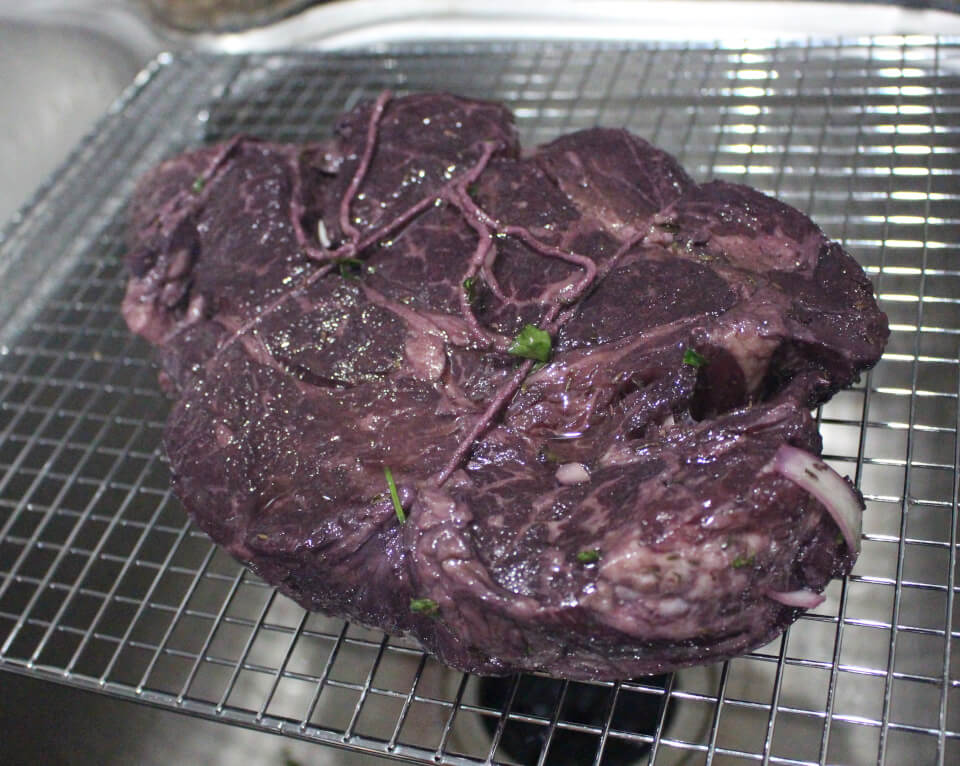 Cooking oil is added to a casserole dish and the meat is browned on all sides. You'll want to eat it after this because it is going to smell SO good but you must wait. The best is yet to come. Pour out the fat and pour in the wine marinade in order to make a reduction. Fresh ham rind is added and beef bouillon is added until the liquid is two-thirds of the way up the meat. Bring to a simmer, skim, cover, and place in a 350-degree oven for 2 ½ to 3 hours for a five pound piece of beef. I used chuck pot roast since it was readily available during this pandemic. The meat is turned many times during the braising process.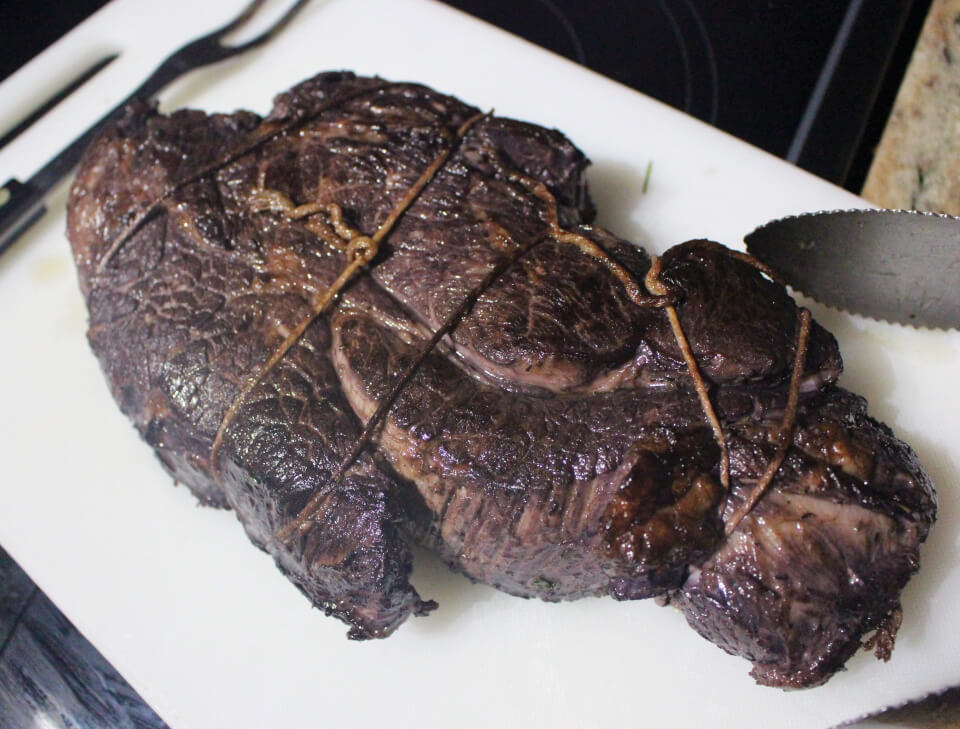 While the beef is doing its thing in the oven, it's carrot and onion time. Carrots are braised in butter which was my Recipe #44. This recipe also required to brown-braise pearl onions. I decided not to count this as a new recipe since they were mixed in with the sauce. I love onions so I look forward to cooking these as a side of their own. The onions are sautéed in butter and oil for about ten minutes. Beef bouillon is poured in, and salt, pepper, and an herb bouquet (parsley, bay leaf, and thyme) are added. Cover and simmer for about fifty minutes. All good things take time I suppose.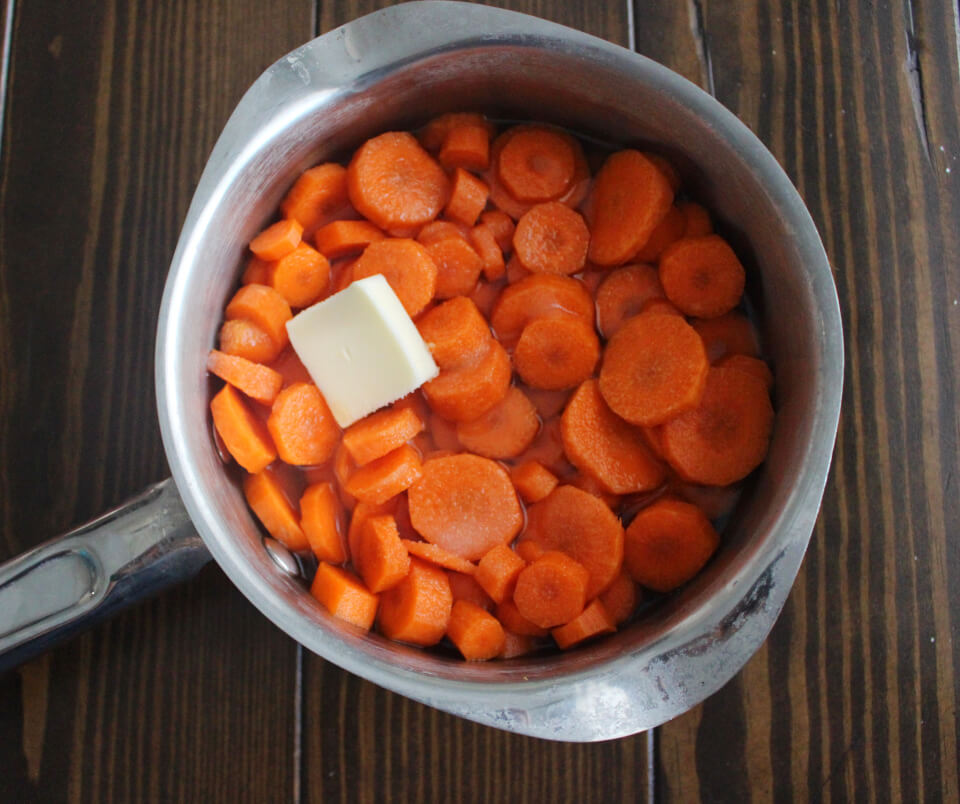 Once the meat is done, remove from the oven, skim the fat off of the juices, and strain through a sieve into a pot. Simmer for a couple minutes and then reduce down to about 3 ½ cups. Beat in starch and Madeira mixture and simmer for a couple minutes to allow it to thicken. Add the carrots and onions and simmer for a couple more minutes to ensure all the flavors get to know each other. Decorate the meat with parsley, pour some of that wonderful sauce over everything, and enjoy. As Julia says, "it is delicious to smell, look at, and eat." I also made cheesy potatoes which I highly recommend with this meal.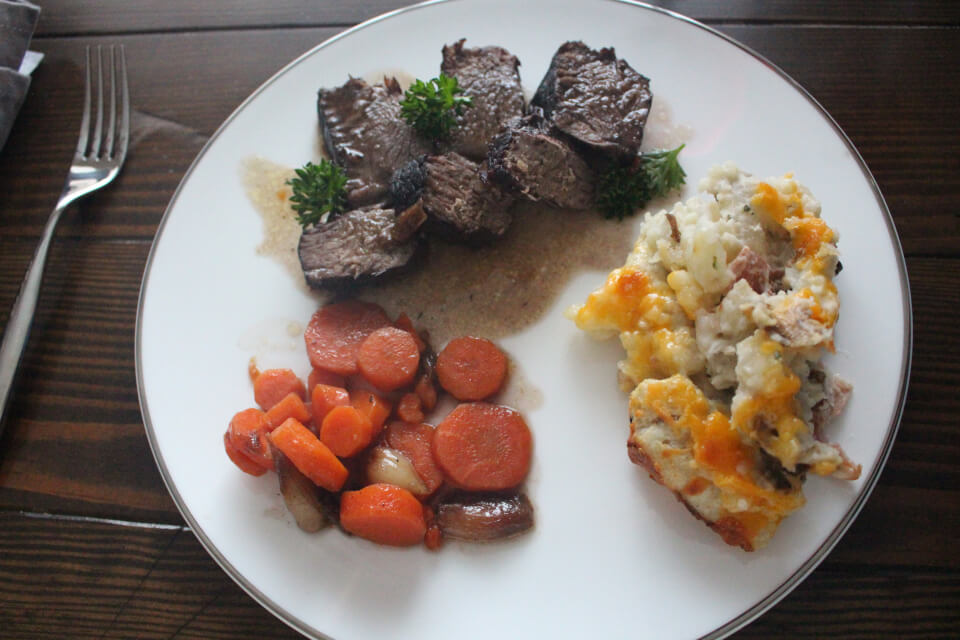 You can find these recipes and all the other Julia Child recipes I make in Mastering the Art of French Cooking
Bon appétit!
May 18, 2020 by Laura Bullock