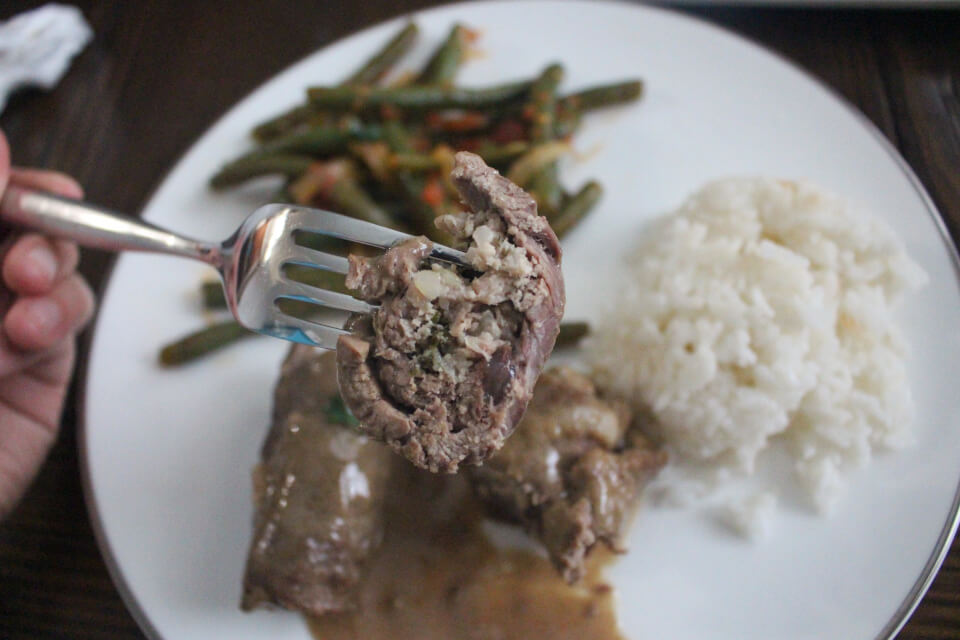 Mastering the Art of French Cooking | Julia Child
Recipes 128-130
- Paupiettes de Boeuf/ Roulades de Boeuf/ Petites Ballotines de Boeuf [Braised Stuffed Beef Rolls], p. 318 - Harictos Verts à la Provençale [Green Beans with Tomatoes, Garlic, and Herbs], p. 447 - Riz à l'Indienne- Riz à la Vapeur [Steamed Rice], p. 529
You can buy Julia Child's Mastering the Art of French Cooking which contains these recipes here.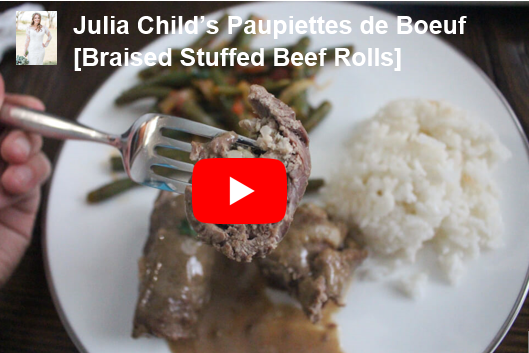 You can watch me make this recipe for the first time on my YouTube channel here.
Butter Count: +1 TB
Cost: $42.72 [~$7.12 per serving]
- Braised Stuffed Beef Rolls= $29.58 [6 servings] - Green Beans with Tomatoes, Garlic, and Herbs= $12.58 [6-8 servings] - Steamed Rice= $0.56 [6 servings]
This recipe is crazy! I mean, who thinks of stuffing ground veal and pork into a beef roll, braising it, and covering it in a creamy mustard sauce?! It's certainly out there, but it works. It works so well. This was actually my first time cooking with veal. I found ground veal at our local grocery store, and it cooked just like ground beef. I am interested how an actual cut of veal will cook and taste. I will be finding out soon enough I suppose! The green beans with tomatoes worked well with this dish and helped cut back on the creaminess of the meat. The rice was super simple and also was delicious covered in the mustard sauce. Side note- all of these braised beef dishes take a while in the oven to cook. In the dead heat of summer, the house starts to feel like an oven itself. With that said, these recipes may stay tucked away until the first cold front of the year.
RATING:
Overall, would I make the beef rolls again? Meh, probably not. They were really good, but I didn't enjoy making them as much as the other braised beef recipes. I would definitely eat them again though if you are cooking. I'd give them a solid 6 stars out of 10. As for the green beans, I probably wouldn't make them again either. My opinion is heavily influenced by me not liking tomatoes too much though. I'll give them a 3. And the rice is rice. It will get a 7 for being just a good recipe everybody should memorize.
COOKING PROCESS:
To begin the meat, onions are slowly cooked in butter for about eight minutes until tender.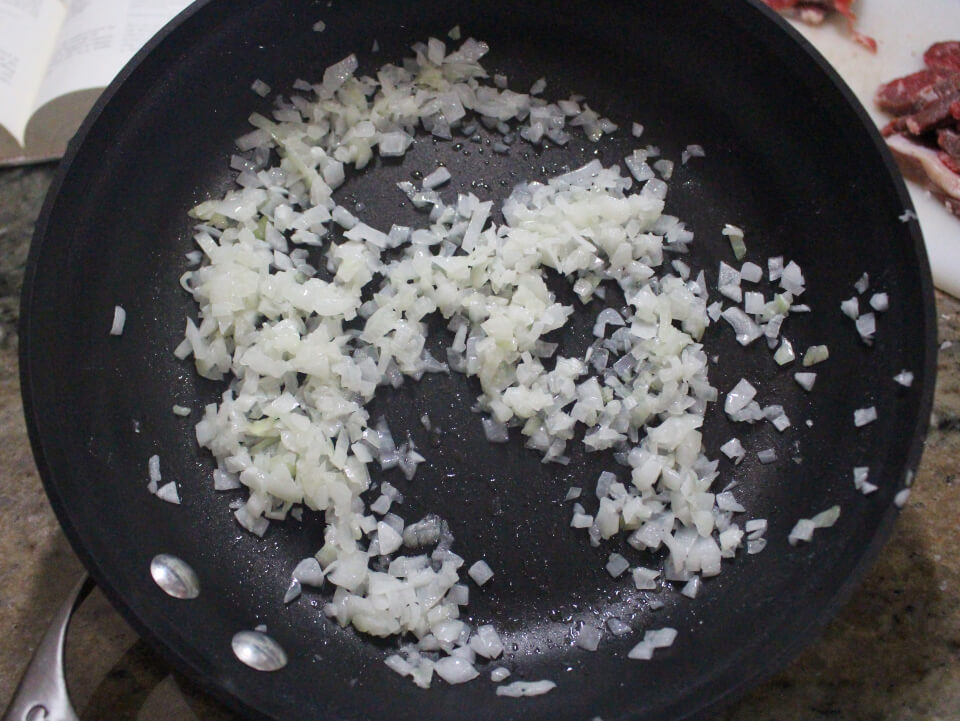 They are added to a bowl with ground pork, ground veal, fresh pork fat, mashed garlic clove, thyme, allspice, pepper/salt, parsley, and an egg. This will be the stuffing.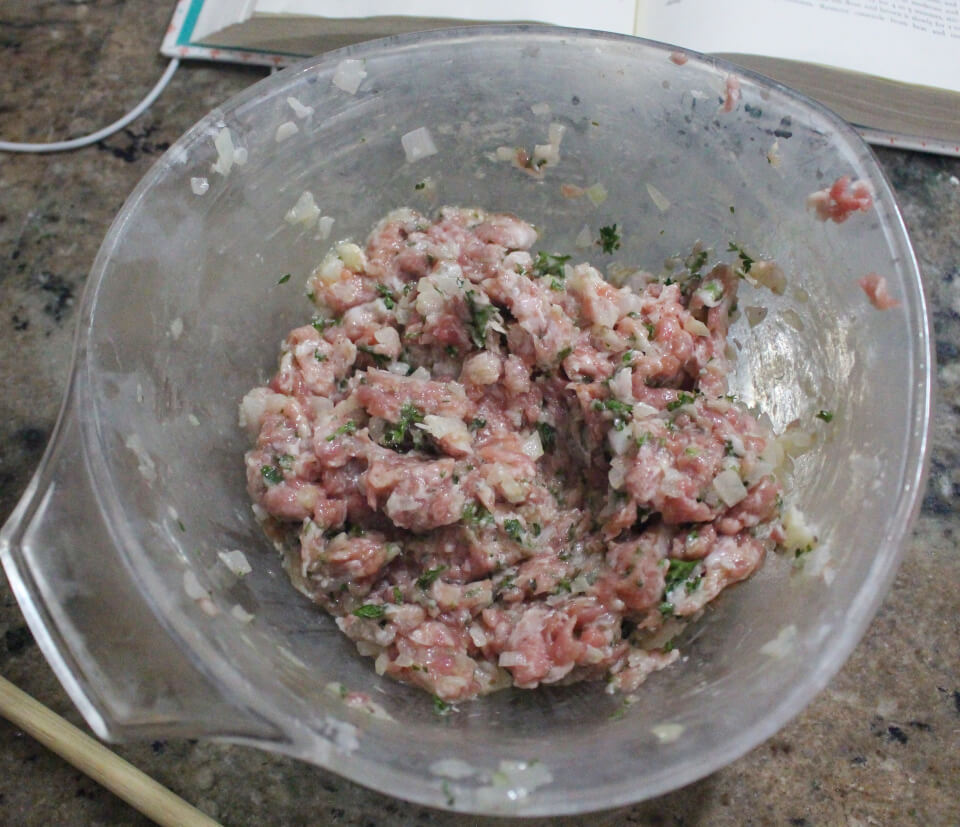 After cutting the beef and pounding it down with a mallet, the stuffing is placed onto each meat slice and the beef is rolled and tied to form cylinders.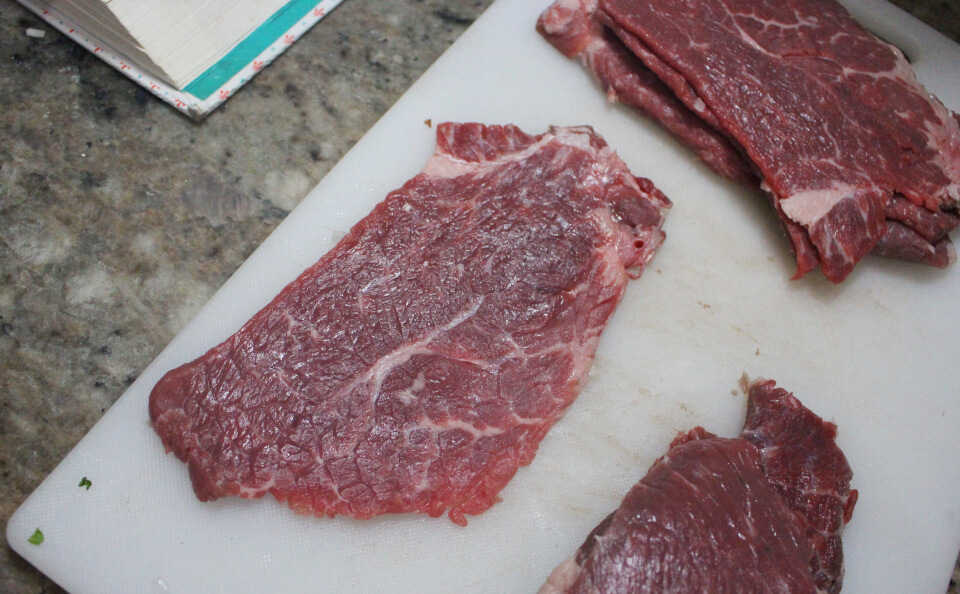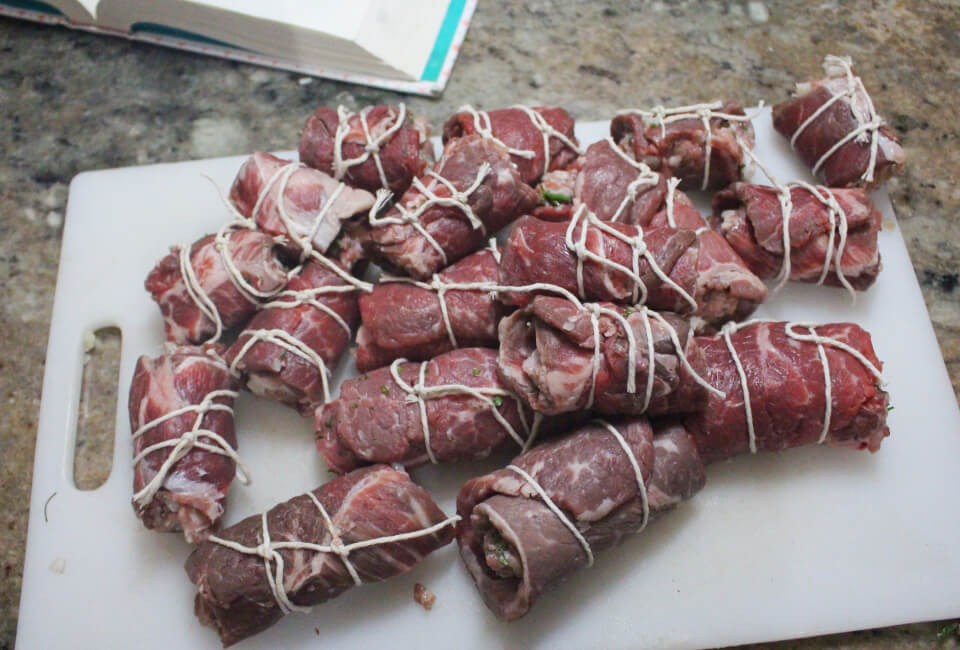 Each roll is browned in oil followed by the browning of sliced onions and carrots.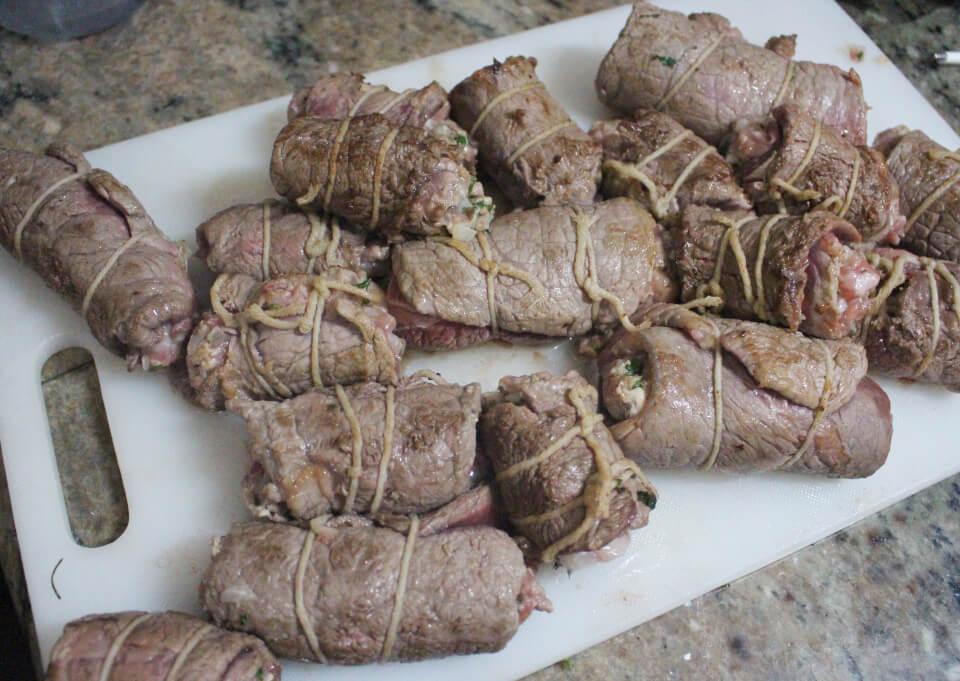 Flour is sprinkled on top of the carrots and onions and browned for a couple of minutes. Once done, it is removed from the heat and dry white vermouth and beef bouillon is beat in. Salt-pork rind is added to the bottom of the casserole and all of the beef rolls are added back to the casserole. An herb bouquet consisting of garlic, parsley, bay leaf, and thyme is also added. Everything in the casserole is brought to a simmer on the stove, covered, and placed in a 325-degree oven for 1 ½ hours. The beef rolls are basted a couple times during this time.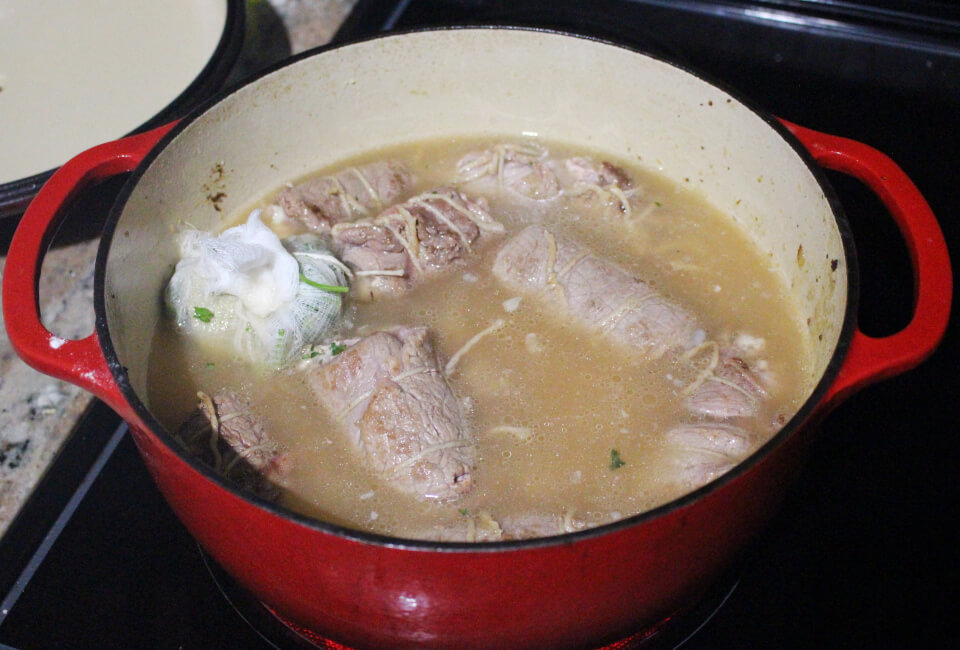 When the beef rolls are done, they are removed, and the braising liquid is strained into a saucepan. I boiled mine down in order to thicken it up a little bit so it was able to coat the back of a spoon. Lastly, Dijon mustard and cream are beat into the liquid, and it is simmered for one more minute. Right before serving, the sauce is poured on top of the beef rolls, heated on the stove for a couple of minutes, and decorated with parsley sprigs.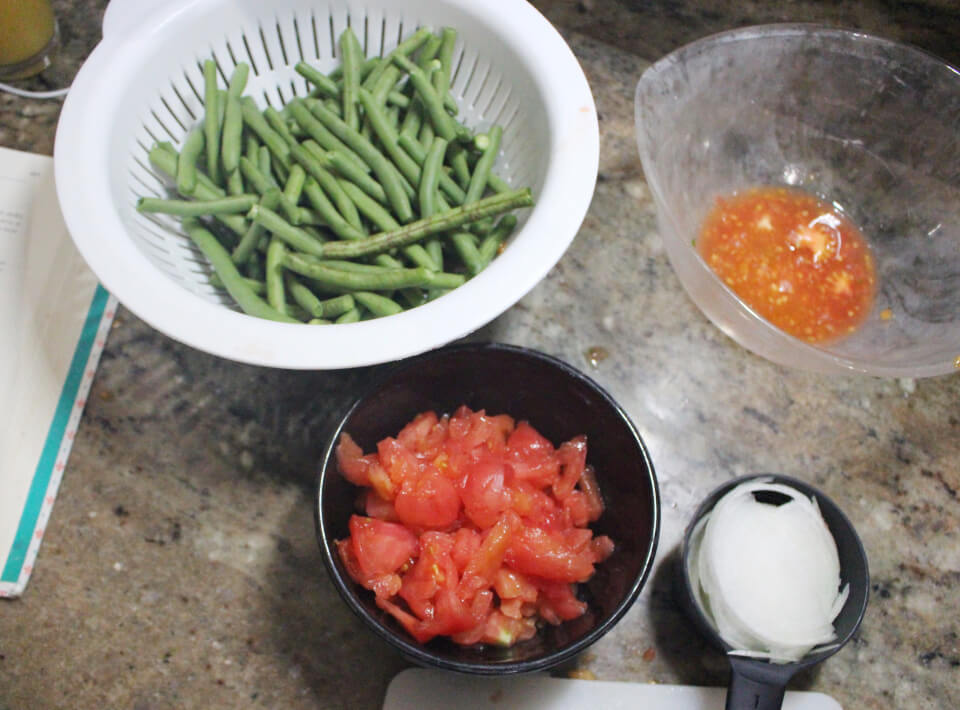 Now, on to the green beans! First, onions are slowly cooked in olive oil until tender for about ten minutes.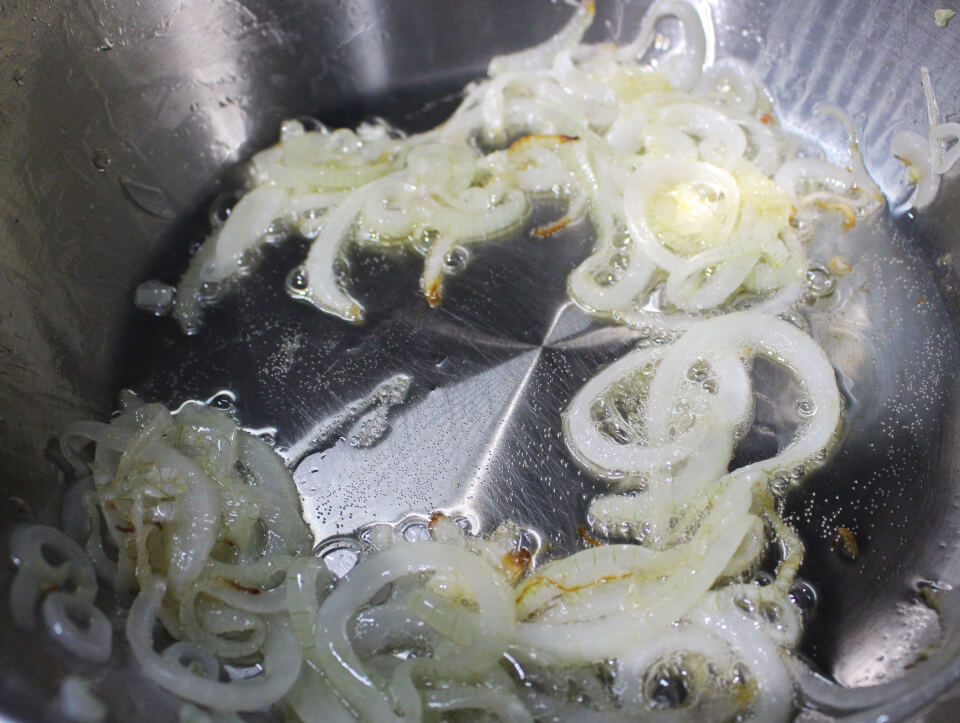 The tomatoes are peeled, seeded, juiced, and chopped. They are added to the onions along with mashed garlic cloves, an herb bouquet, juice from the tomatoes, and salt/pepper. This is all simmered together for thirty minutes.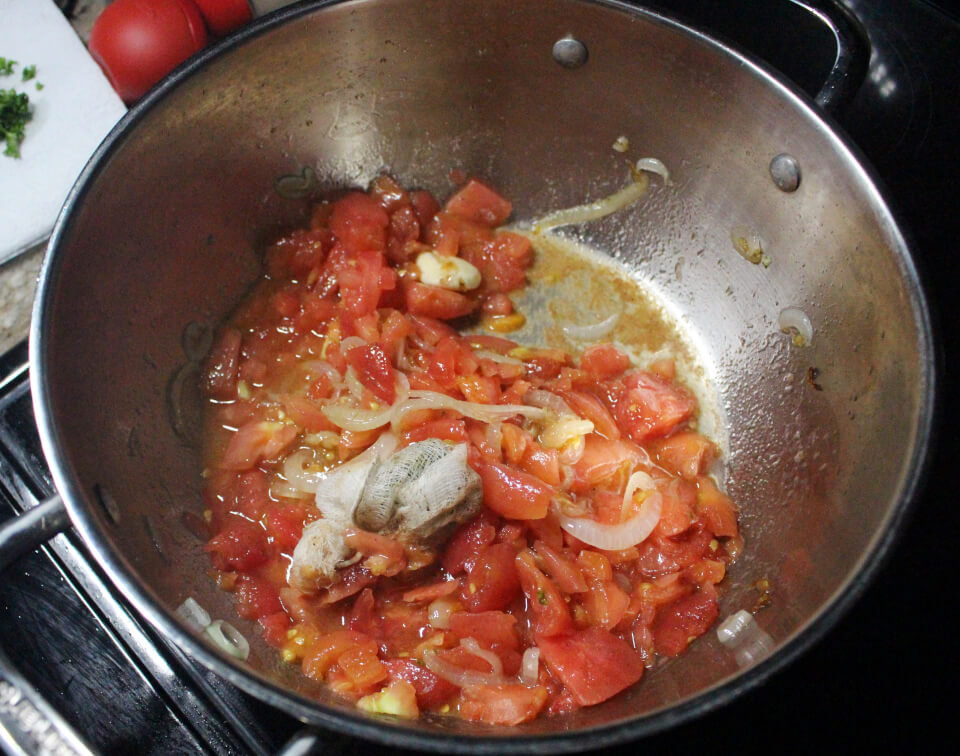 Blanched green beans are then added in, and it is simmered for about ten minutes until the beans are tender and the liquid has evaporated. Right before serving toss with salt/pepper and chopped parsley.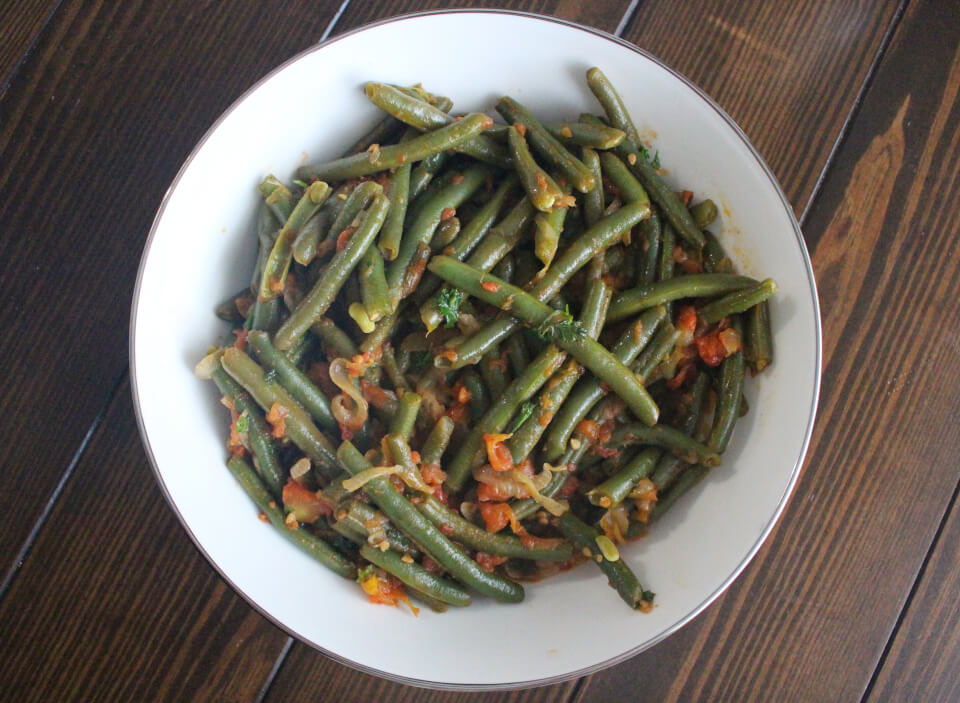 The rice was REALLY simple, and the recipe was not that much different than the one on the back of the rice package. The rice is placed in the saucepan and covered with water and salt. The rice-to-water ratio is 1:2. It is brought to a boil, stirred, and taken down to a simmer. Pan is covered, and it is allowed to cook for twelve minutes. That's it!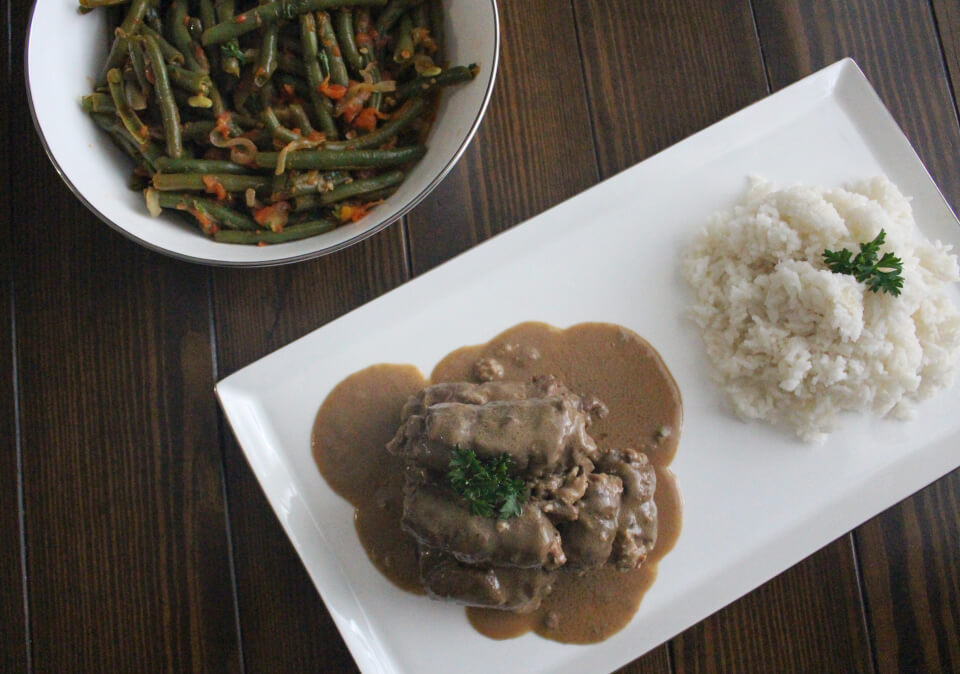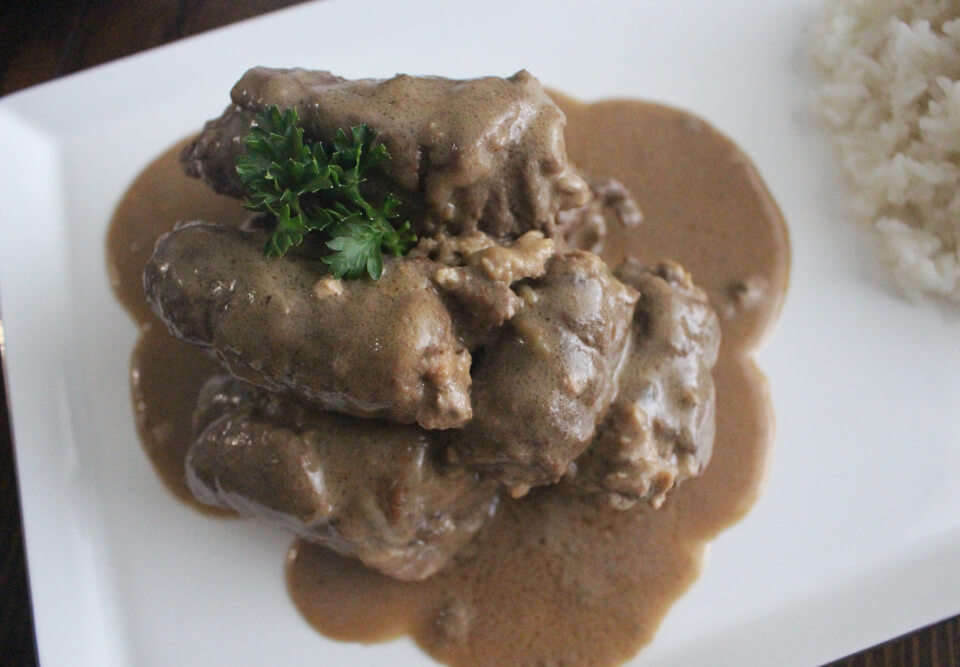 You can find these recipes and all the other Julia Child recipes I make in Mastering the Art of French Cooking
Bon appétit!
July 21, 2020 by Laura Bullock