Bifteck Hache a la Lyonnaise
Ground Beef with Onions and Herbs & Turnip Casserole
March 19, 2020 | Updated April 19, 2022 | Laura
*This post may contain affiliate sales links. Please see full disclosure policy for details.
*The views expressed on this blog are my own.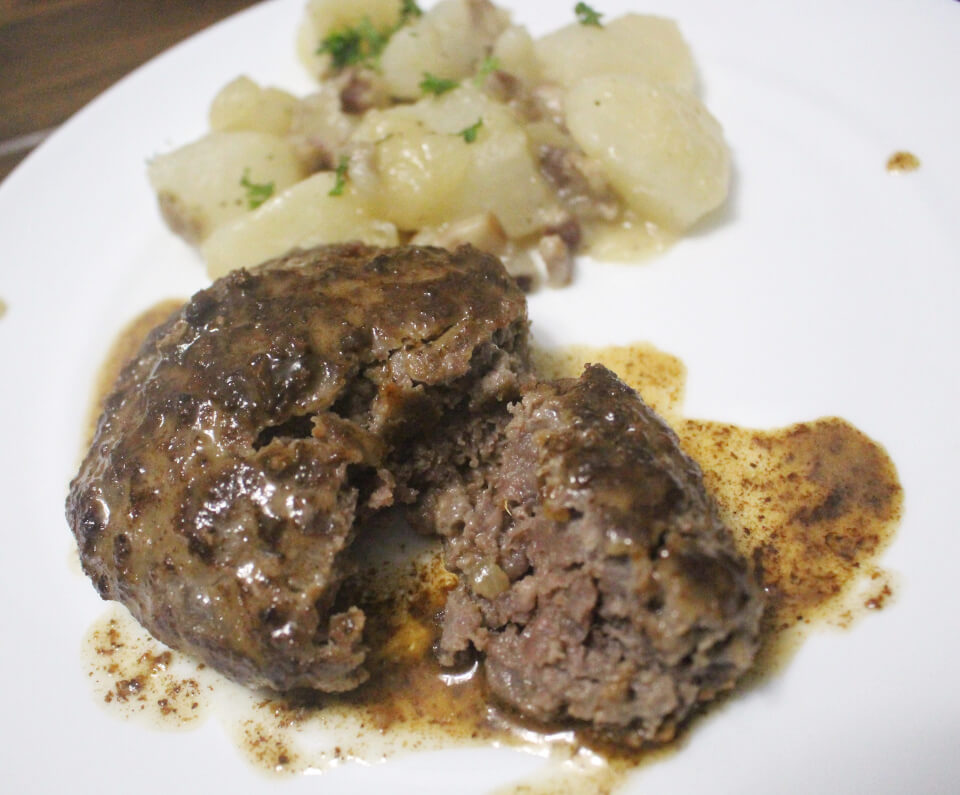 ✽ Recipe from Mastering the Art of French Cooking, Vol. I | Julia Child ✽
Julia Child Recipes 86-87 | 441 recipes to go!
✽ Ground Beef with Onions and Herbs [Bifteck Haché à la Lyonnaise], p. 301
✽ Turnip Casserole [Navets à la Champenoise], p. 488
__________________________________
✽ Mastering the Art of French Cooking, Vol. I was written by Julia Child who co-authored with Simone Beck & Louisette Bertholle and was published by Alfred A. Knopf in 1961.
✽ You can buy Julia Child's Mastering the Art of French Cooking, Volume I which contains these recipes here. (affiliate link)
The purpose of this Julia Child section of my blog is to document my journey of learning how to cook. To show my successes, my failures, and what I learned along the way.
Since I didn't create these recipes (if only!), I do not post exact amounts of ingredients or word-for-word instructions. If any of these recipes spark your interest, I highly recommend you buy Julia Child's Mastering the Art of French Cooking (affiliate link). It's a great investment and learning tool and contains hundreds of classic recipes.
I hope that you enjoy reading my thoughts, learn something new, and leave inspired to try a new recipe. Bon appétit!
__________________________________
Butter Count & Cost: Bifteck Hache a la Lyonnaise
✽ Butter Count: +9 TB
✽ Cost: $16.34 [~$2.72 per serving]
- Ground Beef with Onions and Herbs= $9.68 [6 servings]
- Turnip Casserole= $6.66 [6-8 servings]
Check out the total Julia Child butter count & cost here!
→ Looking for a different Julia Child recipe? Here's a list of all of the completed and pending Mastering the Art of French Cooking recipes!
Comforting and Delicious Hamburger
I'm so excited to post this recipe because it actually made a spot in my top five favorite Julia recipes so far.
This is just a simple ground beef patty covered in a super delicious brown sauce. It's absolutely wonderful. At a time like this, we could all use a little comfort food.
I love Julia's paragraphs before the recipe as well. She describes how some Americans may be shocked to find out that the French eat hamburgers. She explains that "the French hamburger is an excellent and relatively economical main course for an informal party."
The burgers are served bun-less and always with a sauce. It reminded me of my childhood when my mom would make something very similar and cover the ground beef in a gravy. She would usually pair it with mashed potatoes.
This time I made turnip casserole to go with it. It was a perfect side. Turnips resemble potatoes quite a bit in my opinion.
Of course, anything with enough butter will taste good, right?
Julia Child Hamburger: Questions
✽ What should you serve with French hamburgers?
I served the hamburgers with a turnip casserole. The turnip casserole is very similar to potatoes. The gravy that tops the burger is also pretty good when eaten with the turnips too.
Other good side options for these hamburgers are French fries, garlic mashed potatoes, scalloped potatoes, mushrooms, artichokes, beans, peas, and/or Brussels sprouts.
✽ What is the best cut of beef for hamburgers?
The best burgers are made when you grind your own meat at home! Just make sure that all the fat is removed prior to grinding.
It is recommended that the fat content be around 8-10%. Fat can come from butter, suet, marrow, or pork fat.
Julia says that the best hamburgers are made with lean beef. She (and I) recommend going with cheaper cuts of beef such as chuck. Some more expensive cuts are top sirloin, rump, and round.
✽ What do turnips taste like?
When the turnips are cooked and covered in butter, they remind me a lot of potatoes. They are slightly sweet and earthy.
Raw turnips are somewhat spicy. They have the same kind of kick that horseradish has.
Looking for more Julia Child beef recipes to read about?
→ Check out all of the meat recipes that I've completed so far!
Fun Turnip Facts
✽ What are turnips?
Turnips are root vegetables. Their scientific name is Brassica rapa. The most common type of turnip is white. The top part that has seen sun will turn purple or red.
Turnips are related to radishes, mustard, and collard greens.
✽ Turnips on Halloween
Before it became common to carve pumpkins on Halloween, people in Ireland and Scotland would carve turnips instead. They would carve in a scary face and place them by their doors to scare away evil spirits.
✽ Longest Turnip
The longest turnip was turned into the Guinness World Records in 2019 and grown in the United Kingdown. It measured 13 feet and 4 inches!
How to Make French Hamburger Recipe
✽ Step 1: Grind Beef
My husband received a meat grinder as his Christmas gift this year so I started off this recipe by grinding the meat myself. It really does just taste so much better.
Julia suggests using the least expensive cuts for this recipe such as chuck and neck.
✽ Step 2: Cook Onions in Butter
You begin this recipe by cooking minced onions slowly in butter for a few minutes.
This will get the onions tender but will not brown them.
✽ Step 3: Mix Hamburger Mixture & Form Patties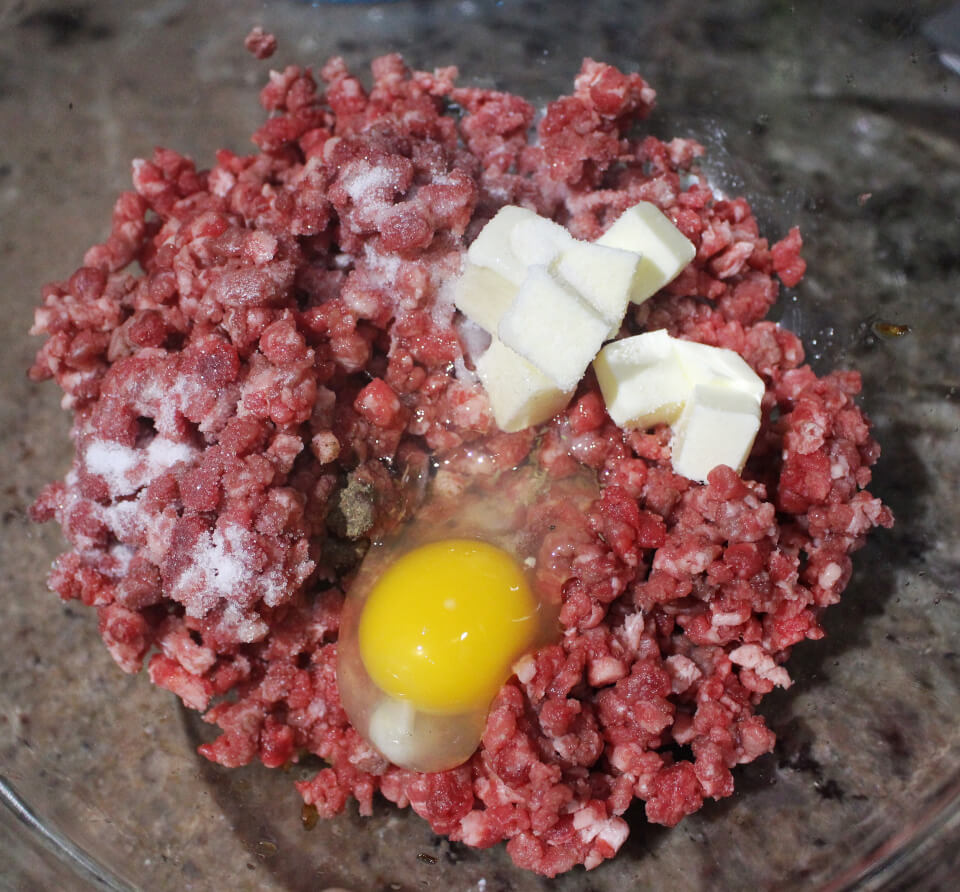 Place the cooked onions in a bowl and add the beef, some softened butter, seasonings, and egg.
Once you have beaten this mixture until it is blended through, form patties.
✽ Step 4: Flour
Right before you sauté the meat, the patties are rolled in some flour.
✽ Step 5: Cook Burgers in Butter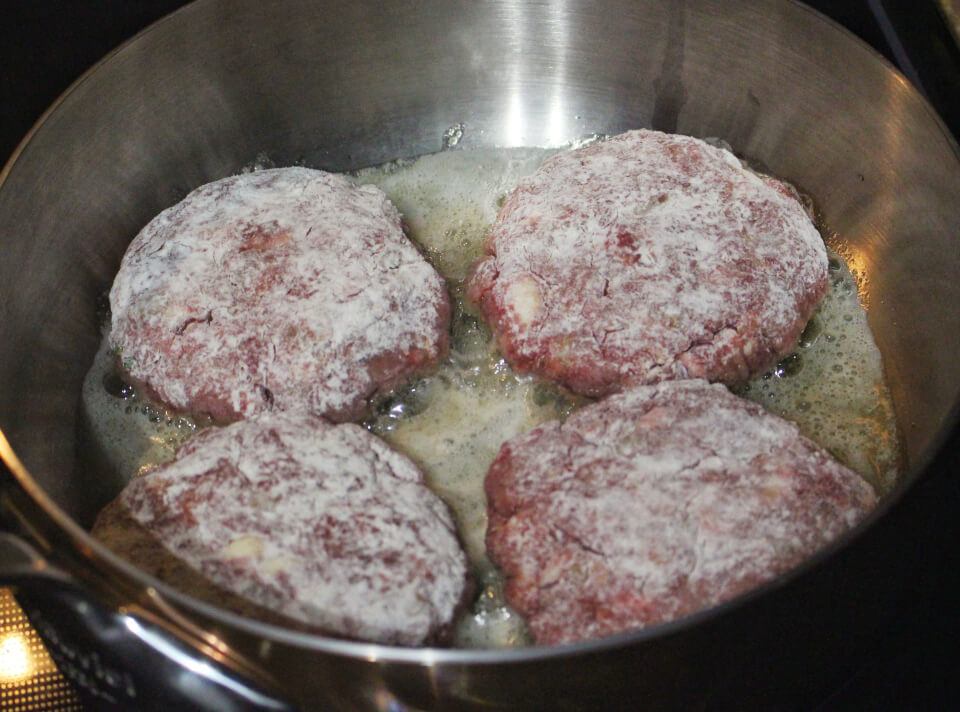 The patties are sautéed in butter and oil on the stove. Each side gets a couple minutes of cooking depending on how you like your burgers.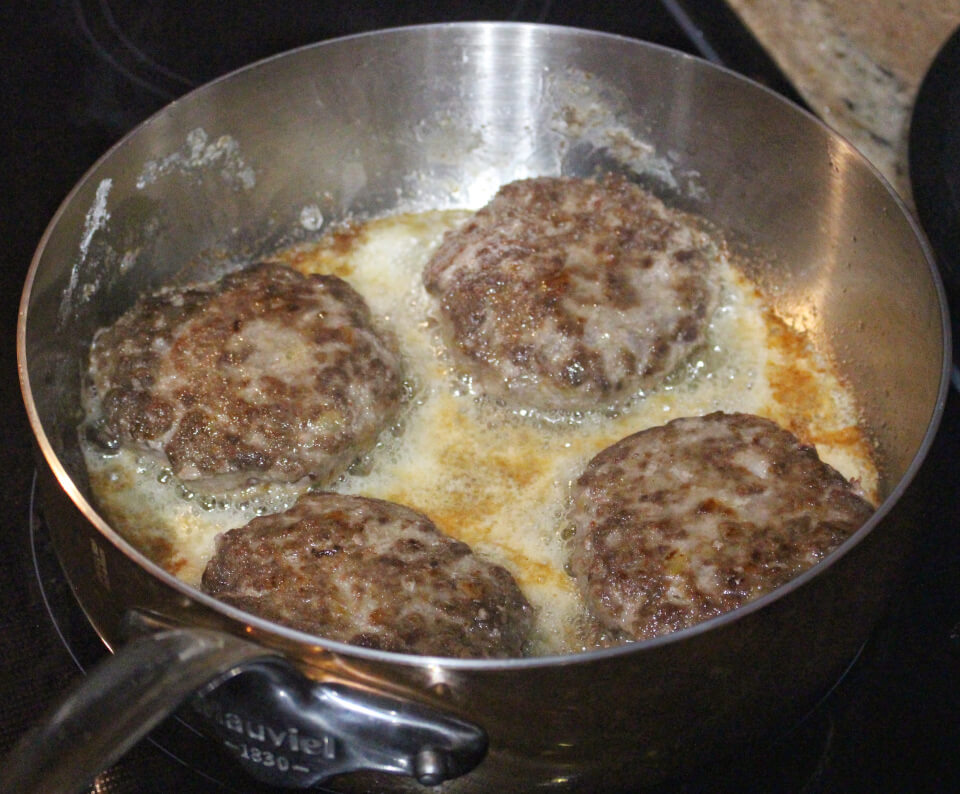 When the burgers are done, remove them from the pan, and pour out the fat.
Add in stock, scrape up the coagulated pan juice (this is the good part!), and boil down until it is almost a syrup consistency. Remove from the heat and swirl in some butter.
The patties are served with the sauce on top. I am already excited to make this one again.
How to Make Turnip Casserole
✽ Step 1: Boil Turnips
Now on to the turnip casserole. Julia claims that those who do not care for turnips will change their minds after trying this casserole, and I believe it.
You begin by blanching the peeled and quartered turnips for a few minutes in boiling salt water.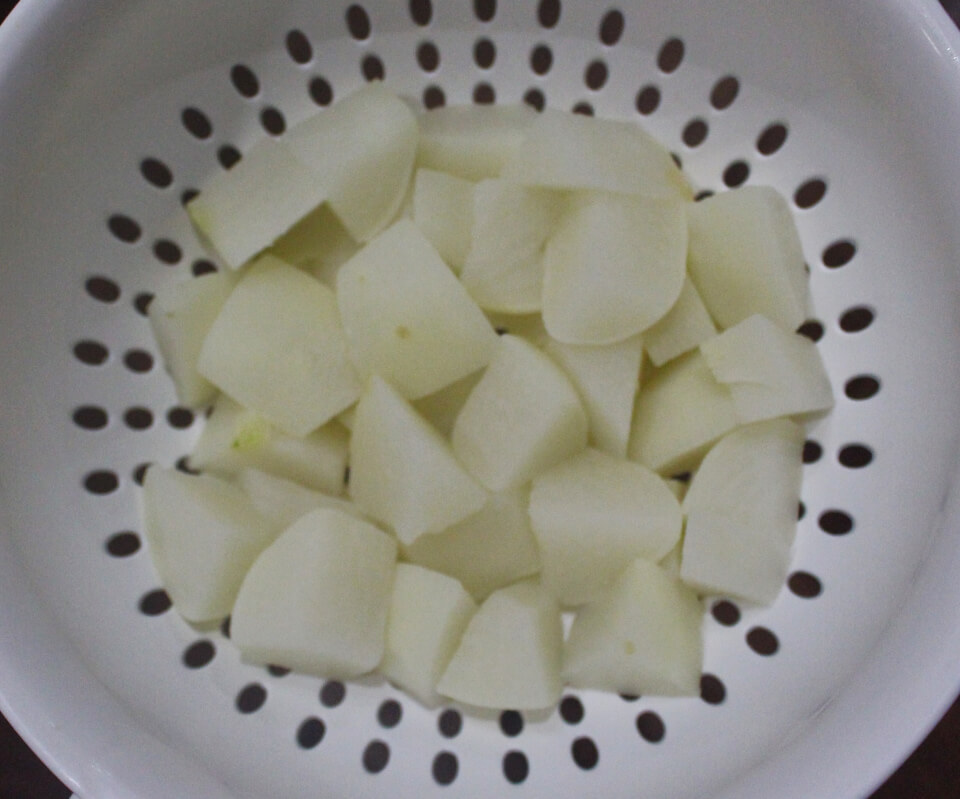 ✽ Step 2: Simmer Bacon
Next, diced bacon is simmered in water for a few minutes.
✽ Step 3: Saute Bacon and Onions
The bacon will then be sautéed in butter. Yep, you read that right- cook your bacon in butter.
Finely diced onions are stirred in, the pan is covered, and then cooked for a bit.
✽ Step 4: Add Flour
A small amount of flour is added and cooked slowly for a couple of minutes. This will be your thickening agent.
✽ Step 5: Make Sauce and Add Turnips
Remove the pan from the heat, blend in some stock, and add sugar and seasonings. This mixture will be covered and simmered slowly for several minutes. It is done once the turnips are tender.
You'll want the liquid to be pretty thick so you may need to boil it down at the end.
✽ Step 6: Decorate with Parsley and Serve
Lastly, sprinkle with parsley and enjoy.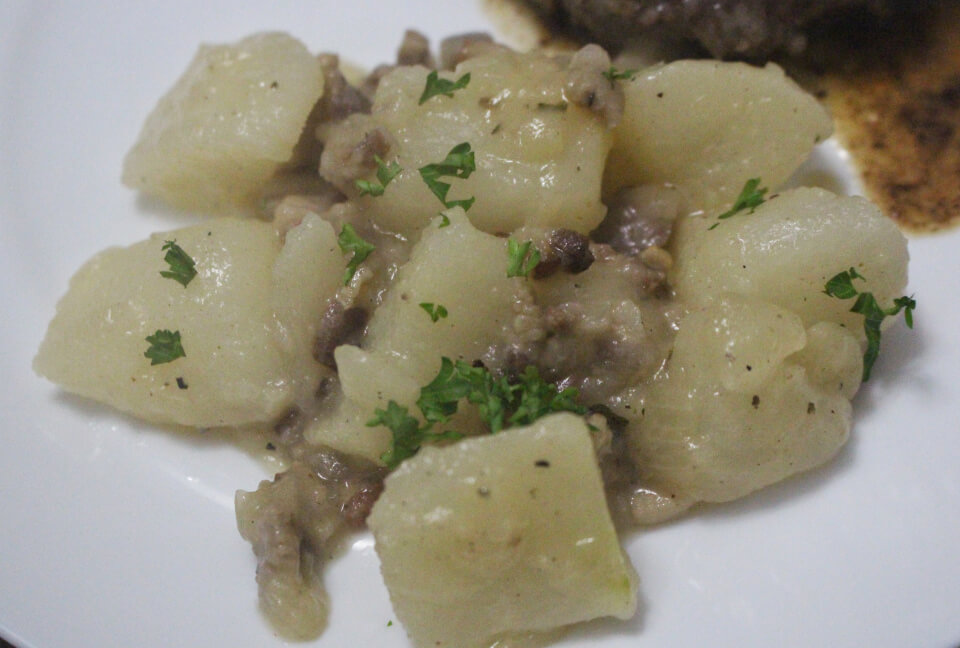 Overall, this entire meal received five out of five stars.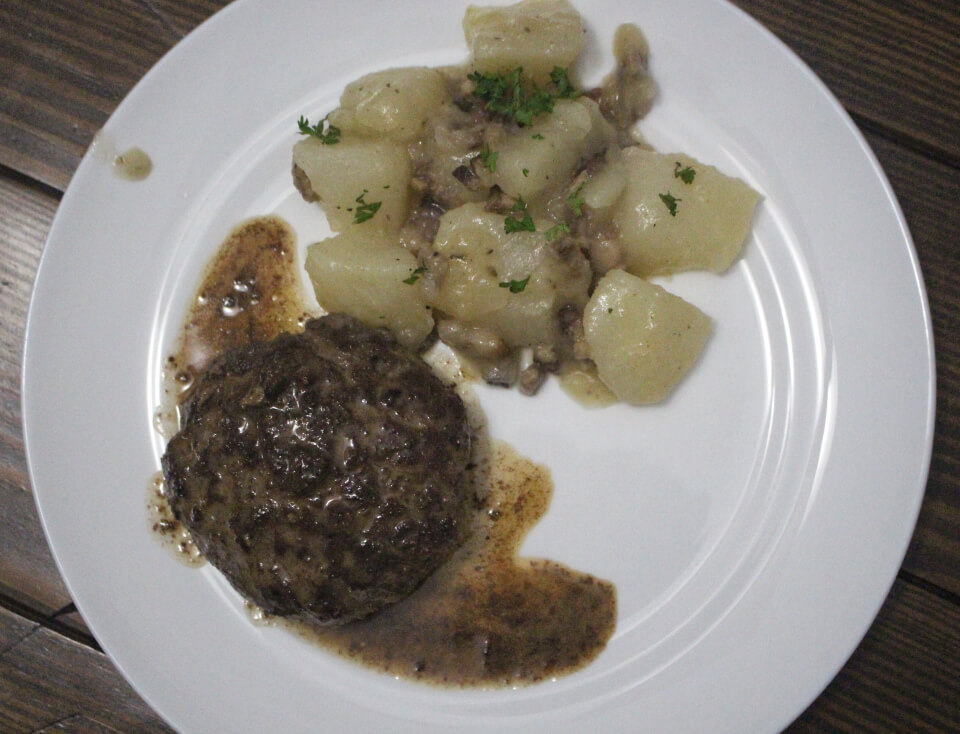 *This blog, Laura The Gastronaut, and this post were/are not endorsed or supported by Julia Child or The Julia Child Foundation.

Category: Julia Child, Meat, Vegetables Cuisine: French
Keywords: turnips julia child, french hamburger recipe, julia child turnips, julia child hamburger
✽ Did you make this recipe too?
→ Let me know by leaving a comment below and sharing on Instagram. Tag @laurathegastronaut and hashtag it #laurathegastronaut.
More Beef Recipes:
✽ Hamburgers with Cream Sauce (same delicious hamburger recipe but this time covered in a creamy gravy)
✽ Pan-broiled Steak (a very simple but very tasty steak recipe)
✽ Boeuf Bourguignon (a classic beef recipe you can never go wrong with)
→ Check out all of the completed Julia Child meat recipes!
✽ You can find this recipe and all the other Julia Child recipes I make in Mastering the Art of French Cooking, Volume I (affiliate link).
→ Mastering the Art of French Cooking, Vol. I was written by Julia Child who co-authored with Simone Beck & Louisette Bertholle and was published by Alfred A. Knopf in 1961.
✽ Check out my Julia Child Recipe Checklist to see a list of all my completed and pending recipes from Mastering the Art of French Cooking!
Bon appétit!
March 19, 2020 by Laura Bullock
*This Bifteck Hache a la Lyonnaise blog post may contain some Amazon affiliate links. These link to products that I personally use and recommend. If you purchase anything using my links, it will not cost you anything. It will though give laurathegastronaut.com some financial support which helps me keep this blog running. Thank you for reading my blogs and your continued support.