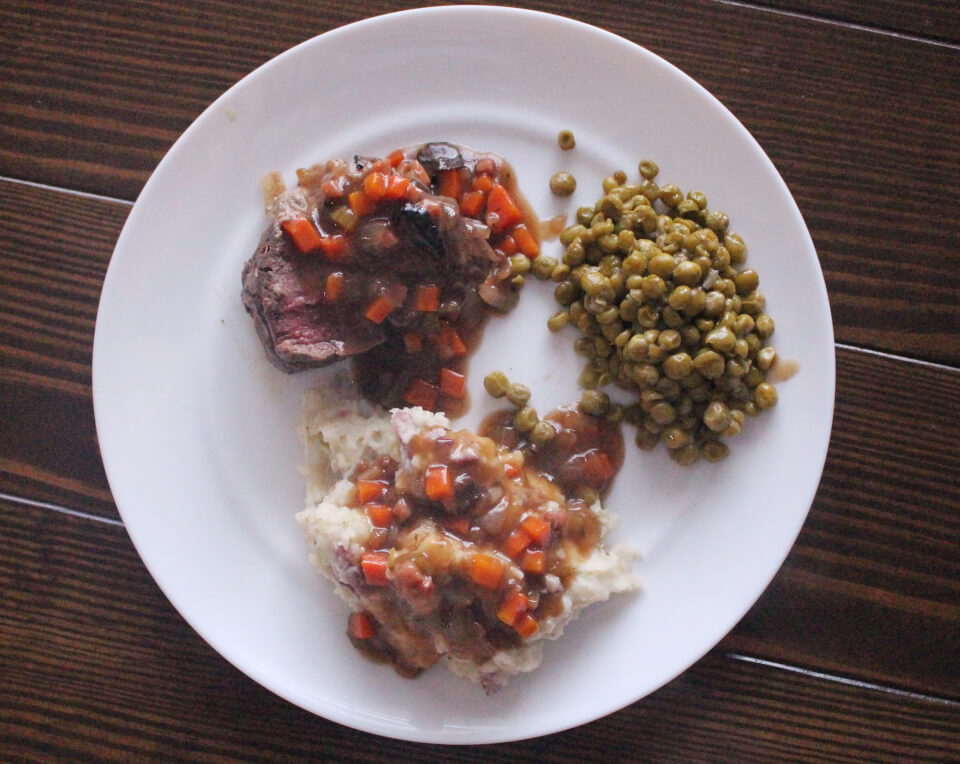 Mastering the Art of French Cooking | Julia Child
Recipes 101-104
- Marinade, for Filet of Beef , p. 306 - Canned Peas , p. 467 - Jus Lié [Starch-thickened Brown Sauce], p. 70 - Canned Beef Bouillon , p. 67
You can buy Julia Child's Mastering the Art of French Cooking which contains these recipes here.
____________________________
Butter Count: +8 TB
Cost: $122.80 [~$15.35 per serving]
- Marinade, for Filet of Beef= $118.56 [8 servings] - Canned Peas= $1.16 - Starch-thickened Brown Sauced made with Canned Beef Bouillon= $3.08 [2 cups]
I am excited about this post because I can now redeem myself from the last filet of beef recipe I posted. If you read that blog, you know that I admitted to overcooking the beef. This was such a bummer because filet of beefs are expensive! Also, I was dying to know how good it would've tasted if cooked properly. Well, today I found out. The only difference between this recipe and the last one is that the beef is placed in marinade before cooking. I love cooking these recipes in order because I am able to cook the same things and really learn from my mistakes and correct them the next time. Overall, this filet turned out great this time. Though I can't really credit my cooking on this one. Who would turn down a filet of beef marinated in alcohol and stuffed with foie gras and truffles??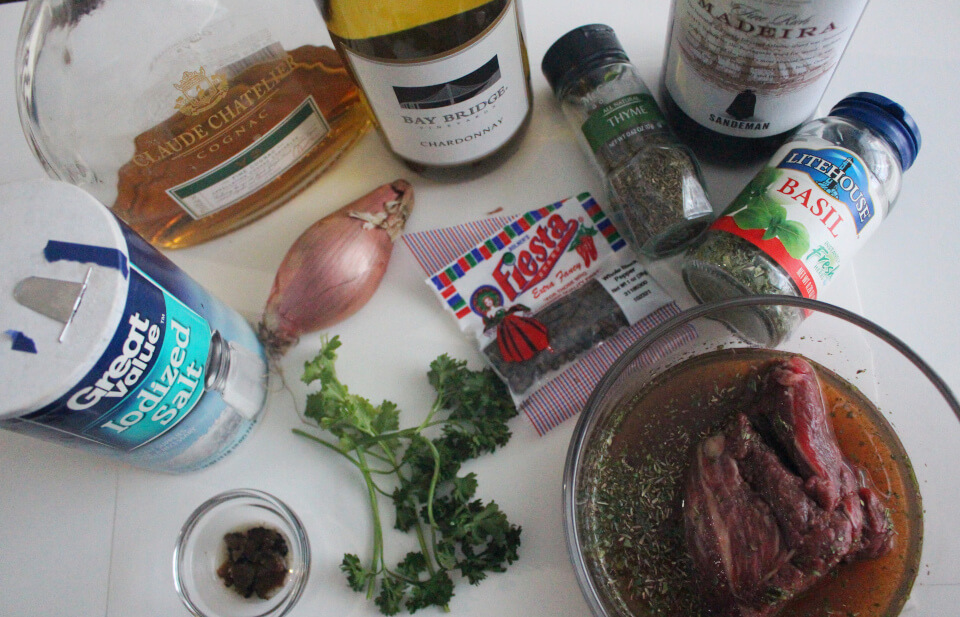 Since this is the same recipe as last time, I will just focus on the marinade and the special brown sauce that I also added this time. This marinade consists of dry white vermouth, Madeira, cognac, salt, peppercorns, thyme, basil, parsley, shallots, and truffles. Honestly, this is just a really good marinade. I can definitely see myself making this again for steak night. I left my filet in the bath overnight making sure to turn and baste it several times. When ready to cook, make sure to thoroughly dry the meat so it is able to brown. The marinade is then added into the braising liquids and the truffles are added to the sauce at the end.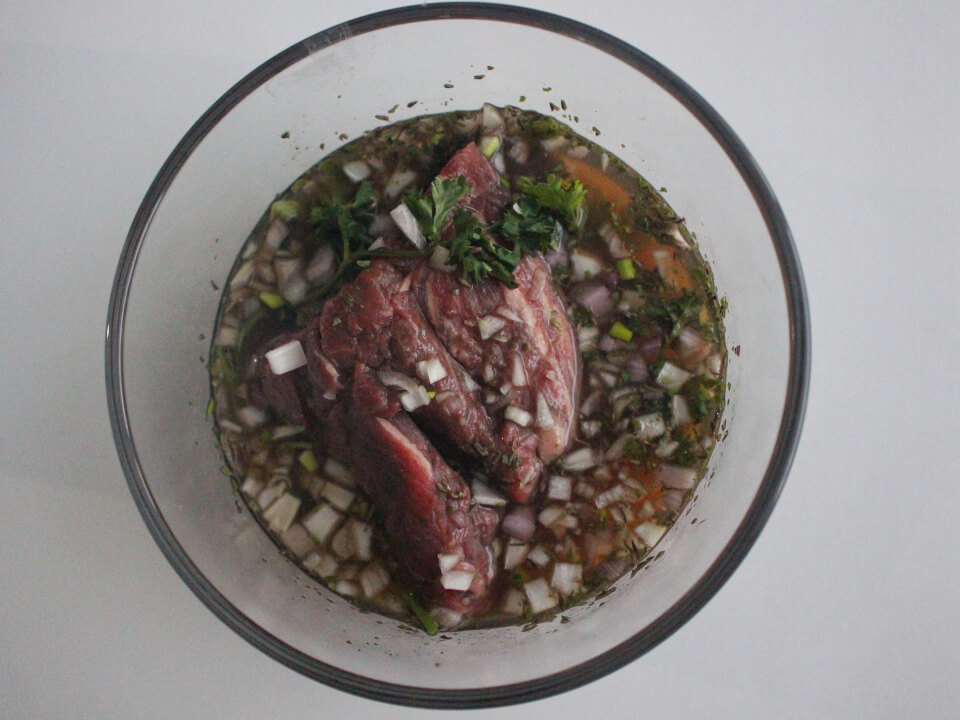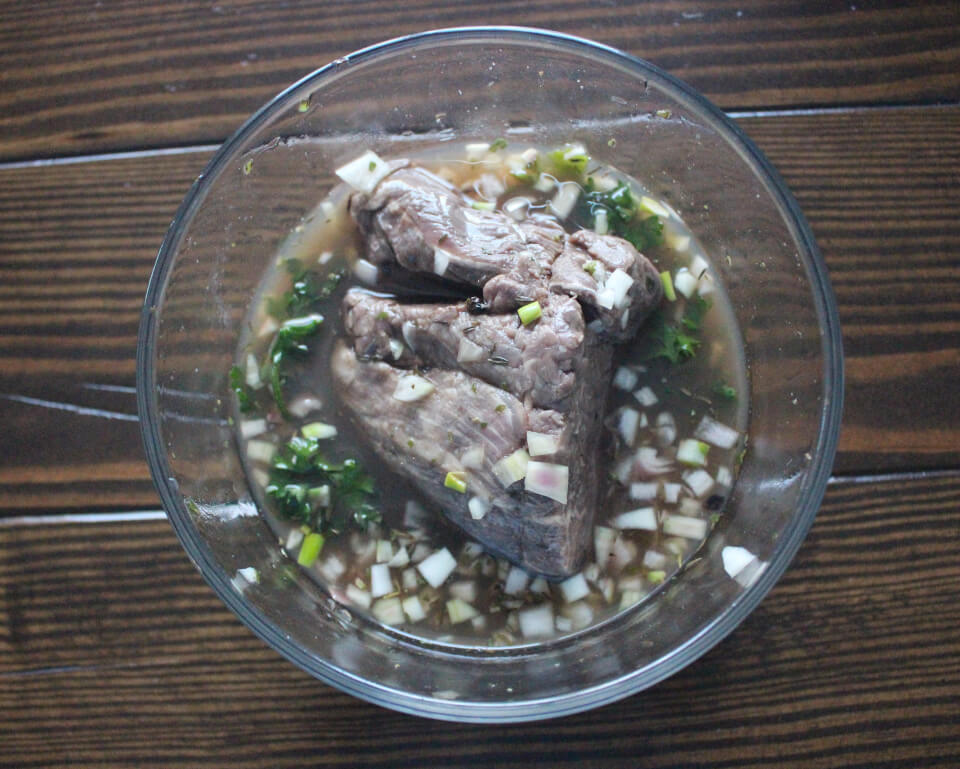 Last time I just used canned beef bouillon to braise the filet. The book also mentions you can make a "very good brown sauce" instead so that's what I did. Julia lists three different brown sauce recipes. I chose the brown sauce #3 because it was the quickest one. It took me maybe ten minutes to get it all together. The other two sauces take hours. Since I was using canned beef bouillon to make the sauce, it is recommended to make the canned bouillon fancy first. This consists of simmering the canned bouillon with onions, carrots, celery, dry white vermouth, parsley, bay leaf, and thyme for about 30 minutes. Once strained through a sieve, it is ready to be turned into a brown sauce. This is quite a bit of work and ingredients for canned bouillon so I'm not sure I will do this all the time now, but it is a good thing to know if you need to step up your canned bouillon game. Now for the brown sauce. This is SUPER simple. First, a little bit of cold fancy canned bouillon is blended with cornstarch, and the rest of the bouillon is added. All of it is simmered for five minutes. The sauce will begin to get thick since cornstarch is a thickening agent. I also added the optional Madeira at the end and simmered for a couple more minutes. Now the sauce is ready to braise the beef!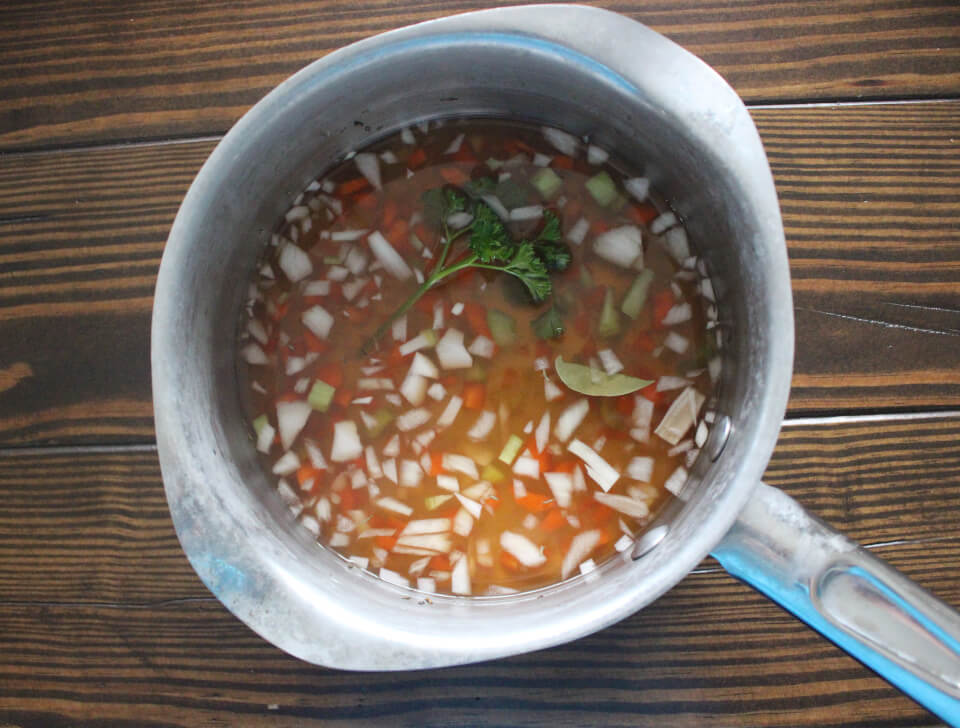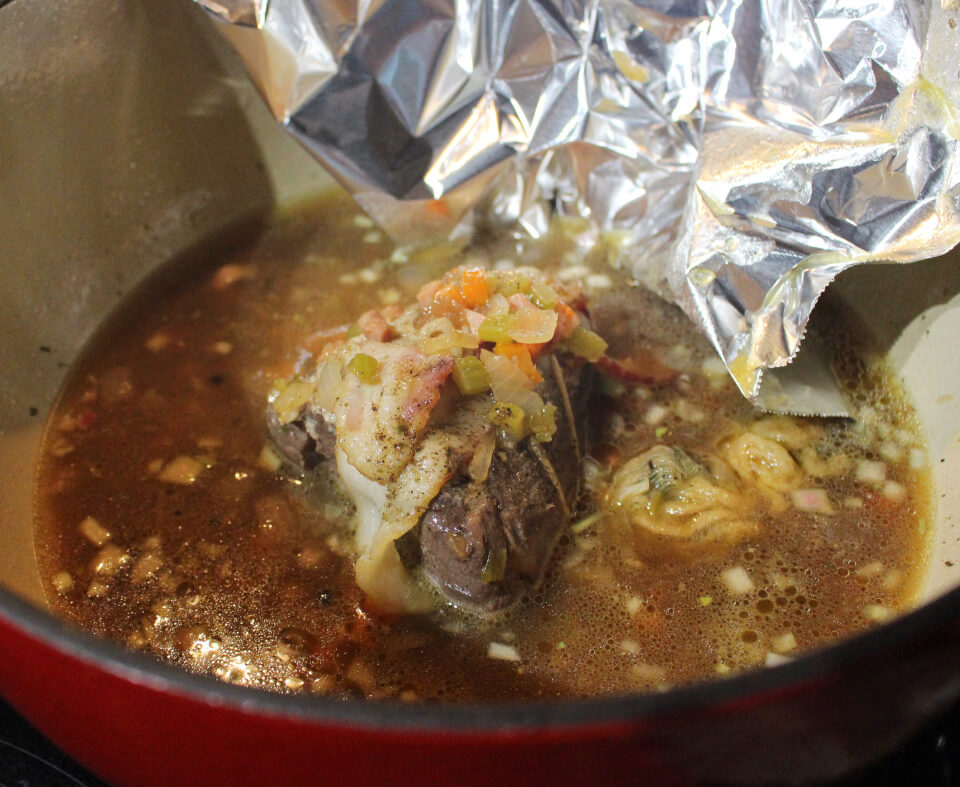 Lastly, I made fancy canned peas to serve as well. I chose this vegetable because I was so nervous about overcooking the meat again that I didn't want to be distracted with other things. This recipe is so simple. First, you will drain the peas, and shallots are cooked in butter for a minute or two. The peas, salt, and pepper are added. Lastly a little bit of stock is added into the pot as well, the pot is covered, and it is all boiled until the peas are warm. Next uncover the pot, raise the heat, and boil until there is no liquid left. I love peas and could eat them right out of the can. My husband, on the other hand, is not a fan. However, he did tolerate these peas better than if I had just plopped a can of peas onto his plate. As always, butter improves everything!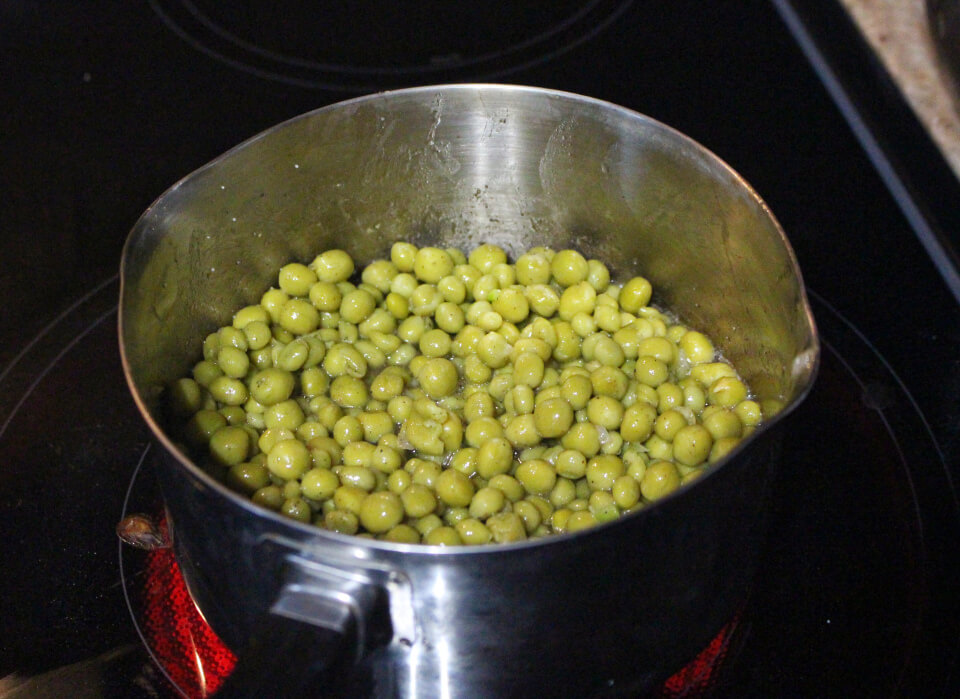 You can find these recipes and all the other Julia Child recipes I make in Mastering the Art of French Cooking
Bon appétit!
May 5, 2020 by Laura Bullock