The Perfect Guacamole
Cooking Laboratory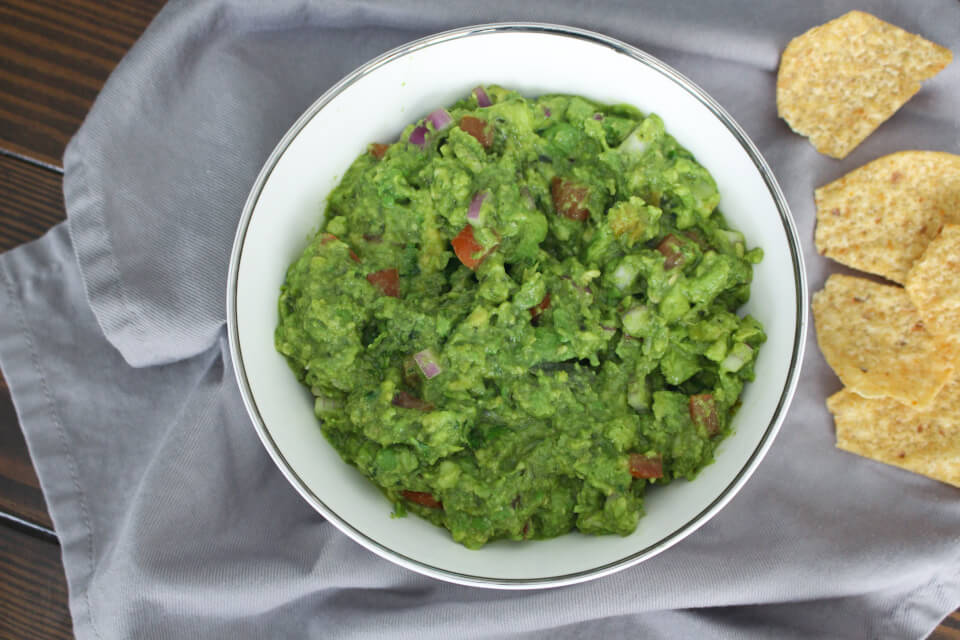 Guacamole! Do I need to say more? Guacamole is that green dip that is loved by many and hated by few. I, for one, love it- the reason why I chose it to be the star of my first ever cooking laboratory blog. Also, did you know that September 16 is National Guacamole Day? I wouldn't want you to miss out on this super important holiday!
Since this is my first cooking laboratory blog let me tell you what this blog is all about. With each blog/video, my goal is to dive deep into a single recipe. I will be giving you a brief history over the dish, talking about science, and, most importantly, I will be trying to discover the best recipe for the dish. How will I do this? After researching, I will find four different recipes for the dish whether that be online or in a cookbook and make all four on the same day. My husband will blind taste test all of them and let me know which was his favorite. From there, I will attempt to create my own recipe. A HUGE challenge given that I will be cooking recipes from some of the top chefs! I will then, of course, share my recipe with all of you.
If you are interested the history of guacamole, the science, and watching the taste tests- click the video below!
__________________________________
Let's jump into the four recipes that I chose to make!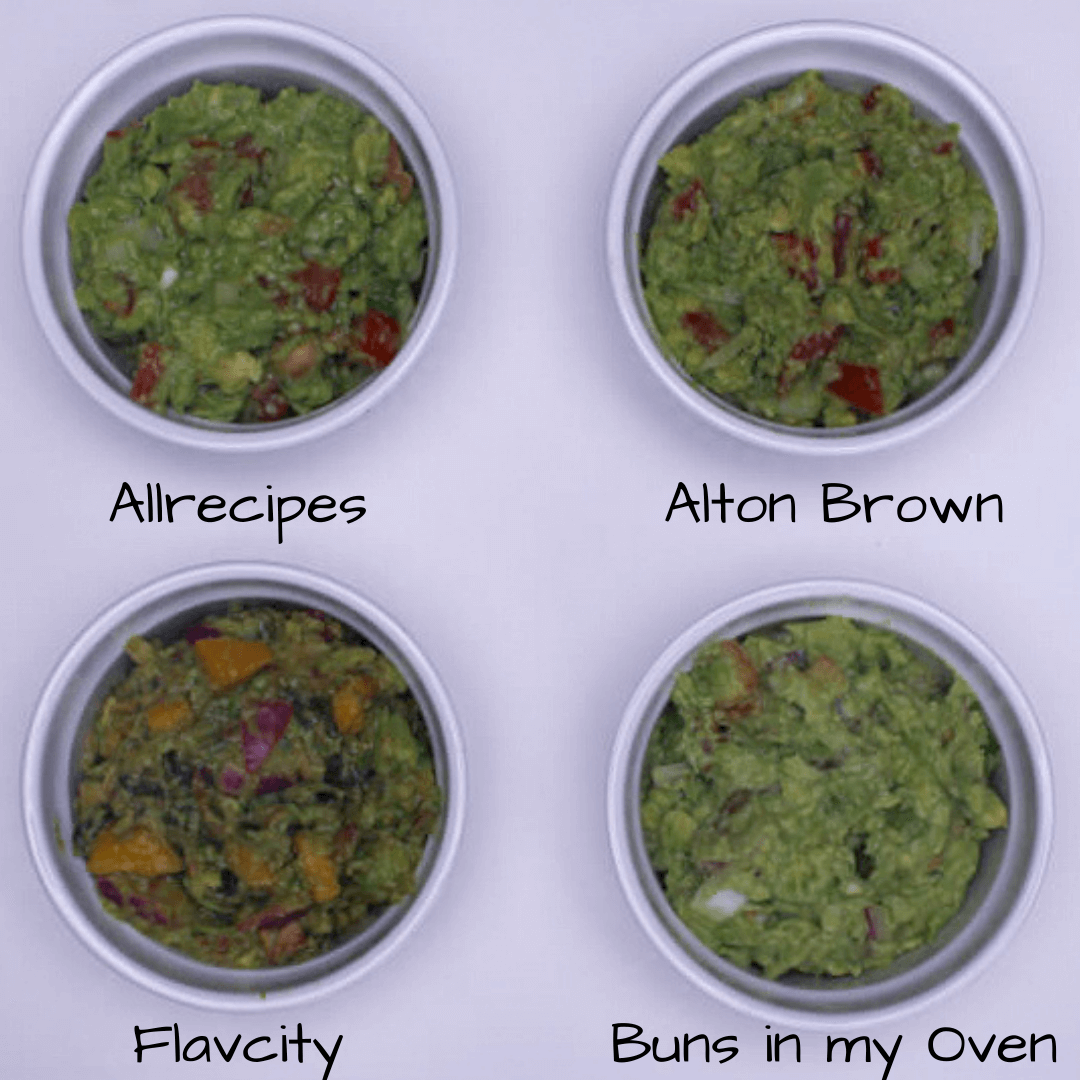 First, I made Allrecipe's Guacamole (Allrecipes Homepage). This is a classic guacamole recipe consisting of avocados, lime, salt, onion, cilantro, tomato, garlic, and cayenne pepper. This is such a good go-to guac recipe. It's fast and delicious, and you really just can't go wrong with it. I want to grab an entire bag of tortilla chips and munch down on it until it's completely gone.
Second, I made Alton Brown's Guacamole (Food Network Homepage). This is Alton's recipe so we know that it is backed by science which I love. This is very similar to Allrecipe's, but it calls for cumin and jalapeño as well. These are two of my favorite ingredients so, of course, this recipe was a winner in my book.
Third, I made Flavcity's Fancy Guacamole (Flavcity Homepage). This recipe was a trip- in a good way! The fun ingredients of mango, roasted poblano, and pepitas (disclaimer: I used pumpkin seeds) made this guac different than the others. A good recipe to run to when you're in the mood for stepping up your guac game.
Lastly, I made Buns in my Oven's Guacamole (Buns in My Oven Homepage). This recipe adds in sour cream and keeps the seeds in the jalapeño. Now you're talking my love language! I loved the extra creaminess and spiciness this guac provides.
All of these recipes were absolutely delicious. I wouldn't hesitate making any of them again, and I highly recommend you try them out for yourself. After a randomization and a blind taste test, my husband chose (drum roll please) Alton Brown's Guacamole as his favorite. He loved the classic taste of this guac, the taste of the jalapeños, and the perfect amount of salt.
__________________________________
LET'S DISCUSS THE RECIPE I CREATED!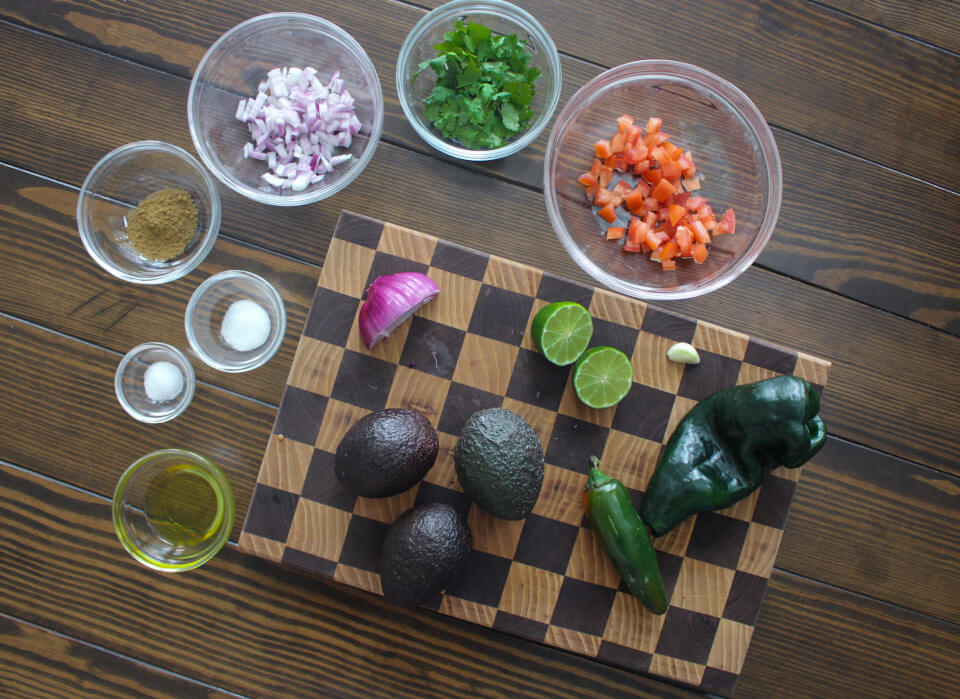 The first step in making my guacamole is preparing a green chile sauce. First, a poblano pepper is roasted, placed in a bag to sweat, peeled, deseeded, and roughly chopped. Along with the poblano, a jalapeño, garlic clove, red onion, cilantro leaves, salt, olive oil, and lime juice are blended together until they form a sauce. If you are not a big spice fan, you can leave out some of the jalapeño seeds or all of them depending on your preference. If your sauce is looking too thick and/or the blender is having a hard time making the sauce, you can squeeze in some more lime juice until it forms together.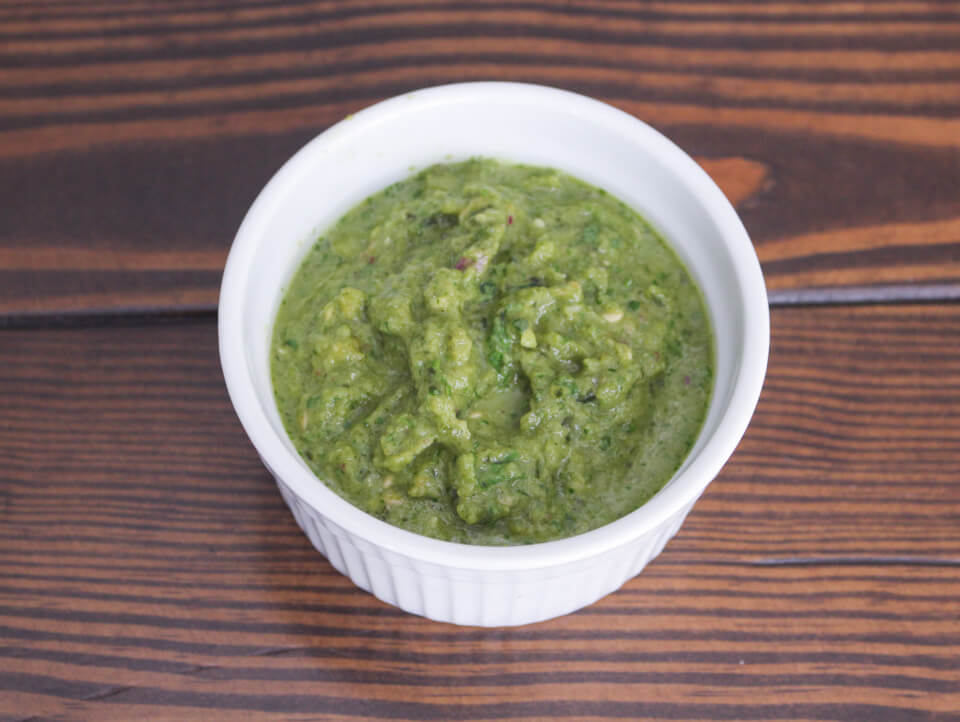 Next, the avocados are mashed with a fork until your desired consistency. You can leave some chunks of avocado in there if you want! All of the green chile sauce is stirred into the avocados. Lastly, red onion is added in for some crunchiness, and tomato, cumin, and salt are mixed in as well.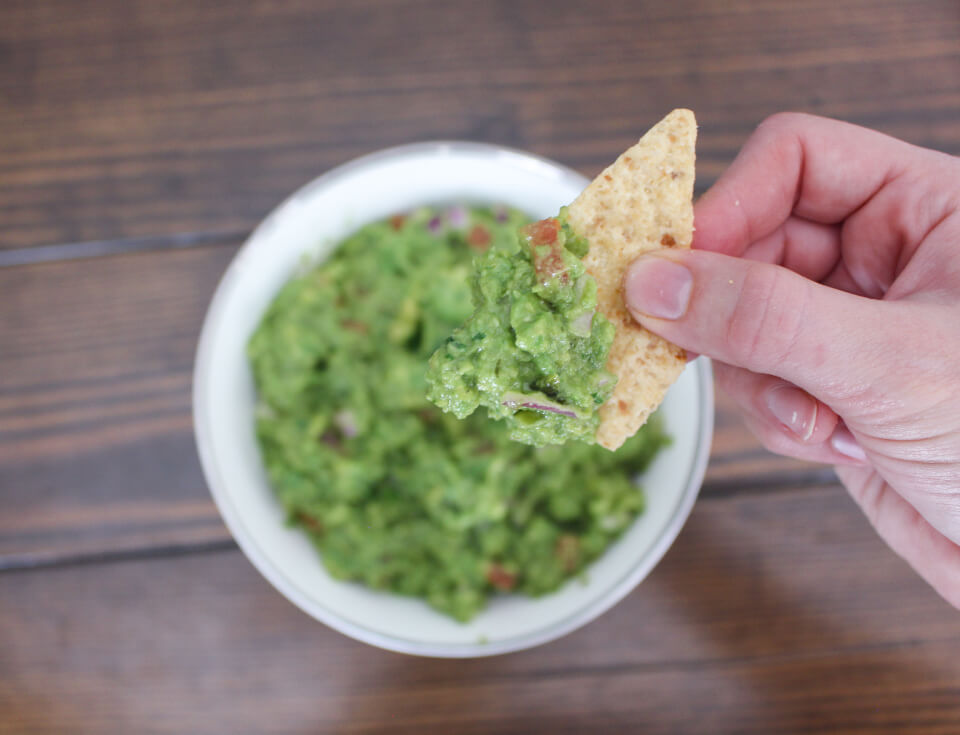 If you like guacamole, you'll also love this Avocado Jalapeno Dip. Both of these dips go great with Tofu Tacos!
If you want to watch an instructional video on how to make my guacamole- click the video below!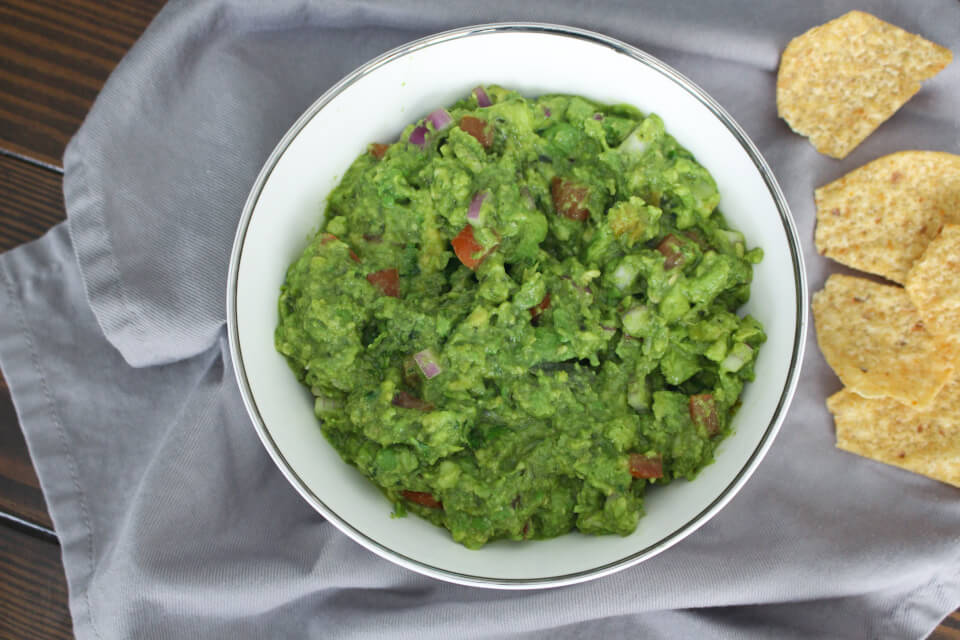 THE PERFECT GUACAMOLE
By Laura Bullock | Laura The Gastronaut
Prep Time: 15 minutes | Total Time: 35 minutes
Servings: 4
INGREDIENTS
For the Green Chile Sauce:
• 1 poblano pepper • 1 jalapeño, roughly chopped • 1 garlic clove, roughly chopped • 1/4 medium red onion, roughly chopped • 1/2 cup cilantro, leaves only • 1-2 limes, juiced • 1/2 teaspoon salt • 1 tablespoon olive oil
For the Guacamole:
• 3 medium ripe avocados • 1/4 red onion, diced • 1 Roma tomato, cored, diced • 1/2 teaspoon cumin • 1/4 teaspoon salt
INSTRUCTIONS
1. Lightly oil a baking sheet, and roast poblano pepper for 20 minutes at 400 degrees in the oven. Turn the poblano over halfway through so the entire pepper gets roasted. After roasting, immediately place the pepper in a sealed plastic bag for ten minutes so it will sweat. Peel the skin off of the pepper, de-seed, and roughly chop. (You can also roast the poblano over an open flame or gas stove top.) 2. To make the green chile sauce, put the poblano, jalapeno, garlic clove, red onion, cilantro, juice from one lime, salt, and olive oil in a blender and purée. If your sauce is too thick to blend, add more lime juice to loosen it up. Set aside. 3. Scoop out the avocados and place into a medium bowl. Mash avocados with a fork until desired consistency. Stir in all of the green chile sauce. 4. Mix in the red onion, tomato, cumin, and salt. 5. Serve immediately or to develop stronger flavors, allow to rest at room temperature for one hour.
__________________________________
DID YOU MAKE THIS RECIPE?
Let me know by leaving a comment below and sharing on Instagram. Tag @laurathegastronaut and hashtag it #laurathegastronaut.
__________________________________
WHY DID I DO THAT?!
Why did I make a green chile sauce?
I wanted uniformity throughout my guacamole so that each bite was the same. With a diced jalapeño, some bites are not as spicy as others. I love spice, and I want it with every single taste. But it's not just spice- you also get smoky poblano, garlic, onion, cilantro, and lime with each bite as well! More flavor= better!
Why did I roast my poblano pepper?
Roasting your poblano will bring in that smoky flavor in just the right amount. I love it! It also helps peel the skin off the pepper which could bring unpleasant texture to your guac.
Why did I take the seeds out of the tomato?
I felt that when the recipes did not ask for the seeds to be removed from the tomatoes, the guacamole was too runny after sitting out for awhile. Removing the seeds eliminates that extra water.
Why did I not marinate my onions beforehand?
You know that pungent smell onions have? Marinating the onions in lime juice prior to adding them to your guacamole will help tone that down some. I am, however, an onion lover. I 100% want that raw onion flavor in my guac. I know that a lot of you probably do not enjoy the raw onions (and like to keep your breath fresh) so this is a great way to get an onion flavor without getting THAT onion flavor.
Why did I not use sour cream?
Sour cream did indeed make the guac so creamy which I loved. However, I felt it didn't allow the key ingredients to shine as much as they should.
If you have any other questions, let me know down below!
Bon appétit!!
September 14, 2020 by Laura Bullock