Hotel Transylvania
Hotel Transylvania
Movie-themed Recipes
October 5, 2021 | Updated: September 14, 2022 | Laura
*This post may contain affiliate sales links. Please see full disclosure policy for details.
*The views expressed on this blog are my own.
Have a super fun Hotel Transylvania movie night with these spooky recipes! For the cocktail, make a sparkling strawberry gin also known as Blood Beaters. It is especially cute when garnished with lime fangs. For a treat, make prosciutto wrapped dried dates stuffed with goat cheese. They look just like roaches! These recipes are perfect for Halloween!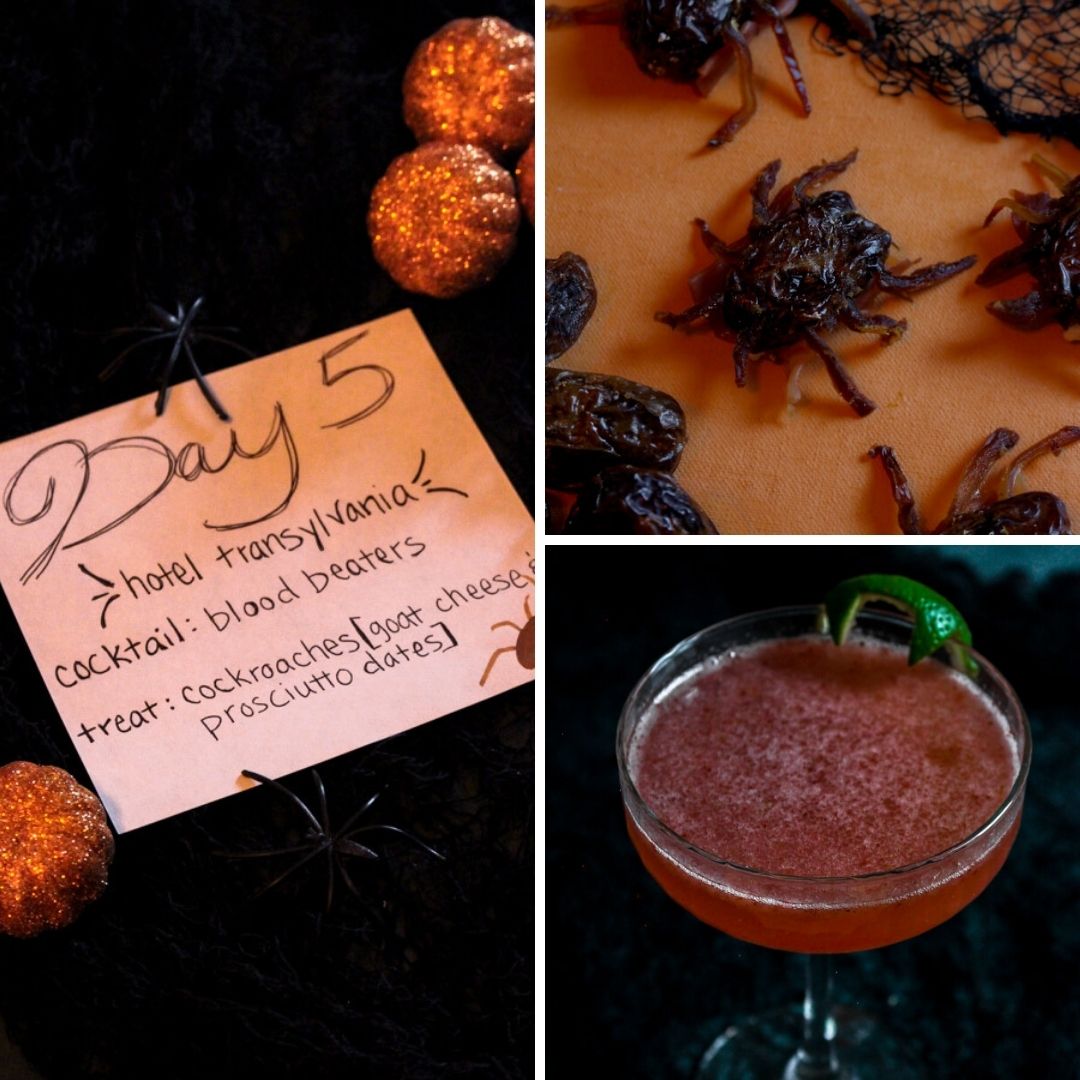 Hotel Transylvania Movie Night
I do not say bleh, bleh, bleh.
This year was actually my first time seeing this movie. It was super cute, and definitely had all those Halloween vibes I'm looking for during this time of year. While watching it for food ideas, I came across two. Let's get started!
31 Days of Halloween
These Hotel Transylvania themed recipes were created for my 31 Days of Halloween where every day in October I come up with Halloween snacks and drink recipe to pair with horror films, Halloween movies, or a Halloween activity. It's so much fun and a great way to celebrate the spooky holiday.
→ Check out the entire 31 Days of Halloween!
Hotel Transylvania: Movie Fun Facts
Find these facts plus more over on Wikipedia's Hotel Transylvania Page and on IMDb!
✽ Release Date: September 28, 2012
✽ Hotel Transylvania was pretty successful upon its release earning $358 million worldwide on a $85 million budget.
✽ There currently 3 sequels- Hotel Transylvania 2, Hotel Transylvania 3: Summer Vacation, and Hotel Transylvania: Transformania.
✽ A lot of animated films have the actors and actresses record their lines separately. However, Adam Sandler, Kevin James, David Spade, and Steve Buscemi recorded all their lines together as if it were a live-action film.
✽ The town with the fair at the end is based on a real town called Sighisoara, Romania. This town is known as the birthplace of Vlad the Impaler- the real Count Dracula.
✽ Jon Lovitz, who voices Quasimodo, says that Quasimodo was based on Julia Child.. "if she were an evil man, and short, with a hunchback, but still French!"
Looking for more Halloween recipes that pair with popular scary movies or Halloween movies?
→ Check out all of my recipes that pair with movies!
Let's now talk about the two recipes I created for my Hotel Transylvania spooky movie night!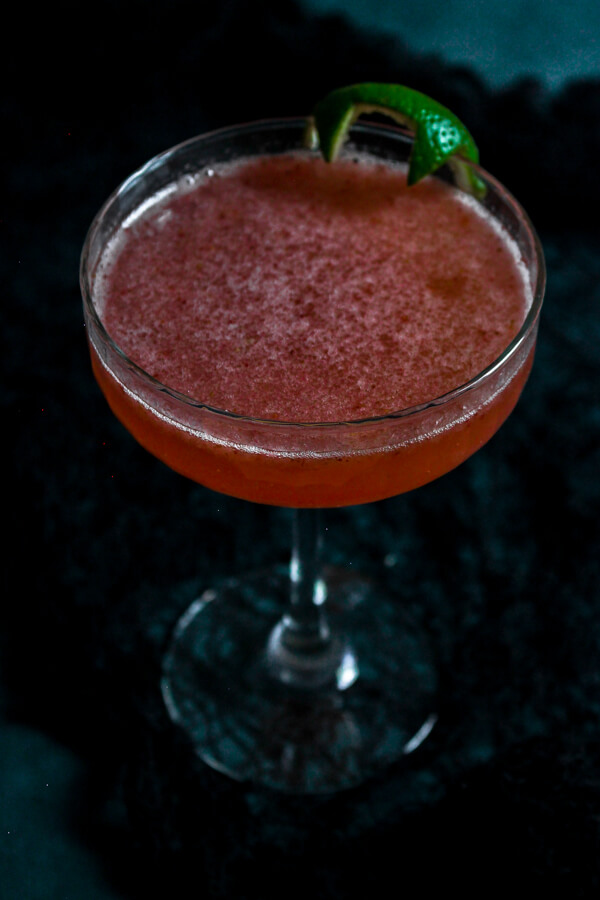 Hotel Transylvania Cocktail
I vant to suck your blood! Er, I mean blood beaters.
According to Hotel Transylvania, Dracula does not drink blood! Crazy, right? He claims that human blood is really fatty and you just never really know where it's been.
Now Dracula usually drinks Near Blood or Blood Beaters. So, I present to you- some Blood Beaters!... with gin, of course.
This cocktail is a sparkling strawberry gin. It's made from a simple homemade strawberry sauce (a recipe inspired by Julia Child), gin, and freshly squeezed lime juice and then topped with sparkling wine. It's bubbly, refreshing, fruity, and delicious.
To make it extra spooky, I garnished with some vampire fangs carved out of a lime peel.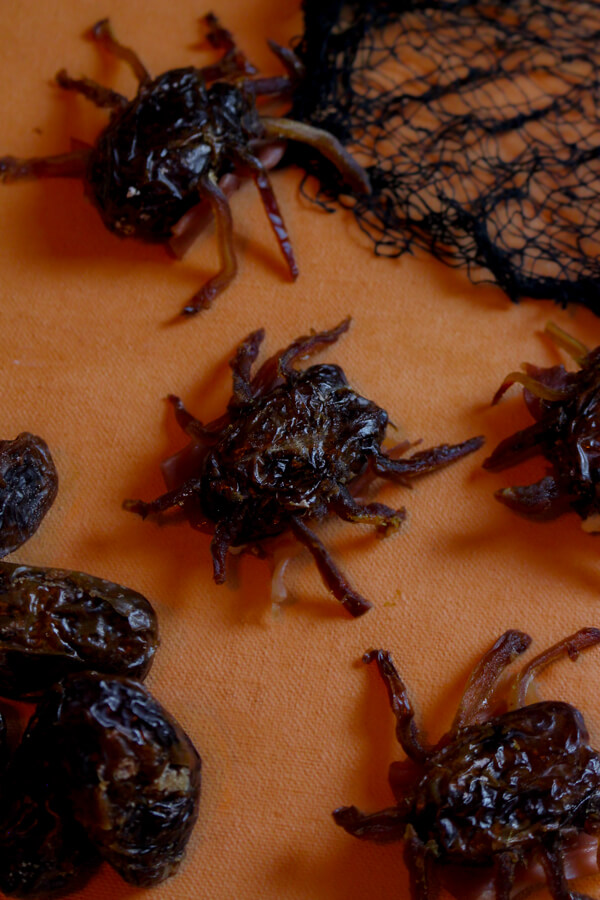 Hotel Transylvania Snack
In Hotel Transylvania, the monsters eat all kinds of strange foods including monster ball soup, scream cheese, beefimodo, fish & eyeball fritters, and cockroach paste.
While these Halloween roaches are not exactly in the movie, I 100% believe that these would be eaten by the monsters living in Hotel Transylvania. If they like cockroach paste, they would like these roaches too! Possibly that roach paste is made from these roaches?!
These roaches are maybe a little too realistic. The bodies are made out of dried dates. They are then stuffed with goat cheese so when you press down on the date, it oozes out!
The bottom is wrapped with prosciutto for a little bit of crisipiness, and the legs and antennae are thin strips of dates. As creepy as these roaches look, they taste so good and actually, do I dare say, elegant.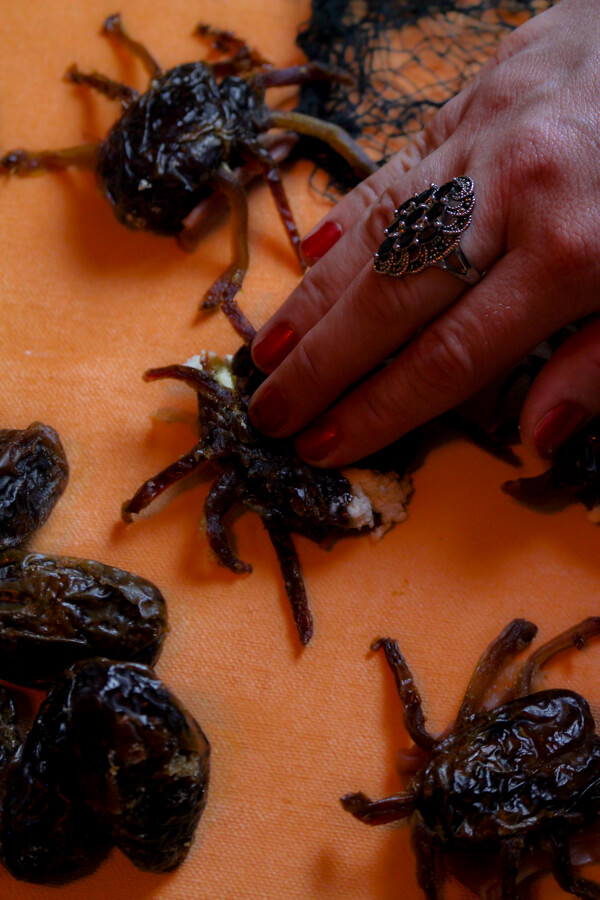 Now it's time to get to sipping that blood beaters and eating some roaches because it's time for the movie to start!

Category: Movie-themed Recipes, Cocktails, Halloween
Keywords: halloween cocktails, halloween roaches, halloween snacks, hotel transylvania recipes, vampire cocktail, hotel transylvania movie night, goat cheese date roaches, Halloween movie night
✽ Did you make this recipe too?
→ Let me know by leaving a comment below and sharing on Instagram. Tag @laurathegastronaut and hashtag it #laurathegastronaut.
More Halloween Movie Inspired Recipes:
✽ Monster House (a spooky haunted house charcuterie tray with a Mountain Dew cocktail)
✽ Monsters Inc (a Mike Wazowski veggie tray with a Sulley-inspired Blue Monster cocktail)
✽ The Nightmare Before Christmas (a spiced old fashioned served with scary gingerbread men cookies)
→ Check out all of my movie-themed recipes!
Bon appétit!
October 5, 2021 by Laura Bullock
*This Hotel Transylvania blog post may contain some Amazon affiliate links. These link to products that I personally use and recommend. If you purchase anything using my links, it will not cost you anything. It will though give laurathegastronaut.com some financial support which helps me keep this blog running. Thank you for reading my blogs and your continued support.