Monsters, Inc.
Monsters, Inc.
Movie Inspired Food
October 6, 2021 | Updated: April 7, 2022 | Laura
*This post may contain affiliate sales links. Please see full disclosure policy for details.
*The views expressed on this blog are my own.
Enjoy watching Monsters, Inc. while eating a this healthy vegetable tray shaped like Mike Wazowski and sipping on this blue monster cocktail that resembles Sulley. With these two Monsters, Inc. food ideas, you're sure to have a fun movie night!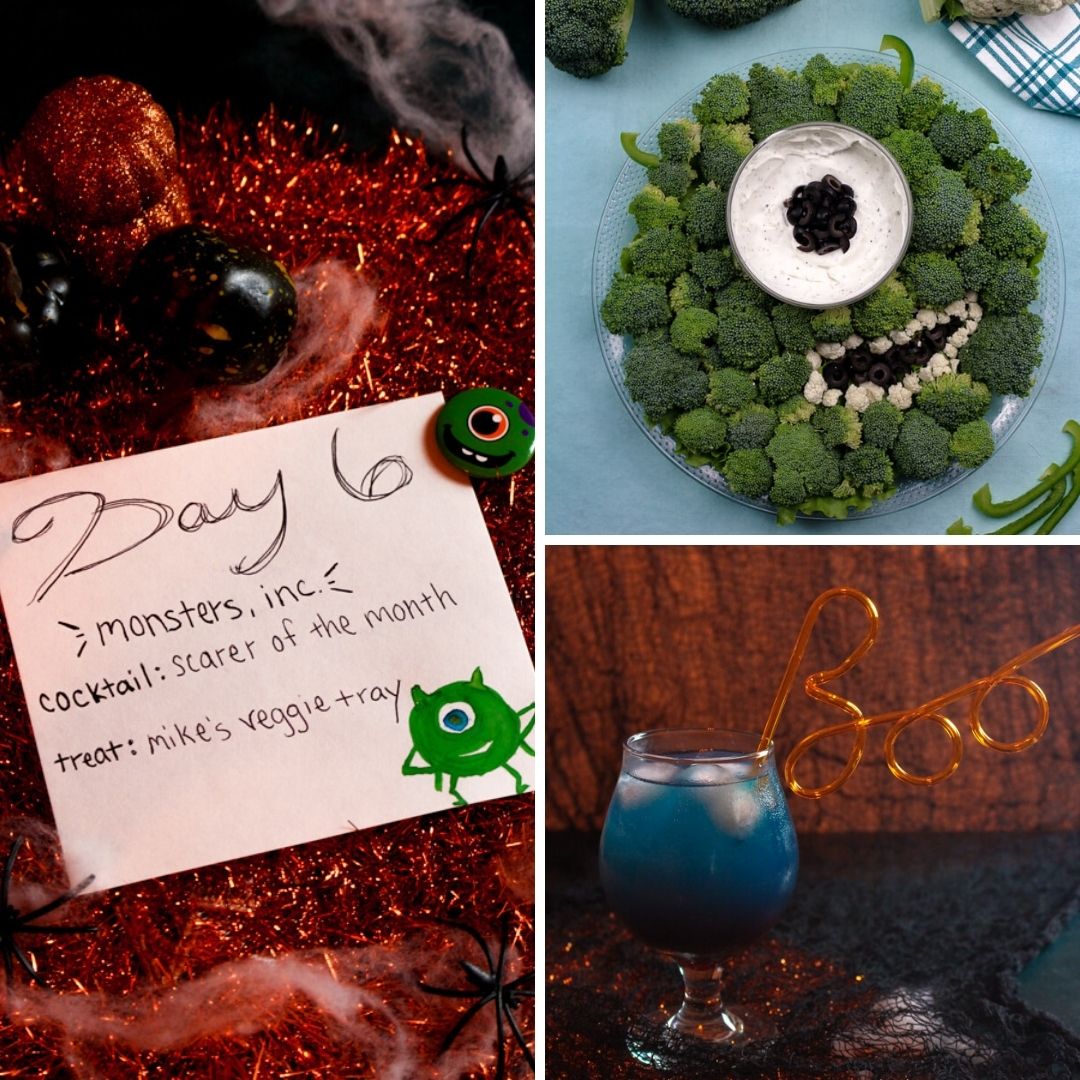 Monsters, Inc. Inspired Movie Night
Scary Feet, Scary Feet, Scary Feet
While Pixar's Monsters, Inc. may not technically be a Halloween movie, it is still a great movie filled with monsters and scares making a good choice for Halloween night!
I think everybody can agree that this movie is adorable. I loved it when I was a little girl, and I love it now. This Disney movie is, indeed, great for the whole family!
So coming up with two recipes for this movie was SO MUCH FUN. Of course, the recipes had to be inspired by everybody's two favorite characters Sulley and Mike. Let's get to this Halloween movie night party!
31 Days of Halloween
These Disney recipes were created for my 31 Days of Halloween where every day in October I come up with a food recipe and drink recipe to pair with horror films, Halloween movies, or a Halloween activity. It's so much fun and a great way to celebrate the spooky holiday.
You can find recipes for all of your favorite Halloween movies and horror movies such as Hocus Pocus, It's the Great Pumpkin Charlie Brown, The Addams Family, A Nightmare on Elm Street, Hotel Transylvania, Monster House, and so many more by going to my 31 Days of Halloween below!
→ Check out the entire 31 Days of Halloween!
Before I get into my fun original recipes I created for our Monsters Inc date night, let's go over all the food you see in Monsters, Inc. There's some pretty fun food!
All Monsters Inc Food to Make an Appearance in the Movie
✽ Bagel
..or something of the sort. At the beginning of the movie, a monster is eating something that resembles a bagel in front of the Hidden City Cafe.
Hidden City Cafe's sign says "Espresso • Cappuccino • Diesel"
✽ Trash
Also, we see a green monster by the cafe sweeping up the trash and eating it while Mike and Sulley walk by.
✽ Tony's Grossery
Tony's 'Grossery' is the local grocery store which sells unfamiliar fruits and vegetables. We see ads for fresh fruit and veggies such as blood oranges, mangle fruit, spineapples, spleen beans, bilge berries, various types of gourds, and flea dip.
As Mike walks by Tony, he throws him a lime green fruit that is spiky like a dragon fruit.
✽ Harryhausen's
Harryhausen's is a sushi restaurant that Mike and Celia Mae (Monsters, Inc. receptionist) go to for their anniversary dinner.
We see an octopus-like monster preparing sushi-like food with two fat arm/ tentacles pieces. There is also a lot of monsters enjoying eyeballs.
I'm also assuming they are drinking tea as there is a teapot sitting on the table.
✽ Kreature Krisps
When Sulley is trying to lure Boo to bed, he uses a cereal called Kreature Krisps. They resemble Froot Loops. They did a great job tricking Boo to go into the bedroom!
✽ Lemon Snow Cones
The Yeti (or Abominable Snowman) offers Mike and Sulley lemon snow cones for a snack.
The Yeti also goes on about yak's milk saying that once you pick all the hairs out of it, it really is nutritious.
Monsters, Inc: Movie Fun Facts
Find these facts plus more over on Wikipedia's Monsters, Inc. Page!
✽ Monsters Inc was produced by Pixar Animation Studios for Walt Disney Pictures.
✽ Release Date: November 2, 2001
✽ According to Wikipedia, Monster's Inc. made almost $290 million overall in the United States.
✽ Pixar's Monsters Inc has an 96% on Rotten Tomatoes.
✽ It won the Academy Award for Best Original Song for 'If I Didn't Have You.' It was nominated for Best Animated Feature, but lost to Shrek.
✽ In 2013, we were blessed with the release of Monsters University. So to keep the party going, you can continue your Monsters Inc movie night by watching this prequel! There's also a new TV series called Monsters at Work.
✽ In Boo's room, you can see items from other Pixar movies like a Pixar ball, a Nemo toy, and a Jessie doll.
✽ Sulley was the first to have animated CGI fur. He has over 2.3 million hairs! In order to make if flow, they had to invent a software program called Fizt.
Looking for more Halloween recipes that pair with popular scary movies?
→ Check out all of my recipes that pair with movies!
Now let's get into my monster-themed menu for a perfect Monsters, Inc. movie night!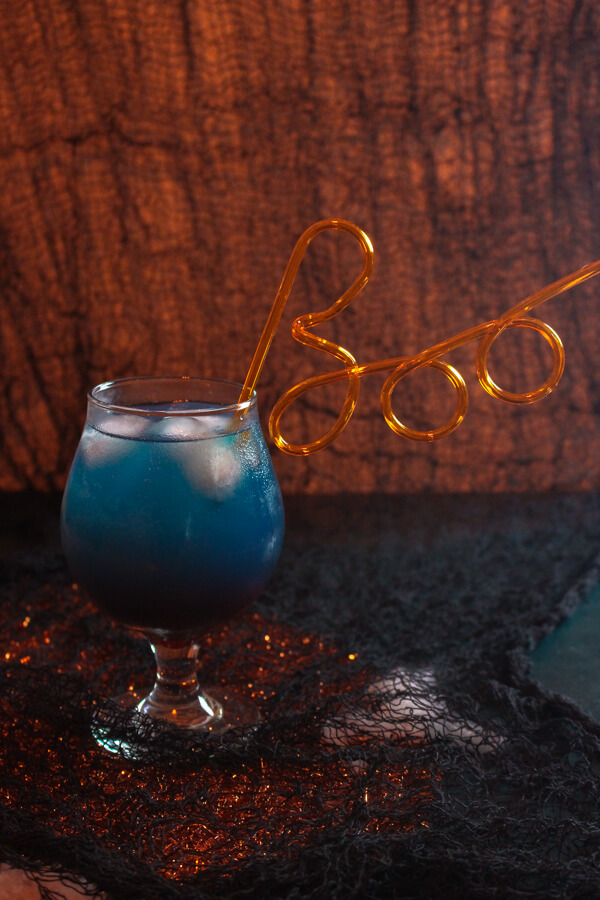 Monsters Inc Cocktail
This cocktail is inspired by the one and only, Sulley!
The main part of the drink is made with simple ingredients: lemonade (lemon juice, water, simple syrup), silver rum, and blue curacao.
The blue curacao makes it blue just like Sulley's fur. A bit of grenadine is put into the drink which sinks straight to the bottom. With a quick stir, the red grenadine and blue lemonade mix some to make the drink have a purple bottom just like Sulley's spots.
I wasn't looking for it, but I randomly saw this BOO straw. I instantly knew I had to have it! I found this little guy at Home Goods last week. It ended up being the perfect finish for this Monsters, Inc. cocktail.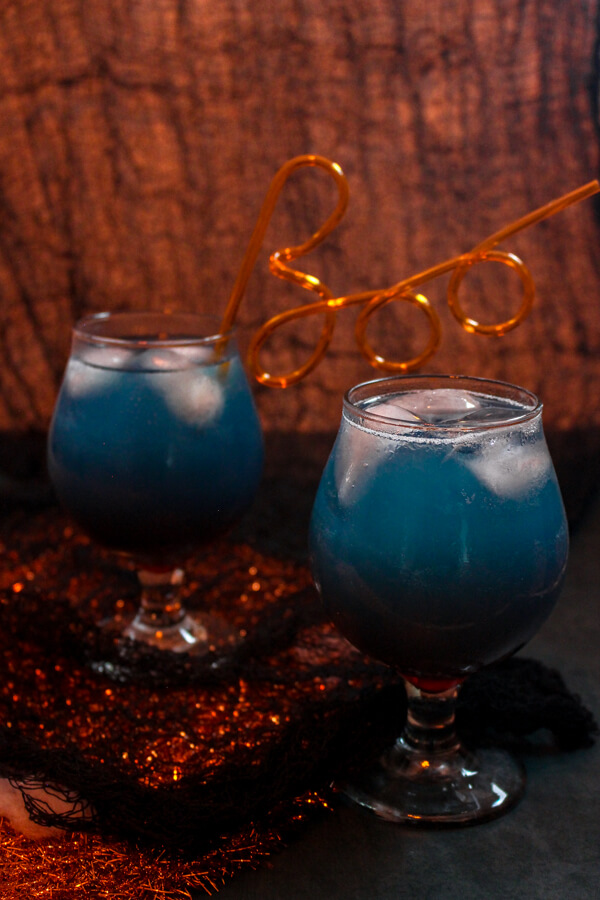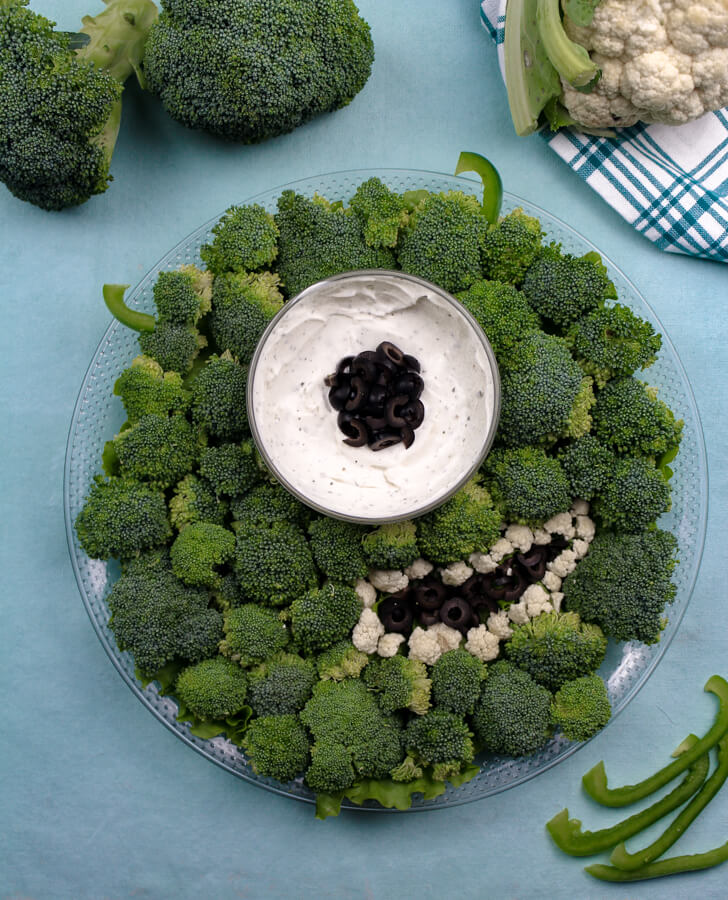 Monsters Inc Inspired Food
When I had this thought of a Mike Wazowski vegetable platter in my head, I had no idea that it could look just like Mike! It's an absolute must for any Monsters, Inc. party!
The bottom of the platter is lined with lettuce leaves. Mike's eye is a bowl of ranch dressing topped with chopped black olives arranged in a small circle for the pupil.
Mike's body is made out of broccoli florets. Two pieces of green bell pepper make his horns at the top. Lastly, his mouth is made from cauliflower pieces that look like teeth and black olives fill up the middle of the mouth.
I like to serve this veggie tray alongside extra veggies such as cherry tomatoes, celery, carrots, and the cut-off broccoli stems.
This vegetable tray is so adorable and the ultimate monster snack! It's perfect for a Monsters, Inc.-themed party or a chill Monsters, Inc. family movie night at home.
PLUS you don't have to feel guilty about indulging in this recipe because it's healthy eating! A great option if you are wanting healthier alternatives!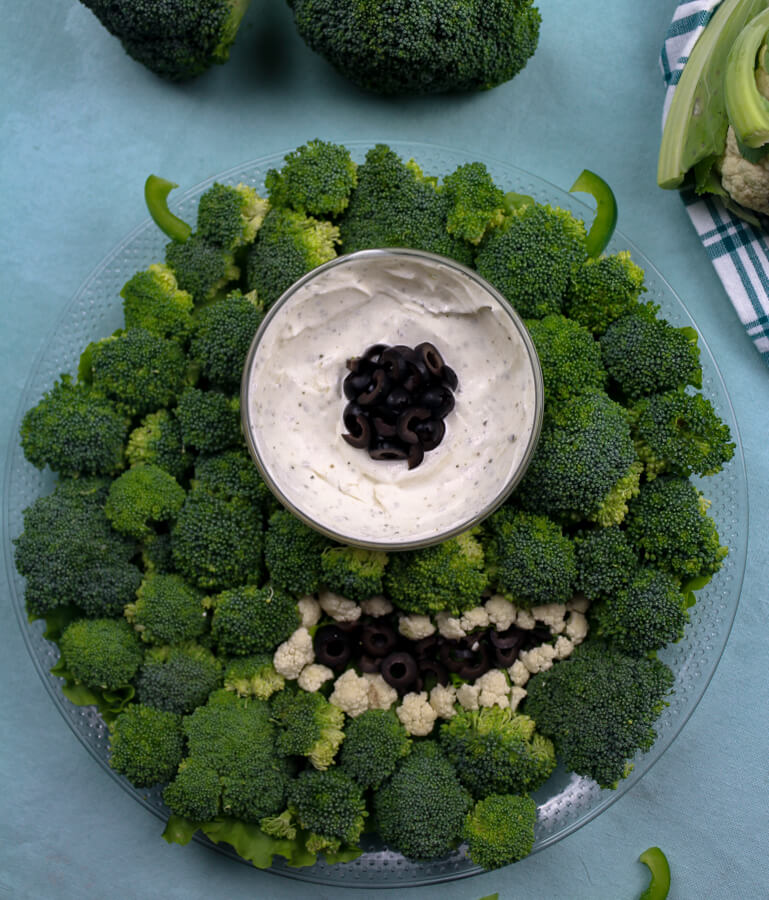 Time to go get'em, googly bear! Turn on some Monster Mash music and get those blue monster cocktails and monster vegetable tray made so you can enjoy the movie!

Category: Movie-themed Recipes, Cocktails, Appetizers
Keywords: monsters inc food, halloween cocktails, dinner and a movie ideas, monsters inc food in movie, monsters inc recipes
✽ Did you make this recipe too?
→ Let me know by leaving a comment below and sharing on Instagram. Tag @laurathegastronaut and hashtag it #laurathegastronaut.
More Movie Inspired Fun Recipes:
✽ Scooby-Doo (a spooky island cocktail + shaggy sandwich)
✽ The Haunted Mansion (a cocktail that tastes like sour green apples + spooky spider pizza rolls)
✽ Casper (enjoy a spooky evening sipping on a spiced white lady cocktail served with a ghostly breakfast)
→ Check out all of my movie-themed recipes!
Bon appétit!
October 6, 2021 by Laura Bullock
*This Monsters, Inc. blog post may contain some Amazon affiliate links. These link to products that I personally use and recommend. If you purchase anything using my links, it will not cost you anything. It will though give laurathegastronaut.com some financial support which helps me keep this blog running. Thank you for reading my blogs and your continued support.