Monster House
Monster House
Movie-themed Recipes
October 20, 2021 | Updated: September 19, 2022 | Laura
*This post may contain affiliate sales links. Please see full disclosure policy for details.
*The views expressed on this blog are my own.
Have the perfect Monster House movie night with these fun movie themed recipes! For a cocktail, have a Sour Apple Mountain Dew cocktail. For snack, enjoy this Monster House charcuterie board that looks just like the Monster House. Both of these recipes are great for movie night, Halloween, and the entire spooky season!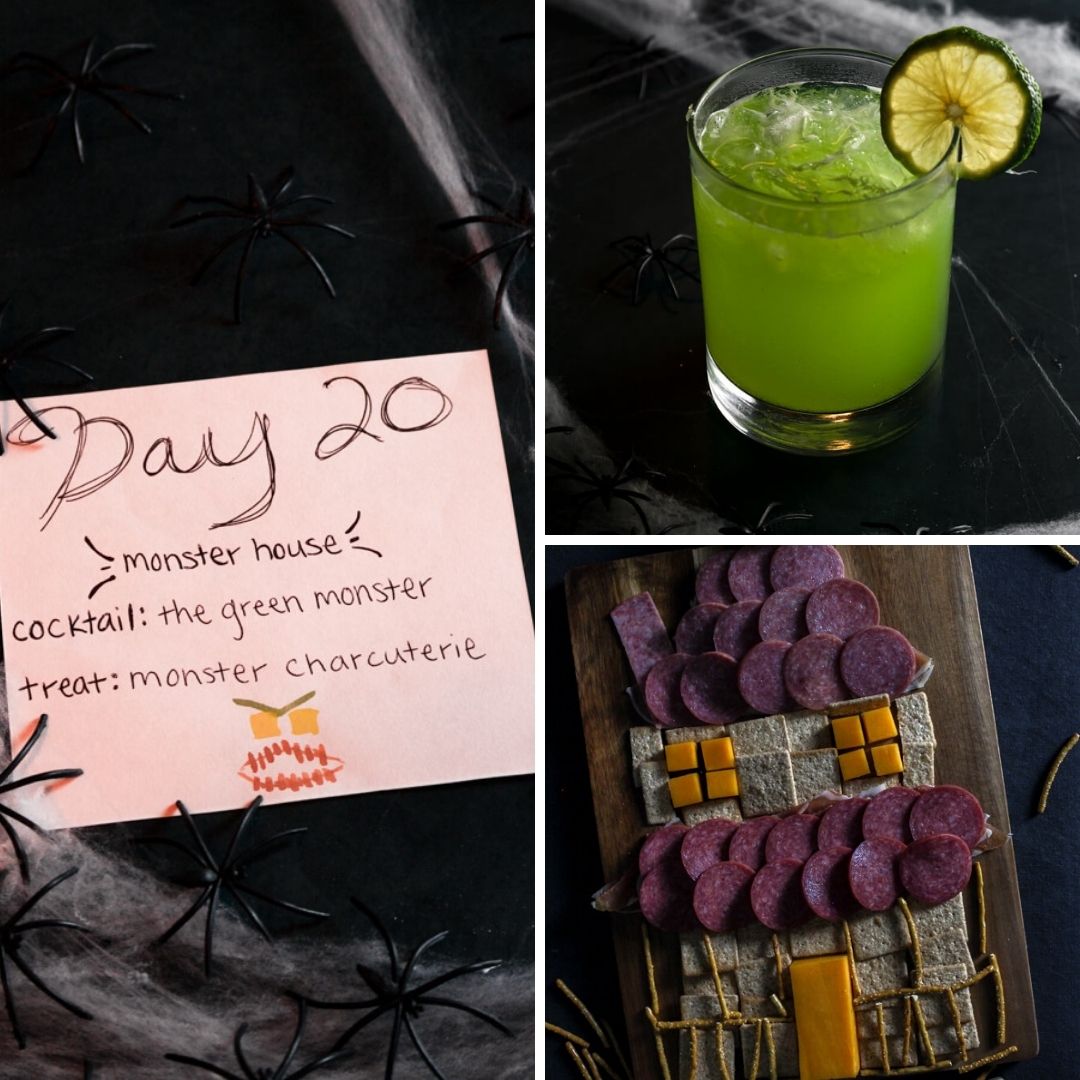 Ohhh, so it's a girl house.
The house is alive! This movie really surprised me. I thought it was going to be 'kid-ish', but there was a lot of depth to it and kept us interested the whole time.
I definitely recommend watching it- especially when you have delicious snacks to enjoy during it!
31 Days of Halloween
These Monster House themed recipes were created for my 31 Days of Halloween where every day in October I come up with Halloween snacks and drink recipe to pair with horror films, Halloween movies, or a Halloween activity. It's so much fun and a great way to celebrate the spooky holiday.
→ Check out the entire 31 Days of Halloween!
Monster House: Fun Facts
Find these facts plus more over on Wikipedia's Monster House Page and on IMDb!
✽ Release Date: July 21, 2006
✽ The film received mostly good reviews and grossed $142 million worldwide on a $75 million budget.
✽ Monster House was nominated for Best Animated Feature but lost to Happy Feet.
✽ The tricyle scene at the beginning is a homage to The Shining.
✽ Monster House is set in the year 1983 in Mayville, Wisconsin.
✽ At the time of its release, this was the only motion capture film to have an entirely original story and not be based on existing material.
Looking for more Halloween recipes that pair with popular scary movies or Halloween movies?
→ Check out all of my recipes that pair with movies!
Now let's get into those two Monster House recipes I created for this Halloween movie night!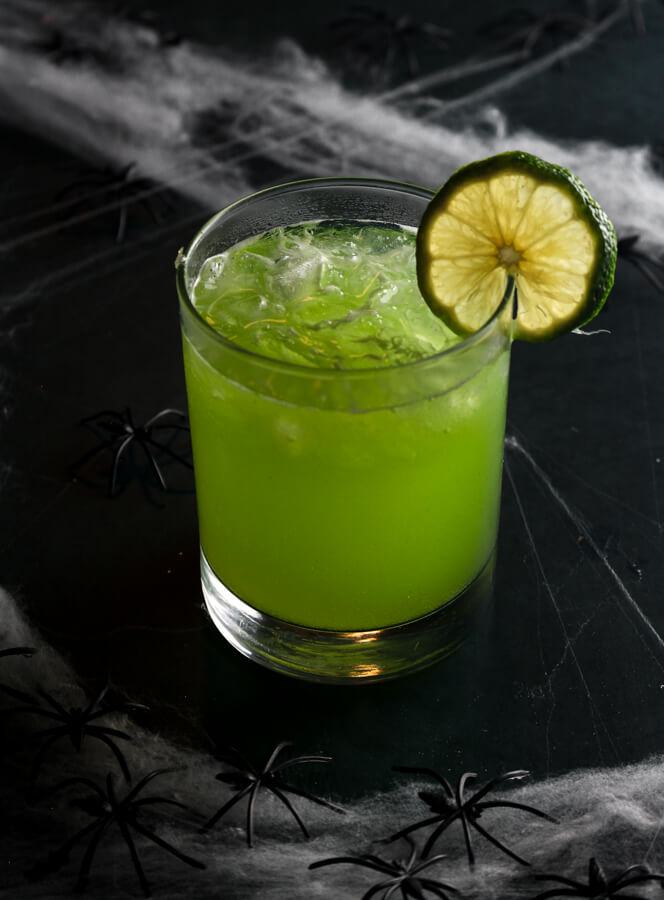 Monster House Cocktail
When DJ runs up to Zee, his babysitter, saying that the house is trying to eat them, she thinks that he has completely lost it. She tells him that he doesn't need to drink any more Mountain Dew.
So, here's a Mountain Dew cocktail! This bright green-yellow cocktail is made with pineapple juice, vodka, sour apple schnapps, lime juice, and Mountain Dew and garnished with a lime wedge.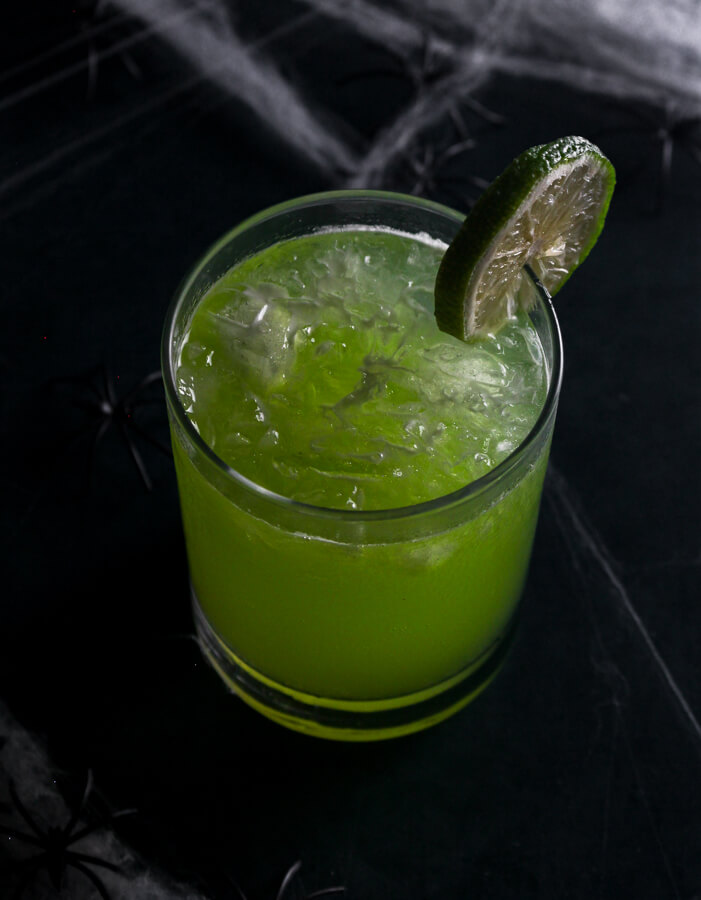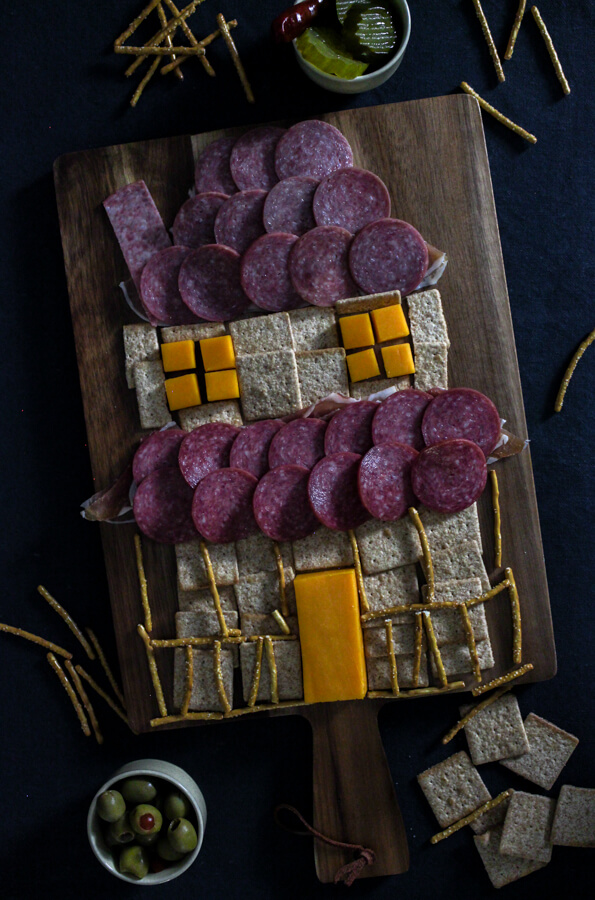 Monster House Food
I knew immediately that I wanted to re-create the Monster House with crackers, cheese, and cured meats. With a little patience, you can have a Monster House cheese and meat board too!
I first laid down prosciutto to be the background of the roof. I then covered the prosciutto with rounds of salami to be the shingles. The next layer is crackers with cheddar cheese windows. Then there's another layer of salami-topped prosciutto. Lastly, the bottom of the house is crackers again with a cheddar cheese door and a pretzel porch.
Serve this Monster House board with all of your other favorites surrounding it such as different kinds of cheese and meats, pickles, olives, nuts, etc.
Make your board and Mountain Dew cocktail, and let's get to watching the film!

Category: Movie-themed Recipes, Cocktails, Halloween
Keywords: monster house eating, monster house food, mountain dew cocktail recipe, halloween charcuterie, halloween cheese board, monster house cocktail, halloween cocktails, sour apple schnapps cocktail
✽ Did you make this recipe too?
→ Let me know by leaving a comment below and sharing on Instagram. Tag @laurathegastronaut and hashtag it #laurathegastronaut.
More Halloween Movie Inspired Recipes:
✽ The Haunted Mansion (spooky spider pizza rolls with a green apple martini inspired by Madame Leota)
✽ Frankenweenie (a spicy green relish hot dog served with a green avocado margarita)
✽ Hocus Pocus (witches brew cocktail with a Sanderson Sisters dip trio)
→ Check out all of my movie-themed recipes!
Bon appétit!
October 20, 2021 by Laura Ehlers
*This Monster House blog post may contain some Amazon affiliate links. These link to products that I personally use and recommend. If you purchase anything using my links, it will not cost you anything. It will though give laurathegastronaut.com some financial support which helps me keep this blog running. Thank you for reading my blogs and your continued support.