The Shining
The Shining
Movie-themed Food & Cocktail
October 4, 2021 | Updated: August 25, 2022 | Laura
*This post may contain affiliate sales links. Please see full disclosure policy for details.
*The views expressed on this blog are my own.
With these two The Shining recipes, you are sure to have the best The Shining movie night! For the food recipe, have some homemade french fries and ketchup which is Danny's favorite! For the Shining cocktail, have a Red Rum made with rum, cherries, lime juice, and ginger ale. Also a great cocktail for Halloween and spooky season!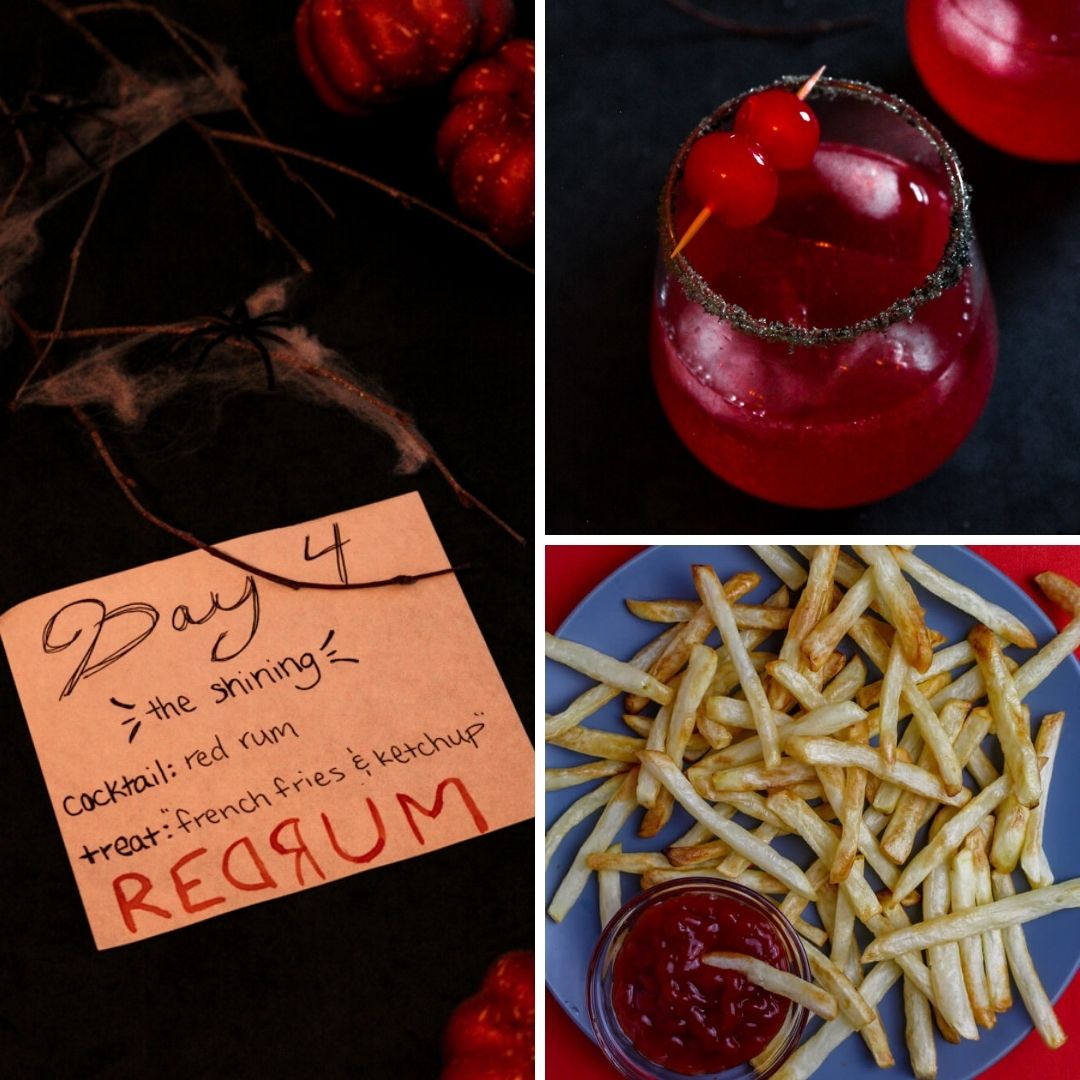 The Shining Inspired Movie Night
REDRUM, REDRUM, REDRUM
I still remember the very first time I saw The Shining, and I'm still creeped out about it. The whole movie is just so wild and creepy, and I love every second of it. It's become a must-watch in October for me.
Keep reading to find out why I made each of these recipes, how they fit with the movie, and get the recipes!
31 Days of Halloween
These Shining recipes were created for my 31 Days of Halloween where every day in October I come up with Halloween snacks and drink recipe to pair with a horror film, a Halloween movie, or a Halloween activity. It's so much fun and a great way to celebrate the spooky holiday.
→ Check out the entire 31 Days of Halloween!
The Shining: Movie Fun Facts
Find these facts plus more over on Wikipedia's The Shining Page and on Mental Floss!
✽ The Shining was a film adaptation of Stephen King's 1977 novel of the same name.
✽ Release Date: May 23, 1980
✽ In 2018, The Shining which was directed by Stanely Kubrick was added to the United States National Film Registry by the Library of Congress for preservation. It earned this spot by being 'culturally, historically, or aesthetically significant.
✽ On November 8, 2019, a sequel, Doctor Sleep, was released.
✽ Danny Lloyd, who played Danny Torrance, was told that they were making a drama instead of a horror movie so he wouldn't be scared. He didn't see the film for the first time until he was the age 16.
✽ The line, 'Heeere's Johnny!' was all thanks to Jack Nicholson who played Jack Torrance. In one of the most iconic scenes, after Jack broke down the bathroom door with an axe, he yelled the popular line originally from The Tonight Show Starring Johnny Carson. The line just worked and was kept in the film.
✽ In the book, all the horror happens in Room 217. However, the Timberline Lodge in Oregon (which was the exterior set for the Overlook Hotel) asked for the room number to be changed to 237. They were afraid that nobody would want to stay in room 217 after seeing the movie, and room 237 didn't actually exist at the hotel.
✽ There's many conspiracy theories floating around about the The Shining including one that the moon landing in 1969 was a hoax and Kubrick was the one that made the fake moon footage. Also one about the Native Americans trying to drive off the builders of the hotel since it was built upon a Native American burial ground.
Looking for more Halloween recipes that pair with popular scary movies or Halloween movies?
→ Check out all of my recipes that pair with movies!
Let's get into the recipes for my The Shining movie night!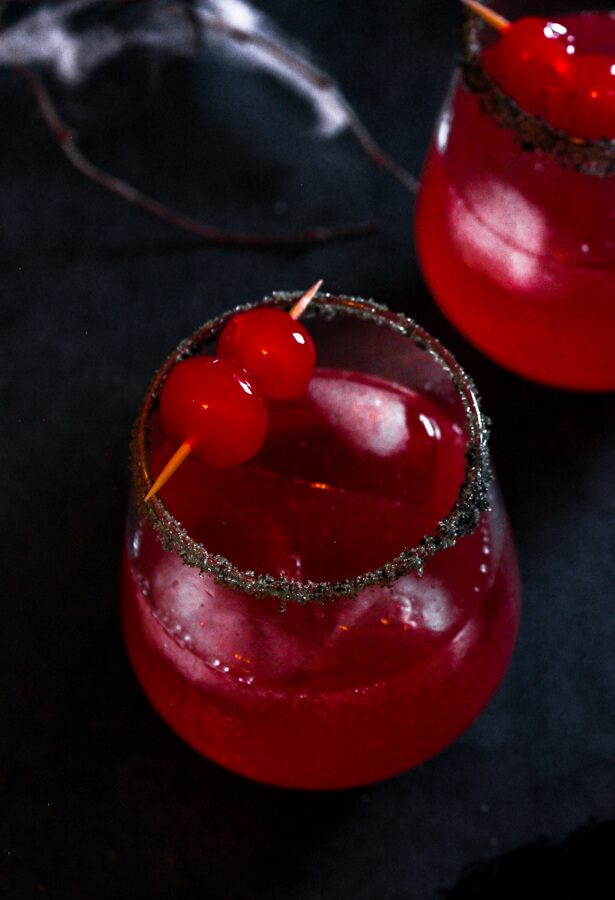 The Shining Cocktail
I think it's pretty obvious why I chose this cocktail for The Shining. The entire REDRUM scene from this movie is definitely a scene that sticks with you for a long time or even an entire lifetime. So I'm sure you've guessed it by now- I created a red rum cocktail.
This cocktail is made with maraschino cherries, silver rum, and lime juice then topped with ginger ale. It's like a boozy cherry limeade. YUM.
To make this cocktail a little more fun and a little more spooky, I put a black sugar rim on the cocktail glass and garnished with some maraschino cherries.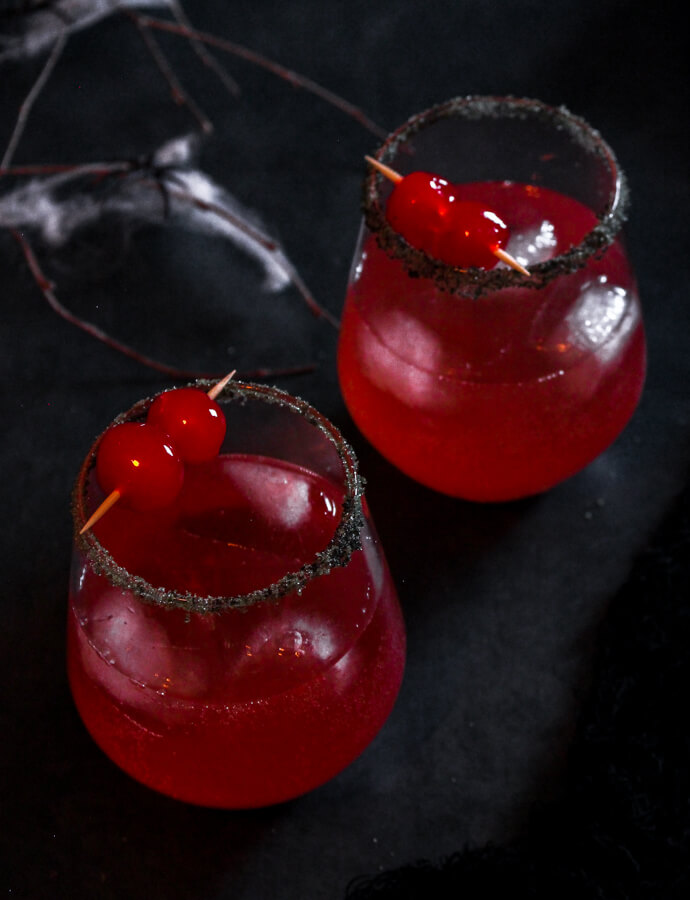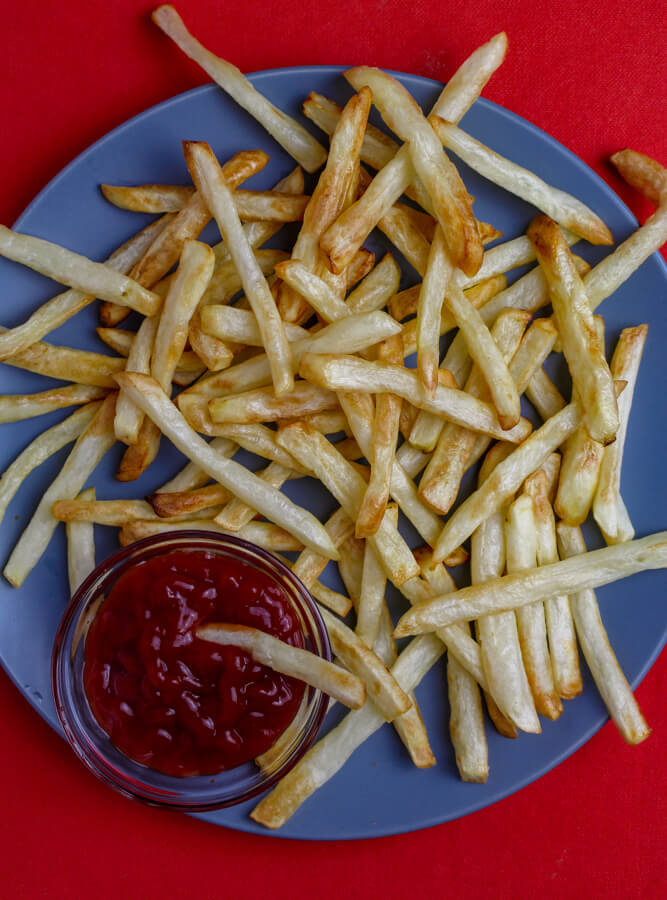 The Shining Inspired Food
This recipe may not be as obvious as the red rum. When the Torrance family arrive at the Overlook Hotel, the head chef, Dick Hallorann, is showing the young son Danny and the wife Wendy Torrance around the kitchen and the walk-in freezer. He asked the little boy if he likes lamb to which Danny says 'no'. Danny's favorite food is french fries and ketchup. So, I present to you- french fries and ketchup!
I know that the perfect fried french fry already exists and there was nothing I could change from a recipe to make it better. So I decided to create the best air fryer french fry instead.
These fries do require some extra steps like boiling and freezing prior to cooking, but it is so worth it. Enjoy them immediately out of the air fryer sprinkled with some salt and a big pile of ketchup in honor of Danny.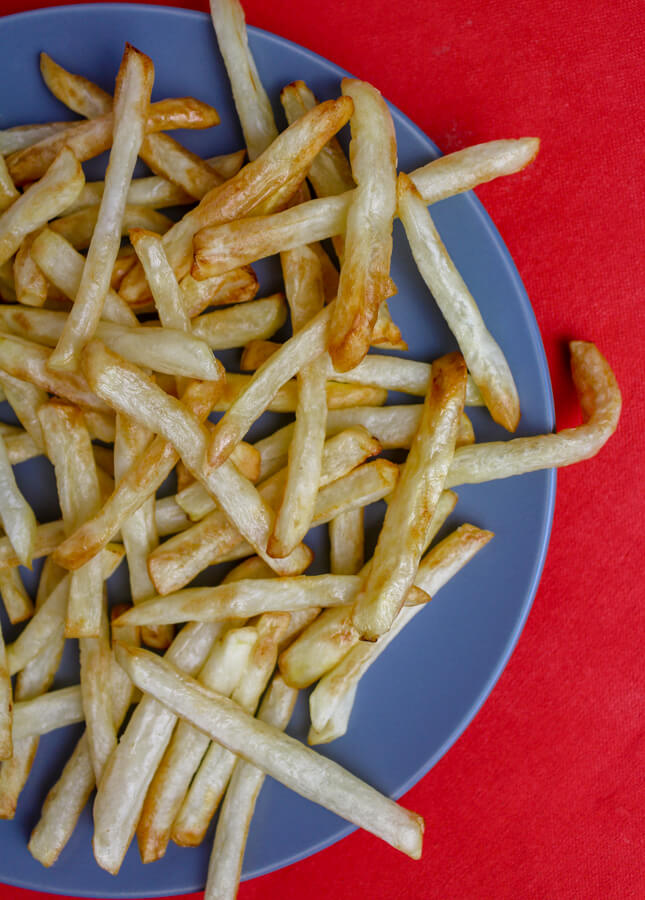 All work and no play can make you a dull boy. Relax and enjoy a sparkling red rum cocktail with a side of perfect air fryer french fries & ketchup while you watch the The Shining. Enjoy!

Category: Movie-themed Recipes, Cocktails, Appetizers & Snacks, Halloween
Keywords: the shining food, the shining cocktail, food in the shining, the shining themed food, the shining drink, shining redrum
✽ Did you make this recipe too?
→ Let me know by leaving a comment below and sharing on Instagram. Tag @laurathegastronaut and hashtag it #laurathegastronaut.
More Halloween Movie Inspired Recipes:
✽ Children of the Corn (movie night with everything corn-related)
✽ IT (enjoy a peanut butter whiskey float (because we all float down here) and carnival food)
✽ The Silence of the Lambs (a nice chianti with fava bean dip)
→ Check out all of my movie-themed recipes!
Bon appétit!
October 4, 2021 by Laura Bullock
*This The Shining blog post may contain some Amazon affiliate links. These link to products that I personally use and recommend. If you purchase anything using my links, it will not cost you anything. It will though give laurathegastronaut.com some financial support which helps me keep this blog running. Thank you for reading my blogs and your continued support.