Frankenweenie
Frankenweenie Movie Night
Movie-themed Recipes
October 3, 2021 | Updated: July 11, 2022 | Laura
*This post may contain affiliate sales links. Please see full disclosure policy for details.
*The views expressed on this blog are my own.
Have a fun Frankenweenie movie night with these Frankenweenie inspired recipes. They are perfect for Halloween and the spooky season. For the treat, enjoy a spicy green relish hot dog with balsamic stitches drawn on top. The cocktail is a creamy, green, and delicious avocado margarita.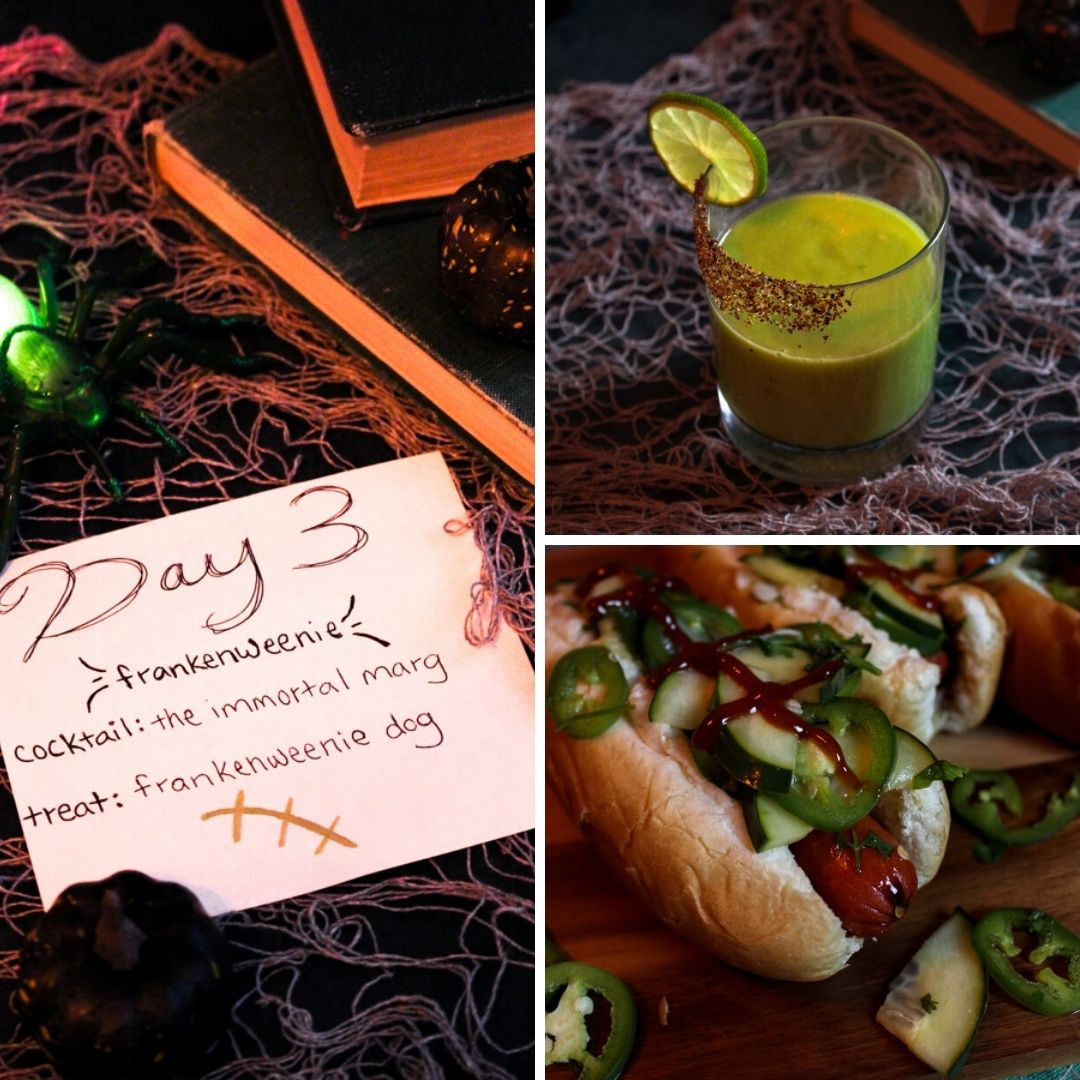 Disney's Frankenweenie Inspired Movie Night
Your dog is alive!
Frankenweenie is a heartwarming tale about a boy, Victor, who brings his beloved dog Sparky back to life thanks to the power of science. Despite the whole movie being in black & white, I still decided to make both of the recipes I created are based on the classic Frankenstein green color.
Oh, and of course I made a hot dog because well FrankenWEENIE. It had to be done.
These two recipes are perfect to enjoy while watching Frankenweenie, to serve during a Frankenstein themed party or Halloween party, or to have during the entire Halloween season. So let's get to it!
31 Days of Halloween
These Frankenweenie recipes were created for my 31 Days of Halloween! Every day during the month of October, I came up with two recipes that paired with a horror film, Halloween movie, or fun spooky activity. The recipes are so much fun and perfect for the entire spooky season!
→ Check out the entire 31 Days of Halloween!
Before we jump into the recipes I created for Frankenweenie, let's talk about all the food that shows up in the movie. These also make fun food ideas to snack on while watching the movie!
All of the Food to make an Appearance in Frankenweenie
✽ Popcorn
During young Victor Frankenstein's movie premiere, they are all snacking on the classic movie treat- a big bowl of popcorn!
✽ Fondue
Victor's mom yells 'Dinner's ready!" and they all show up to the dinner table with a fondue feast awaiting them. There's mushrooms, bread, cubes of beef and beef slices, tomatoes, shrimp, hard-boiled eggs, and summer sausage. Victor's parents enjoy a glass of wine while Victor has a glass of water.
✽ Hot Dog
During the baseball game, Edgar Gore is eating a hot dog and what I assume to be a soda. As he goes to take a bite, the weenie falls out of bun. Hate when that happens!
✽ French Toast or Waffles?
After Victor brings his dog back to life, his mother comes up to his "lab" and asks if he wants 'French toast or waffles?'. Victor chooses waffles. She then says that she'll need her waffle iron back.
✽ Cookies
Edgar comes over to Victor's house to say that he knows his dog is alive again. He asks Victor's mother for a glass of milk and cookies.
✽ Glass of Ice Water
Bob's mother is enjoying a nice cold glass of ice water in her cup with a straw while she is sun tanning in the yard.
✽ Double Dutch Cherry Muffins
Victor's mom is about to make a batch of Double Dutch Cherry Muffins, but she can't find her muffin tin. She blames Victor, goes upstairs, and that's when she discovers Victor's science experiment- Sparky was brought back to life!
You can also see the recipe for Dutch Apple Cake in the cookbook as well.
Tim Burton's Frankenweenie: Movie Facts
Find these facts plus more over on Wikipedia's Frankenweenie Page and on Darcy and Brian!
✽ Release Date: October 5th in 2012
✽ The film was actually shot in color, but it was all changed to black and white on the computer. The creative genius Tim Burton wanted the film to remind people of the 1960 monster movies.
✽ The movie takes place in a fictional town named New Holland in which the entire town celebrates Dutch Day every year.
✽ When the puppets needed their fingers or hands replaced, they were sent to the puppet hospital on set.
✽ Sparky was inspired by Tim Burton's childhood dog named Pepe.
✽ Winona Ryder is the voice of Elsa van Helsing and Catherine O'Hara is the voice of the Weird Girl. Both of which also star in Tim Burton's Beetlejuice.
✽ To create a stop-motion animation movie like Frankenweenie, the animators had to stop and position each puppet 24 times just to create one second of filmed action. Each animator would create about five seconds of film in a week!
✽ There were more than 200 puppets used for Frankenweenie, but Sparky was the most complex. He had more than 300 joints in his body!
Looking for more Halloween recipes that pair with popular spooky movies?
→ Check out all of my recipes that pair with movies!
Now let's get into this spooky menu that I created for Frankenweenie!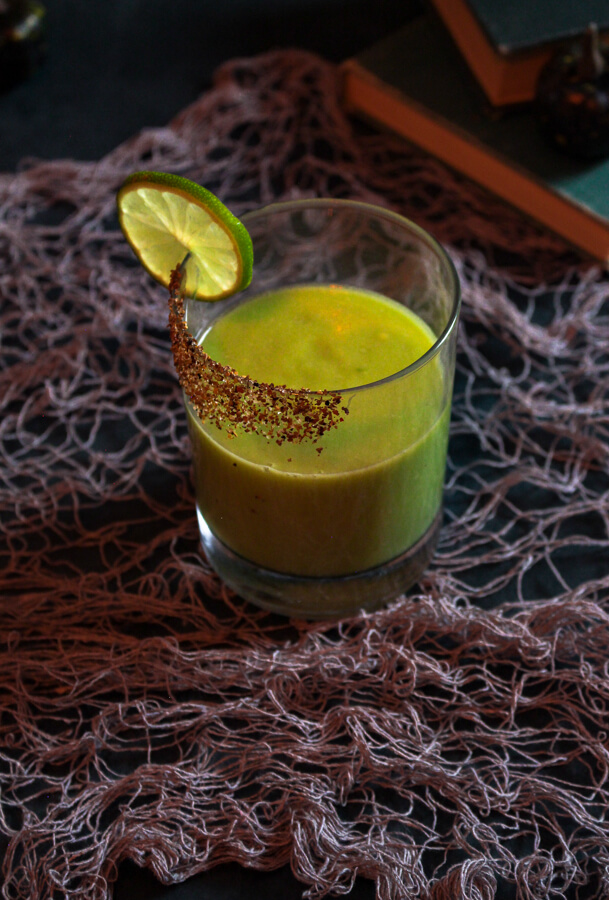 Frankenweenie Green Cocktail
The first idea that popped into my head when thinking of a green cocktail- avocado margarita. I first had an avocado margarita last year, and I fell in love with it.
If you never had one before, you may be skeptical. It's okay. I was too, but once you try it, you'll understand the hype.
Avocado margaritas are creamy and SO GOOD. Just trust me. Give it a try!
I made this cocktail with the usual margarita ingredients- tequila, triple sec, and lime juice. Of course, there's plenty of avocado added too. The game changing ingredient though is the jalapeno & cilantro simple syrup. It's a great way to add a kick to the creamy avocados that works perfectly together.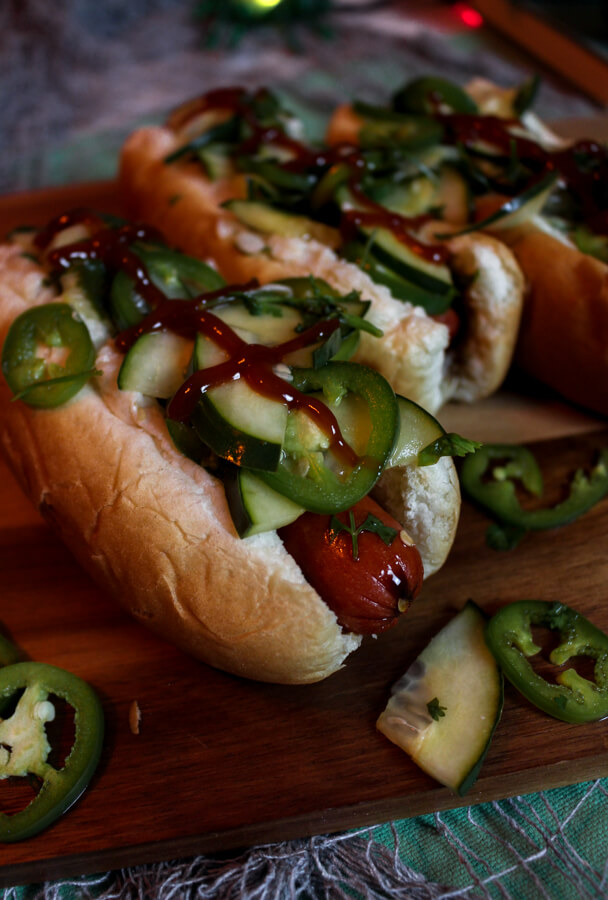 Frankenweenie Hot Dog
This hot dog's toppings are green like Frankenstein and the dog part is for Frankenweenie himself. Lastly, Frankenweenie's stitches are drawn on top to complete the hot dog for a tasty fun treat!
This green relish is so good. It could really go on just about anything, but it's especially good on top of a hot dog. The relish is made with jalapeno, cucumber, and cilantro. It's covered with a vinegar, sugar, salt, and lime juice mixture for a quick pickling to get a bit of that tartness. The crunchy relish is then piled high on a hot dog.
Frankenweenie's stitches are balsamic ketchup which balances out the spiciness of the relish a little bit.
Now that you have some good eats ready, let's get to the movie! I hope you enjoy this spicy relish hot dog and avocado margarita while watching Frankenweenie!
Try not to get too many tears in your drink after all of the heart strings this movie pulls. Nothing quite puts me in my feels like a good movie about a child and their pup best friend.

Category: Movie-themed Recipes
Keywords: jalapeno hot dog, frankenweenie dog, frankenweenie food, frankenstein hot dog, movie recipe, delicious frankenweenies, movie frankenweenie
✽ Did you make this recipe too?
→ Let me know by leaving a comment below and sharing on Instagram. Tag @laurathegastronaut and hashtag it #laurathegastronaut.
More Dinner and a Movie Ideas for Spooky Season:
✽ Ghostbusters (green apple Slimer jello shots with Stay Puft smores trifle cups)
✽ The Haunted Mansion (green apple martini inspired by Madame Leota and spooky spider pizza rolls)
✽ Casper (a spiced white lady cocktail served with a ghostly breakfast)
→ Check out all of my movie-themed recipes!
Bon appétit!
October 3, 2021 by Laura Bullock
*This Frankenweenie blog post may contain some Amazon affiliate links. These link to products that I personally use and recommend. If you purchase anything using my links, it will not cost you anything. It will though give laurathegastronaut.com some financial support which helps me keep this blog running. Thank you for reading my blogs and your continued support.