Beetlejuice
Beetlejuice Movie Night
Movie-themed Recipes
October 2, 2021 | Updated: June 8, 2022 | Laura
*This post may contain affiliate sales links. Please see full disclosure policy for details.
*The views expressed on this blog are my own.
Have a Beetlejuice movie night with the Beetlejuice-inspired recipes! First, we have breadstick hands with meatball eyeballs to mimic Adam's costume to try to scare the new home owners. Also enjoy this vodka bloody mary shrimp cocktail from the dinner scene. First, dip your shrimp in it then enjoy it as a cocktail!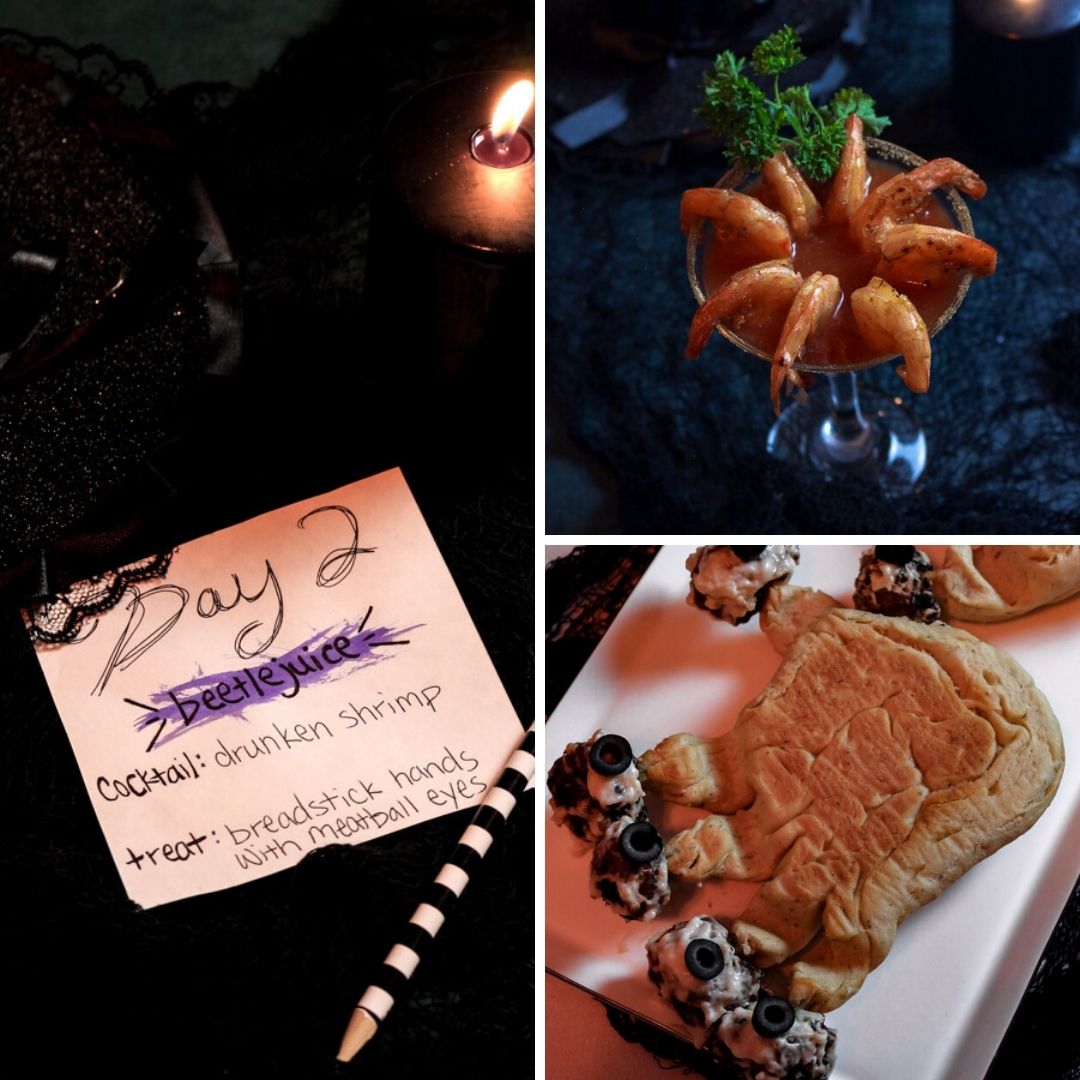 Beetlejuice Inspired Movie Night
Beetlejuice, Beetlejuice, Beetlejuice
Beetlejuice is my favorite spooky movie, hands-down. No competition. The entire movie is perfection and everything I want in a movie.
It's weird, spooky, witty, funny, catchy music, and leaves a lasting impression. In fact, I've been having nightmares about the sandworm since the first time I watched it as a young child.
While there's many scenes from Beetlejuice that I hold near to my heart, there's two iconic scenes that really stand out- the Day-O dinner party scene and the scene where Adam and Barbara change their faces into scary faces. Those two parts of the movie were my inspiration for these recipes.
These two recipes are perfect for a Beetlejuice movie night, a Beetlejuice party, or a Halloween party. A great way to celebrate that spooky time of year.
So let's get to cooking so we can all go watch one of the best movies ever created!
31 Days of Halloween
These recipes were created for my 31 Days of Halloween where every day in October I come up with Halloween snacks and drink recipe to pair with horror films, Halloween movies, or a Halloween activity. It's so much fun and a great way to celebrate Halloween horror nights!
→ Check out the entire 31 Days of Halloween!
Before I get into the recipes I created for my Beetlejuice movie night, I thought it would be a good idea to go over all the actual food you can see in the movie!
All of the Food to make an Appearance in Beetlejuice
✽ Coffee
After the young couple, Adam (played by Alec Baldwin) and Barbara (played by Geena Davis), die in the car crash and return to their house as ghosts, the first thing Barbara wants to make is coffee to warm up.
✽ Cantonese Cuisine
Charles (played by Jeffrey Jones) , Delia (played by Catherine O'Hara), and Lydia Deetz (played by Winona Ryder) are eating their first meal in the house after moving in which happens to be Cantonese food in take-out containers. Delia wonders there is Sichuan cuisine up here. Lydia says "I plan to have a stroke from the amount of MSG that's in this food." The adults are drinking wine while Lydia has a soda.
✽ Cup of Tea
Charles is making a cup of tea when one of Delia's sculptures crashes into the kitchen window.
✽ Chicken Bone
One of the dead guys in the waiting room room died from eating an entire chicken bone that got caught inside of his throat. He is still wearing the bib with a chicken on it.
✽ Clark Zagnut Candy Bars
Zagnut bars are 'incredibly crunch!' Beetlejuice tries to bribe a fly in the cemetery to come over with a Zagnut bar and when the fly does, Beetlejuice eats it.
✽ Cooking Prep
In the kitchen, Delia is prepping the food for her big dinner party. She is chopping many vegetables such as turnip, garlic, lettuce, and tomato. An artichoke, Tabasco sauce, bread, and a kiwano melon are also seen on the kitchen counter.
✽ Italian Food
Beetlejuice is trying to get Barbara and Adam to stay so he offers to make Barbara something to eat and says "I hope you like Italian!"
✽ Dinner Party
At the famous dinner party, shrimp cocktail, wine (Lydia has a Coca-Cola), and a big plate of lemons are seen while they all begin to sing the Banana song. After dinner, they enjoy cocktails that I assume is martinis since they are served in a martini glass.
✽ Drinks
After the dinner party, there's not any more food to make an appearance. However, during pretty much the entire film you will see the Deetzes and Otho drinking a variety of drinks such as martinis, whiskey, and ice water with orange slices.
Tim Burton's Beetlejuice: Movie Facts
Find these facts plus more over on Wikipedia's Beetlejuice Page!
✽ Release Date: March 30, 1988
✽ Beetlejuice is set in the fictional town, Winter River, Connecticut. However, the outside scenes were actually filmed in East Corinth, Vermont.
✽ Beetlejuice earned over 8 million dollars in its opening weekend. It grossed almost 74 million dollars total in North America and was the 10th-highest grossing film in 1988.
✽ On Rotten Tomatoes, Beetlejuice has an 85% overall approval rating.
✽ Tim Burton was interested in Beetlejuice Goes Hawaiian, but it never worked out. He instead put all his focus on Batman Returns.
✽ In February 2022, it was announced that a sequel was being made. Michael Keaton and Winona Ryder are planned to reprise their roles.
Looking for more Halloween recipes that pair with popular horror movies?
→ Check out all of my recipes that pair with movies!
Now let's get into the horror-themed menu I created so you can have the perfect Beetlejuice Movie Night!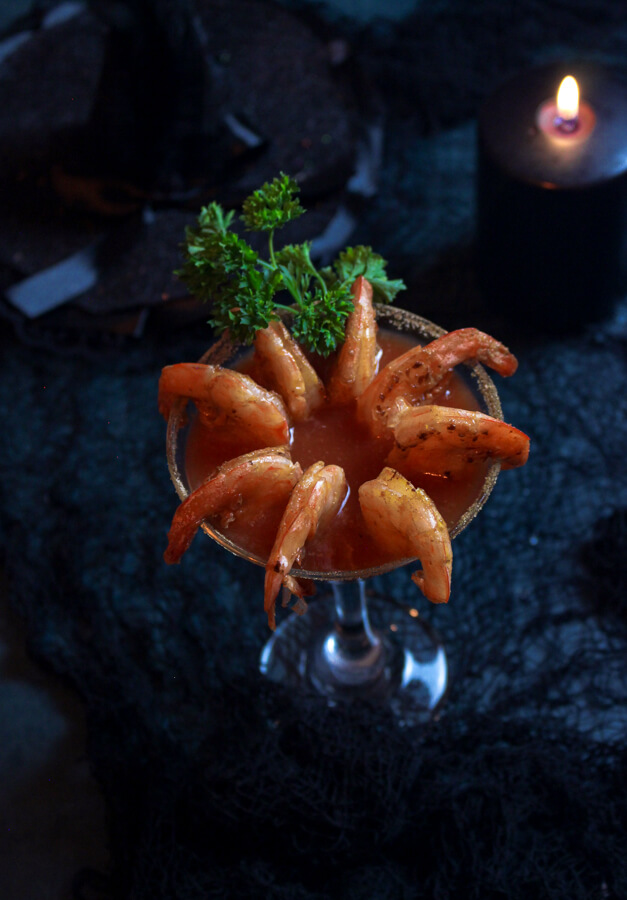 Beetlejuice Cocktail
Even if you haven't seen Beetlejuice, you probably still know the Day-O scene (or at least I hope you do).
Charles and Delia Deetz (the rich couple from New York that buy the house after Adam and Barbara die) are hosting a dinner party when Adam and Barbara (as ghosts) attempt to scare them. The Deetz and their guests begin to uncontrollably begin to sing and dance to Day-O (Banana Boat song).
At the end of the song, they all sit down at the table, and the shrimp cocktail turns into a hand and grabs them all by the face! It's such an iconic scene, and I love it so much.
So for the cocktail portion of my movie-themed recipes, I am serving up shrimp cocktail with a twist! This is my own version of a combination between a bloody mary with a shrimp cocktail. I'm a huge fan of shrimp cocktail and bloody marys so this recipe was one of my favorites.
Instead of cocktail sauce, I made a delicious bloody mary from tomato juice, all the savory ingredients in my fridge (hot sauce, worcestershire sauce, horseradish, etc.), and vodka. The shrimp is then seasoned and sauteed in butter and hung on the rim of the glass.
The shrimp are dipped into the spiked tomato juice, and then it can be drank as a bloody mary!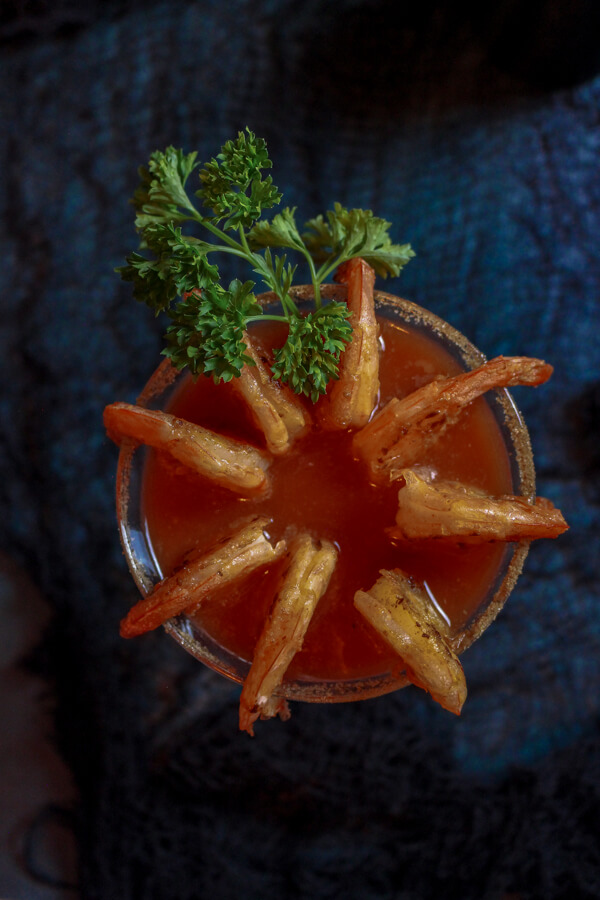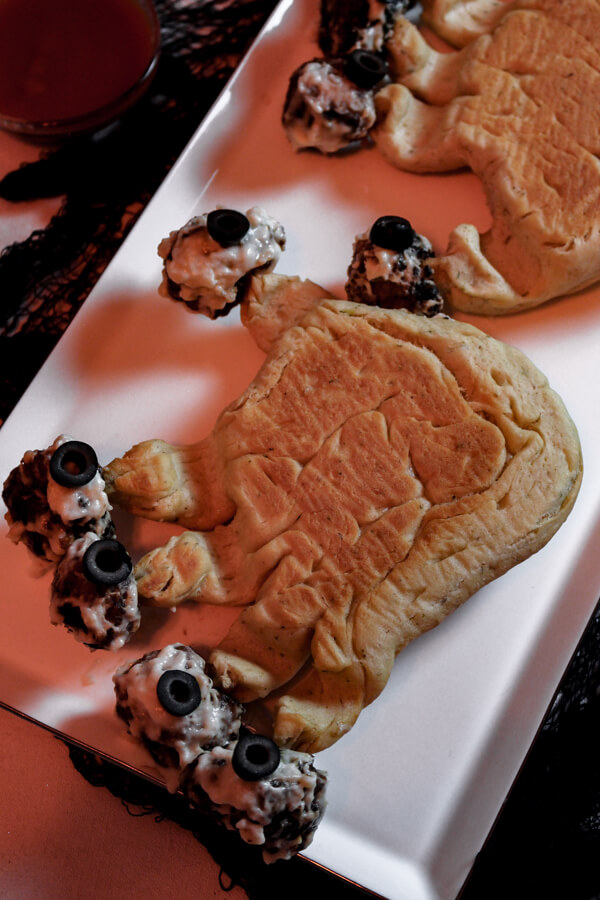 Beetlejuice Movie Inspired Food
There's a part of the movie where Adam and Barbara change their faces to look scary. Adam sticks his fingers in his eye sockets and pops eyes on the end of each of his fingers. This recipe is the edible version of his hands!
The breadstick is made from an easy homemade breadstick dough and formed into a hand shape. The meatballs are a combination of ground beef and pork , pan-fried in vegetable oil, and rolled in a classic bechamel (white) sauce.
One meatball is put on each breadstick finger. Lastly, a black olive slice is placed on the meatball to represent the pupil.
This recipe does take a little bit of work, but I do think the final product is worth it. It may look fun and silly, but, oh my goodness, it tastes so good!
I serve the hand with a side of homemade marinara sauce which makes it extra tasty. Even if you don't feel like shaping the dough into a hand, both the breadstick recipe and the meatball recipes are winners!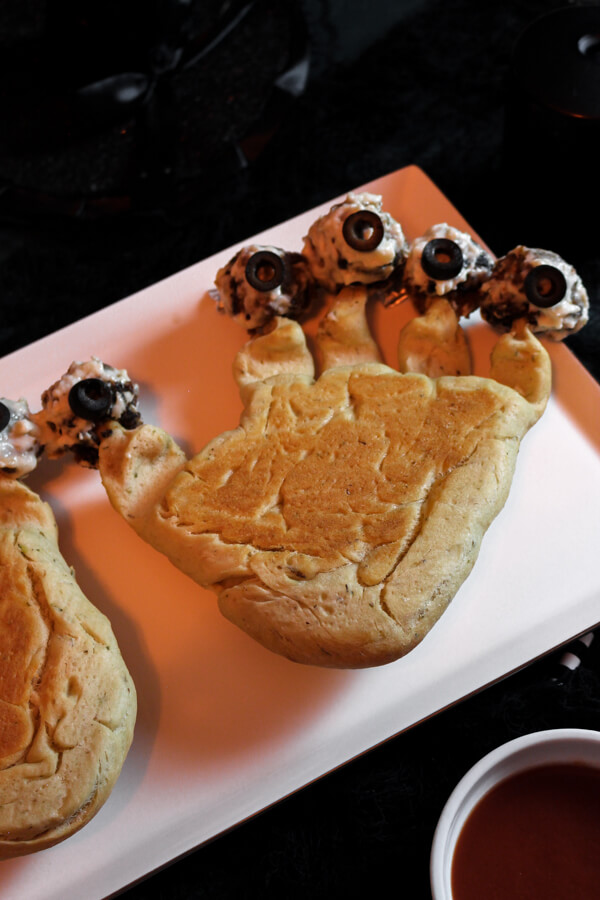 It's showtime! Enjoy this feast of drunken shrimp cocktail and breadstick hands with meatball eyes while watching Beetlejuice! Just please be careful not to say his name out loud three times. I would hate for you to have to go through that.

Category: Movie-themed Recipes
Keywords: beetlejuice recipes, vodka shrimp cocktail, beetlejuice movie recipes, beetlejuice halloween party, beetlejuice themed dinner
✽ Did you make this recipe too?
→ Let me know by leaving a comment below and sharing on Instagram. Tag @laurathegastronaut and hashtag it #laurathegastronaut.
More Dinner and a Movie Ideas for Spooky Season:
✽ Scream (another one of my favorite Halloween movies- peanut butter whiskey sour + cherry splattered strawberries)
✽ Frankenweenie (hot dog topped with spicy relish and served with an avocado margarita made of jalapeno cilantro simple syrup, tequila, triple sec, & lime juice)
✽ Casper (a spiced white lady cocktail served with a ghostly breakfast)
✽ It's the Great Pumpkin, Charlie Brown (homemade pumpkin pasta with a boozy pumpkin pie milkshake made with vanilla ice cream for dessert)
✽ The Simpsons Treehouse of Horror (a raspberry-filled jelly donut served with an orange juice margarita that looks like Marge)
→ Check out all of my movie-themed recipes!
Bon appétit!
October 2, 2021 by Laura Bullock
*This Beetlejuice blog post may contain some Amazon affiliate links. These link to products that I personally use and recommend. If you purchase anything using my links, it will not cost you anything. It will though give laurathegastronaut.com some financial support which helps me keep this blog running. Thank you for reading my blogs and your continued support.