Laura The Gastronaut > Movie-themed Recipes > Beetlejuice
Beetlejuice
Movie-themed Recipes
*This post may contain affiliate sales links. Please see full disclosure policy for details.*
Enjoy watching Beetlejuice while eating a bread hands with meatball eyes and a drunken shrimp cocktail!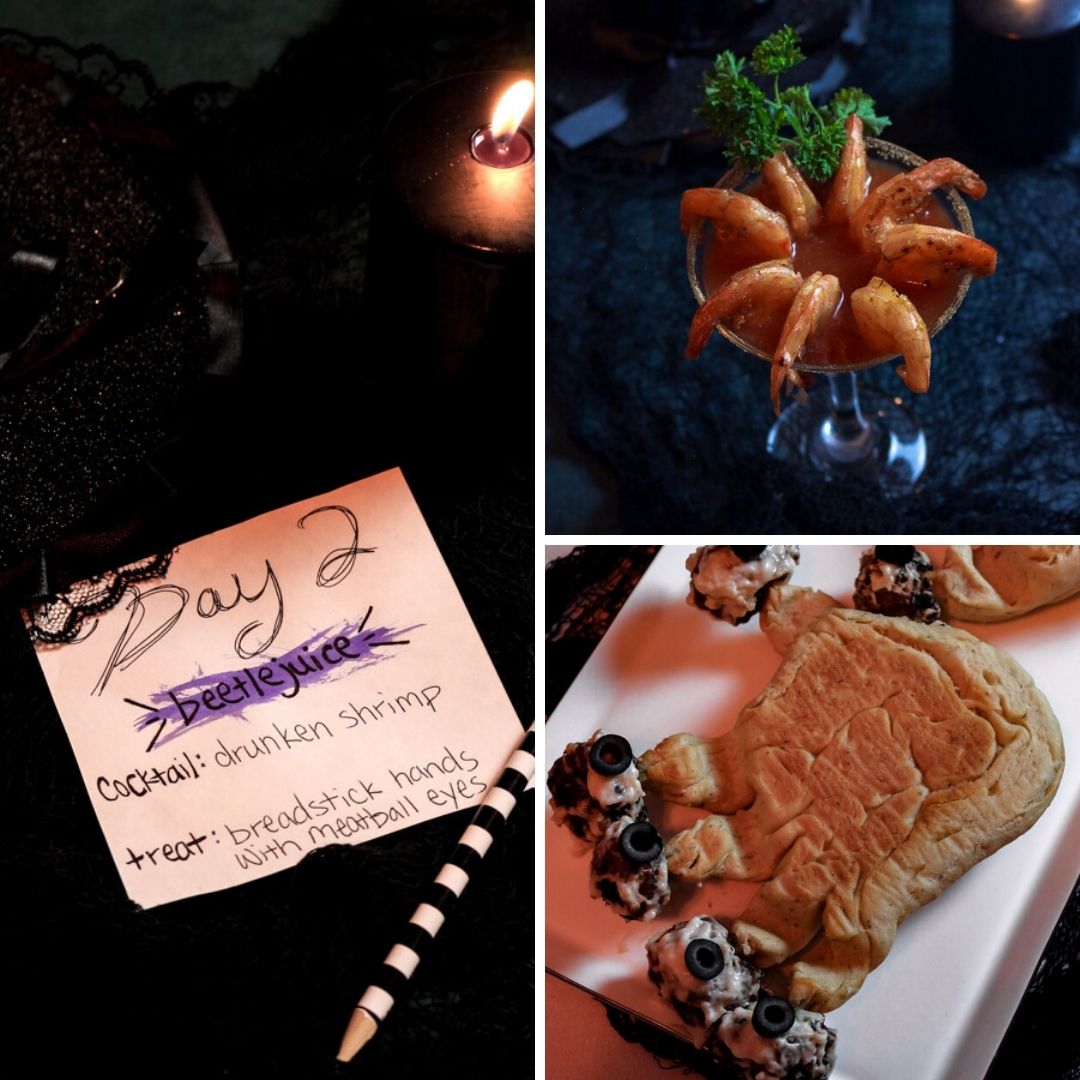 BEETLEJUICE, BEETLEJUICE, BEETLEJUICE
Beetlejuice is my favorite spooky movie, hands-down. No competition. It has everything I want in a movie. It's weird, spooky, witty, funny, catchy music, and leaves a lasting impression. In fact, I've been having nightmares about the sandworm since I was a young child. While there's many scenes from Beetlejuice that I hold near to my heart, there's two that really stand out- the Day-O dinner party scene and the scene where Adam and Barbara change their faces into scary faces. Those two parts of the movie were my inspiration for these recipes. So let's get to cooking so we can all go watch one of the best movies ever created!
These recipes were created for my 31 Days of Halloween! Also check out more Movie-Themed Recipes here!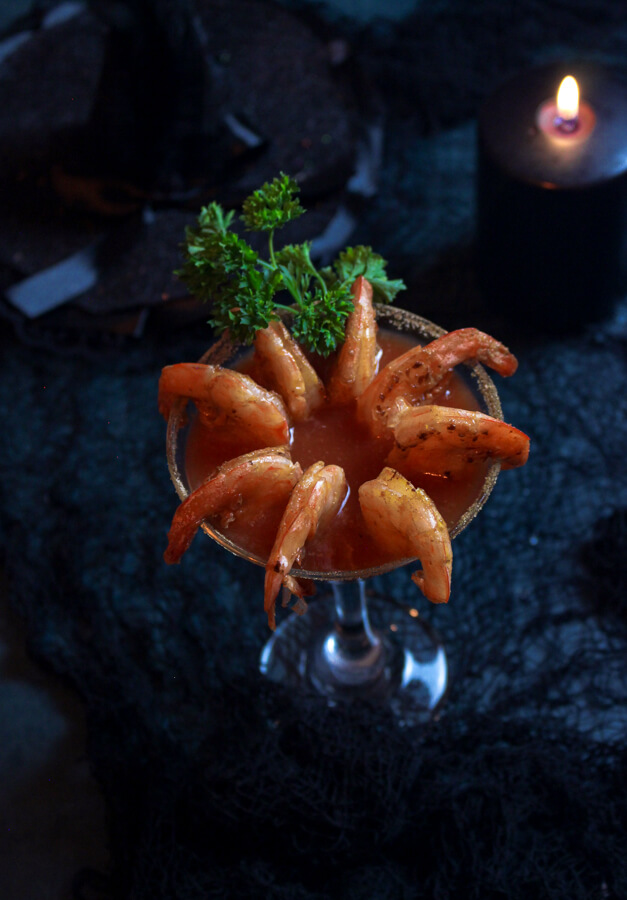 Even if you haven't seen Beetlejuice, you probably still know the Day-O scene (or at least I hope you do). Charles and Delia Deetz (the rich couple from New York that buy the house after Adam and Barbara die) are hosting a dinner party when Adam and Barbara (as ghosts) attempt to scare them. The Deetz and their guests beging to uncontrollably begin to sing and dance to Day-O (Banana Boat song). At the end of the song, they all sit down at the table, and the shrimp cocktail turns into a hand and grabs them all by the face! It's such an iconic scene, and I love it so much. So for the cocktail portion of my movie-themed recipes, I am serving up shrimp cocktail with a twist!
This is pretty much a combination of a bloody mary with a shrimp cocktail. Instead of cocktail sauce, I made a delicious bloody mary from tomato juice, all the savory ingredients in my fridge, and vodka. The shrimp is then seasoned and sauteed in butter and hung on the rim of the glass. The shrimp are dipped into the spiked tomato juice, and then it can be drank as a bloody mary!
GET RECIPE HERE! - Drunken Shrimp Cocktail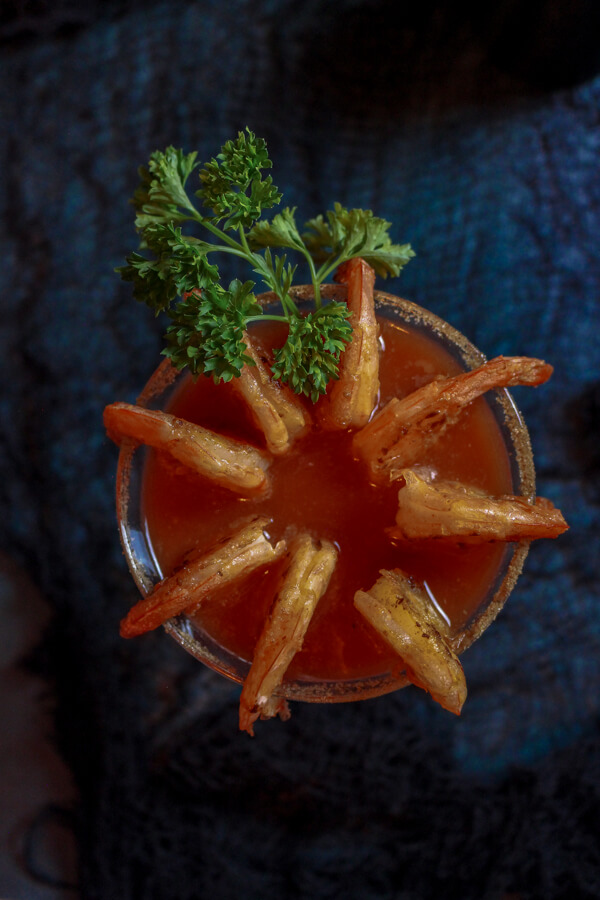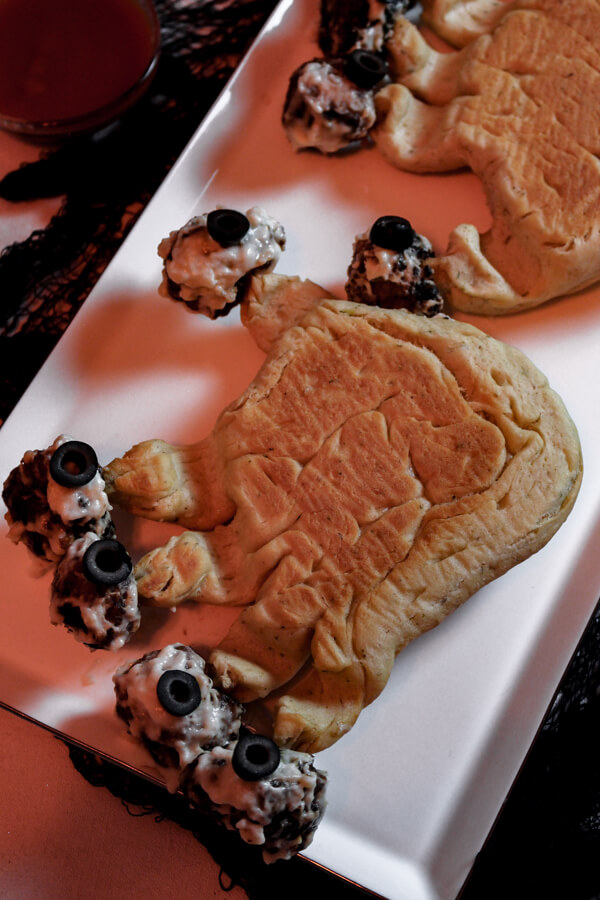 There's a part of the movie where Adam and Barbara change their faces to look scary. Adam sticks his fingers in his eye sockets and pops eyes on the end of each of his fingers. This recipe is just that! The breadstick is made from an easy homemade dough and formed into a hand shape. The meatballs are a combination of ground beef and pork and rolled in a classic bechamel (white) sauce. One meatball is put on each breadstick finger. Lastly, a black olive slice is placed on the meatball to represent the pupil.
This recipe does take a little bit of work, but I do think it's worth it. It may look fun and silly, but, oh my goodness, it tastes so good! I serve the hand with a side of homemade marinara sauce which makes it extra tasty. Even if you don't feel like shaping the dough into a hand, both the breadstick recipe and the meatball recipes are winners!
GET RECIPE HERE! - Beetlejuice Breadstick Hand with Meatball Eyeballs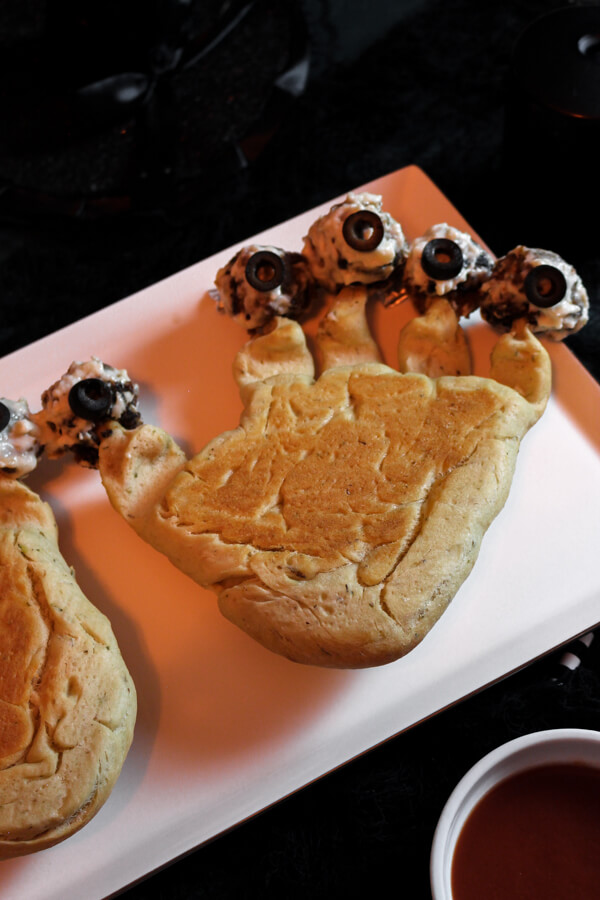 It's showtime! Enjoy this feast of drunken shrimp cocktail and breadstick hands with meatball eyes while watching Beetlejuice! Just please be careful not to say his name out loud three times. I would hate for you to have to go through that. Let me know how you liked these recipes down below in the comments section and tag me on Instagram @laurathegastronaut so I can see your creations!
FIND MORE MOVIE-THEMED RECIPES HERE!
Bon appétit!
October 2, 2021 by Laura Bullock