Scream
Scream Movie Night
Movie-themed Food
October 8, 2021 | Updated: March 29, 2022 | Laura
*This post may contain affiliate sales links. Please see full disclosure policy for details.
*The views expressed on this blog are my own.
Enjoy watching Scream while eating these delicious cherry sauce-dipped almond bark strawberries and sipping on this peanut butter whisky sour splattered with sweet dark cherry sauce! Have the perfect Halloween scary movie night, spooky party, or Scream-themed party with these Scream inspired recipes!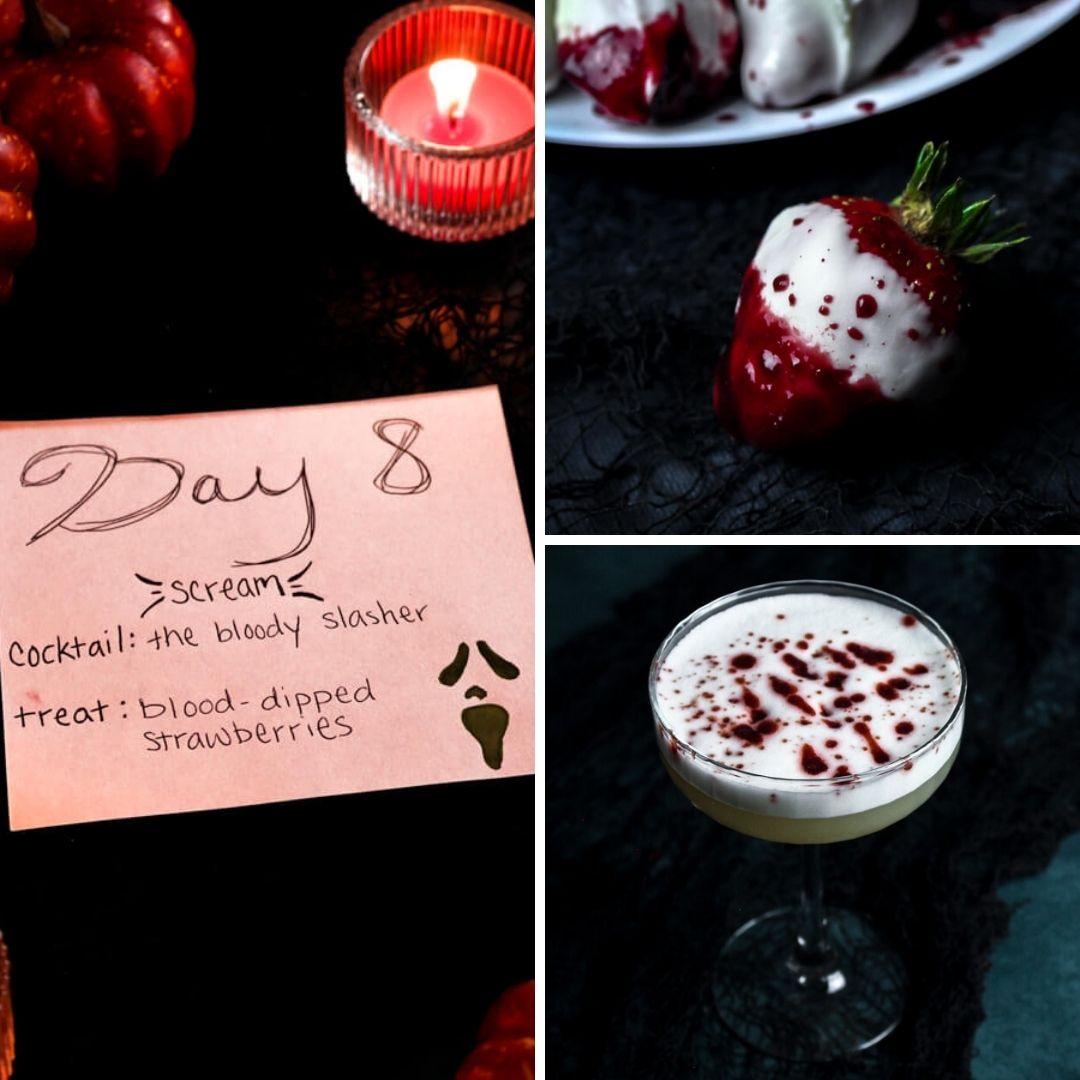 Scream Inspired Movie Night
Do you like scary movies??
Scream is a horror movie that I could watch over and over. I've loved it ever since the first time I watched it, and it's a must-watch for me every year around Halloween.
When I started my 31 Days of Halloween fun, I realized pretty quickly that it was going to be a challenge to think of recipes for creepy treats that pair with horror movies. Creepy blood, guts, oozy things- yeah, not that appetizing.
I then had a great idea and created a new recipe for a red sauce made from dark sweet cherries. Splattered cherry sauce is super spooky, makes for the perfect horror movie snack, and is a tasty treat for Halloween night.
In this blog post, I'll show you two great ways to use this delicious tasting 'blood.' What better way to have a slasher movie night than with red cherry sauce-splattered treats? Let's get to it!
31 Days of Halloween
These recipes were created for my 31 Days of Halloween where every day in October I come up with Halloween snacks and drink recipe to pair with horror films, Halloween movies, or a Halloween activity. It's so much fun and a great way to celebrate the spooky holiday.
→ Check out the entire 31 Days of Halloween!
Before I get into these festive Halloween recipes I created for our Scream Movie Night, let's talk a bit about all of the food you see in Scream. There's more in this movie than you might think!
All of the Food to Make an Appearance in Scream
✽ Jiffy Pop Popcorn
The poor teenage girl, Casey Becker, never got to enjoy her popcorn because of that deadly phone call she received.
✽ Green Grapes
While the main character, Sidney Prescott, and her friends are talking by the fountain about the previous night's murders, they are enjoying a light snack consisting of green grapes.
✽ Breakfast
After Sidney's first Ghostface incident, she stays the night over at Dewey and Tatum's house. The next morning we see Corn Chex in the background- which we assume Tatum is eating as she pours milk into a bowl. Dewey is eating a donut. There is also bacon, a banana, orange juice, and coffee.
✽ Red Sucker
During a school scene, Tatum is seen eating a red sucker which looks a lot like a cherry Charms Blow Pop.
✽ Grocery Store
Prior to the party, Tatum and Sidney are at the grocery store buying Tostito's, Popsicle brand frozen treats, and Breyers ice cream. In the background, you can see some hidden gems! There are a lot of familiar brands such as Fiber One, Cheerios, Trix, Kix, Coca-Cola, and Sprite. There is also Red Tail American Classic, a beer, and Romantica, an ice cream cake.
✽ Strawberry Ice Cream Cone
While Dewey is chatting with another cop about the possibilities that Sidney's father, Neil Prescott, is a suspect, Dewey is eating a strawberry ice cream cone.
✽ Party Scene
There was plenty of food and drink at this small town party. Of course, there was lots and lots of beer. Tatum is shown pulling out some Smartfood popcorn from a bag, there's a huge bowl of popcorn on the table while they are watching scary flicks, and you can also see Doritos there as well.
✽ Cheetos
Gale Weathers' cameraman, Kenny, is shown snacking on some Cheetos while spying on the party. Munching down on some Cheetos in a van sounds like the perfect time for Ghostface to sneak up on you..
Scream: Movie Facts
Find these facts plus more over on Wikipedia's Scream Page!
✽ Release Date: December 20, 1996
✽ According to Wikipedia, Scream made over $6,000,000 opening weekend and would reach a worldwide lifetime gross of over $173,000,000. Scream 2 was just under one million of that!
✽ Scream has an 79% on Rotten Tomatoes, and has won several awards including the Saturn Award for Best Horror Film in 1996 and MTV Movie Award for Best Movie in 1997.
✽ You can continue your Scream movie watching by quite a bit since, at the time I'm writing this, there is a total of 5 Scream movies out!
✽ Originally, the movie was going to be called 'Scary Movie'. However, they changed it after listening to the Michael Jackson song 'Scream'.
✽ The final 42 minutes of the movie took a whopping 21 nights to shoot!
Looking for more Halloween recipes that pair with popular horror movies?
→ Check out all of my recipes that pair with movies!
Now let's get into the horror-themed menu I created so you can have the perfect Scream Movie Night!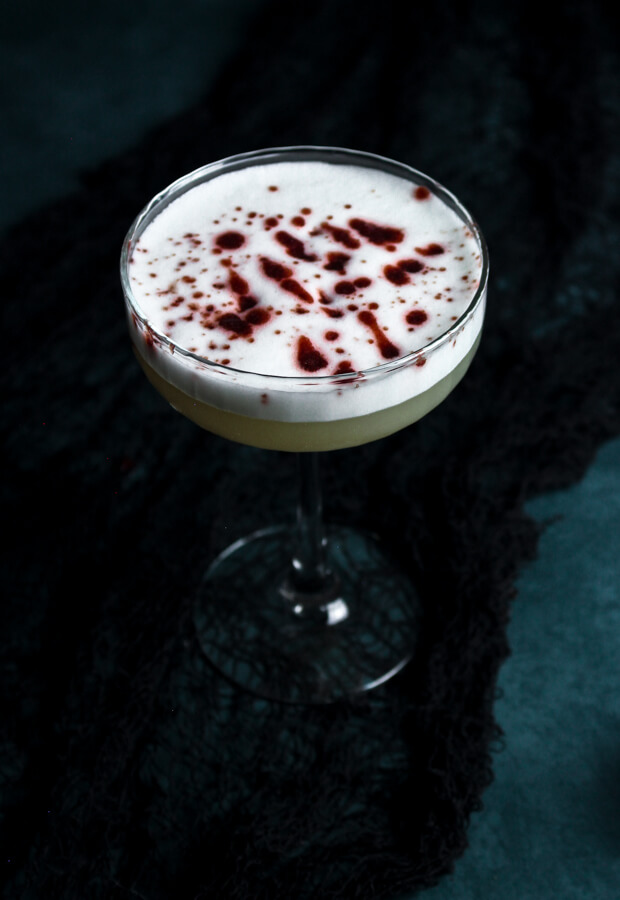 Scream Movie: Cocktail
I just love spooky cocktails. This cocktail is a spin on the classic Boston sour and definitely deserves a spot on a list of creepy cocktails. It's made with peanut butter whiskey, freshly squeezed lemon juice, and simple syrup. Egg white is added, and the cocktail is shaken without ice then with ice so you get the perfect fluffy egg white top.
The best part is them homemade dark sweet cherry sauce splattered on top of the egg white foam. Think peanut butter and jelly! This drink is so spooky and is so tasty!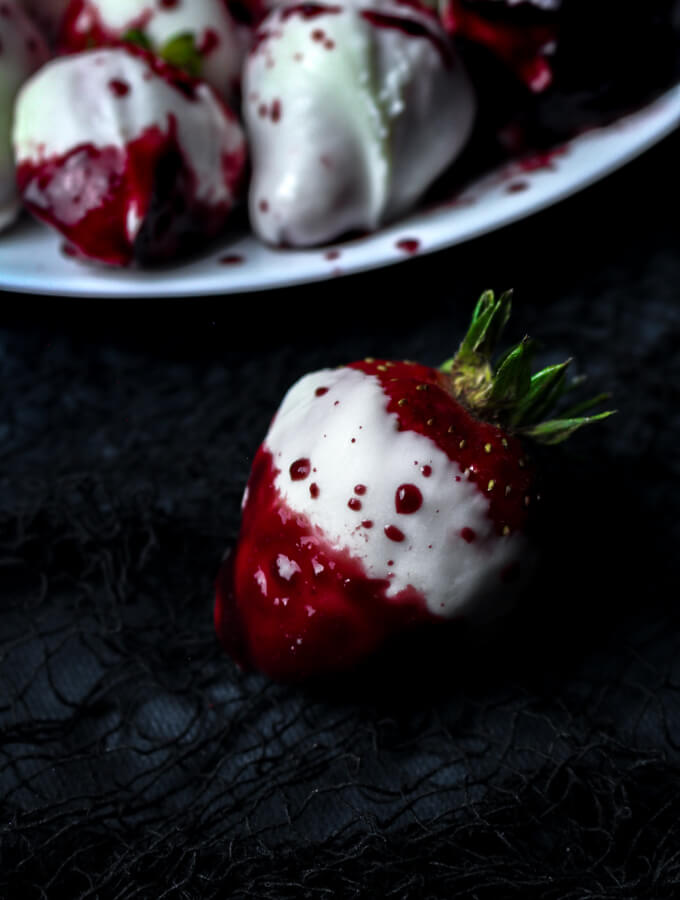 Scream Movie Inspired Food
These strawberries are easy Halloween treats to make and have all the Scream vibes! If you are looking for creepy Halloween food ideas for your Halloween parties, look no further!
The strawberries are dipped in melted almond bark (or vanilla) and set to dry. The same dark sweet cherry sauce we made for the peanut butter whisky sour is used to dip and splatter these white strawberries.
I love that these strawberries have the addition of cherry flavor as well. Dip them in the cherry sauce, you have a Valentine's recipe. Splatter them with the cherry sauce, you have a Scream recipe that would be perfect for your next Halloween party. So many options here!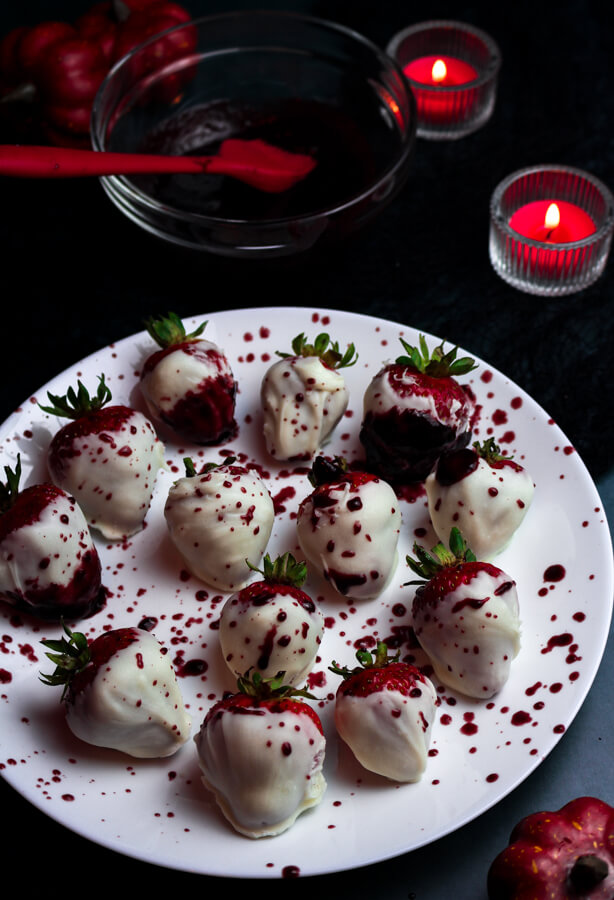 Remember- Never say "who's there?" It's a death wish. Okay, so get those peanut butter whisky sours and cherry-dipped vanilla strawberries made so you can enjoy the movie!

Category: Movie-themed Recipes
Keywords: scream-themed food, halloween dinner ideas, white chocolate dipped strawberries, horror movie themed food, scary halloween recipes
✽ Did you make this recipe too?
→ Let me know by leaving a comment below and sharing on Instagram. Tag @laurathegastronaut and hashtag it #laurathegastronaut.
More Movie Ideas for Spooky Season:
✽ Hocus Pocus (a fun recipe dip trio that looks just like the Sanderson sisters and a delicious green potion)
✽ Children of the Corn (enjoy the movie with some homemade popcorn balls with candy corn jello shots)
✽ The Silence of the Lambs (fava bean dip and a nice chianti sets the mood for The Silences of the Lambs movie night)
✽ A Nightmare on Elm Street (pizza that resembles the infamous Freddy Krueger sweater for the main course and a coffee cocktail to ensure you stay awake)
✽ The Nightmare Before Christmas (gingerbread men that look like Jack Skellington and a Christmas-Halloween cocktail mashup)
→ Check out all of my movie-themed recipes!
Bon appétit and happy Halloween season!
October 8, 2021 by Laura Bullock
*This Scream blog post may contain some Amazon affiliate links. These link to products that I personally use and recommend. If you purchase anything using my links, it will not cost you anything. It will though give laurathegastronaut.com some financial support which helps me keep this blog running. Thank you for reading my blogs and your continued support.