Laura The Gastronaut > Movie-themed Recipes > Scream
Scream
Movie-themed Recipes
*This post may contain affiliate sales links. Please see full disclosure policy for details.*
Enjoy watching Scream while eating these delicious cherry sauce-dipped almond bark strawberries and sipping on this peanut butter whisky sour splattered with sweet dark cherry sauce!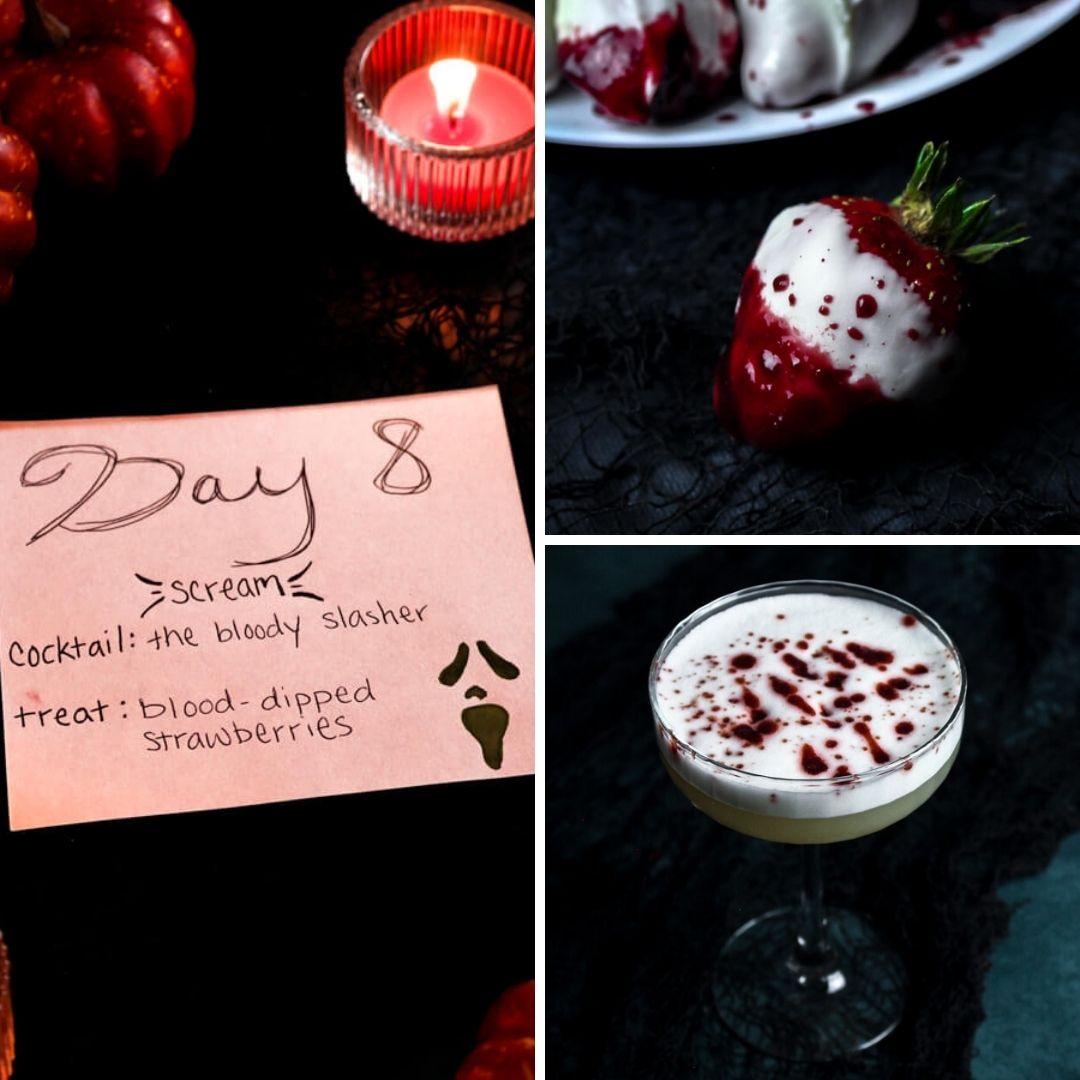 DO YOU LIKE SCARY MOVIES??
Scream is a horror movie that I could watch over and over. I absolutely love the scary movie references. When I started my 31 Days of Halloween, I realized pretty quickly that it was going to be a challenge to think of recipes that pair with horror movies. Blood, guts, oozy things- yeah, not that appetizing. So for these two recipes, red sauce made from dark sweet cherries was my best friend. Let's go!
These recipes were created for my 31 Days of Halloween! Also check out more Movie-Themed Recipes here!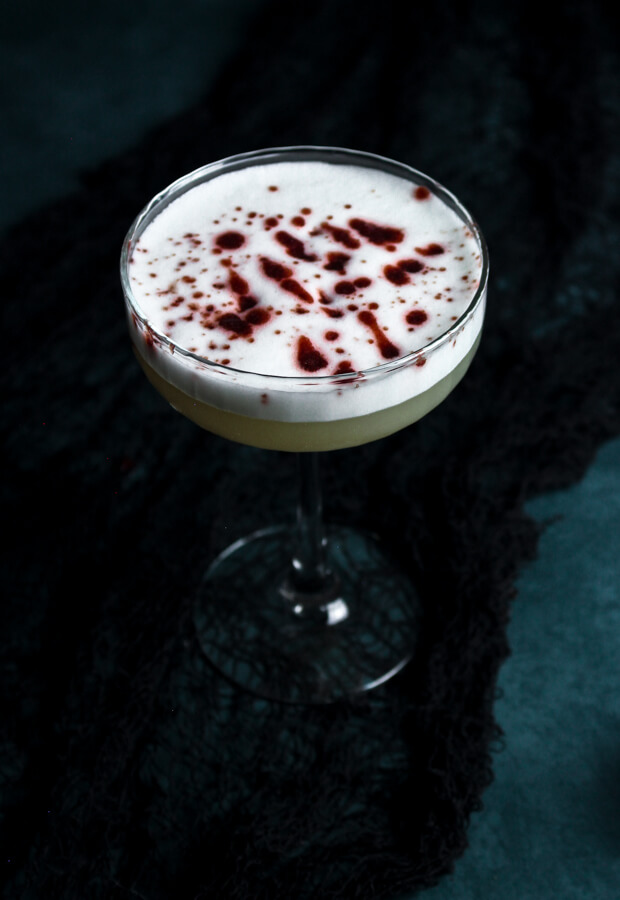 This cocktail is a spin on the classic Boston sour. It's made with peanut butter whiskey, freshly squeezed lemon juice, and simple syrup. Egg white is added, and the cocktail is then shaken without ice then with ice so you get the perfect fluffy egg white top. A homemade dark sweet cherry sauce is then splattered on top of the egg white foam. Think peanut butter and jelly! This drink is so spooky and is so tasty!
GET RECIPE HERE! - Peanut Butter Whiskey Sour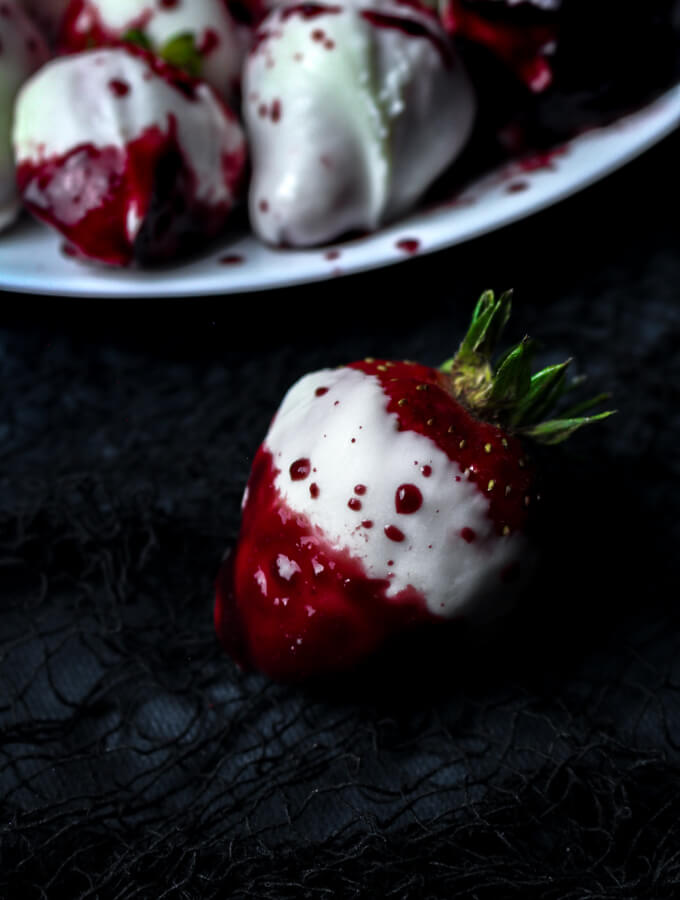 These strawberries are so quick and easy to make and have all the Scream vibes! The strawberries are dipped in melted almond bark (or vanilla) and set to dry. The same dark sweet cherry sauce we made for the peanut butter whisky sour is used to dip and splatter these white strawberries.
I love that these strawberries have the addition of cherry flavor as well. Dip them in the cherry sauce, you have a Valentine's recipe. Splatter them with the cherry sauce, you have a Scream recipe. So many options here!
GET RECIPE HERE! - Cherry-dipped Vanilla Strawberries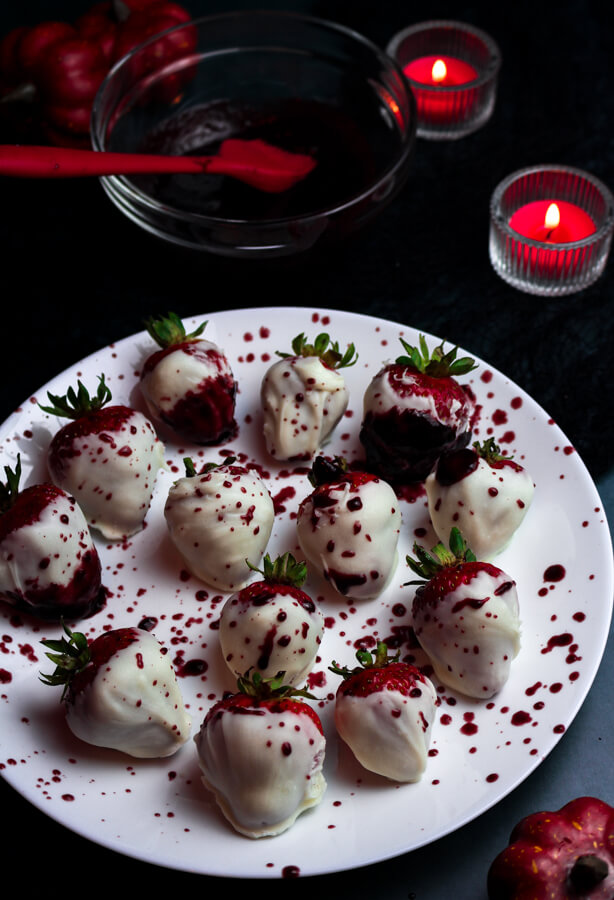 Remember- Never say "who's there?" It's a death wish. Okay, so get those peanut butter whisky sours and cherry-dipped vanilla strawberries made so you can enjoy the movie! Let me know how you liked these recipes down below in the comments section and tag me on Instagram @laurathegastronaut so I can see your creations!
FIND MORE MOVIE-THEMED RECIPES HERE!
YOU MAY ALSO LIKE
Bon appétit!
October 8, 2021 by Laura Bullock