Carrie
Carrie
Movie-themed Recipes
October 21, 2021 | Updated: August 29, 2022 | Laura
*This post may contain affiliate sales links. Please see full disclosure policy for details.
*The views expressed on this blog are my own.
Have a super scary and bloody movie night with these Carrie recipes! First, make some easy homemade strawberry syrup. It's so delicious and so spooky when drizzled over some ice cream. Next, make a spicy margarita with red wine floater (AKA- devil's margarita). This Carrie cocktail is so dark and gives off scary vibes. Both recipes are perfect for a Carrie movie night and all of Halloween season!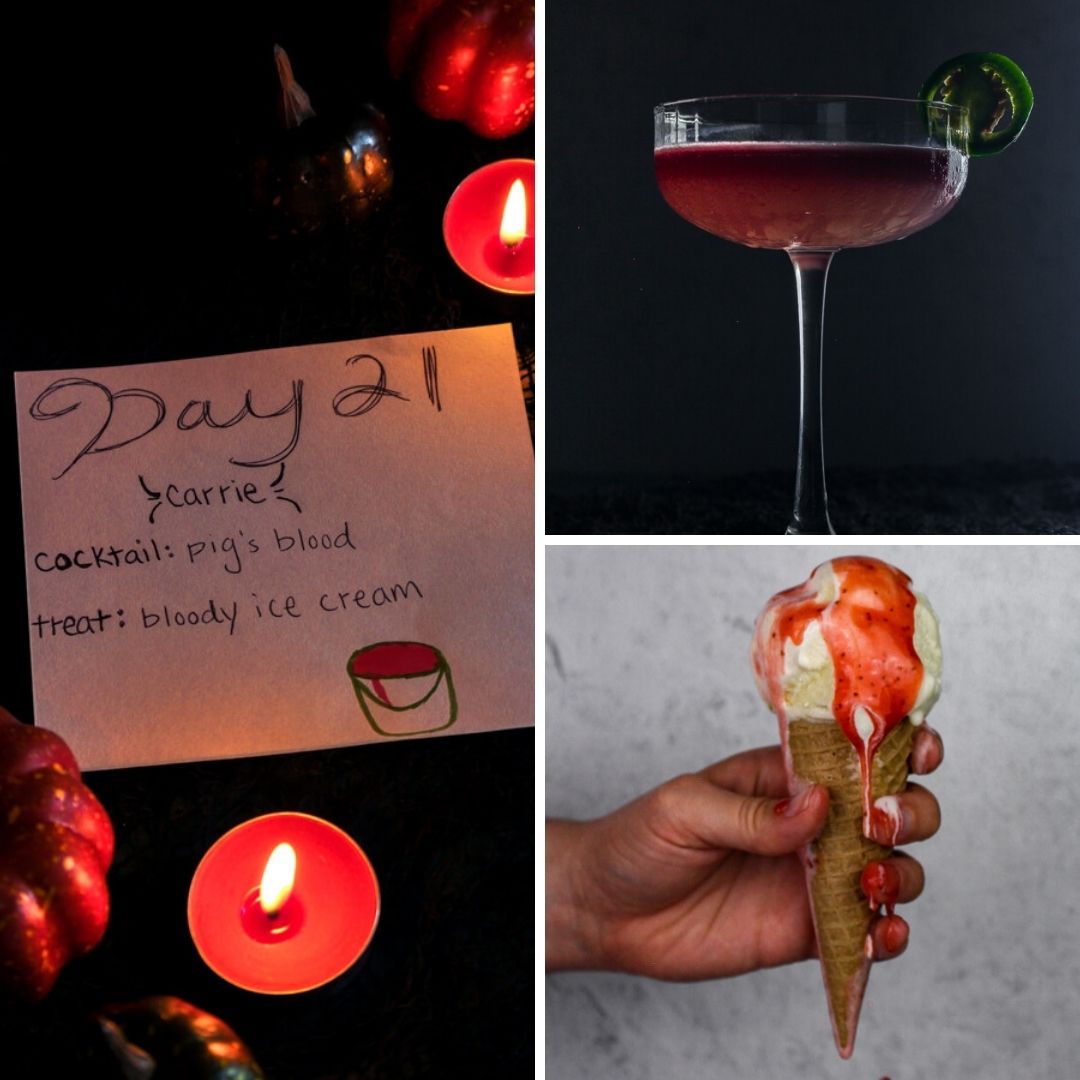 Carrie Movie Night
So. Much. Blood.
This is one of the scariest movies to me and there's really only one thing that comes to mind when I think of the movie, Carrie- and that's blood. Lots of it.
So it only makes sense that both of the recipes for this movie contain some kind of 'bloody' element to them. Let's get into it!
31 Days of Halloween
These Carrie recipes were created for my 31 Days of Halloween where every day in October I come up with Halloween snacks and drink recipe to pair with horror movies, the best Halloween movies, or a Halloween activity. It's so much fun and a great way to get into the Halloween spirit and celebrate Halloween night.
→ Check out the entire 31 Days of Halloween!
Before I get into the recipes I created for my Carrie movie night, I thought it would be a good idea to go over all the actual food you can see in the movie!
All of the Food to make an Appearance in Carrie
There's not much food shown in Carrie so some of these are a bit of a stretch!
✽ Gum
There are many scenes throughout the movie where the 'popular girls' are shown smacking gum such as at the hair salon and when decorating for the prom. The gym teacher also tells Chris to spit out her gum when they are getting punished. Chris asks where she should put it, and the teacher replies, "You can choke on it for all I care". Spicy!
✽ Apple Cake
The only real food to make an appearance in this movie is apple cake. Carrie and her mom are eating a piece when Carrie announces that she wants to go to prom.
✽ Family Dinner
While the prom is going on, Sue and her family are enjoying a dinner together at the table. I couldn't really tell what they were eating but there seemed to be a big bowl of cherry tomatoes or grapes on the table.
✽ Pink Punch
At the prom, you will notice that many of the students are drinking pink punch, and you can see the huge punch bowls behind them.
✽ Raw Vegetables
Carrie's mom is getting very angry and inpatient while Carrie is at the prom. She decides to test out her butcher's knife and violently chops a carrot that is sitting on the counter. Along with the carrots, there are also celery, potatoes, and lettuce.
Carrie: Movie Fun Facts
Find these facts plus more over on Wikipedia's Carrie Page and on Mental Floss!
✽ Release Date: November 3, 1976
✽ Carrie was adapted from Stephen King's 1974 novel with the same name.
✽ Carrie was very successful grossing over $33.8 million against its $1.8 million budget.
✽ Stephen King was paid only $2500 for the rights to Carrie, but he still felt really fortunate that his first book to write was picked up to be a movie.
✽ To keep herself in character, Sissy Spacek, who played Carrie, isolated herself from all of the other cast members during production.
Looking for more Halloween recipes that pair with popular scary movies or Halloween movies?
→ Check out all of my recipes that pair with movies!
Now let's talk about the Carrie recipes I made for our Halloween movie night party!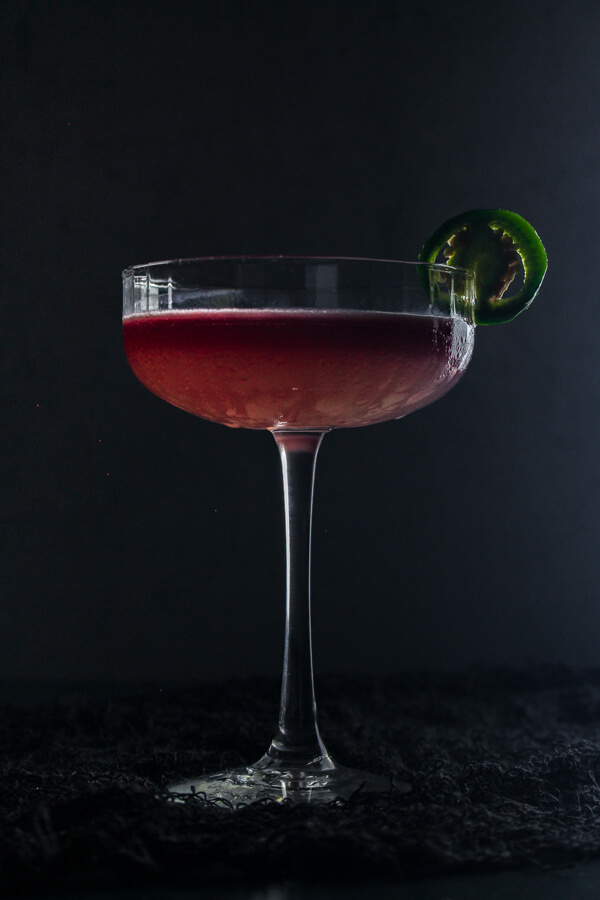 Carrie Cocktail
This concoction is a margarita topped with red wine for a dark red color. The "margarita" isn't technically a margarita because it's lacking triple sec. The triple sec and red wine combination wasn't working for me.
But it does have silver tequila, lime juice, and a jalapeno & cilantro simple syrup. This is then topped with a little bit of dry red wine for a 'bloody' cocktail.
This is one of my favorite Halloween cocktails because not only is it delicious, it also gives off some seriously scary vibes.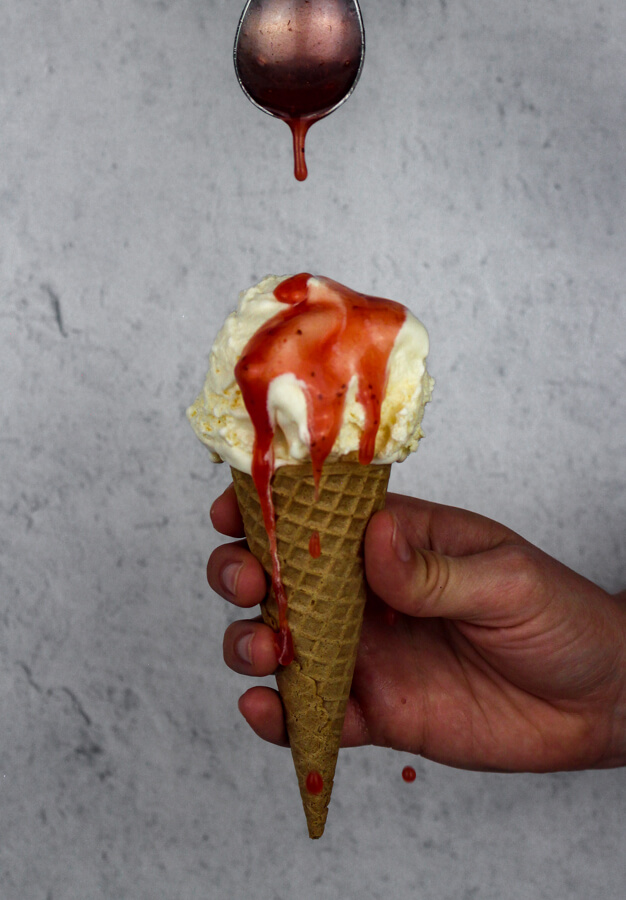 Carrie Movie Snack
Okay, this strawberry sauce is bloody good. See, what I did there?! It's so gory looking, but you can't judge a book by its cover. It's delicious.
It's also really simple to make and only has 5 ingredients- strawberries, sugar, water, vanilla, and lemon. We topped our bowl of ice cream with this sauce, but you could also top pancakes, waffles, french toast, crepes or stir into a cocktail. The possibilities are endless.
So gather all of your spooky, scary, and bloody good treats, and let's watch Carrie!

Category: Movie-themed Recipes, Cocktails, Sweets, Halloween
Keywords: carrie themed party, carrie movie themed food, carrie cocktail, halloween recipes, scary recipes for halloween, halloween cocktails, carrie movie night, scary movie night
✽ Did you make this recipe too?
→ Let me know by leaving a comment below and sharing on Instagram. Tag @laurathegastronaut and hashtag it #laurathegastronaut.
More Halloween Movie Inspired Recipes:
✽ A Nightmare on Elm Street (a delicious pizza that resembles Freddy's sweater and a caffeinated cocktail to keep you from falling asleep)
✽ Beetlejuice (spooky meatball eyes on breadstick hands mimicking Adam's scary face and a drunken shrimp cocktail)
✽ The Shining (red rum cocktail served with Danny's favorite food, french fries & ketchup)
→ Check out all of my movie-themed recipes! You'll find The Haunted Mansion, It's the Great Pumpkin Charlie Brown, The Addams Family, Jack Skellington, and Freddy Krueger themed recipes plus so many more recipes for all your favorite Halloween movies!
Bon appétit!
October 21, 2021 by Laura Ehlers
*This Carrie blog post may contain some Amazon affiliate links. These link to products that I personally use and recommend. If you purchase anything using my links, it will not cost you anything. It will though give laurathegastronaut.com some financial support which helps me keep this blog running. Thank you for reading my blogs and your continued support.