Laura The Gastronaut > Movie-themed Recipes > The Simpsons Treehouse of Horror
The Simpsons Treehouse of Horror
Movie-themed Recipes
*This post may contain affiliate sales links. Please see full disclosure policy for details.*
Enjoy watching The Simpsons Treehouse of Horror with these raspberry jelly-filled donuts and orange juice margaritas!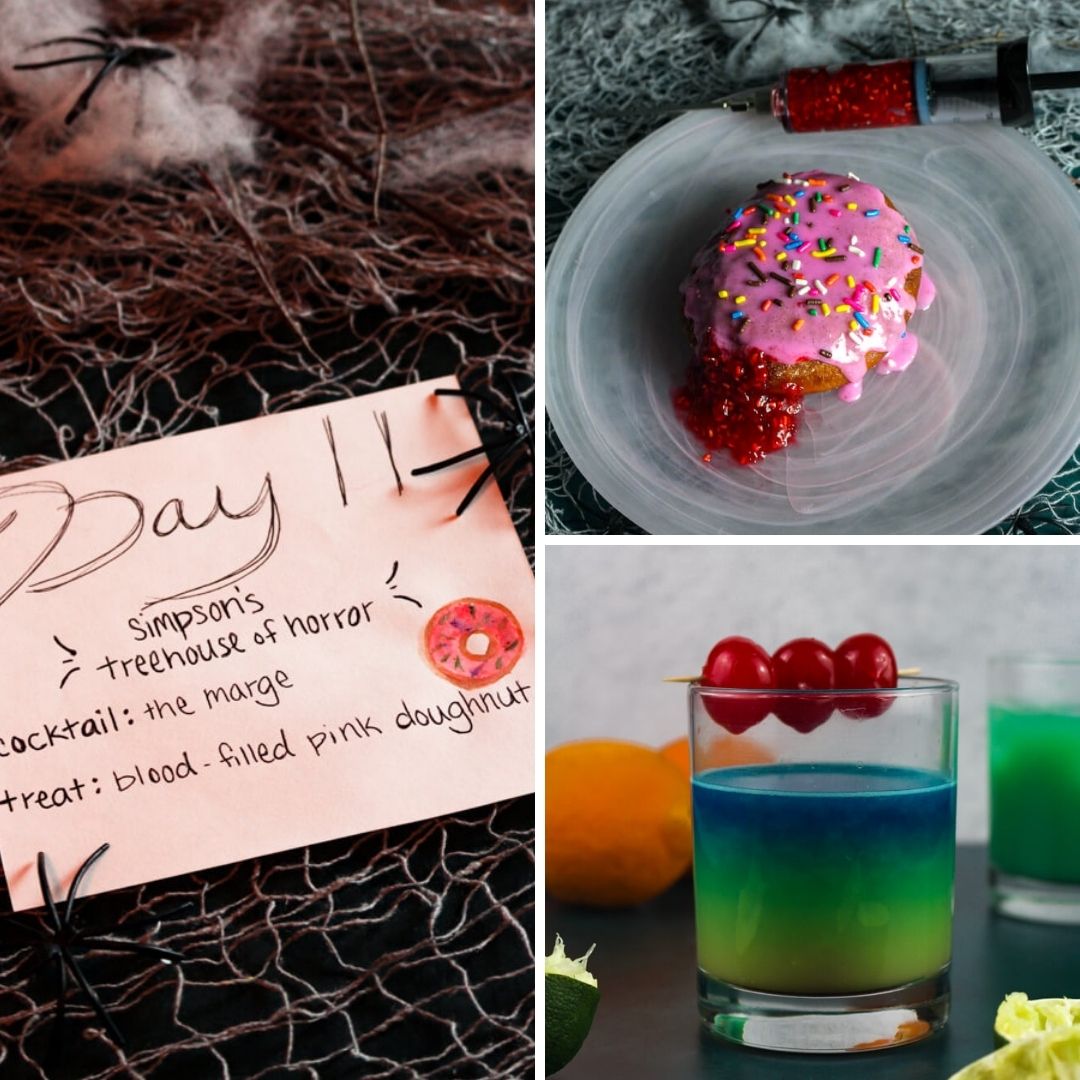 D'oh!
Can you believe that the 32nd episode of The Simpsons Treehouse of Horror airs this year? When creating recipes for The Simpsons Treehouse of Horror, I wanted to create recipes that could fit for all of the Halloween episodes so it's not just tied to one. There's one food that everybody thinks of when they hear The Simpsons- a pink doughnut with sprinkles. So I created a Simpsons classic with a spooky twist. Let's get to it!
These recipes were created for my 31 Days of Halloween! Also check out more Movie-Themed Recipes here!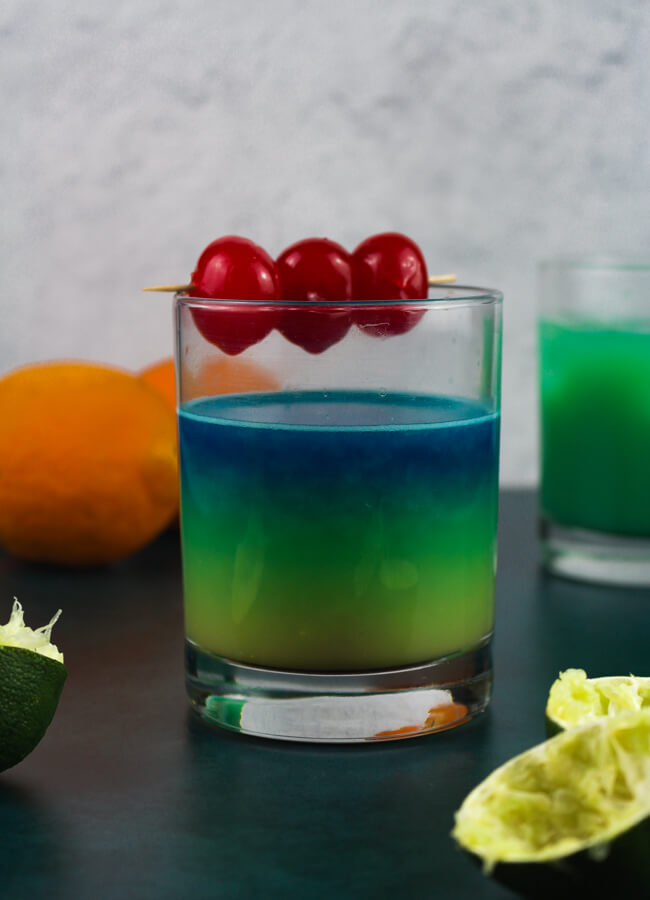 I present to you- the Marge-arita- a margarita that looks like Marge Simpson. The bottom of this cocktail is a orange juice and lime juice combination (AKA: Marge's face). The top of this cocktail is a blue curacao and silver tequila combination (AKA: Marge's hair). It's a classic margarita with an orange tang! I garnished with maraschino cherries to resemble Marge's red bead necklace.
GET RECIPE HERE! - Orange Juice Margarita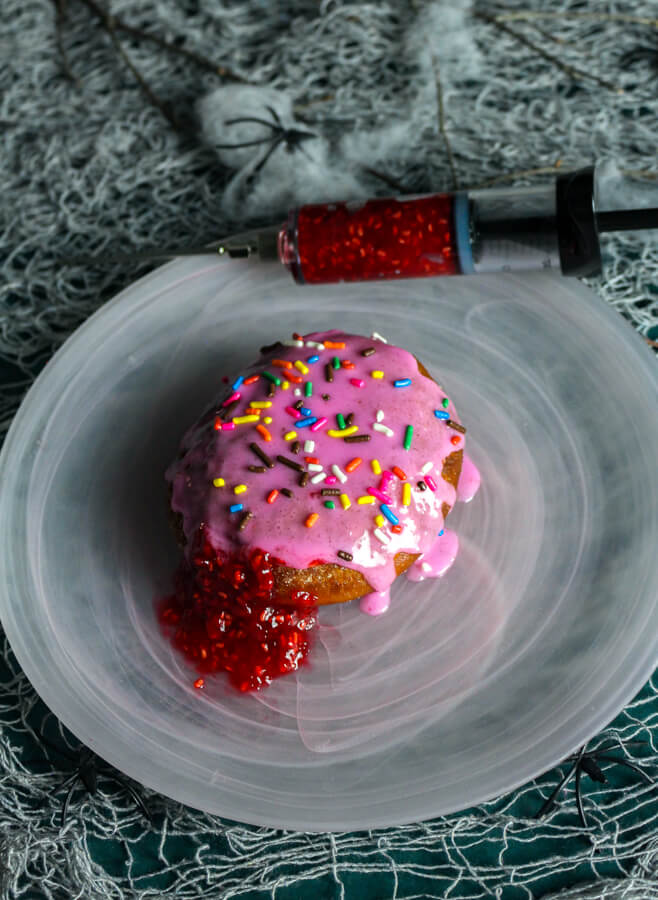 Let's make that Homer pink donut into something spooky! These are my raspberry jelly-filled donuts, but for The Simpsons Treehouse of Horror viewing they are known as blood-filled pink donuts. This donut is made from a delicious yeast dough, allowed to rise twice, fried, and then filled with tasty homemade raspberry jam. Lastly, it's covered in pink icing and topped with some sprinkles. To make the pink icing, combine 1 cup of powdered sugar, 1-2 Tablespoons of milk or water, and some pink food coloring. You want it to be pretty thick so you may need to add a little more powdered sugar to thicken it up.
These donuts are soo addicting. I can't even imagine how many of these donuts Homer would eat. My husband definitely ate his fair share of them!
GET RECIPE HERE! - Raspberry Jelly-filled Donut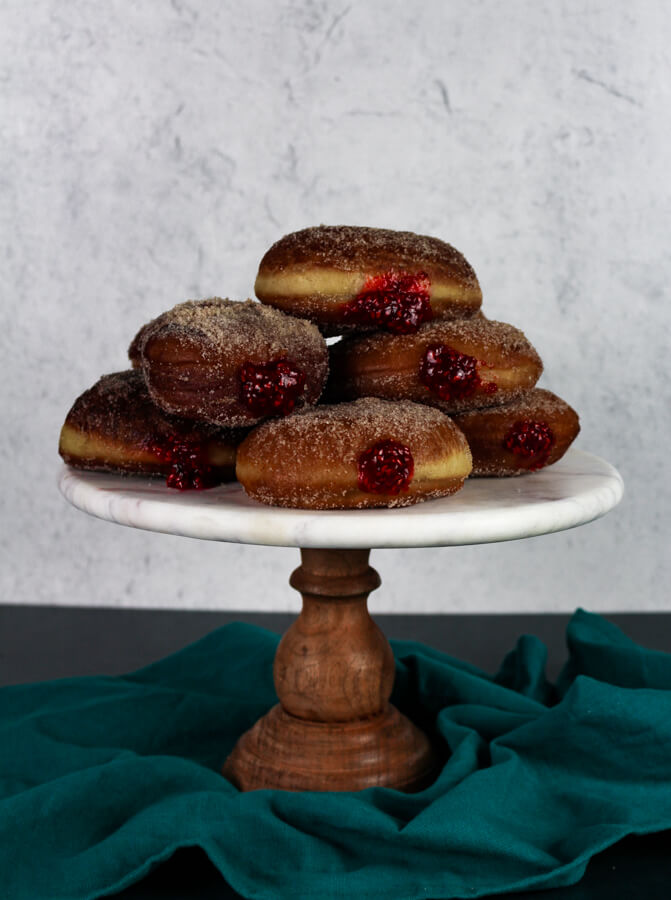 Let's get to making those Marge-aritas and raspberry jam donuts so we can start watching Treehouse of Horror! Let me know how you liked these recipes down below in the comments section and tag me on Instagram @laurathegastronaut so I can see your creations!
FIND MORE MOVIE-THEMED RECIPES HERE!
YOU MAY ALSO LIKE
Bon appétit!
October 11, 2021 by Laura Bullock