The Simpsons Treehouse of Horror
The Simpsons Treehouse of Horror
Movie-themed Recipes
October 11, 2021 | Updated: September 28, 2022 | Laura
*This post may contain affiliate sales links. Please see full disclosure policy for details.
*The views expressed on this blog are my own.
Have a fun and spooky night watching an episode (or multiple episodes) of The Simpsons Treehouse of Horror and enjoying these fun recipes! For a cocktail, make the Marge-arita. It's an orange juice margarita with a blue curacao floater so it looks like Marge. For the treat, make some spooky homemade raspberry jam filled donuts. Perfect for Halloween!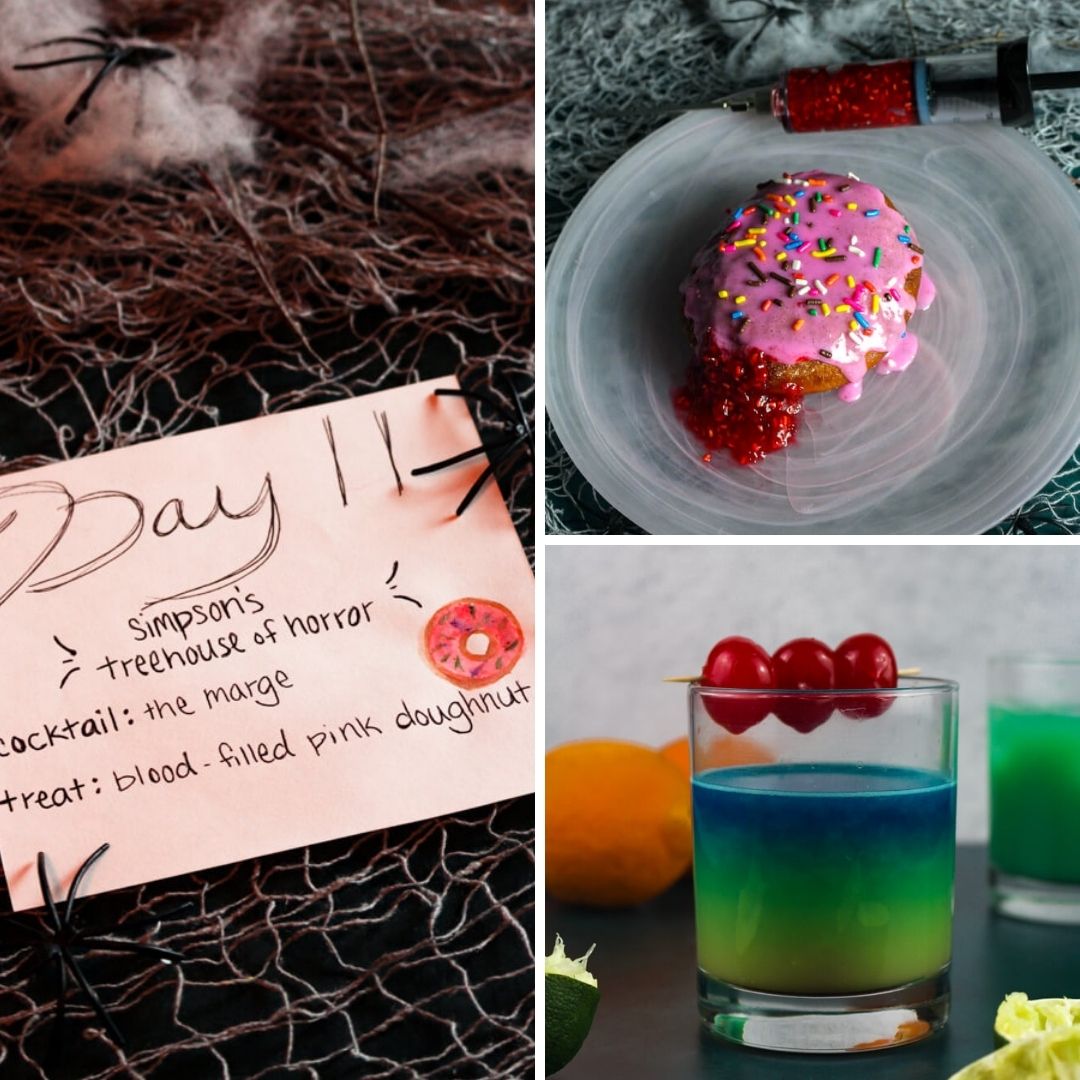 The Simpsons Treehouse of Horror Movie Night
D'oh!
Can you believe that the 32nd episode of The Simpsons Treehouse of Horror airs this year? When creating recipes for The Simpsons Treehouse of Horror, I wanted to create recipes that could fit for all of the Halloween episodes so it's not just tied to one.
There's one food that everybody thinks of when they hear The Simpsons- a pink doughnut with sprinkles. So I created a Simpsons classic with a spooky twist. Let's get to it!
31 Days of Halloween
These Simpsons themed recipes were created for my 31 Days of Halloween where every day in October I come up with Halloween snacks and drink recipe to pair with horror films, Halloween movies, or a Halloween activity. It's so much fun and a great way to celebrate the spooky holiday.
→ Check out the entire 31 Days of Halloween!
The Simpsons Treehouse of Horror Facts
Find these facts plus more over on Wikipedia's Treehouse of Horror Page and on Screen Rant!
✽ Season 1 of The Simpsons does not have a Treehouse of Horror episode. The first Treehouse of Horror episode was in Season two and aired on October 25, 1990.
✽ The name for these Halloween-themed episodes comes from the very first Treehouse of Horror episode that aired in which Lisa and Bart are telling scary stories in a treehouse.
✽ You can find the one-eyed aliens, Kang and Kodos, in every Treehouse of Horror episode.
✽ In many of these horror episodes, you will see Groundskeeper Willie die.
✽ Treehouse of Horror VI, XXIII, and XXV were nominated for a Primetime Emmy Award in the Outstanding Animated Program (for Programming Less Than One Hour) category.
Looking for more Halloween recipes that pair with popular scary movies or Halloween movies?
→ Check out all of my recipes that pair with movies!
Let's now get into the two recipes I created for our Treehouse of Horror night!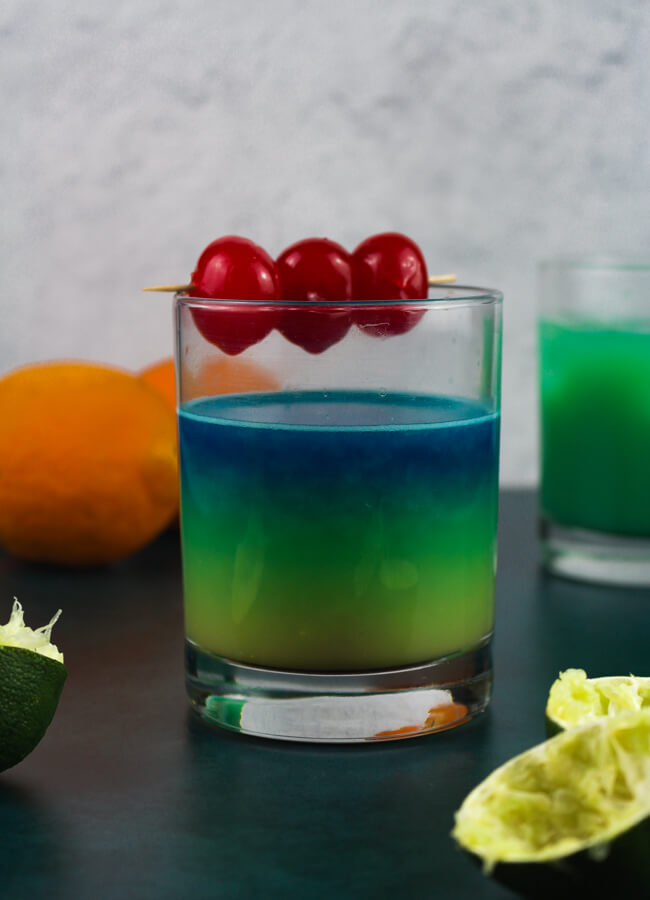 The Simpsons Cocktail
I present to you- the Marge-arita- a margarita that looks like Marge Simpson!
The bottom of this cocktail is a orange juice and lime juice combination (AKA: Marge's face). The top of this cocktail is a blue curacao and silver tequila combination (AKA: Marge's hair).
It's a classic margarita with an orange tang! I garnished with maraschino cherries to resemble Marge's red bead necklace.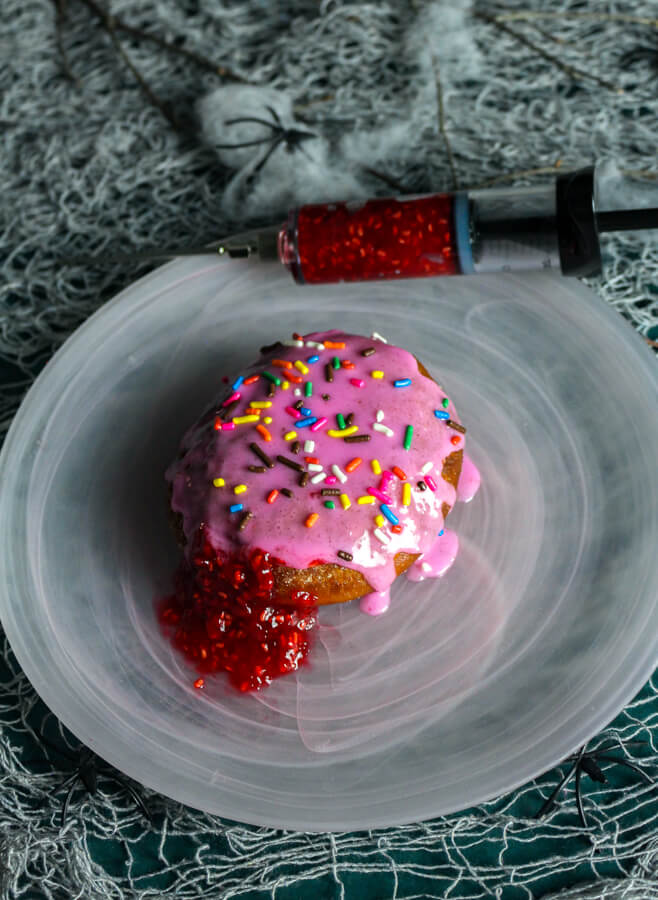 The Simpsons Treehouse of Horror Treat
Let's make that Homer pink donut into something spooky! These are my raspberry jelly-filled donuts, but for The Simpsons Treehouse of Horror viewing they are known as blood-filled pink donuts.
This donut is made from a delicious yeast dough, allowed to rise twice, fried, and then filled with tasty homemade raspberry jam. Lastly, it's covered in pink icing and topped with some sprinkles.
To make the pink icing, combine 1 cup of powdered sugar, 1-2 tablespoons of milk or water, and some pink food coloring. You want it to be pretty thick so you may need to add a little more powdered sugar to thicken it up.
These donuts are soo addicting. I can't even imagine how many of these donuts Homer would eat. My husband definitely ate his fair share of them!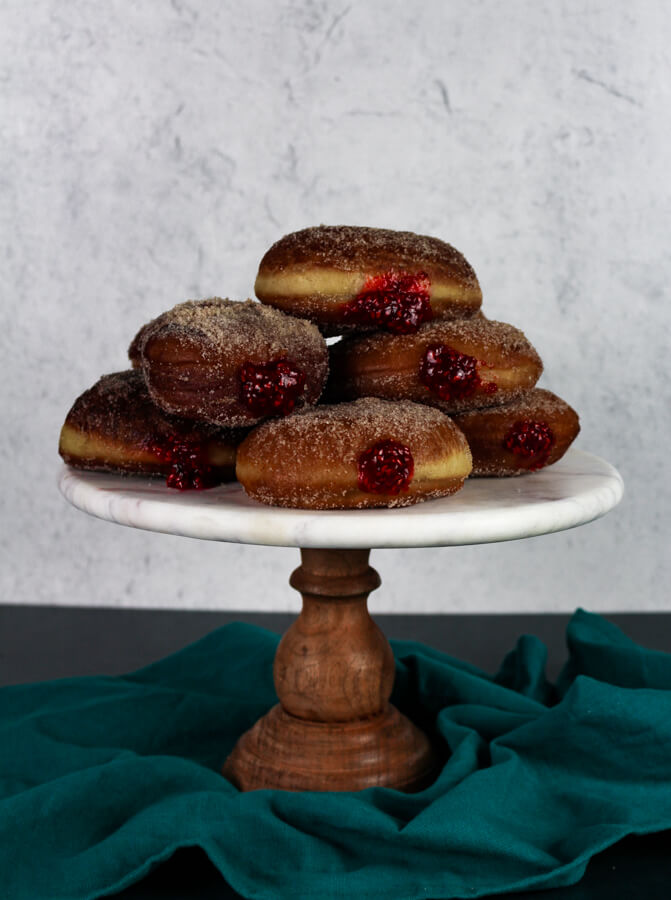 Let's get to making those Marge-aritas and raspberry jam donuts so we can start watching Treehouse of Horror!

Category: Movie-themed Recipes, Cocktails, Halloween, Sweets
Keywords: simpsons recipes, the simpsons food, the simpsons cocktail, orange juice margarita recipe, raspberry jam donuts recipe, halloween recipes, halloween cocktails, halloween donuts
✽ Did you make this recipe too?
→ Let me know by leaving a comment below and sharing on Instagram. Tag @laurathegastronaut and hashtag it #laurathegastronaut.
More Halloween Movie Inspired Recipes:
✽ Ghostbusters (Slimer green apple Jello shots with a Stay Puft smores trifle cup)
✽ It's the Great Pumpkin, Charlie Brown (homemade pumpkin noodles covered in a cheesy pumpkin sauce with a boozy pumpkin pie milkshake)
✽ The Nightmare Before Christmas (Jack Skellington gingerbread men with a spiced old fashioned)
→ Check out all of my movie-themed recipes!
Bon appétit!
October 11, 2021 by Laura Bullock
*This The Simpsons Treehouse of Horror blog post may contain some Amazon affiliate links. These link to products that I personally use and recommend. If you purchase anything using my links, it will not cost you anything. It will though give laurathegastronaut.com some financial support which helps me keep this blog running. Thank you for reading my blogs and your continued support.