Halloween Charcuterie Board
Halloween House Charcuterie Board
September 1, 2022 | Laura
This charcuterie board was inspired by the house from the movie, Monster House. This house is made with crackers, cured meats, and cheese. It's the perfect Monster House movie night snack or Halloween snack!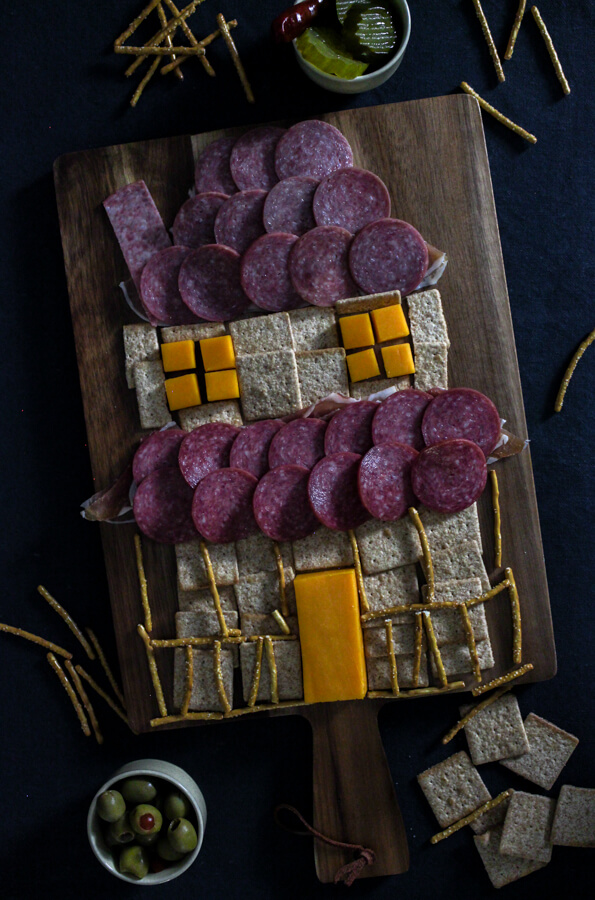 A haunted mansion made out of meat and cheese? Yes, please!
This monster house charcuterie board was so much fun to make! It was inspired by the movie, Monster House. It was the perfect snack for our Monster House movie night!
This meat and cheese tray is so simple and quick to make! After your done designing the house, you'll end up with a spooky house that resembles the actual Monster House.
This board is perfect for all Halloween occasions!
Halloween House Charcuterie Board Ingredients
*Some of these ingredient links may be affiliate links. As an Amazon Associate I earn from qualifying purchases.*
✽ Crackers
The crackers with be the structure of the house. I used Wheat Thins because their square shape works well in shaping the house. Triscuits are also another good option.
✽ Cheddar Cheese
I chose cheddar cheese because it's yellow so it would look like the lights are on in the house. Buying a block of cheddar cheese will be your best bet so that you will be able to cut out the cubes for the windows and the rectangle for the door.
✽ Cured Meats
I wanted to add more substance to this board so I chose to also put prosciutto underneath the round salami slices. When layered upon each other, the salami rounds look like shingles. You could also use pepperoni for the shingles as well. The prosciutto underneath will also help to fill in any holes the salami my leave.
✽ Pretzels
The pretzel sticks are placed on the bottom of the house to look like the porch.
✽ Extras
I like to serve this Monster House board with all my other favorite snacks surrounding the board. My favorites include pickles, olives, and nuts.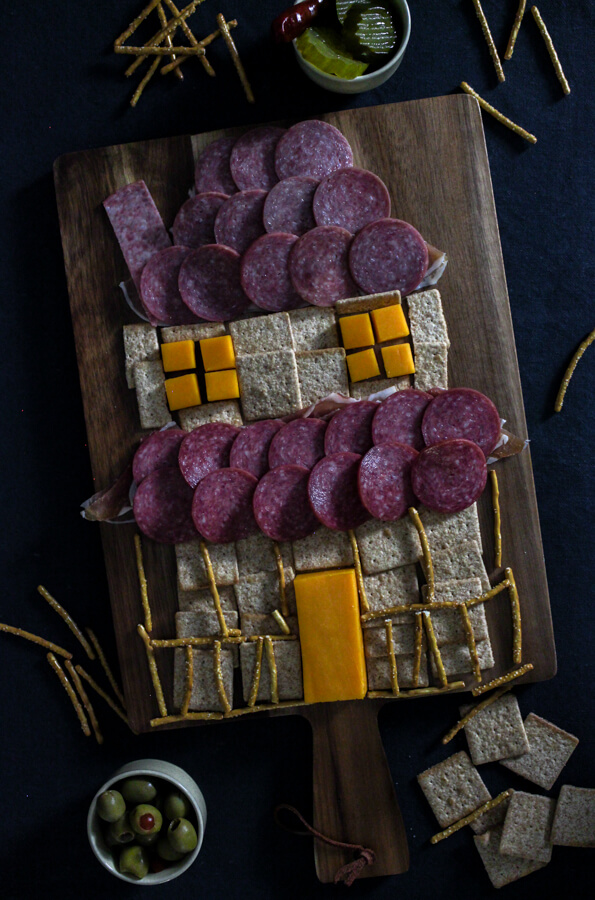 How to Make a Monster House Charcuterie Board for Halloween
It is really quick and simple to make this board. Follow my picture and you will have your board made in no time!
You want to make this Halloween board on a medium to large sized cutting board or platter. You can also make this house larger to fit your board!
The first thing to do is lay down the square crackers for the house. I like to overlap them a bit for texture. The first story of the house gets about 4 rows of crackers- leave room for the door. The second story of the house gets about 2 rows of crackers- leave room for 2 windows.
Next cut 8 small cubes of cheddar cheese. Four cubes of cheese put together will be one window. Then cut a rectangle of cheddar cheese to be the front door.
Now lay down the prosciutto where the roof will go and cover the prosciutto with layered rounds of salami (or pepperoni). Cut one salami into a rectangle and place on top of the house for a chimney.
Lastly, lay the pretzel sticks down on the bottom of the house to be the front porch. Surround the board with small bowls of your favorite snack foods, and there you have it! Enjoy!
31 Days of Halloween
This Monster House themed snack is a part of my 31 Days of Halloween. For each day in October, I come up with a cocktail recipe and snack recipe that perfectly matches a scary movie, Halloween movie, or a fun spooky activity. Check it out for all of your Halloween snack and drinking desires!
What to Serve with the Halloween Meat and Cheese Tray
✽ Sour Apple Mountain Dew Cocktail; To have the perfect Monster House movie night, pair this snack board with a Monster House cocktail! This cocktail is made with Mountain Dew because the babysitter tells DJ that he doesn't need to be drinking anymore Mountain Dew. She thinks that he's gone mad after saying the house is alive!
✽ All the snack foods; Surround your board with small bowls of all your charcuterie favorites- more cheese, olives, nuts, dried fruits, pickles, etc.

Category: Appetizers & Snacks, Halloween, Monster House Cuisine: American
Keywords: monster house recipes, monster house movie night food, halloween snacks, halloween charcuterie board, halloween cheese board, halloween cheese tray
✽ Did you make this recipe too?
→ Let me know by leaving a comment below and sharing on Instagram. Tag @laurathegastronaut and hashtag it #laurathegastronaut.
More Halloween Snack Recipes:
✽ Halloween Snack Board (this board filled with all kinds of Halloween snacks is perfect for any spooky occasion)
✽ Hocus Pocus Dip Trio (a dip trio platter that looks like the Sanderson Sisters made of salsa, homemade queso, and black bean dip)
✽ Shaggy Sandwich (this huge monster sandwich was inspired by Scooby Doo and Shaggy)
→ Check out all of my Halloween recipes!
Bon appétit!
September 1, 2022 by Laura Bullock
*This Halloween Charcuterie Board blog post and recipe may contain some Amazon affiliate links. These link to products that I personally use and recommend. If you purchase anything using my links, it will not cost you anything. It will though give laurathegastronaut.com some financial support which helps me keep this blog running. Thank you for reading my blogs and your continued support.