Shaggy Sandwich
Shaggy's Spooky Sandwich
August 30, 2022 | Laura
Shaggy's Spooky Sandwich is so cute and so delicious! This sandwich is piled high and filled with everything in the fridge- just like Shaggy and Scooby-Doo like it. This sandwich is perfect for Halloween snacks, a Scooby-Doo movie night, or a Scooby party. Scooby dooby doo!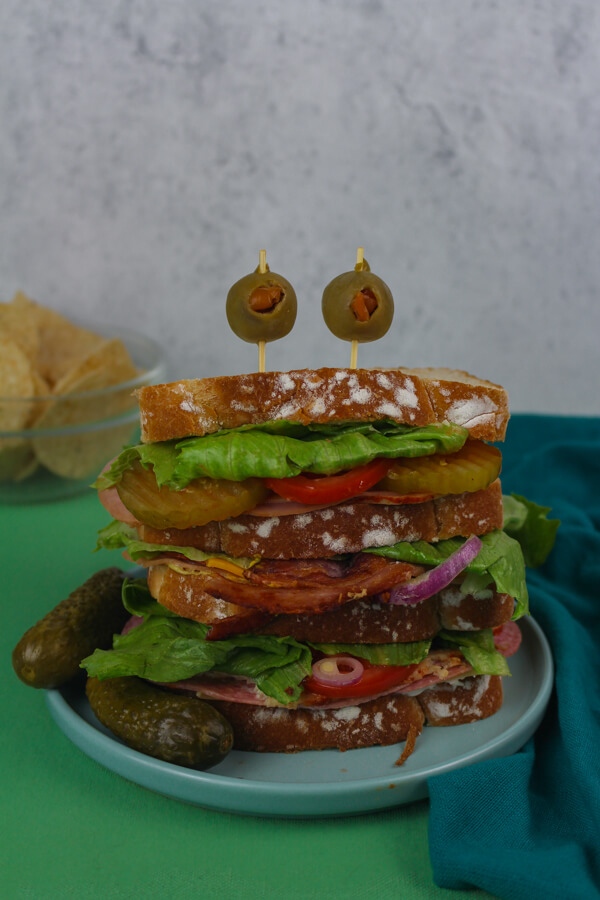 Like Zoinks! That's a good-looking sandwich!
As a life-long Scooby-Doo fan, I was stoked to be creating these fun Scooby-Doo inspired foods! I've never been more excited to dig into a sandwich as I have been this Shaggy sandwich.
This sandwich is stacked high to the sky with pretty much everything I could find in the deli section of the grocery store- just like Shaggy and Scooby-Doo like it! Well, actually Shaggy Rogers says he likes a double triple-decker sardine and marshmallow fudge sandwich.. I left off the marshmallows and chocolate on eggplant for mine, but I promise it's still a good sandwich without!
This sandwich is a fun food idea for a Scooby Doo movie night, while watching the Scooby Doo TV show, for a Halloween treat, or for a Scooby Doo themed birthday party!
Jeepers! What are we waiting on.. let's talk sandwich!
Super Shaggy Sandwich Ingredients
*Some of these ingredient links may be affiliate links. As an Amazon Associate I earn from qualifying purchases.*
✽ Bread
You can buy regular bread at the grocery store, or you could go with the big slices of bread you find at the bakery. The big slices really make this sandwich BIG which is exactly what we are going for here!
✽ Condiments
I chose to spread the bread with mayonnaise, yellow mustard, and Dijon mustard. I also put a few shakes of hot sauce because Shaggy and Scoob like it spicy!
Other great options would be horseradish, barbeque sauce, salad dressing, and pesto.
✽ Meat
I felt like a Shaggy sandwich needed to have multiple types of meat on it so I added salami, ham, turkey, and, of course, multiple slices of bacon.
Some of my other favorite sandwich meats include roast beef, chicken breast, prosciutto, pepperoni, and pastrami.
✽ Cheese
I chose to add two of my favorites to this Scooby-Doo sandwich: gouda cheese and sharp cheddar cheese.
I also really love Swiss, Havarti, Muenster, Provolone, and Pepper Jack.
✽ Vegetables
There's so many good veggie options for this sandwich. I feel like lettuce is a must to get that classic sandwich look. I also added on some tomato slices, onion slices, and pickles.
Other ideas include peppers, cucumbers, avocado, spinach, and black olives.
✽ Extras
A little bit of freshly cracked pepper, a sprinkle of salt, and a drizzle of olive oil is good too!
✽ Monster Decoration
Lastly, you will need two green olives with pimientos on top of two toothpicks for the sandwich monster's eyes!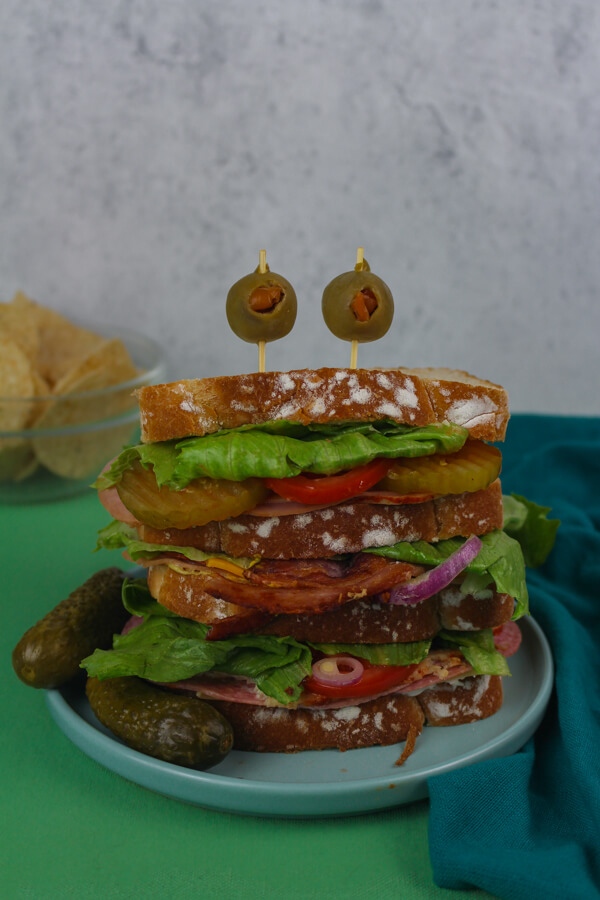 How to Make a Scooby Doo Sandwich
There's really no right or wrong way to make this sandwich. Just follow your sandwich-loving heart, and you'll end up with a masterpiece! See the ingredient list above for all the sandwich fixings I used to make my sandwich and other suggestions.
To make the sandwich extra tall, use 2-3 pieces of bread inside the middle of the sandwich as well. Don't forget to coat each piece of bread with your favorite condiments too! Then don't be conservative with the meat, cheese, and veggies. Add as much as you want and just keep layering until you have a tall Shaggy sandwich.
To make a monster sandwich, simply place two pimiento-stuffed green olives on toothpicks and stick them on top of the finished sandwich. If you want, you can also place a tomato slice sticking out of the middle of the sandwich to look like a monster tongue. Enjoy!
31 Days of Halloween
This Scooby Doo themed snack is a part of my 31 Days of Halloween. For each day in October, I come up with a cocktail recipe and snack recipe that perfectly matches a scary movie, Halloween movie, or a fun spooky activity. Check out 31 Days of Halloween for all of your Halloween snack and drinking desires!
What to Serve with a Shaggy Sandwich
✽ Pineapple Coconut Beach Cocktail; Since the live-action Scooby-Doo movie is set on Spooky Island, a beachy cocktail was in order to pair with this sandwich! This bright blue cocktail is filled with pineapple juice, coconut rum, tequila, blue curacao, lime juice, and lemon juice. It's so good and tastes just like the beach! Click here to read more about Scooby-Doo Movie Night!
✽ Scooby Snack; In addition to pickles and potato chips, serve this sandwich alongside some Scooby Snacks!

Category: Lunch & Dinner, Halloween, Scooby-Doo Cuisine: American
Keywords: scooby doo recipes, scooby doo movie food, scooby doo sandwich recipe, scooby doo party ideas, scooby doo themed recipes, scooby doo birthday party food
✽ Did you make this recipe too?
→ Let me know by leaving a comment below and sharing on Instagram. Tag @laurathegastronaut and hashtag it #laurathegastronaut.
More Halloween Snack Recipes:
✽ Halloween Snack Board (this board filled with all kinds of Halloween snacks is perfect for any spooky occasion)
✽ Hocus Pocus Dip Trio (a dip trio platter that looks like the Sanderson Sisters made of salsa, homemade queso, and black bean dip)
✽ Spooky Spider Pizza Rolls (spooky and tasty homemade pizza rolls perfect for Halloween)
→ Check out all of my Halloween recipes!
Bon appétit!
August 30, 2022 by Laura Ehlers
*This Shaggy Sandwich blog post and recipe may contain some Amazon affiliate links. These link to products that I personally use and recommend. If you purchase anything using my links, it will not cost you anything. It will though give laurathegastronaut.com some financial support which helps me keep this blog running. Thank you for reading my blogs and your continued support.