Hocus Pocus Dip Trio
Hocus Pocus Dip Trio
August 26, 2022 | Laura
Have the perfect Hocus Pocus movie night with this delicious Hocus Pocus themed food recipe! This dip trio resembles the hair colors of the Sanderson Sisters. Winifred is represented by the salsa, Mary represented by black bean dip, and Sarah represented by homemade queso dip. Not only is this Hocus Pocus recipe so cute, it is also absolutely delicious!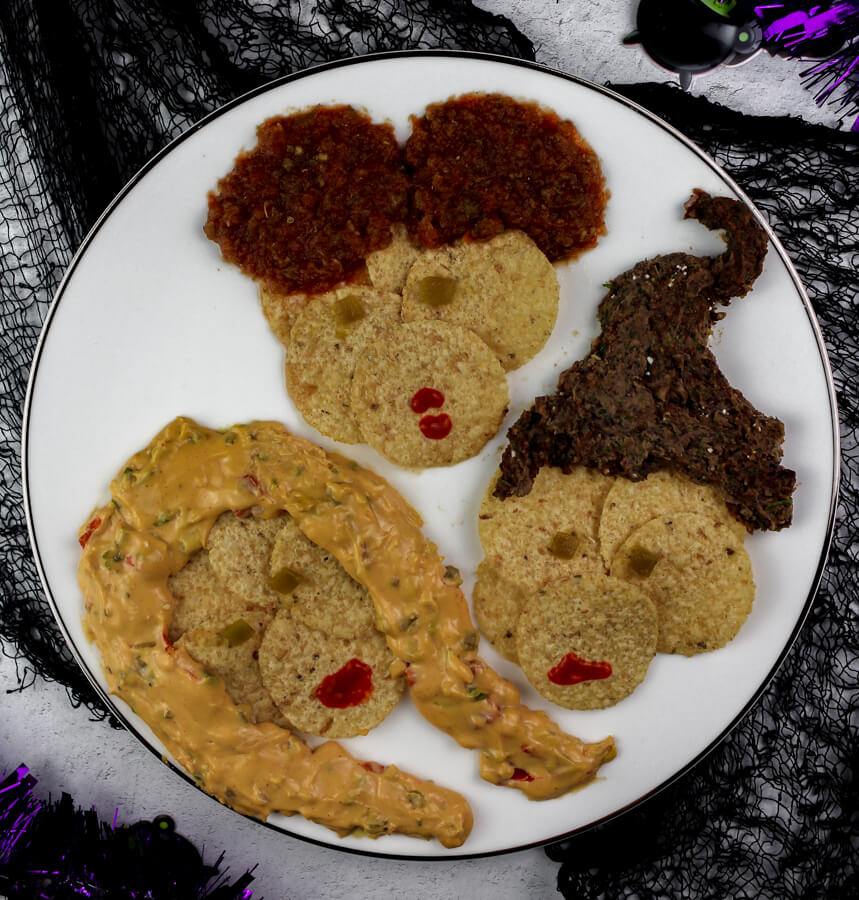 Give me all the dips!
I don't think I've ever met anybody that didn't like dip. It doesn't matter what kind of dip it is, give me a bag of chips and I'm going to eat the entire dish.
So when my genius husband had the brilliant idea of making a dip trio that represented the Sanderson Sisters, I was so down!
This dip trio is perfect for a Hocus Pocus movie night or Hocus Pocus themed party. The homemade queso dip represents Sarah's blonde hair, the salsa represents Winifred's red hair, and the black bean dip represents Mary's black hair.
Not only is this a super cute Halloween food idea, it is also so delicious. Give me a bag of tortilla chips, and I will devour all three dips during the movie. YUM.
Hocus Pocus Dip Trio Ingredients
*Some of these ingredient links may be affiliate links. As an Amazon Associate I earn from qualifying purchases.*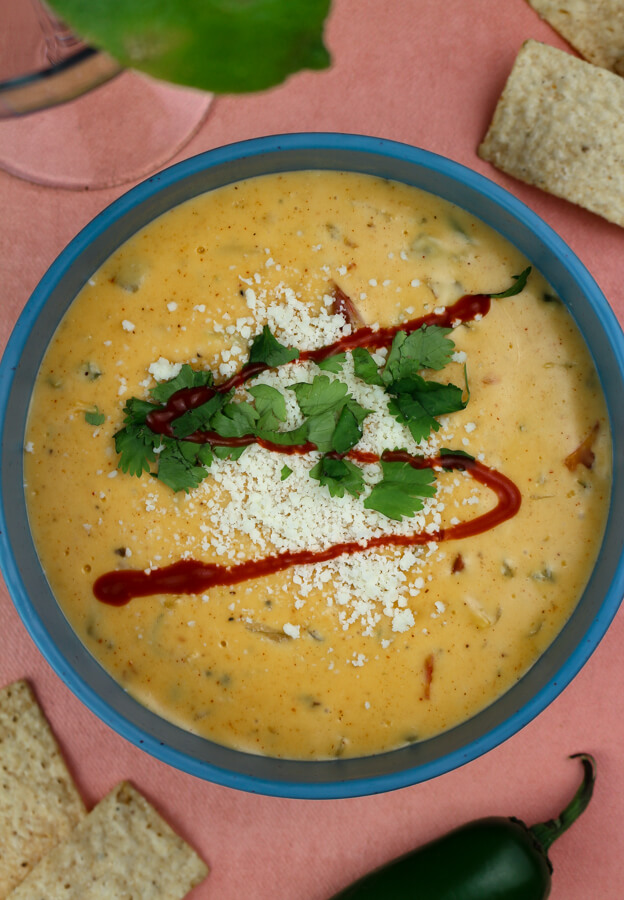 ✽ Queso Dip- Sarah's Hair
You could, of course, buy store-bought queso, but I highly recommend making it homemade. It's so delicious and it's actually pretty easy and quick to whip up!
If you want to make my homemade queso dip, you will need butter, yellow onion, jalapenos, and garlic. These veggies will get sauteed so they are extra delicious. To make the queso the right consistency, you will need a bit of flour and half-and-half.
I like to go big on seasonings so for my queso I add in hot sauce, cumin, smoked paprika, chili powder, salt & pepper, and cayenne pepper.
Now the cheese!! My favorite cheese combination is sharp cheddar cheese and pepper jack cheese. I also add in some Velveeta. The cheddar and pepper jack will shine through as the flavor profile, but I found that the Velveeta is necessary to get that ideal queso consistency.
To add a bit more freshness to the queso, I like to stir in tomatoes and green chiles.
Lastly, if you plan on serving in a bowl, I add toppings! This queso is absolutely wonderful when topped with hot sauce, cotija cheese, and cilantro leaves.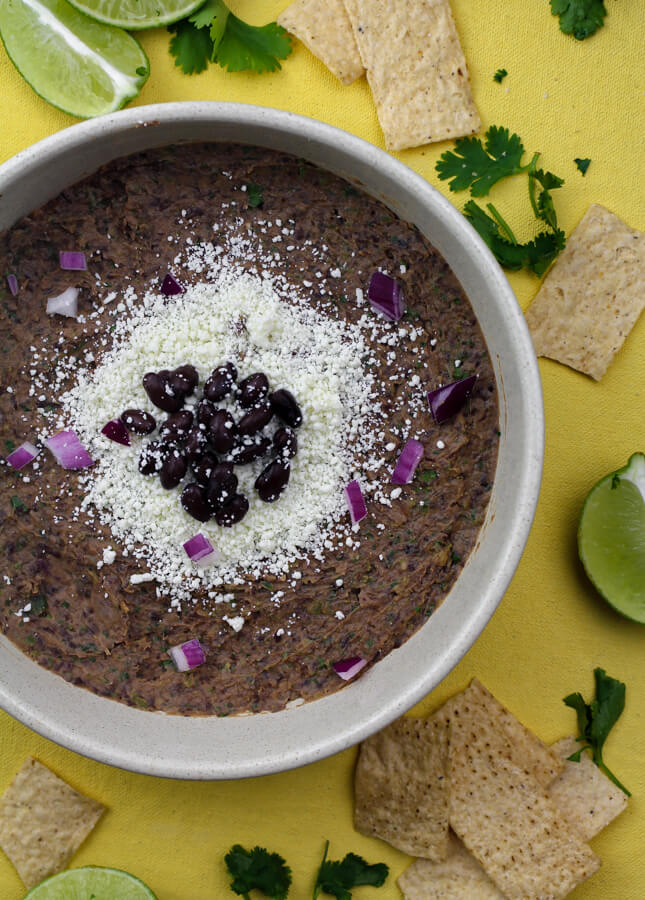 ✽ Black Bean Dip- Mary's Hair
Black bean dip is even easier than queso to make at home. You pretty much just need to saute a little bit of veggies in some butter for a few minutes then throw everything else in a food processor!
To make my homemade black bean dip recipe, you will need butter, red onion, jalapenos, and garlic. These vegetables will be sauteed for a bit to make them super flavorful.
Of course, we need canned black beans to make black bean dip. Then to up the flavor, I add in lime juice, cilantro leaves, hot sauce, salt, cumin, smoked paprika, chili powder, and cayenne pepper.
If planning on serving dip in a bowl, to make the black bean dip even more delicious, top the dip with cotija cheese, hot sauce, more red onion, and/or cilantro leaves.
✽ Salsa- Winifred's Hair
Pick up a jar of your favorite salsa! If you plan on making the dish actually look like the Sanderson Sisters like I did, I would recommend a chunkier and thicker salsa so it doesn't run.
✽ Other Ingredients
To make the Sanderson Sister dip trio platter, you will also need round tortilla chips, hot sauce, and canned green chiles.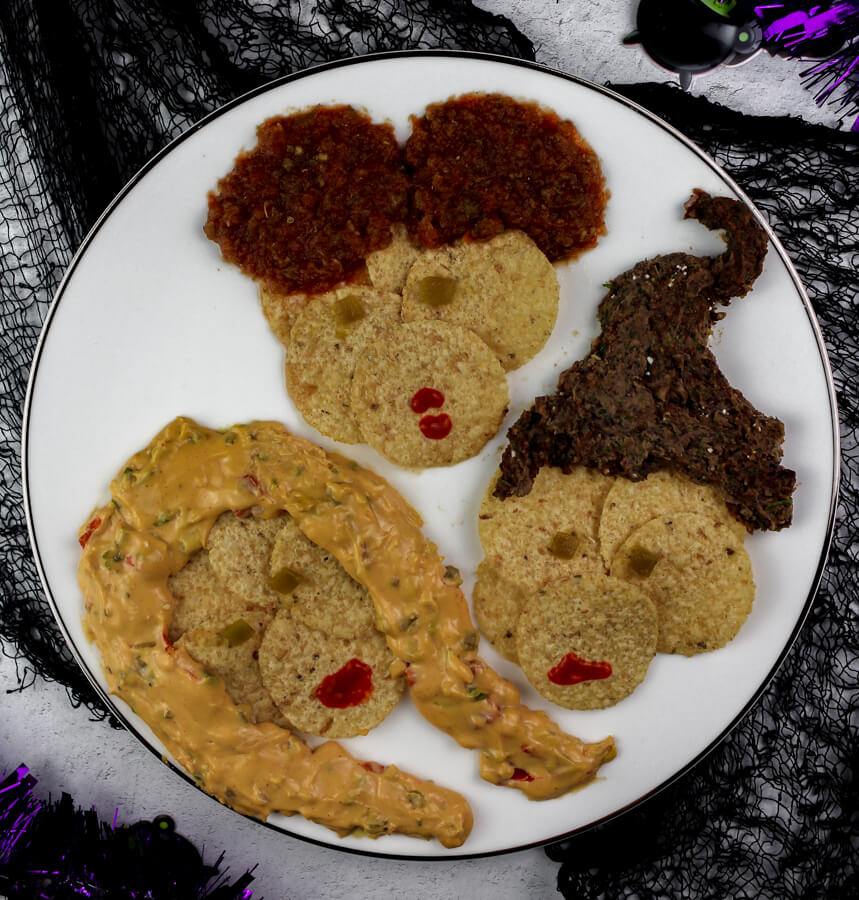 How to Make Hocus Pocus Snack Recipe
✽ To create this dip trio, you will need a big platter. I recommend using a white platter that way the colors of the dips show up well. For a large Hocus Pocus party, I would suggest making the Sanderson Sister platter for decoration and then having the guests actually scoop the dip they are going to eat from larger bowls that surround the platter.
For a smaller get-together or a family movie night, you could make every person their own personal Sanderson Sister dip trio platter or share the large one!
✽ To Make the Platter:
Using my picture above as a guide, place 3 circles of round tortilla chips down on the platter for their faces. I found that 5 round tortilla chips make about the right size and almost perfect circle for the face.
Use a thick hot sauce to draw on their mouths. Sriracha would work really well for this! Then add canned green chiles for their eyes.
Now for the hair! Sculpt each of the dips around their faces for their hair! For Winifred, two scoops of salsa make it look like her two poofs of red hair. For Sarah, you want to add the queso in a way that makes her have long blonde hair. Lastly, for Mary, add the black bean dip to the top of her head with a curl at the very top.
You can use store-bought dips, but I recommend using homemade dips for the best flavor! Serve with tortilla chips.
✽ GET BLACK BEAN DIP RECIPE HERE! → Black Bean Dip
✽ If you don't feel like making the platter, I get it. Just serve up these Sanderson Sister hair colored- dips in bowls next to a big bowl of tortilla chips. Consider placing a small sign next to each dip such as 'Dip inspired by Winifred's hair' or 'Sarah's blonde queso hair' so your party go-ers understand the theme!
31 Days of Halloween
This Hocus Pocus themed snack recipe is a part of my 31 Days of Halloween. For each day in October, I come up with a cocktail recipe and snack recipe that perfectly matches a scary movie, Halloween movie, or a fun spooky activity. Check it out for all of your Halloween snack and drinking desires!
What to Serve with Hocus Pocus Snacks
✽ Witches Brew; A Hocus Pocus movie night or Hocus Pocus party would not be complete without some witches brew! Whip up a large bowl of this bright green limeade punch to go with your dips! Click here to read more about Hocus Pocus Movie Night!

Category: Appetizers & Snacks, Halloween Cuisine: American
Keywords: hocus pocus recipes, hocus pocus themed food, hocus pocus food ideas, hocus pocus snacks, hocus pocus food menu, hocus pocus themed snacks, halloween snacks, dip trio recipe
✽ Did you make this recipe too?
→ Let me know by leaving a comment below and sharing on Instagram. Tag @laurathegastronaut and hashtag it #laurathegastronaut.
More Halloween Snack Recipes:
✽ Halloween Snack Board (this board filled with all kinds of Halloween snacks is perfect for any spooky occasion)
✽ Pumpkin Cheese Ball (this delicious pumpkin-shaped cheese ball is filled with real pumpkin and white cheddar cheese)
✽ Spooky Spider Pizza Rolls (spooky and tasty homemade pizza rolls perfect for Halloween)
→ Check out all of my Halloween recipes!
Bon appétit!
August 26, 2022 by Laura Bullock
*This Hocus Pocus Dip Trio blog post and recipe may contain some Amazon affiliate links. These link to products that I personally use and recommend. If you purchase anything using my links, it will not cost you anything. It will though give laurathegastronaut.com some financial support which helps me keep this blog running. Thank you for reading my blogs and your continued support.