Laura The Gastronaut > Recipes > Holiday Cooking > Halloween Snack Board
Halloween Snack Board
October 22, 2021
*This post may contain affiliate sales links. Please see full disclosure policy for details.*
This Halloween Snack Board is filled with all the best spooky treats! It's sure to be the hit of a party or movie night!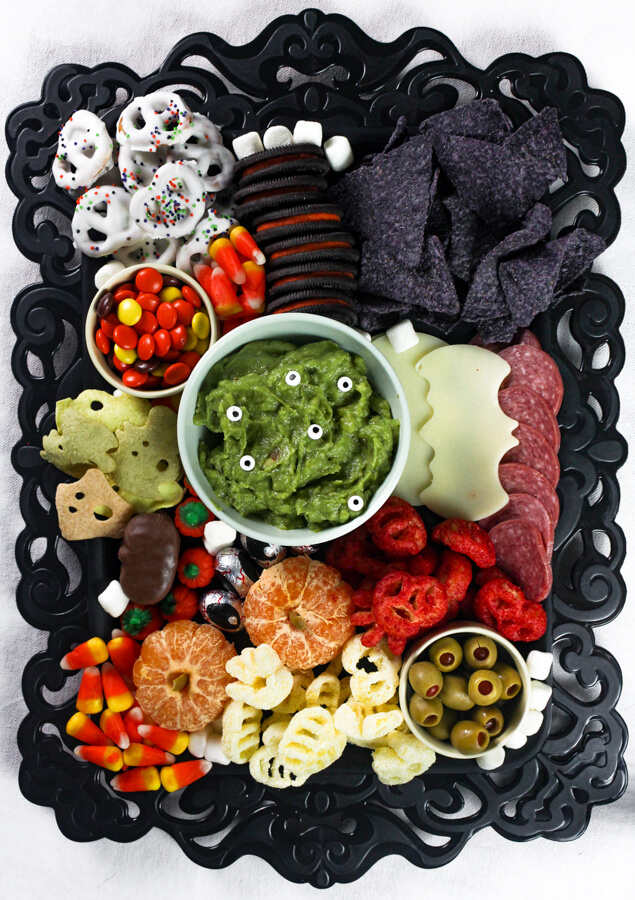 31 DAYS OF HALLOWEEN
This halloween snack board is a part of my 31 Days of Halloween. For each day in October, I come up with a cocktail recipe and snack recipe that perfectly matches a scary movie, Halloween movie, or a fun spooky activity. Check it out for all of your Halloween snack and drinking desires!
__________________________________
HALLOWEEN SNACKS = FAVORITE
Is there anything better than your favorite snacks in the shape of a spooky Halloween ghost or pumpkin? Yeah, I didn't think so. I'm a sucker for holiday-shaped foods, and this snack board is filled full of them! While there's really no right or wrong way to arrange this board, I'll tell you all about what I did!
This halloween snack board was a part of my Halloween trivia night and was so fun to snack on playing trivia and drinking fall beer.
HALLOWEEN SNACK BOARD IDEAS
• Guacamole: Put candy eyes on the guacamole to make it extra spooky
• Cheese: Using a cookie cutter, cut out a Halloween shape into a slice of cheese
• Cured Meats
• Pimiento-stuffed Green Olives: Face the pimiento peppers upwards so the olives look like eyes
• Halloween-shaped Cheeto Puffs: They come in both white cheddar and flamin' hot!
• Clementines: Peel the clementines and put something green in the top hole so they resemble a pumpkin. The something green can be anything such as green onion or a slice of a green olive.
• Candy Corn + Candy Pumpkins
• Butterfinger Zombie Eyeballs
• Almond Bark Pretzels: Dip pretzels in melted almond bark, place on wax paper to dry, and sprinkle with Halloween sprinkles.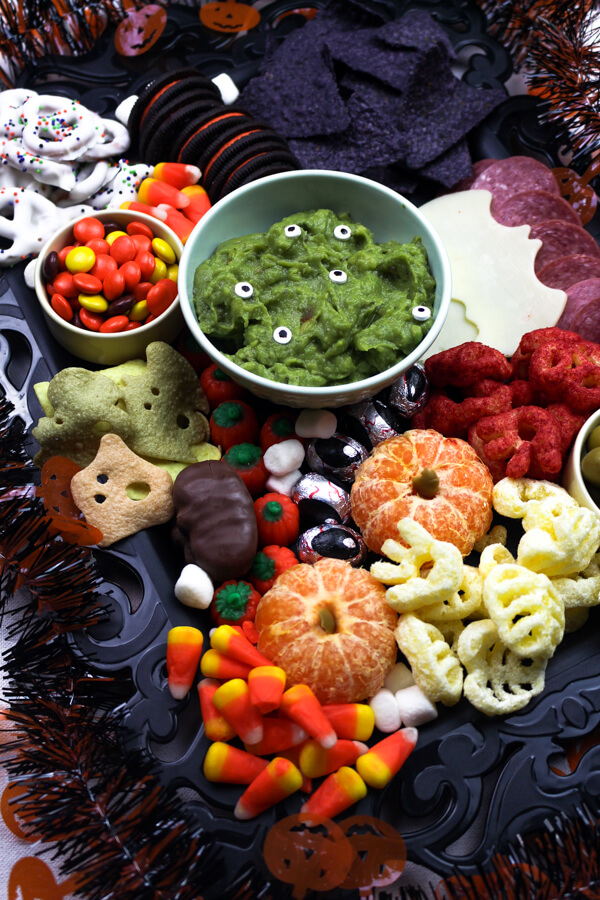 WHAT TO SERVE WITH HALLOWEEN SNACK BOARD
• Fall Beer; For our Halloween trivia night, we had this Halloween snack board and fall beer to make it extra festive!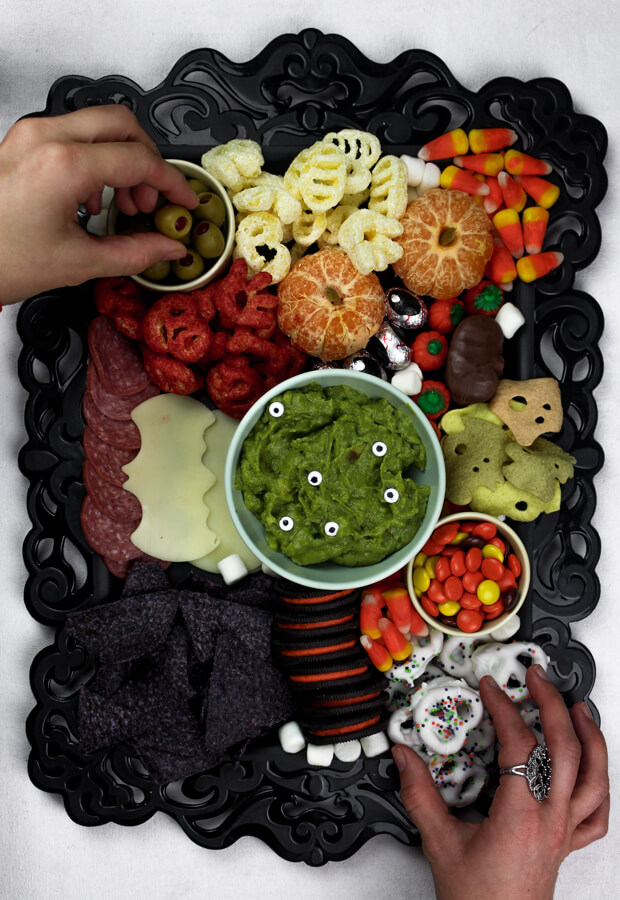 DID YOU MAKE THIS RECIPE?
Let me know by leaving a comment below and sharing on Instagram. Tag @laurathegastronaut and hashtag it #laurathegastronaut.
Click here to check out more Halloween Recipes!
Category: Halloween
Keywords: halloween board, halloween snacks, halloween snack board, halloween snack tray
CHECK OUT THESE OTHER HALLOWEEN TRAYS!
Bon appétit!
October 22, 2021 by Laura Bullock