Halloween Snack Board
Halloween Snack Board
October 22, 2021 | Updated September 28, 2022 | Laura
This Halloween snack board is so cute, perfect for Halloween parties, and completely customizable! It has all of my favorite Halloween treats on it and makes great company for a spooky movie night.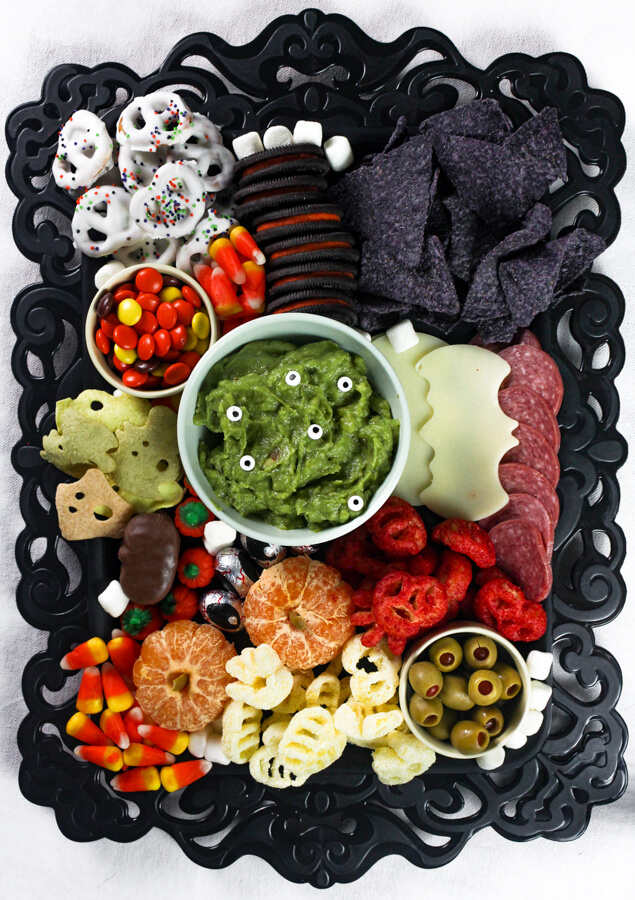 Halloween snack boards are the best!
Is there anything better than your favorite snacks in the shape of a spooky Halloween ghost or pumpkin? Yeah, I didn't think so.
I'm a sucker for holiday-shaped foods, and this snack board is filled full of Halloween-themed food! While there's really no right or wrong way to arrange this board, I'll tell you all about what I did!
This halloween-themed snack board was a part of my Halloween trivia night last year and was so much fun to snack on these treats while playing trivia and drinking Fall Beer. This board is perfect for scary movie night, for your next Halloween party, and during all of spooky season. Best thing is this board takes little planning and you can have your perfect Halloween charcuterie board ready in no time!
Halloween Snack Board Ideas
*Some of these ingredient links may be affiliate links. As an Amazon Associate I earn from qualifying purchases.*
I arranged all of the following Halloween-themed snacks onto a large cutting board or serving board. Start by placing your larger items on the board first then arranging the smaller items around.
✽ Guacamole: Make a batch of homemade guac and put candy eyeballs on top of the guacamole for a spooky twist.
✽ Blue or Black Tortilla Chips: The dark blue or black tortilla chips fit on this snack board much better than regular tortilla chips.
✽ Cheese: Using Halloween cookie cutters, cut out a Halloween shape into a slice of cheese. The options are endless for what shape you can make- pumpkins, bats, witch hats, cauldrons, cats, and ghosts.
✽ Cured Meats: Not scary, just really delicious and pairs well with the other savory flavors on the board- and, in my opinion, the best part! The traditional meat options include prosciutto, salami, and pepperoni slices and are my favorites.
✽ Pimiento-stuffed Green Olives: Face the pimiento peppers upwards so the olives look like eyeballs and place in small bowls.
✽ Halloween-shaped Cheeto Puffs: They come in both white cheddar and flamin' hot and are shaped like bones. I usually start seeing these hit the shelves at the grocery store about mid-September!
✽ Clementines: Peel the clementines and put something green in the top hole so they resemble a pumpkin. The something green can be anything such as green onion or a slice of a green olive. Great way to get some healthy fresh fruit on the board!
✽ Candy Corn + Candy Corn Mini Pumpkins: Not everybody is a fan of candy corn, but I personally love 'em. Plus, the traditional candy corn and the candy pumpkins look so cute and really make this snack board look like Halloween.
✽ Reese's Pieces: Reese's Pieces filled with peanut butter are perfect for fall snacking because they are already the perfect fall colors- brown, orange, and yellow.
✽ Orange Oreos: These Oreos have an orange creme filling inside instead of the usual white creme. Any other Halloween cookies would be great too (especially homemade!).
✽ Mini Pumpkin Reese's: Arguably one of the best Halloween candies there is. These Reese's are tasty, shaped like pumpkins, and an absolutely great addition to the Halloween board.
✽ Ghost Garden Veggie Chips: I can't get over how cute these veggie chips are! They are shaped like ghosts and taste good on their own or with the guacamole.
✽ Butterfinger Zombie Eyeballs: No spooky snack tray is complete without some eyeballs! Any other Halloween candy that's your favorite would be perfect on this board too.
✽ Mini Marshmallows: Not necessarily Halloween, but these mini marshmallows are the perfect way to fill in any empty spots you may have on your snack board.
✽ Almond Bark Pretzels: Dip pretzels in melted almond bark, place on wax paper to dry, and sprinkle with Halloween sprinkles.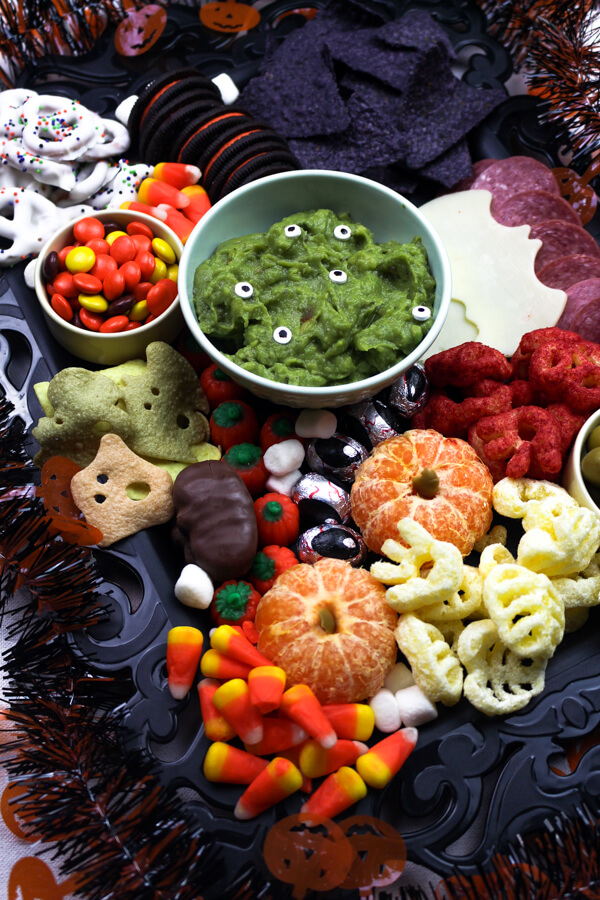 What to Serve with Halloween Board
✽ Fall Beer; For our Halloween trivia night, we had this Halloween snack board and fall beer to make it extra festive!
✽ Fall Sangria; This fall sangria is made with red wine and all those delicious fall flavors and fruits.
31 Days of Halloween
This halloween-themed board is a part of my 31 Days of Halloween. For each day in October, I come up with a cocktail recipe and snack recipe that perfectly matches a scary movie, Halloween movie, or a fun spooky activity. Check it out for all of your Halloween snack and drinking desires!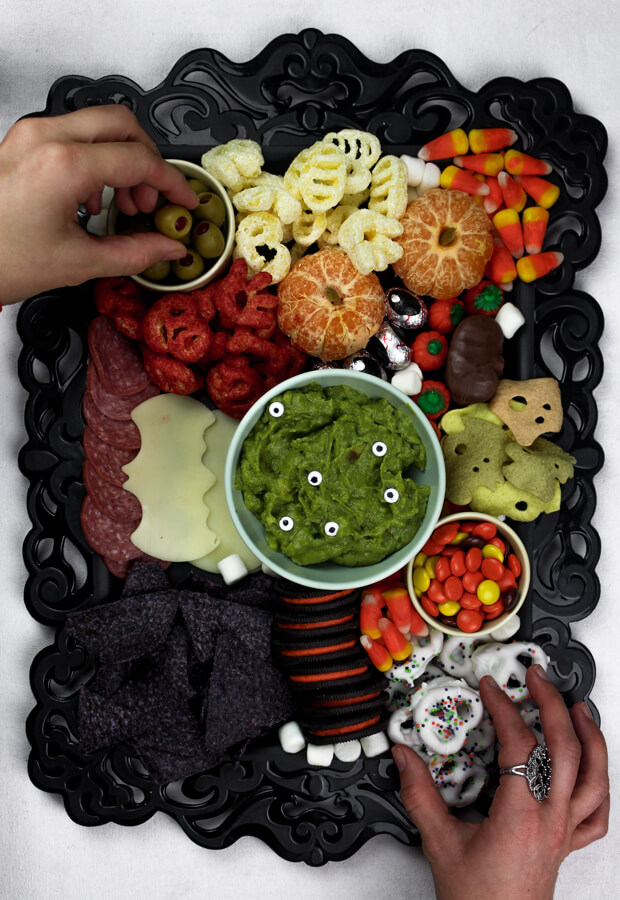 Category: Halloween, Appetizers & Snacks Cuisine: American
Keywords: halloween snack ideas, festive halloween charcuterie board, fun Halloween foods, halloween snack tray, spooky charcuterie board, fun ideas for Halloween board
✽ Did you make this recipe too?
→ Let me know by leaving a comment below and sharing on Instagram. Tag @laurathegastronaut and hashtag it #laurathegastronaut.
More Halloween Snack Recipes:
✽ Monster Veggie Tray (a veggie tray that looks like Mike Wazowski)
✽ Fall Fruit and Cheese Board (a fancy board full of fall fruits and cheeses)
✽ Hocus Pocus Dip Trio (each dip represents one of the Sanderson Sisters hair colors- queso, black bean dip, and salsa)
✽ Caramel Apple (one of my favorite Halloween treats)
→ Check out all of my Halloween recipes!
Bon appétit!
October 22, 2021 by Laura Bullock
*This Halloween Snack Board blog post and recipe may contain some Amazon affiliate links. These link to products that I personally use and recommend. If you purchase anything using my links, it will not cost you anything. It will though give laurathegastronaut.com some financial support which helps me keep this blog running. Thank you for reading my blogs and your continued support.