Laura The Gastronaut > What's in the Box > What's in the Box > Halloween
Halloween | What's in the Box
October 9, 2021
*This post may contain affiliate sales links. Please see full disclosure policy for details.*
Cooking challenge with random fall-ish ingredients including apples, ground bison, sweet potatoes, and sage.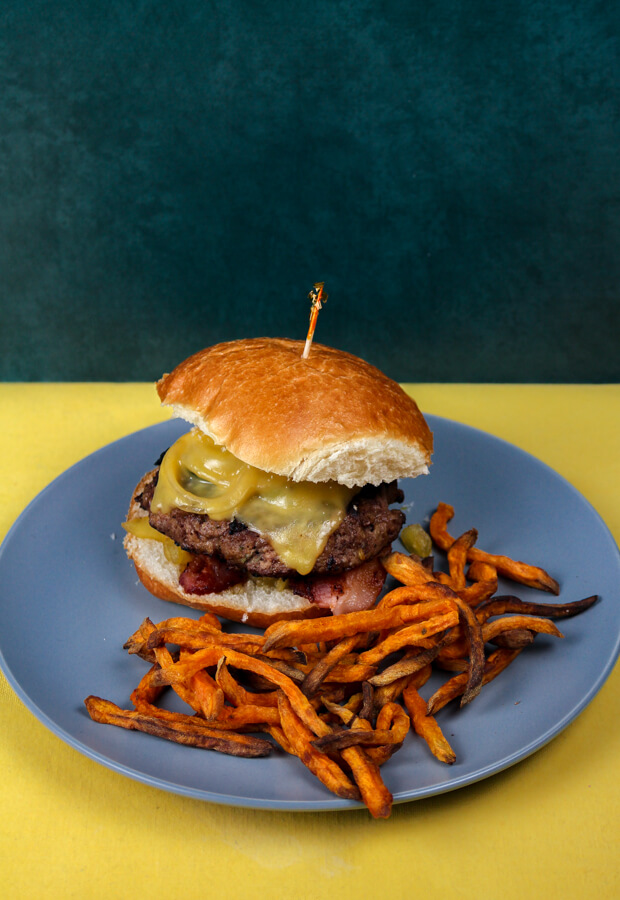 31 DAYS OF HALLOWEEN
This halloween what's in the box is a part of my 31 Days of Halloween. For each day in October, I come up with a cocktail recipe and snack recipe that perfectly matches a scary movie, Halloween movie, or a fun spooky activity. Check it out for all of your Halloween snack and drinking desires!
__________________________________
RANDOM INGREDIENTS
For this round of What's in the Box, we drew from a list of fall-ish ingredients! This was our activity for Day 9 of my 31 Days of Halloween. We cooked delicious food with our random ingredients and finished the evening with a pumpkin pie shooter. It was all so good, tasted like fall, and left me feeling happy.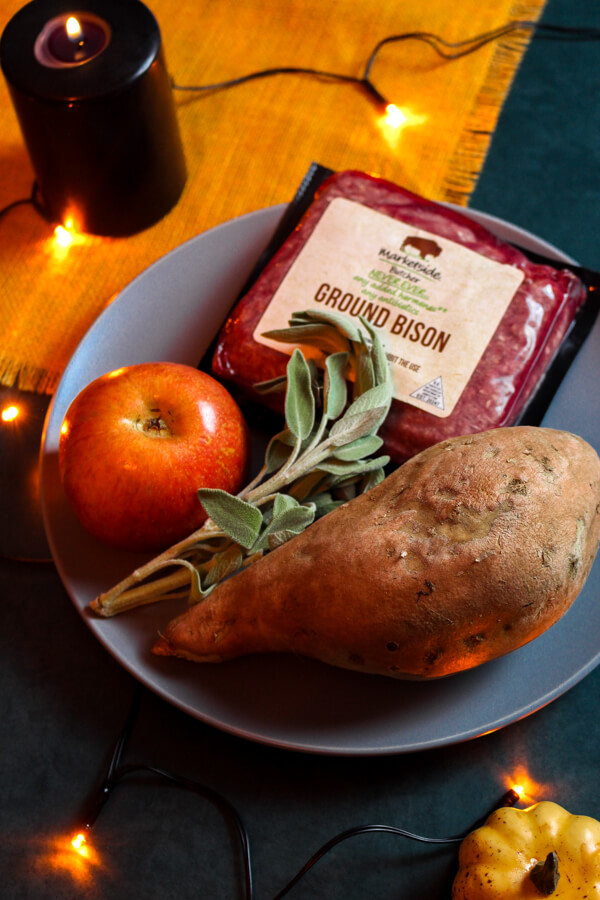 Our random ingredients for this meal were apples, ground lamb or bison, sweet potatoes, and fresh sage. My husband immediately knew he wanted to make a hamburger so that's exactly what we did! We couldn't find ground lamb anywhere, but we were able to find ground bison (YUM). We combined the ground bison with breadcrumbs, egg, seasonings, sage, and small apple chunks. We formed them into patties and let them rest in the fridge for a little bit.
I love a good fig jam on a burger so I knew that I wanted to make a simple apple jam to make for this burger. We combined small apple chunks, lemon juice, and honey in a small saucepan. It simmered on the stove until the apples started to break down and the juice thickened.
Since we were making a burger, it just made sense that the side was sweet potatoes. I always struggle to get a good crisp sweet potato fry. In efforts to try to crisp them up I cooked them in the air fryer. I cut them into 1/4" by 1/4" fries and tossed them with olive oil and sage. I cooked them at 380° for about 14-16 minutes. Some of the fries did get crispy especially on the ends, but the majority of the fries were still quite soggy. Does anybody out there have any ideas on how to get a crispy sweet potato fry?! Let me know! I'll just mention that soggy sweet fries are still super delicious. I think the classic ketchup is best for them to be dipped in!
Prior to cooking the bison burgers, we cooked up some bacon. In the leftover bacon grease (I know, unhealthy... but YUM), we cooked up our bison burgers and some jalapeno and onion slices. Lastly, we topped with some gouda cheese.
In the end, we had an apple & sage bison burger topped with bacon, apple jam, sauteed jalapenos and onions, and gouda. Served with a side of air fried sage sweet potato fries.
I'm really proud of us for making this burger! I usually say that making burgers, tacos, pizza, and salad are the easy way out for these meals UNLESS you do it well. I think we did! It was so good. My husband cooked the bison perfectly and the apple jam and gouda paired so well. Of course, the sweet potato fries just tied this whole fall meal together.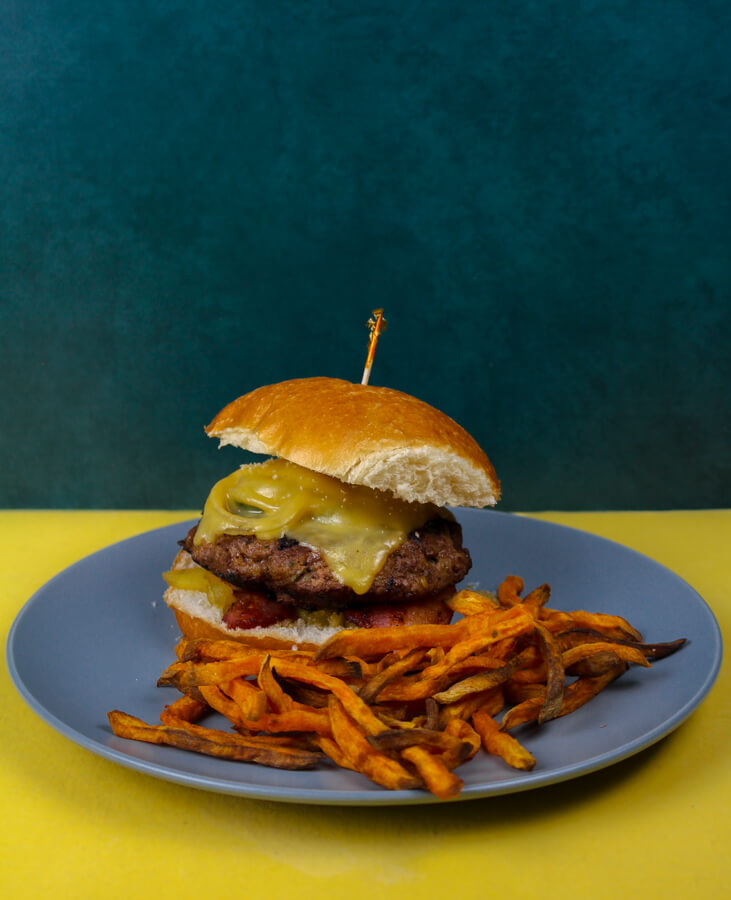 I'd love to know what you'd create with these ingredients! Comment below and, if you are up for the cooking challenge, post your picture of your creation on Instagram and tag me @laurathegastronaut.
Bon appétit!
October 9, 2021 by Laura Bullock