Laura The Gastronaut > Recipes > Halloween > Halloween Pumpkin Hand Pies
Halloween Pumpkin Hand Pies
October 29, 2020 [Updated October 25, 2021] | Jump to Recipe
*This post may contain affiliate sales links. Please see full disclosure policy for details.*
These adorable pumpkin hand pies are a perfect Halloween treat! The pie crust is hand-carved into spooky Halloween shapes and stuffed with delicious pumpkin pie filling. They are then covered in my super delicious browned butter cinnamon glaze. Yum!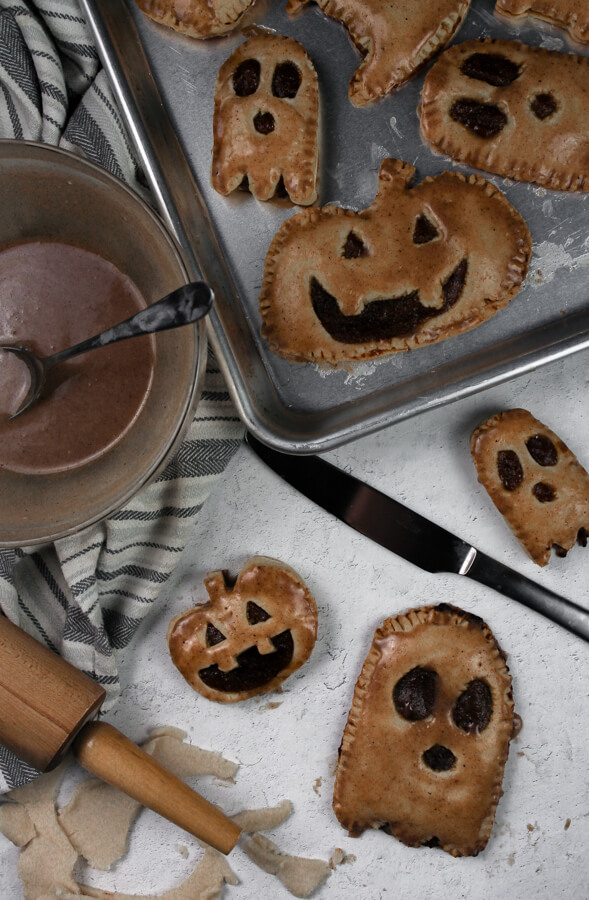 31 DAYS OF HALLOWEEN
These Halloween pumpkin hand pies are a part of my 31 Days of Halloween. For each day in October, I come up with a cocktail recipe and snack recipe that perfectly matches a scary movie, Halloween movie, or a fun spooky activity. Check it out for all of your Halloween snack and drinking desires!
__________________________________
SWEET, PUMPKIN-Y, & CUTE
Happy last day of my four days of Halloween recipes! For the last recipe, I decided to go with something fun and cute (especially after posting those creepy roaches!). These pumpkin hand pies are adorable and hand-cut (or you can use cookie cutters if you want). They are not perfect but what I like to call rustic. They are, however, the perfect way to really get creative and show everybody what you got! Of course, you could use cookie cutters as well if you're not feeling up to the challenge of cutting them out by hand. I made a few different designs, but the ghost was my favorite! Once the pumpkin hand pies are baked, I top them with my delicious browned butter cinnamon glaze. These taste just like fall!
HALLOWEEN PUMPKIN HAND PIES INGREDIENTS
• Pie Crust: You can use either store-bought pie crust or make it from scratch.
• Pumpkin Puree: Either homemade puree or store-bought will work for this recipe. Make sure you are using 100% pure pumpkin and not pumpkin pie filling.
• Vanilla Extract & Salt: Add great flavor.
• Egg: The egg will act as a thickener and make the filling more solid so it doesn't ooze out of the hand pies.
• Brown Sugar: Will sweeten the hand pie filling and add a little molasses flavor.
• Spices: Cinnamon, Ginger, Nutmeg, Cloves, Allspice
• Corn Starch: Adding cornstarch will make the filling firm helping to hold it all in.
HOW TO HALLOWEEN PUMPKIN HAND PIES
The first thing to do to make these hand pies is get your hands on some pie crust. You can use store-bought, but I highly recommend making your own. It's actually pretty simple! I follow this recipe from The Pioneer Woman. That recipe makes 3 pie crusts. You'll only need 1 or 2 for my pumpkin hand pie recipe, but the great thing about pie crusts is that they can be frozen and kept for later. This will make getting those Thanksgiving pies baked a breeze!
Working with the cold pie dough, roll it out as thin as possible with a rolling pin. I like to get the dough thin in order to get a good filling-to-crust ratio. Fold the pie dough in half so that there are two layers. Using a sharp knife, carefully cut out spooky Halloween shapes of your choice. You can also use a cookie cutter instead as well. You will want to make the shapes fairly large so that it can hold a decent amount of filling. After cutting, separate the two layers, and cut out the spooky eyes and mouths into only one of the layers. You can also cut out other shapes from the leftover dough for more detail. I made a hanging eye for the zombie and a scar and hair for Frankenstein. Check out the shapes I made below! I made a couple of ghosts, a zombie, Frankenstein, and a pumpkin. You can also take the simple route and make half circles as well.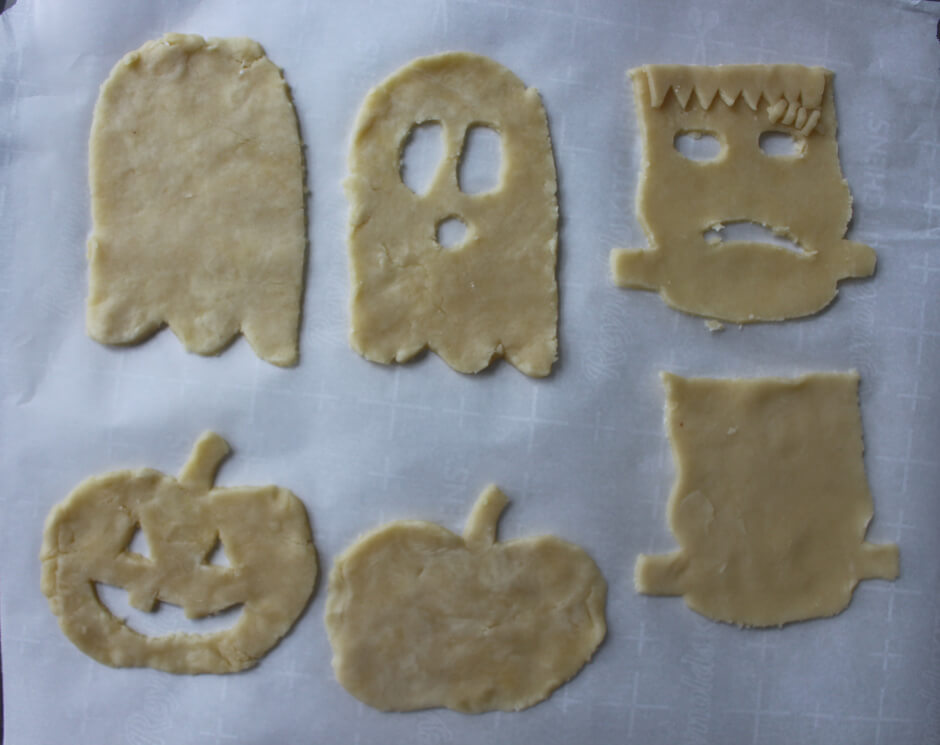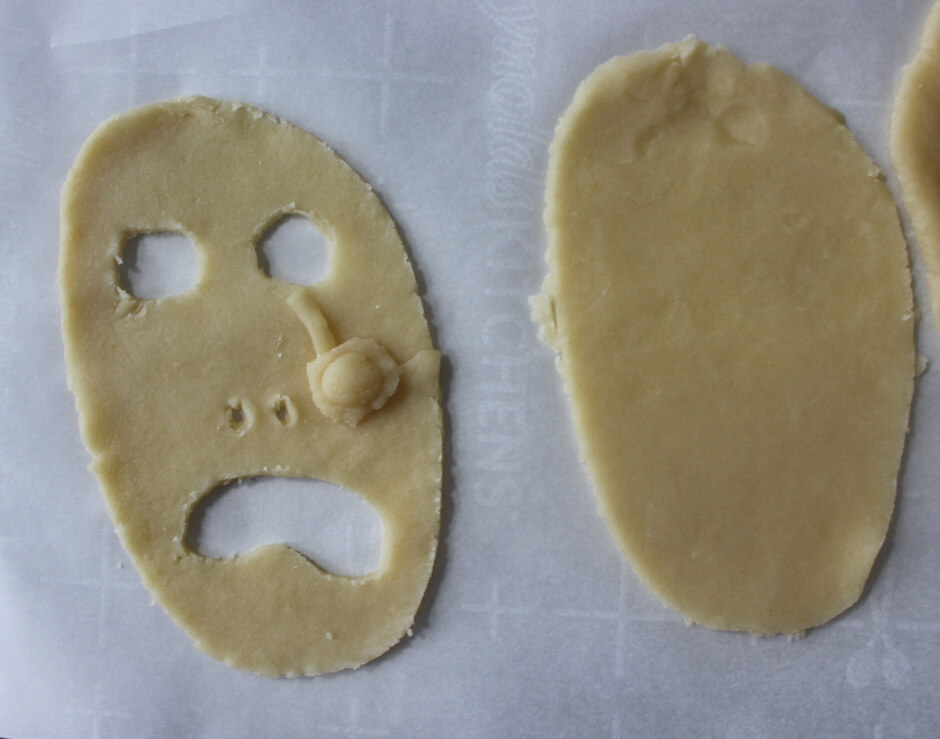 Once the shapes are cut out, scoop some of that delicious pumpkin pie filling into them. You don't want to over-fill but make sure that you are getting as much as you can in there.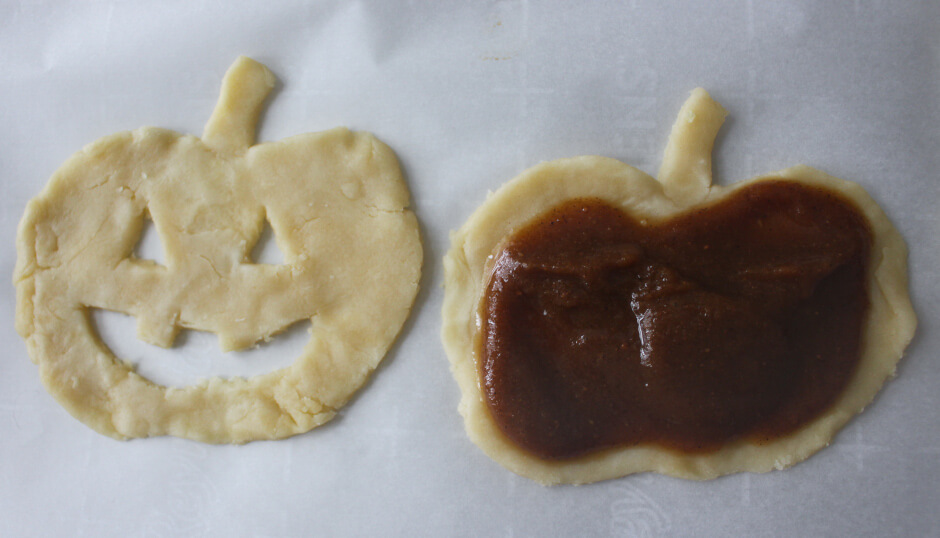 Now it's time to put the top layer of the dough on top of the filling. Press the two layers of dough together by using a fork along the edges. The hand pies are now ready to bake and then be glazed!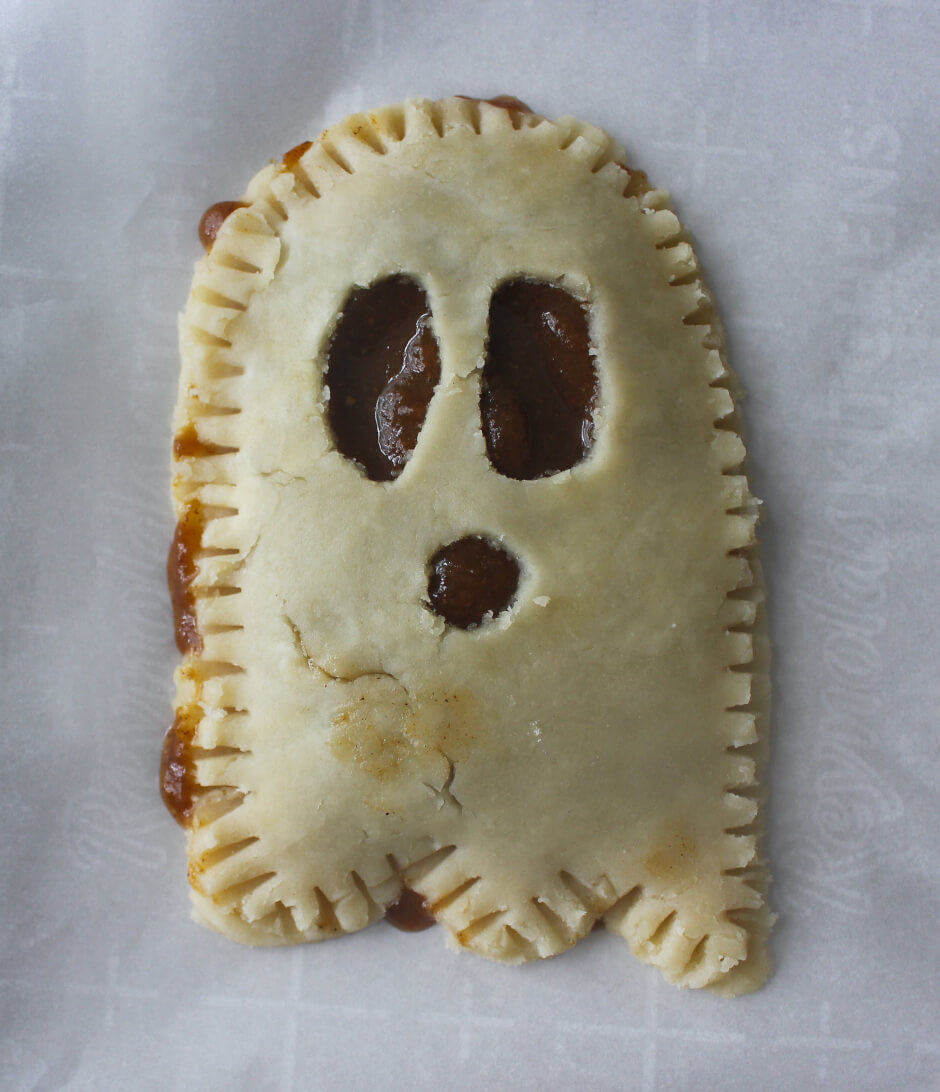 WHAT TO SERVE THESE HALLOWEEN PUMPKIN HAND PIES
• Homemade Apple Cider; For 31 Days of Halloween, we ate these pumpkin hand pies and sipped on these delicious homemade apple cider with a little bit of spiced rum. It was a perfect fall night!
If you like this Halloween recipe, check out the other recipes I created during my four days of Halloween! I first made these Spooky Spider Pizza Rolls which are filled with all the delicious pizza toppings, pricked with green bell pepper legs, and topped with olives for eyes. They make for a very fun Halloween treat for kids and adults! The second recipe I made was Breadstick Hand with Meatball Eyeballs from Beetlejuice. These hands are tasty and creepy. A must-have treat for all of you Beetlejuice lovers! I also made these creepy Halloween roaches- Goat Cheese Stuffed Dates wrapped with Prosciutto. These roaches are so realistics that they are sure to give your guests a fright and a treat!
For this recipe:
If you want to watch my video of me making my Halloween Pumpkin Hand Pies for the first time- click the video below!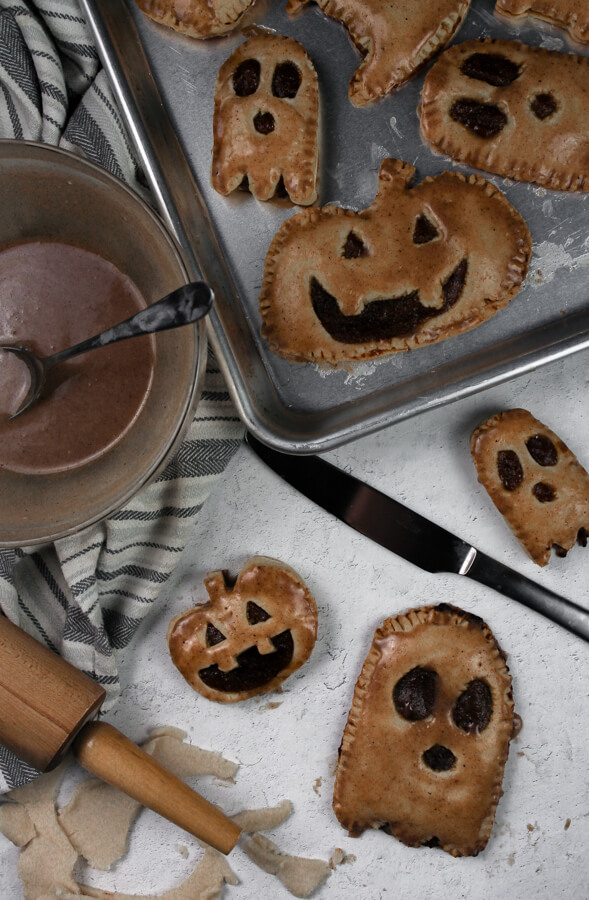 Halloween Pumpkin Hand Pies
These adorable pumpkin hand pies are a perfect Halloween treat! The pie crust is hand-carved into spooky Halloween shapes and stuffed with delicious pumpkin pie filling. They are then covered in my super delicious browned butter cinnamon glaze. Yum!

By Laura Bullock | Laura The Gastronaut
Prep Time: 25 minutes | Cook Time: 20 minutes | Total Time: 45 minutes
Yield: 7-8 medium-sized hand pies
Ingredients
For the Hand Pies:
• 1-2 pie crusts, preferably homemade (I like to use this recipe from The Pioneer Woman- Perfect Pie Crust Recipe) or store-bought [how much pie dough you need depends on how big you make your hand pies] • 1/2 cup (113 grams) pumpkin puree, canned or fresh • 1/2 teaspoon vanilla extract • 1 egg • 1/2 teaspoon salt • 3 Tablespoons brown sugar, light or dark • 3/4 teaspoon ground cinnamon • 1/4 teaspoon ground ginger • 1/2 teaspoon ground nutmeg • 1/4 teaspoon ground cloves • 1/4 teaspoon ground allspice • 1 teaspoon cornstarch
For the Glaze:
• 2 Tablespoons (28 grams) butter • 3/4 cups (90 grams) powdered sugar, sifted • 1/2 teaspoon ground cinnamon • 1/4 teaspoon nutmeg • 1/2 teaspoon vanilla extract • 2-3 Tablespoons (30-45 mL)milk
Instructions
1. Preheat oven to 400°F. 2. Roll out the dough: Roll out the pie dough as thin as possible. Fold the dough in half so that there are two layers. Hand-cut out shapes of your choosing or use cookie cutters. You want the shapes to be fairly large so they can hold more filling. After cutting, separate the two layers and cut out the holes for the mouths/eyes/etc into the top layer. See above for the shapes that I made and more detailed instruction. 3. Make the Pumpkin Filling: Whisk together all the ingredients for the filling until well combined. 4. Make the Hand Pies: Fill the bottom layer of dough with a good amount of pumpkin pie filling. Place the top layer over the filling, and close them by pressing a fork along the edges. 5. Place the hand pies on a parchment paper-lined baking sheet, and bake for 20-25 minutes until they are lightly browned. After baking, let rest on the baking sheet for 5-10 minutes. 6. Make the Glaze: Meanwhile, make the glaze. Using a small saucepan, melt butter and stir constantly over medium heat for 5-10 minutes until the butter has browned (*see notes below). Pour into a bowl, and add in sifted powdered sugar, cinnamon, nutmeg, vanilla extract, and whole milk. Whisk until it all comes together. You want the glaze to be a little bit runny so it slightly drips off of the hand pie. 7. Glaze the Hand Pies: After the hand pies have cooled, top them with the glaze. I like to carefully put the glaze on with a spoon so none of it falls into the eye/mouth holes. It's okay if it gets in there, but your eyes will not be as noticeable if they are covered with glaze.
__________________________________
DID YOU MAKE THIS RECIPE?
Let me know by leaving a comment below and sharing on Instagram. Tag @laurathegastronaut and hashtag it #laurathegastronaut.
Category: Sweets, Halloween, Fall
Keywords: halloween, hand pies, pumpkin pies, pumpkin hand pies
__________________________________
*NOTES
Extra Glaze: I always have a little extra glaze leftover with this recipe. I like to keep a bowl of it to dip the hand pies in to get more of it. The more glaze, the better!
Sizing: I like to make my hand pies about the size of my palm so a good amount of filling can be added without oozing out during the baking process. I can get about 7-8 hand pies from using one of The Pioneer Woman's pie crust recipe linked above.
Browned Butter: Browning butter can be tricky if you do not know what to look for. Using a light colored saucepan can help so you can see the butter changing color easier. On medium heat and stirring constantly, watch the butter closely. You will begin to see the milk proteins in the butter start turning a light brown. A few seconds after this happens, you will begin to smell a nutty aroma. That smell means the butter has successfully browned. Remove from heat and pour into a bowl to stop the cooking.
Sifted Powdered Sugar: The powdered sugar is sifted in order to prevent any lumps in the glaze.
CHECK OUT THESE OTHER DELICIOUS HALLOWEEN RECIPES!
Bon appétit!!
October 29, 2020 [Updated October 25, 2021] by Laura Bullock