Laura The Gastronaut > Recipes > Breakfast & Brunch > Pumpkin Spiced Donuts
Pumpkin Spiced Donuts with Brown Butter Glaze
October 7, 2020 [Updated October 27, 2021] | Jump to Recipe
*This post may contain affiliate sales links. Please see full disclosure policy for details.*
This recipe puts the entire season of fall into a fried donut. These donuts are cakey and dense in texture but also have a slight fluffiness to them as well due to the yeast.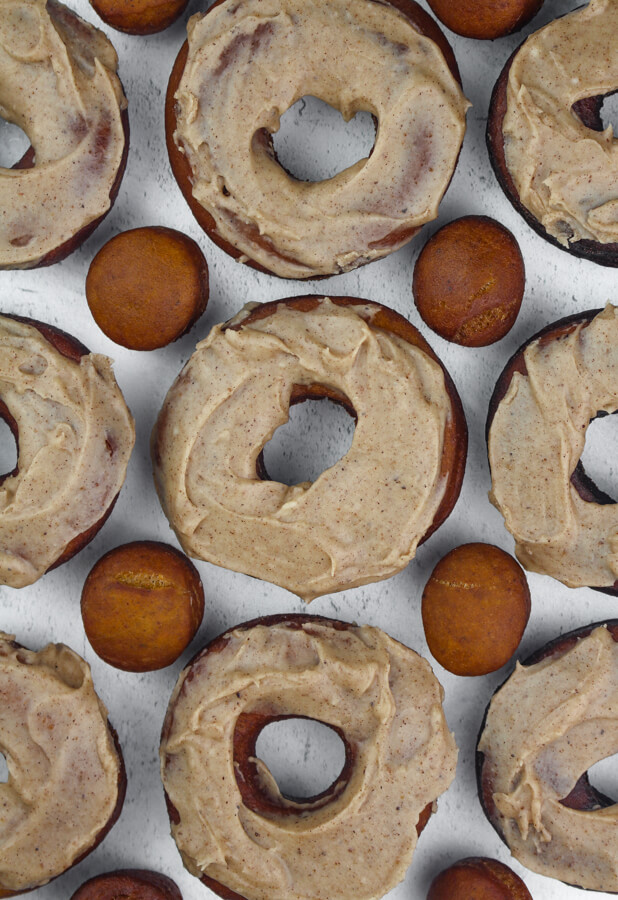 These pumpkin spiced donuts scream FALL! I want to grab my blanket, curl up on the couch, admire my pumpkins, fall decor, and leaves falling, light my pumpkin spice candle, sip on a hot coffee, and enjoy these amazing pumpkin donuts. The donuts have a plentiful amount of fall spices, pumpkin puree, and molasses added into the batter for maximum fall flavor. They are fried to perfection and covered with a browned butter cinnamon glaze. These donuts contain some heavy ingredients which makes them a little more dense than the glazed donuts you buy at the donut shop. However, the yeast still gives some fluffiness to the donut. As somebody who loves both fried and baked donuts, I found this donut to be perfect especially for fall. It is comforting during those brisk fall mornings, but you also get the feel of a traditional donut. Win win!
How did I come up with this recipe? Well, I looked into a little bit of history, lots of science, and made four other pumpkin donut recipes that I found online. I then took what I learned in my lab (AKA: my kitchen), and through trial & error came up with these wonderful donuts.
If you are interested the history of pumpkin spice, donut science, and watching the taste tests- click the video below!
__________________________________
Let's talk about the other four recipes that I chose to make!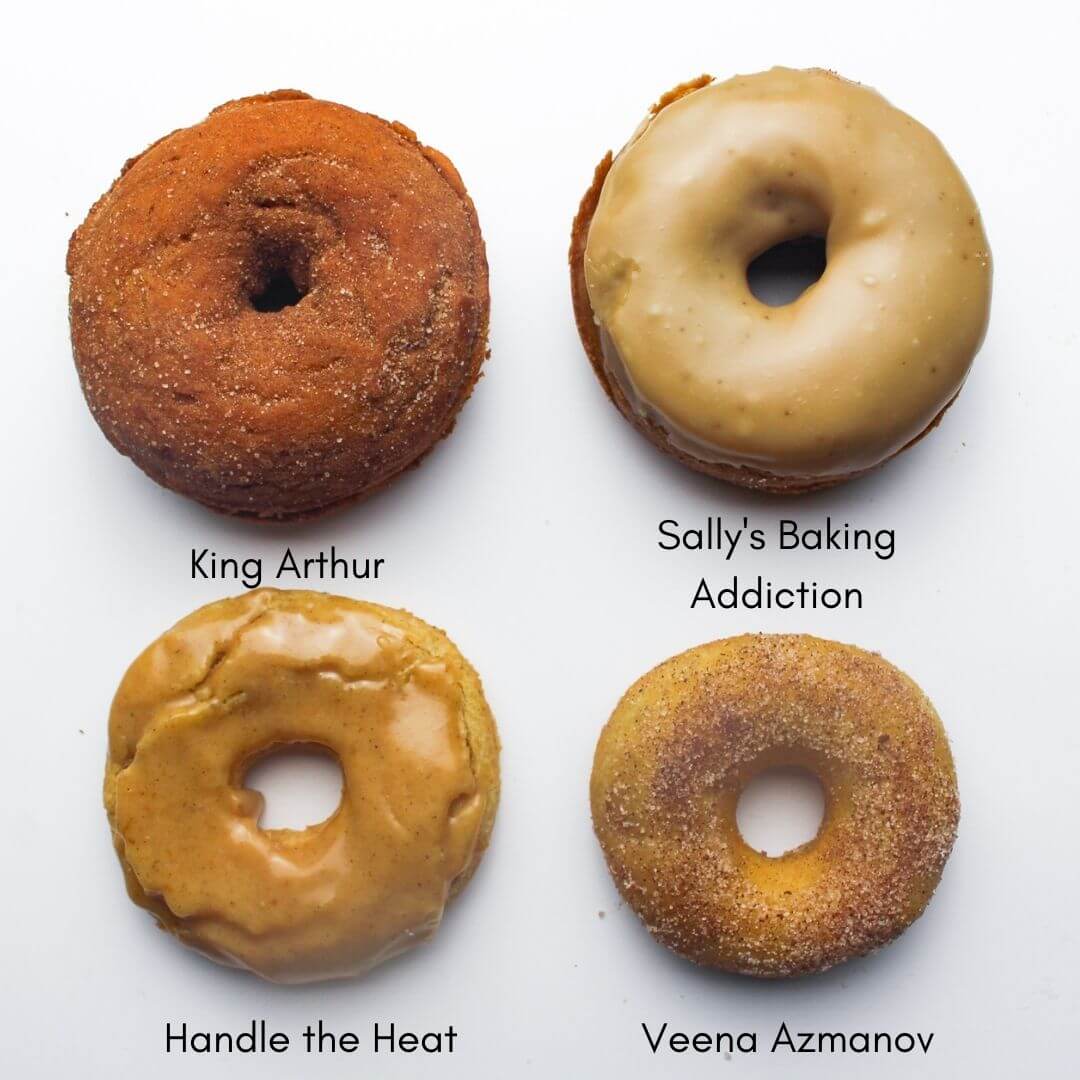 First, I made Sally's Baking Addiction's Baked Pumpkin Donuts (Sally's Baking Addiction Homepage). These pumpkin donuts were oh so good. They are the perfect texture for a baked donut and covered with an amazing brown sugar icing. A great thing about these donuts is that you can have them ready to eat in 45 minutes making them a perfect last-minute option for that fall Saturday morning. I highly recommend these if you are wanting a baked pumpkin donut!
Second, I made King Arthur's Pumpkin Cake Doughnuts (King Arthur Homepage). Now these baked pumpkin donuts are super simple and a great go-to recipe. This is a basic recipe, and sometimes that is exactly what I want- basic. The recipe calls for 1 1/2 cups of pumpkin puree which is much more than the others. I LOVE this. The more pumpkin, the better! The cinnamon-sugar coating is a great and simple addition to add.
Third, I made Veena Azmanov's Cinnamon Sugar Pumpkin Donuts (Veena Azmanov Homepage). These reminded me the most of a donut I would get at a donut shop. The perfectly fried and airy donut covered in a cinnamon-sugar coating- yes, please. These are extrememly dangerous as I could probably eat the entire batch without ever blinking an eye.
Lastly, I made Handle the Heat's Pumpkin Old-Fashioned Doughnuts (Handle the Heat Homepage). These donuts are fried, but they are more dense as they use baking powder instead of yeast. These are perfect for those days you are craving a fried donut but do not want to wait around for your dough to rise. These pumpkin donuts tasted so pumpkin-y, and the pumpkin glaze was amazing. I love that the glaze has actual pumpkin and spices to really make those fall flavors pop.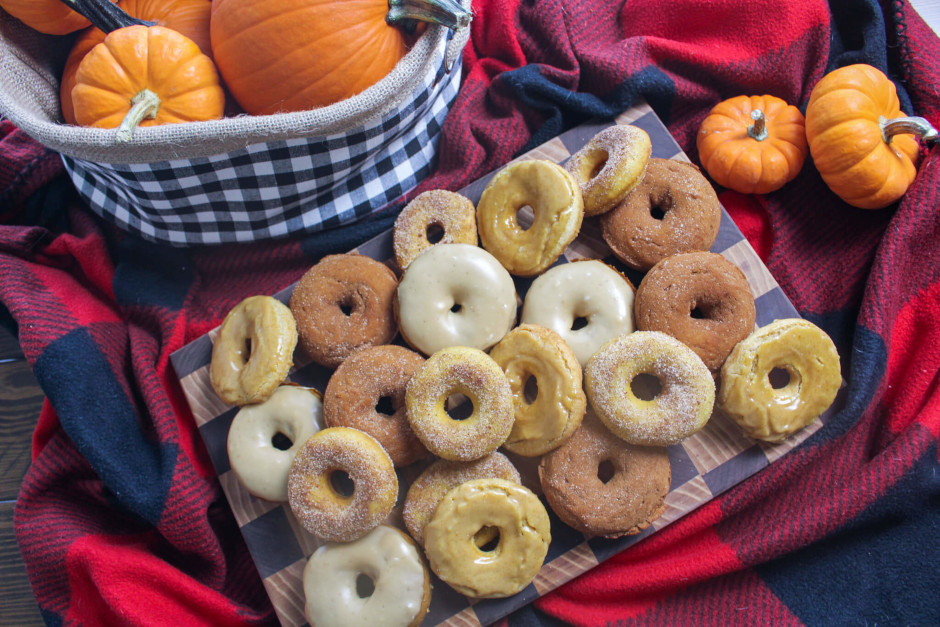 All of these recipes were so good. I recommend you try them out! After a randomization and a blind taste test, my husband chose (drum roll please) Handle the Heat's Pumpkin Old-Fashioned Doughnuts as his favorite. He loved the cakey texture of these donuts as well as the big pumpkin flavor. The glaze worked so well with the donuts and brought the pumpkin flavor to the max! Very delicious!
__________________________________
LET'S TALK ABOUT THE RECIPE I CREATED!- WHY DID I DO THAT?!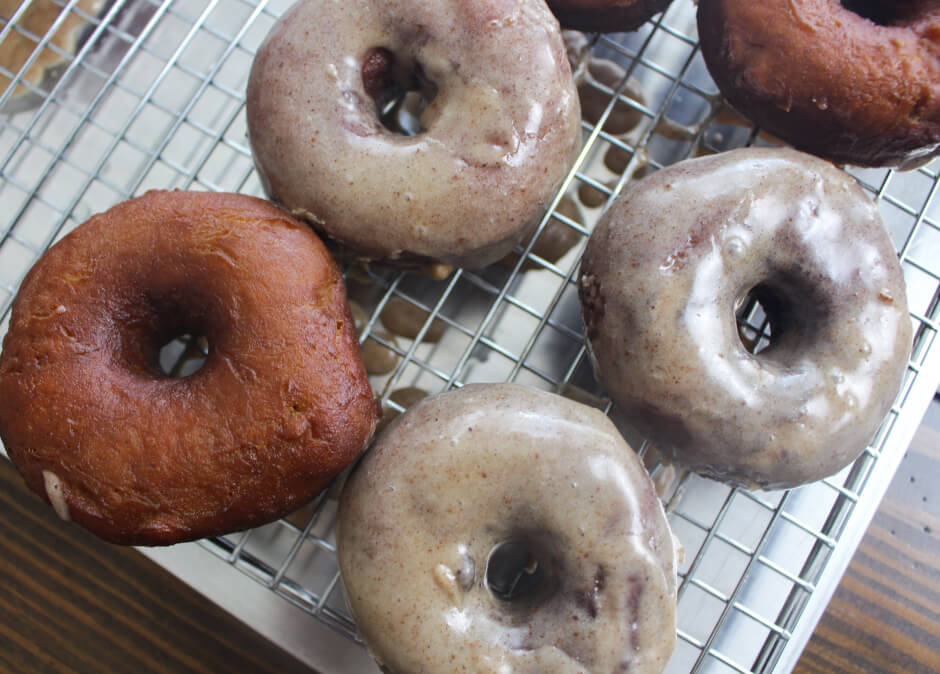 Yeast: I debated back and forth whether I wanted to make a baked or fried donut. I actually even made some baked donuts, but they just weren't perfect to me. I ended up changing the ingredients a little bit and throwing the dough in some oil, and I loved the end product. So, fried donuts it is! I chose to activate the yeast in whole milk instead of water for more richness. I chose brown sugar because I felt it brought in a little more fall flavor than just using granulated sugar. Wet Ingredients: I wanted to put as much pumpkin puree as the dough would let me to get the maximum pumpkin flavor. I added in some molasses which just brought even more fall flavor. These ingredients are pretty heavy and do impact the texture of the donut, but I was okay with that. The dense and cakey fried donut is perfect for cool mornings with a big cup of coffee, in my opinion. Of course, I added in vanilla because it is one of my favorite baking ingredients. The egg provided structure to the donut, and the melted butter brought in some flavor as well.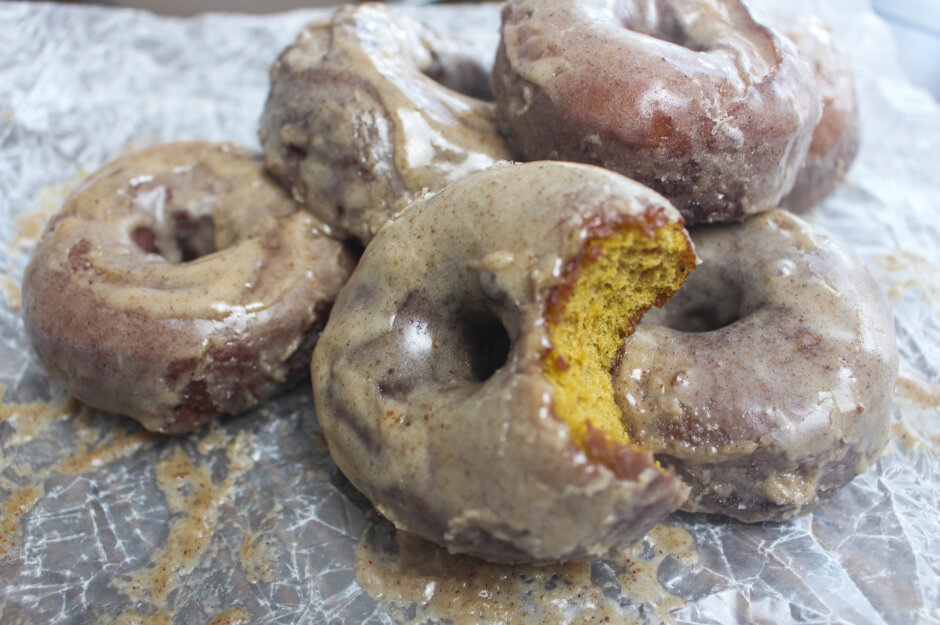 Dry Ingredients I went BIG with my spices. I decided not to use pumpkin pie spice because I wanted to be in control of how much of each spice I was adding. I added quite a bit of cinnamon and nutmeg which ended up being perfect. Glaze: I knew before I even started making donuts that I wanted a browned butter glaze. Browned butter just screams fall to me. It's so cozy and everything I want to compliment my pumpkin donut. I added in more cinnamon, nutmeg, and vanilla for even more flavor and used whole milk to complete the glaze. The glaze may be my favorite part about this donut. Expect to see this glaze to show up again and again in future recipes.
For this recipe:
If you want to watch an instructional video on how to make my pumpkin spiced donuts- click the video below!
Category: Fall, Sweets, Breakfast & Brunch
Keywords: donuts, pumpkin spice, pumpkin donuts, fried donuts, browned butter glaze
__________________________________
*NOTES
Warmed Milk: The milk should be about 110°F (43°C). This is about the temperature you can put your finger in the milk and keep it there comfortably. You want your milk to be warm or the yeast will not activate. It's important not to get the milk too hot though or your yeast will die. I suggest using whole milk for more richness. Lower fat milks will work, but the donuts will not be as flavorful.
Spices: I love pumpkin spice flavor so I went big with my spices. Feel free to adjust the spices to your liking. You can also use store-bought pumpkin pie spice. About 2 teaspoons of pumpkin pie spice will bring in that pumpkin spice flavor.
Dough Texture: This dough is sticky so it can be a little difficult to work with. You can add flour while kneading to prevent from sticking to your hands too much, but add the flour in small quantities to prevent from adding to much. At the end of kneading, you will want a sticky, soft, smooth, and elastic ball.
Rising Dough: If your house is cool/cold, your dough may have a hard time rising. A good tip is to put hot water from the faucet in a bowl. Place the bowl of hot water and the bowl of dough both in the oven. This will create a warmed space for the dough to rise. Just make sure NOT to turn the oven on!
Doughnut Cutter: I do not own a donut cutter so I had to get creative. I used a cup that was about 3 - 3 1/2 inches in diameter to cut my big circle and a small bottle lid that was 1/2 - 1 inch in diameter to make the donut hole.
Browned Butter: Browning butter can be tricky if you do not know what to look for. Using a light colored saucepan can help so you can see the butter changing color easier. On medium heat and stirring constantly, watch the butter closely. You will begin to see the milk proteins in the butter start turning a light brown. A few seconds after this happens, you will begin to smell a nutty aroma. That smell means the butter has successfully browned. Remove from heat and pour into a bowl to stop the cooking.
Sifted Powdered Sugar: The powdered sugar is sifted in order to prevent any lumps in the glaze.
Heating the Oil: An important tool to have when frying donuts is a thermometer. I like to keep the thermometer in the oil the entire time I am frying to keep the oil at 375°F (190°C). You may have to turn the heat up and down during the process of frying to manage the temperature. Only frying 2-3 donuts at a time is recommended because adding too many can lower the heat of the oil.
Frying the Donuts: A good rule of thumb is frying the donuts for one minute each side. However, you should watch the color of the donuts while frying. These donuts are dark to begin with, but if you feel like the donuts are turning dark brown too soon, the temperature of the oil may need to be turned down.
Storing the Donuts: The best time to eat a homemade donut is right away! You just can't beat a warm donut. These donuts are definitely best the day that they are made. The glaze should dry about 20-30 minutes after coating. The donuts will still be okay to eat the day after, but some of the glaze may begin to soak into the donuts.
If you have any other questions, let me know down below!
YOU MAY LIKE THESE OTHER RECIPES:
Bon appétit!!
October 7, 2020 [Updated October 27, 2021] by Laura Bullock