Best Halloween Cocktails & Shots
Best Halloween Cocktail & Shot Recipes
August 22, 2022 | Laura
Get into the Halloween spirit with these delicious, fun, and spooky cocktails and shots! These are some of my favorite boozy treats to celebrate that spooky time of the year. They all would be great to serve at a Halloween party. Cheers!
__________________________________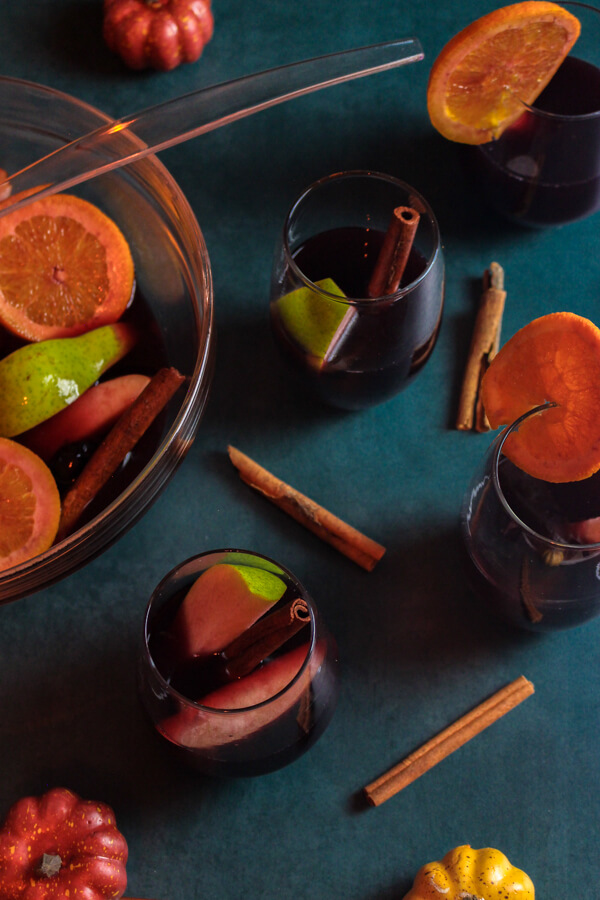 This fall sangria is filled with all those autumn flavors that everybody loves! Inside the red wine, you'll find apples, oranges, pears, cherries, and cinnamon sticks. The orange juice, apple cider, spiced rum, and triple sec all combine together with the red wine to make an amazing fall sangria.
You can use a fancy bottle of red for this recipe, or go with a cheap bottle of Merlot (that's what I do!). It will taste good both ways.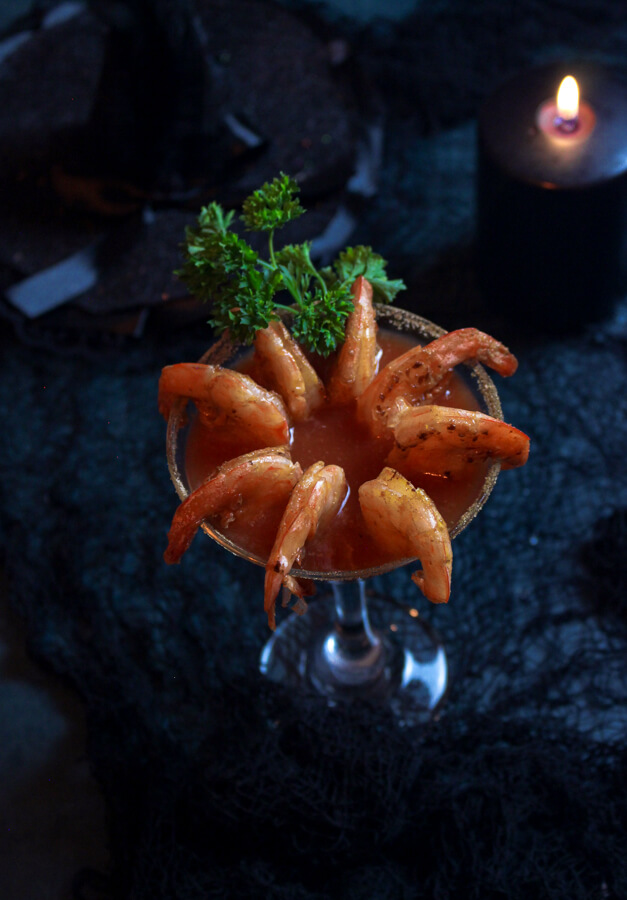 If you've scene Beetlejuice then you probably remember the shrimp cocktail scene. Everybody at the dinner table starts singing Day-O, and, at the end, the shrimp cocktail comes to life!
This shrimp cocktail recipe was inspired by that Beetlejuice scene. The seasoned shrimp are sauteed in butter and hooked on the side of a martini glass. For the cocktail, it's basically a really delicious Bloody Mary.
Dip those tasty shrimp into the thick tomato cocktail right before eating then enjoy 'dip' as a cocktail afterwards!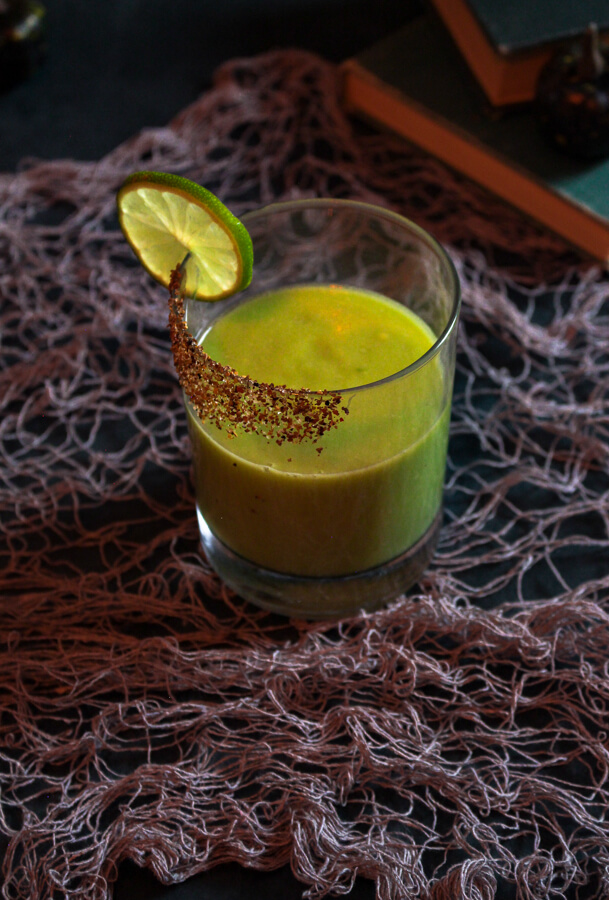 This creamy green cocktail is the perfect color for Halloween! The color was inspired by Frankenstein and my Frankenweenie movie night.
It's made with avocado (hence why it is green), silver tequila, triple sec, and lime juice. A bit of delicious homemade cilantro jalapeo simple syrup is added into it for a kick of spice and extra flavor.
It may seem weird to add avocado to a cocktail, but trust me- it really is so tasty and makes for the perfect Halloween cocktail!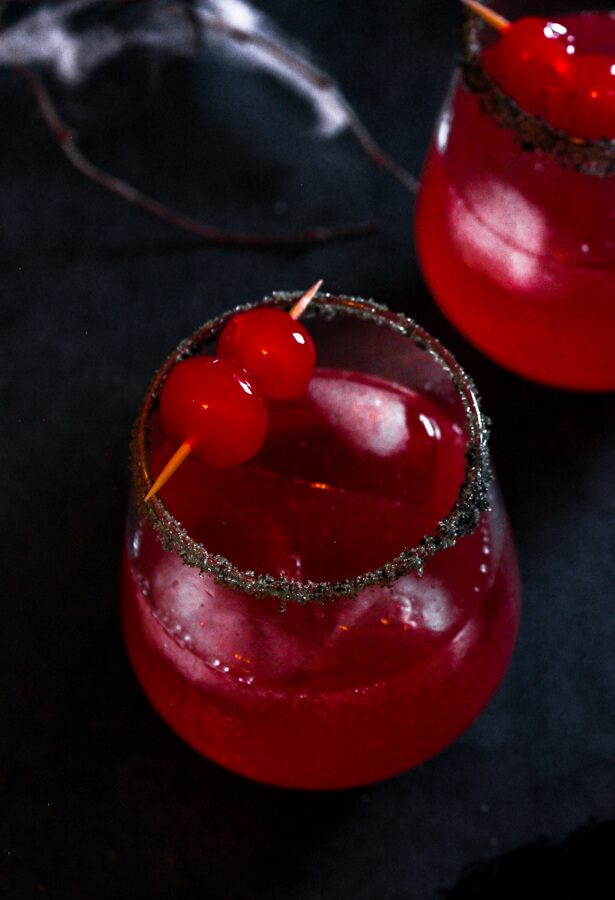 This bright red cocktail with a black sugar rim is the perfect spooky treat. This cocktail was inspired by The Shining. You know, Red Rum.
This red drink is made with muddled maraschino cherries, silver rum, and lime juice. It's topped off with ginger ale for a nice bit of ginger taste and some bubbles.
You really can't get spookier than a red cocktail for Halloween. Don't forget the black sugar rim to complete it!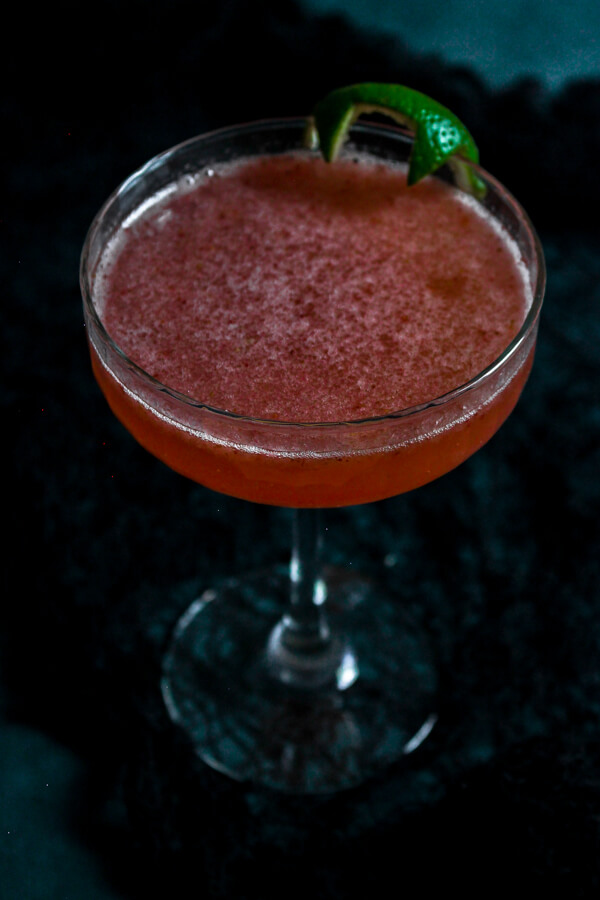 Another delicious spooky red cocktail! This one was created after watching Hotel Transylvania. Dracula would rather drink 'Blood Beaters' or 'Near Blood' than actual human blood. This is my version of Blood Beaters!
This cocktail is made with a very easy homemade strawberry sauce, gin, and lime juice. A bit of sparkling wine is poured on top to make it sparkling.
When serving up this Halloween cocktail, I like to cut a pair of fangs out of a lime peel and hang it on the edge of the cocktail glass.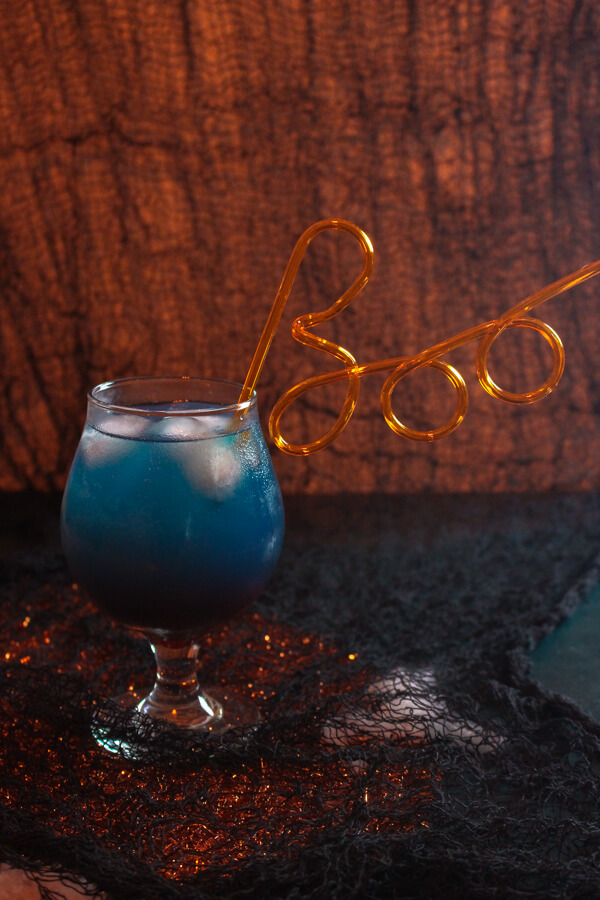 Roar! This blue monster cocktail is not as scary as it sounds. In fact, it's pretty sweet as it was inspired by Sulley from Monsters, Inc. Blue with a bit of purple!
The base of this blue cocktail is made from lemonade, silver rum, and blue curacao. A bit of grenadine is added at the end. When the red grenadine mixes with the blue curacao, you get some purple- just like Sulley's spots!
I like to serve this cocktail with a big straw that spells out 'Boo' for an extra spooky drink.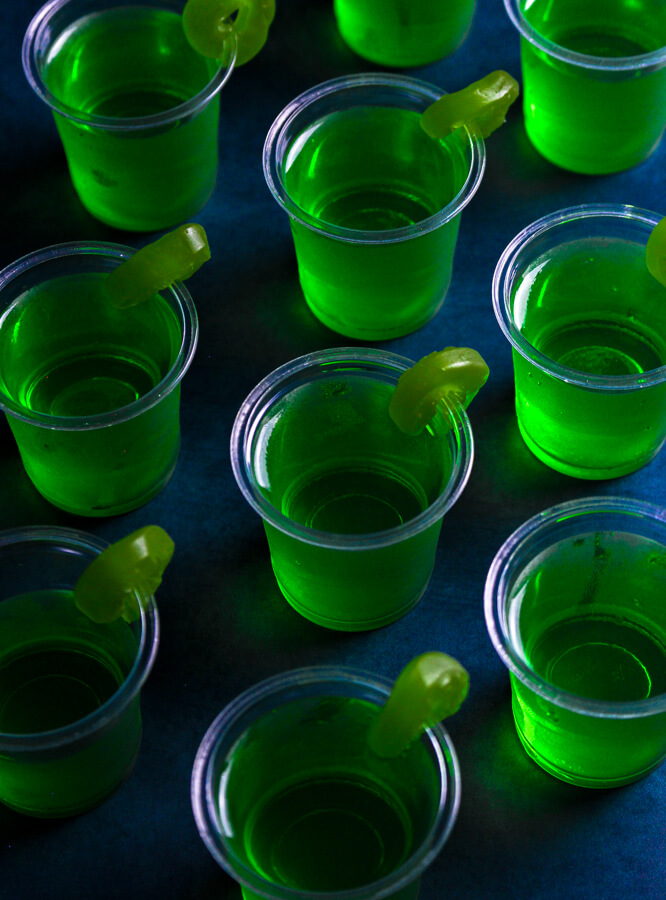 These almost-glowing green Jello shots are perfect for Halloween parties! They are made with green apple gelatin and sour apple schnapps for a green sour apple explosion! I like to be fancy and garnish with a green apple gummy.
These green shots were inspired by Slimer from Ghostbusters due to their greenness and their sliminess. Delicious!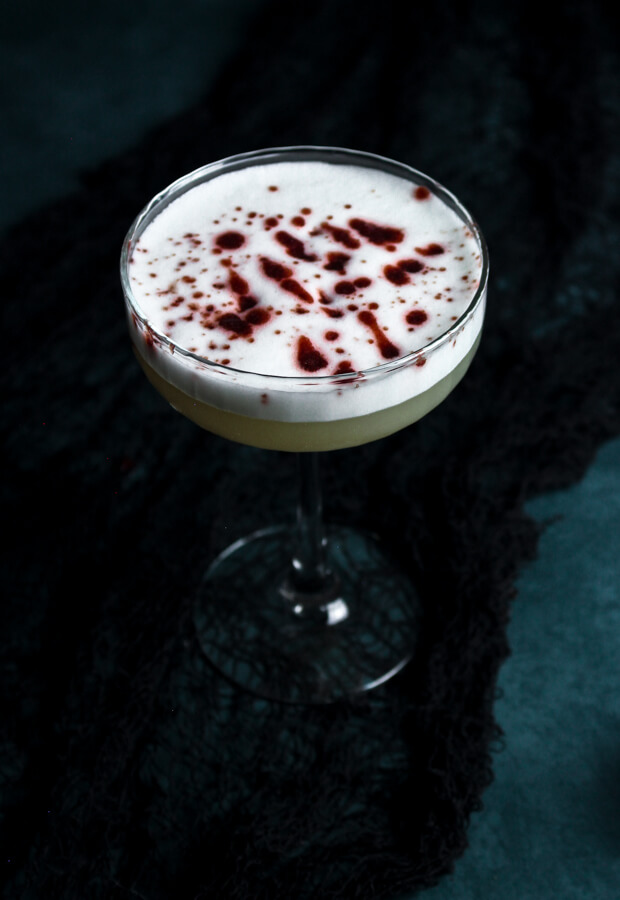 This just may be the scariest cocktail! It was created for my Scream movie night. A slasher film just needs a cocktail that has been splattered with a red sauce.
This cocktail is a Boston whisky sour, but peanut butter whiskey is used instead. The egg white foam on top of the drink is splattered with a simple homemade cherry sauce which taste so good with the peanut butter flavor- think PB&J!
The splattered cherry sauce on the white makes this cocktail super spooky and a delicious idea for Halloween.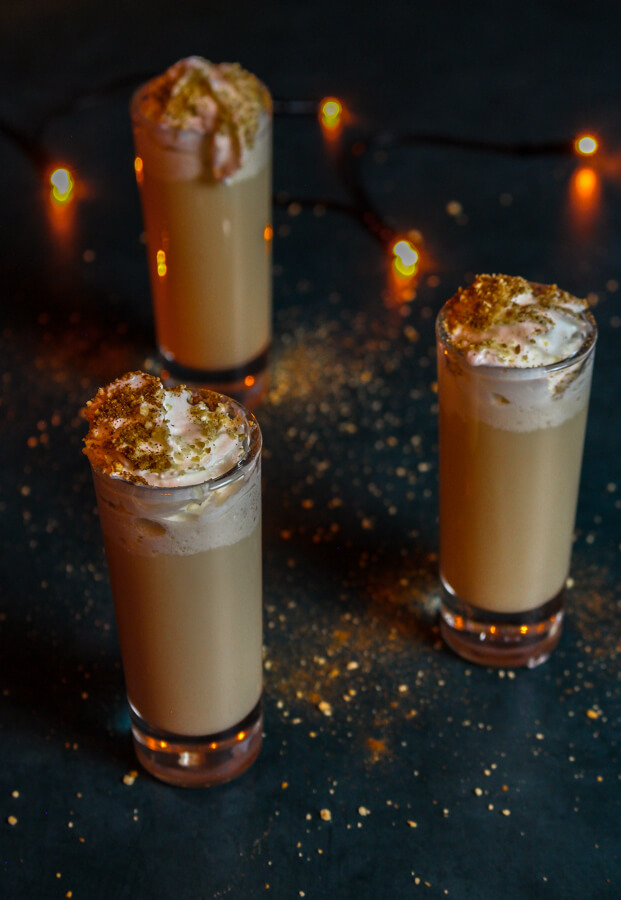 These shots are more fall-y rather than scary. Pumpkins are big part of Halloween too! They are filled with all the delicious pumpkin pie flavors made with pumpkin spice Irish cream, butterscotch schnapps, and pumpkin vodka.
The whipped cream, graham cracker crumbs, and pumpkin pie spice is a must in order for these shots to taste just like a piece of pumpkin pie!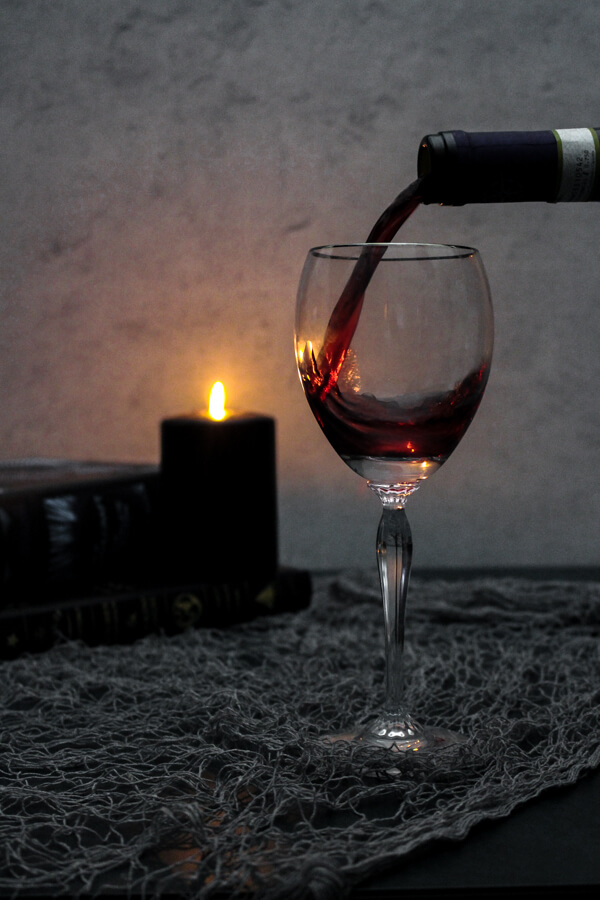 If you aren't feeling much up to making your own cocktail, go for that bottle of red wine. It's deep red color is pretty blood-like when you think of it and it just has a mysterious vibe to it.
Pour yourself a glass, sit by the candlelight, and read a good scary book or turn on a scary movie.
I chose a nice Chianti for my Silence of the Lambs movie night. Hannibal Lecters wine of choice is a nice Chianti while he eats the census worker's liver with some fava beans.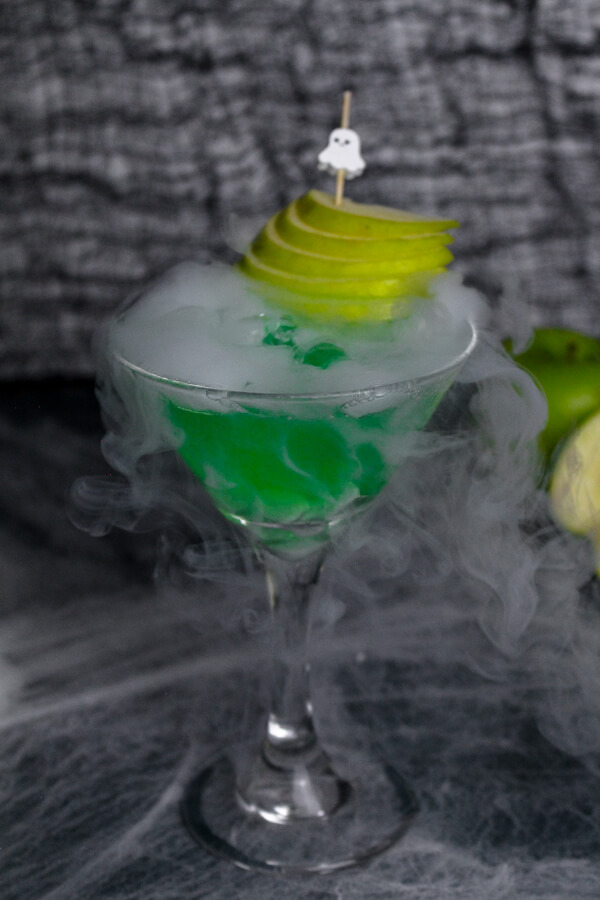 I love a good green cocktail for Halloween celebrations. This green apple martini is one of my favorites. It's made with sour apple schnapps, apple juice, lemon juice, and green apple vodka. It has so much green apple flavor, and I can't get enough of it!
Garnish with a green apple slice to make it extra fancy. This cocktail was inspired by Madame Leota from Disney's The Haunted Mansion. It really captures the vibe of her bright green colored smoke!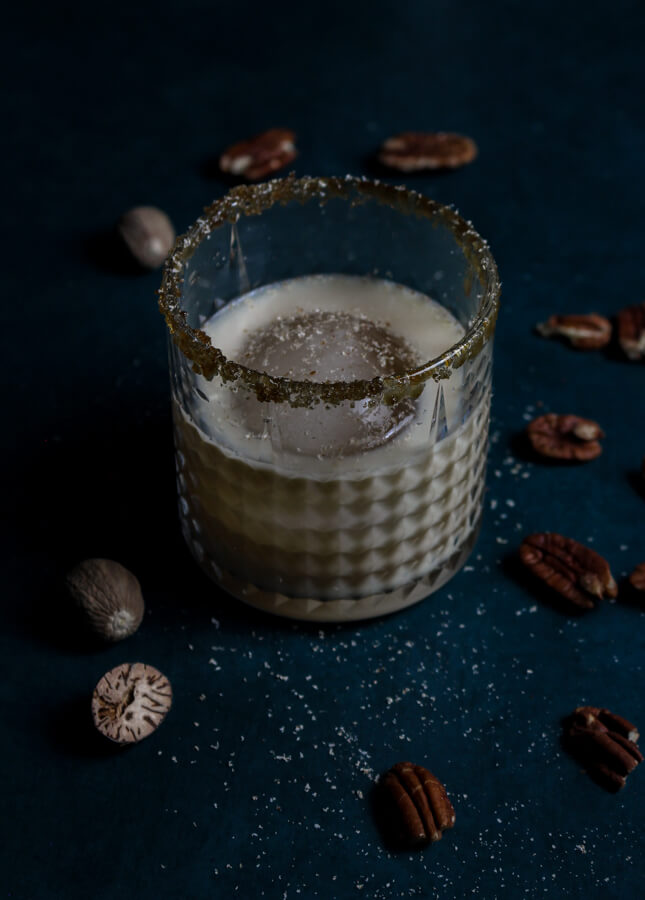 This cocktail isn't spooky, but it does capture all those delicious fall vibes making it the perfect October cocktail. It's made with pecan praline whisky, pumpkin spice Irish cream, and caramel vodka- all the flavors you'd want to find in a fall drink.
Give the cocktail glass a brown sugar rim and add some freshly grated nutmeg on top, and you'll have yourself a tasty Halloween cocktail.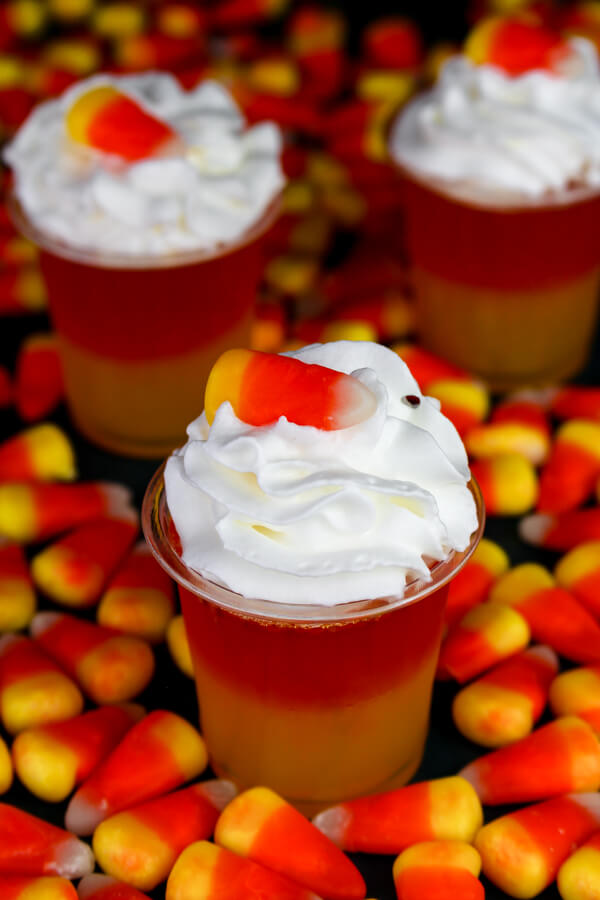 Do you find candy corn jello shots cute but it kind of weirds you out that they taste like lemon and orange. Same. These candy corn Jello shots not only are the classic orange, yellow, and white colors, they also taste like candy corn too!
I use unflavored gelatin so that I can be in control of all the flavors. These candy shots contain honey, vanilla vodka, and butterscotch schnapps which are the same flavors you'll find inside of an actual candy corn. These make for adorable Halloween shots for a Halloween party!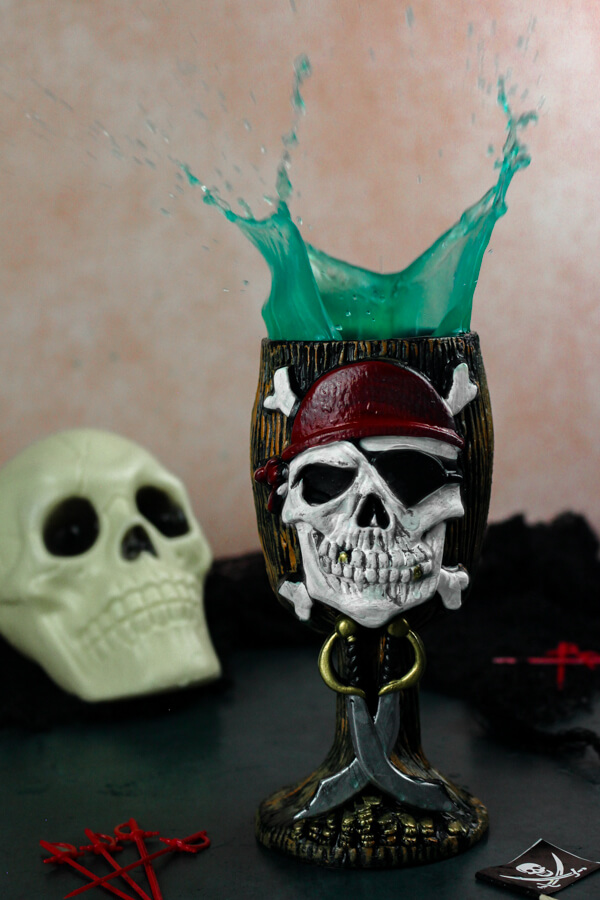 Okay, this one is far away from being an actual Halloween cocktail, but hear me out. I created this cocktail for my Scooby-doo movie night. In the movie, they are solving a mystery at Spooky Island so a beachy spooky drink was in order!
For this to be a Halloween drink, it is a must that it be served in a pirate glass and pineapple chunks stabbed with mini plastic swords- obviously! It's filled with all those delicious beachy flavors- pineapple juice, coconut rum, blue curacao, tequila, lime juice, and lemon juice.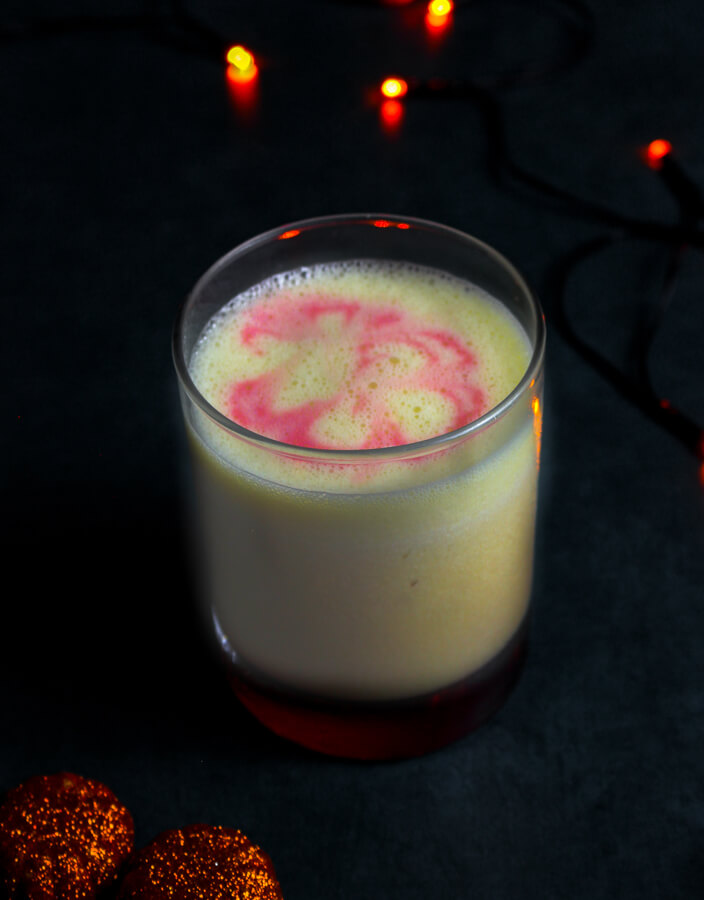 This cocktail is perfect for Halloween brunch! Orange Julius drink is one of my favorites and this boozy version is just as good. It's makde with frozen orange juice, milk, vanilla, a bit of sugar, tequila, and triple sec.
It's creamy, orange-y, and so delicious. For Halloween, I like to drizzle just a bit of grenadine on top of the cocktail after making it. This adds a nice touch of 'blood' to the drink that makes it spooky!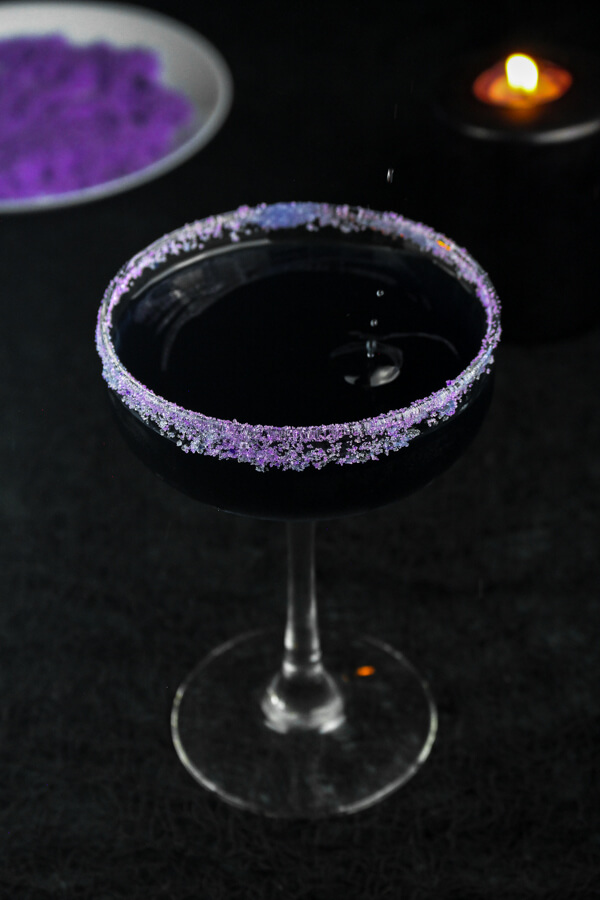 This dark purple cocktail is mysterious and spooky. I created this cocktail for a Addams Family movie night. I feel like this sophisticated cocktail gives off serious Morticia Addams vibes.
This cocktail is made purple by combining red cranberry juice and grenadine with blue curacao. Silver rum and lime juice are also added in. Then the cocktail glass is given a purple sugar rim making it a great option for the Halloween season.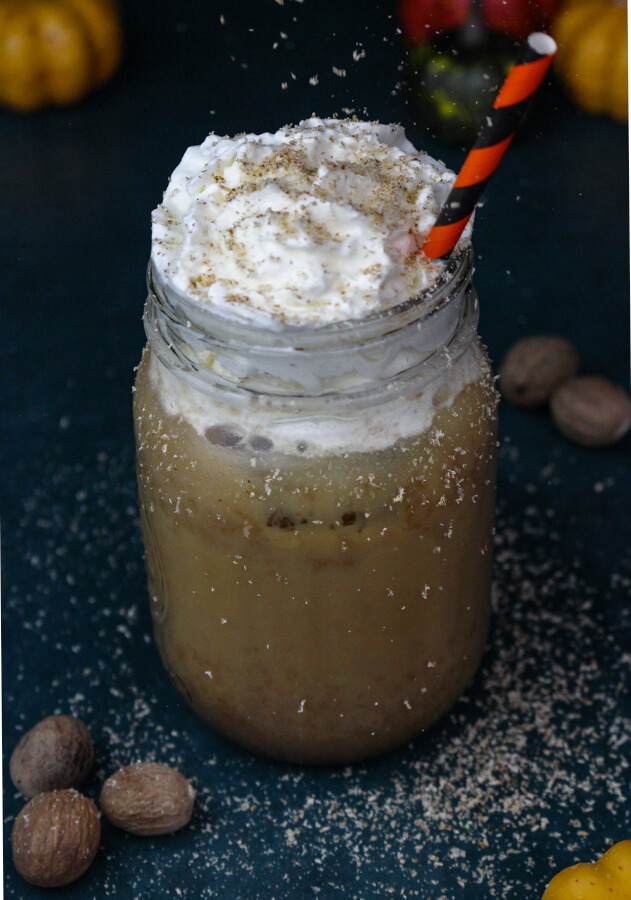 This boozy caffeinated cocktail was created for A Nightmare on Elm Street. Coffee is the most important part because it keeps you awake, and I wouldn't want you falling asleep and meeting Freddy..
This iced coffee is made wiht a homemade pumpkin syrup, strong coffee or espresso, coffee liqueur, and milk. It has all those yummy pumpkin flavors and fall spices. You can't beat this cocktail especially when it's topped with whipped cream and freshly grated nutmeg.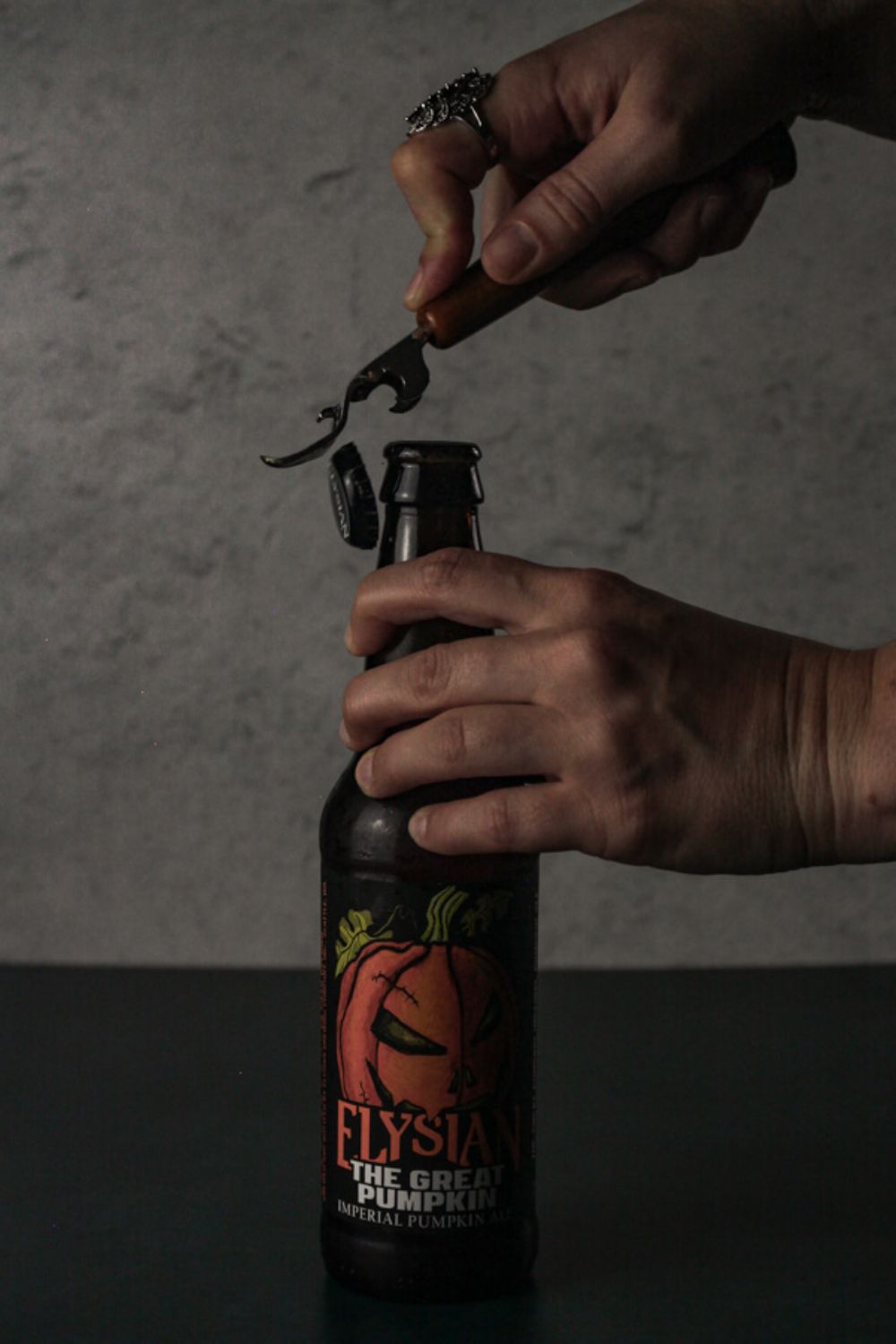 18. Pumpkin Beer
Another easy boozy option for enjoying the Halloween season- pumpkin beer! There's so many fun pumpkin and Halloween beers out there to choose from now. Elysian Pumpkin Pack is especially fun, spooky, and delicious!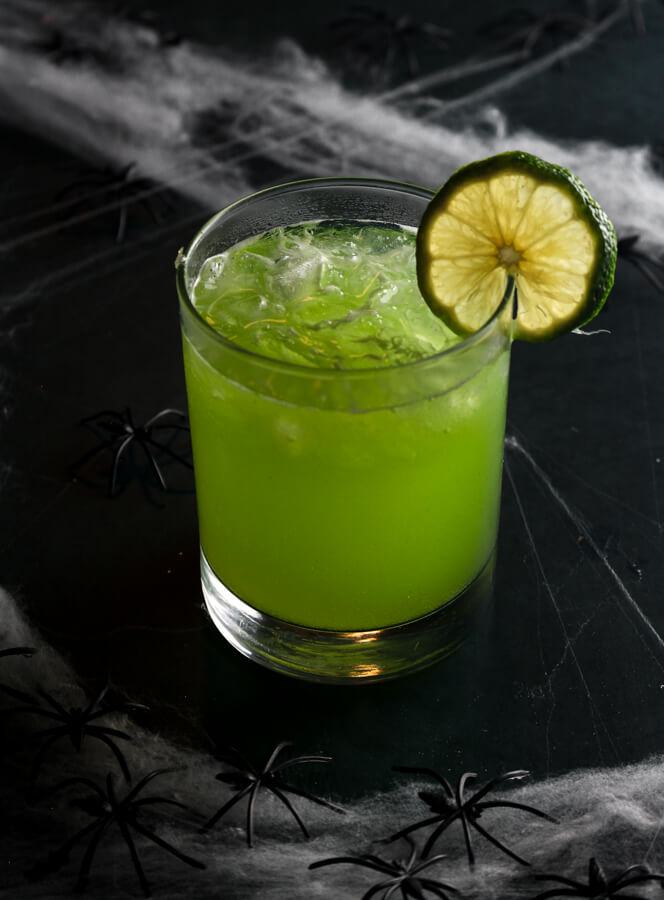 This almost-glowing bright green cocktail is one of my favorites. If you like green apple flavors and Mountain Dew then this one is for you! It's made with pineapple juice, vodka, sour apple schnapps, and lime juice. Mountain Dew is used to top the drink for extra delicious flavor and bubbles!
This one was inspired by Monster House when the babysitter says to cut down on the Mountain Dew. Serve up Sour Apple Mountain Dew Cocktails at your next Halloween party. They are sure to be a hit!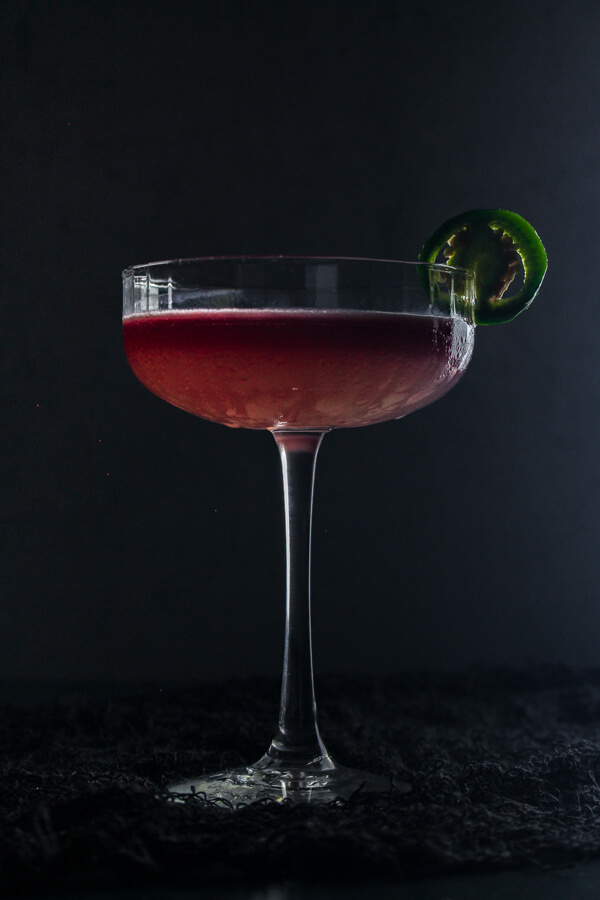 This is one spooky and elegant cocktail! The bottom layer of the cocktail is a made with tequila, lime juice, and a bit of jalapeno cilantro simple syrup. It's tangy, flavorful, and has just a bit of a kick.
The top part of this cocktail is dark red wine. All these flavors pair so well together, and you end up with a beautiful drink. I made this cocktail for the movie, Carrie. I thought the red wine floater was perfect to represent all the bloody scenes in Carrie!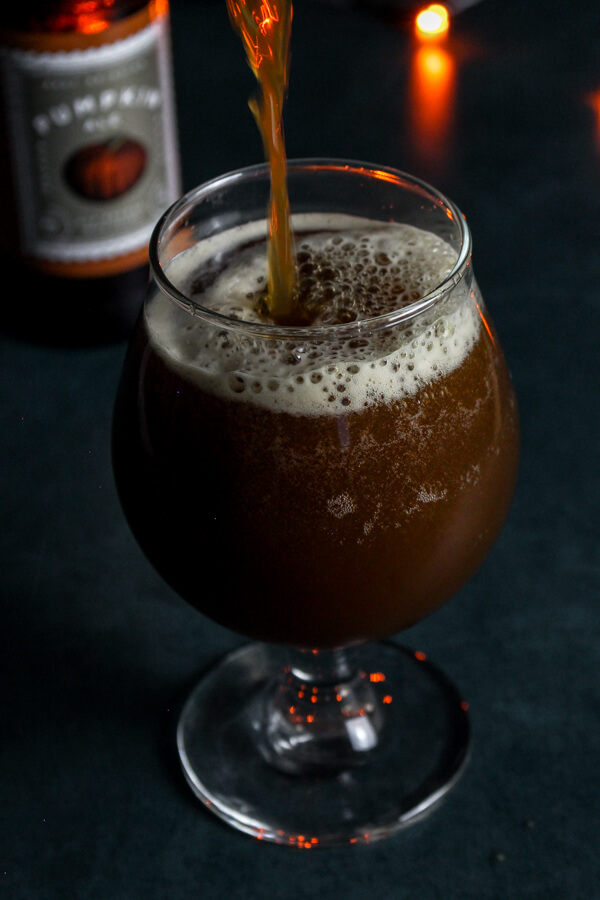 In college, we drank something called Summer Beer which was a concoction consisting of cheap light beer, vodka, and lemonade concentrate. It really had no right to be as good as it was. It was so delicious and a summer tradition.
This recipe is a spin on that summer beer. This fall beer cocktail is made with pumpkin beer, apple cider, and vodka. It has all those fall tastes and perfect for a Halloween party since it's so simple to make a huge pitcher!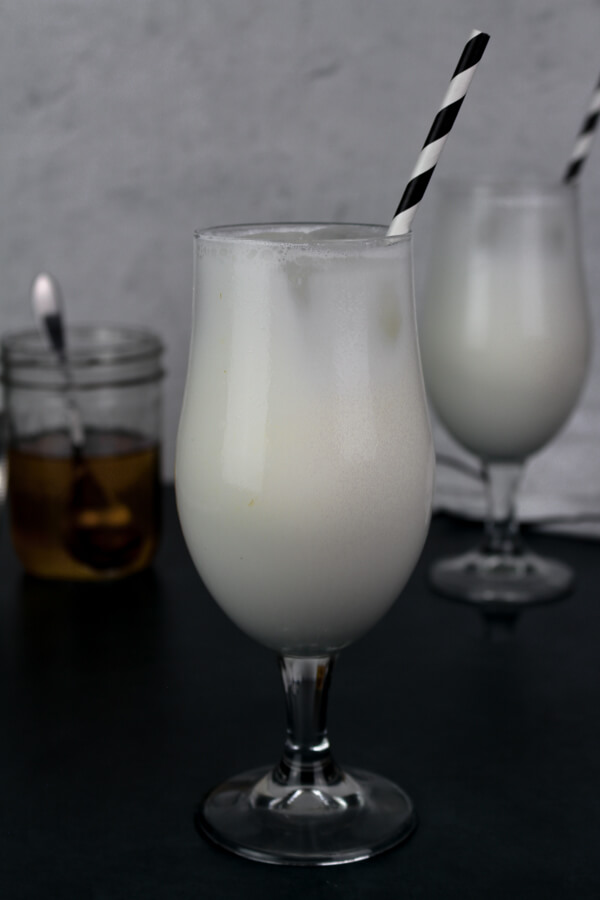 Boozy Italian Cream Soda, or as I like to call it, Scream Soda, is such an easy and delicious cocktail. It's made with a homemade vanilla simple syrup, whipped cream vodka, club soda, and heavy cream. It's so creamy and bubbly!
This cocktail's ghostly white appearance makes it great for Halloween. Drink it with a spooky or Halloween-colored straw to make it extra fun!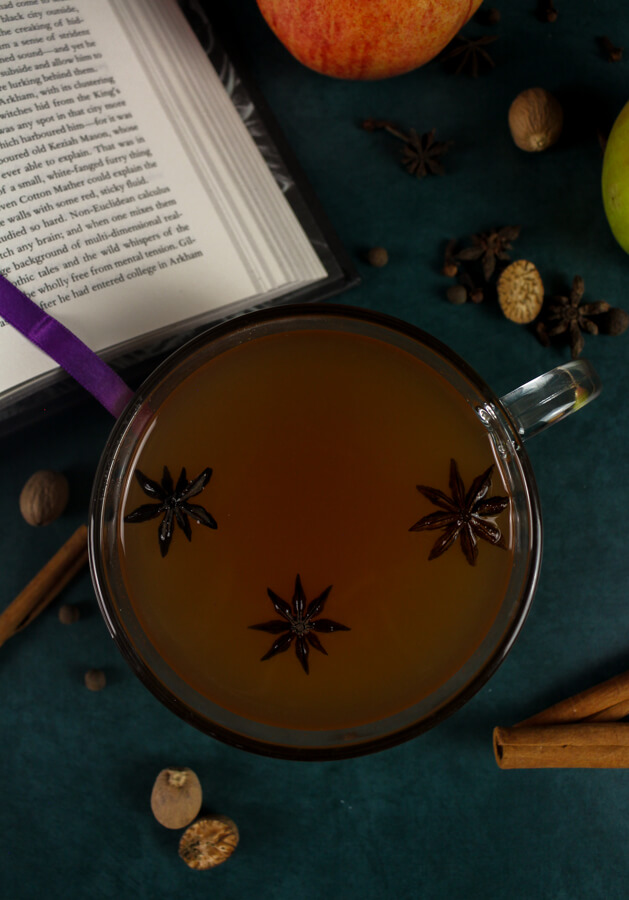 Nothing quite says fall is here like a warm cup of homemade apple cider on a cool day. This cider is made from fresh apples, an orange, brown sugar, and all the fall spices. It simmers on the stove for a few hours until it is bursting with flavor.
To make it boozy, add in some spiced rum (or any of your favorite liquors) at the end. This is such a comforting and cozy cocktail making it perfect for sipping on Halloween night.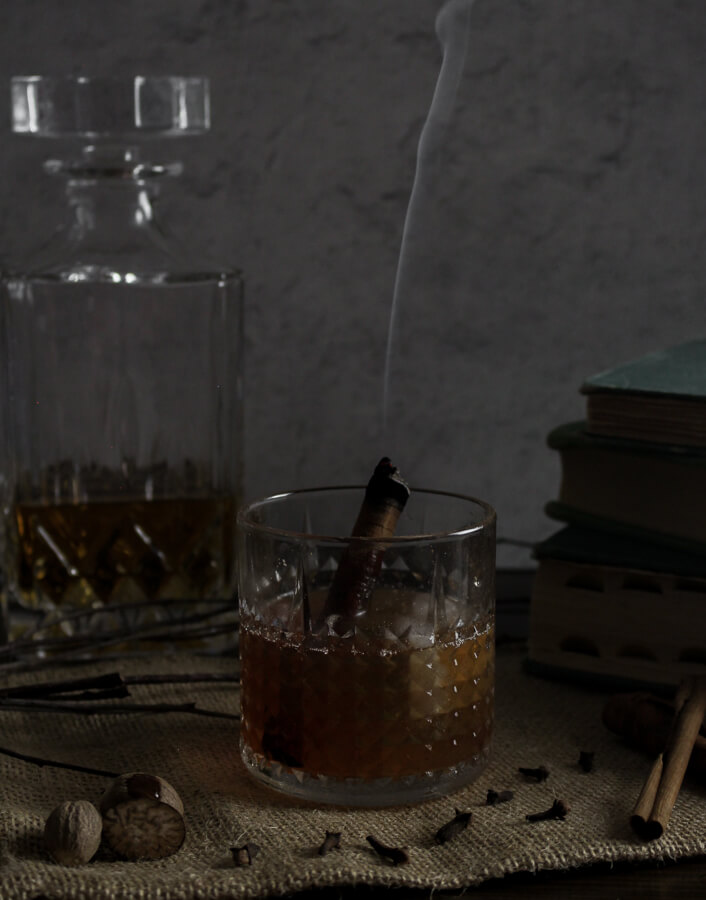 This cocktail is sophisticated but, at the same time, gives off some pretty spooky vibes. It's a classic old fashioned recipe but with a little bit of homemade spiced simple syrup added in instead of a sugar cube. This old fashioned was inspired by The Nightmare Before Christmas as I feel like it captures the essence of Halloween and Christmas all at once.
This cocktail has such great taste, and the burning cinnamon stick makes it perfect. This is one of those cocktails you make, light a candle, and enjoy a good murder mystery book by the fireplace.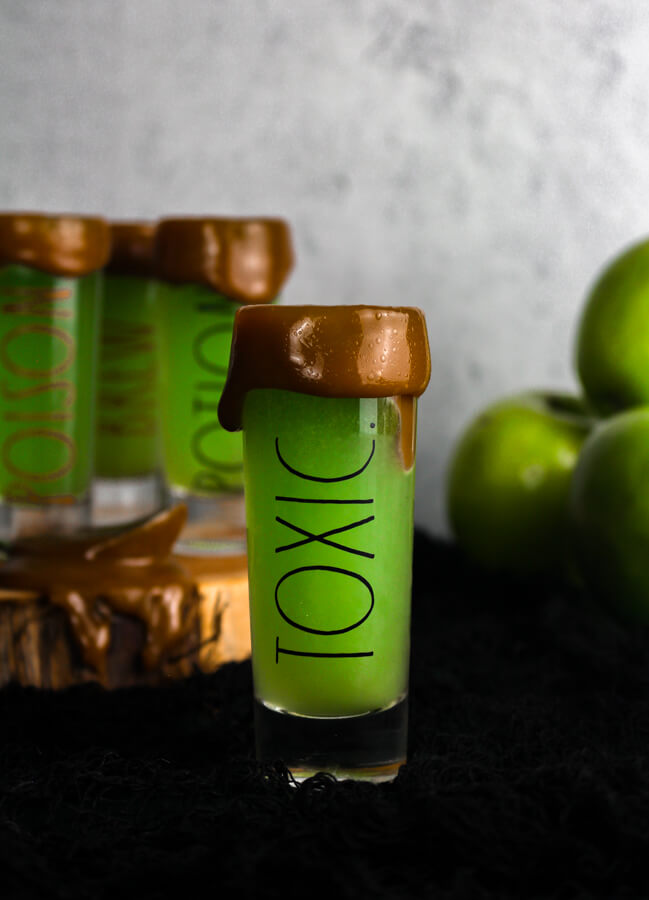 These bright green shots are a must if you like caramel apples! Plus, they are so easy to whip together making them the perfect option for Halloween parties.
They shots are made with sour apple schnapps, caramel vodka, apple cider, and lemon juice. They are a bit tangy, a bit sour, a bit fruity, and contain so much flavor. When the shot glass if given a caramel sauce rim, they are especially good!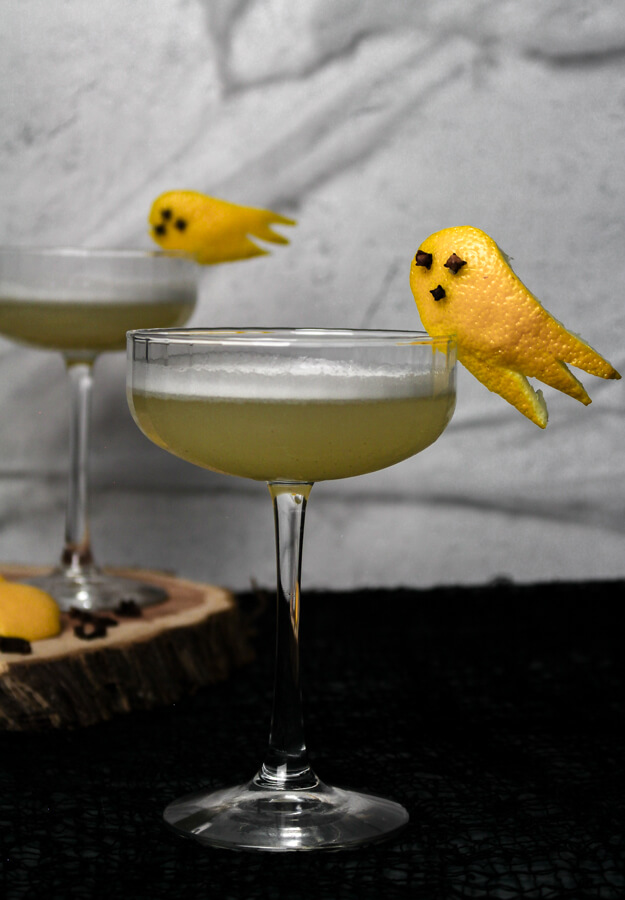 This delicious cocktail is a spin on the classic White Lady. It contains spiced simple syrup, gin, triple sec, lemon juice, and a bit of bitters. It is then shaken with an egg white for a silky texture and a foamy white top. These cocktails are a lot of Halloween fun when a ghost cut from a lemon peel is placed on the edge of the glass.
These cocktails were for my Casper movie night. Back in the day, women ghosts used to be called white ladies plus the white foam top and ghost garnish makes it great for Casper!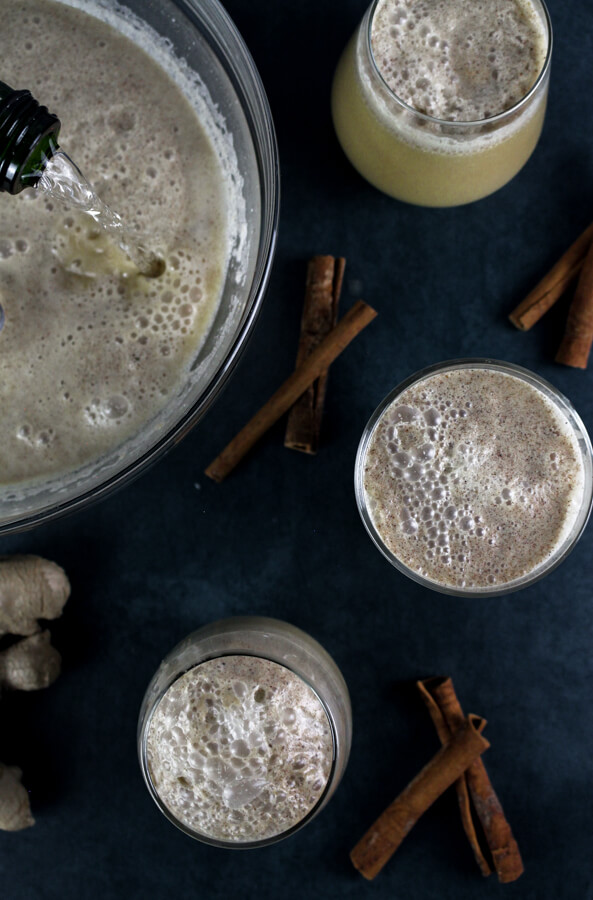 Punch is always a good idea for a Halloween party! This punch is boozy, pumkpin-y, and spiced. It's made with a simple no-churn homemade pumpkin ice cream- you could also use store-bought pumpkin ice cream as well.
Then the pumpkin ice cream is mixed with apple cider, frozen orange juice, spiced rum, lemon and lime juice, ginger beer, and sparkling wine. This punch has so much flavor, and I can't get enough of it!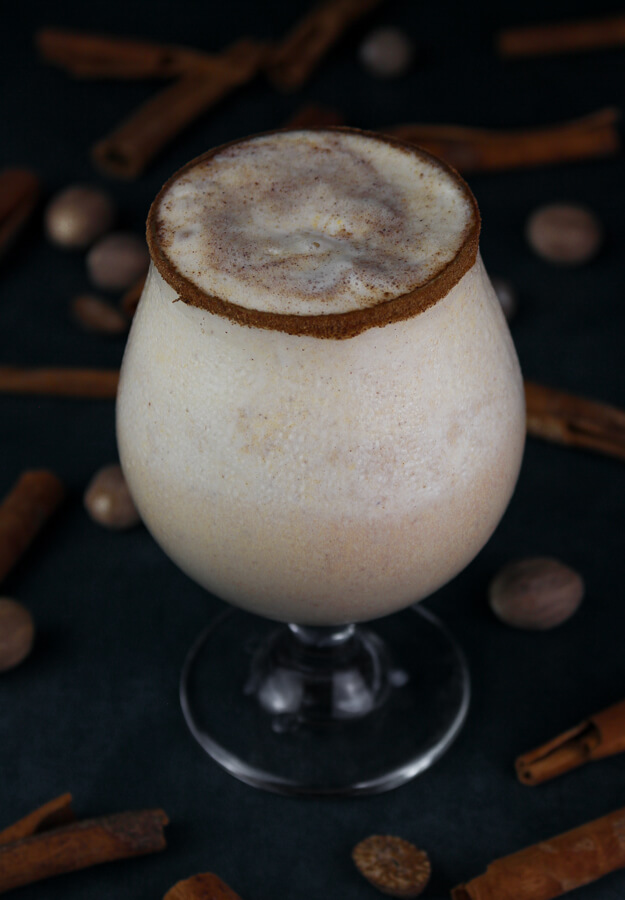 This milkshake holds all those same delicious flavors as a pumpkin pie does! It has homemade vanilla simple syrup, vanilla ice cream, real pumpkin, spiced rum, Irish cream, and all the yummy fall spices.
If you like pumpkin pie then you'll love this milkshake recipe! It's the perfect option for those that would rather drink something pumpkin-y on Halloween rather than spooky!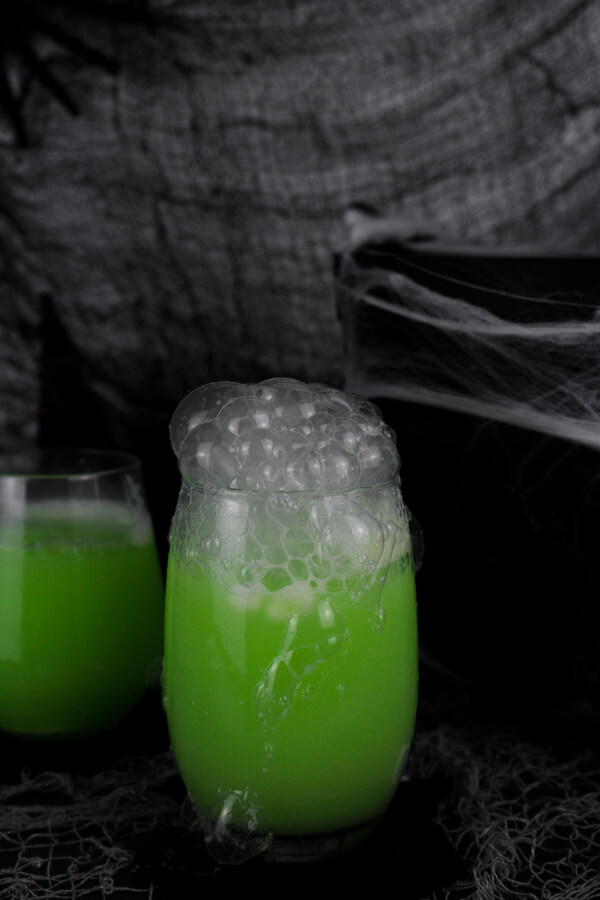 This punch is perfect for that witches cauldron you bought! With a little bit of dry ice added around the edges of the punch bowl, you'll have a delicious spooky punch ready for that Halloween party. This punch was created as my Hocus Pocus cocktail for movie night. A witches brew is a must when watching the Sanderson Sisters!
This punch recipe calls for all things lime- limeade concentrate, lime juice, lemon-lime soda, and lime sherbert. It's like a limeade explosion, and it's so good. Make it alcoholic, by adding in some vodka. It's sure to be a huge Halloween hit!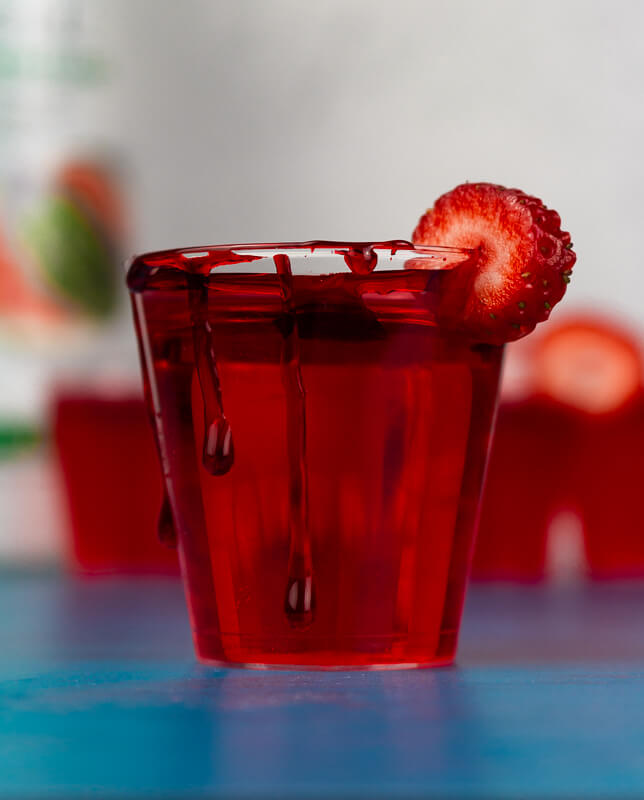 This Jello shot may taste like summer, but it looks and sounds like Halloween! Do you remember Tiger's Blood snow cones? They were my favorite flavor and still are! Tiger's Blood consists of strawberry, watermelon, and coconut flavors. These shots are made with strawberry gelatin, watermelon vodka, and coconut rum. They are too good!
After the Jello shots are firm, dip the rims of the shot glasses in red corn syrup so it drips down. They looks so spooky when served this way making them the perfect addition to any Halloween get-together.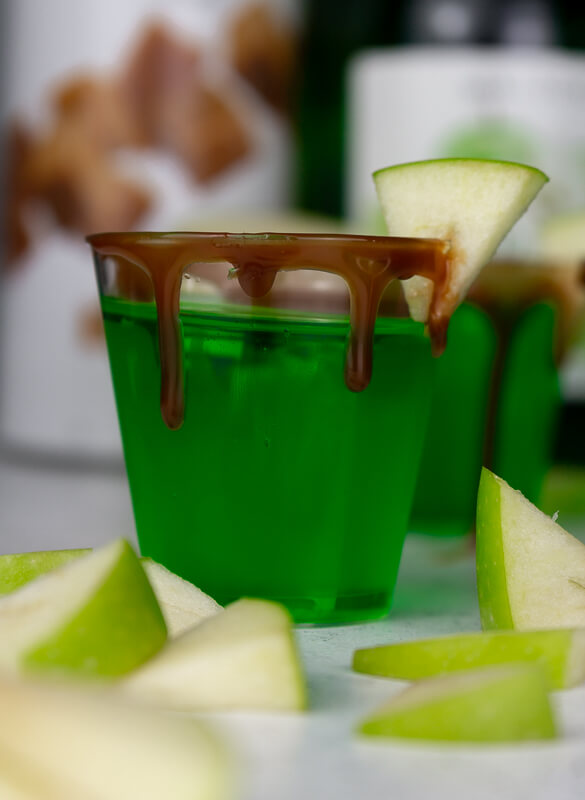 I can't get enough of caramel apples! These shots remind me of those caramel apple suckers that you used to get in your Halloween bag. I loved the flavor of those, and the caramel would always get so stuck in your teeth. Ah, childhood.
These boozy caramel apple shots are made with sour apple schnapps, caramel vodka, and green apple gelatin. They are especially good with a caramel sauce rim and a fresh green apple garnish.
Looking for delicious Halloween snacks too?
→ Check out all of my favorite spooktacular food recipes!
__________________________________
✽ Did you make any of these recipes?
Let me know by leaving a comment below and sharing on Instagram. Tag @laurathegastronaut and hashtag it #laurathegastronaut.

Category: Holiday Cooking, Halloween
Keywords: spooky cocktails, halloween shots, halloween cocktails, halloween punch recipes, scary cocktails, cocktails for halloween, shots for halloween
Bon appétit and Happy Halloween!
August 22, 2022 by Laura Bullock
*This Best Halloween Cocktail Recipes blog post and recipe may contain some Amazon affiliate links. These link to products that I personally use and recommend. If you purchase anything using my links, it will not cost you anything. It will though give laurathegastronaut.com some financial support which helps me keep this blog running. Thank you for reading my blogs and your continued support.